Items We Adore: Product Picks for Valentine's Day
Love is in the air! If you haven't seen any hearts and cupids popping up, you will soon! Valentine's Day is approaching and, though it's a day typically dedicated to romance, we can show our love for our family, our homes and ourselves on February 14. So with that in mind, we put together a list of products filled with love that we think you'll like. Here are this week's Items We Adore: Product Picks for Valentine's Day.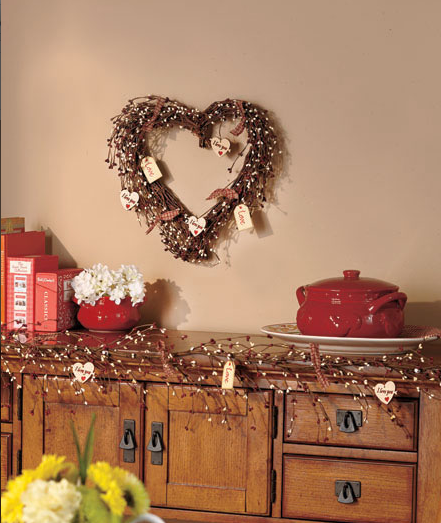 Country Hearts Wreath or Garland is the perfect finishing touch for your country home. Both pieces are made of grapevine branches accented with gingham bows, red and cream polyfoam berries and wooden cutouts bearing words of love. Garland, approx. 60″. Wreath, 15″ x 14-1/2″.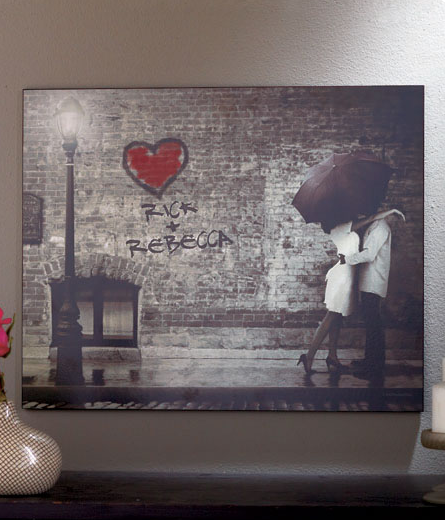 NEW! Add a personalized touch to this street scene wall art to create the perfect gift for an engagement, wedding or anniversary! The romantic black and white image by artist Scott Kennedy features the couple's names as part of the artwork. The lovers' embrace and the red heart work together to create a sweet scene. It's a special gift that can also be ordered with your name and that of your significant other to hang in your own home. Maximum of 15 letters per name. Wooden block mount is a contemporary and frameless way to display a print. Comes ready to hang.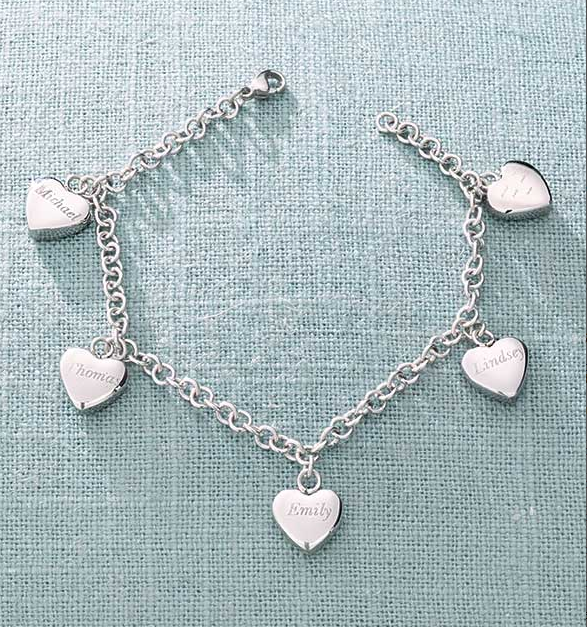 NEW! Give a gift you know she'll cherish with a Personalized Five Hearts Name Bracelet. The beautiful bracelet is designed to be engraved with the names of her loved ones. One side of each heart-shaped charm features a single name (up to 9 characters), and the other side contains a list of all the names on the bracelet. Every bracelet comes with 5 charms. If you don't have 5 names, the front of the extra hearts will be left blank. The bracelet has a hook clasp. Bracelet, 7-1/2″L. Charms, 3/8″ dia., each. Metal.
Wooden Tea Light Candle Box lights up a table or shelf with country sensibility. Each of the 4 glass tea light cups has its own compartment in the box. Light from the flame shines through the themed cutout. Decorative rope handles and a distressed finish add an extra rustic touch. Box, 13-7/8″ x 4″ x 3-1/2″. Candle cups, 3-1/8″ x 2-3/4″ dia., each.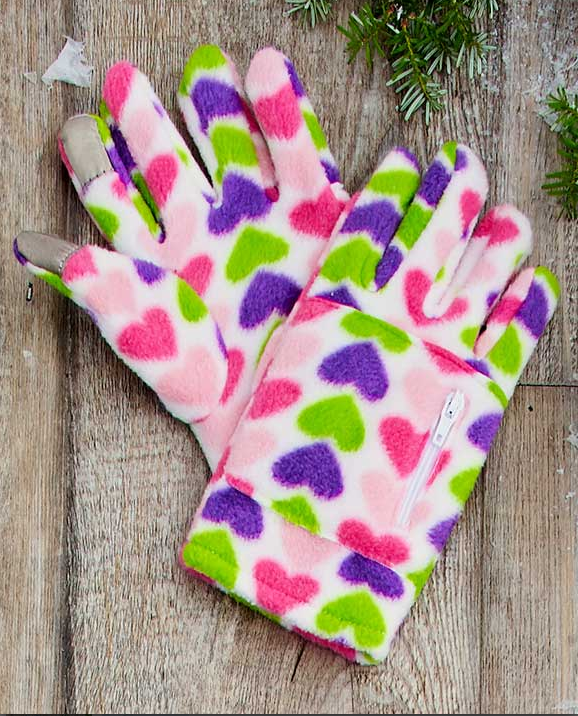 These Kids' Fleece Text Gloves with Zipper Pocket keep hands warm while operating a touch screen. A zipper pocket on top of each glove is great for holding important items like a house key, money or a note for school. A special fabric on the tip of the thumbs and index fingers is what makes it possible to use a mobile phone or tablet. One size fits most. Polyester. Imported.