LTD Exclusive: 12 Amazing Products You Can Only Find At LTD
We're constantly searching the globe for unique products to offer our valued customers. In many cases, we start with an idea and develop the product ourselves, or offer it exclusively on our site. Enjoy browsing through our Exclusive Collection online or in our catalog for items you won't find anywhere else!
---
Original Elf Decor
Each merry elf has its own personality and favorite job to do at Santa's Workshop. All the elves have bendable legs so you can pose them sitting, standing or lying down to create an eye-catching Christmas scene.
Why You'll Love Them
– Adds personality to your holiday display.
– Turns any room into Santa's Workshop.
– Makes a great Christmas gift for kids.
Review Spotlight
"These holiday elves are so adorable. Great value and well made. I cannot wait until I get to put them out for the holidays" – crafty12
---
Perfect for the Season of Giving
Fill this Giving Plate with homemade goodies and give it to a friend.  After enjoying your goodies, they can refill the plate with their own homemade treats and pass it along. It's a great way to spread joy to family and friends during the holidays.
Heartwarming Poem on Each Plate
"This plate shall have no owner for its journey never ends. It travels in a circle of our family and friends. It carries love from home to home for everyone to share. The food that's placed upon it was made with love and care. So please enjoy what's on the plate, then fill it up again. Then pass along the love it holds to your family and friends."
Review Spotlight
"I absolutely love these giving plates and the whole idea behind them. They were even bigger than I expected and looked like they were made very well! I filled some up with goodies for my neighbors and even put lottery tickets in one and used it in a gift exchange game. It was the item everyone wanted to get." – Ktrn77
---
Display Your Cards—Don't Hide Them Away
Show off the holiday cards that you receive from family and friends by turning them into Christmas decor. This wooden holder looks festive anywhere in your home. Hang it or lean it against a wall, and use the coordinating clothespins to display cards and photos.
Why You'll Love It
– Adds a personal touch to your holiday decorations.
– Delights friends when they see their card on display!
– Pin up your favorite Christmas photos after the holidays.
Review Spotlight
"Just got this in and it is so adorable.  Bigger than I thought it would be. Can't wait to use it this Christmas. Love how it breaks down for easy storage!" – TEALS1969
---
The Ultimate Year-Round Desk Decor
Mark the passage of the seasons with the changing artwork of this organizer. It's ideal for your kitchen or home office. It comes with two double-sided panels that easily slip in and out of the slot on the front, and has six compartments to hold paperwork, office supplies and more.
What We Love
– A new look for every season of the year.
– Neat, compact place for all your desktop items.
– Charming, cheerful artwork puts you in a good mood.
Review Spotlight
"This looks great on my desk! So cheerful! Very happy with my purchase." – JennMCC
---
Trending Now–Red Truck Decor
It's the artwork that makes this collection special, adding a touch of nostalgia to your kitchen. Each piece features the classic country image of a red truck bringing home the Christmas tree. Makes your kitchen a cheery place to cook and entertain during the holidays!
Why You'll Love It
– Nostalgic look brings back Christmas memories.
– Perfect holiday update for your country kitchen.
– Goes great with more Vintage Red Truck Decor.
Review Spotlight
"Love, love, love the red truck décor. They are even more beautiful in person. They were a steal!" – Mamaw Lee
---
A Word that Warms the Heart
Celebrate the seasons of the year with this versatile home decor. Designed to sit on a shelf or mantel, the wooden letters spell out the word "Home" with the "O" replaced by an icon for fall, winter, spring or summer. Everyone is sure to enjoy your ever-changing display!
What Makes It Great
– Buy once, use it all year round!
– Classic font fits any decor style.
– Holiday icons are simply adorable.
Review Spotlight
"This is the cutest, well-made set ever! The quality is just fabulous. The pieces are well constructed and painted beautifully! I bought 2 and will order more for a fun and unique Christmas gift. LTD products are just the best!!"– Ginniebee
---
Brighten Up Your Laundry Room
Although it probably won't change your laundry day chores into "loads of fun," this collection is sure to improve your mood. Decorate your laundry room with the complete collection, or select a few favorite pieces and see for yourself what a difference it makes!
What We Love
– Perks up an often-overlooked area.
– Tells it like it is–wash, dry, fold, repeat.
– Calm colors perfect for stressful chores.
Review Spotlight
"Love these! …I don't have a real laundry room, just a space in the garage, but every time I pull into the garage it makes me smile to see these happy pieces. So glad I bought them." – cmds
---
Two Fun Seasonal Looks in One
Welcome guests to your home with this double-sided greeter. It's a scarecrow on one side and a snowman on the other. No need to buy a separate greeter for each season. It looks adorable propped against the wall of your front porch or in your entryway. Sure to make visitors smile!
Why You'll Love It
– Cute decor for both fall and winter.
– Just flip it over for the season change.
– Durably constructed for year-after-year use.
Review Spotlight
"I love this design. I don't have a ton of storage so the reversible style is very appealing. Looks cute by my front door!" – SEight
---
Remember Every Birthday
Never again forget a family member's birthday with this plaque hanging on your wall. It comes with 24 tags to personalize with a name and date. Hang each tag under its month, and see at a glance when the next birthday is coming. Great for big, busy families!
Additional Benefits
– Charming wall hanging for the family room or kitchen.
– Easy to add more tags as your family grows.
Review Spotlight
"We have a large family and we're always forgetting someone's birthday.  This family birthday plaque will make it so much easier to keep up with everyone's special day! Another plus is that it looks great on the wall. Already getting compliments on it." – Mrssanta12
---
One Mat for All Seasons
If you enjoy marking the changing seasons with a change to your decor, this welcome mat is for you. The durable rubber frame and switchable inserts eliminate the need to buy a new doormat for each season.
What Makes It Special
– Bright and colorful seasonal artwork.
– Quick and easy to swap the inserts.
– Durable rubber withstands the outdoors.
Product Spotlight
"I have never seen a rug like this before & I just had to have it. I LOVE IT! It looks better in person too! We decorate our house for all of the holidays so when I came across this I knew it would be perfect.  My sister in law came over & fell in love with it too so I bought one for her as an early Birthday gift." – Froggie18
---
Multipurpose Pads that Cling
With these pads, you'll always have paper handy—clinging to your fridge or other magnetic surface.  They're perfect for shopping lists, to-do lists and chore lists for the kids (or your husband). With six in the set, you can spread them around your home so there's always one nearby.
Fast Facts
– Magnetic strip on the back.
– You get 3 different designs.
– Each pad has 30 sheets.
Review Spotlight
"Great for Christmas gifts. I give these to all my lady friends." – angelee
---
Craft-Show-Find Charm
This tabletop piece is a rustic take on that classic holiday figure—the snowman. Fairy lights inside give off a warm glow through the snowflake-shaped "buttons" and make everything merrier. Perfect for an entryway table, buffet table or even the kitchen counter!
What You'll Love
– Battery operated to go anywhere.
– Subtle buffalo plaid Christmas design.
– Ornaments hang from his stick arms.
Review Spotlight
"Very nice, good price! LTD is my favorite catalog to shop from." – Charcoal
---
This is just a sampling from our Exclusive Collection. As you can see, we like items that do double duty (or more). For home decor, holiday decorations, gift ideas and so much more, shop LTD for amazing products at affordable prices.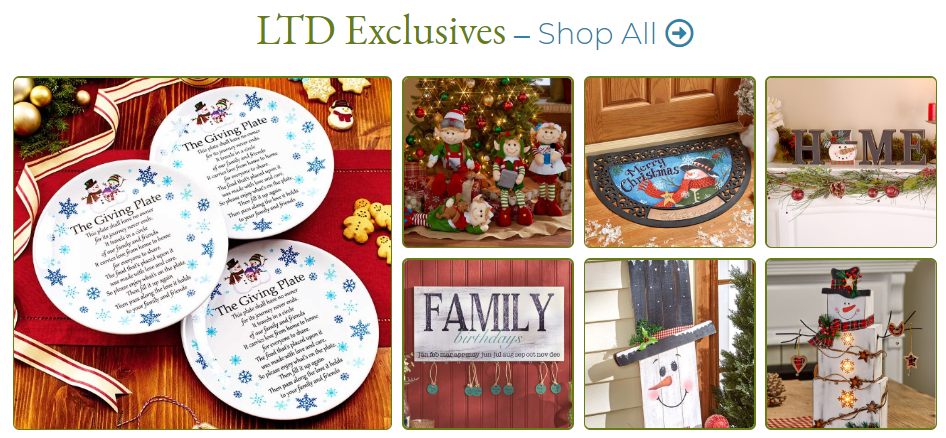 ---
Written By: Jan Baker
---