Video Game Day: How We Played Video Games Before Internet Consoles
July 8th is Video Game Day. For parents, this day is met with an eye-roll even though most parents went through a video game phase when they were kids. Perhaps the disdain for the day is out of envy — after all, video games 20 years ago weren't quite as fancy and high-tech as they are today. Here's a look back at video games LTD Commodities was peddling before internet consoles.
Push-Button Basketball "Indoor hoops without the drywall repairs" and… fun! Make lay-ups and three-pointers with the touch of a knob, but even with all the "surprising upsets" everything stays intact with the protective plastic dome. The colorful score keeper tracks all of the exciting one-on-one action of "thrilling comebacks" all without a battery, cord or internet connection.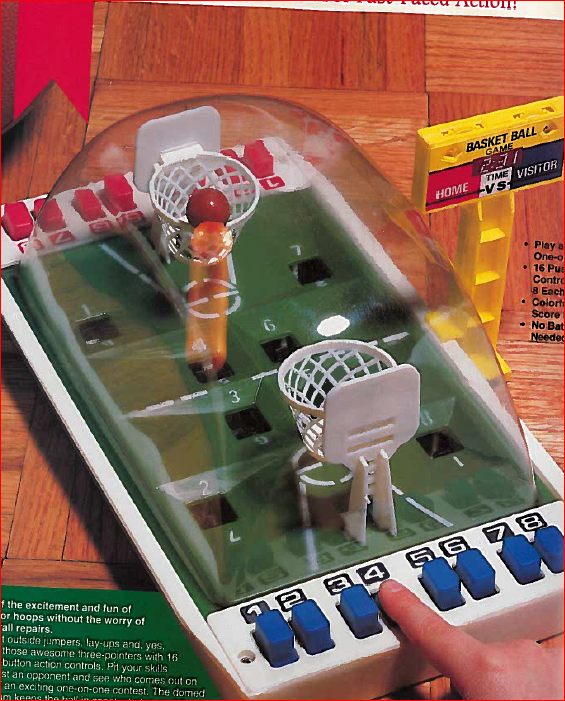 Happy Driver with Bump and Go Action Get behind the wheel without a driver's license with this driving simulator! It has a key you can actually turn to start the "car" and a gear shifter so you can change gears as you speed up and slow down — depending on your simulated traffic. You can even avoid jams by shifting into reverse and head in another direction to reach your destination without getting into an "accident." If you prefer action in the air, water or narrow road ways, simulators come in choice of airplane, motorcycle and boat.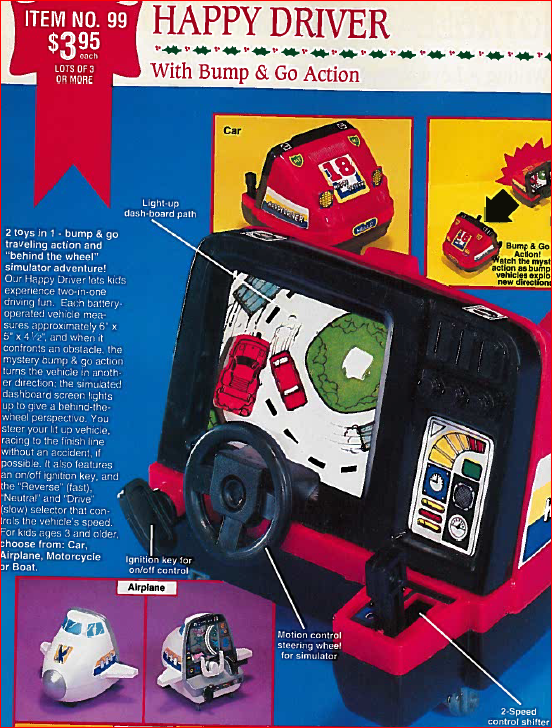 Cassette Game Player Who needs an MP3 player or a portable CD player when you can listen to your Wham! Make It Big cassette tape and play video game tennis or grand prix at the same time from the same machine!  This Cassette Game Player takes FULL-SCALE cassettes (no Pocket Rockers here!), it features adjustable headset and built-in belt clip. The video games function on a simple watch battery; the cassette player — which features play, stop and fast forward (Sorry! No rewind) — operates on two AA batteries.
Electronic Action Games Tic tic tic! Beep beep beep! Aliens are blown to bits with the intergalactic Space Blaster! Battle hostile aliens from wherever you are in the Universe and you'll "feel the power of an arcade in the palm of your hands."  "Arcade?" you might ask. Well, it just means you don't have to go anywhere to enjoy decimating aliens with the touch of a button. Oh, and don't worry, your hands won't actually turn green if you play Space Blaster. If sports are more your thing, "Basketball," "Motorcycle" and "Car Racing" are also Electronic Action Game options. There are two skill levels to choose from on each game and, just in case you need help getting to class on time, the EAG includes a "handy clock and alarm."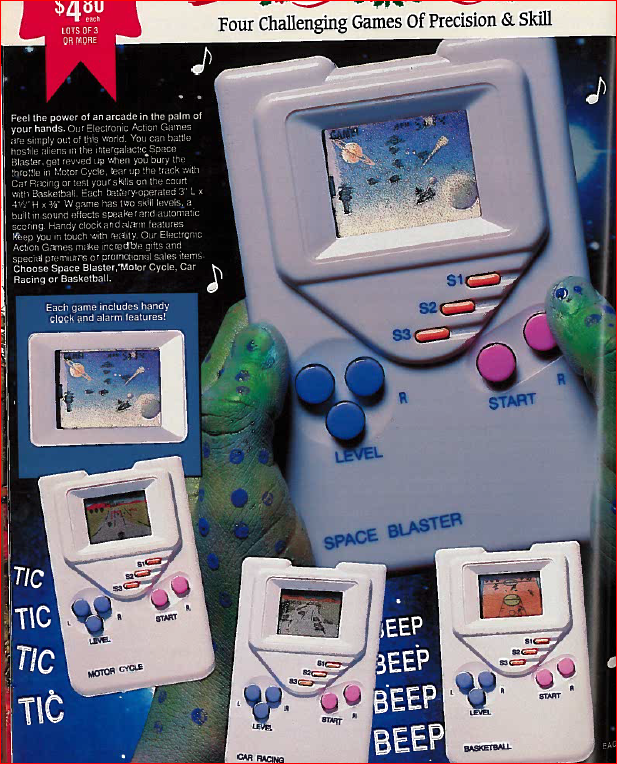 Electronic Tabletop Games What's your video game pleasure? Football? Fighting aliens? Car racing? Baseball? Well, you can play them all on separate machines from the comfort of your kitchen table or desk top (by "desk top" we don't mean a computer that is not a laptop or tablet, we mean the top of a desk!). You have the option of playing as a beginner or an expert (no in-betweeners, please!) as you take on the electronic opponent of your choice. These games will keep you mesmerized for hours, but just so you don't get too wrapped up in Electronic Tabletop Games, the clock chimes hourly to remind you you're wasting a perfectly nice summer day.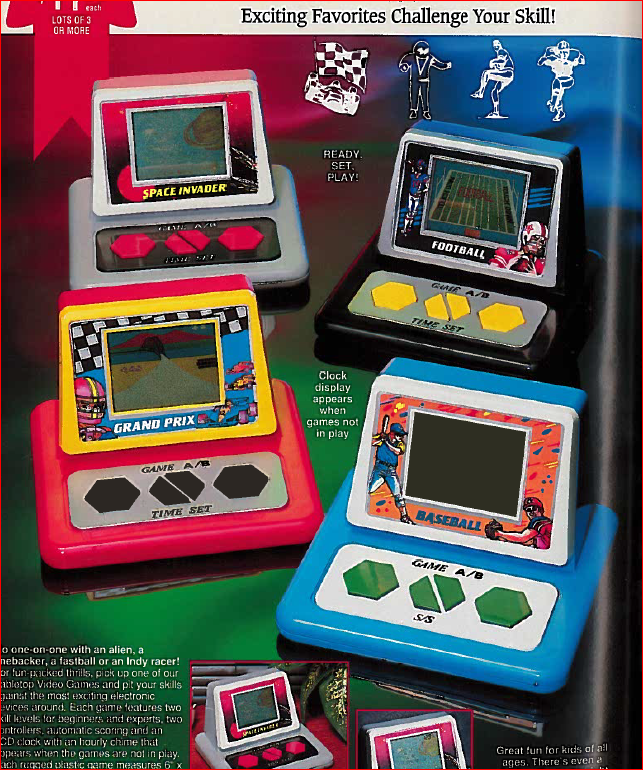 Technology has improved exponentially in the last twenty years so LTD Commodities no longer carry these video games. It's a good thing, too — now video games just take up Cloud Space rather than storage space (but we will always sell storage space solutions!). Unfortunately, video games still waste your time now the same way they did in 1994.