Ways to Use Chalkboard Paint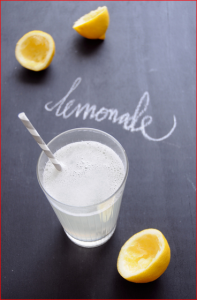 The chalkboard has given way to the dry erase board in the classroom and now the dry erase board is being replaced by the chalkboard in the home. While the chalkboard is a learning tool quickly fading in schools now, our kids don't have to miss out on what was a staple in the classroom for more than two centuries.  The chalkboard is a piece of childhood nostalgia we can easily bring into our homes to add character and practicality. Here are some ways to use chalkboard paint in your home for panache and purpose.
Eating & Organizing
In the kitchen, chalkboard paint doesn't have to be more than delightful for a backsplash. It's difficult to use the backsplash for writing notes or drawing and erasing, but chalkboard paint is a clever addition to an otherwise unnoticeable part of the kitchen.
But on the kitchen wall or even the refrigerator, it turns fun into functional with grocery lists.
Notes are well received on the kitchen wall – they can't be missed when an entire wall is the message board.
And the refrigerator no longer has to be a vehicle for magnets; with chalkboard paint, kitchen art changes with the mood of the cook or whoever might have the chalk in hand.
Cabinet organization is chic for labeling jars of flour, rice and even spices. With the changeable nature of chalkboard paint, no container is a permanent home for whatever grain or sugar you need to store.
At the table, it adds personalized charm that's recyclable.  Whether you want to do a kids' birthday party or you're having an elegant dinner party, chalkboard paint for reusable place cards or temporary placemats is a whole category of inspiration.
Living & Creating
In the living room, it can take the headache out of having a creative toddler – artwork is no longer unwanted on the wall. Let the creativity flow – chalkboard paint on a living room wall is a never-ending canvas for budding young artists.
And why stop at the wall when the coffee table is begging for a daily makeover?
Chalkboard paint adds character in places you didn't know could be interesting.
Up the staircase is a new place for inspirational messages or notes that change with the seasons.
Under the staircase is a whole new corner to create style and complexity to a lifeless wall.
Best of all, chalkboard paint turns an ugly piece of furniture into an object of whimsy… with a sprinkle of utility. Upcycle a dresser from a flea market, covering it with paint makes it into an organizational learning tool for your kids or you can use chalk to remind yourself where everything goes.
Chalkboard paint won't solve all your decorating doubts, but it's a DIY solution to many problem plans. Practically any surface or piece of furniture can inspire a new way to use chalkboard paint.