10 Adorable Bunny Decorations For Easter
Bunnies are not only cute animals, but they are also a strong recognizable symbol of Easter. Combined with pastel colors and spring flowers, bunny themed decorations are incredibly fitting for Easter. Here are 10 adorable bunny decorations for Easter that will give your house a fun and festive feeling in the springtime.
---
Decorative Bunny Signs
Bunny signs make great Easter decorations because they can fit into almost any room of your house. You can put one up on the living room wall, stand one up on your kitchen counter, or even hang up a bunny welcome sign on your front door. Wherever you put a bunny sign, it will bring festive cheer to your house!
Interchangeable Welcome Sign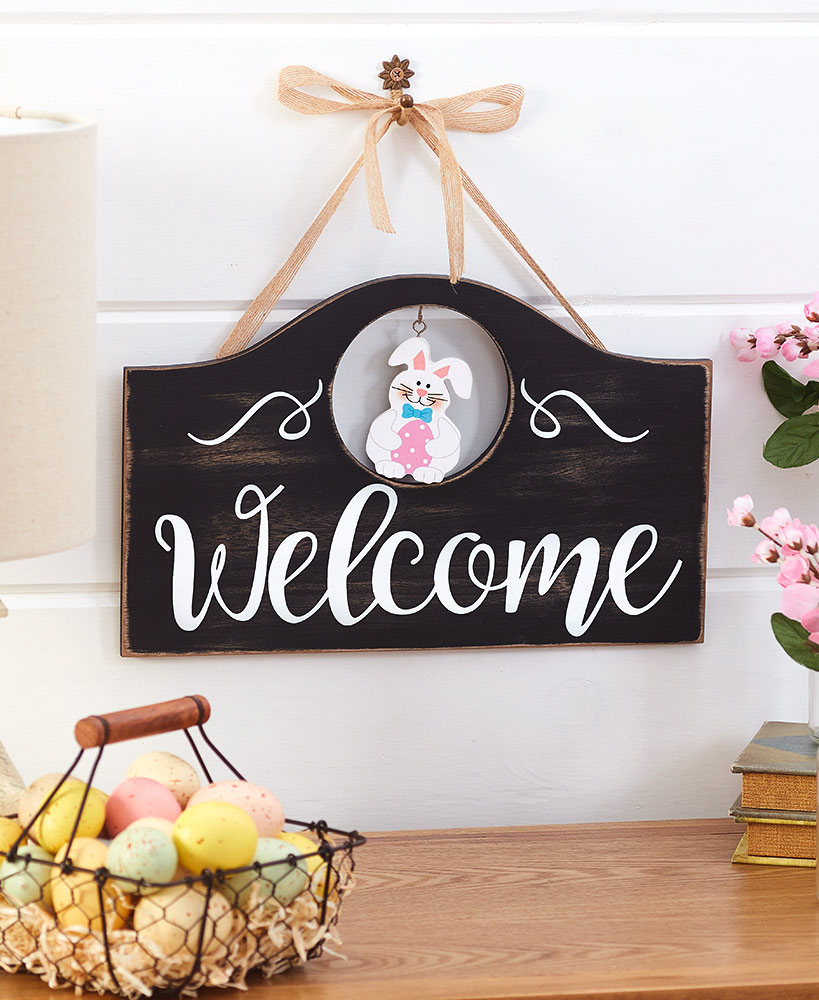 The Interchangeable Welcome Sign is not only an Easter themed decoration, but it can quickly transform to fit any season or holiday thanks to its selection of wooden icons!
The bunny icon on this sign is the perfect addition to your Easter decoration spread. Hang this welcome sign on your front door to greet your guests or hang in on the wall in your foyer.
Vintage Easter Plaques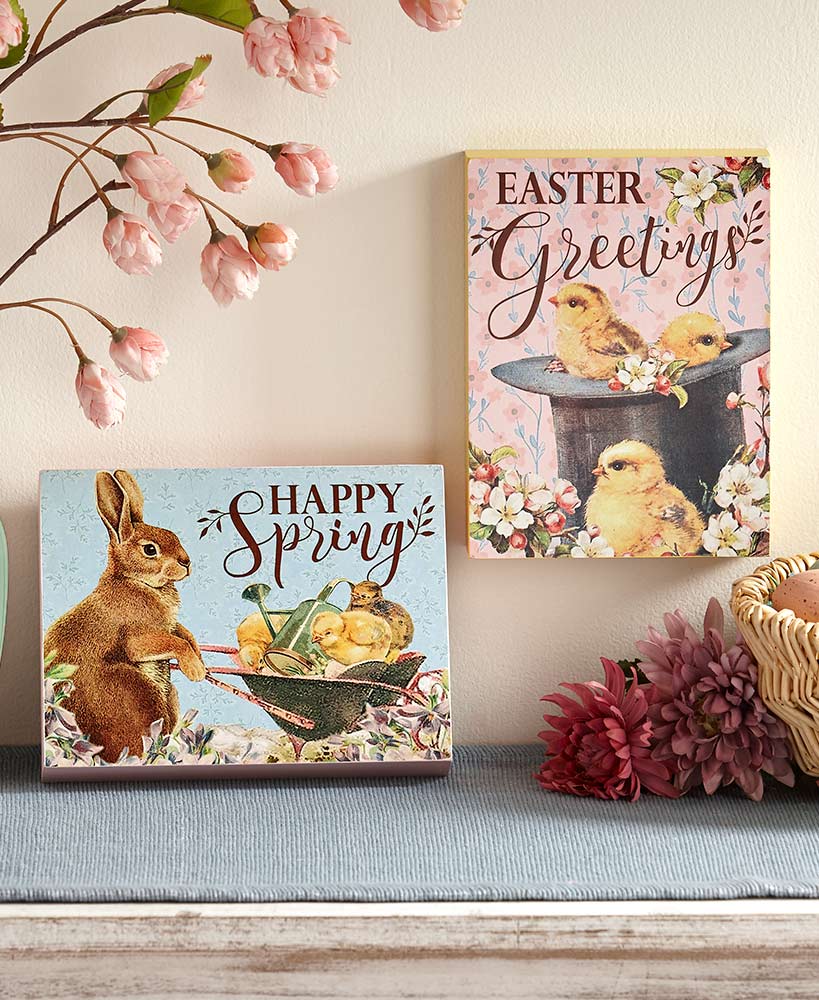 These pastel Vintage Easter Plaques are perfect to hang up as wall art or they can even sit up and be displayed on any tabletop in your house!
The bunny plaque displays "Happy Spring" along with a bunny and a wheelbarrow of chicks. You can also get the "Easter Greetings" chicks plaque that you can hang up right near the bunny plaque!
---
Outdoor Easter Bunny Decorations
Bunnies and gardens already go together so it only makes sense to incorporate bunny decorations in your outdoor space for Easter! A lot of outdoor bunny decorations are general enough to be kept up throughout the whole spring season. They also bring some extra festive cheer to your Easter celebration!
Bunny Silhouette Metal Garden Stake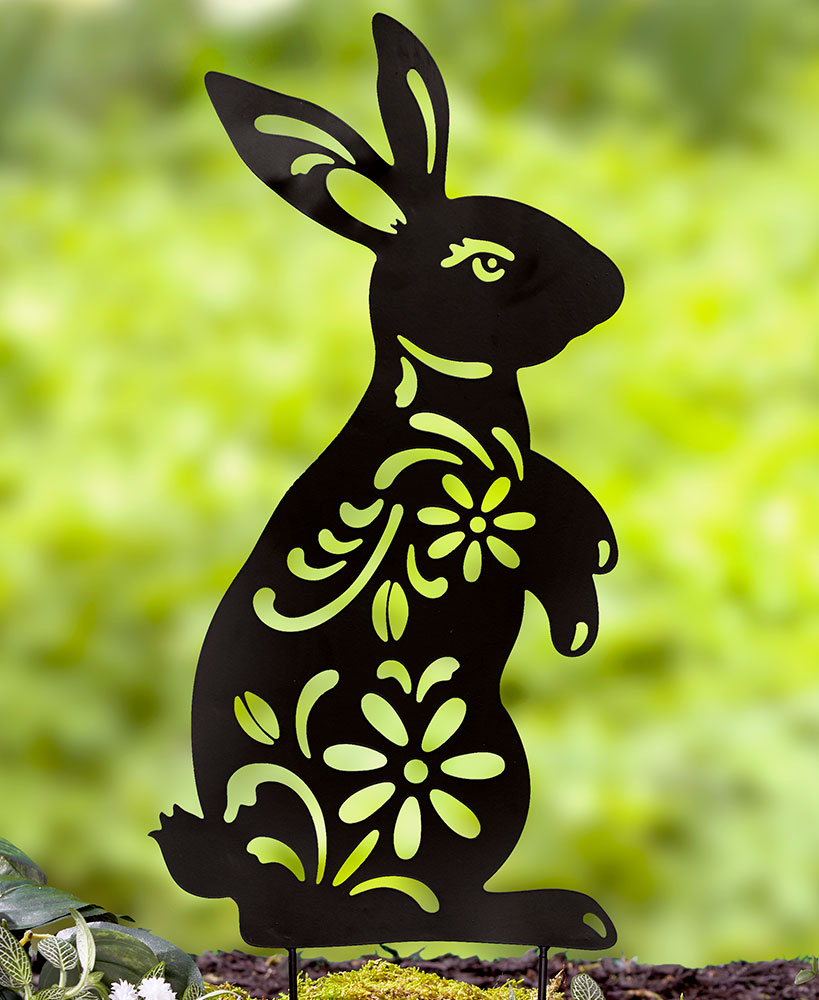 This Bunny Silhouette Metal Garden Stake is the perfect companion to your bright and cheerful spring flowers!
Display this bunny in your backyard with your planted flowers or stick it in a planter on your front porch. You can even get the cat, dog, and frog stakes to complete the animal silhouette collection.
Personalized Spring Floral Bunny Flag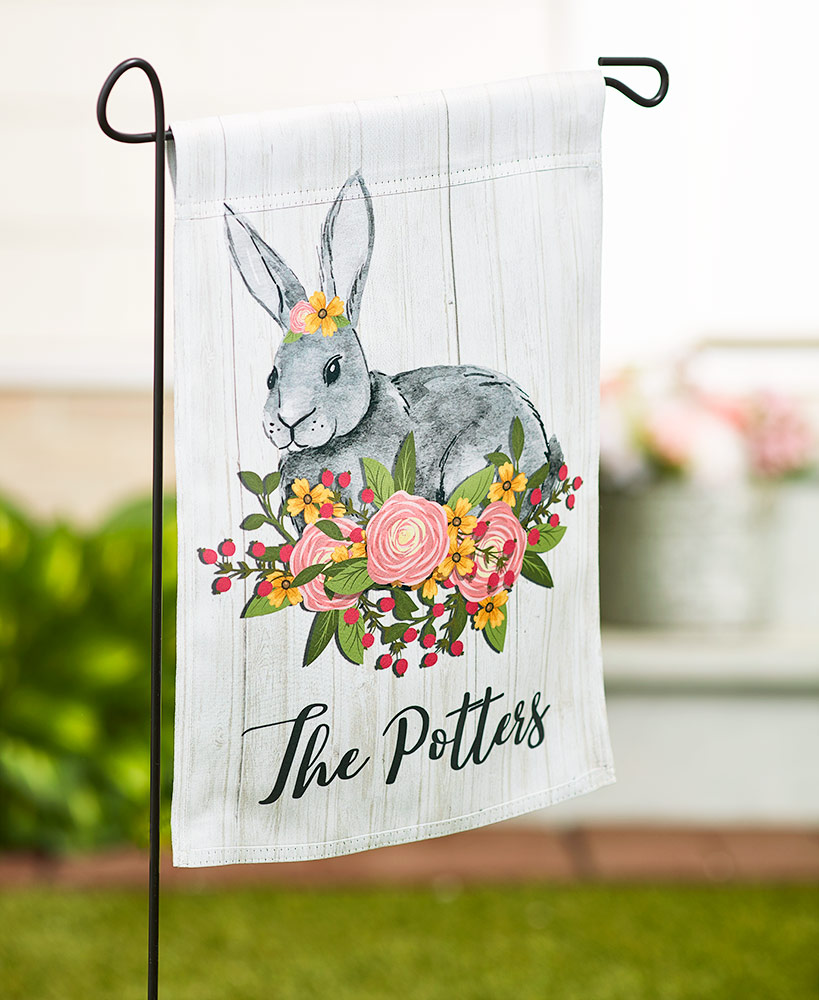 Add your family name to this personalized, double-sided bunny flag and display it all spring long!
The flag features an adorable bunny with a collection of spring flowers and your family name in an elegant font. Display the flag in your front or backyard for Easter and the spring.
---
Bunny Shelf Sitters
Decorate your shelves in Easter fashion with festive bunny shelf sitters! These shelf sitters can be displayed on a bookshelf in your living room, they can hang off of your kitchen counter, or they can sit on a floating shelf in your bedroom. They are small decorations but they are noticeable accents that will add Easter cheer to any room of your house.
Easter Bunny Shelf Sitters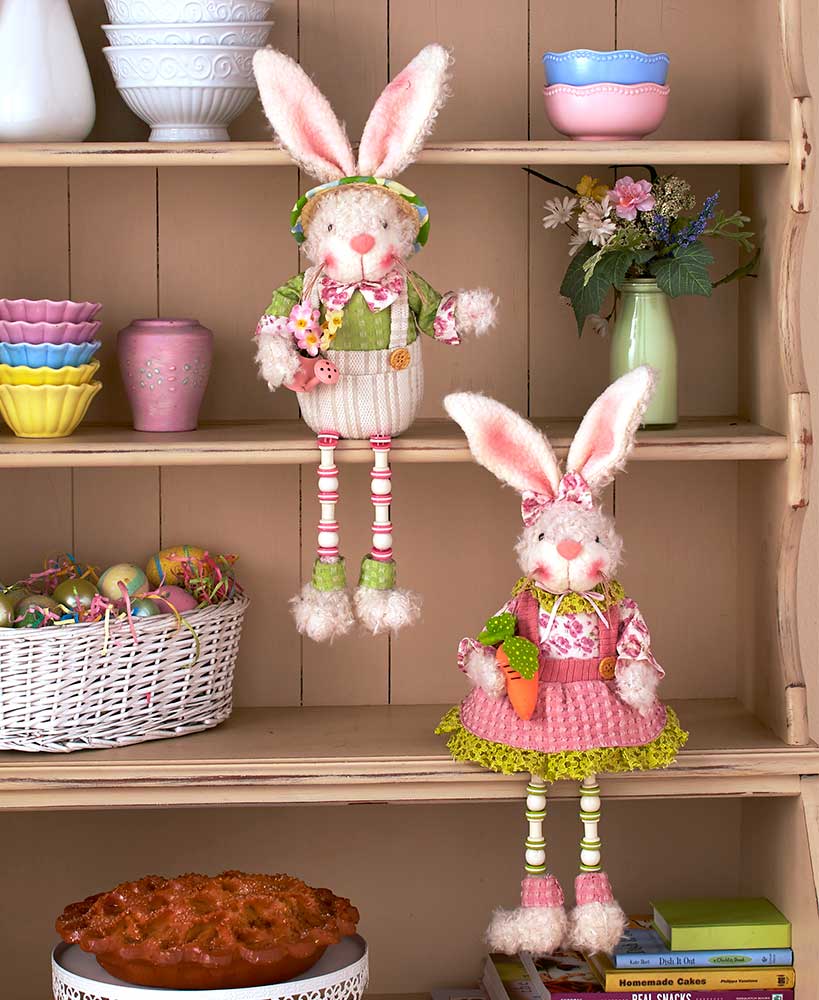 These adorable boy and girl Easter bunny shelf sitters bring pink and green colors to the room.
You can sit these on your shelf, adjust their ears, and position their left arm in any pose you like! Their legs are made of wood beads, allowing them to decoratively hang off any shelf.
Helping Hand Bunny Shelf Sitter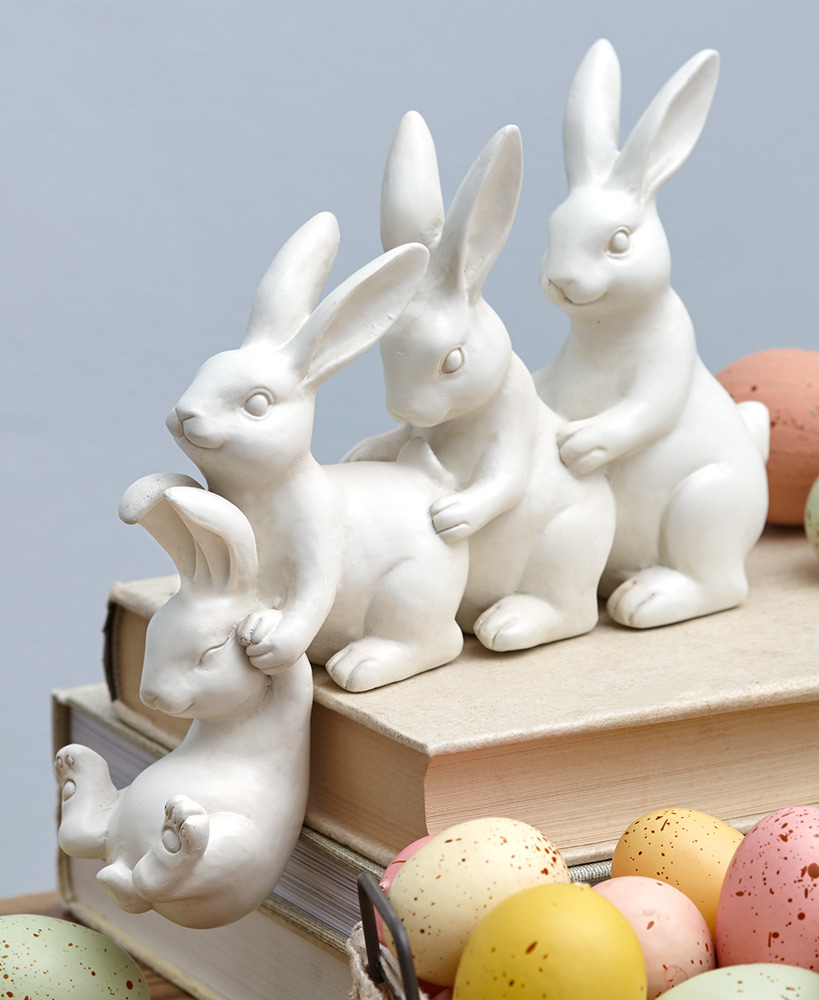 These ceramic bunny shelf sitters are a cute home decor accent that you can keep up the whole season!
The statue shows a team of bunnies helping pull up their bunny friend who has fallen. This decoration is subtle enough to be displayed on a shelf in any room of your house.
---
Country Bunny Decorations
Country themed bunnies can add some charm to your Easter decoration spread and can also blend in nicely with your everyday country home decor! Country style bunny decor can even be displayed all year long because they aren't outwardly seasonal. However, they can also solely be used as Easter accents to go along with your other Easter decorations.
33″ Lighted Country Bunny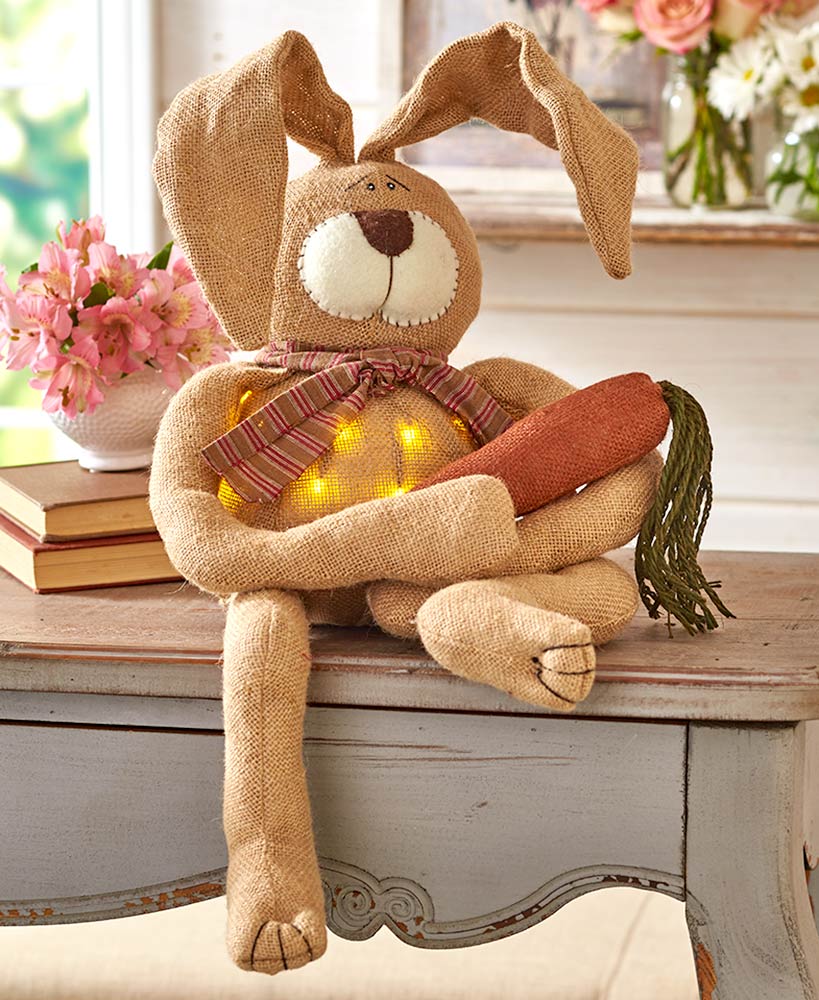 This burlap country bunny gives off a soft glow that will bring a warm light into any room of your house during Easter or all year long!
Add charm to your house with this bunny – sit it on the edge of a shelf and let its legs dangle, or set it on any tabletop. It looks great with other burlap accents and country decor.
Country Bunny Family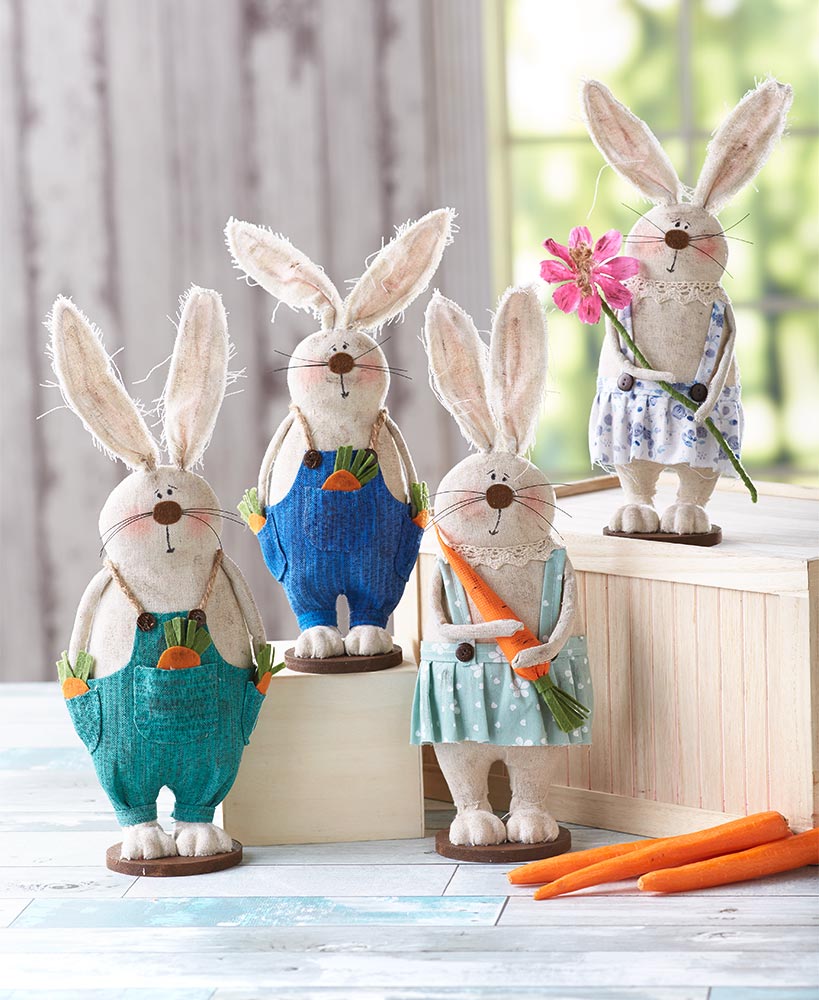 The HOPkins bunny family will bring some quirkiness into your house during Easter thanks to their cute overalls and unique qualities!
Get one of the bunnies or get the whole family to feel more complete. You can put these bunnies on your windowsill, coffee table, or any other counter top in your house.
---
Cotton Tail Bunny Decorations
One of the most recognizable aspects of bunnies are their adorable tails! Cotton tail bunny decorations make the cutest Easter spread for your house. These decorations are also great if you want a more prominent Easter theme in your house rather than having subtle spring bunny decor.
Bunny Behind Spring Tapestry Throw Blanket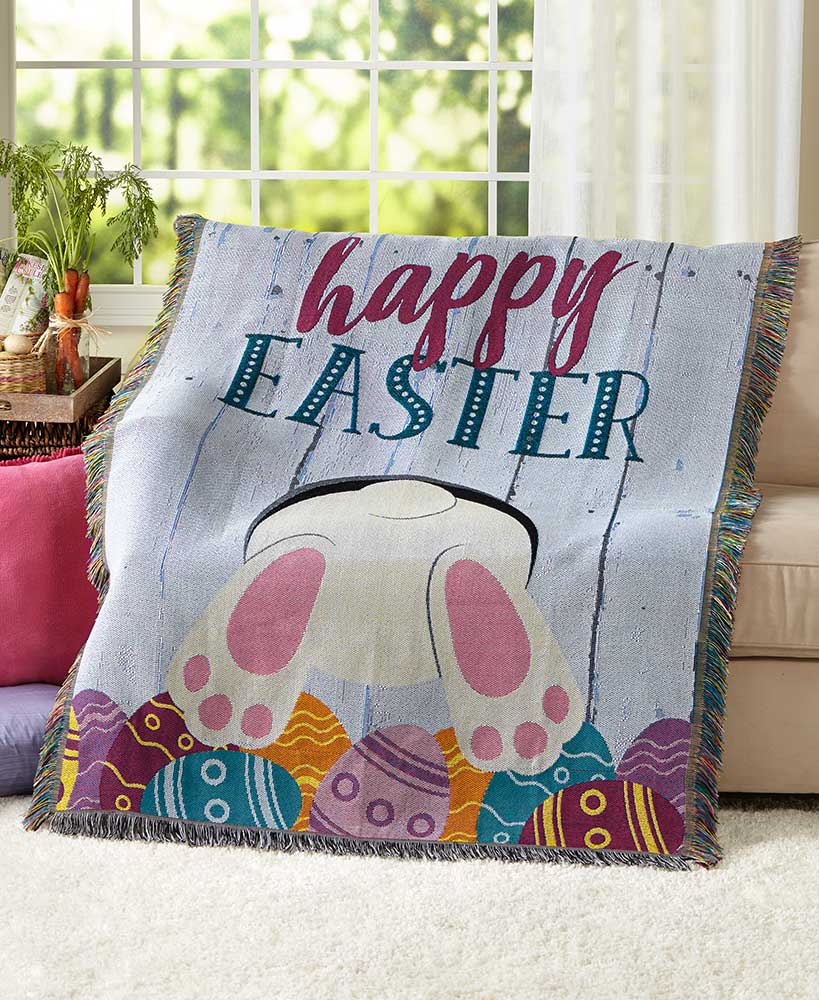 Bring some Easter vibes into the living room with this Bunny Behind Spring Tapestry Throw Blanket!
Lay this 48″ x 60″ blanket over your couch to add some bright spring colors to the room. Complement the blanket with some colorful flowers or pastel decor on your side table or coffee table.
Cottontail Bunny Placemats With Holders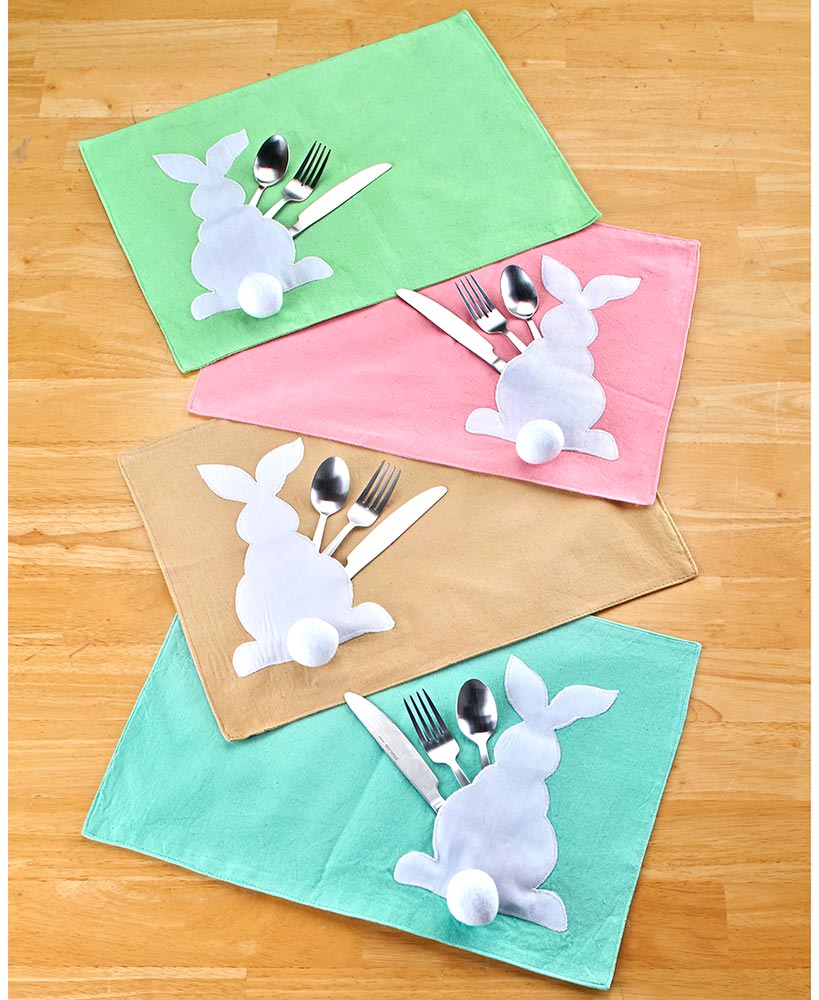 These cute and colorful placemats feature a white bunny silhouette with a prominent puffy cotton tail!
The placemats will instantly bring spring cheer to your dining or kitchen table. Pair them with other Easter table decor, such as themed dinner plates and a bunny centerpiece.
---
Looking for even more Easter inspiration? Check out our full selection of Easter Decor & More to find decorative accents, figurines, doormats, and other themed items!
---
Shop our February 2020 catalog to find Easter and spring inspiration for every room of your house, plus garden items and more! Shop here.