Modern Farmhouse Living Room Ideas To Transform Your Space
The farmhouse decor style creates a welcoming environment with a unique rustic charm. The modern version of this style maintains some of the rustic elements and twists it with a more fresh, open, and bright appearance. The living room provides the perfect setting for this decorating style because there are so many possibilities of what you can do. Here are some modern farmhouse living room ideas to transform your space and create the environment you want to achieve.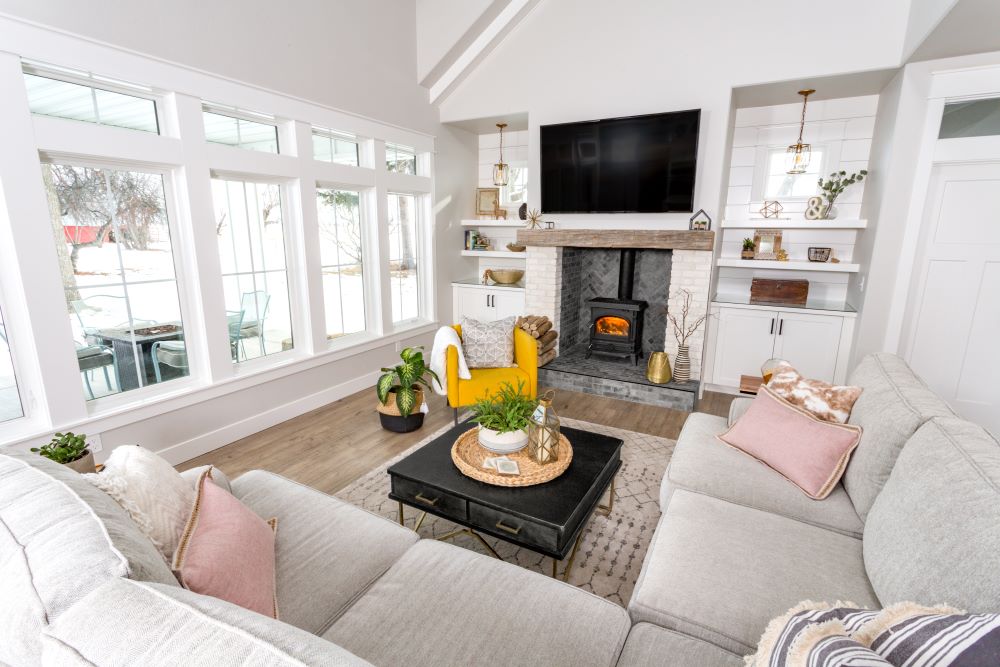 ---
Mix Modern Decor With Farmhouse Furniture
In order to include the farmhouse decor style in your living room while still maintaining an overall modern feel, you need to have a solid combination of both design styles in the room. It's important to balance these correctly, otherwise you won't get the appearance that you're looking for.
Incorporate some farmhouse style statement furniture pieces such as a galvanized metal coffee table, a barn door style TV stand, or a rustic wooden rocking chair. These charming pieces of furniture will stand out in the room as defining elements.
Balance out the farmhouse furniture with modern accents throughout the rest of the living room. These accents should blend into the room seamlessly.
Modern Living Room Decoration Ideas
A large area rug with a geometric design
Decorative lamps and lighting that include fairy lights or string lights
Patterned throw pillows in fresh colors
Contemporary paintings and wall art
---
---
Create An All White Living Room With Minimal Colored Accents
A predominately white living room gives off modern vibes because of its fresh and bright appearance. While traditional farmhouse decor includes a lot of warm colors like red and brown, modern farmhouse has more of a cool color scheme.
Bring in the farmhouse style by including decorations that have a distressed white wood finish. While not all decorations have to be strictly white, try to decorate with accents that are mostly neutral colors including cream, very light gray, and beige.
It's best to include small dashes of color throughout the room in order to create some minimal contrast and to break up the neutrality in the room.
Accent Colors To Use In A White Living Room
Light green or natural green with the help of plants and foliage
Soft shades of blue
Subtle shades of pink, orange, or yellow
---
---
Reserve Wood & Metal For Living Room Wall Decorations Only
Distressed wood and galvanized metal is seen all throughout the farmhouse decor style, but including too much of it can make the living room feel more traditional farmhouse rather than modern farmhouse.
Keep the wood and metal to a minimum by reserving it for your wall space only. Decorative wall art can really pop and stand out without being too much of a main focus in the room. Farmhouse accents mixed in with bigger modern decorations and furniture can help give you the balance that you desire.
Aside from just choosing wall art that is constructed of wood and metal, you can also hang up wall art with general farmhouse themes.
Farmhouse Living Room Wall Decor Themes
Farm animals such as roosters, pigs, and cows
Barn themed words and sentiments
Other farm symbols like barn doors, tractors, and windmills
---
---
Set Up The Living Room With Wood Plank Walls
Wood planks mimic the style of a barn and can give the living room a more authentic farmhouse charm. However, if you use distressed wood planks in your living room, you'll have more of a traditional farmhouse style.
To get the modern farmhouse design in your living room, stay away from distressed wood planks and instead use wood planks with a more finished and sleek appearance. Cover the walls with these sleek wood planks to set up the living room nicely and create the overall theme.
While wood plank walls are fairly self explanatory, here are a couple of tips to make the most of your living room wall space.
How To Use Wood Plank Walls In Your Living Room
Use peel and stick wallpaper for a temporary way to give the walls a wood plank effect.
Different shades and colors of wood planks can be used depending on the rest of your room decor. For instance, use timber white plank walls if you want to establish a white and fresh theme in the room.
---
---
Balance Out Bold Farmhouse Accents With Neutral Furniture
If you want more defining farmhouse elements in your living room with a slight modern touch, the best way to do this is to decorate with bold farmhouse accents and balance them out with the use of neutral furniture.
Neutral furniture will allow you to easily incorporate pronounced farmhouse decorations such as barn animal wall art and tabletop accents, large rustic wall clocks, and other defining accents. These decorative accents will be eye-catching in the room but they won't make the room feel overloaded.
The use of neutral furniture will give your living room a clean and crisp look. Colors such as white, beige, and cream can provide a nice simple base for the farmhouse theme that you want blend into the room.
How To Include Neutral Furniture In Your Modern Farmhouse Living Room
Put white, cream, or beige colored furniture slipcovers on your couch or accent chairs.
Use a clear glass coffee table, a simple white TV stand or bookcase, or beige colored side tables.
Include neutral colored fabrics in the living room as well, such as decorative pillows and throw blankets.
---
---
Are you ready to have a modern farmhouse living room? Shop our selection of Farmhouse Country Decor to find accents, wall art, furniture, and much more!
---
Looking for more farmhouse decor ideas? Check out How To Decorate Your Bedroom Farmhouse Style On A Budget!