10 Charming Fall Farmhouse Decor Ideas
Farmhouse decor and fall decor are very similar when it comes to materials, colors, and the overall welcoming and homey feelings. It's very easy to combine these two decor themes and still get a cohesive design style throughout your home. Here are 10 charming fall farmhouse decor ideas to transform your home this harvest season.
---
1. Decorate With Rustic Accents To Get The Classic Farmhouse Look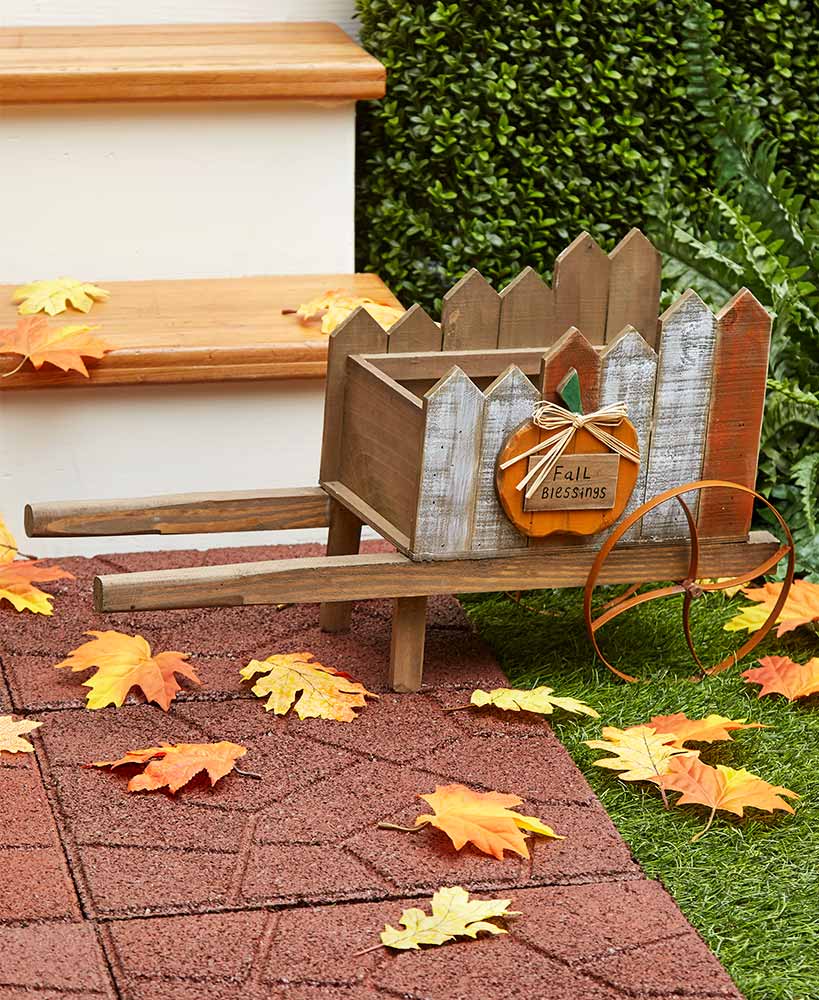 The farmhouse decor style includes elements of rustic materials to give off a worn-in and homey feeling. Including these materials in your fall decor spread will help your combine the styles.
Decorate with accents that include galvanized metal, distressed wood, and any faded coloring. This will give off the appeal of a country farmhouse look.
Combine fall symbols with these types of materials in order to get the seasonal look. Pumpkins and leaves are the most common decor symbols to include in your spread.
This Fall Blessings Pumpkin Wheelbarrow combines galvanized metal and wood, making it the perfect fall farmhouse accent to set up on your front porch!
Fall Blessings Pumpkin Wheelbarrow
---
2. Bring On The Farmhouse Charm With Fall Sentiment Decor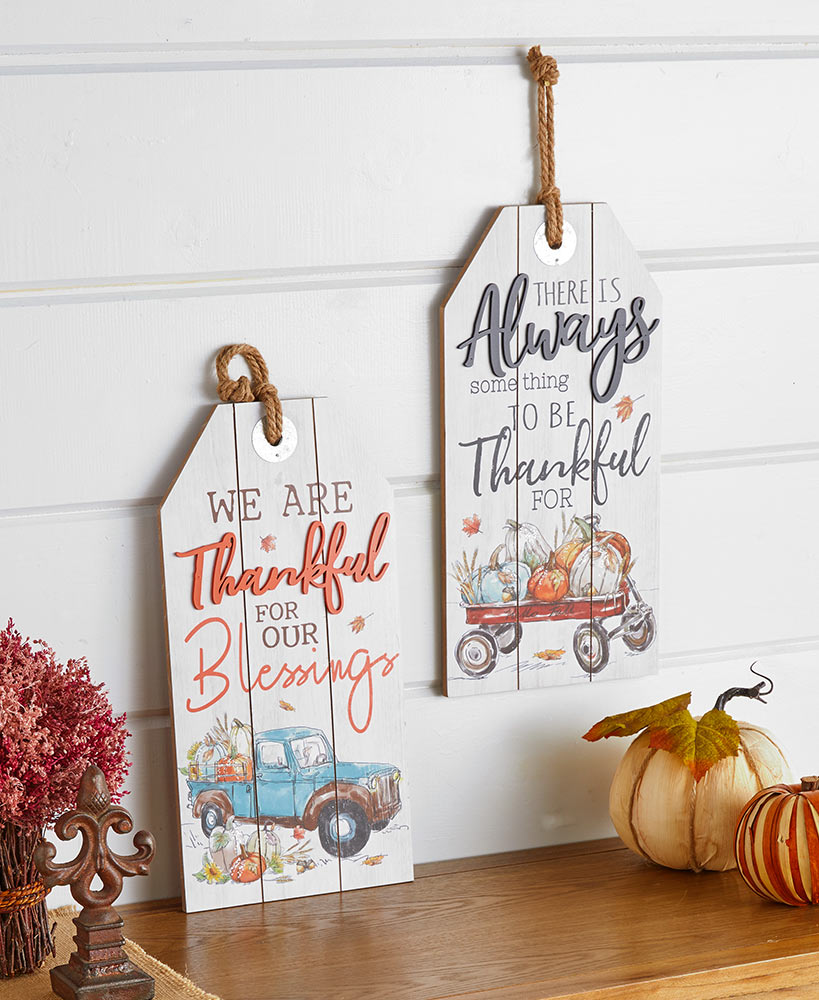 A huge part of the farmhouse decor style is charm, which can easily be added through sentiment decorations.
Decorate with a combination of fall and farmhouse sentiments throughout your home to achieve this look. This can be done through farmhouse wall hangings, block signs, decorative accents, doormats, hand towels, and more.
Luckily, fall sentiments and farmhouse sentiments can be very similar when it comes to simple phrases. For instance, sayings such as "thankful" or "blessed" are always ideal choices for this style.
These Harvest Tag Wall Hangings are a great combination of harvest and farmhouse. They feature relevant sentiments with truck and pumpkin accents on a wooden pallet background!
Harvest Tag Wall Hangings
---
3. Mix Fall Decor With Farm Animal Accents To Achieve The Ideal Combination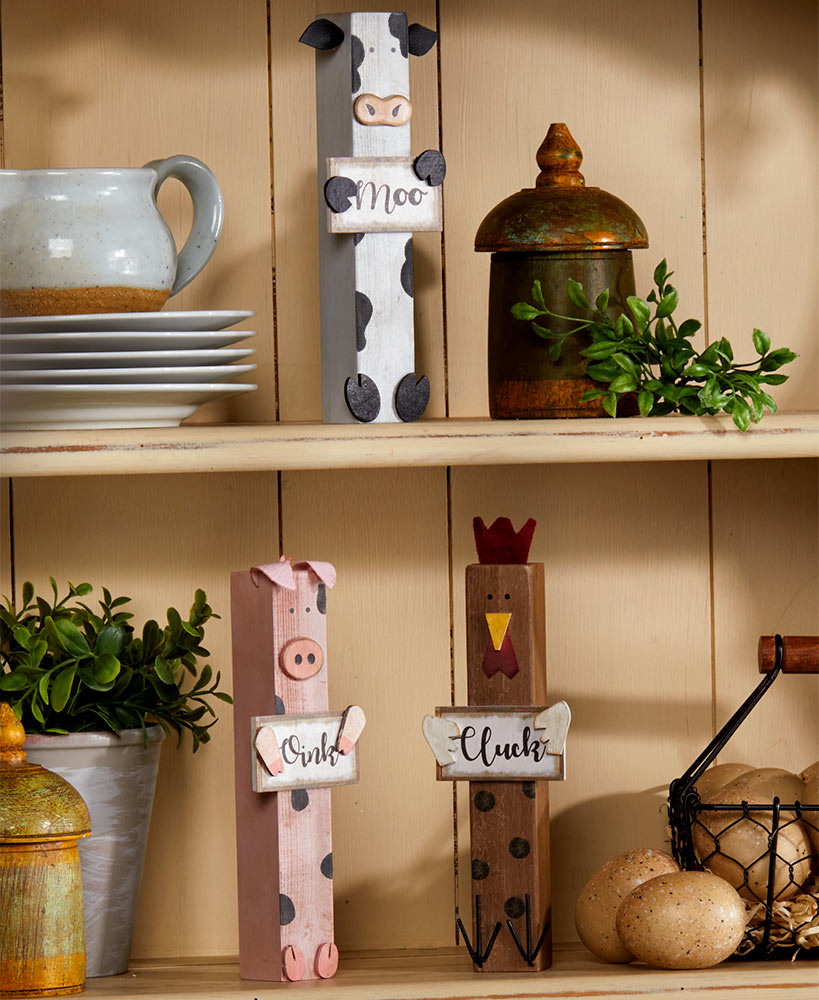 The farmhouse decor style, along with other country themed styles, tend to feature farm animals throughout the home. Mix farm animal accents with fall decor to get an attractive combination.
Start by placing farm animal decor into each room of your home. Incorporate common animals such as cows, roosters, pigs, and sheep.
Fulfill the farm animal look through small accents, wall hangings, and kitchen accessories. Then, add in some seasonal fall decorations nearby or find a way to combine some decorations. For example, if you have a decorative farm animal bowl, you can fill it with leaves or pumpkin decorations.
This Set of 3 Wooden Farm Animals is a charming farmhouse accent that can be placed in your kitchen or on your living room shelves. Mix them with fall accents to get the ideal mix!
Set of 3 Wooden Farm Animals
---
4. Incorporate Buffalo Plaid Decor Into Your Fall Spread For Farmhouse Appeal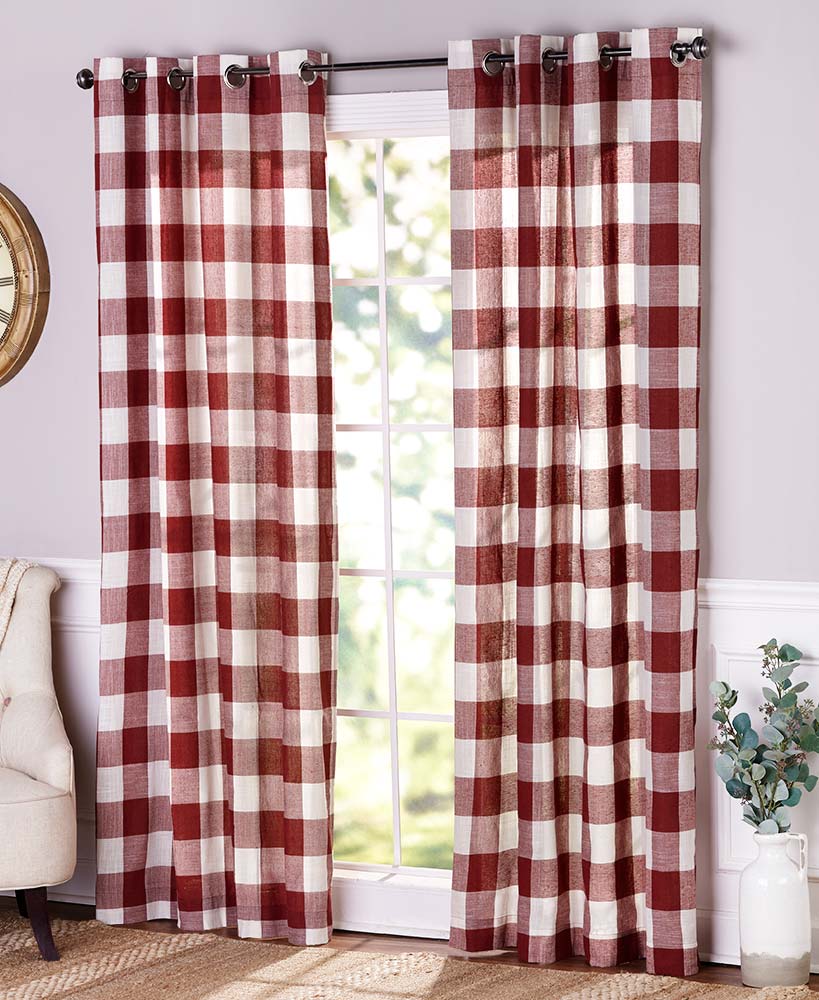 Fall style and farmhouse style both include patterns as a standout element in decorations. Plaid is one of the most common patterns that work with both of these styles.
Incorporate buffalo plaid decor into your seasonal spread for a seamless blend of farmhouse charm and festive fall flair.
Bring in plaid through curtains, throw pillows or blankets, table linens, bedding, and other fabrics throughout your home. You can combine this with other patterns but be sure to keep it simple to allow your decor to flow together.
This Buffalo Check Curtain Collection is a fitting element for a fall farmhouse look! The red option is especially festive and will match nicely with other fall themed decorations.
Buffalo Check Curtain Collection
---
5. Create A Welcoming Farmhouse Fall Front Porch Space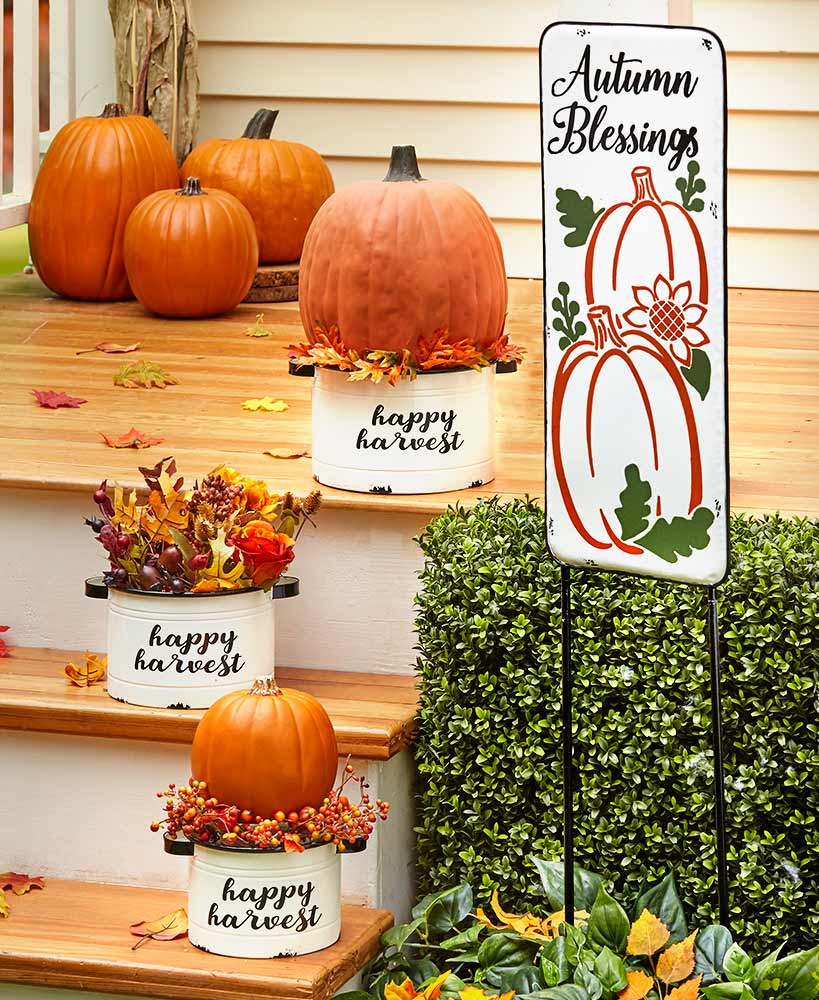 Creating a welcoming space is a defining part of what the farmhouse theme stands for. Transforming your porch can help your get those vibes this fall.
Start by adding some traditional farmhouse decor to your porch. Set down some metal or wooden planters, a sentiment sign, a straw welcome mat, and some burlap pillows on a bench or chair.
Then, add some fall themed decor to finish the look. Place some pumpkins in the planters, add some fall sentiment signs, and wrap your porch with a lighted leaf garland.
These Enamel Harvest Yard Stake or Planters will give you a starting point for a welcoming porch! With harvest sentiments and neutral colors, fill your porch with other fall decor and coordinating farmhouse accents.
Enamel Harvest Yard Stake or Planters
---
6. Hang Up A Burlap Wreath For A Simple Farmhouse Fall Fusion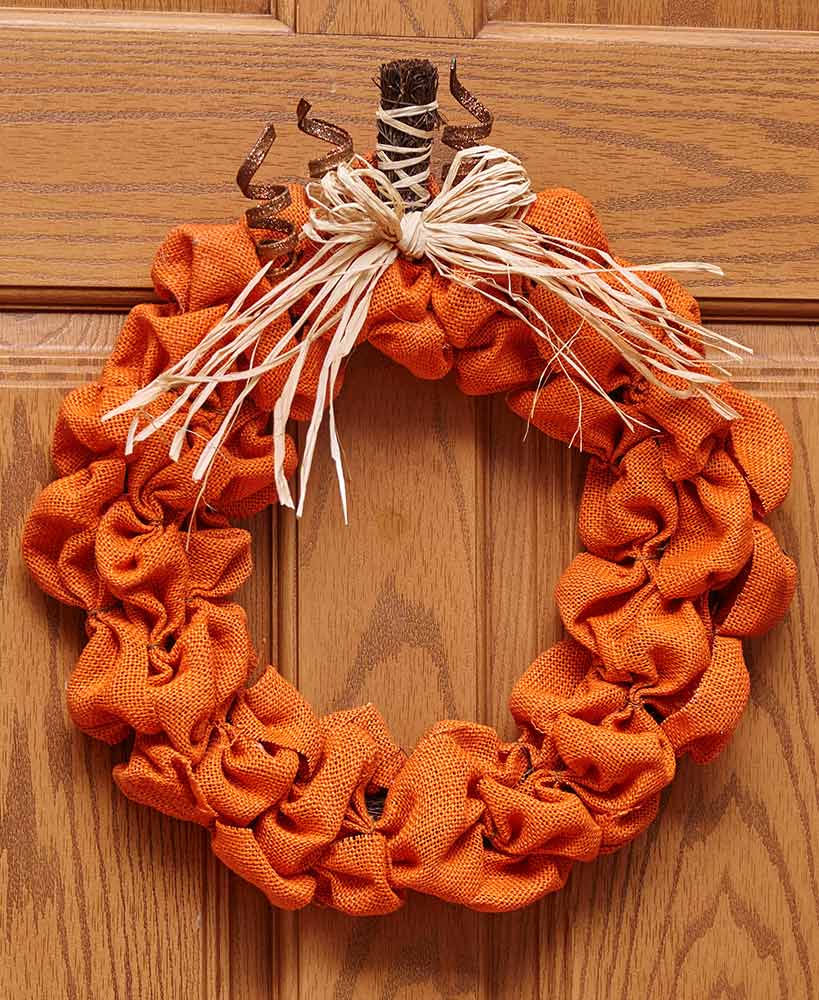 A quick and simple way to add a fall farmhouse style to your home is to hang up a decorative wreath.
Burlap is a great choice for a wreath because it fits in with the style and complements other decorations. However, you can also opt for a straw wreath or branch wreath.
Hang up your wreath on the front door to match your welcoming front porch decor, or hang it up on the wall inside your home above a console table, above the mantel, or in the kitchen.
This Burlap Pumpkin Wreath is a great addition to your farmhouse fall decor spread! Its orange color will match any festive pumpkin decor but is also neutral enough to use all year round.
Burlap Pumpkin Wreath
---
7. Accent Your Living Room With Themed Pillows & Blankets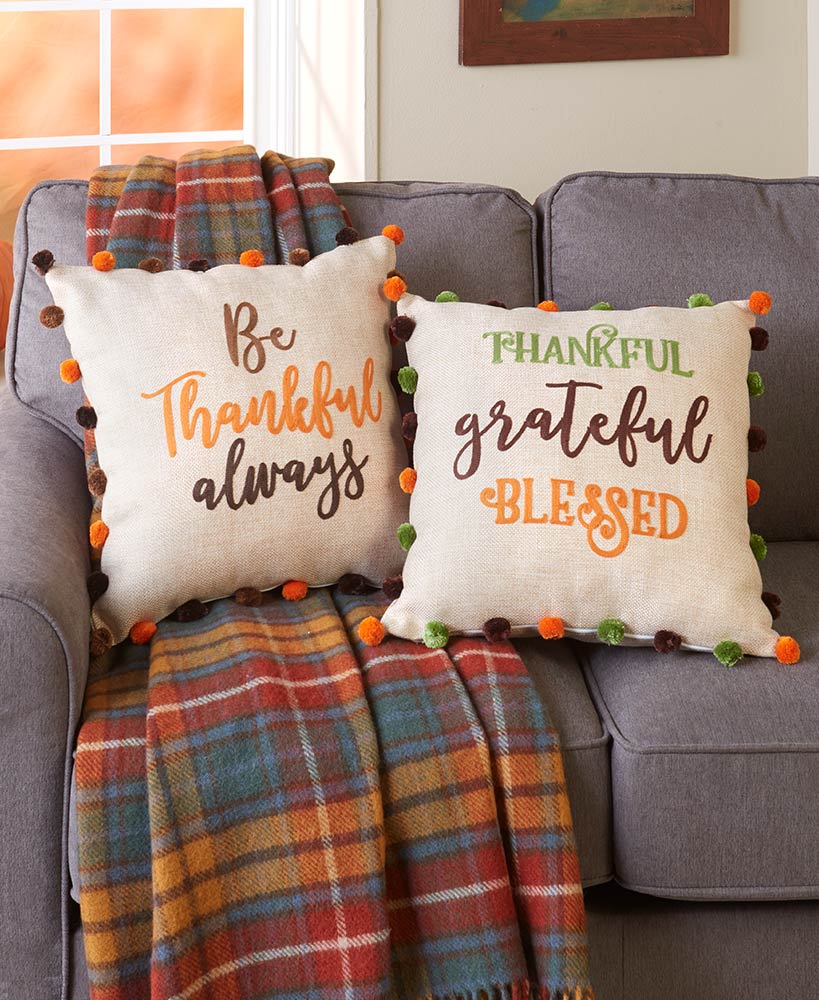 Nothing says charming and comfortable like a nice and cozy couch with pillows and blankets!
Fill your couch with fall and farmhouse themed throw pillows and blankets to get the look. You can even add extra throws to your bed to bring the welcoming vibe into your bedroom.
In addition to sentiments, you can also include warm colors such as red, orange, and yellow to get the autumn look. Tie it together even more by including plaid patterns to match with other decor in the room.
Get festive by decorating with these Thankful Pom-Pom Throw Pillows! Featuring charming sentiments and autumn inspired colors, these will fit in nicely with your fall farmhouse living room spread.
Thankful Pom-Pom Throw Pillows
---
8. Include Thanksgiving Decor For An Easy Farmhouse Fall Look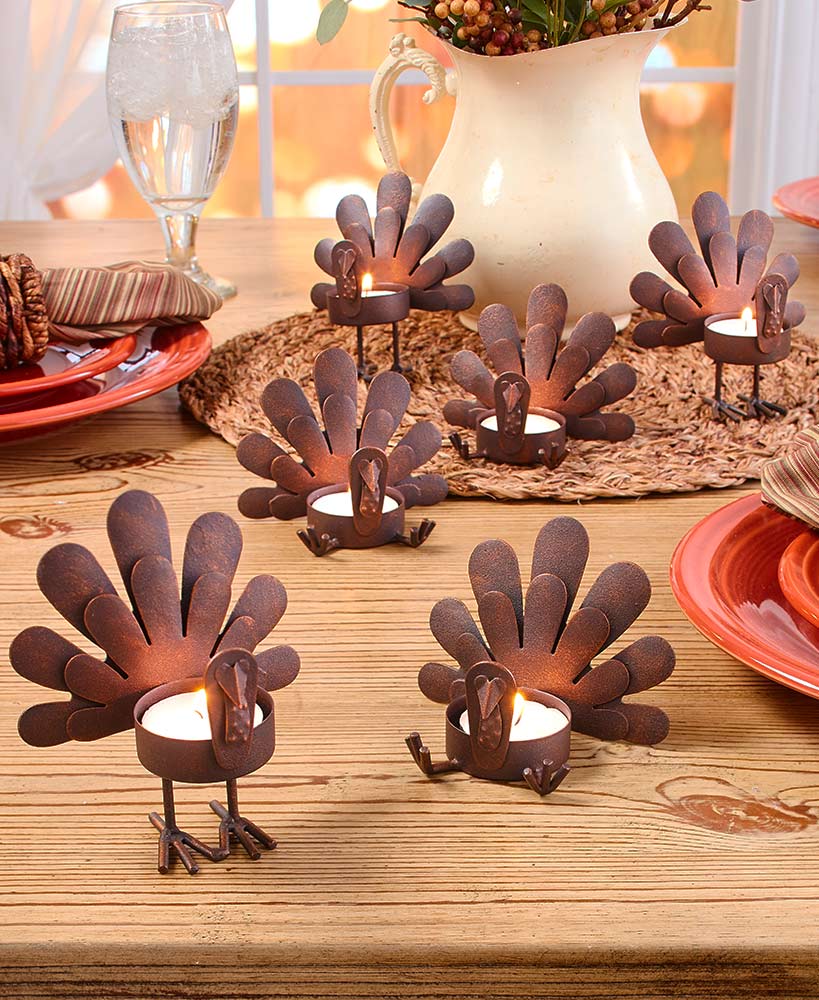 Thanksgiving themed decor tends to fit in well with a farmhouse theme because of their similar rustic and welcoming appeal!
Aside from typical fall decorations in your home, include more Thanksgiving focused decor to achieve this unique look in any room of your home.
Opt for symbols such as turkeys and cornucopias, along with relevant sayings such as "thankful" and "grateful". You can find these elements in decorative accents, hand towels, wall hangings, and much more.
Use these Sets of 3 Turkey Candleholders to bring a Thanksgiving flair to your farmhouse themed dining table! Simply add your own tealight candles to create a calming glow on a fall evening.
Sets of 3 Turkey Candleholders
---
9. Find Fall Decor That Incorporates Truck Symbols For A Farmhouse Touch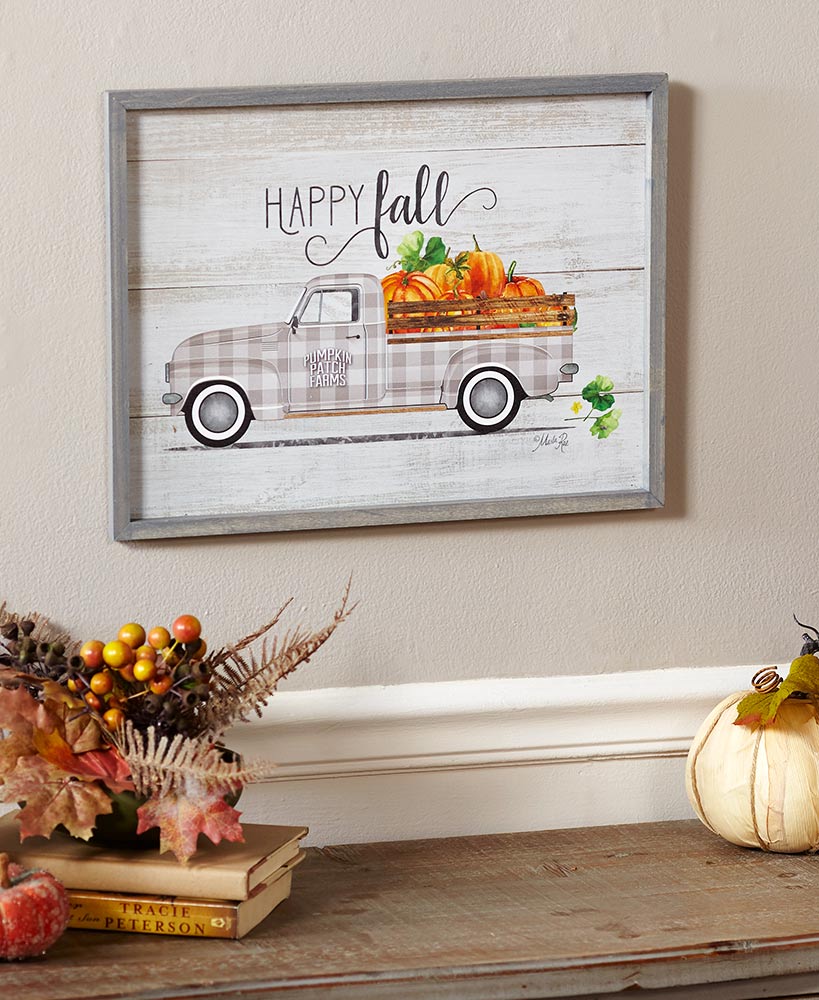 Including farmhouse symbols in your fall decor spread is a surefire way to have the charming look you desire.
Pickup trucks are a common farmhouse symbol that is often combined with fall decorations for country flair. Find pickup truck themed decor that includes fall sentiments or fall symbols such as pumpkins.
You can add these truck symbols in subtle ways to bring in those final details to any room. Include this through wall decor, small tabletop accents, and kitchen towels.
Start decorating with trucks with the help of this Festive Plaid Truck Wall Art! With the combination of a fall sentiment, pumpkins, and the truck, this wall piece is a great addition to your theme.
Festive Plaid Truck Wall Art
---
10. Stick To A Neutral Color Scheme To Blend Both Decor Styles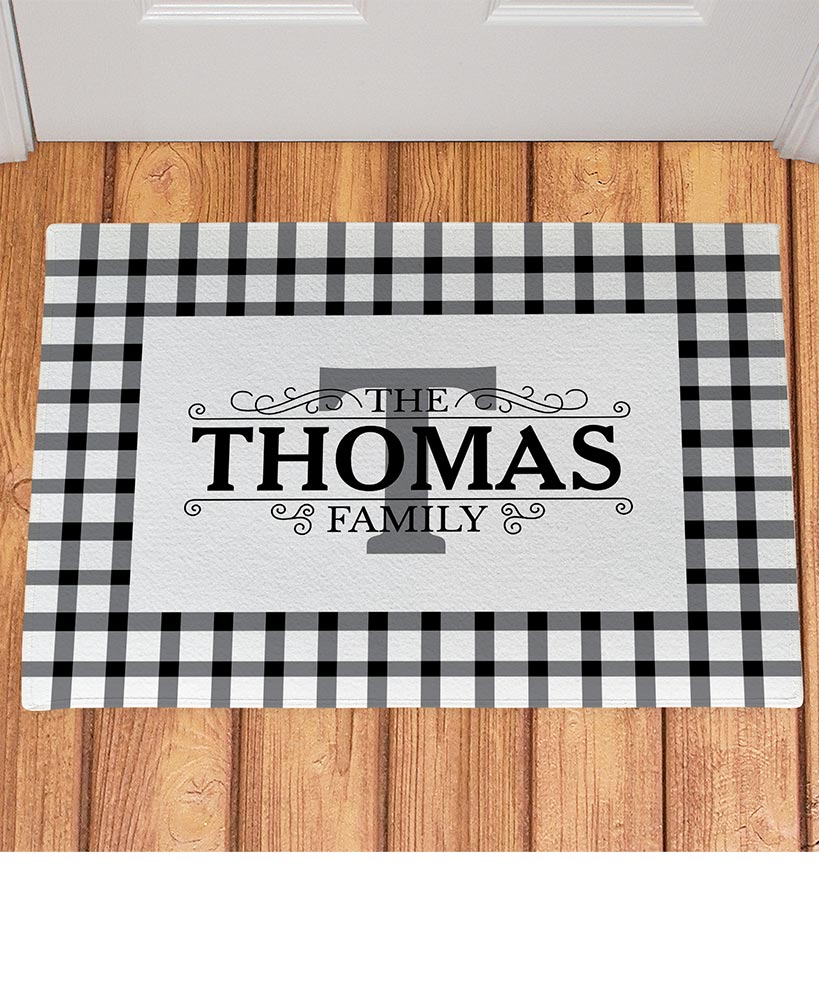 In order to get a seamless blend and balance of fall decor within the farmhouse style, it's important to decorate with neutral color schemes.
Black and white is the easiest option when it comes to fall farmhouse color schemes. You can easily find black and white plaid decorations and pair them with other elements.
If you want a warmer color scheme, lean towards a simple combination of colors such as red and beige, orange and white, or brown and natural wood.
These Personalized Country Plaid Doormats are a great way to set the base for a neutral color scheme! The black and white doormat or the gray and white doormat will blend in well with any of your porch decorations.
Personalized Country Plaid Doormats
---
Looking for more fall farmhouse decor inspiration? Shop our full selection of Fall Harvest Decor to find unique tabletop accents, table linens, porch decor, bedding, and even more festive decorations!