Fall Decor Ideas: 9 Plaid Decorations For Your Home
Fall decor incorporates warm colors, pumpkins and leaves, and plaid patterns to bring a festive autumnal touch to your home. Plaid is such a versatile pattern to decorate with because it can complement almost any home decor style and fit in with most color schemes. Here are 9 plaid decorations for your home to add to your harvest decor spread.
---
Decorative Plaid Accents To Display In Your Home
If you're looking for just a touch of plaid to add to each room, these decorative plaid accents are the ideal decorations for you! While these accents may be subtle, they are still unique elements that will look festive displayed with other fall decorations. Try pairing these with farmhouse fall decor for a stylish look, or pair these with other plaid decorations for a fully cohesive look in any area of your home.
Decorative Plaid Plush Pumpkins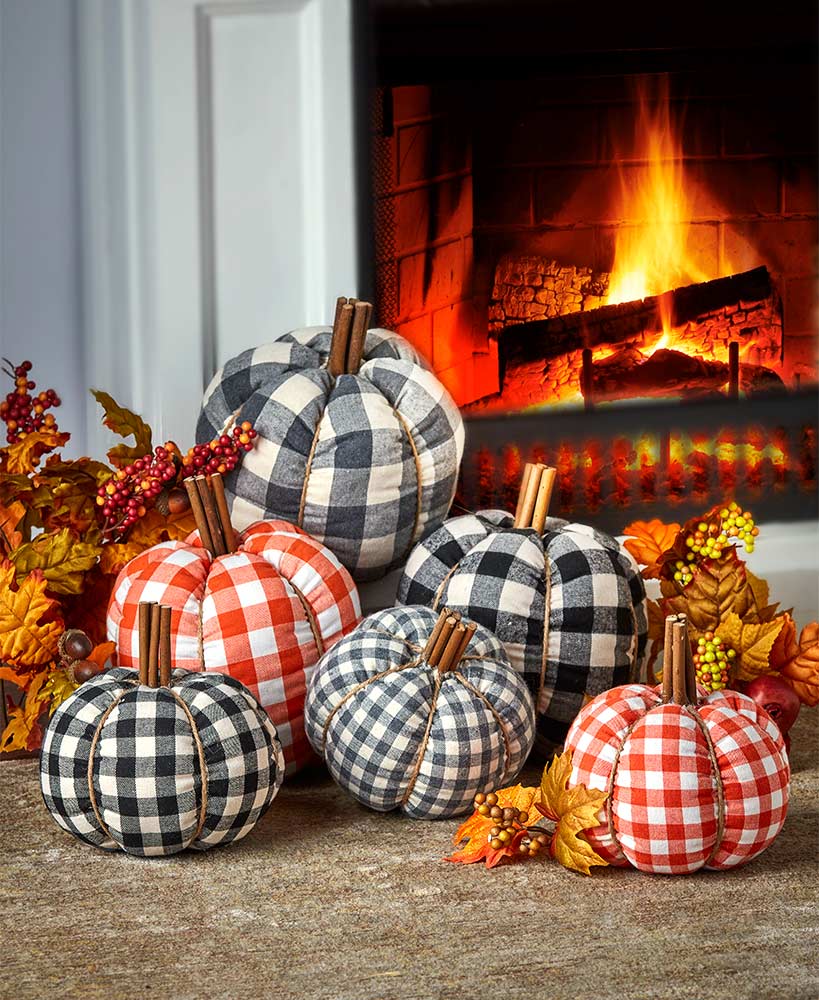 Amplify the fall feeling by decorating with these Decorative Plaid Plush Pumpkins!
Decorating Ideas
Pile several of these plaid pumpkins inside of a large basket to display on the floor
Use a couple as a centerpiece on your dining or coffee table
Display on the mantel
Buffalo Check Decorative Pillows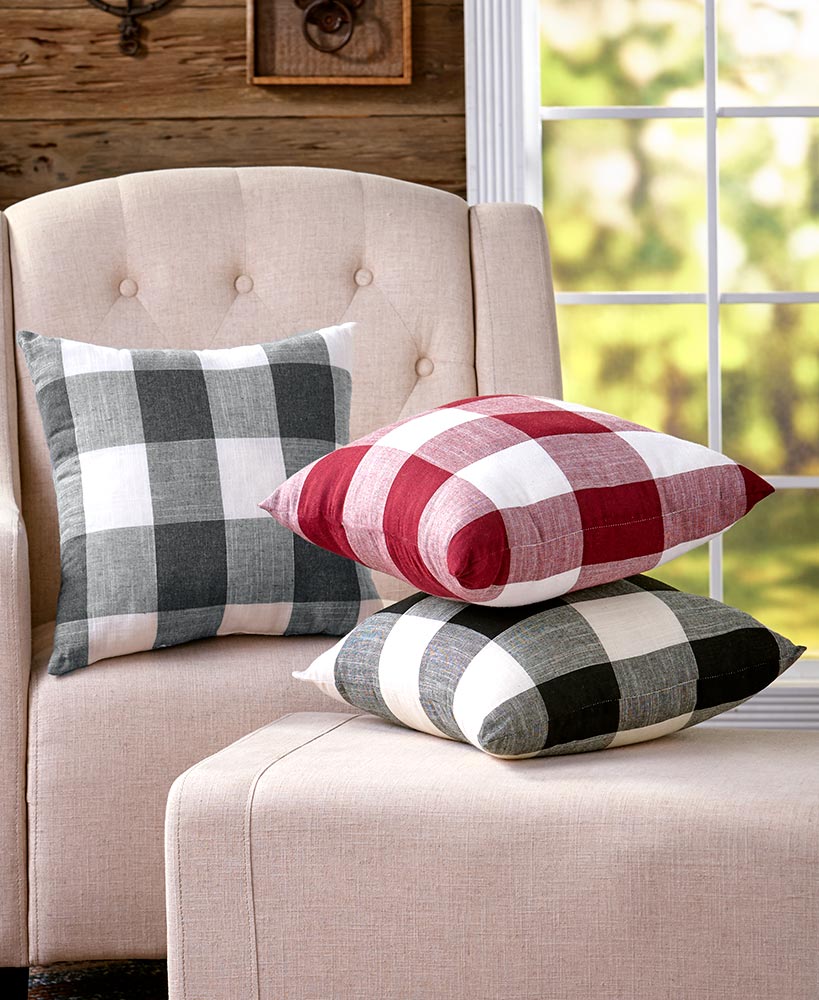 Add a comfy fall vibe to your home with these Buffalo Check Decorative Pillows!
Decorating Ideas
Display on your couch with matching plaid throw blankets
Set a pillow up on each kitchen chair with a coordinating tablecloth
Place them on your bed with fall themed bedding to match
Festive Plaid Truck Wooden Wall Art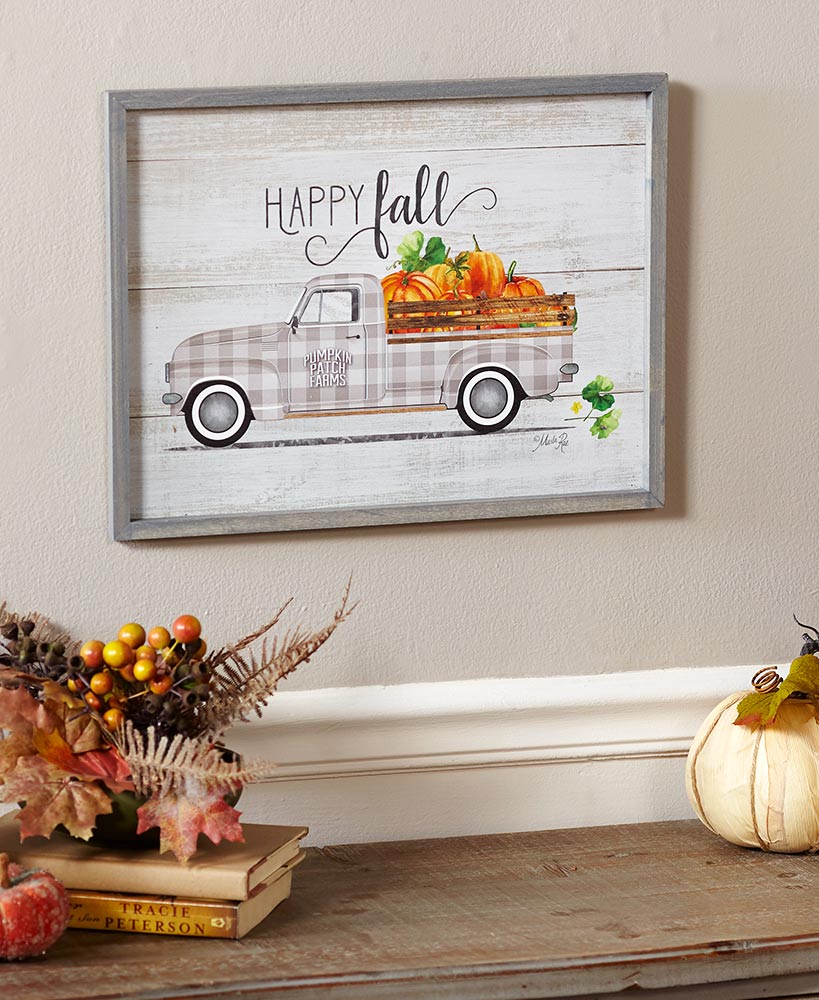 Decorate your walls with harvest style by hanging up this Festive Plaid Truck Wall Art!
Decorating Ideas
Put it on the wall above the mantel near other country harvest accents
Hang it up in the kitchen with decorative pumpkins nearby on the counter
Display in the bathroom with coordinating plaid hand towels
---
Add A Fall Touch To Your Outdoor Space With Plaid Porch Decor
Put your fall spirit on display for all to see by decorating your front porch with plaid decorations galore! Plaid porch decor is a great addition to a country themed space but it can also match nicely with other fall decorations. Feel free to combine these plaid items with other patterns and colors on your porch for a uniquely festive area that is truly your own.
Personalized Buffalo Plaid Doormats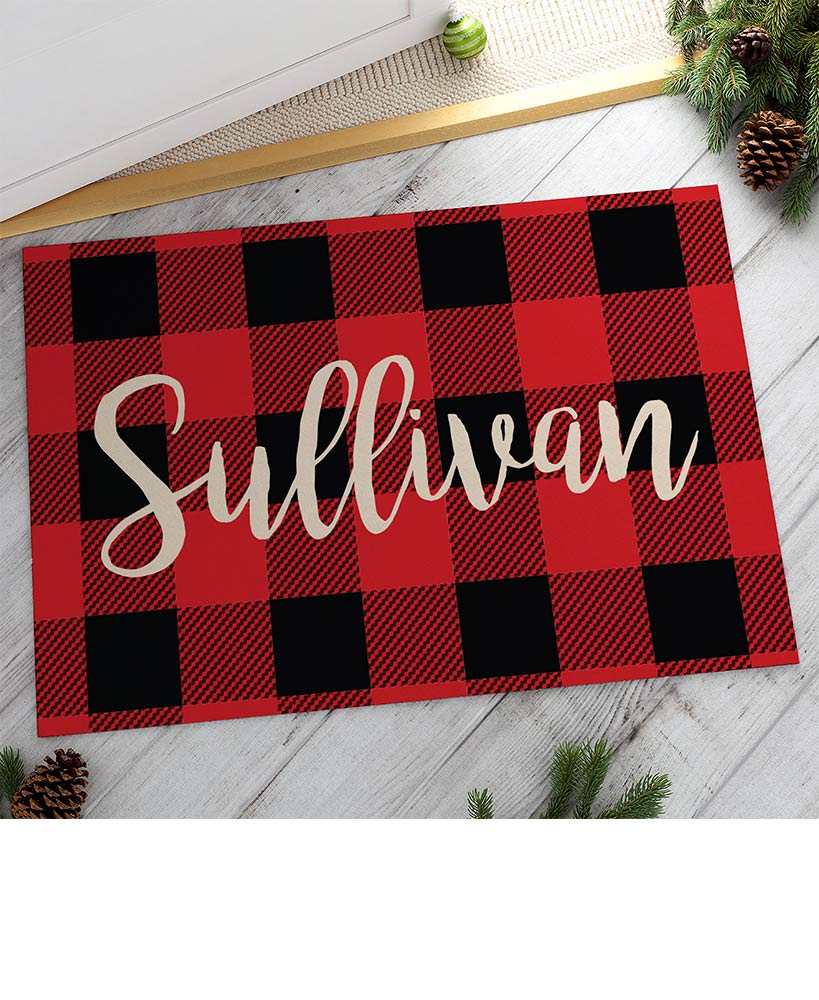 Show off your family name in style with these Personalized Plaid Doormats!
Decorating Ideas
Display on your front porch with decorative pine cones and pumpkins nearby
Put it inside by your sliding patio door with coordinating window curtains
Use it in your kitchen by the sink and match it with plaid hand towels.
Set of 2 Wood Plaid Porch Pumpkins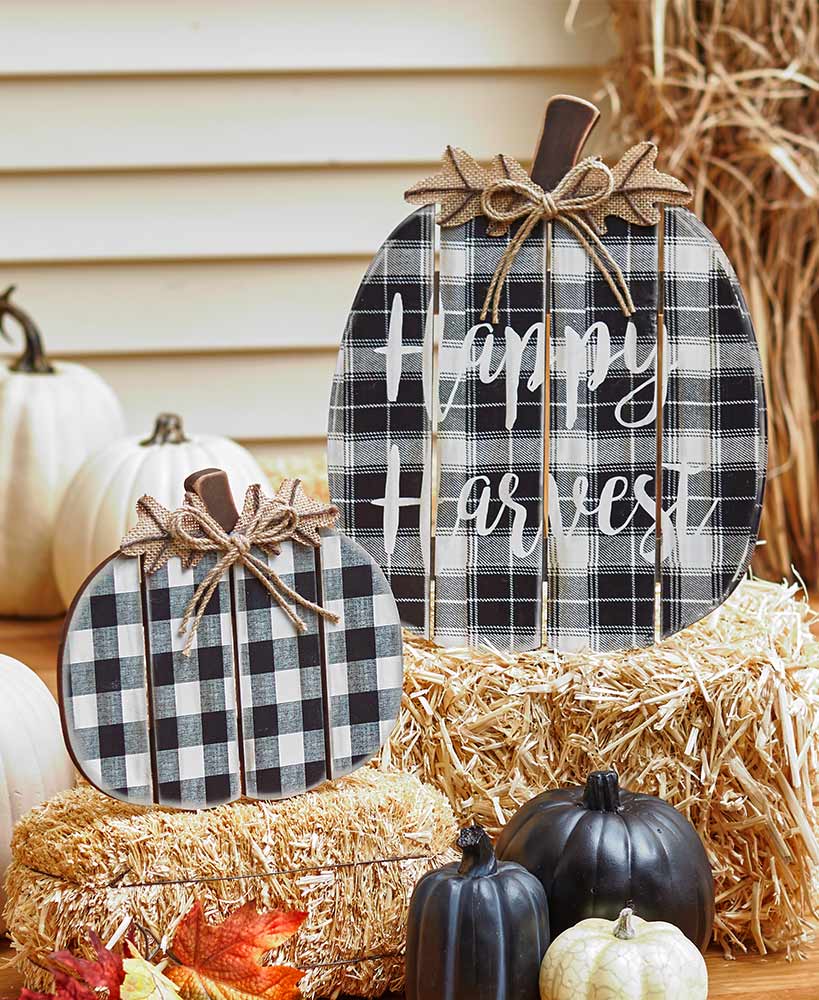 Bring out a pumpkin theme on your porch with the help of this Set of 2 Plaid Porch Pumpkins!
Decorating Ideas
Display them on top of hay bales with other decorative pumpkins
Sit them on your porch steps with real pumpkins and other fall statues or figurines
Set them up on a small side table on your patio with other pumpkins next to a bench with plaid pillow
Personalized Cabin Welcome Mat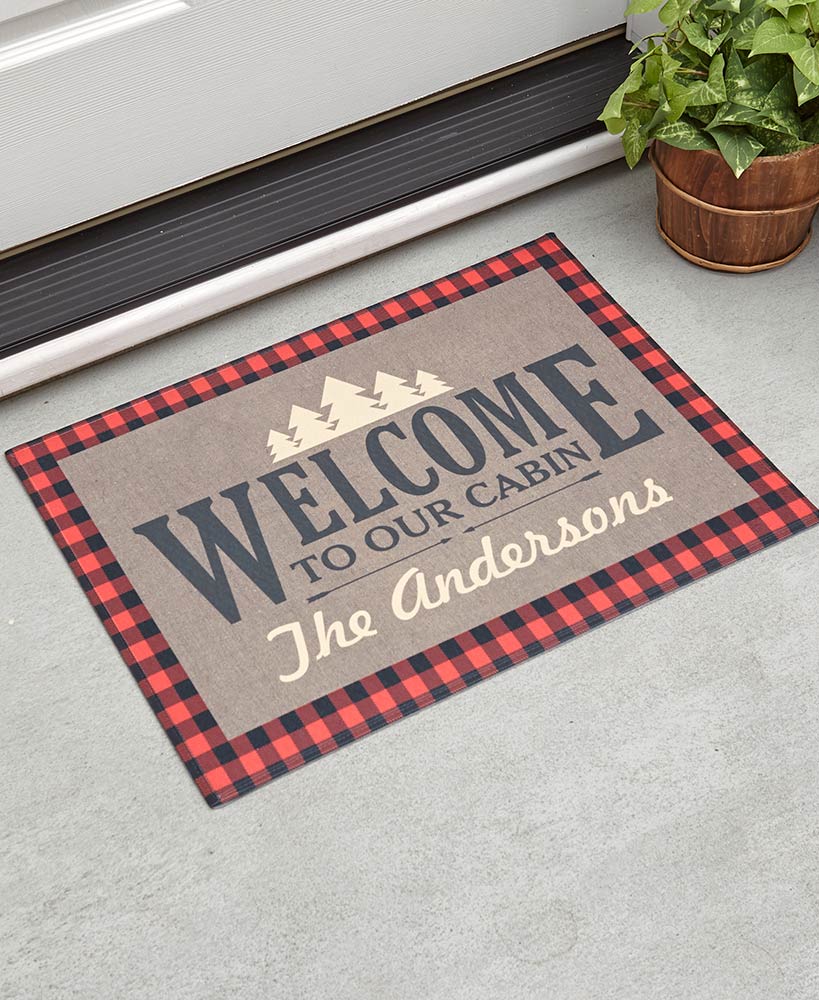 Welcome guests with a fall lodge theme by setting down a Personalized Cabin Welcome Mat!
Decorating Ideas
Set up near your front door and complete the cabin theme with woodland animal statues nearby
Display it with a plaid welcome sign hanging from the door or a woodland animal sign
Decorate with plaid pumpkins in a basket on the ground near the mat
---
Stay Cozy This Fall With Plaid Bedding & Blankets
There's no better way to complement the comfy cozy fall vibes than to incorporate plaid bedding and blankets into your home! These plaid bedding and blankets are versatile and multi-functional; they can be used for warmth and comfort but also double as decorative elements in your bedroom, living room, and any other area of your home. Stay cozy by adding these patterned items into your house.
Faux Fur Black & White Buffalo Plaid Throws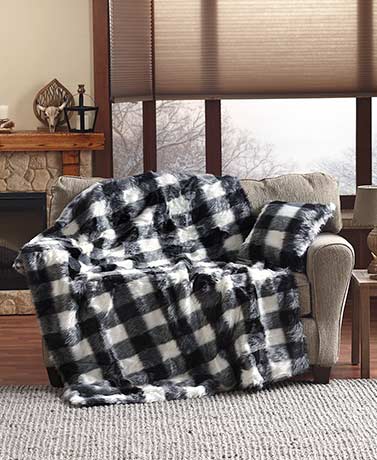 Complement a country or lodge fall theme with a Faux Fur Buffalo Plaid Throw!
Decorating Ideas
Drape the throw over the couch with coordinating plaid pillows and lodge wall decor
Fill your living room with a soft theme by decorating with other faux fur items
Display it on your bed to use as an extra layer and match it with plaid bedding
Buffalo Plaid Sheet Set or Comforter Set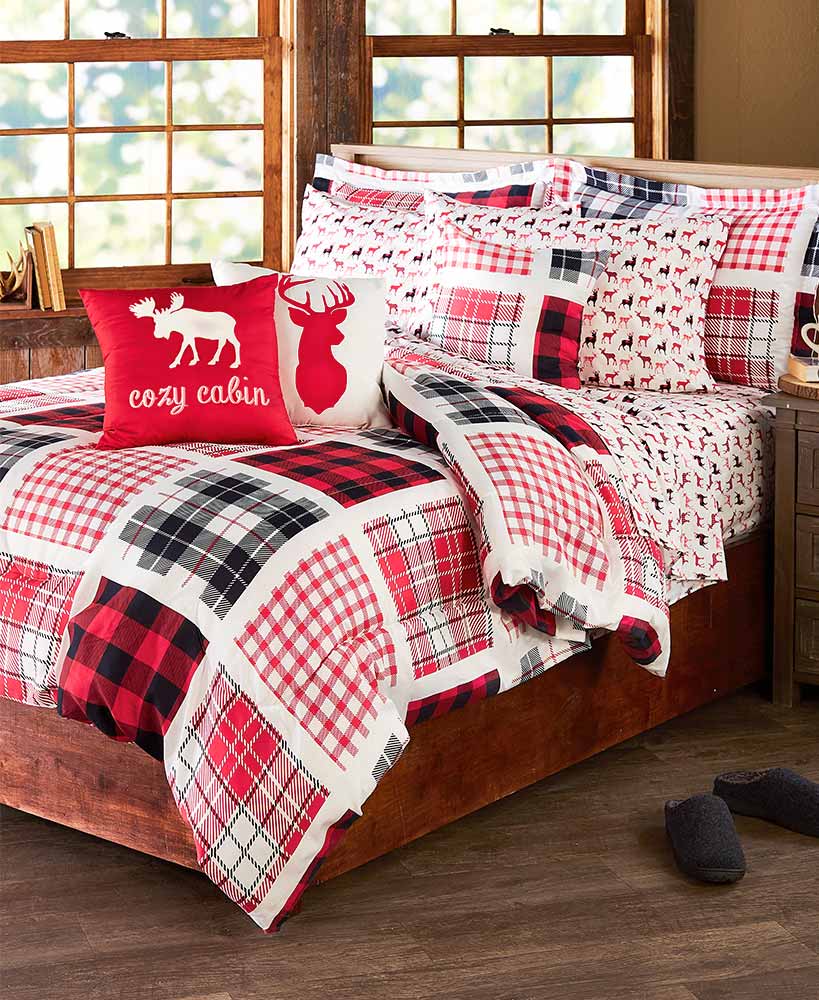 Turn your bedroom into a cozy cabin with a Buffalo Plaid Sheet or Comforter Set!
Decorating Ideas
Use this bedding and decorate the rest of your room with a plaid rug and plaid wall hangings
Coordinate the bedding with woodland animal decor throughout your room
Hang up matching plaid curtains in your room and place a light on your bedside table with a plaid lampshade
Wilderness Plaid Throw Blanket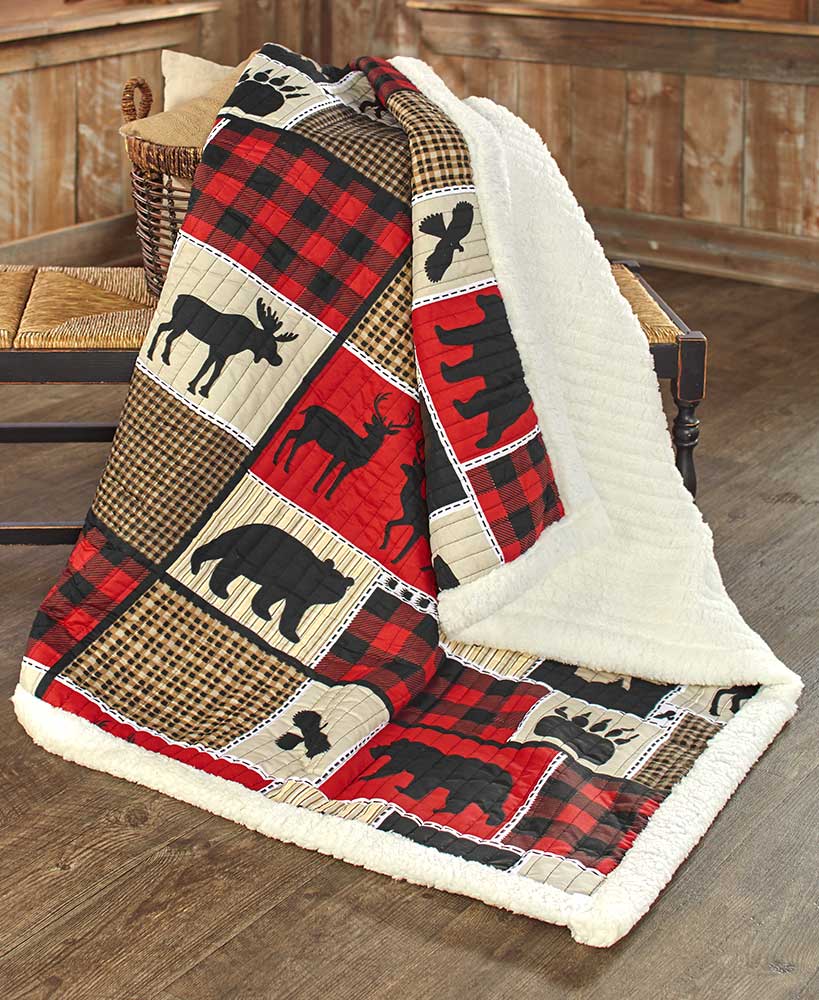 Add some extra comfy style to any room with this Wilderness Plaid Throw Blanket!
Decorating Ideas
Display this Sherpa throw on the couch with burlap or cotton throw pillows
Use on top of your bedding for an extra layer of warmth and match it with lodge themed decor
Place it on a wooden rocking chair in the corner of the living room for a homey and charming appearance
---
Looking for even more plaid decorations and autumn inspired accents? Shop our selection of Fall Harvest Decor to find bed and bath collections, tabletop accents, outdoor decor, table linens, and much more!
---
Read Next: 7 Ways To Make Your Home Cozy For Fall