7 Ways To Make Your Home Cozy For Fall
As cold weather approaches and the seasons shift, it should be a priority to make your home feel warm and comfortable in autumn. Through the help of decorations, colors, lighting and more, here are 7 ways to make your home cozy for fall.
---
1. Layer Up Blankets & Pillows For A Cozy Fall Feeling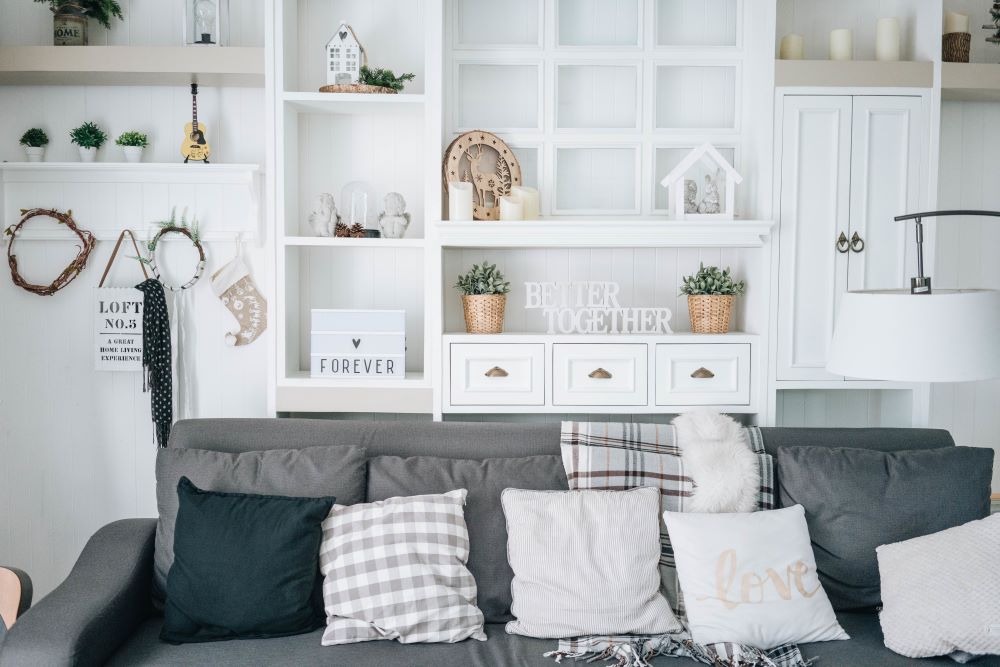 Blankets and pillows are one of the easiest and best ways to make your home cozy for fall. There are many rooms to incorporate them in along with many ways to decorate with them and display them.
Start by bringing these cozy elements into your living room. Set up a spread of pillows and blankets on the couch – make sure to include more than you normally would to get the comfy look. It helps to include fall patterns and materials to make the set up look even more festive and cozy.
Opt for ones that have faux fur, buffalo plaid, fall sentiments, wool, or autumn hues. Layer up the pillows by setting them up in pairs across the couch. Then, lay a couple of throw blankets on top of each other over the couch.
You can also include layering on your bed by lying a throw blanket on top of your comforter and decorating with three to five throw pillows. Not only will you feel more warm when sleeping at night, but your bed will also look aesthetically cozy for the fall time. Learn more about how to style your bed like a pro designer for some extra tips and tricks!
---
---
2. Incorporate A Warm Fall Color Scheme Throughout Your Home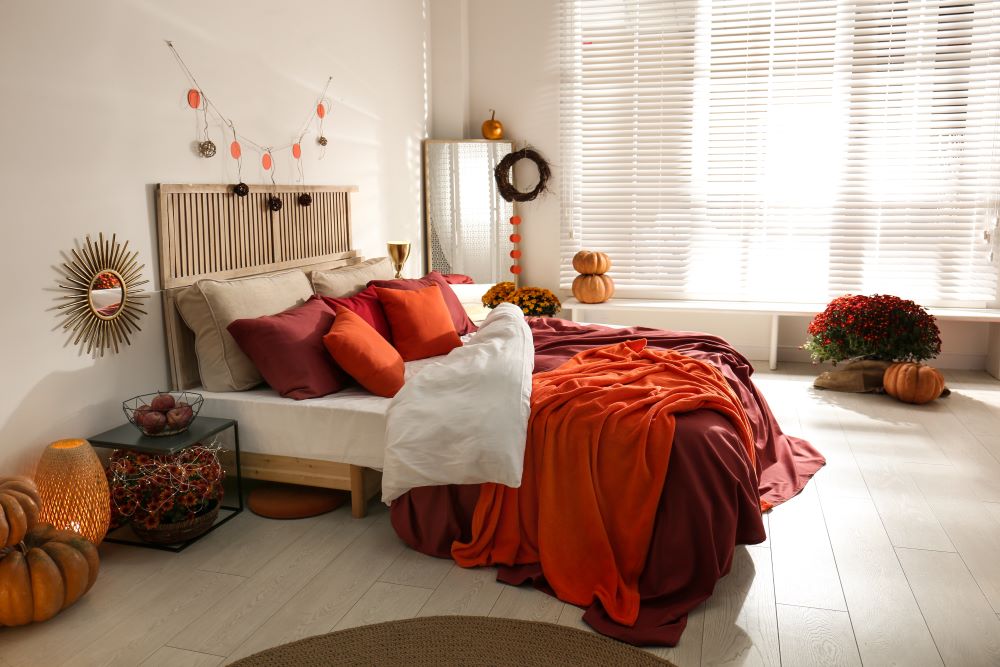 Before you begin decorating for fall, you should consider color schemes and you should figure out exactly what colors will match best with each room. While fall decor can be a slightly different color than your year-round decor, you'll still want it to blend in nicely.
Warm colors will give off the most cozy vibes in the fall due to their comforting and homey effect. Additionally, warm colors in the fall come from the colors seen in nature such as the color scheme of autumn leaves, trees, and pumpkins. You can use both bright and muted versions of warm colors; it depends on the vibrancy level in the rest of the room.
Warm Colors To Decorate With In The Fall
Red
Burgundy
Burnt orange
Yellow
Tan/beige
Natural wood
Brown
Warm shades of gray
---
---
3. Display String Lights For A Cozy Front Porch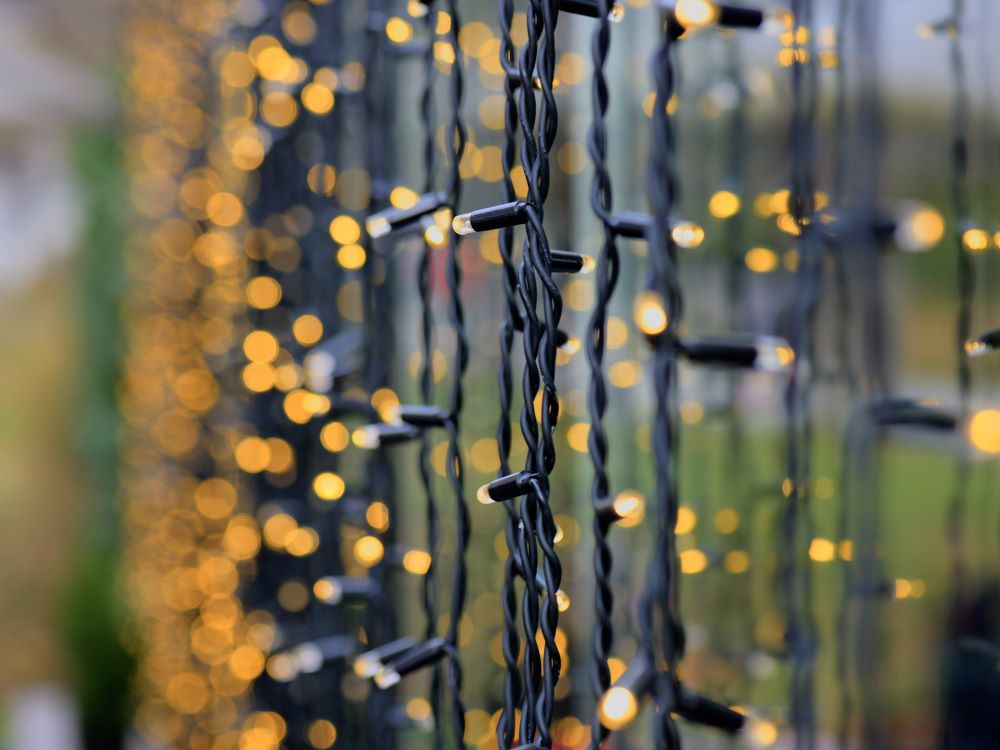 Lighting is a great way to get that cozy feeling for fall because it can make any area feel more homey at nighttime. Setting up string lights on your porch is a good place to start to give your outdoor area a warm and welcoming feeling.
Hang up string lights so they cascade down from your porch, or wrap them around the railing and posts. You can also incorporate lanterns and other lighted decorations on your porch to add even more of a glow to the area. You can even decorate with fall themed lights, such as leaf string lights, to add a more festive effect. This lighting will ultimately make your porch cozy for fall.
You can also include string lights and fairy lights inside of your house. Wrap string lights around your stair railing, display them on the mantel, or drape them over a bookcase. Make sure to add lighted decorations to various rooms to add a soft glow to your tables, counters, and more.
Make sure to use warm light bulbs for all your lighted decorations. Warm lights will give off a more cozy feeling while cooler lights should be used in areas where bright lights are needed to see. Including warm lights throughout your home this fall will make each room feel more calm and relaxing.
---
---
4. Bring In Fall Sentiment Decor For A Charming House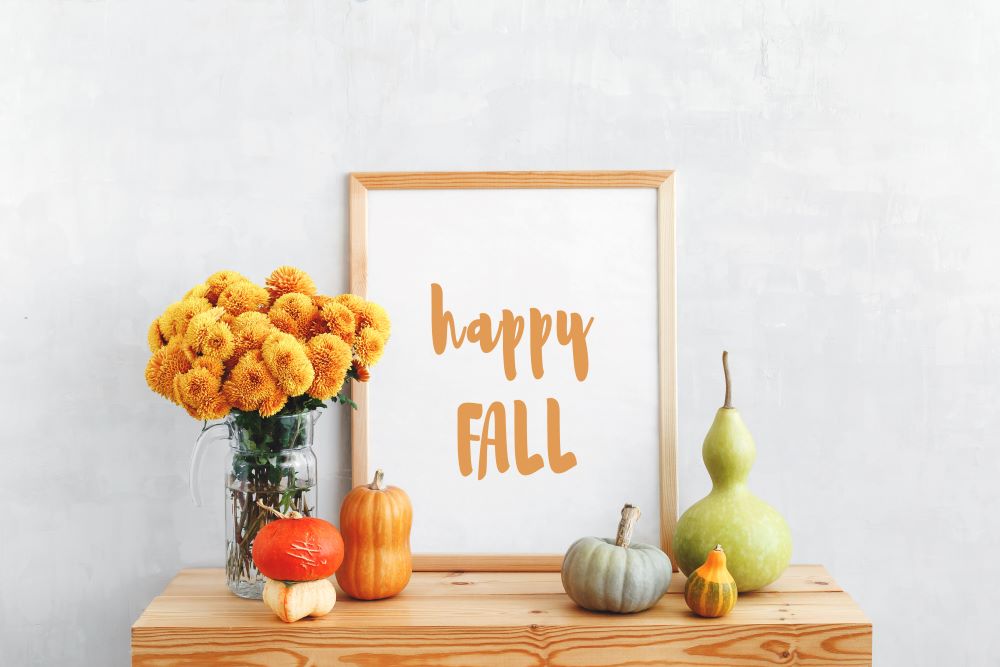 Cozy and charming go hand in hand when it comes to fall decor because both elements can make your house feel more like a home. Decorate with fall sentiments to get the perfect combination of cozy and charming.
Incorporate these sentiments through various decorations such as wall art, block signs, fall vases and planters, decorative accents, rugs, hand towels, and much more. There are a wide variety of fall sentiments that can be included in decor; find your favorite ones and match other decor with it.
Aside from shopping for sentiment decor, you can also create your own! The simplest way to do this is to print out a creative image of your favorite autumn saying and place it in a decorative frame. If you're good at writing and calligraphy, you can even write it out yourself and display your artwork.
Bonus Tip: Don't overload your home with fall sentiments. Make sure to decorate wisely and only include a few sentiments in each area of your home. Decorating with too many will cause them to clash and also may look too tacky.
---
---
5. Include Cozy Fall Scents In Your Decor Plans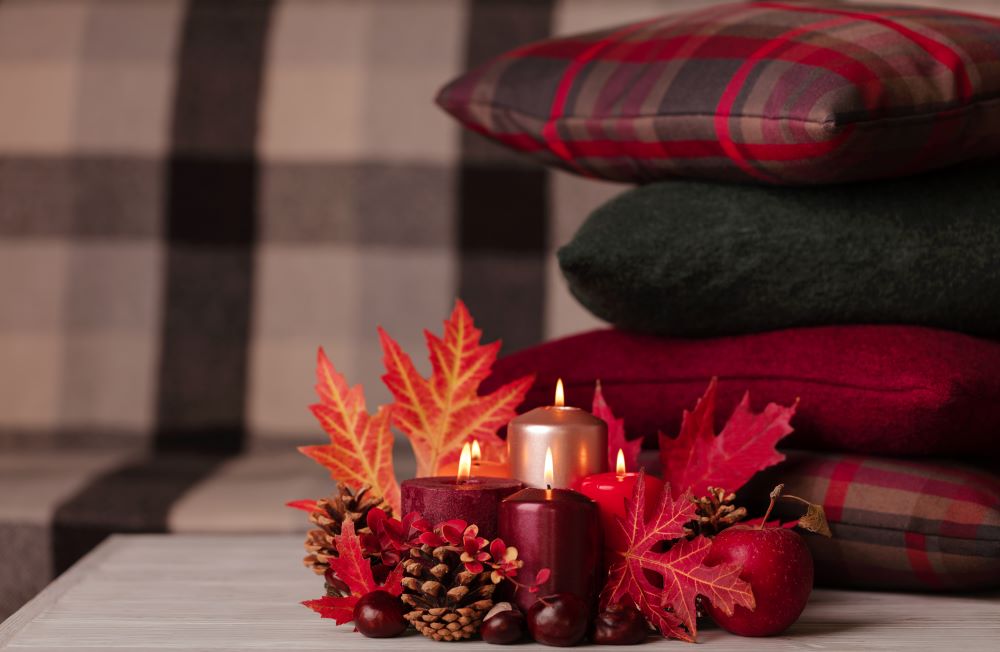 Coziness doesn't only have to do with visual elements in your home. Elevate the comfort level this fall by including autumn themed scents in each room of your house.
The best ways to bring these warm scents into your home is through candles, potpourri, essential oil diffusers, and even room sprays. Try to keep scents away from common eating areas, such as the kitchen or dining table, to avoid clashing with the scents of food.
To get the most comfort and coziness, seek out fall scents such as cinnamon, pumpkin spice, warm sugar vanilla, apple, chai, cedarwood, campfire, hazelnut, and other relaxing scents that remind you of the autumn season.
Bonus Tip: Turn your scented elements into decorative elements in the room with some simple touches. For instance, use fall themed candle holders to discreetly disguise your candles and display potpourri in a wooden or glass bowl.
---
---
6. Decorate With Fall Flowers & Other Natural Elements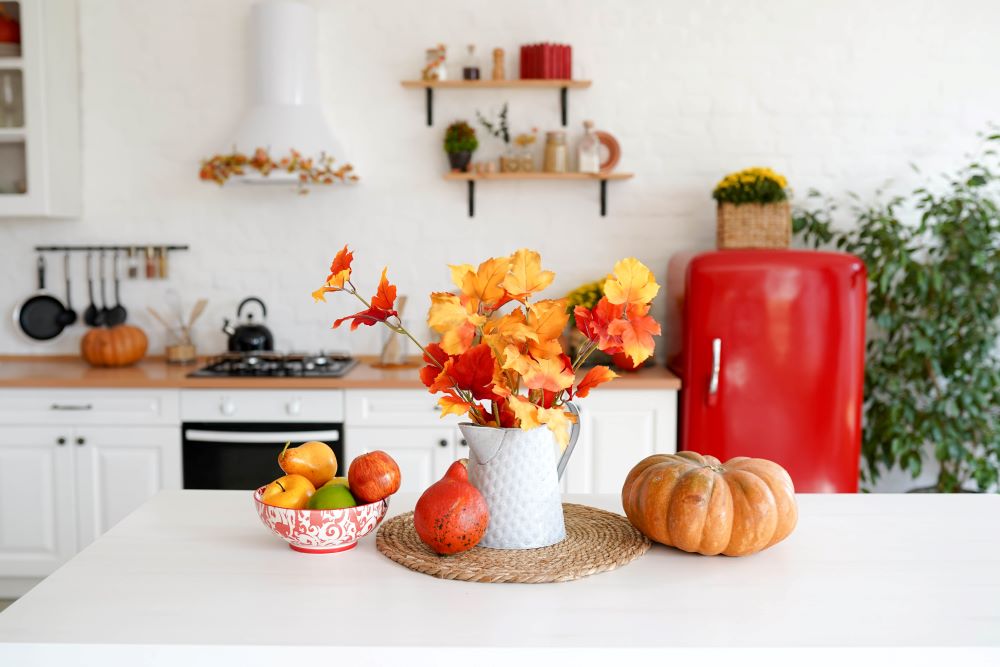 There's nothing more cozy or relaxing than a beautiful fall day with incredible scenery outside. Bring that comfort indoors by decorating with natural elements to create a pleasing fall aesthetic.
One of the easiest and most common ways to do this is by decorating with fresh fall flowers. Create arrangements that include autumn flowers such as sunflowers, lilies, chrysanthemums, daises, and orange colored roses. Display them in simple vases on your kitchen island, dining table, coffee table, and even on the bathroom counter or bedside table.
Aside from fresh flowers, there are other ways to include natural elements in your fall decor spread. Decorate with faux leaves, real or artificial pumpkins and gourds, wax apples, and faux greenery with wreaths and garland. These can all give off an authentic autumn feeling with a cozy effect.
Additionally, you can also decorate with certain materials to get the same natural effect. Material such as burlap, rustic wood, galvanized metal, and wicker can help add to the charming and warm aesthetic of your autumn decor. Use these materials in different decor such as containers and bowls, wall hangings, and small furniture.
---
---
7. Warm Up Your Tables With Festive Fall Tablecloths & Linens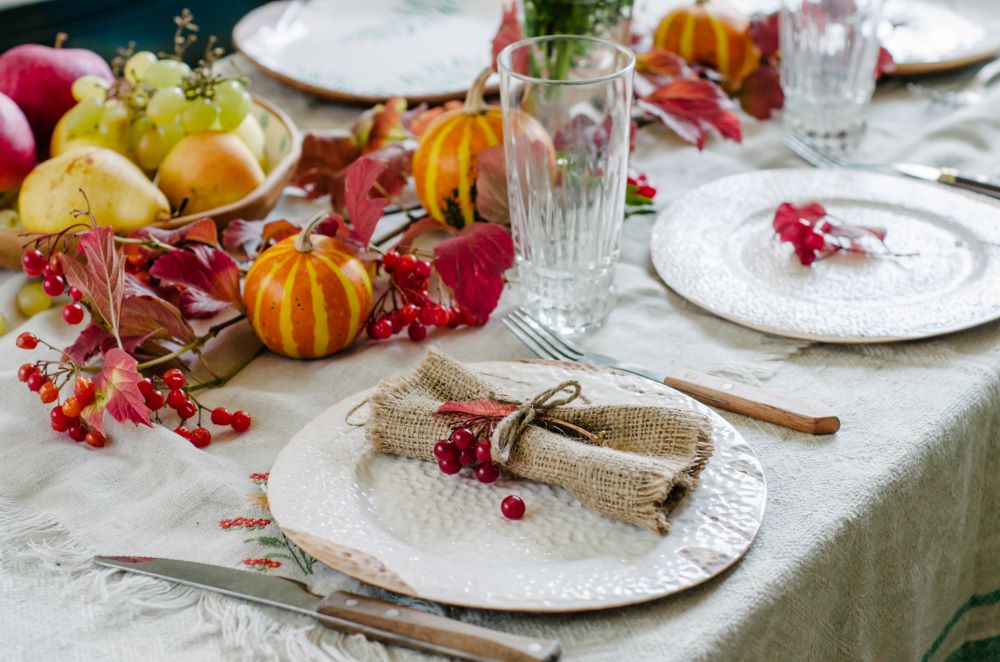 A bare table is great for the summer time; however, more linens are needed in the fall to continue the comfortable and warm felling in your dining area. Decorating your table accordingly is another simple way to make your home cozy for the fall.
Start with a tablecloth or table runner for the base on your fall dining table. Feel free to get as creative or simple as you want; you can always add decor to the table to make it more festive. Table linens made of burlap or a thick cotton are solid choices for a cozy look. Find a tablecloth with fall patterns and hues or go for a more neutral color such as beige or white.
Coordinate your tablecloth with cloth napkins in the same color scheme, along with plates and dishes that complement the colors as well. If you choose a brightly patterned tablecloth, use simple white or beige dishware. However, if your tablecloth is a neutral color, bring out a vibrant fall theme by using burgundy, orange, or yellow colored plates.
Lastly, set up a stunning centerpiece that will stand out all fall long. Use garland, flowers, pumpkins, candles, or other decorative accents that fit nicely onto the middle of the table. You can also set down a bowl of artificial fruits or a container of decorative pine cones. Be creative to get the cozy fall look that you want!
---
---
Looking for even more ways to make your home cozy for fall? Shop our selection of Fall Harvest Decor to find bed and bath collections, decorative accents, wall art, string lights, and much more!