5 Dining Table Decor Ideas For Fall
Whether you're having a special Thanksgiving dinner or just simply decorating for the harvest season, having a beautiful fall dining table can be made easy with some simple decorating tips. From centerpieces to place settings, here are 5 dining table decor ideas for fall to create a stunning layout.
---
1. Use A Beautiful Fall Flower Bouquet As Your Main Centerpiece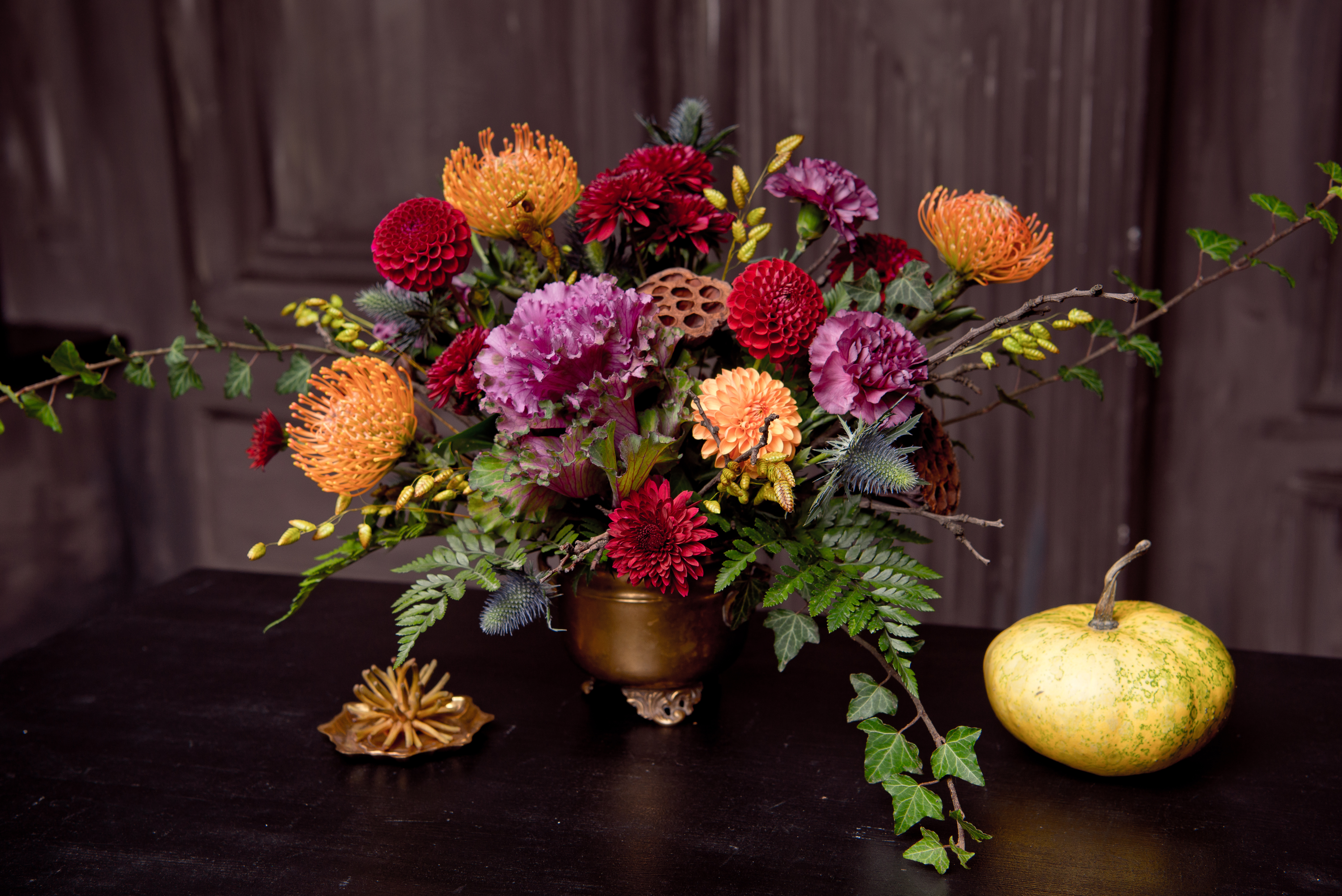 Fresh flowers make an easy and beautiful dining table centerpiece that can be consistently changed out throughout the season. This makes your table look even more interesting and unique and allows you to keep it festive all autumn long.
Start by putting together a fall flower arrangement. The flowers that are typically seen in autumn arrangements include sunflowers, lilies, chrysanthemums, daises, and orange colored roses. Make sure to include some greenery within the arrangement as well to add a natural fall forest vibe to the table.
Next, choose a decorative vase or planter that matches well with the fall color scheme. Opt for distressed metal vases, rustic wood planters, copper containers, or other vases with fall sentiments and symbols. There can be a lot of variety when it comes to planters and vases.
You can also make it more simple by choosing one selection of flowers in a clear vase. Sunflowers are the perfect choice because they look bright and festive on their own. Feel free to get as creative or simple as your want with your flower centerpiece and accent it with other decor on the table.
---
---
2. Display A Decorative Tray With Pumpkins & Pine Cones On Your Dining Table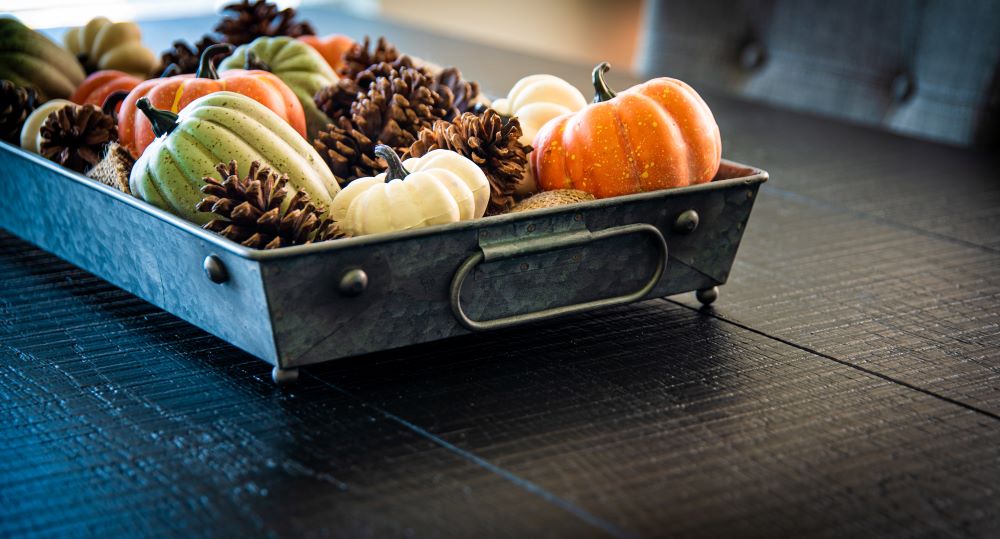 A tray, bowl, or display stand all make wonderful centerpieces for your dining table because they can hold or display a wide variety of accents and items. This is a great place to start with decorations – use a tray or another container as your base for your fall table decor.
When it comes to fall decorative accents, pumpkins and pine cones are an easy filler to put inside of trays and bowls. Use a variety of small pumpkins in different colors and shapes. Mix in some pine cones throughout for a quick and simple dining table centerpiece.
You can also use cakes stands to display larger pumpkins. Set up a tall cake stand in the middle of your dining table with two shorter stands on either side of it. Then, place one pumpkin on each stand, using the largest pumpkin on the tallest stand. Scatter some pine cones on the table below the stands, along with some faux leaves.
If you don't want to use a tray, stand, or bowl, you can always display pumpkin decorations in the center of the table on their own. In this case, it helps to first set up a table runner or tablecloth as a nice decorative surface for any pumpkins to be displayed on.
---
---
3. Create Simple Fall Place Settings With Small Pops Of Color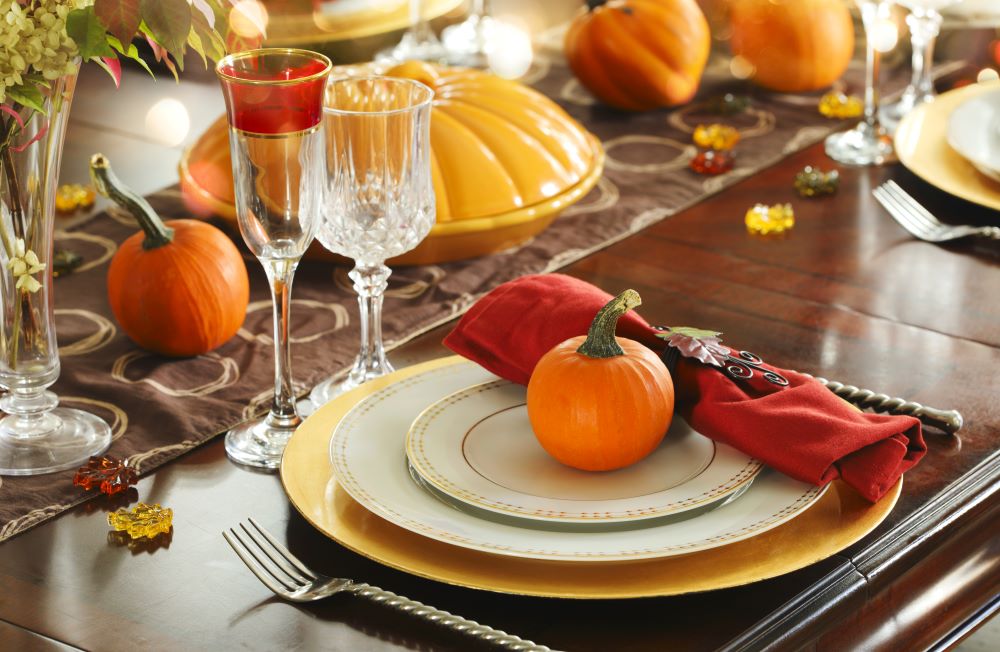 An important part of styling your dining table for fall is the set up you have at every seat. Whether you're preparing for a dinner or just leaving the table decorated for display, having festive place settings can really make the fall theme stand out.
Luckily, you don't need to go through an extensive process to make your place settings look vibrant and autumn friendly. With some simple steps and a few basic additions, you can achieve a beautiful table spread that will look professionally styled in your dining room area.
How To Create A Fall Place Setting
Start with place mats. If you have a fall tablecloth, make sure to complement the colors and patterns that are featured in it. Otherwise, choose a solid colored place mat such as dark red, burnt orange, or a rustic yellow.
Next, set up your plates. For a more elegant look, stack three different plates on top of each other with the large dinner plate on the bottom. Your dinner plate can be the most vibrant color that stands out, while the other plates can be more simple.
Then, place a fall emblem on each plate. The simplest choice is a small ceramic pumpkin that fits in the center of your smallest plates.
Finally, complete the place setting with a fall themed cloth napkin neatly folded with elegant silverware.
---
---
4. Use Fall Foliage As A Makeshift Table Runner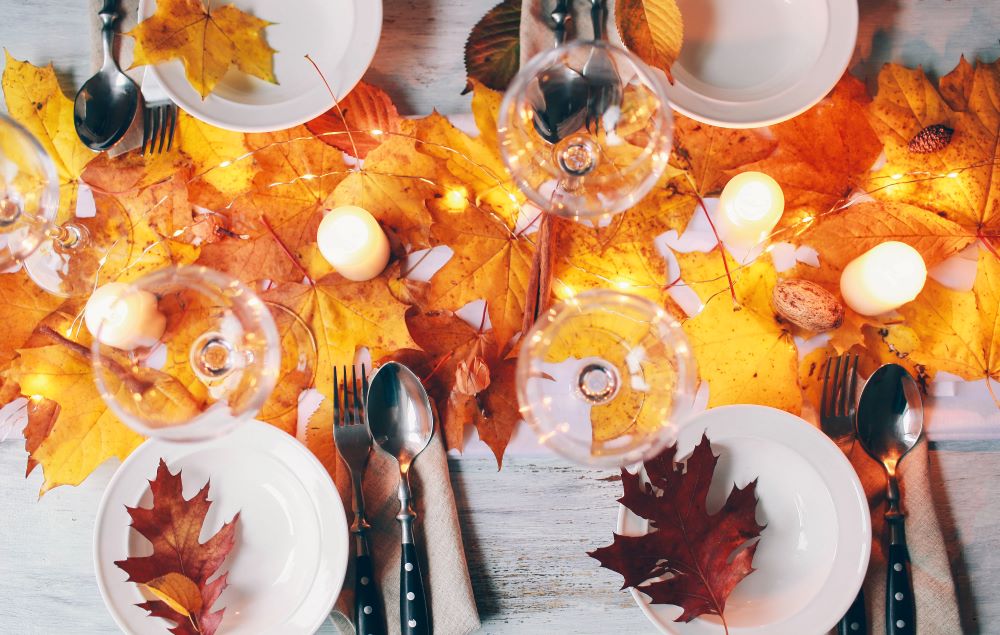 The more creative your fall dining table decor is, the more festive it will look. Instead of using a regular table runner, create your own makeshift one by using faux fall leaves across the center strip of the table.
One way of doing this is to simple scatter them across the table in an orderly fashion. Just make sure to leave enough blank space at each seat for plates and dishes, and only fill in the middle strip for the length of the table. You can hold some of the leaves down by placing jar candles and other decorative accents throughout the table on top of the leaves.
Another way of creating a leaf runner is to actually glue the leaves together. Start by laying out your leaves in the exact arrangement you want them on the table. Then, gradually glue each of them together with a hot glue gun, making sure to stay in the pattern that you gathered. Now you have one cohesive runner piece that is easy to set up anytime!
You can use the same methods with other fall decorations such as faux sunflowers, greenery, tree branches and vines, or other types of flower petals. It helps to find the right type of foliage or greenery that complements the rest of your dining room decor.
---
---
5. Set Up Unscented Fall Candles Across Your Dining Table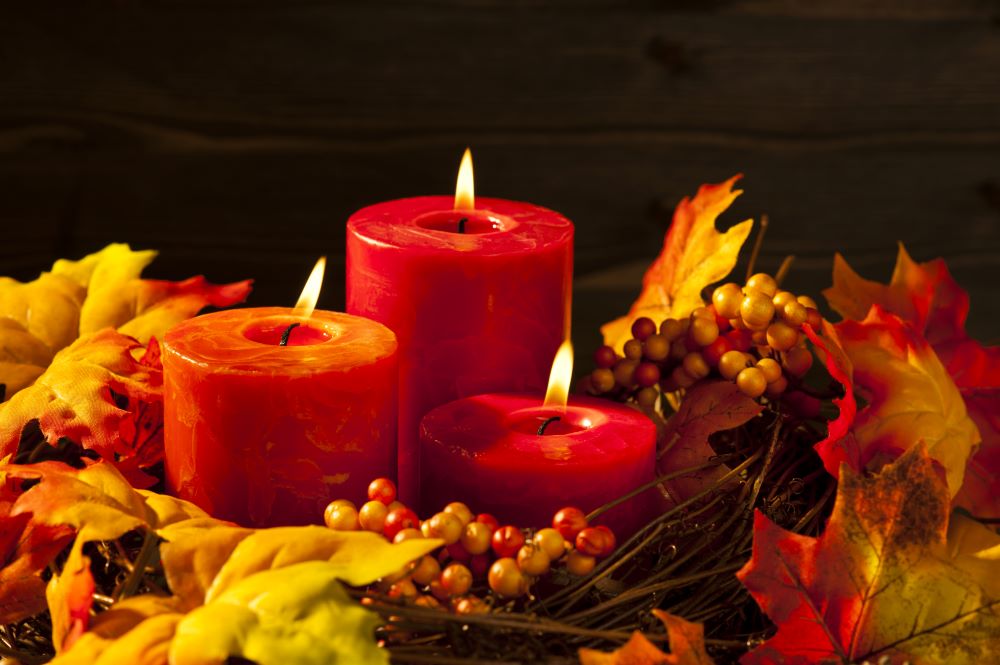 Candles are an essential decoration in the fall time; however, you don't want to overload your dining table with artificial scents since you'll be eating meals there. That's why it's a great option to decorate with unscented candles.
Find unscented candles that fit into the fall theme. Choose candlesticks, jar candles, pillar candles, and tea candles that are part of the harvest color scheme. For instance, find colors such as red, orange, or yellow, or choose a more neutral color scheme with white, ivory, beige, or brown.
Candle holders can make them look even more festive on the table. Decorate with holders that contain fall symbols such as pumpkins, apples, leaves, and branches. You can also find ones that display traditional fall patterns such as plaid.
You can either display several candles directly in the center of your dining table as a main centerpiece or your can spread them out across the table. Scattering them around can give them a decorative and creative look, while lining them up neatly can give them a calm and styled appearance.
---
---
Looking for more fall dining table decor ideas and inspiration? Shop our Fall Harvest Decor to find table linens and dishware, along with decorative fall accents for every room in your home!
---
Read Next: 5 Fall Coffee Bar Ideas For Your Home