9 Outdoor Halloween Decorations For Your Porch & Yard
Your Halloween decor spread wouldn't be complete without a festive yard! Be the talk of your neighborhood this spooky season with by decorating the outside of your house. From lighted decor to large porch accents and more, here are 9 outdoor Halloween decorations for your porch and yard to stand out on your block.
---
Give Off A Festive Glow With Lighted Halloween Decor
When it comes to outdoor Halloween decorations, lighted decor is a great option for a mystical and fun nighttime display! These lighted decorations will add a soft glow to your front porch or front yard and can illuminate your other Halloween decorations. These also are perfect to display on Halloween night to guide trick-or-treaters to your front door.
100-Light Solar String Lights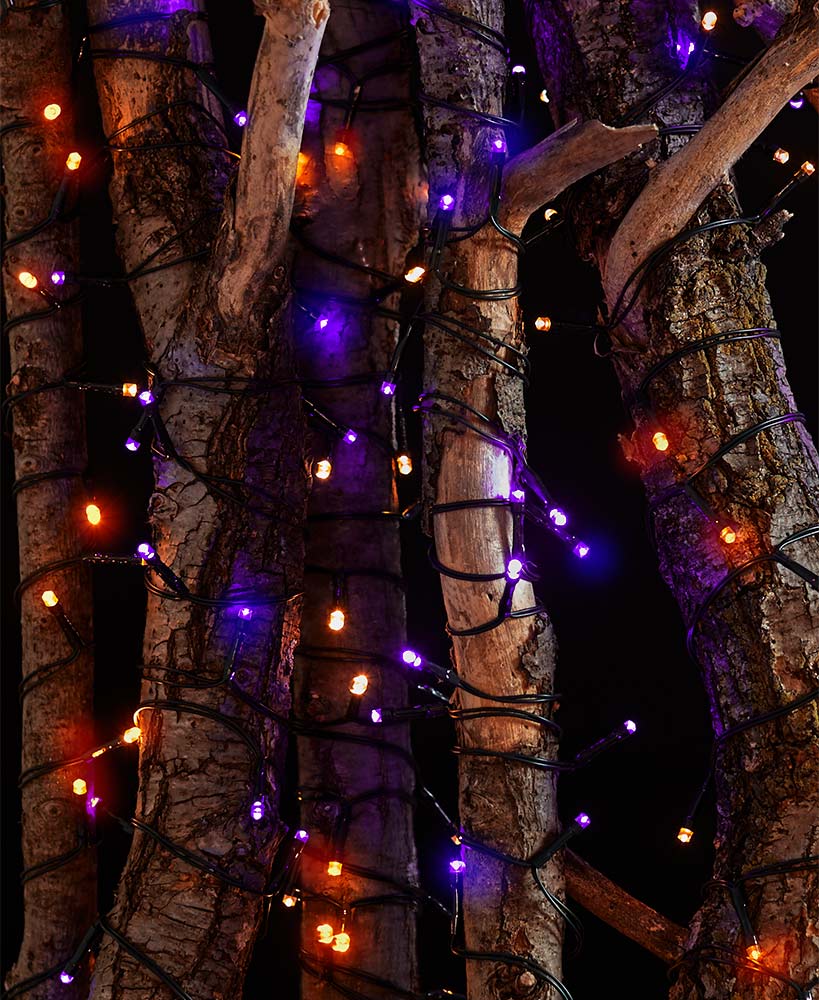 These solar string lights are a simple way to light up your yard in a festive way for Halloween!
You can wrap these string lights around a tree, position them in your front yard bushes, or wrap them around your porch railing. You can even wrap them around a large Halloween stake sign to add a spooky glow to your decor.
Sets of 3 Lighted Witches' Hats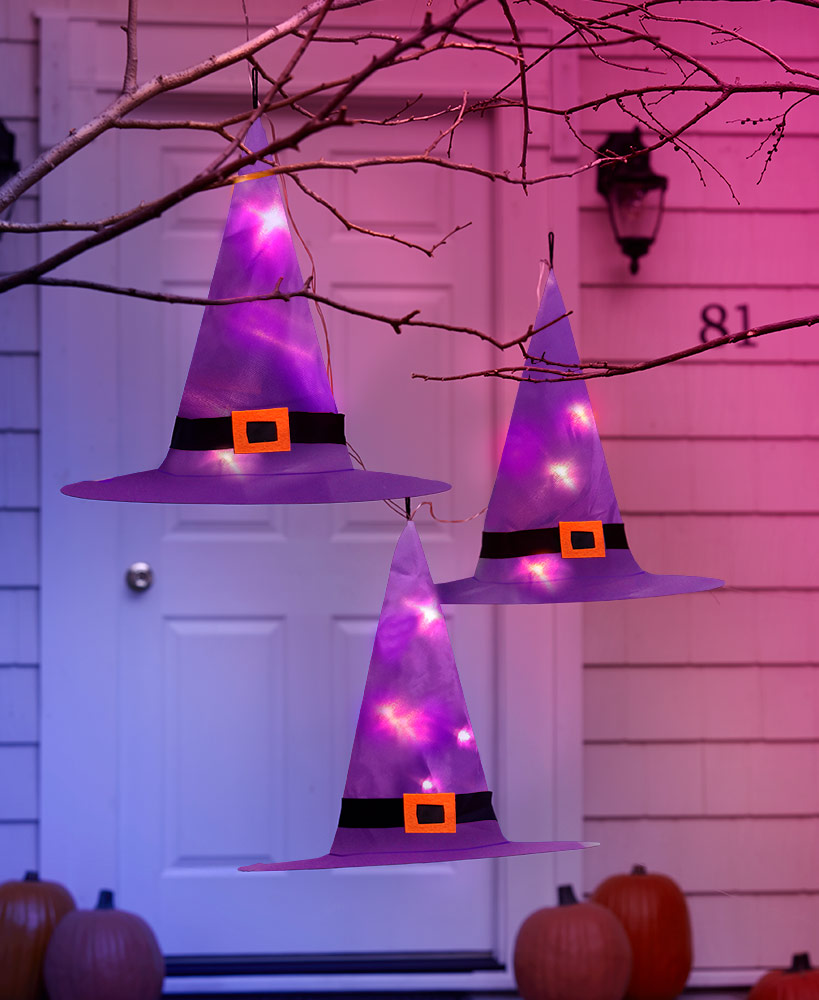 Bring some classic Halloween symbols to your porch with these lighted witches' hats!
You can hang these up on your porch or even on a tree in your front yard. Complement the look by creating a witch theme on your porch with a welcome mat, wall sign, and a witch statue for a full Halloween decor spread.
Oversized Porch Lanterns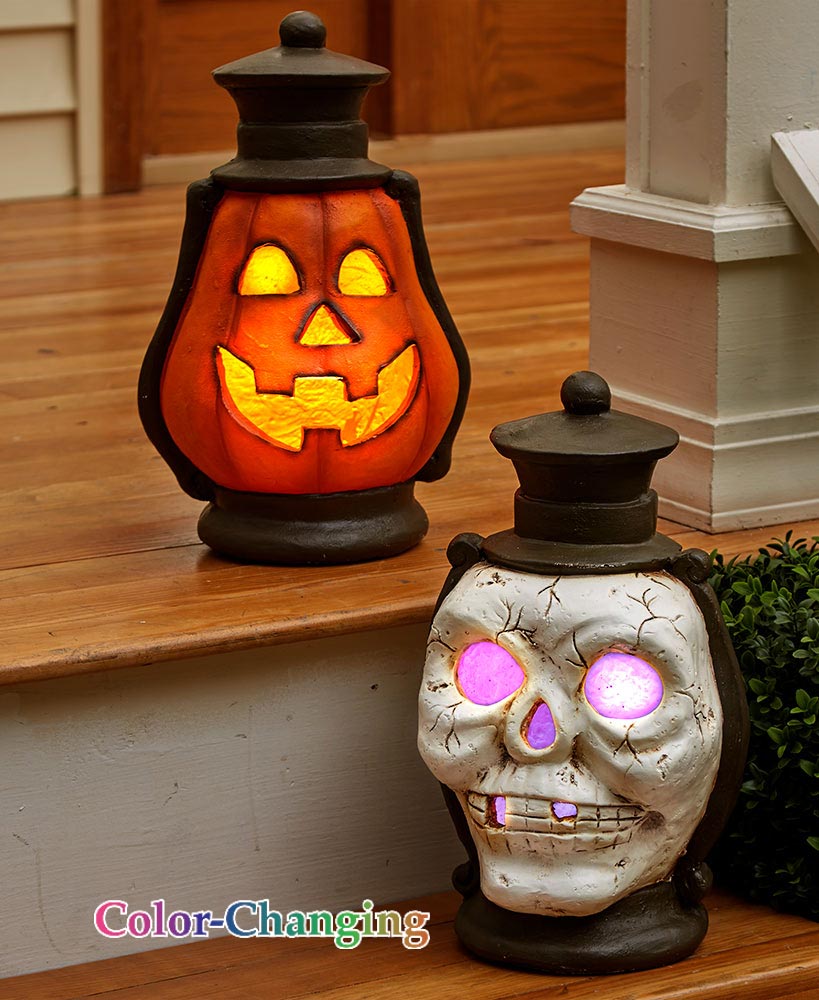 Light up your porch steps this season with an oversized pumpkin or skull lantern!
These lanterns can create a spooky ambiance on your front porch steps. Decorate the rest of your porch with other spooky decor such as spider web wall hangings and scary creature statues and figurines. You can even add a fog machine to set the scene!
---
Large Porch Decorations That Will Stand Out This Halloween Season
Large outdoor Halloween decorations are a great idea for your front yard and porch because they'll instantly stand out and make your house look very festive! These large porch decorations will match well with small Halloween accents, making it easy to create a full Halloween spread.
Nightmare Before Christmas Poseable Characters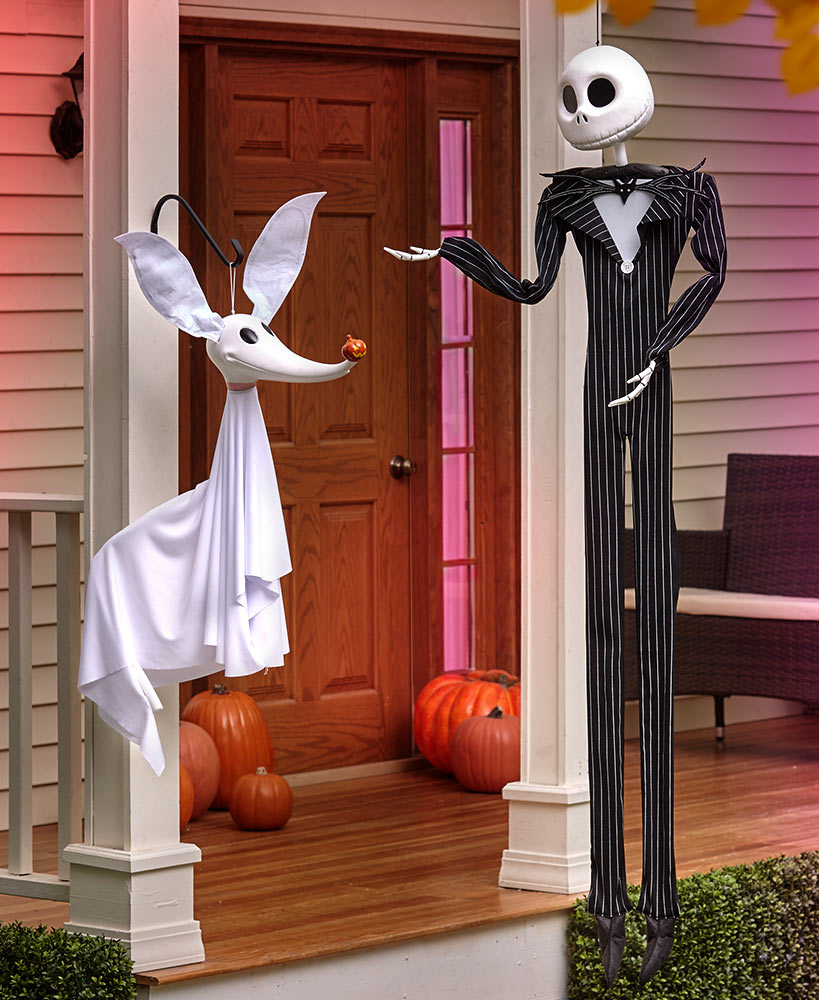 Add some familiar faces to your porch with Nightmare Before Christmas Poseable Characters!
Put these characters at the front of your porch to welcome trick-or-treaters. Incorporate these characters on the rest of your porch with other decor to create a full Nightmare Before Christmas theme!
Life-Size Lighted Witch Characters Trio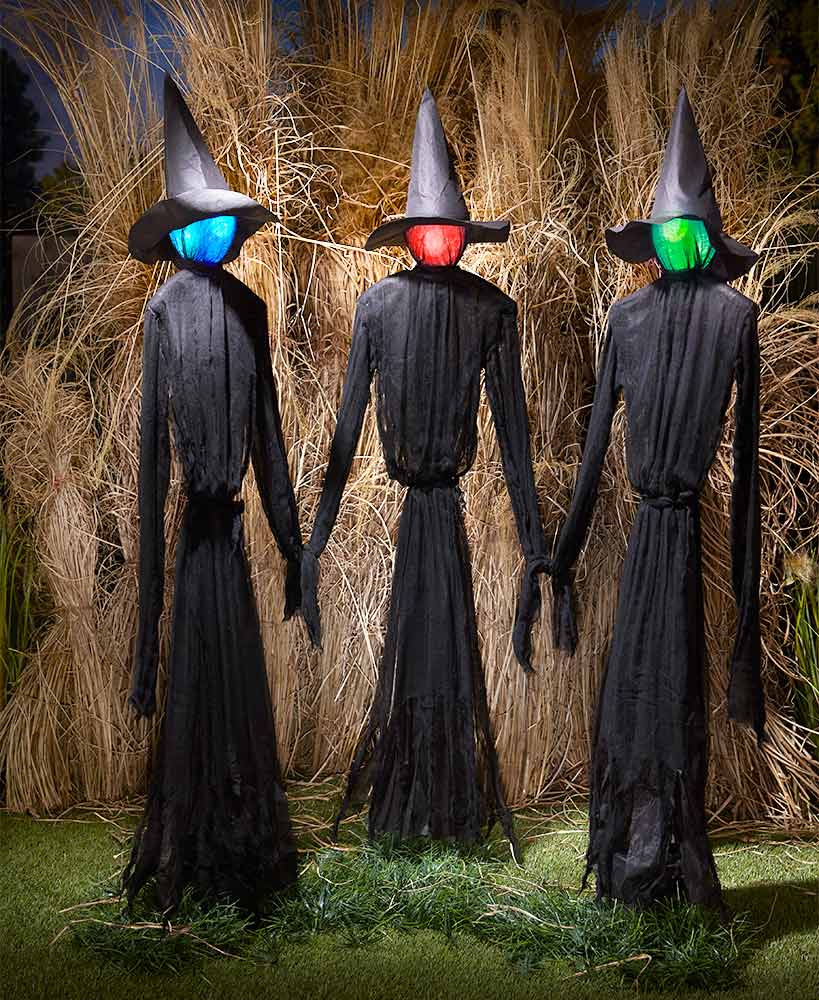 Make your yard feel eerie and spooky with the help of this colorful witch trio!
Display these life-size witches in your front yard to create a scary scene. Decorate the rest of your yard with other witch decor such as a large cauldron, lighted brooms, and other relevant Halloween yard stakes.
---
Halloween Accents For Your Porch & Yard
Your porch and yard wouldn't feel complete without the small Halloween accents that add some extra flair and personality! These accents pair nicely with larger decorations or are a great option to use on their own if you only want to add a little Halloween spirit to your yard. Whether you want a spooky or friendly Halloween look, these accents will fit your style!
Spooky Shadow Stakes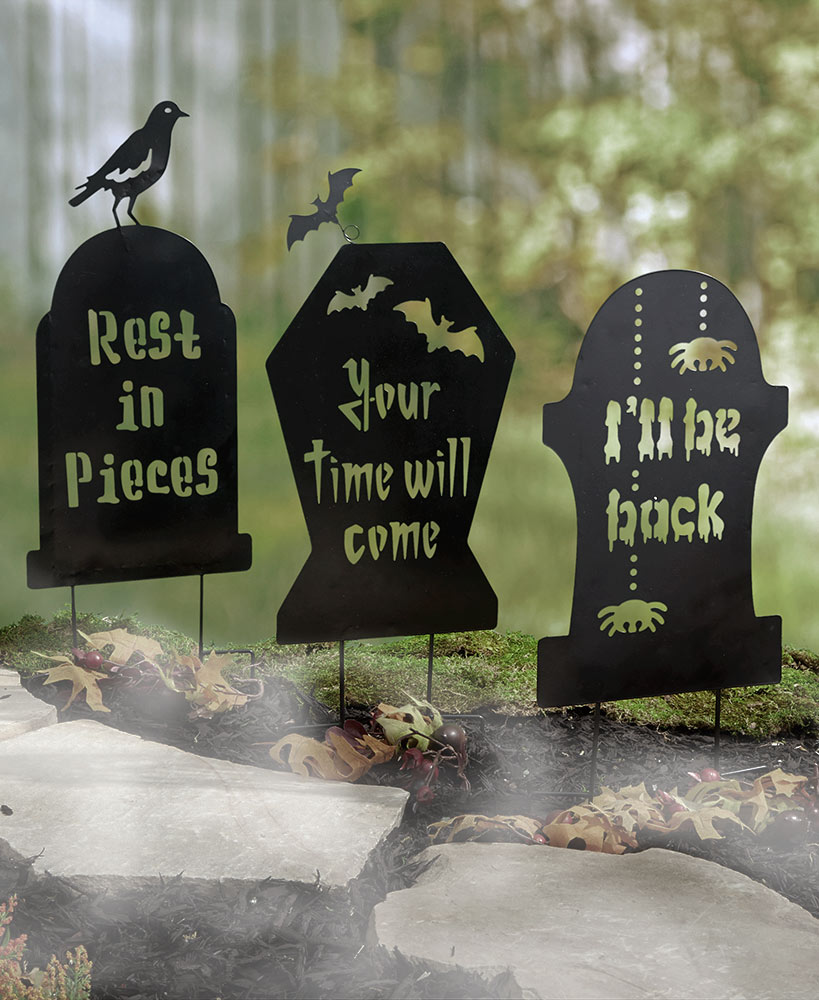 Create a graveyard scene in your front yard with these tombstone shadow stakes!
Stick these stakes along your front pathway or in the middle of your yard. Pair them with skeletons and zombies throughout your yard and porch for a spooky Halloween look and add lighted decor to illuminate the scene at night.
Tree Bark-Look Pumpkins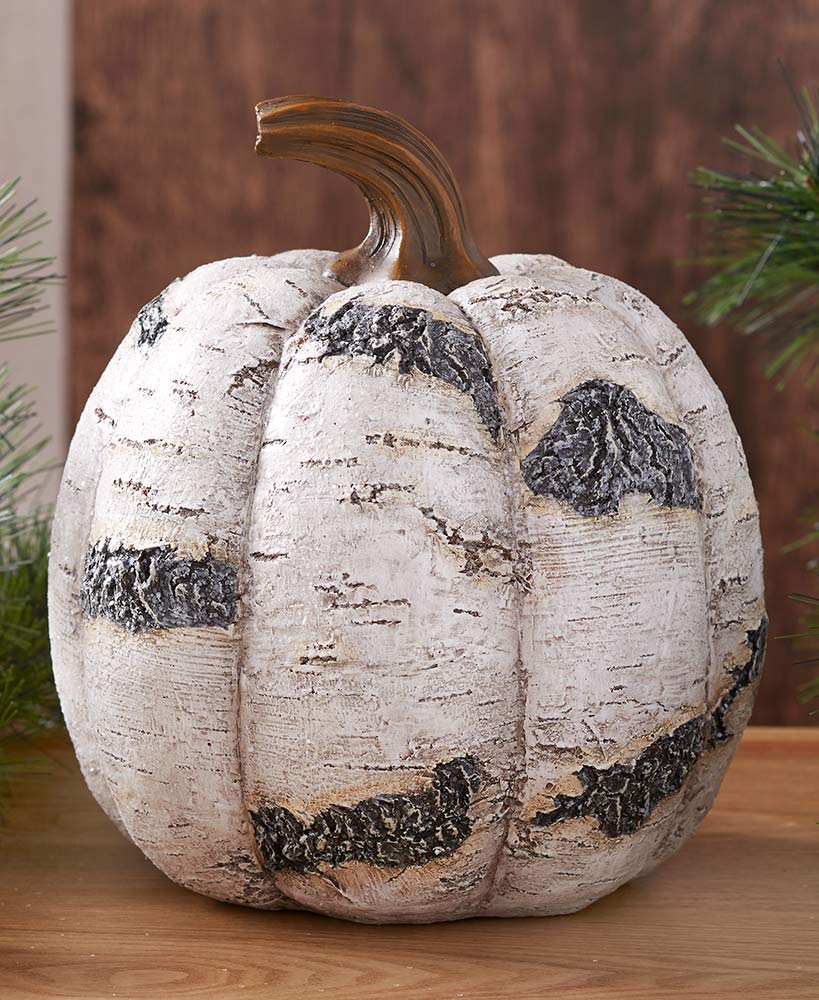 Add a woodsy feel to your Halloween porch decor with a Tree Bark-Look Pumpkin!
These pumpkins look great with other lodge themed and nature inspired fall and Halloween decor. You can place them on a covered porch next to your front door or on a small side table with other small Halloween accents and a variety of pumpkins.
Spooky Animated Doorbells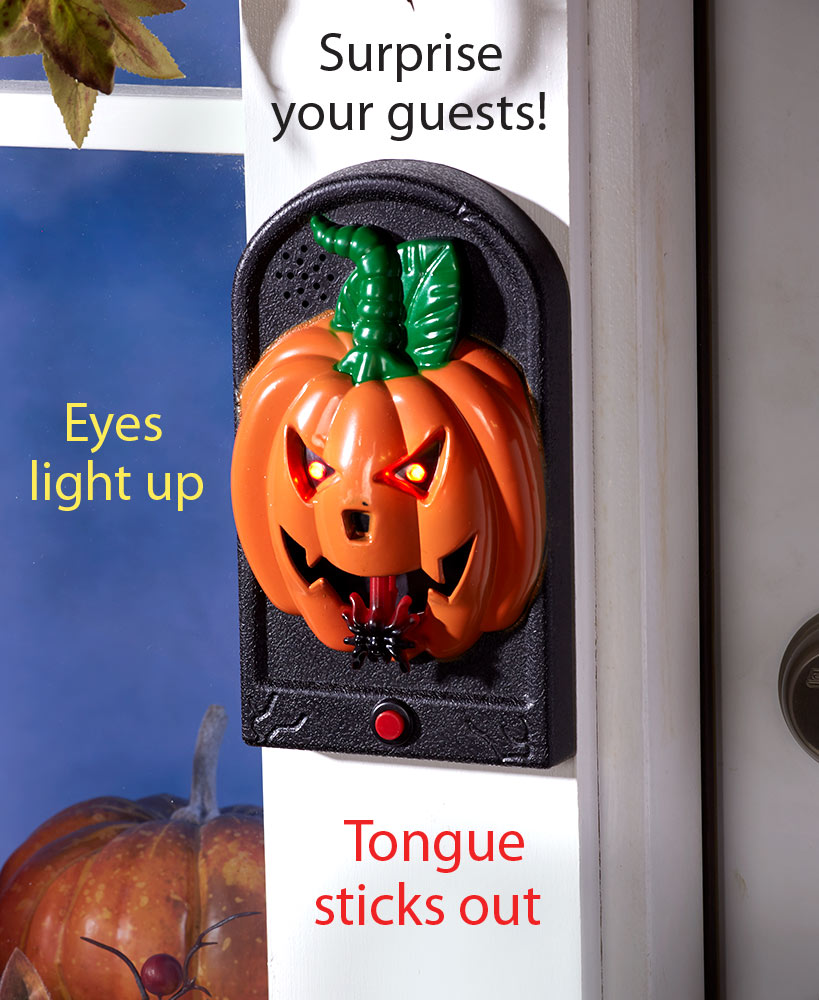 Surprise your guests and trick-or-treaters with these Spooky Animated Doorbells!
Choose from the pumpkin, skeleton, or witch doorbell and match it with your other porch decor to create a stunning and spooky Halloween scene. Add other interactive decor to your porch, such as motion activated characters, for a bonus layer of spookiness!
---
Looking for even more outdoor Halloween decorations? We've got you covered! Shop our selection of Outdoor Halloween Decor to find festive yard stakes, lighted decor, doormats, hanging porch accents, and much more!
---
Read Next: 9 Scary Halloween Decorations To Make Your House Spooky This Season