5 Fall Coffee Bar Ideas For Your Home
Fall and coffee go together so well because they both give off the feelings of warmth, comfort, and fresh mornings. Here are 5 fall coffee bar ideas for your home to create a welcoming and charming environment in your kitchen.
---
Getting Started: How To Set Up A Coffee Bar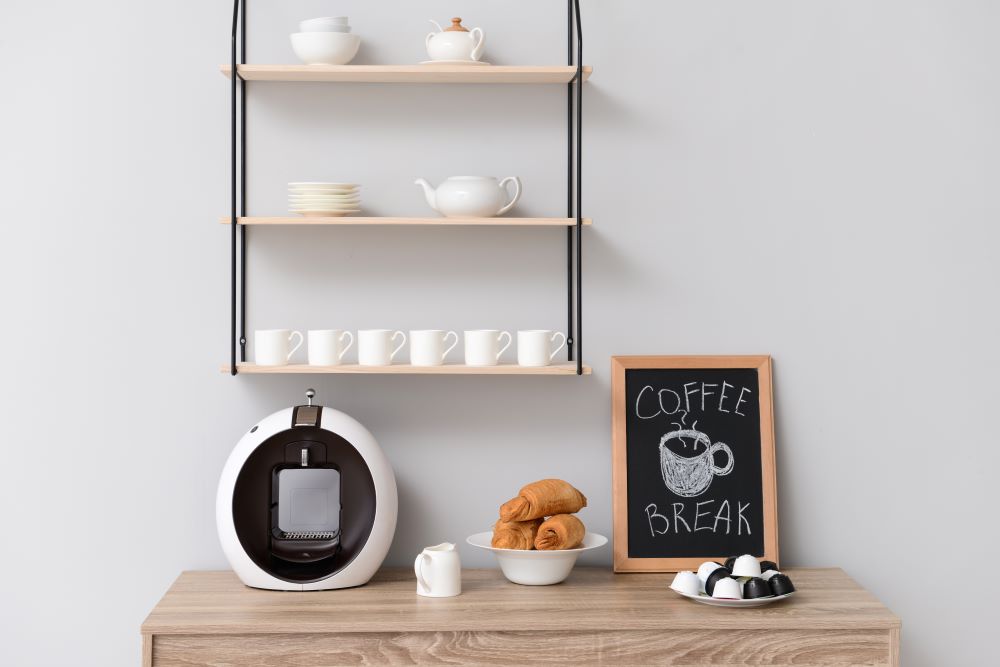 If you don't already have a coffee bar set up in your home, it's actually quite easy to get started. Before you start decorating for fall, make sure you have a general coffee bar set up as your base for your harvest spread. Here are some simple steps on how to create a coffee bar and what it typically looks like:
Start with the base: either a cabinet, small table, or even a section on the kitchen counter will do. However, a cabinet with drawers for storage and shelves for decorations is the best choice if you want a full coffee bar display. Shop our selection of cabinets for inspiration.
Set up your coffee maker – you can't have a coffee bar without coffee! You can even choose to have multiple types of coffee makers out on the bar if you have room.
Organize your bags of coffee, disposable coffee pods, and other coffee necessities (such as sugar and other add-ins). Stay organized by using baskets and other containers.
Finally, you can start decorating your coffee bar!
Once you set up your coffee bar, you can also decorate the rest of your kitchen with fall style. Check out these fall kitchen decorating ideas for inspiration.
Keep reading below for our list of fall coffee bar ideas!
---
1. Display Your Favorite Fall Coffee Mugs On The Wall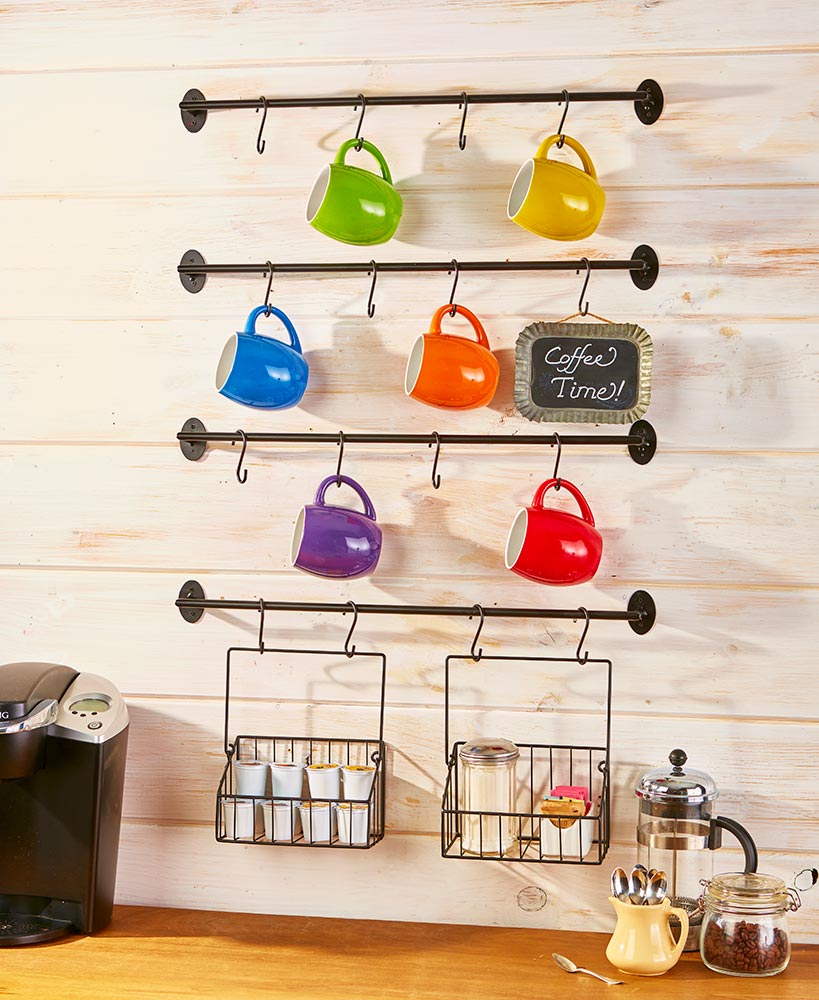 A great way to bring the fall spirit to your coffee bar is to put your favorite fall mugs on display to make them part of your decor.
This wall-mounted coffee mug rack is a perfect way to display your mugs above your coffee bar! It comes with three bars with four hooks each, along with an additional bar with baskets for supplies.
Aside from hanging up your fall mugs and drinkware on wall hooks, you can also display them directly on the counter. Simply place your three to four mugs on a cake stand on the counter.
Additionally, if your coffee bar cabinet has open shelves, you can utilize them to showcase all your fall mugs in an easy way.
6-Pc. Wall-Mounted Coffee Mug Rack
---
2. Decorate Your Coffee Bar With Fall Sentiment Signs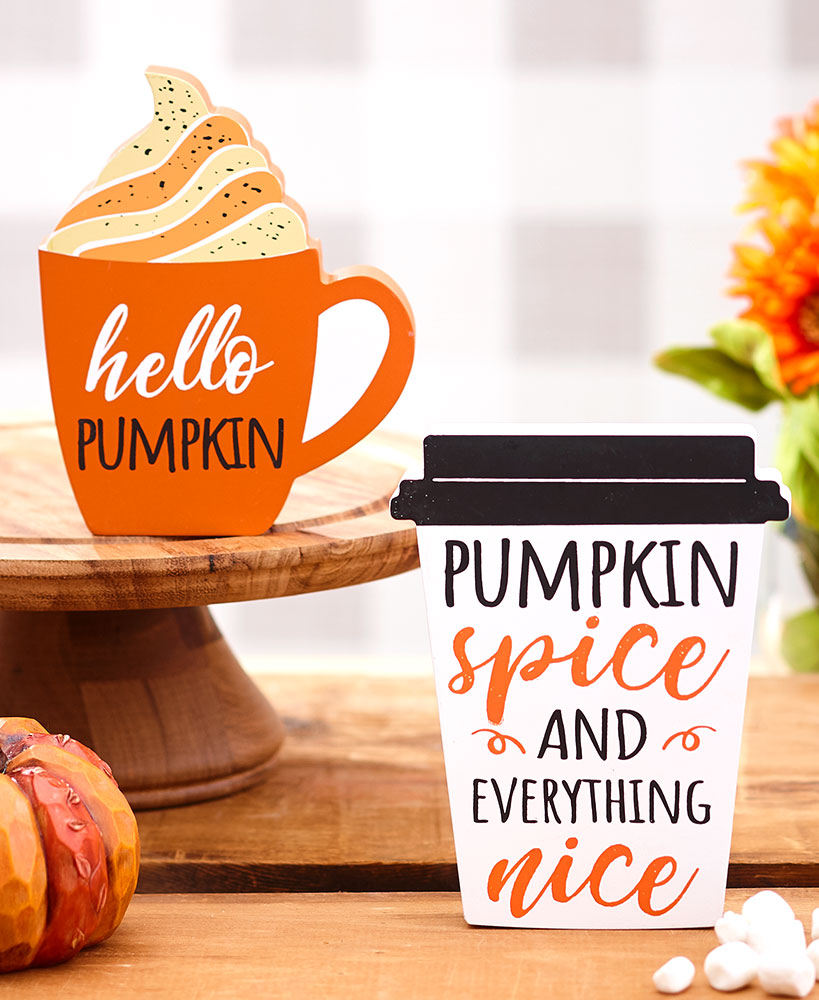 A fall coffee bar wouldn't feel festive without the help of harvest sentiments and themed decorations.
Fall sentiment block signs, such as the pumpkin spice ones featured to the left, are an easy and quick addition to your coffee bar that won't take up too much space.
In addition to block signs, you can also incorporate small fall accents such as ceramic pumpkins. You can make these look more styled by placing them on a cake stand or a decorative tray.
Make sure to not overcrowd your coffee bar with too many decorations. Remember that you can also hang up decorations on the wall behind your coffee bar to save space on the counter for coffee essentials.
Sets of 2 Warm Drink Block Signs
---
3. Set Up Your Coffee Essentials On A Fall Themed Tray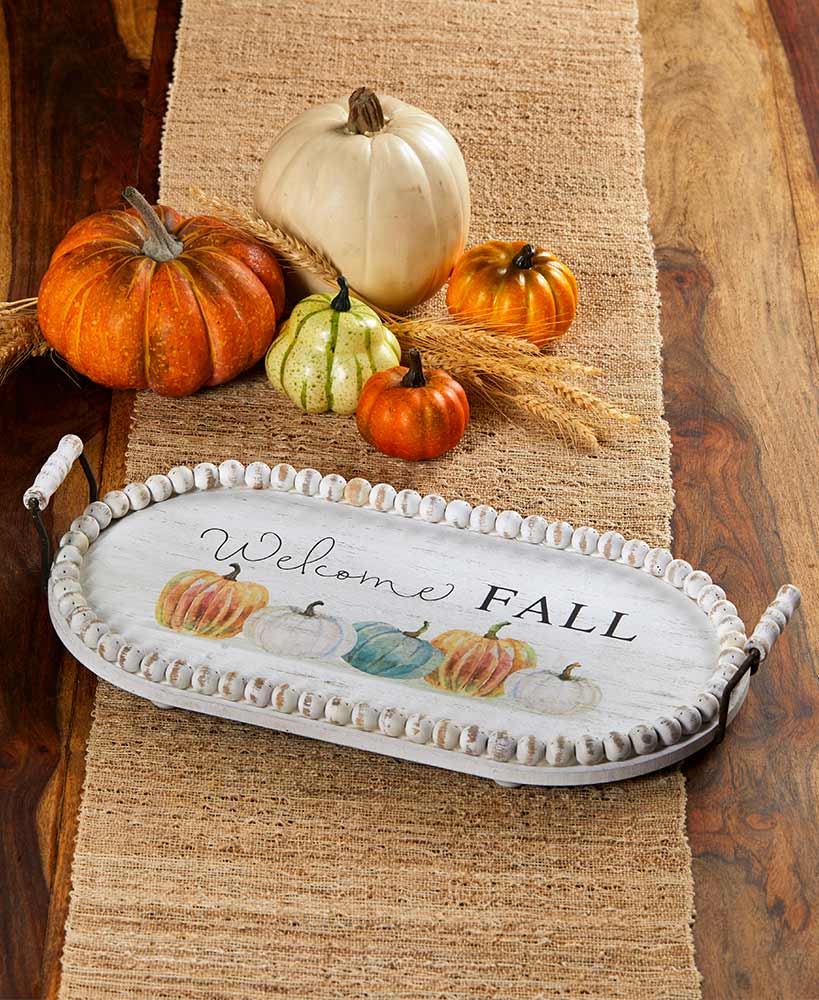 If you currently have your coffee supplies and essentials in containers or baskets, swap it out for a fall tray for a cute display.
This harvest tray is a great mix of decorative and functional and can fit all your main coffee essentials on your coffee bar. It also matches well with a farmhouse decor theme to blend in with a country kitchen.
Use a fall tray to hold essentials such as sugar packets, mini creamers, coffee pods, bags of coffee, some coffee mugs, and any other add-ins that are used daily.
You can also use the tray to hold snacks and baked goods on your coffee bar. This is especially fun to do if you have a household who enjoys coffee and a treat in the morning!
Harvest Tray
---
4. Use Fall Themed Coasters On Your Coffee Bar Display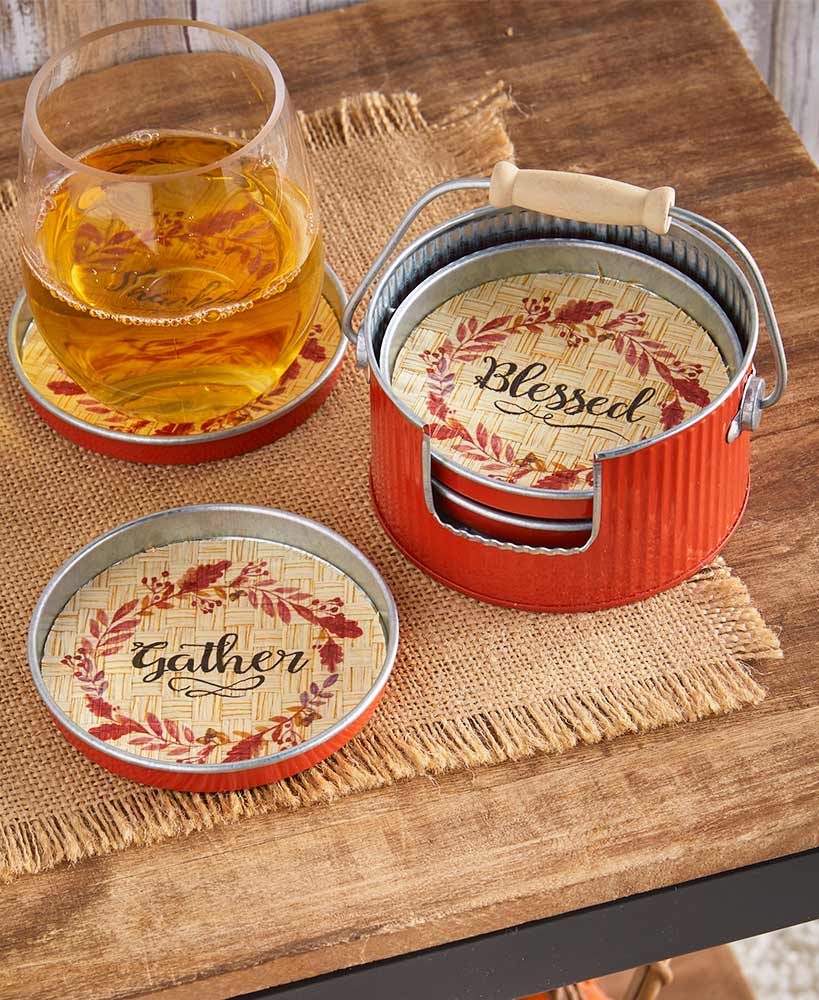 If you typically use coasters to set down all your drinks, consider keeping a set of fall coasters on your coffee bar for a decorative and functional element.
These set of harvest coasters are a charming fit for this fall coffee bar idea! They each feature a fall themed sentiment and they even come with a decorative metal holder to place on the counter.
Style your coasters on the counter by stacking them in the corner or spread them out for a unique display, intermixed with other fall accents.
In addition to keeping coasters on your coffee bar, you can also keep other fall coffee accessories such as fleece mug cozies to slip onto your mug while drinking your morning cup of brew.
5-Pc. Harvest Coaster Set
---
5. Lay Out Fall Themed Towels & Table Linens On Your Coffee Bar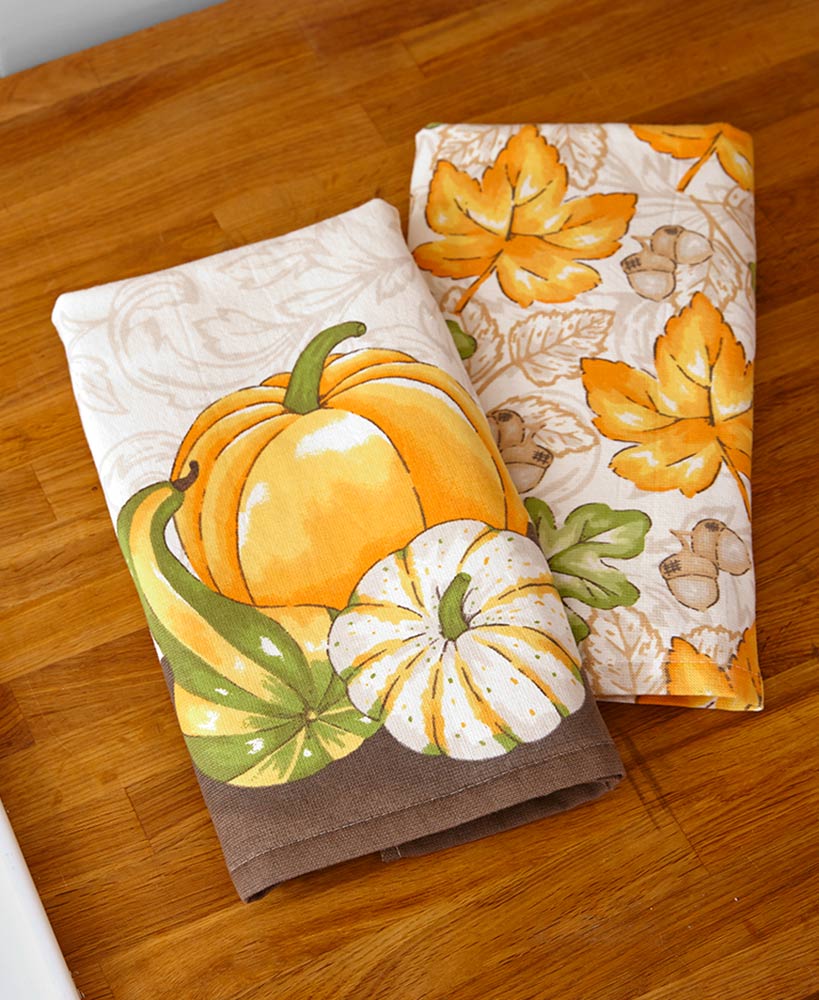 Towels and tablecloths are just limited to the sink and the kitchen table – add these to your coffee bar for an extra decorative touch!
These harvest pumpkin kitchen towels can be a festive addition to your coffee bar and can also come in handy when cleaning up spills in the area.
You can display fall towels on your coffee bar in multiple ways: install a towel bar on the wall and hang them there, hang them on a towel bar or hook on your cabinet, or lay them out nicely on top of the counter.
Aside from adding towels, you can also add a fall tablecloth or table runner on top of your coffee bar. This is a great way to set the scene for your bar and can help you determine what other accents to add on afterwards.
Harvest Pumpkin Kitchen Towels
---
Want even more fall coffee bar ideas and harvest home decor inspiration? Shop our entire selection of Fall Harvest Decor to find decorative accents, kitchen collections, outdoor decor, and much more!
---
Read Next: 7 Fall Bed & Bath Decorations For A Festive Home