7 Fall Bed & Bath Decorations For A Festive Home
Give your bedroom and bathroom some touches of fall with pumpkins, plaid, and leaves! From shower curtains to bedding to decorative throws and more, here are 7 fall bed and bath decorations for a festive home.
---
1. Add A Fall Shower Curtain To Your Bathroom For A Festive Look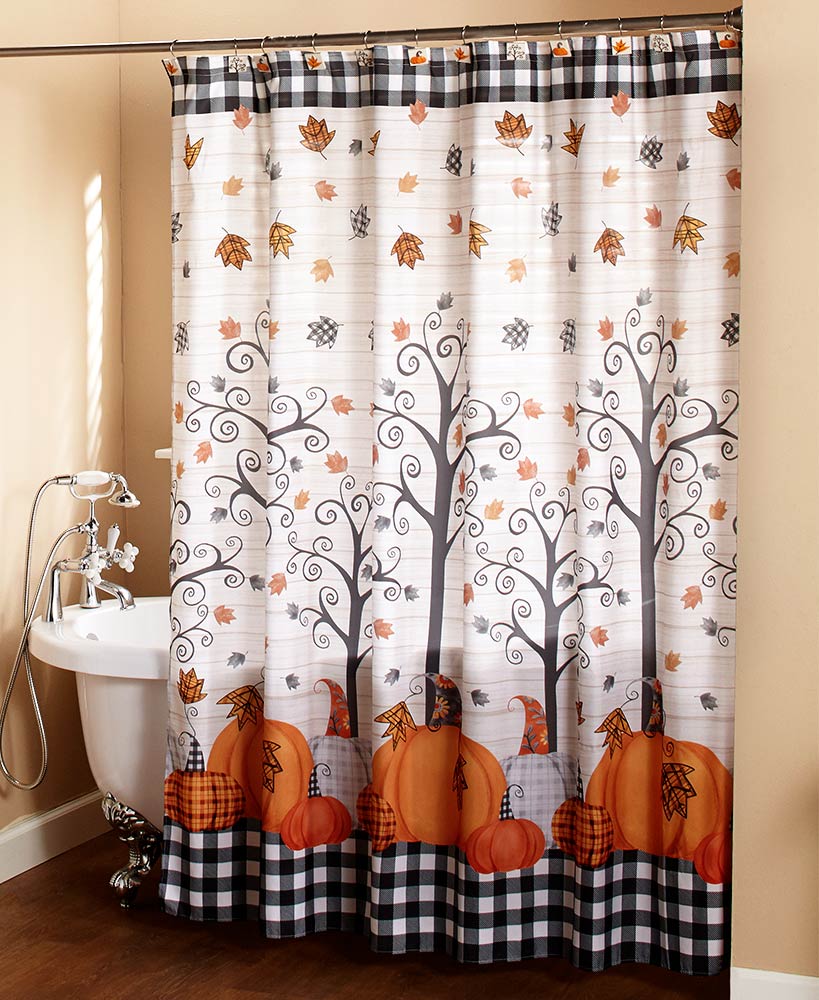 Plaid and pumpkins are a great way to bring a festive fall theme into any room!
This plaid pumpkin shower curtain features a fall foliage scene that will brighten up your bathroom in harvest fashion.
While you can decorate the rest of your bathroom with the other items in the plaid pumpkin collection, there are other ways to match decor to the shower curtain.
Start by bringing in a set of black and white plaid hand towels, along with some coordinating bath towels. The bath towels can be orange, black, or plaid to nicely complement the curtain.
Finish it off with a pumpkin soap pump, a fall foliage wall hanging, and a comfy plaid bath mat.
Plaid Pumpkin Shower Curtain
---
2. Bring Pumpkins & Plaid Into Your Bedroom With A Fun Comforter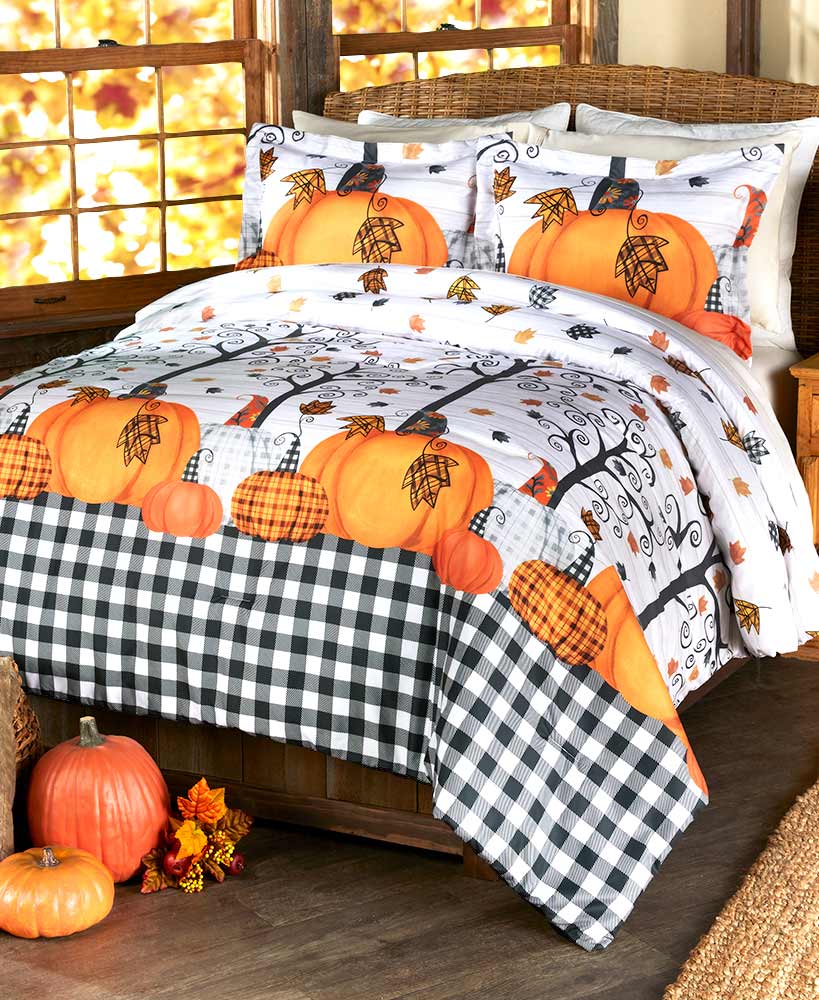 Continue the pumpkins and plaid theme in your bedroom with this matching comforter and pillow shams!
This bedding is perfect for a modern farmhouse decor look this fall and looks especially nice with plaid and rustic wood decorations.
Decorate the rest of your room for fall by adding some plaid plush pumpkins on your bedside table and dresser, along with some pumpkin scented candles.
Bring some matching patterns into the room with some plaid storage bins to hold everyday essentials.
Complete the farmhouse fall look with some festive wall hangings and large cozy harvest themed room rug.
Plaid Pumpkin Comforter or Sham
---
3. Stay Cozy & Festive With A Decorative Fall Tapestry Throw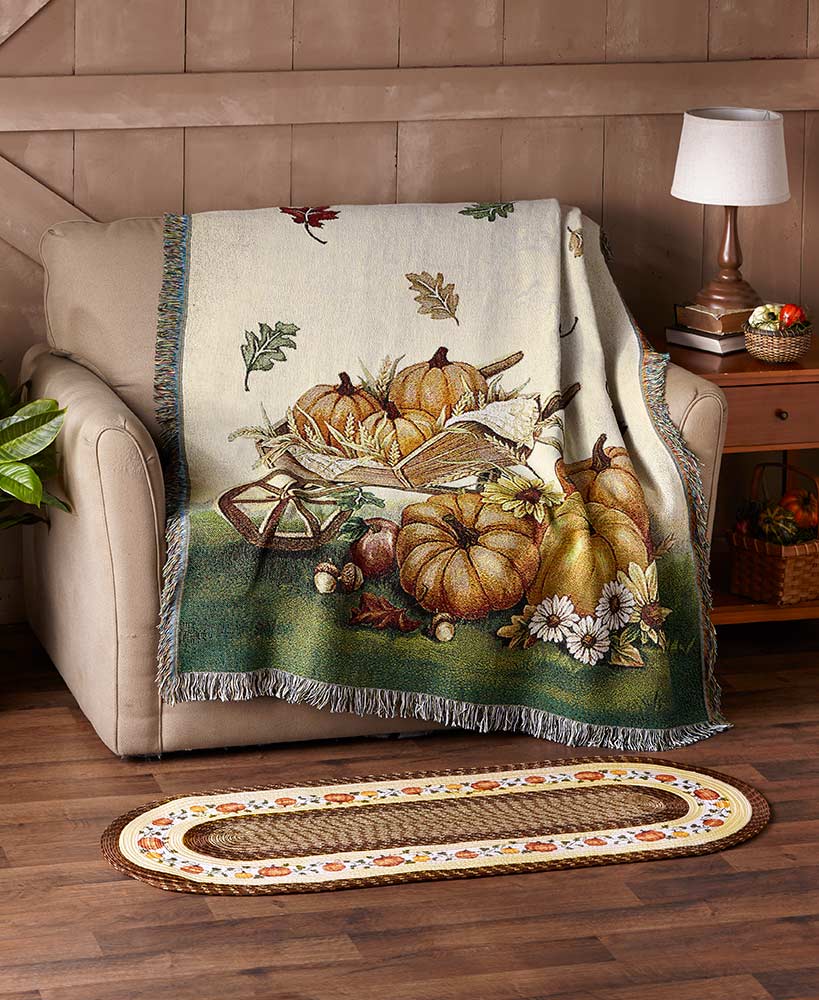 During fall, it's best to add cozy elements to your home to keep you feeling warm and comfortable.
This harvest home tapestry throw is a great addition for your bed this fall! It can be laid out flat on your bed, folded at the end, or you can even use it as a wall hanging.
If used as a bed blanket, you can decorate your bed even more with the help of pumpkin throw pillows.
If you use it as a wall hanging, consider hanging it behind your bed as a unique fall backdrop or on an accent wall with other fall wall art.
Finally, add some pumpkins and sunflowers throughout the room to bring out the fun design in the throw blanket.
Harvest Home Tapestry Throw
---
4. Add A Touch Of Nature To Your Bedroom With An Autumn Leaves Quilt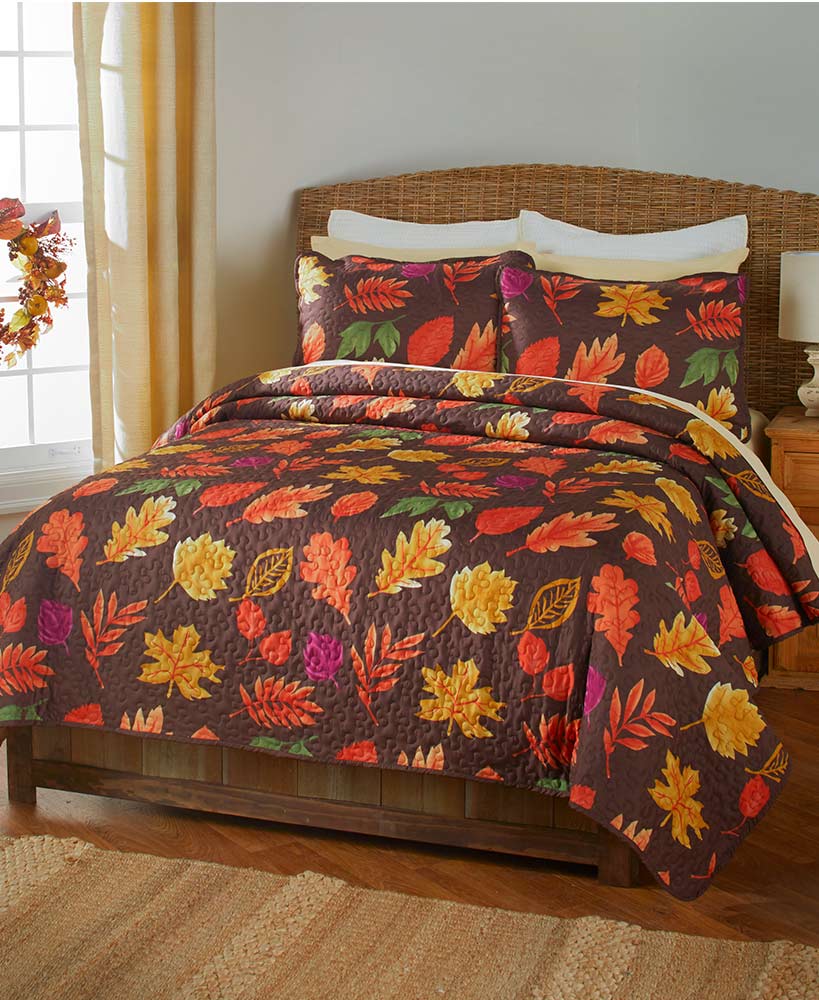 If you're looking to get in touch with nature this fall, decorating with leaves can give your home that comfy fall feeling!
This country leaves quilt features an all-over print of colorful autumn leaves that will look nice when added to any colored bedroom.
You can choose to have the quilt be the main fall focal point and just decorate with simple country decor throughout the rest of the room.
However, if you want to add even more fall foliage into the room, you can do so by adding a foliage wreath to your wall, an autumn printed room rug, and even a bowl of decorative leaves on your dresser.
Be sure to coordinate your other decorations with the warm colors in the quilt to bring the whole room together!
3-Pc. Country Leaves Quilt Sets
---
5. Decorate Your Bathroom Windows With A Halloween Pumpkin Valance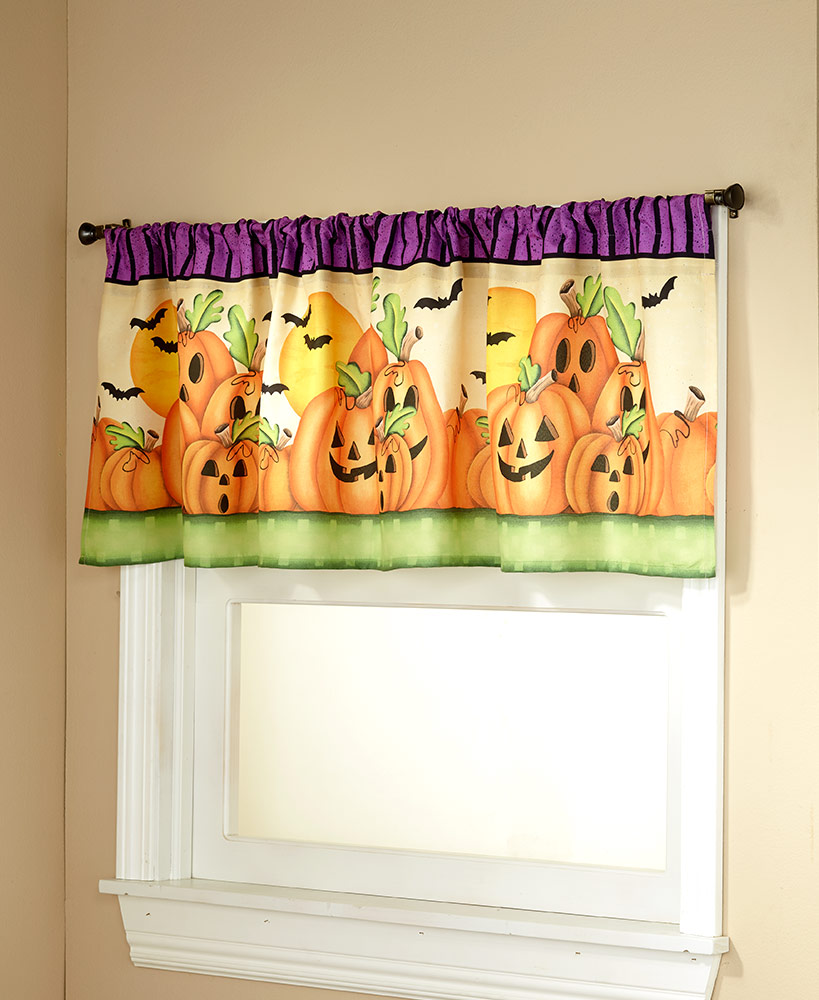 Get into the Halloween spirit by adding some touches of the spooky holiday into your bathroom decor!
This trick-or-treat window valance in a subtle yet festive way to decorate for Halloween. It features a fun bats and pumpkin design.
If you want to continue the Halloween theme in the rest of the bathroom, you can hang up a pumpkin shower curtain, use a bat themed soap pump, and hang up orange or green hand towels.
You can also add other spooky or friendly Halloween symbols into the room such as witches, black cats, and skeletons.
The Halloween bathroom theme is great to keep up for all of October and can then be swapped for a more general fall theme.
Trick-or-Treat Valance
---
6. Bring Some Halloween Spirit To Your Bedroom With A Festive Throw Blanket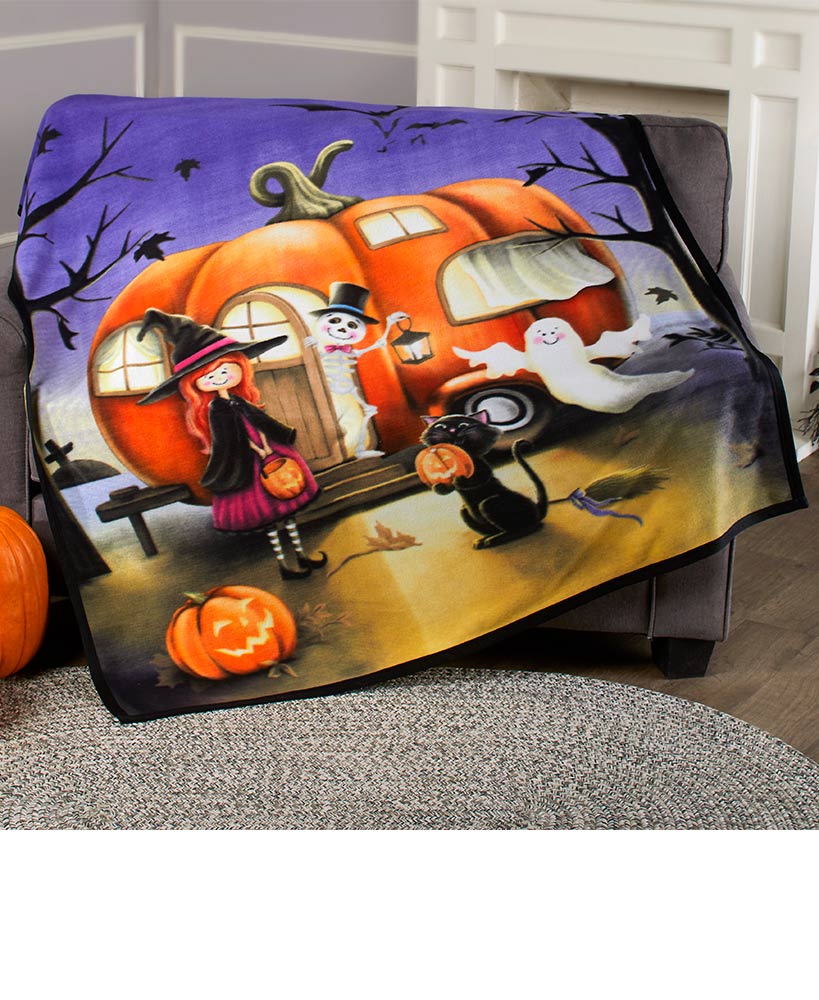 Continue the Halloween spirit in your bedroom with the help of a themed throw blanket!
This adorable blanket features a fun design of a witch, black cat, and ghost visiting a skeleton in a camper made out of a pumpkin.
This throw blanket is warm and cozy and can be used as an extra blanket on your bed. Display it spread out on top of your comforter or fold it up at the end of your bed.
Add some other spooky Halloween decor to your room by bringing out some of the main design elements from the blanket such as bats, pumpkins, and black cats.
You can achieve the full Halloween bedroom look with the help of tabletop accents, wall hangings, and window curtains.
Halloween Camper Throw
---
7. Decorate Your Bed With A Fall Quilt & Sheets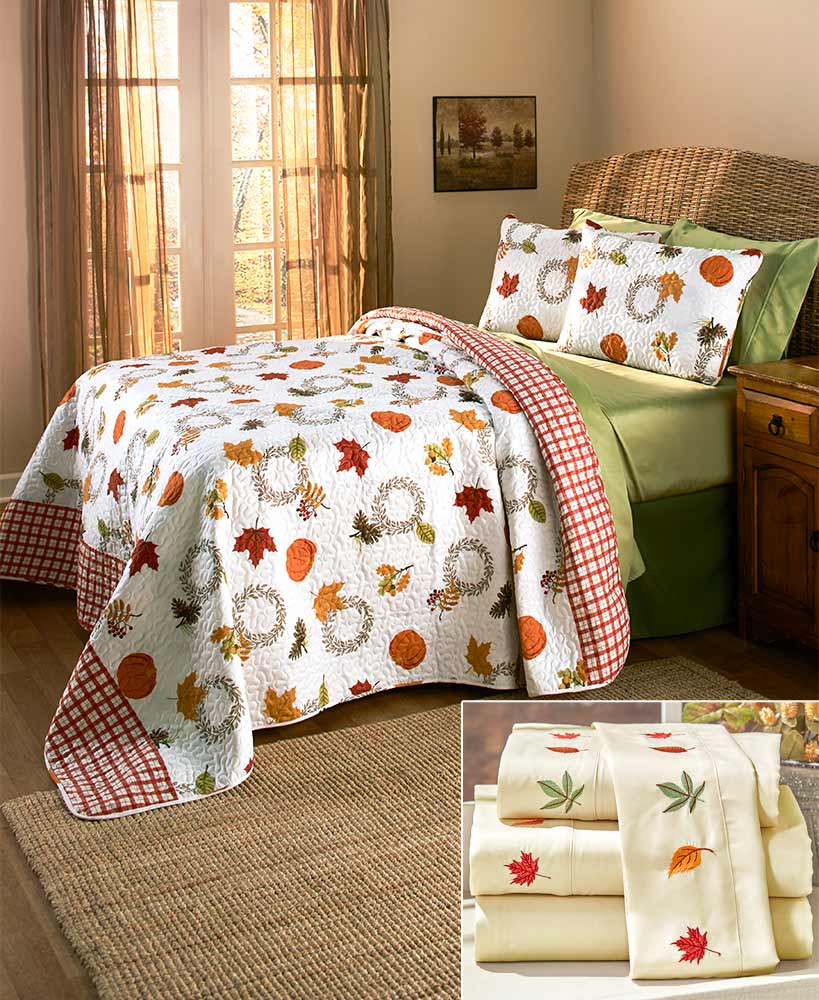 If you want a more subtle yet festive look in your room, this harvest quilt and sheet set is a perfect match!
The quilt features a design with leaves, pumpkins, and wreaths with coordinating leaf print sheets.
You can nicely match the plaid border on the quilt by bringing in some other plaid decorations throughout the room such as a plaid rug, curtains, and bedside table lamps.
You can also match the color scheme with decorative accents by using red, orange, and green elements on your dresser and bedside table.
This bedding goes especially well with a country or farmhouse theme in your bedroom!
3-Pc. Harvest Quilt or Sheet Sets
---
Looking for even more ways to decorate this fall? Shop our full selection of Fall Harvest Decor to find more fall bed and bath decorations, along with decorative accents, kitchen table decor, wall art, and more!
---
Read Next: 7 Fall Bathroom Decorating Ideas For Small Spaces