9 Scary Halloween Decorations To Make Your House Spooky This Season
Halloween is all about the creepy crawlers, the scary creatures, and the fun frights. If you're looking for some exciting ways to decorate for this holiday, here are 9 scary Halloween decorations to make your house spooky this season.
---
Spooky Claws & Skeletons To Decorate With This Halloween
Claws and skeletons can give your home a haunted feeling and they look great with other scary Halloween decorations. Skeletons are a fun way to create a unique and creepy graveyard scene in your yard or even inside your house. Here are some fun and spooky claws and skeletons to decorate with this Halloween!
Creepy Hand Claws Wall Hangers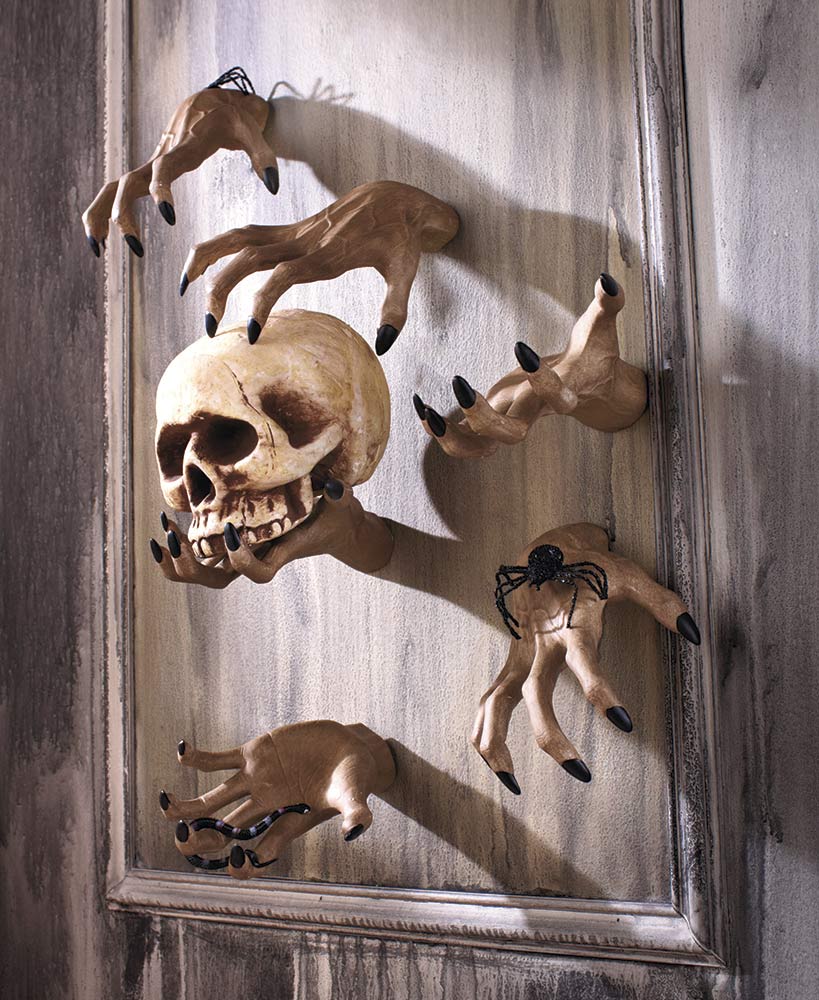 Create a chilling wall display with the help of these Creepy Hand Wall Hangers!
Hang these up on the wall to use for hanging jackets and aprons, or just display them on their own. These can look great displayed in your entryway above a console table with Halloween themed candles and lighted tabletop decorations.
Skeleton Hand Symbol Arm Stakes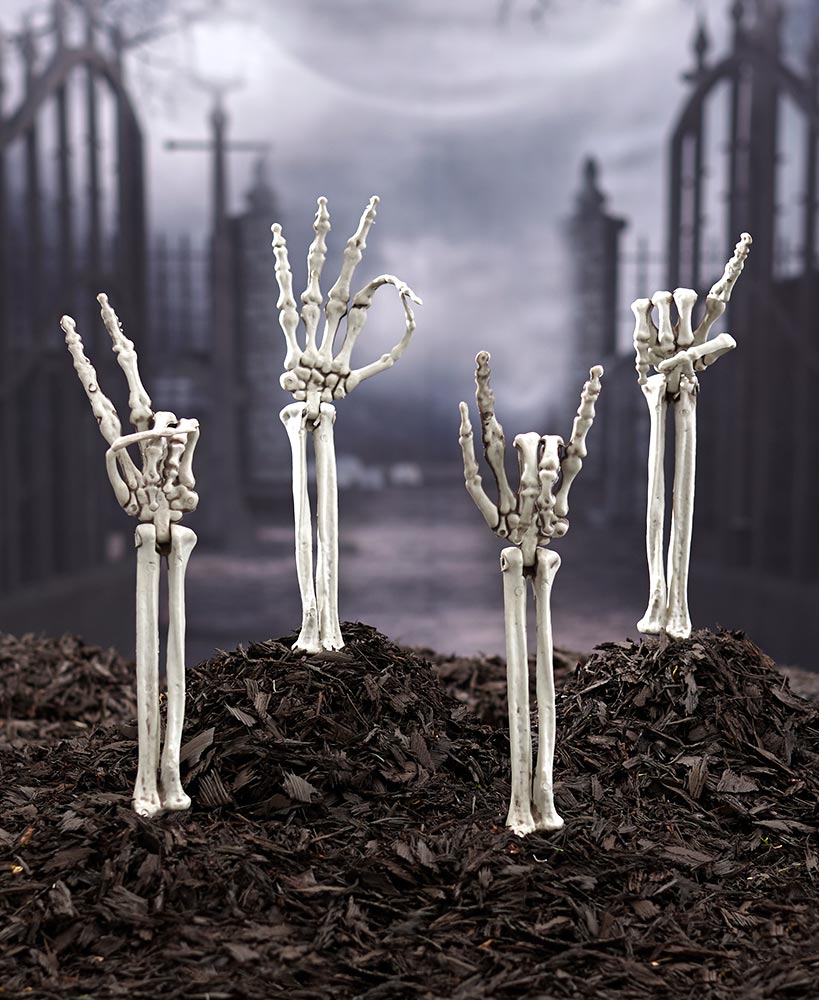 Bring some Halloween creepiness into your yard with these Skeleton Hand Symbol Arm Stakes!
Display these in your front yard, along the pathway to your porch, or stick them throughout your fall garden. These work especially well for creating a graveyard scene in your yard with tombstone stakes!
Barking Dog or Meowing Cat Skeleton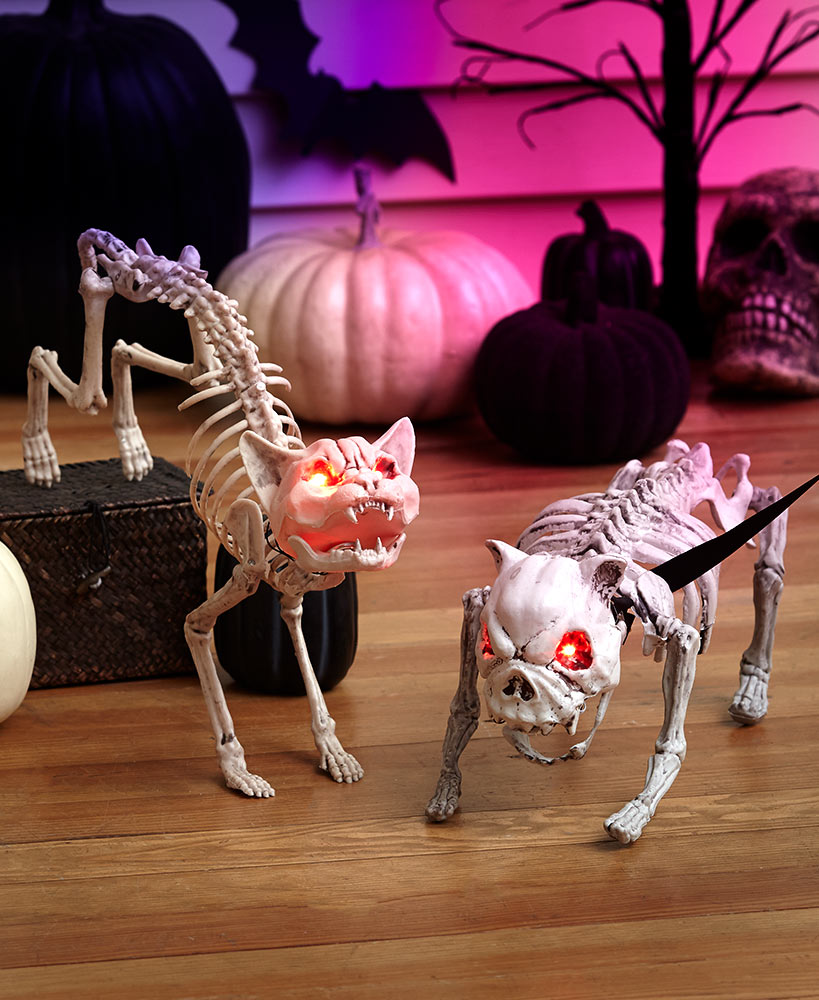 Add a small touch of scary to your home with the Barking Dog or Meowing Cat Skeleton!
Place these motion activated skeletons on an entryway table to scare house guests as they walk by or display them on a side table underneath a covered porch to bring a fun thrill to trick-or-treaters on Halloween!
---
Add A Chilling Appeal To Your Home With Lighted Halloween Decor
The spookiness of Halloween truly comes out when the sun goes away and the darkness of the night hits. Decorating with lighted decor can bring a chilling and frightful effect to your home on the darkest of nights. These lighted Halloween decorations are great for indoor and outdoor display!
Lighted Halloween Bottles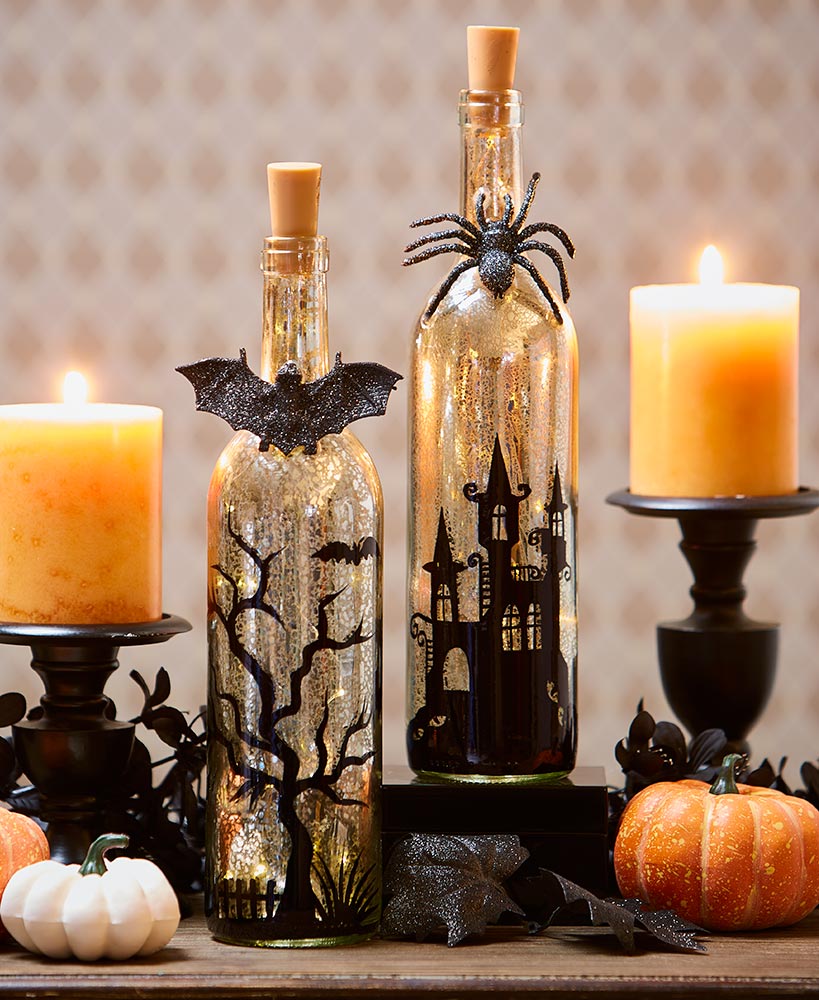 Add some spooky elegance to your home by decorating with these Lighted Halloween Mercury Glass Bottles!
These make a great dining table centerpiece – simply place them in the center of the table in a spooky Halloween tray with some candles. You can also place these on top of your mantel or on top of shelves in your living room and coordinate them with other lighted decor in the room.
Scary Pumpkins or Tree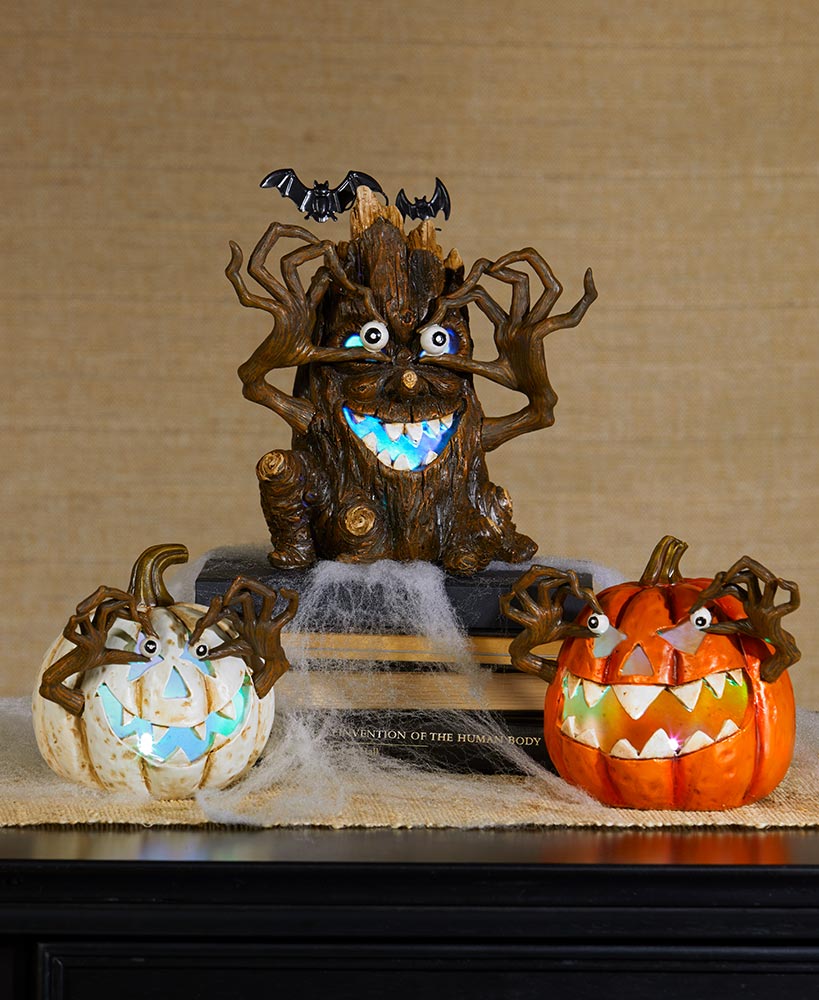 Create a creepy Halloween scene on a table with these Lighted Scary Pumpkins or Tree!
Set up the scene on your entryway table or side table by starting with a stack of antique books. Then, lay out some decorative cobwebs on top of the books and the table. Finally, place the tree or one of the pumpkins on top of the stack of books and place the other lighted figures on the table.
4-Pc. Solar Lighted Skull Fence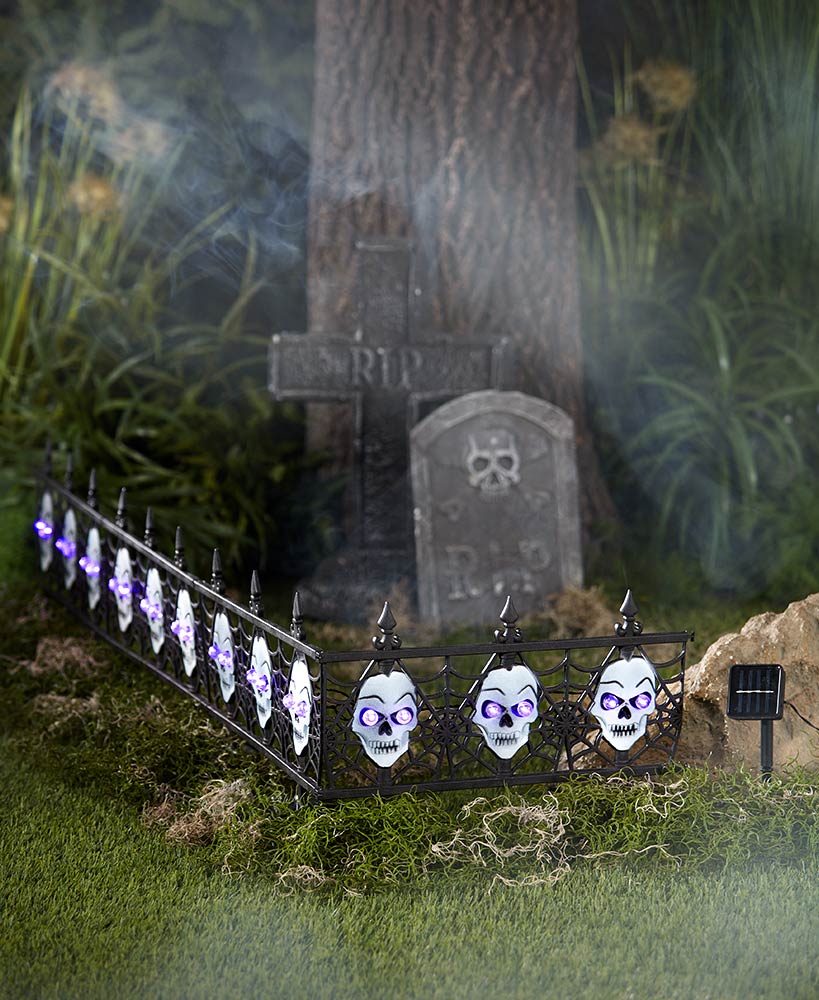 Light up your yard at night in a spooky way with this 4-Pc. Solar Lighted Skull Fence!
This fence is perfect to use for setting up a spooky graveyard scene underneath a tree. Start by setting up a decorative tombstone stake against a tree. Then, decorate with some skeletons in the ground along with some other creepy stakes. Finally, place the fence around the graveyard scene to make it look like a makeshift cemetary!
---
Decorate With Scary Halloween Creatures To Create A Stunning Outdoor Spectacle
Outdoor Halloween decorations are a great way to show off your spooky spirit to the rest of the neighborhood and to scare trick-or-treaters on the night of Halloween! These big and scary Halloween creatures are great additions to your porch this season.
Life-Size Climbing Zombies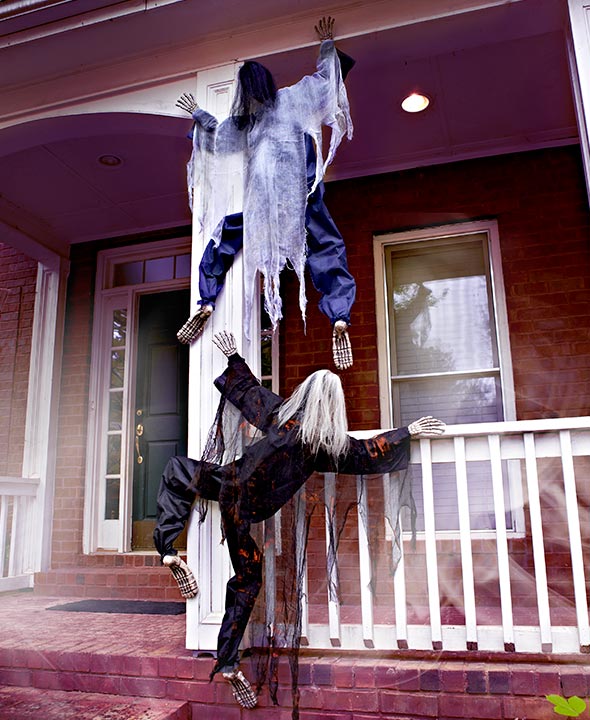 Decorate your porch posts in Halloween style with these Life-Size Climbing Zombies!
Start by wrapping some string lights around your porch posts and railings. Its a bonus if they're orange tinted lights or even pumpkin shaped ones! Next, hang the life-sized zombies from your porch post to make it look like they're climbing up. Now you have a creepy scene for all to see!
Animated Halloween Creatures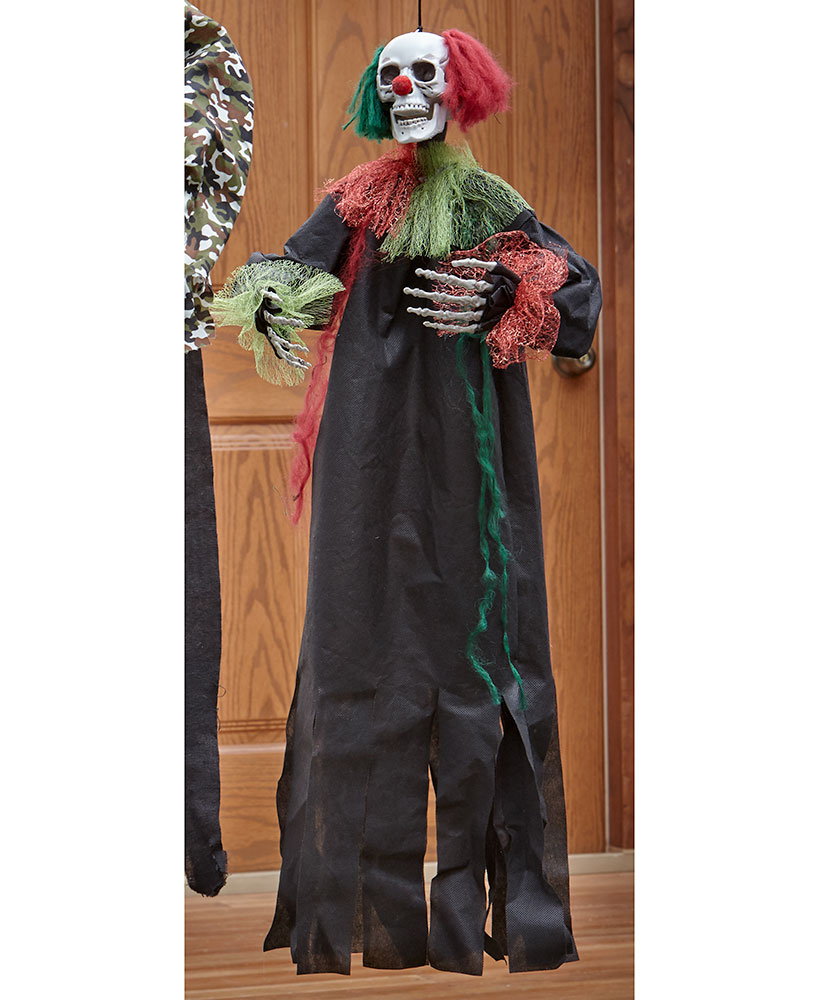 Scare trick-or-treaters when they come to your door with these Animated Halloween Creatures!
Stand the Head Spinning Evil Clown or the Talking Camo Skeleton near your front door. It will be activated every time someone comes up! Deck the rest of your porch out with scary decor such as creepy carved pumpkins, flickering lights, and hanging bats.
71″ Hanging Talking Witch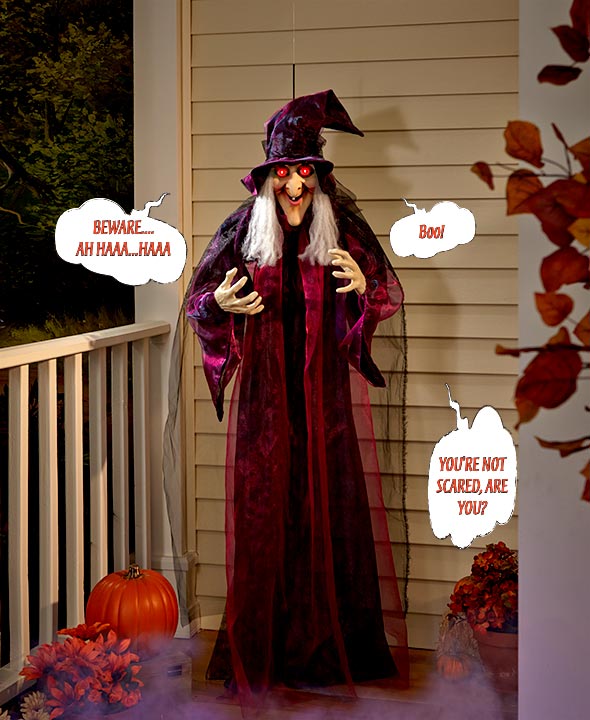 Bring a classic Halloween character to your porch with this 71″ Hanging Talking Witch!
Hang the witch up in the corner of your porch with a display of bats or spiders splayed across the wall behind her. Wrap the poles of your porch with bat or spider string lights and display some creepy pumpkins nearby!
---
Looking for more scary Halloween decorations? Shop out entire selection Halloween Decor & More to find decorative accents, spooky yard decor, string lights, and much more!
---
Read Next: 5 Ways To Decorate Your Mantel For Fall