How to Transition Your Home Decor from Summer to Fall
As summer comes to a close and fall weather approaches, it's time to start changing your home decor to match the new season. From swapping fabrics, to bringing in warm lighting, to decorating with pumpkins and more, here is how to transition your home decor from summer to fall.
---
Start By Putting Your Main Summer Decorations Into Storage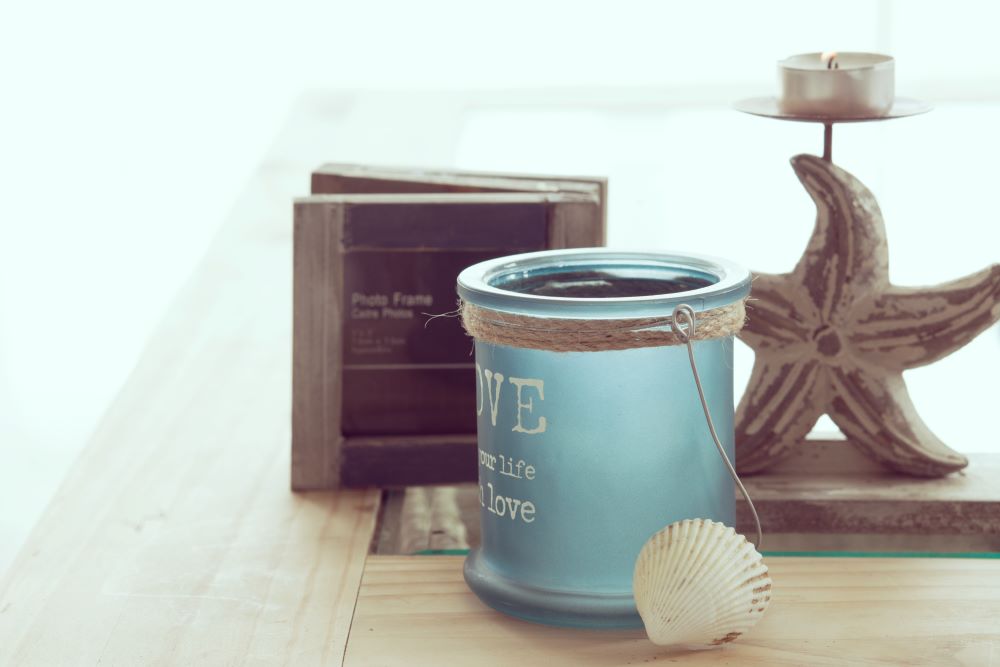 In order to transition your home decor from summer to fall, you need to start by removing any decorations and items that scream summer. This can range from large wall art with bright colors, decorative accents that represent summer symbols, summer themed tablecloths, and anything that gives off warm weather vibes.
Make sure you store these items away properly. Organize them into boxes and containers and label them accordingly. The best place to store these boxes is in the basement; however, they can also be neatly tucked away in an extra closet, underneath your bed, or even the garage if you have extra space in there.
Once you've cleared away your main summer items, you now have space in your house for fall decorations. This cleaning process also helps you clear your mind and gives you a chance to think about a fall vision for each room.
---
---
Swap All Summer Linens & Fabrics For Fall Ones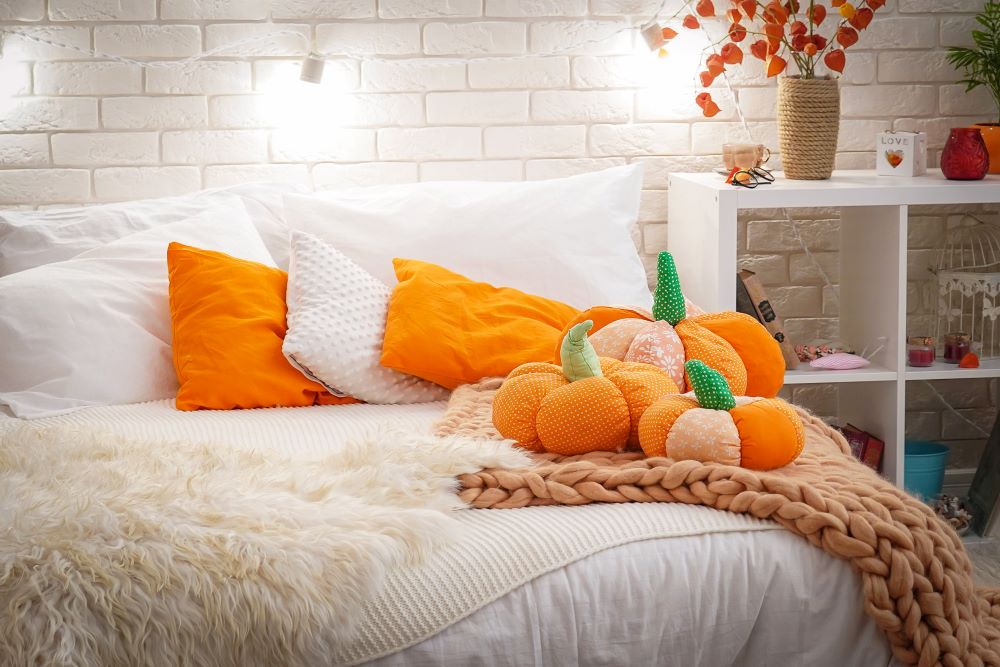 The next step in transitioning from summer to fall is to swap out all your linens and fabrics for fall ones. This can include throw pillows, blankets, bedding, window curtains, tablecloths, along with bath towels and hand towels.
You can achieve the fall theme with these fabrics by incorporating fall colors and symbols throughout. For instance, you can hang up some burgundy or burnt orange window curtains, place some pumpkin patterned pillows on the couch, make up your bed with a fall leaf quilt, and hang up some fall sentiment hand towels in the kitchen and bathroom.
A great way to make these items blend in is to create an overall fall theme for your home. You can do this with a color scheme or with a recurring symbol throughout the house. You can also choose to combine your fall decor with a decor style you already have in your home, such as the farmhouse decor style or the coastal decor style.
---
---
Add Pumpkin Themed Decor Into Each Room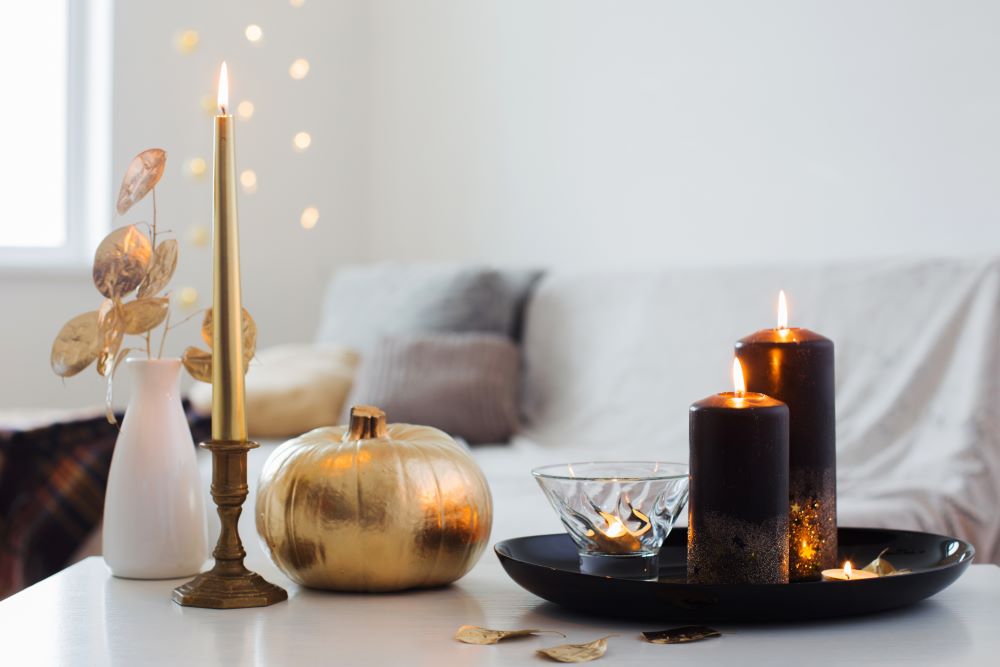 Pumpkins are a staple of fall decor and they are easy to decorate with when transitioning into the season. With so many sizes, colors, and variations of pumpkin decorations, there's an easy way to bring pumpkins into each room of your home.
How To Decorate With Pumpkins
Place ceramic pumpkins around your living room – some on on your coffee table, some on your side tables, and some on your mantel.
Put a bowl of artificial pumpkins in the center of your kitchen island.
Set up your dining table with a small pumpkin at every place setting.
Hang up pumpkin wall art in any room of your house.
Use pumpkin patterned towels in your bathroom and kitchen.
Decorate with pumpkin pillows on your couch or on your bed.
Display pumpkin place mats on your kitchen table.
Hang up a pumpkin shower curtain in your bathroom.
Put small pumpkins on your dresser and bedside tables.
---
---
Bring The Outdoors In & Use Nature As Your Fall Decor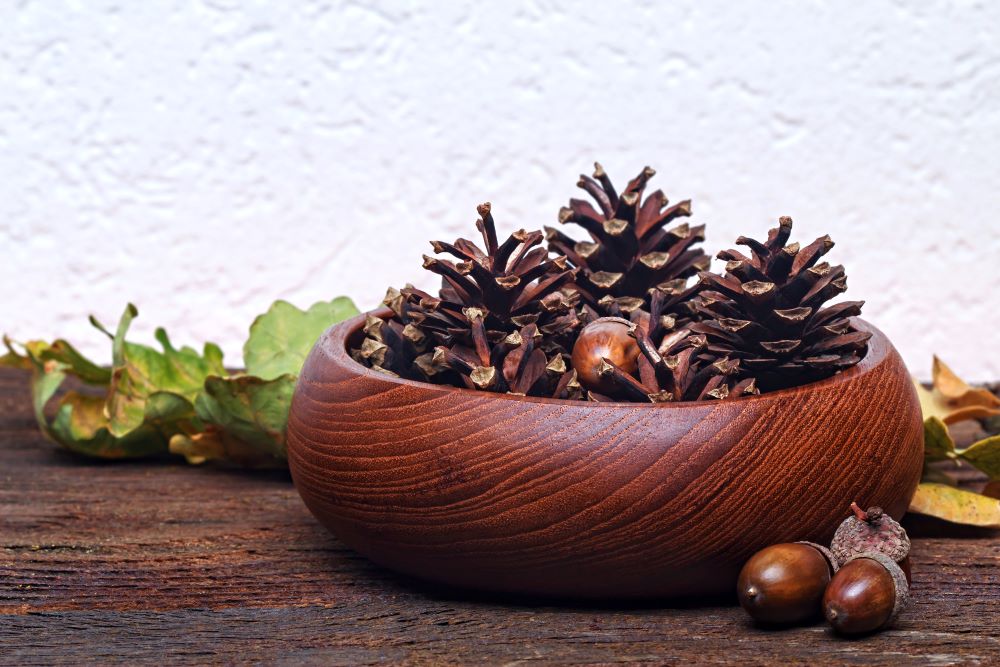 Sometimes you have to think outside of the box when transitioning into fall decor! With nature at your fingertips, it's so easy to bring outdoor elements inside your home to contribute to your fall decorations in a fresh and convenient way.
One simple way of decorating with natural elements is to collect pine cones and place them in a decorative bowl on your coffee table. Pine cones are a great representation of fall and cold weather, and they give off a unique look for the room. Just make sure to wash off and dry the pine cones before putting them on display.
Another great way to bring nature inside is through the beauty of fall leaves. Pick out some of your favorite fall leaves from outside and think of different ways to include them in your home decor. For example, you can glue a large leaf to a piece of card stock, frame it, and hang it up on your wall. Just be sure to learn how to preserve leaves before hanging them up!
---
---
Set Up Small Fall Displays Around Your Home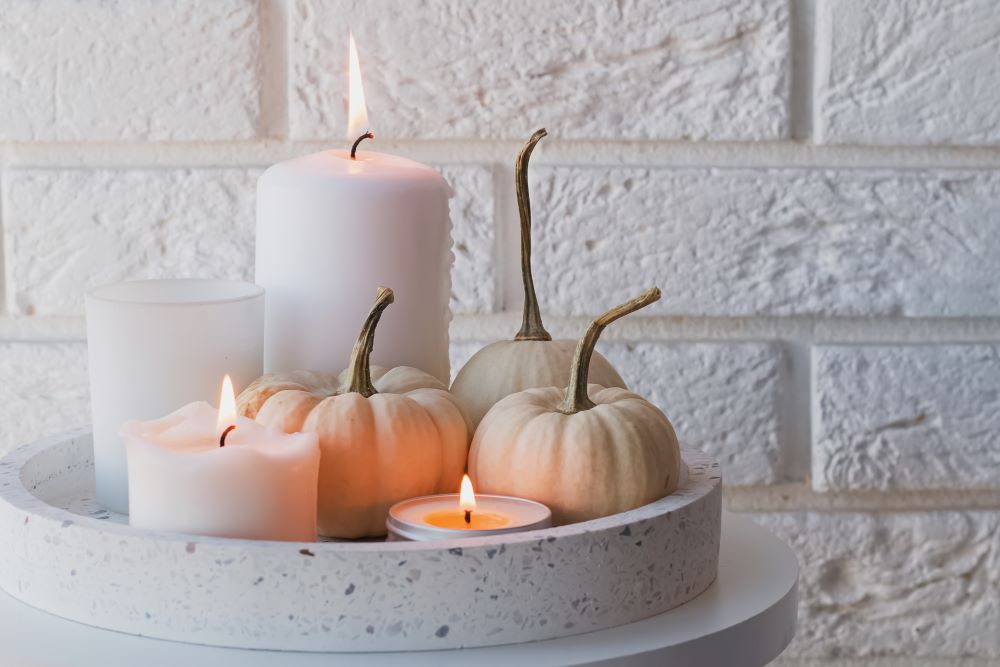 If you aren't sure how to include fall decor in each room as you transition from summer, start by putting small fall displays all around your home. This is a clever way to bring fall cheer throughout your home with minimal effort.
How To Create A Fall Display
Start with an empty tray, lazy Susan, or even a small step stool. This will be your base for the display.
Put some fall scented candles onto your display. The candles can be with or without holders, depending on the look you're going for.
Add some small pumpkins (real or fake) to your display.
Finally, add on some optional items such as: string lights, a small block sign, faux leaves, or a vase with fall flowers.
---
---
Bring In Warm Lighting For A Comfortable Fall Aesthetic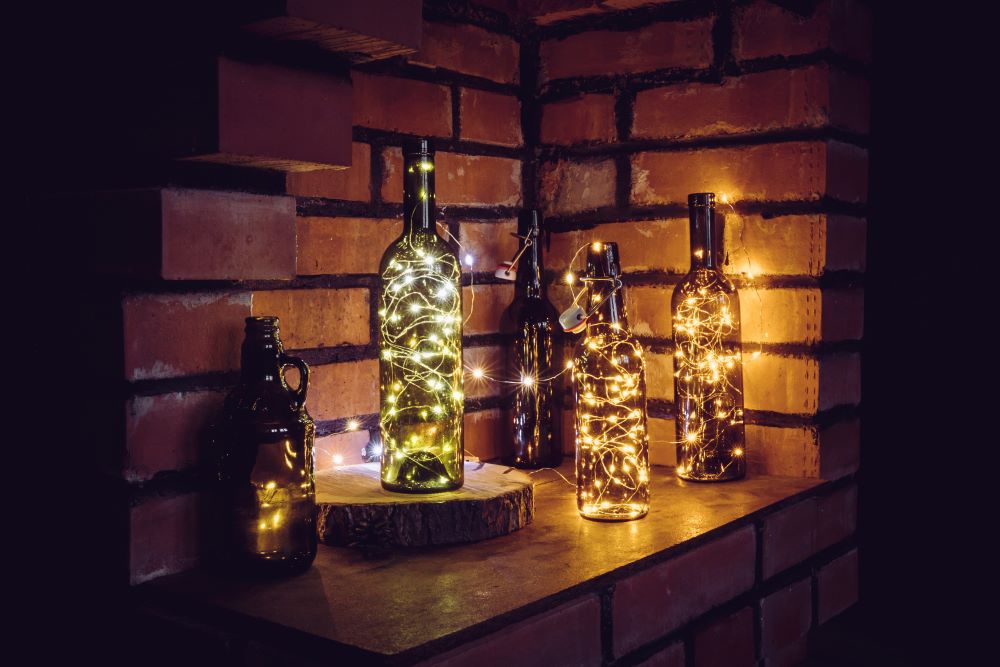 In order to transition from summer to fall decor, you need to make sure that you home radiates a warm and comfortable setting to fit in with the coziness of the fall season. The best way to do this is through warm lighting.
Add some extra lamps to your living room and bedroom. These can be fall themed lamps or just simple decorative ones. Make sure to use warm white light bulbs to give off the relaxing vibe. Next, bring in some string lights and fairy lights to add some extra decorative elements to each room. String lights look beautiful strung around the mantel or even hung up on the wall.
You can also bring in warm lighting by adding lighted decor to every room in your house. This is a more subtle way to add warm light, but it won't go unnoticed. Lighted decor can look magical sitting on your dining table during a nighttime meal. You can often find lighted fall decor, such as pumpkins with fairy lights, that would work perfectly for your seasonal transition.
---
---
Create A Fall Setting On Your Dining Table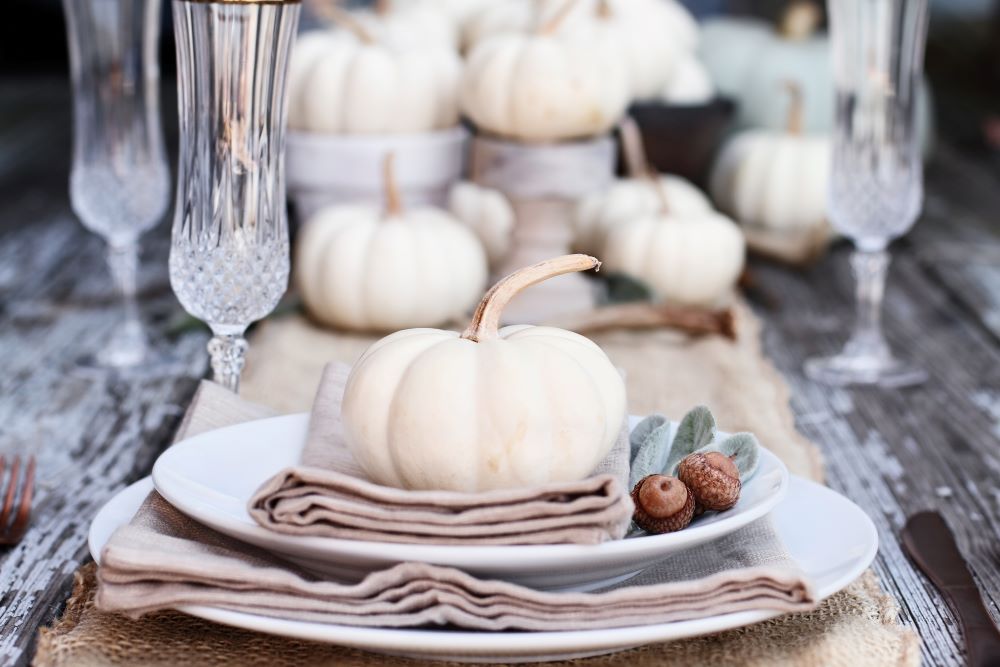 Lastly, another seamless way to transition your home decor from summer to fall is to create an full fall setting on your dining table or kitchen table. This will help you establish the fall theme and will also add some stunning aesthetic elements to a dinner party.
How To Decorate A Dining Table For Fall
Start by putting down a fall tablecloth or table runner.
Next, add some autumn themed place mats to each setting.
Bring in some decorative plates to add on top of each tablecloth.
Decorate the top of each plate with a small pumpkin (real or faux).
Add a folded cloth napkin to each place setting. Make sure to match your color scheme!
Finally, add a fall centerpiece to the middle of the table. This can include anything such as a tray of decorative accents, fall candles, a vase of fall flowers, a large lighted decoration, or a bunch of pumpkins in various sizes.
---
---
Ready to transition your home decor from summer to fall? We've got you covered! Shop our selection of Fall Harvest Decor to find autumn decorations for each room of your house including decorative accents, bed and bath collections, kitchen towels, wall hangings, and much more!
---
Read Next: How To Decorate Your Mantel For Fall