7 Fall Home Improvement Projects
As cooler weather approaches, it's important to stay on top of keeping your home in the best possible shape. If you take action and start getting work done on your house at the beginning of fall, you can save yourself and lot of time and pressure later on in the season. Here are 7 fall home improvement projects to get done this season.
---
1. Get Your Home's Exterior Power Washed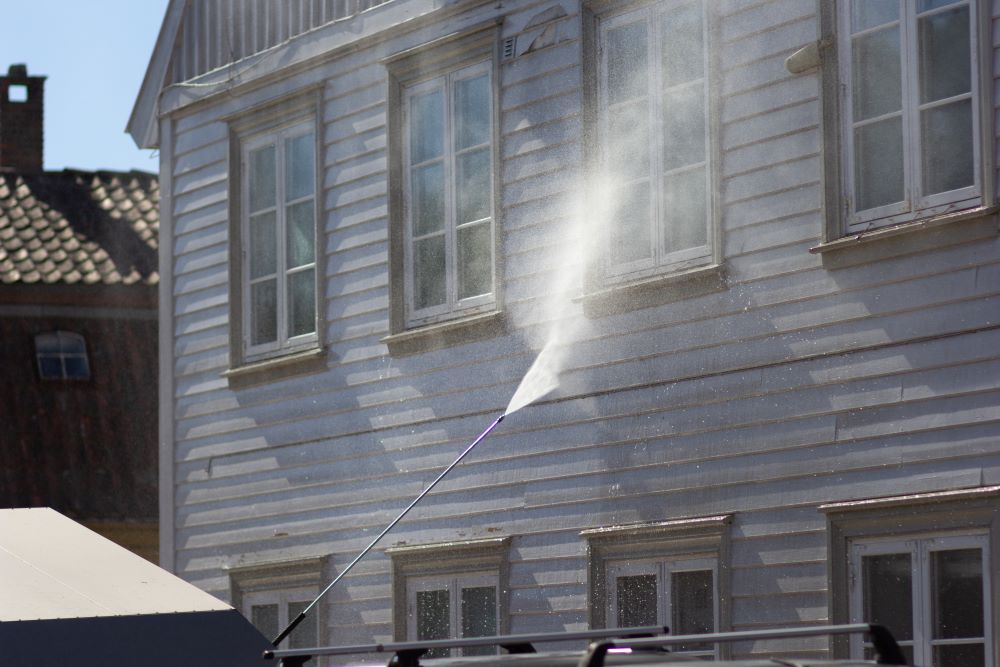 Often overlooked and seen as optional, power washing is actually an important home improvement project that will result in a cleaner and healthier home all year long. Power washing can get rid of and prevent mold and mildew that can harm your home's exterior and also be harmful to your health.
Fall is a great time of year for power washing because the mild weather will complement your power wash job nicely. Your home's siding, your deck, patio, fence, and even your driveway can all be power washed. A professional can get all this heavy duty work done for you as fall arrives.
You may be able to get away with power washing just once a year in the fall; however, if you live in an area with particularly harsh weather, you might need to get it done twice a year. For instance, if you experience especially damaging winters, you should go ahead and power wash once in the fall or late spring, and a second time right after winter ends.
---
2. Get Your Gutters Cleaned & Repaired Before The Cold Weather Hits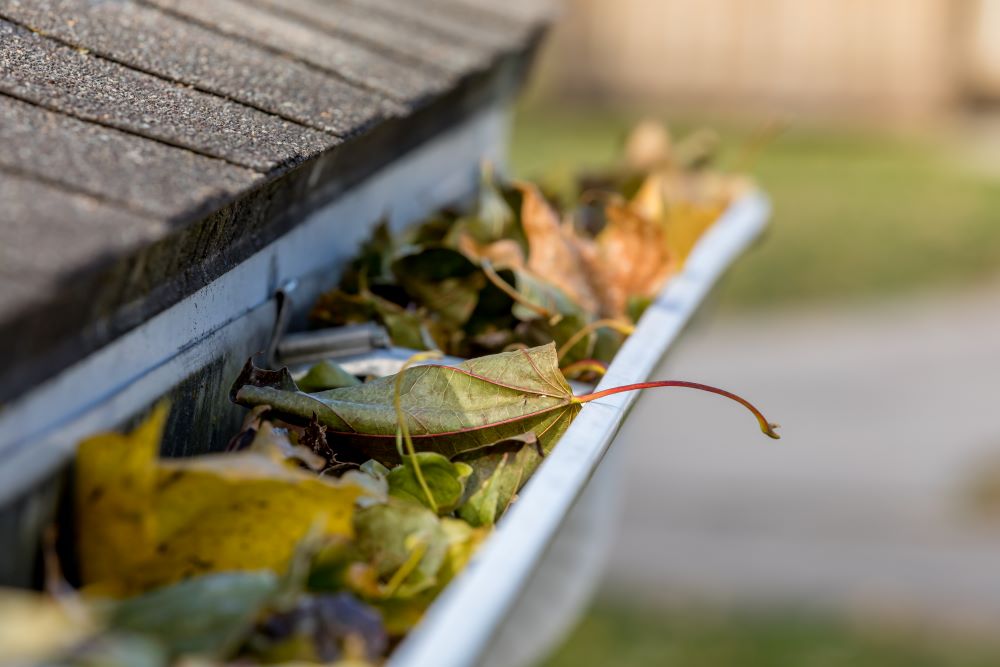 While it's important to always stay up to date on cleaning your gutters, it's crucial to start getting them cleaned as soon as fall begins to hit. Starting early will help you maintain your gutters through winter and will save you from any major complications and problems.
Autumn leaves will begin to fall into your gutters, and while they don't cause much of a problem when dry, they'll start to cause issues once it rains. They can clog up, preventing your gutters from draining properly. This will ultimately result in them overflowing and creating water damage on your house and even in your basement. A professional can clean them out to prevent any damage.
You should also get your gutters inspected for any damage. If there are any holes or leaks, it's best to hire a professional to repair or replace your gutters. While new ones may be costly, it's important to have functional gutters for the upcoming season.
---
---
3. Deep Clean Your Carpets For A Fresh Fall Home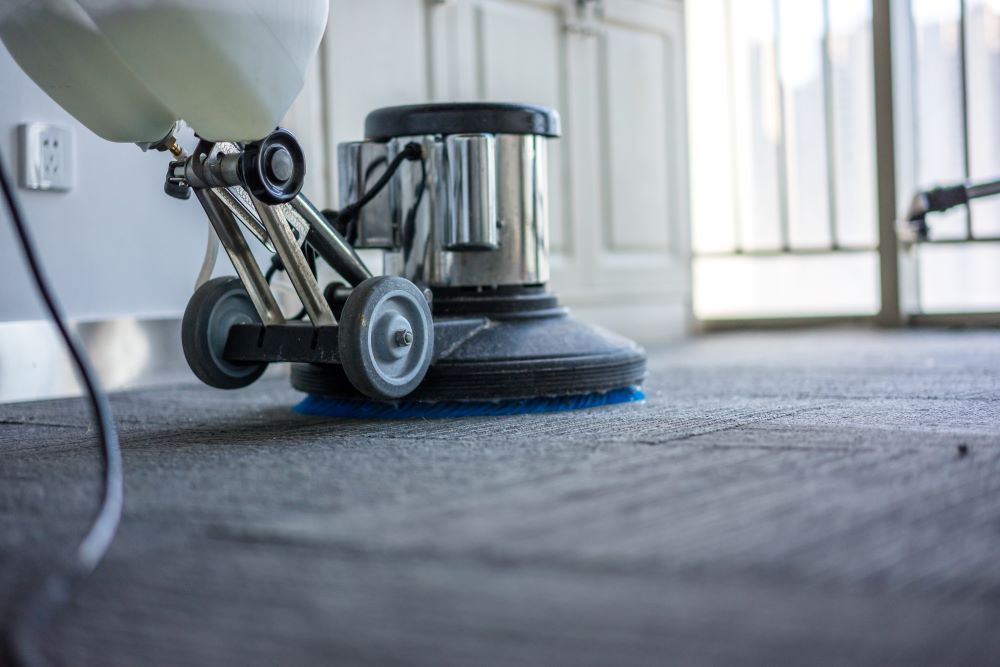 The summer is usually filled with tons of foot traffic in and out of your house, spreading dirt from outdoor activities. While you can clean this on the surface with a vacuum, it's better to do a deep cleaning after summer ends to make sure you really get all the buildup out.
Many people also choose to deep clean their carpets in the fall because they want to prepare for the upcoming busy holiday season. It's best to get the deep cleaning out of the way before being tied up in holiday shopping, cooking, and activities. As a bonus, it'll also make for an extra clean house if you have guests over.
You can invest in a deep carpet cleaner machine to use in your home. Make sure to cover every square inch of carpeting in your house, including the stairs. Also, don't neglect your carpeted basement; many people forget to clean down there. If this cleaning seems too overwhelming, you can also hire a professional carpet cleaning service to do the job for you.
---
---
4. Get Driveway & Sidewalk Cracks Repaired Before Winter Arrives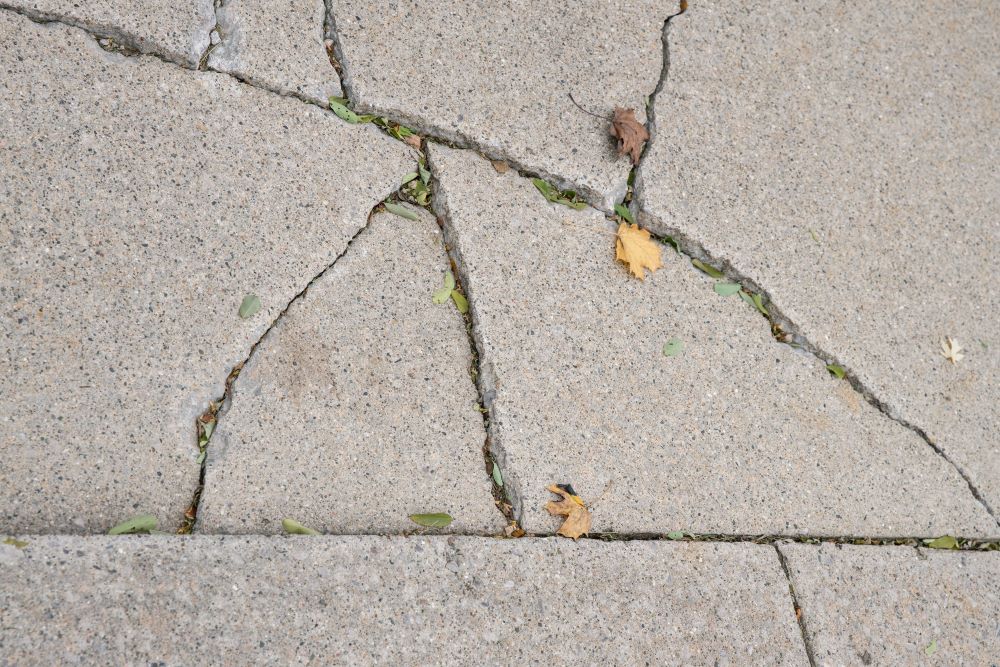 Fall is the best time of year to fill and repair cracks on the driveway and sidewalks because when winter arrives, the cold weather can expand these cracks which allows for water to slip inside. Fall is filled with moderate temperatures that allow for proper repair.
Professionals can fill in smaller cracks in the driveway or on sidewalks with concrete caulk. If there are larger gaps, concrete sealer can fix it properly. If you have an asphalt driveway, an asphalt crack sealer can simply get the job done.
Make sure you plan your crack repairs according to the weather. While fall is an ideal time of year temperature wise, you still need to watch out for potential rain. Make sure no rain is in the forecast and that you give the repairs ample time to dry.
---
5. Clean Your Fireplace For Safe Use In The Fall & Winter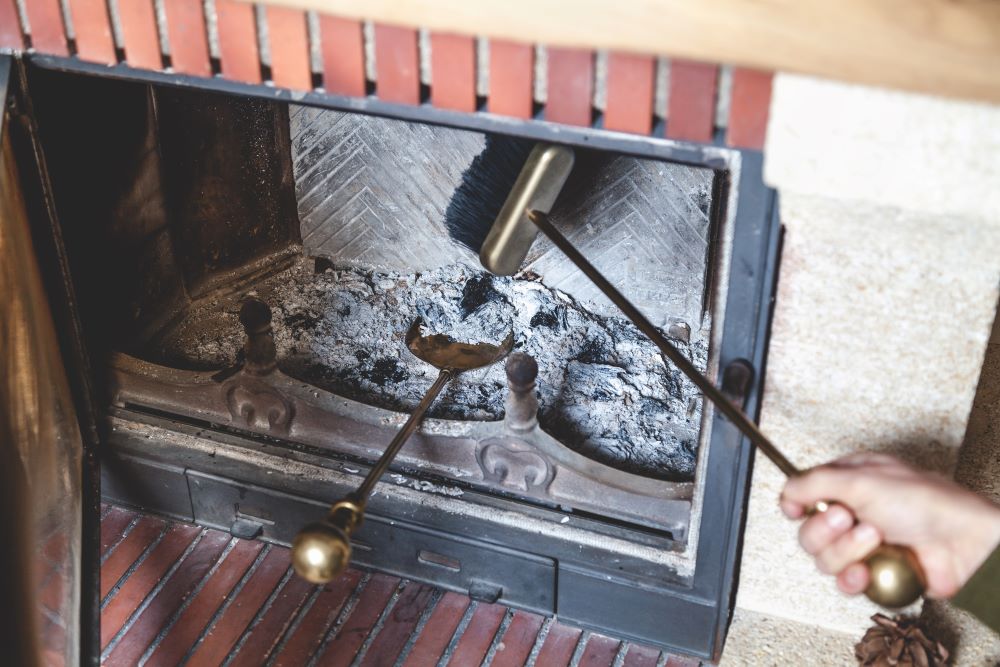 Cold weather is approaching, which means it's the perfect time of year to turn on your fireplace again and get warm and cozy under a fall blanket. However, if you haven't cleaned or used your fireplace in awhile, it's important to properly clean it before turning it on. This is an important step in maintaining safety and minimizing dust and soot in your home.
Before you go ahead and deep clean your fireplace, you'll want to start by removing any soot and debris that's lingering inside. First, remove the andirons and grates from your fireplace and scrub them down. Next, wipe down the inside of your fireplace walls with a nylon brush. Finally, scoop out piles of ashes and debris with a fireplace shovel. Now it's time to deep clean.
How To Deep Clean Your Fireplace
Create your cleaning mixture: in a large bucket, mix together 6 tablespoons of Trisodium Phosphate, 1 cup of bleach, and 1 gallon of warm water.
Using a nylon brush and rubber gloves, scrub the walls and floor of your fireplace with the cleaning solution. Do this until it's as clean as possible.
Rinse off the walls and floor with clean water.
Lastly, towel dry the fireplace.
Note: You can also hire a cleaning service to do this for you right before the cold weather hits.
---
6. Upgrade Your Insulation To Save Money In Heating Costs This Fall & Winter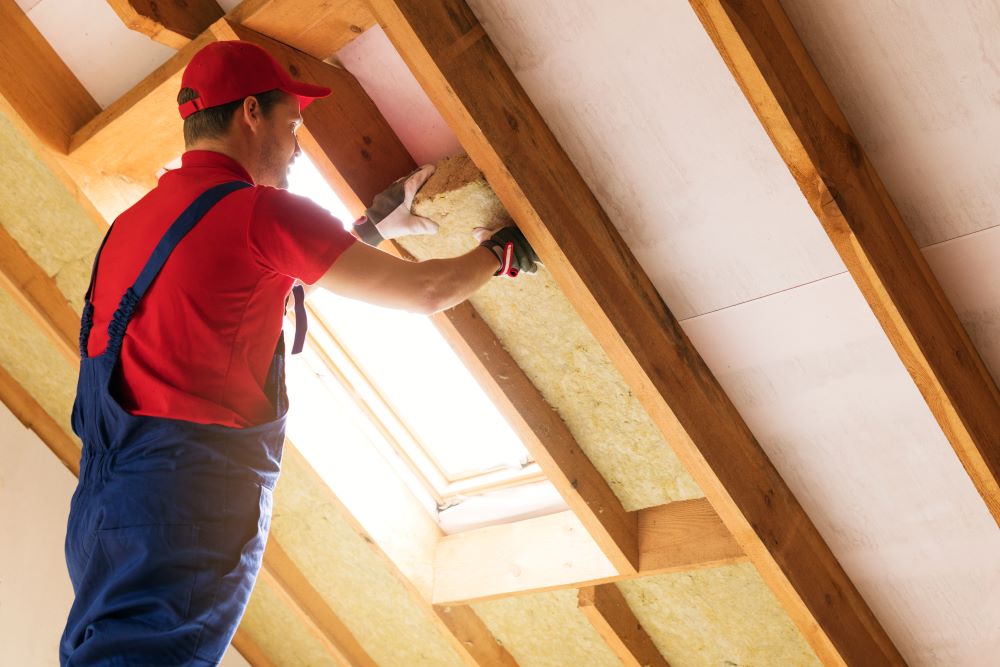 When the weather starts to get colder in the fall and winter, you'll be tempted to immediately crank up the heat to stay warm. However, if you haven't updated your home's insulation in quite awhile, you may want to look into that to reduce heating costs.
Typically, insulation only needs to be replaced every 15 years; however, if it's not doing it's job, it may need to be replaced much sooner than that. If you notice that you need to upgrade your insulation, hire a professional at the beginning of fall to save you stress and money this upcoming winter season.
Signs Your Home Insulation Needs To Be Replaced
If you're having any issues with heating or cooling your house, your insulation may need to be replaced. If it takes a lot of adjustments to achieve the proper temperature in your home, this may be a sign.
Your insulation isn't doing it's job if you feel cool drafts coming in. It should be keeping the outside air from entering the house.
If your insulation is continually damp or if there are any signs of mold, you need to replace your insulation as soon as possible.
---
7. Properly Organize & Storage Away Summer Items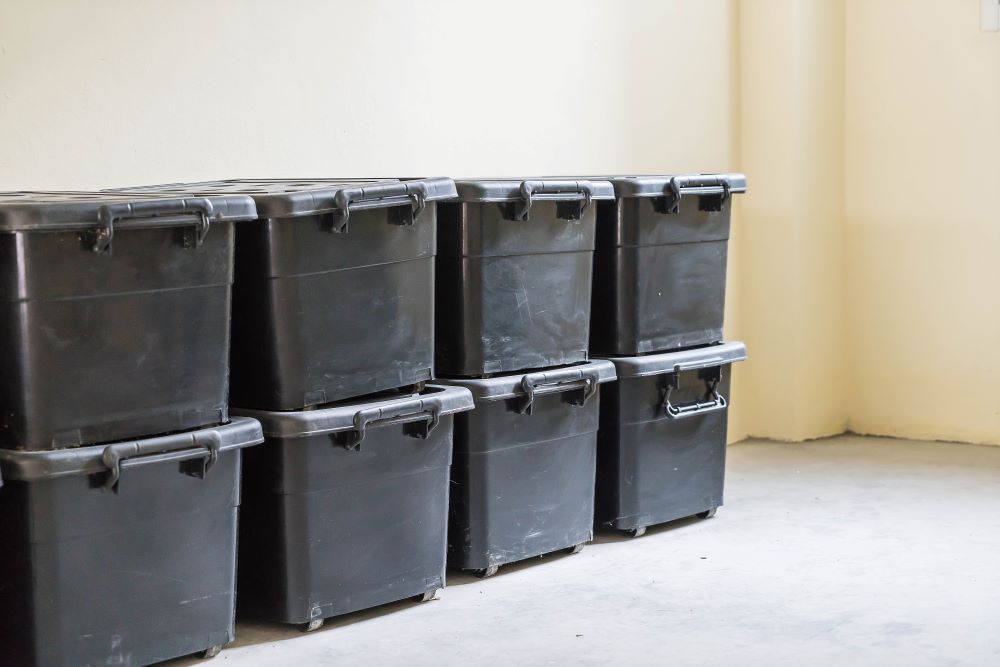 Since fall is on its way, you should begin to clear up and store away any unneeded summer items that may be taking up space in your home. It's best to get organized now to save yourself the hassle of cleaning later on in the season.
Start by going through any summer clothing, decorations, and other items that you won't need in the fall and winter. Store these in bins and containers and keep them organized by placing them in clever spaces such as under your bed, on closet shelves, and hidden in the basement. Keeping them hidden away will give you extra room for fall and winter necessities.
You'll always want to prepare for cold weather by removing any outdoor decorations and furniture that may get damaged by dropping temperatures and snow. Store these items in your garage or your backyard shed to allow for easy access once summer approaches again.
---
---
Looking for more ways to prepare your home for fall? Shop our Fall Harvest Decor section to accent your home with festive decorations all season long!
---
Read Next: New Fall Decor Ideas: The Harvest Season Is Almost Here