10 Coastal Decorating Ideas For Your Home
Coastal decor can turn any type of house into a beach house with the help of decorative accents, tropical color schemes, nautical symbols, and more. We broke down what exactly the coastal decor style is and what it involves, along with 10 easy coastal decorating ideas for your home.
---
What Is Coastal Decorating?
The coastal decorating style is inspired by the beach and incorporates both oceanside and lakeside themes. Coastal themed decor can turn any home into a relaxing and tropical oasis, making it feel like vacation everyday. Its use of whites, blues, and greens are inspired by the colors of nature and the colors found at the beach.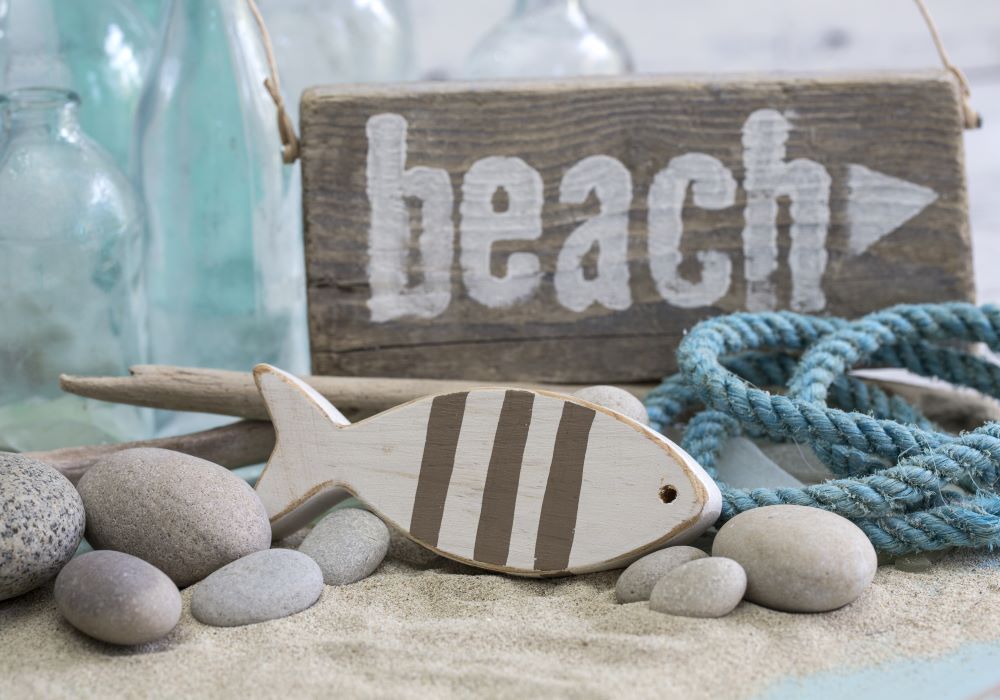 Materials Used In Coastal Decorating
While coastal decorating isn't limited to one type of material, the family of materials used are inspired by beach houses and tiki huts. You can easily mix and match different coastal materials and they will blend together seamlessly in any room. Some of the most common coastal decorating materials include:
Sea Grass
Jute
Rattan
Wicker
Driftwood
Symbols & Icons Used In Coastal Decorating
Incorporating coastal symbols and icons in your decor is a significant way to brighten your space and really embrace the theme. There are so many different symbols and icons that are seen in coastal and beach themes, but here are several typical ones to consider:
Seashells
Mermaids
Anchors
Fish
---
1. Use All White Furniture For A Fresh Coastal Look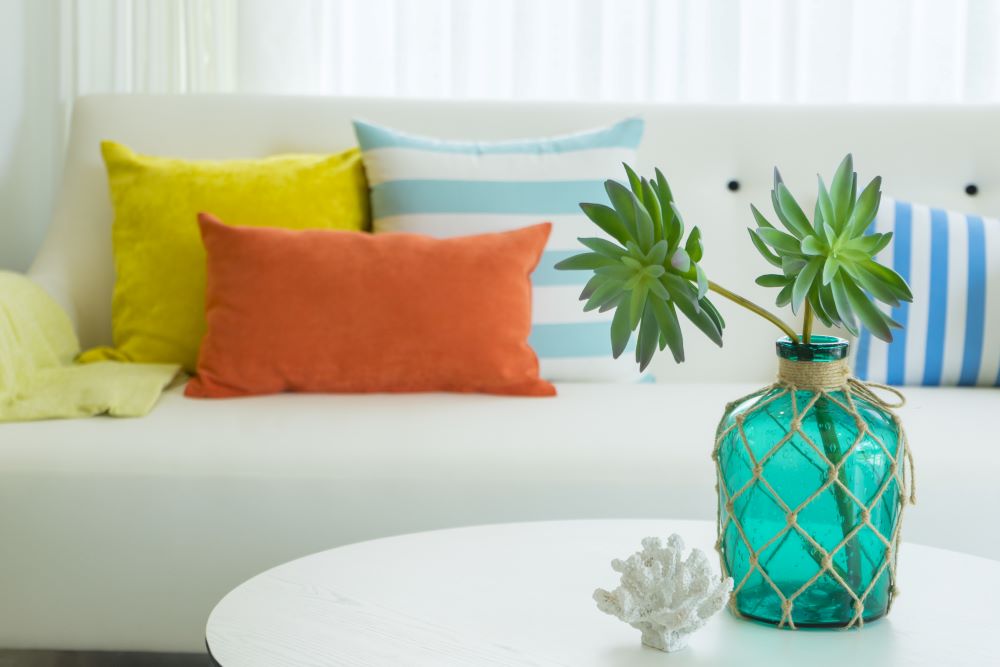 All white furniture gives the room a fresh and open feeling, emulating a sandy and bright beach. It also gives the room a clean appearance, which promotes serenity and relaxation to set the tone for the rest of your house.
Fill the living room with white furniture, such as a white couch, a white wooden coffee table, and a tall white bookcase. Play around with different materials to create some subtle contrast between each piece of furniture.
Let colors shine through with the use of decorative accents. You can get creative and use a variety of tropical colors such as orange, yellow, and blue, or you can choose to have just one accent color. Use these colors in your throw pillows, tabletop decorations, curtains, and much more!
---
---
2. Fill Your Living Room With Nautical Accessories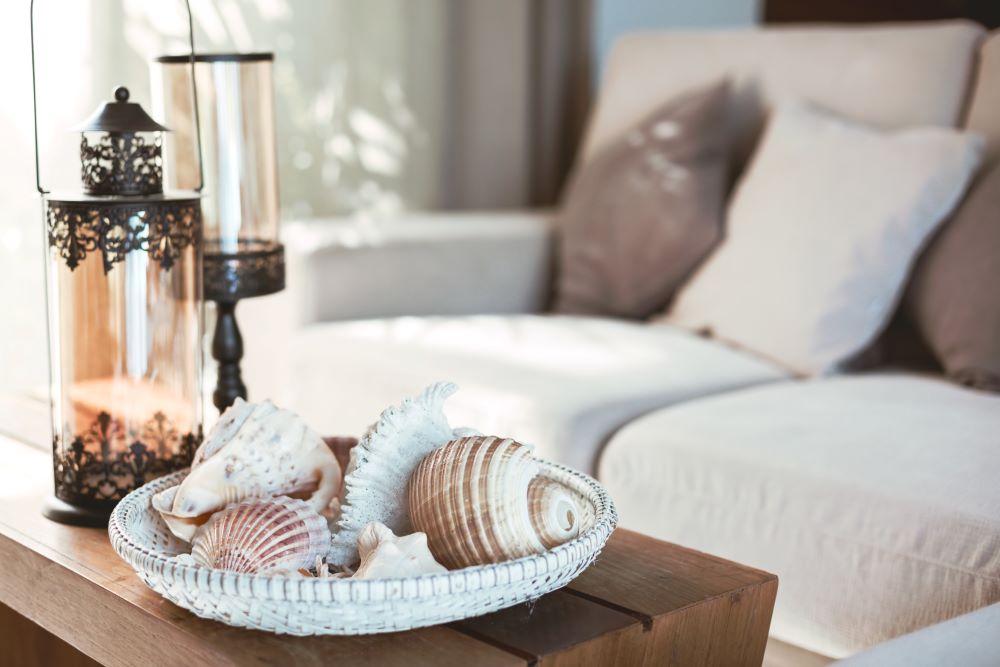 From mermaids to seashells to tropical fish and much more, using nautical themes in subtle ways throughout your decor can really bring out the decor style in unexpected ways.
Nautical Decoration Ideas
Fill a bowl with real seashells and put in on your coffee table or use it as a centerpiece on your dining table.
Use a mix of throw pillows with various nautical symbols and scenes on them such as anchors, boardwalks, and lighthouses.
Intermix other decorative accents within the nautical decor – do this by matching the color scheme to create a simple balance throughout the room.
---
3. Incorporate Vintage Lanterns Throughout Your House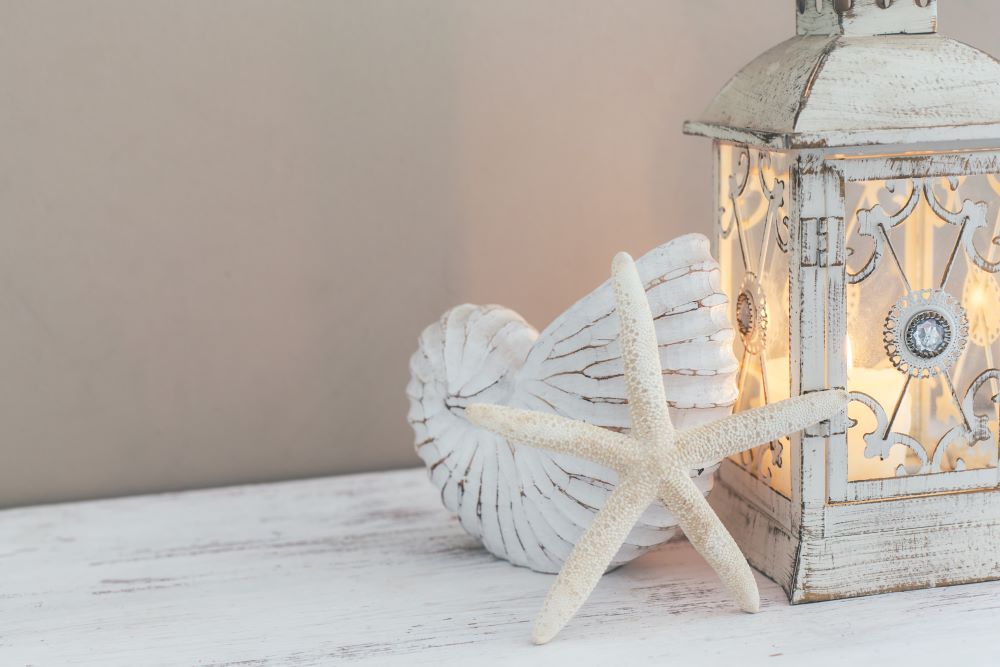 Lanterns can give similar vibes as lighthouses, which is an essential symbol when you think of a lake house or a beach area. You want to use vintage lanterns instead of modern ones because they'll give off more of that authentic, rustic, and relaxing feeling.
Use vintage lanterns throughout your house in place of regular table lamps. You can choose to use real candles inside of the lanterns; however, LED candles or string lights are a better choice for everyday use.
You can even incorporate lanterns on the outside of your house to create some continuity with your coastal theme. Hang lanterns on your front porch, place some lantern yard stakes in your garden, or even use lanterns to light up your walkway.
---
---
4. Use A Wooden Or Shiplap Headboard & Coordinate With Coastal Bedding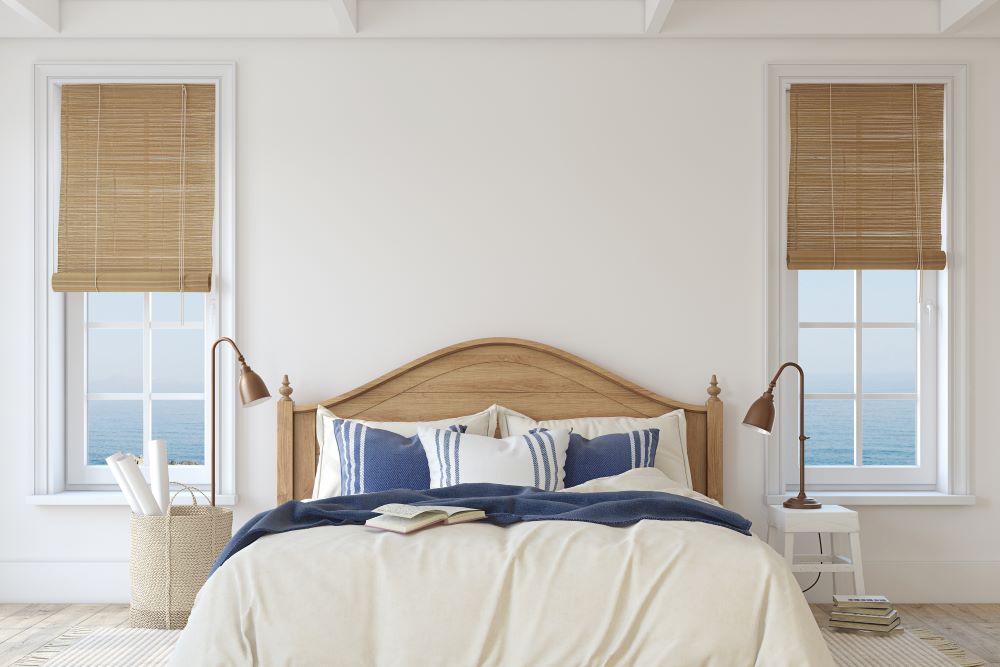 To create a coastal style bedroom, it's best to start with your bedding and choose the rest of your decor afterwards.
Choose a headboard made of shiplap, seagrass, rattan, or wooden panels. This will act as a nice backdrop for the bedspread that you choose. You can also complement the headboard with similar materials for window coverings, your side tables, and your dresser.
Your bedspread can be as simple or as decorative as you want. Choose coastal colors such as blues, greens, oranges, and tans. Opt for simple patterns, such as stripes, or more tropical patterns such as starfish, mermaids, and flip-flops.
---
---
5. Set Up Your Dining Table With A Beautiful Coastal Spread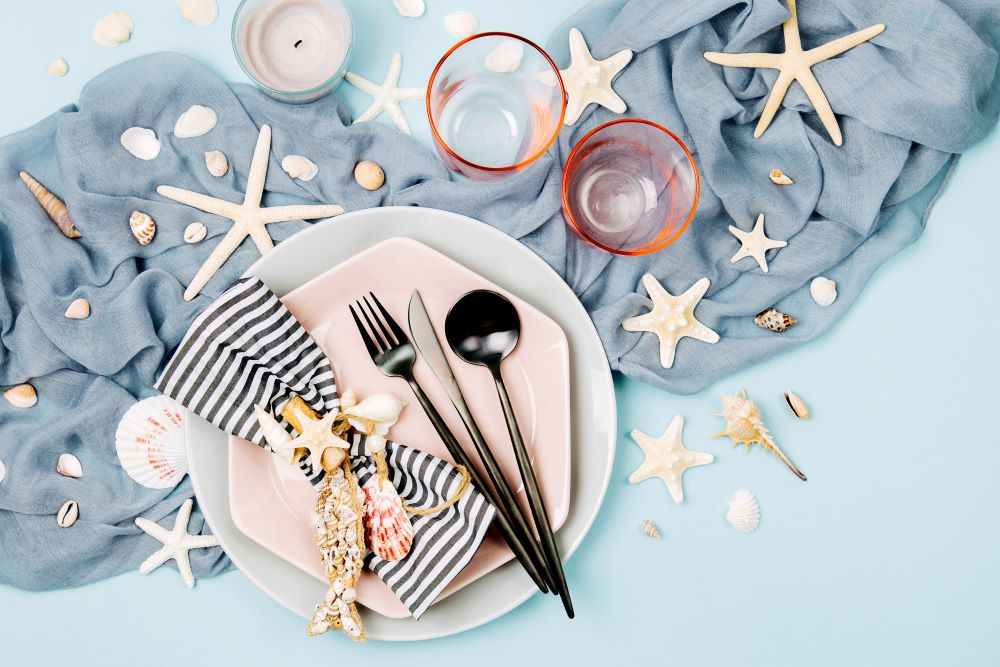 All your meals can be turned into a tropical oasis experience with your coastal dining table spread. Set the tone with coastal decorations to make it feel like you're eating on the beach everyday. Your table can either stand out on its own or you can choose to coordinate it with the other decorations in your kitchen and house.
Coastal Dining Table Ideas
Set up white plates with a coastal patterned cloth napkin. Wrap each napkin with a small piece of wicker rope and garnish the plate with seashells.
Lay a blue table runner across the table and scatter starfish and seashells on top of it.
Use a coastal centerpiece with tropical scented candles and bright colored candle holders.
---
---
6. Use Anchor Wallpaper In The Bathroom With Coastal Accents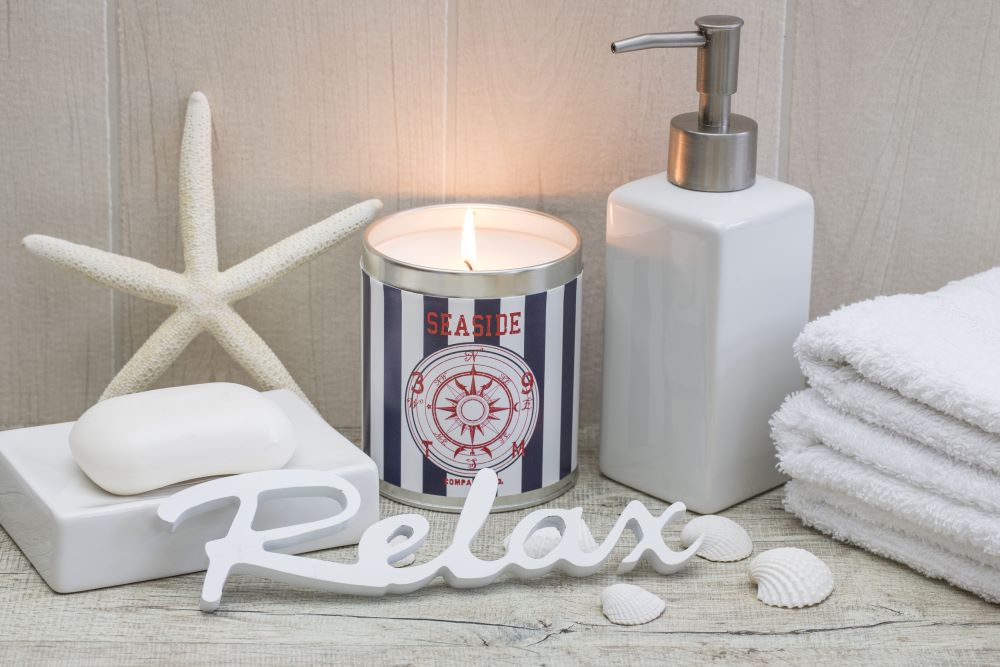 A coastal theme can make your bathroom feel like a relaxing spa or can even turn it into a unique resort style room. There are so many possibilities when it comes to decorating a coastal bathroom, but here are some general ideas to get your creativity flowing.
Coastal Bathroom Decor Ideas
Start off by using anchor patterned wallpaper or another coastal patterned wallpaper throughout the bathroom. This will set the stage for the rest of your decor:
Hang up a shower curtain that complements the wallpaper, whether it has similar colors or contains the same pattern.
Keep your wall art interesting. Hang up coastal sentiment art, use unique drawings or photographs of fish, mermaids, and sea creatures, or use framed images of seashells.
Keep most of your small sink decorations simple. Use a white wood soap dispenser, a tropical scented candle, a colored tissue box cover, and a wooden coastal sentiment.
Match your towels and bathroom rug to the main colors in the shower curtain.
---
---
7. Create A Relaxing Coastal Seating Area With Wicker Chairs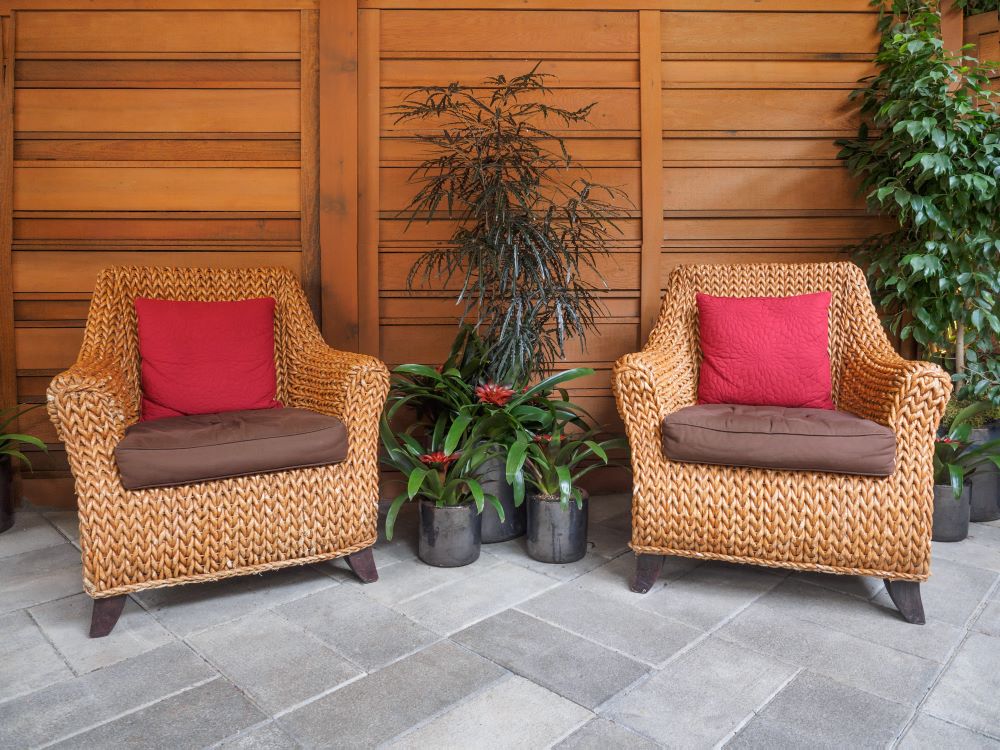 Bring the outdoors inside by creating a tropical beach themed seating area in your foyer or in another empty area of your home. This is a great way for either you or your guests to sit down and relax, or can even be a convenient place to sit down and tie your shoes before heading out the door.
Set the scene with wicker chairs or a wicker bench, and use bright colored cushions on them. Match them with a wicker table or several wicker ottomans. These wicker pieces of furniture will give off the vibes of beach lounge chairs thanks to their tan, sandy colors.
Decorate with a large variety of real or faux potted plants. The greenery surrounding the seating area will brighten up the space and bring in the tropical aesthetic with the beautiful bright colors of nature.
---
---
8. Hang Up Ocean Wall Art In The Living Room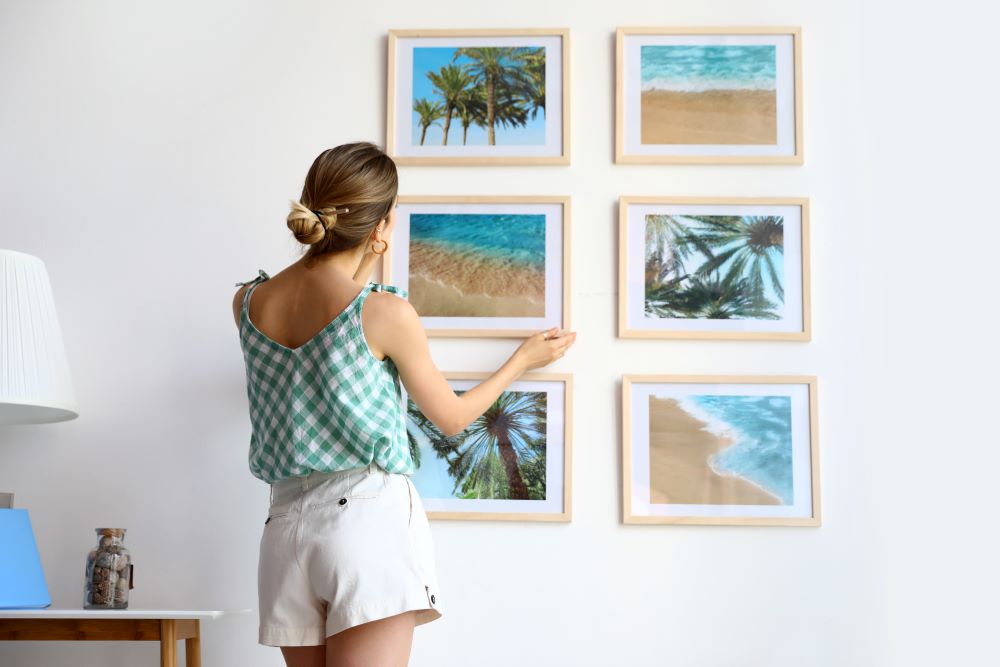 Ocean wall art in your living room not only adds to the coastal decor theme, but it also brings in a sense of serenity and relaxation. This type of art will easily blend in with your white furniture.
Hang up a large statement art piece in the living room above your couch. This can be a painting or photograph of the ocean or a sandy beach. If you want to add some quirkiness to your living room, choose wall art with brightly colored fish, mermaids, or other unique coastal symbols.
You can also hang up your own photographs from past tropical vacations to make your living room feel more personal and special. If you use your own photographs, hang them up in a collage over your couch or above a console table.
---
---
9. Hang Unique Coastal Light Fixtures In The Kitchen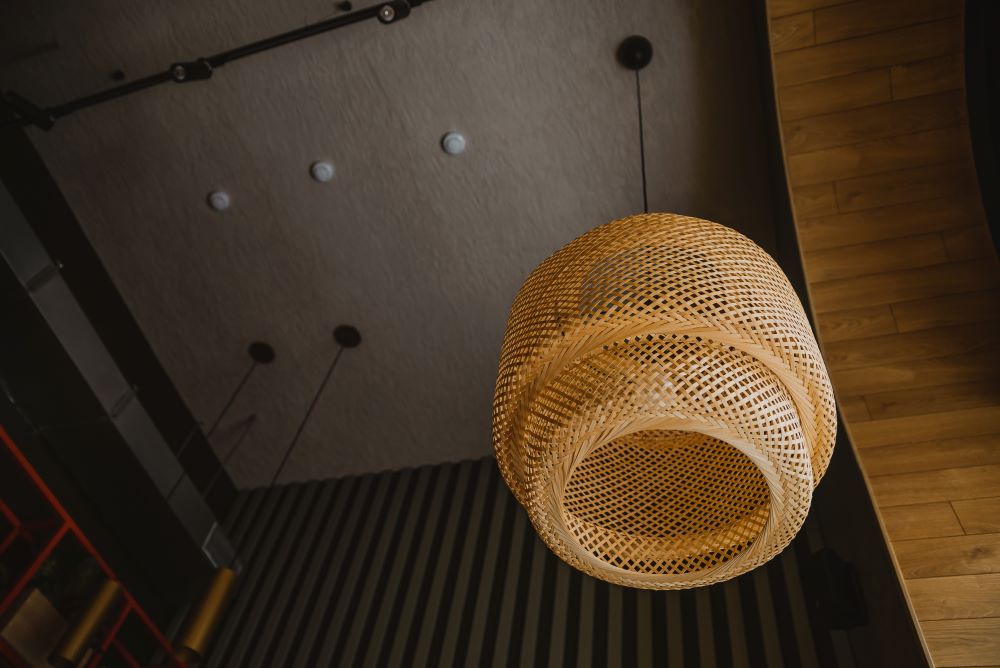 Hanging light fixtures can bring a lot of unique style to your coastal themed kitchen. Many people tend to focus on decorating the kitchen walls and the counter tops, but they tend to overlook the value that light fixtures can add to the coastal theme.
Your kitchen light fixtures can be simple or decorative, depending on how your coastal kitchen is designed as a whole. Here are some light fixture ideas that match well with the overall coastal theme:
Wicker light fixtures or basket lights
Sea glass, bowl-shaped chandelier fixture
Rattan pendant light fixture
Blue or green beaded chandelier
---
---
10. Use Blue & White Nautical Stripes Throughout Your Home Decor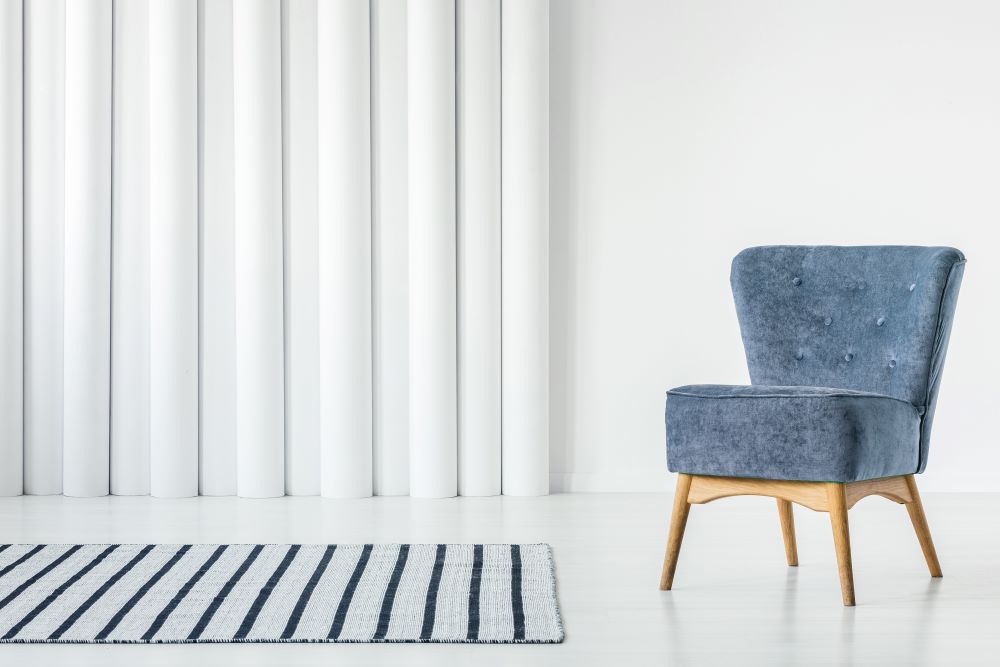 Blue and white stripes tie in well with coastal and nautical symbols such as rustic sailboats and anchors, along with coastal materials such as shiplap.
Use a large striped area rug in your living room, set up striped throw pillows on your bed, hang up a blue and white striped shower curtain in the bathroom, or use a striped table cloth on your kitchen table.
However you decide to incorporate the blue and white stripes, you can easily make them stand out in any room.
---
---
LTD Commodities Coastal Decor
Ready to decorate your home in the coastal style? Our selection of coastal decorations will help you transform your home into the ultimate oasis. From bedding to tabletop accents to wall art and more, find coastal decor for any room in your house!
---
---
Our February catalog is here! Get inspired for spring with Easter accents, pastel decor, live flowers, and much more. Shop here.