10 Summer Kitchen Decorating Ideas For A Fresh Look
Summertime comes with bright colors, playful symbols, and fresh and happy vibes! From wall art to small accents to cabinet makeovers, transform your kitchen this season with these 10 summer kitchen decorating ideas for a fresh look.
---
1. Add Some Colorful Wall Art To Instantly Brighten Up Your Kitchen For Summer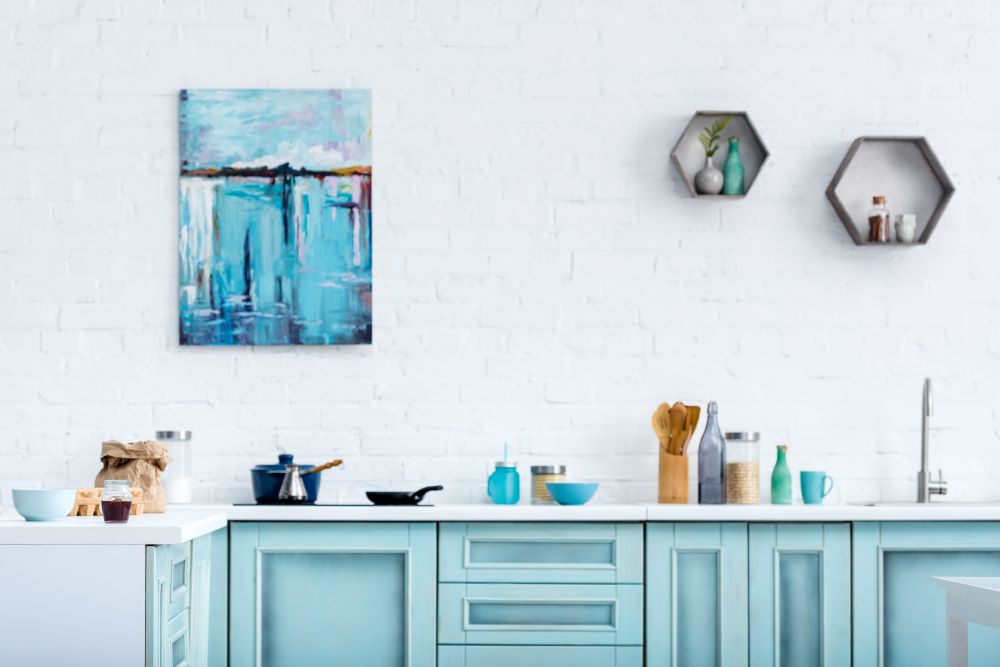 Wall art is the quickest and easiest way to add some summer cheer to your kitchen! Swap out your current wall art for new paintings or add on more to your wall.
Choose a summer theme for your wall art. Whether it's lemons, butterflies, the beach, or flowers, add some summer spirit into the room with symbols and imagery. These can include paintings or unique wall pieces that bring warm weather cheer into the room.
While you don't necessarily have to follow the rules of matching colors, make sure that some of the colors within the painting or wall piece coordinate with other colors in your kitchen. You want it to flow well with the kitchen but you also want it to stand out!
---
---
2. Use Fruit As Decorations For Your Summer Kitchen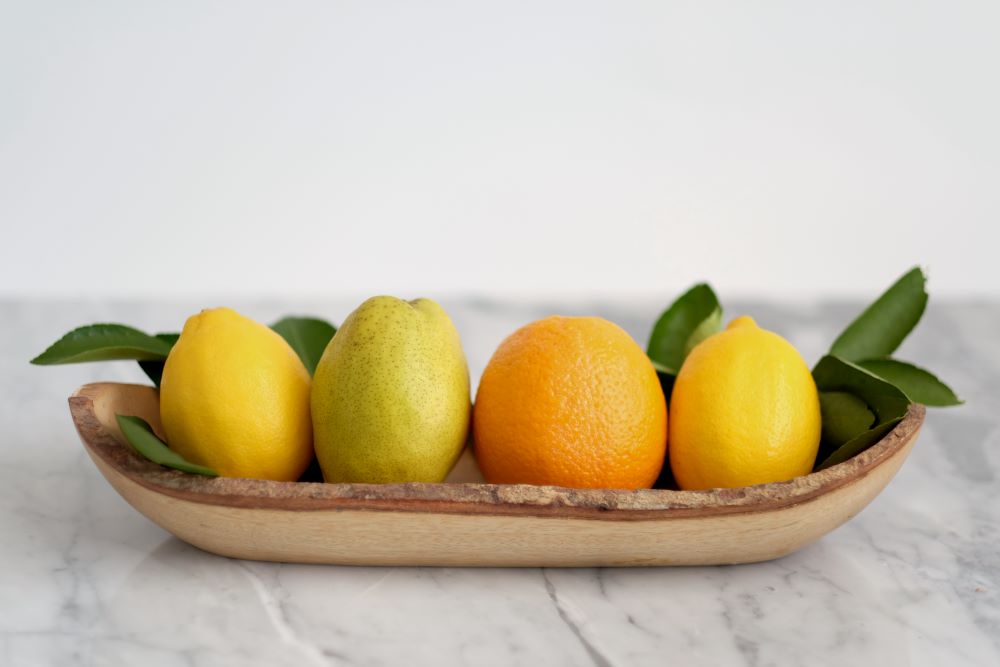 Fruit is the sweetest and most refreshing treat to have in the summertime and is often a core symbol of summer decor. Decorating with fruit is a quick and easy way to transform your kitchen.
Decorate with faux fruits by putting them in a decorative bowl or on a wooden tray on your kitchen island or table. Fruits such as lemons, oranges, and pears are the perfect summer fruit combination to add some beautiful colors to your kitchen.
You can even display your real fruit in a decorative way! Display it in different areas of your kitchen for a unique and cheerful area.
---
3. Add Real & Faux Plants In Your Kitchen For A Summery Feeling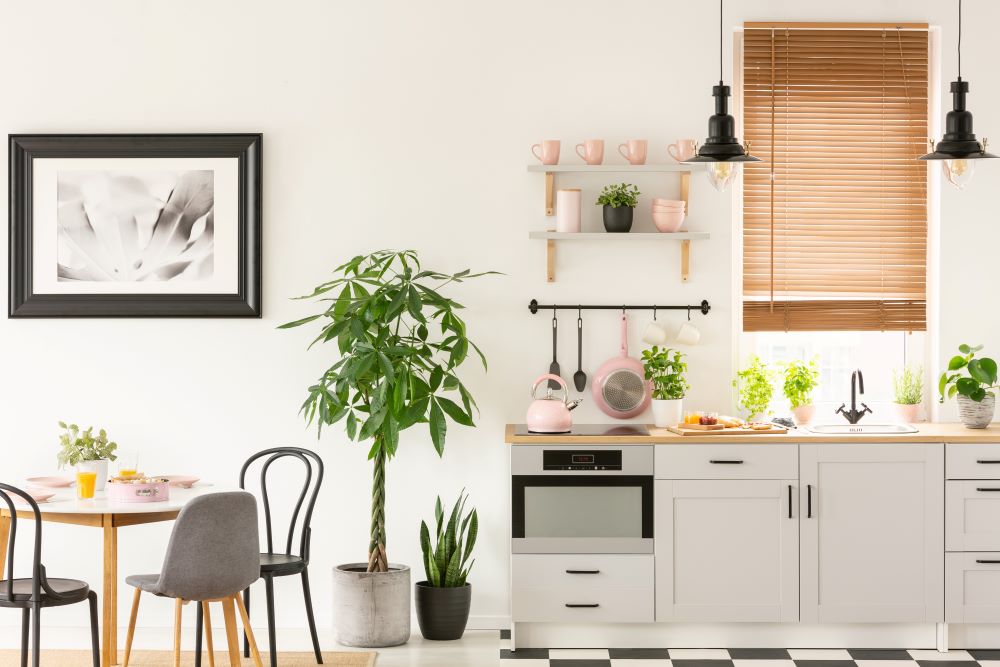 Planting and gardening is a wonderful spring and summer activity because of the freshness that greenery adds to a space. Bring the green into your kitchen this summer for a bright decorating idea!
Add faux or real potted plants into your kitchen. You can play around with different sizes and place some on the floor, the counters, and the table. You can also choose to use one big one as a defining centerpiece.
Aside from plants, you can also add real and faux flowers into the mix, along with fresh herbs near the windowsill, and hanging basket plants to add something extra to the space.
---
---
4. Add A Pop Of Fresh Summer Color By Resurfacing Your Kitchen Cabinets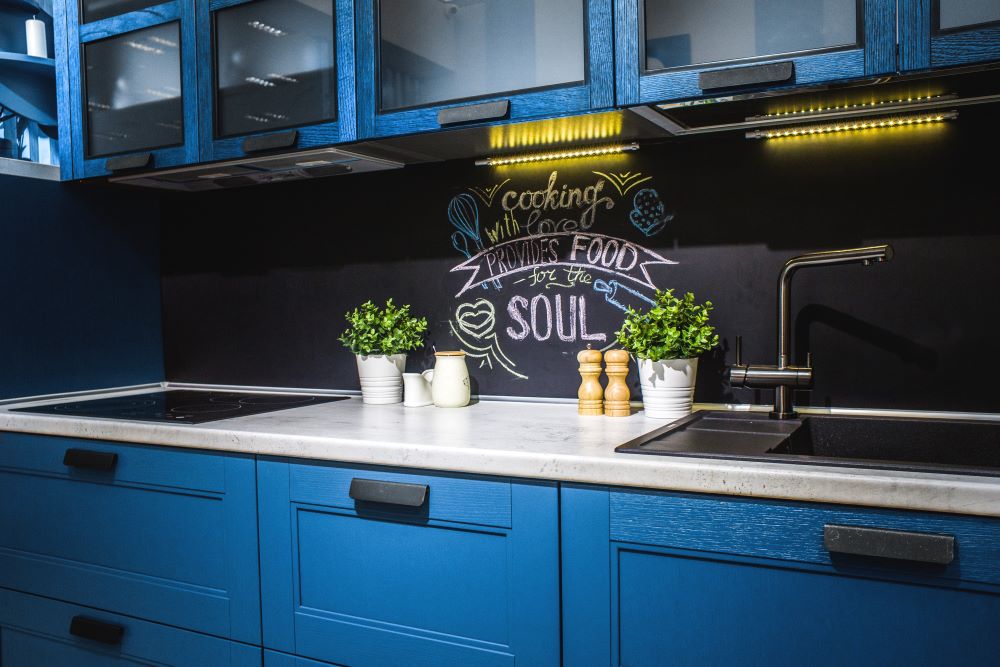 While changing up your kitchen decor is one of many summer kitchen decorating ideas, changing up your cabinets is an out of the box idea that you may not have thought of before!
Choose a bold pattern to give your kitchen a whole new look, or opt for a solid summer color to brighten up your space. Changing up your cabinets will make you feel as if you have a brand new kitchen and it will instantly freshen up the entire room.
You can easily resurface your cabinets by using a peel and stick vinyl flooring. Make sure to carefully measure your cabinets so you get the right amount of flooring.
---
5. Decorate For Summer With A Bright & Beautiful Kitchen Island Centerpiece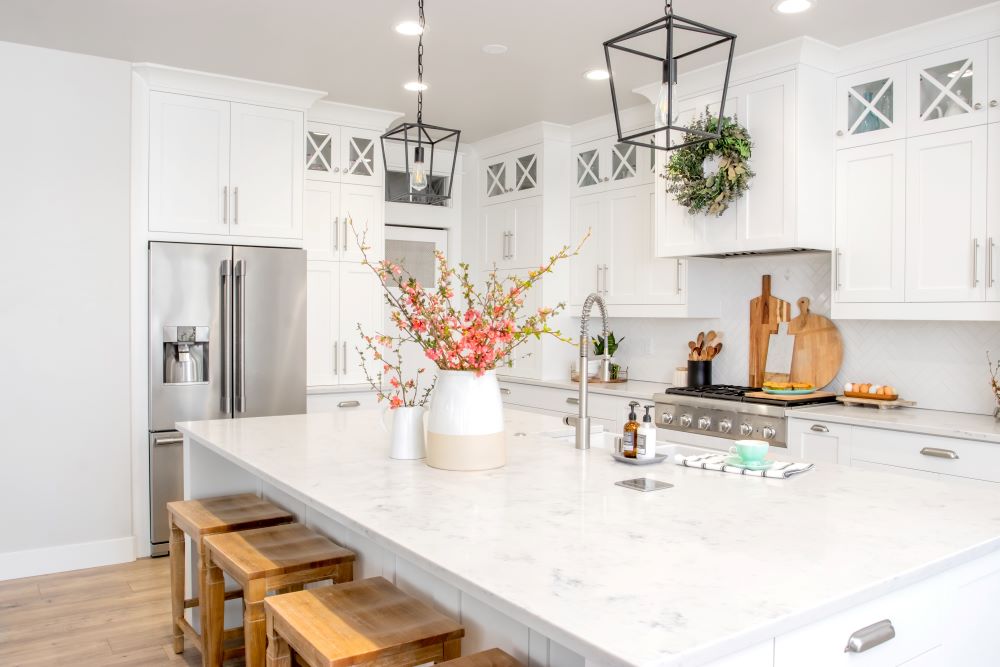 If you have a big kitchen island, make the best use of your space this summer by adding a defining centerpiece that will be the main focus of the room. If you don't have a lot of space on your kitchen island, or you don't have an island to begin with, you can also use these ideas for a kitchen table centerpiece.
Summer Kitchen Centerpiece Ideas
A big beautiful planter with fresh summer flowers
A decorative tray with candles in summer scents
A bowl of fresh or faux fruits
A collection of summer sculptures in different shapes and sizes
Tabletop sentiment blocks with your favorite summer quotes
---
---
6. Add A Bright Summer Rug Near Your Sink Or Under Your Kitchen Table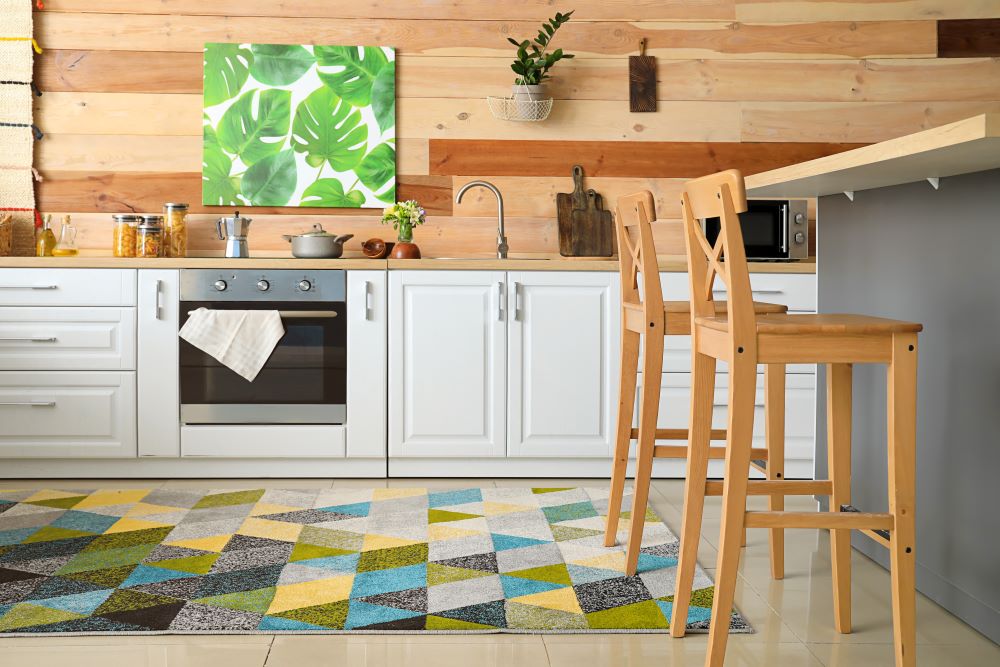 While there are so many ways to decorate your kitchen, many people tend to forget about the floor because they aren't looking! However, a rug can add a lot to a kitchen and can be a vital addition to your summer decor.
Choose a rug that's as funky or as simple as you want! For summer, lean towards bright colors such as yellow, green, teal, or even a light gray. If you want to include patterns and designs, find rugs with summer symbols such as pineapples, flowers, palm trees, or any other tropical themes.
You can simply add a small rug near your kitchen sink, a rug underneath your kitchen table, or a bigger rug that takes over the main area of your kitchen.
---
---
7. Set Up A Stunning Summer Spread On Your Kitchen Table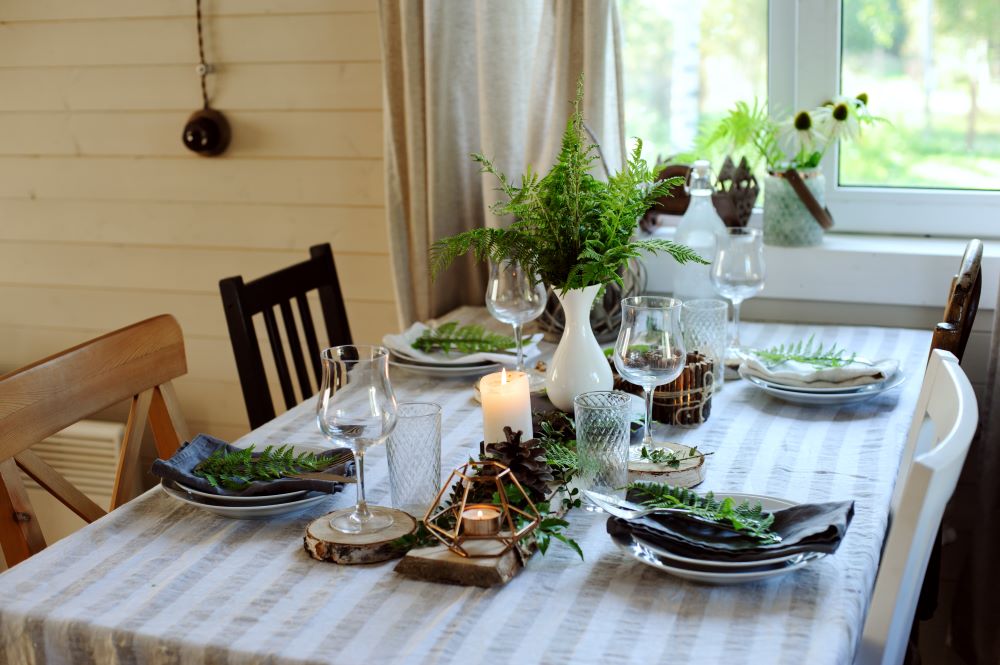 Give your kitchen table a makeover by setting up a summer spread that you can leave all summer long! It may take a little extra effort to keep your table spread looking fresh each day; however, it's well worth it for a stunning decorative look!
What To Include In Your Summer Table Spread
A beautiful summer tablecloth with bright colors and patterns.
Cloth napkins that match/coordinate with the tablecloth.
A centerpiece that includes plants, fruits, or any other summer themes.
Fresh smelling summer candles.
Summer themed coasters, plates, dishes, cups, and any other serveware you want out.
---
8. Swap Out Your Kitchen Cabinet Hardware For A Fresh Summer Look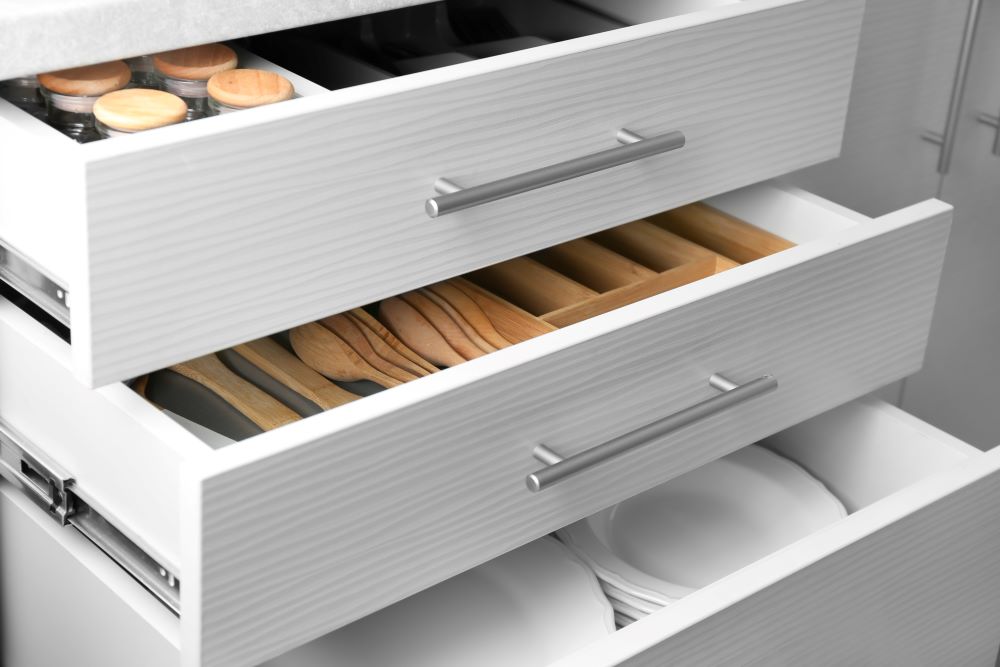 Hardware needs to be replaced every once in awhile anyway, so why not use summer as an excuse to replace all your kitchen cabinet handles and drawer pulls!
The simple fix will instantly transform your kitchen and make it look incredibly new and fresh for the summer season. Choose a new shape for your handles and a new color to really make a noticeable change. This will add a lot to your kitchen and takes a short amount of time to do.
This summer kitchen decorating idea works especially well with resurfacing your cabinets!
---
9. Use Summer Themed Canisters To Display On Your Kitchen Counters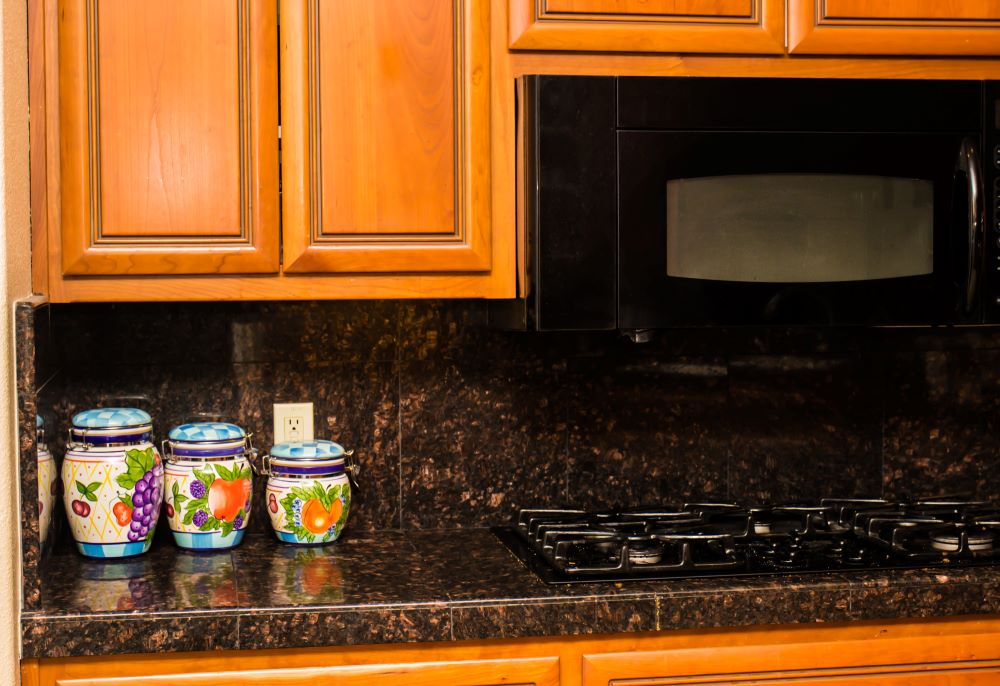 Another quick trick for turning your kitchen into a summer-ready room is to swap out all your containers for decorative ones. This simple task can add more detail your kitchen and bring out more bright colors.
If you typically have canisters out on your counter for ingredients such as flour, sugar, salt, and more, pour them into summer themed containers instead. This will make your counters look more decorative and less cluttered, and it will add more summer elements to your kitchen.
You can also do the same with any storage containers that you have out on your counters or table. This simple swap can bring out a cheerful atmosphere this season!
---
10. Decorate Your Kitchen With Light Wood For A Fresh Warm Weather Appearance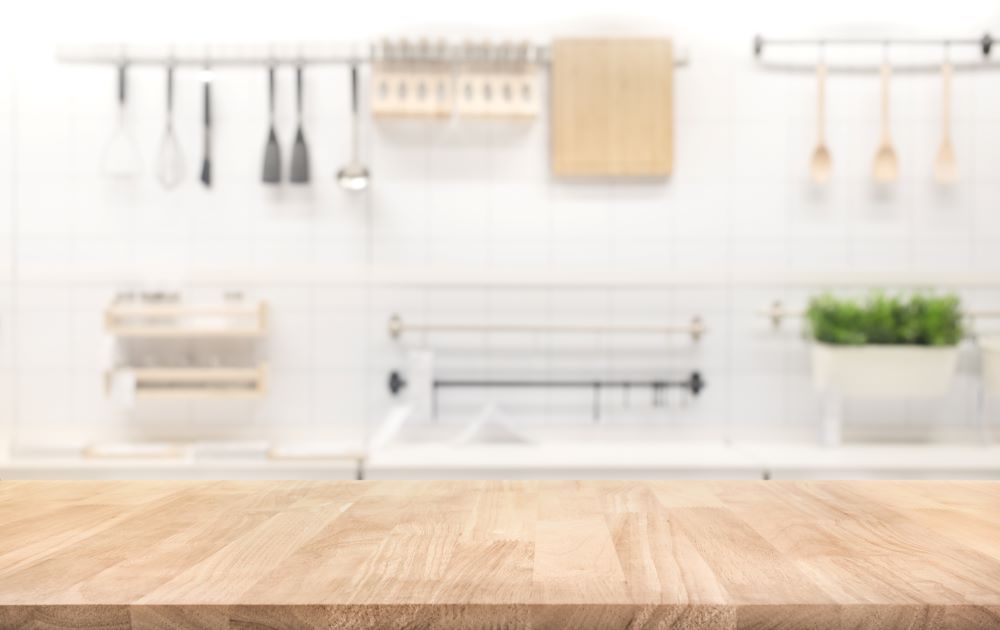 If you like to decorate with wood but still want to keep up a fresh summer appearance, using lighter colored wood will do the trick! This will still give you a warm, rustic decor feeling but the light color will add some extra brightness to the kitchen.
Hang up light wooden wall pieces, decorate with light wood decor and frames, or display a light wood tray with contrasting accents. If you're feeling extra committed, swap out your kitchen table for a light wood one with matching chairs.
Note: white wood will also work in this case if you don't want to decorate with the natural colored wood.
---
Ready to transform your kitchen this summer? Shop Kitchen & Dining for dinnerware and serveware, kitchen storage, appliances, and much more!
---