5 DIY Fall Decor Ideas For A Festive Look
Making your own fall decorations is a great way to add some personal style into your home while saving a little money. Luckily, you don't have to be a pro to create some beautiful fall decorations. There are so many home decor crafts that you can do, no matter how much crafting experience you have. Whether you want to add some extra pumpkin decor to your home, fill your space with fall sentiments, or decorate with something else, here are 5 DIY fall decor ideas to try for a festive look.
---
1. Display Fall Flowers With DIY Pallet Pumpkins
---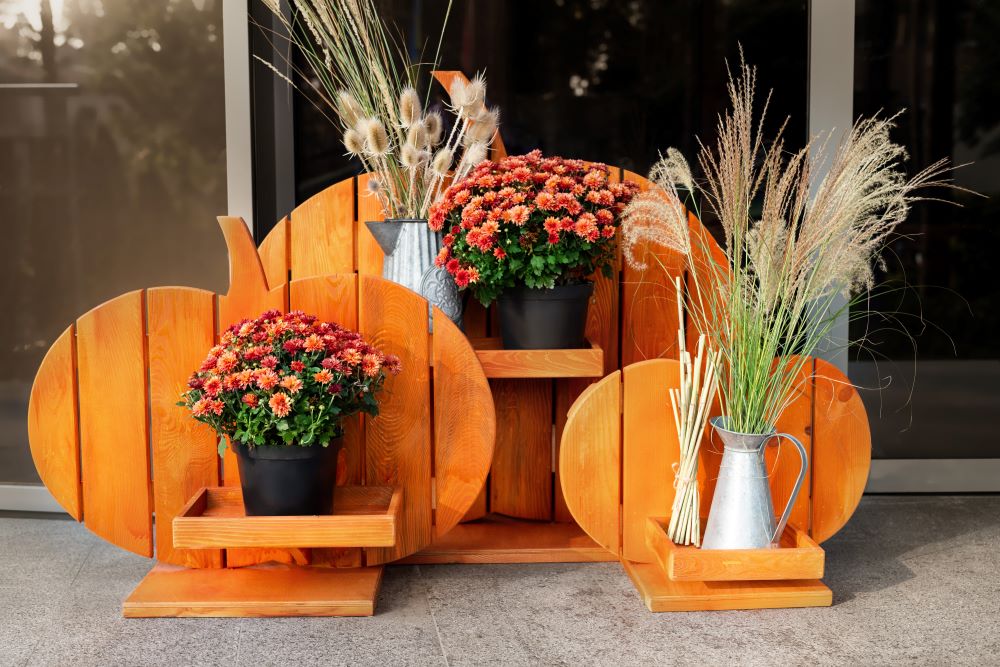 This first DIY fall decor idea involves a little bit of skill with a saw. If you want to get the look of this craft but aren't experiences with cutting wood, you can optionally find a wooden pumpkin at a crafts store to use for this instead. However, if you're willing to put in a little work, you can get a beautiful and unique look to display on your porch all fall long.
Pallet Pumpkin Supplies
Wood pallets
Pumpkin stencil
Power saw
Sand paper or sander
Orange paint & paintbrush
Wood plank
Small wood tray
Hot glue gun
Start this craft by cutting out a pumpkin shape using a large stencil to guide you. Make sure to sand down the wood afterwards to allow for smooth edges. Then, you can paint the wood with orange paint to make the pumpkin come alive. You can optionally paint the stem of the pumpkin green or brown for a more festive look. As you're letting the paint dry, you can go ahead and paint the wood plank and wood tray. Once everything is dry, go ahead and hot glue the wood plank underneath the pumpkin to create a standing structure. Then, you can hot glue the tray onto the pumpkin. If you want to display some fall flowers, be sure to use a lightweight planter or pot on the tray to keep the pumpkin standing strong. You can also display faux flowers if you want to keep them up all season long.
---
2. Add A Rustic Look With A DIY Burlap Fall Garland
---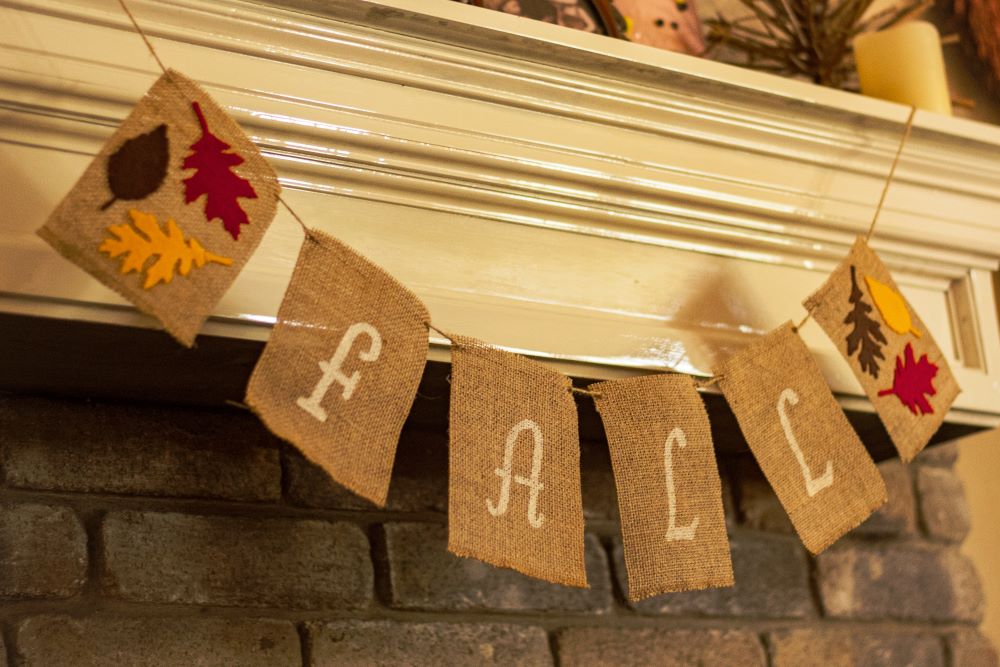 Garlands can make great decorations for fall, especially if you're decorating a fall themed mantel. This DIY burlap fall garland can give your home a beautiful rustic look that will match nicely with your other fall decor. This craft specifically showcases the word "fall"; however, you can easily create this craft with any sentiment that you want.
Burlap Fall Garland Supplies
Burlap squares
Letter stencils
Leaf stencils
Felt pieces in fall colors
White paint marker
Scissors
Small hole puncher
Hot glue gun
String
Start this craft by cutting out fall leaves from colored felt – you can use leaf stencils to make this step easier, or freehand it if you're an experienced crafter. Then, hot glue the leaves onto two different burlap squares. After this step, you can then create the letter of "fall". Using a paint pen and letter stencil, stencil each letter onto each burlap square. Once the glue and paint pen both dry completely, use a small hole puncher to punch a hole onto the two top corners of each burlap square. Finally thread the string through the burlap squares to hang up across your mantel.
---
3. Welcome Guests With A DIY Pumpkin Door Hanger
---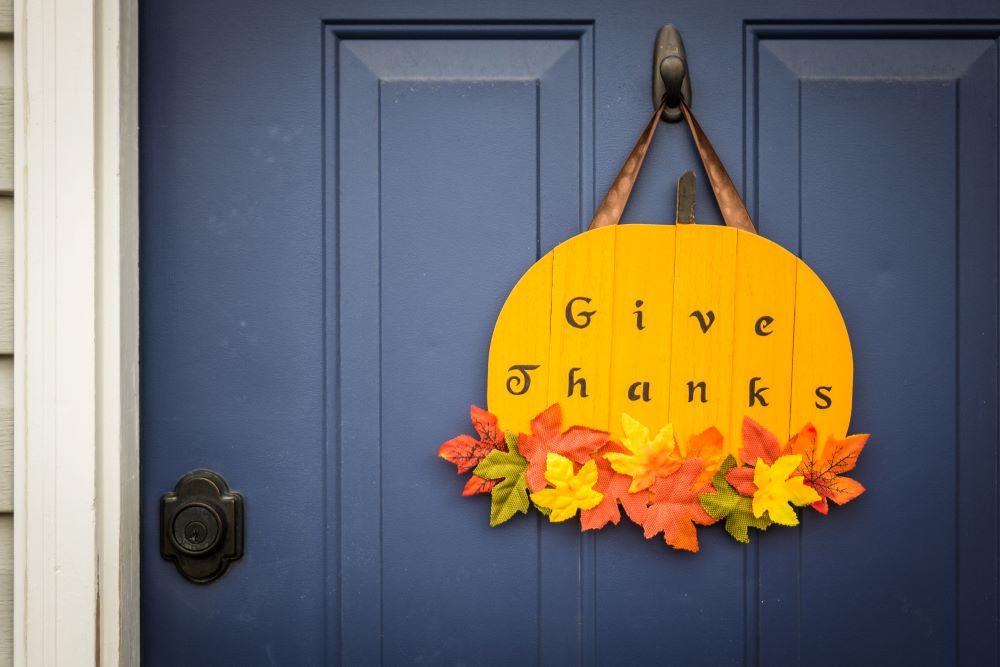 Every fall porch could use a festive door hanging to welcome guests with seasonal charm. Making your own fall door hanging is a great way to add some personal style and cheer to your space. This craft is incredibly easy because it doesn't require cutting any wood; simply find a flat wooden pumpkin at any crafting store to use as the base of your door hanger. Make sure to match the rest of your fall porch decor for a complete look.
Pumpkin Door Hanger Supplies
Flat wooden pumpkin (found at most craft stores)
Orange paint, brown paint, & paintbrushes
Crafting leaves
Ribbon
Paint pen (any color you want)
Letter stencil
Hot glue gun
Start by painting the wooden pumpkin orange and paint the stem of the pumpkin brown. Make sure to let the paint dry completely. Once dry, you can start hot gluing your crafting leaves on the bottom section of the pumpkin. Overlap the leaves for a festive and full appearance. Next, you can add your fall sentiment by using a paint pen and letter stencil. Use any sentiment you want such as "give thanks", "happy harvest", or even just a simple "welcome". Once the glue and paint pen is dry, glue a piece of ribbon to the back of the pumpkin to hang on the door.
---
4. Make A DIY Flannel Pillow For A Classic Fall Look
---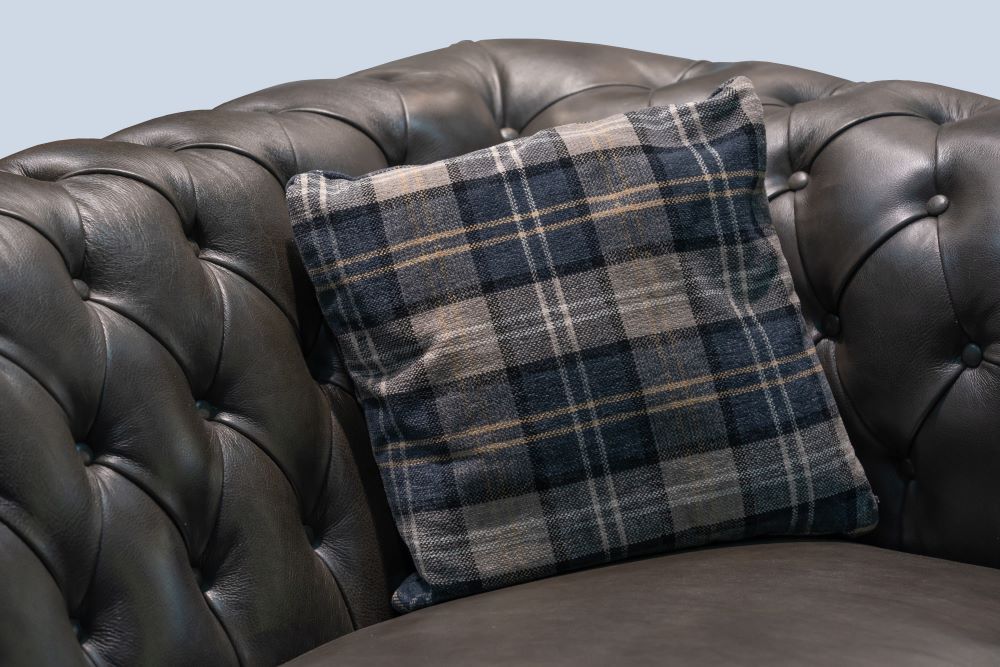 Flannel is such a classic fabric of the fall season because it gives off a warm and cozy feeling. Crafting your own flannel pillows is a great way to make your living room feel extra cozy all season long. Choose any color flannel fabric you want for this pillow craft; feel free to match your other fall decorations or bring in a new fall color to create some interesting contrast.
Flannel Pillow Supplies
Flannel fabric (cut into 2 squares – 16 inches)
Sewing materials (thread and needle)
Polyfill stuffing or pillow inserts
Making a simple 16 inch square pillow is a fairly easy process if you know how to sew. Make sure your fabric pieces are inside out before you start sewing them together. Be sure to leave the corner open before you're done sewing so you can stuff the pillow with polyfill stuffing. Once properly stuffed, you can finish sewing the pillow closed. Optionally, you can use a pillow insert instead of stuffing.
Check out our selection of throw pillows to fill your couch with cozy style!
---
5. Create A Cute Fall Look With DIY Paper Strip Pumpkins
---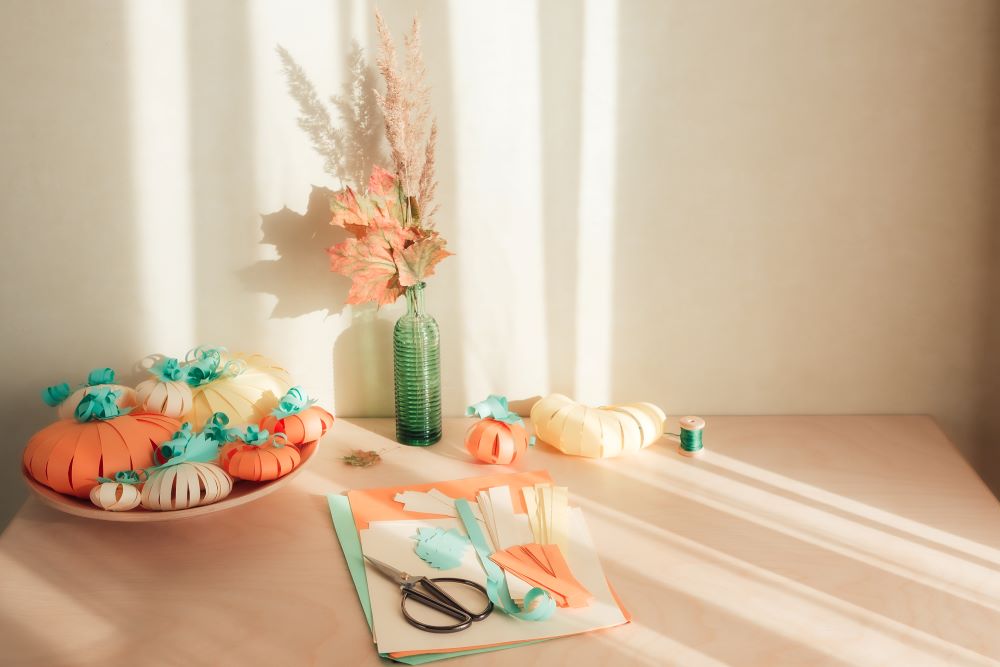 This last DIY fall decor idea is the perfect craft for both and adults and kids. While this craft simple uses construction paper, you can still create a beautiful fall decor display with these pumpkins. Show off these paper pumpkins on a decorative platter or display them on top of your mantel with other pumpkin accents.
Paper Strip Pumpkin Supplies
Orange construction paper (9 x 12)
Green construction paper
Scissors
Hot glue gun
Start by cutting strips of orange construction paper – make sure they're all the same size. Then, create an "X" shape with two strips of paper and gluing them in the center. Continue adding more "X" shapes until you have a full circle. Next, cut out a small green square of construction paper. Take each orange strip and glue them to the green square to create a full pumpkin shape. Finally, cut some small strips of green paper to glue at the top for a festive and decorative look.
---
Now that you've checked out these 5 DIY fall decor ideas, head on over to our Fall Harvest Decor section to find even more seasonal inspiration! Shop affordable fall decorations, pumpkin accents, festive porch decor, and much more to fill your home for the harvest season.