7 Outdoor Halloween Decor Ideas For Any Theme
Decorating your outdoor space for Halloween is a fun way to showcase a festive scene for the holiday. You can easily set up a spooky and scary space, or you can create a friendly and charming environment for trick-or-treaters. Whether you want to create a theme with specific characters or a more general Halloween display, using outdoor decorations can help you make your space come alive. Decorate your front porch and yard in Halloween style to make your home look extra fun and festive for the fall season. If you're looking for inspiration, check out these 7 outdoor Halloween decor ideas for any theme.
---
1. Create A Spooky Yard Scene For Your Outdoor Halloween Decor
---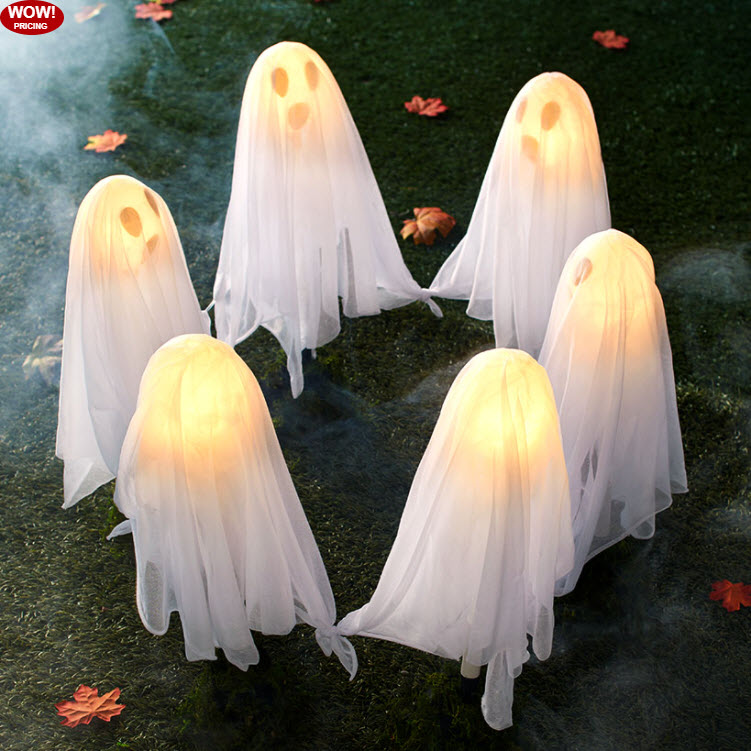 If you want to set up a scary spread of decorations in your outdoor space, a great way to do so is by creating a spooky yard scene. Your front yard gives you the perfect amount of space to set up a unique display.
There are so many different ways you can set up a spooky yard scene. Whether you want to feature specific Halloween creatures and characters, or if you want to mix it up, check out some ideas below for setting up a spooky yard scene display.
Spooky Yard Scene Ideas
Set up a scary ghost scene by displaying ghost yard stakes and hanging ghosts from your trees.
Create a Halloween graveyard scene with tombstone stakes and skeletons.
Display a creepy spider scene with a large spiderweb decoration, light up spiders, or even a large spider inflatable.
Set up a witch yard scene with a large cauldron, witch figurines, and lighted accents.
---
2. Set Up A Friendly Halloween Porch For Trick-or-Treaters
---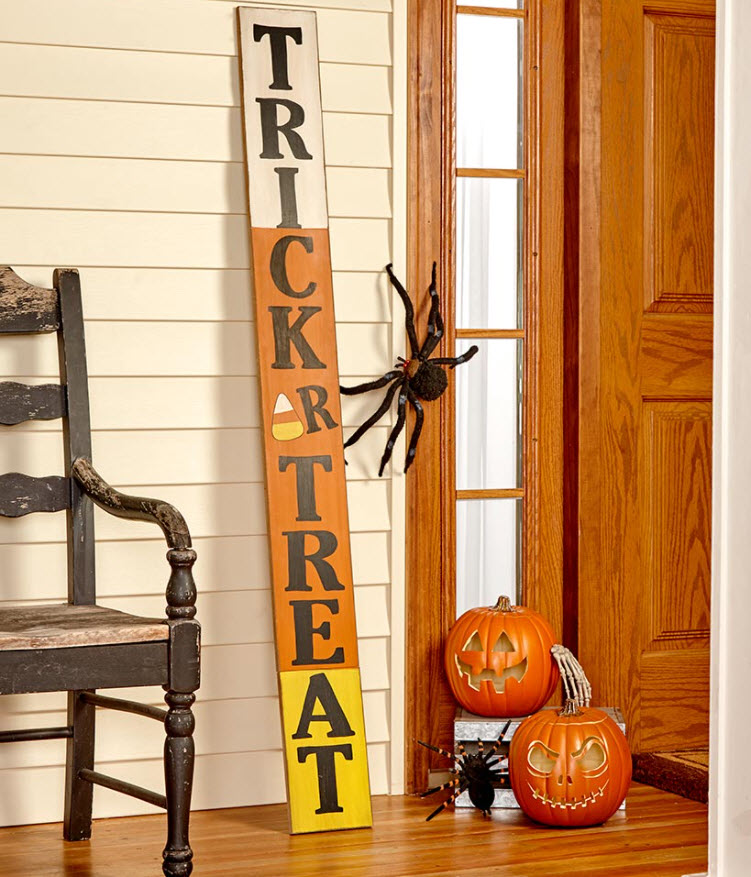 Sometimes spooky decorations aren't for everyone. Instead of creating a scary outdoor space, set up a friendly and charming porch for Halloween. A friendly and cute Halloween decor theme is a great way to welcome young trick-or-treaters.
A friendly Halloween porch can include a multitude of things. Generally, you'll want to choose decorations that include things like pumpkins, candy corn, and friendly versions of Halloween creatures.
You can add these symbols through decorations like leaning signs, door hangings, a doormat, and decorative statues. Additionally, make sure to add orange string lights for a fun touch.
You can even mix some simple harvest decorations into your Halloween spread to make your porch feel extra charming. Fall decor and Halloween decor match well, especially when creating a more simple and friendly theme.
---
3. Use Lighted Decorations For A Spectacular Halloween Porch & Yard
---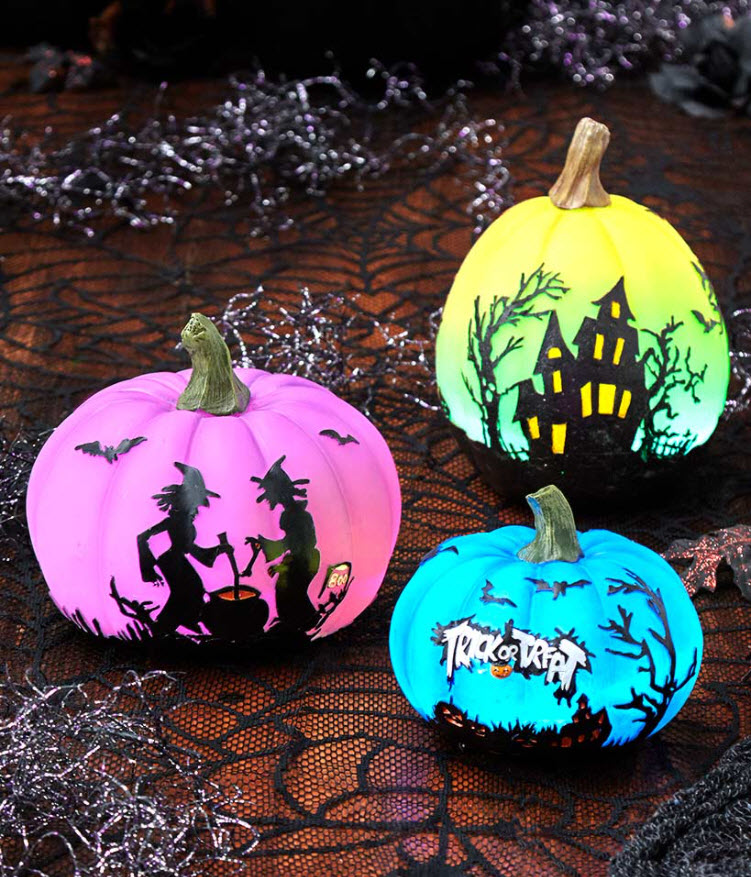 Lighted decorations are always a great choice for Halloween because they give off a magical and spooky look. Lighting up your yard and porch at night will give you a stunning Halloween appearance.
The great thing about lighted Halloween decorations is that you can easily create either a spooky or welcoming spread. You can even create a more simple and general Halloween spread with lighted decor. Check out some ideas below to get started.
Outdoor Lighted Halloween Decor Ideas
Lighted pumpkin decorations
Orange solar string lights
Lighted yard statues like witches and ghosts
Light up Halloween themed door wreath
Glow in the dark porch decorations
---
4. Display Halloween Trees In Your Outdoor Space
---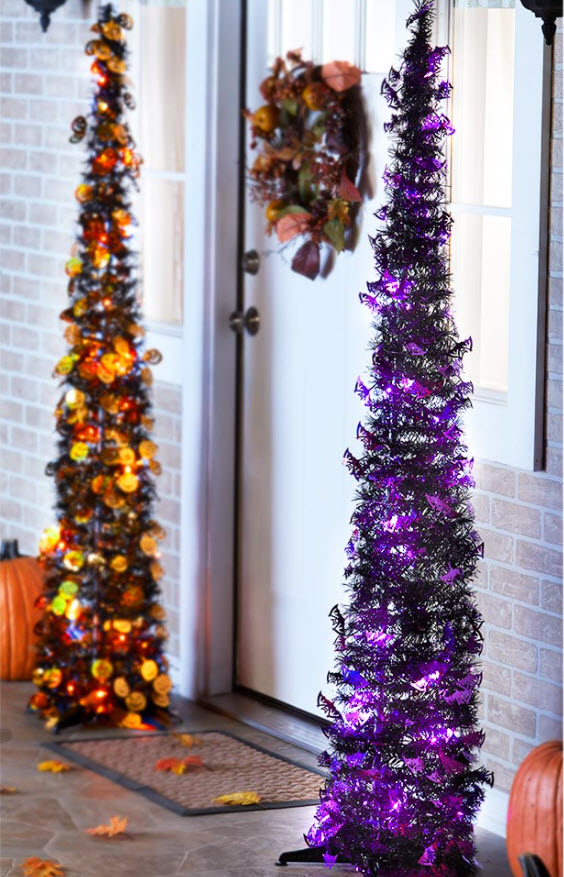 Decorative trees aren't just for Christmas. Setting up a Halloween tree in your outdoor space is a great way to show off a festive and fun porch or yard.
You can set up a Halloween tree in almost area of your outdoor space; however, it can look especially nice under a covered porch. Place a Halloween tree on each side of your front door with a matching wreath for a charming appearance. If you aren't sure how to decorate your tree, check out some simple ideas below.
How To Decorate A Halloween Tree
Start with string lights. These can be orange for an extra festive look or white for a more simple look.
Add some Halloween themed ornaments. You also use small Halloween figurines as makeshift ornaments. This can include pumpkins, ghosts, sentiment signs, and more.
Wrap the tree with festive orange ribbons.
Place a Halloween tree topper on top – this can be a pumpkin or a Halloween character.
Finally, you can display a plaid or orange tree skirt underneath the tree.
---
5. Decorate With Halloween Yard Inflatables For A Bold Look
---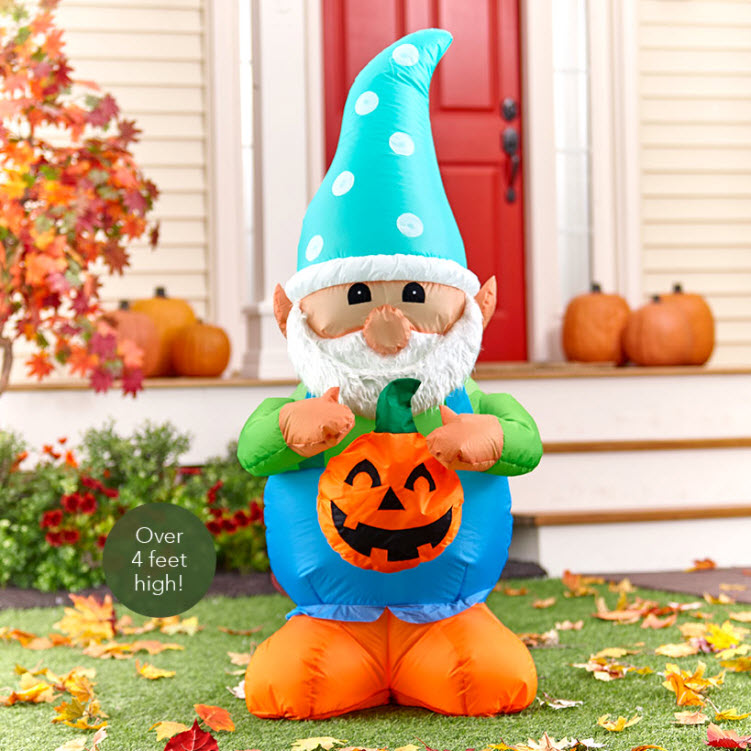 If you want to create a big spectacle and eye-catching display in your yard for Halloween, consider decorating with inflatables. Displaying large Halloween inflatables in your front yard is a great way to create an instant festive appearance.
You can set up just one Halloween inflatable for a simple display, or you can create a whole scene with a variety of characters. Check out some ideas below for common Halloween character inflatable ideas.
Halloween Yard Inflatable Ideas: Characters & Creatures
Spiders
Ghost
Jack-o-lantern
Witch
Skeleton
---
6. Decorate With Halloween Gnomes For A Cute Outdoor Theme
---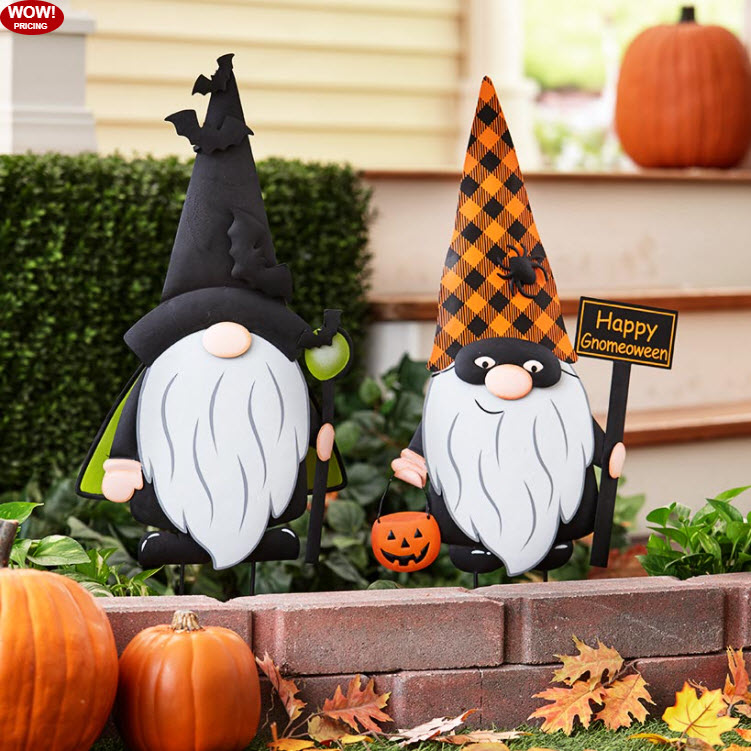 Gnomes are fun characters to decorate with because they're incredibly versatile and you can make them work for any season or holiday. Decorating with gnomes for Halloween can make your outdoor space look extra charming.
If you typically decorating with gnomes in the summer and spring, bring that theme into the fall season with Halloween gnomes. Not only will that help you easily transition your decor, but it'll also add a new element to your outdoor Halloween decor spread.
You can find tons of Halloween themed gnome decor like yard stakes, statues, wall signs, doormats, throw pillows, and more. Create a full gnome theme in your outdoor space, or just add a few statues for some simple charm.
To make your decorating even easier, you can even find gnomes that come with interchangeable elements. These multi-holiday decorations typically feature icons that you can swap out for each season and holiday.
---
7. Set Up A Classic Halloween Theme With Outdoor Witch Decor
---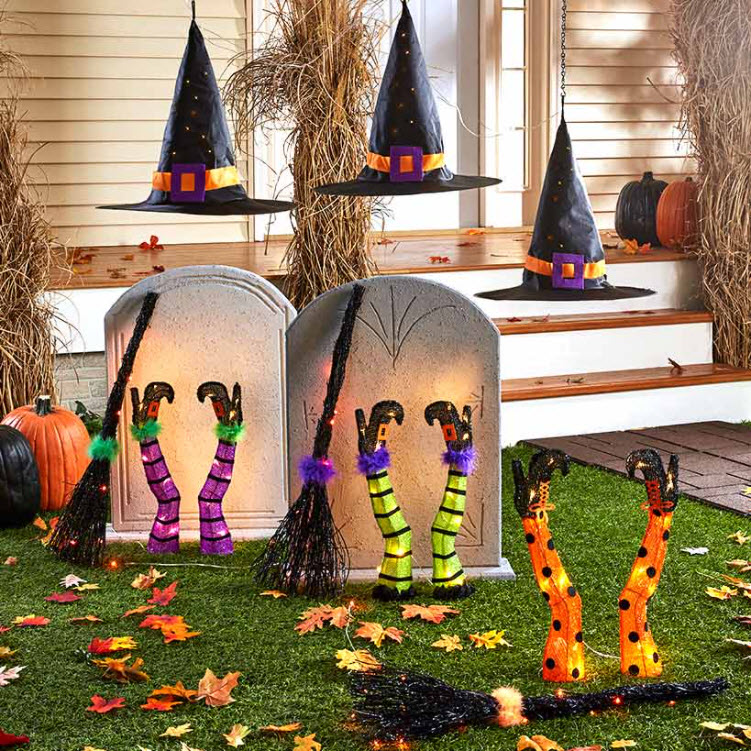 With so many Halloween characters and themes to choose from, it can be a bit overwhelming to decide what to decorate your yard with. If you would prefer a simple and classic outdoor Halloween decor theme, witches are always a good way to go.
Witches are such a common and classic symbol of Halloween; fill your yard and porch with a witch theme for an easy transformation. If you need some inspiration, check out some witch decor ideas below.
Witch Decor Ideas For Halloween
Hang witch hats from your porch
Display a witch statue in the yard
Use a cauldron to serve candy
Display a decorative broom on the porch
Decorate with witch yard stakes along your front pathway
---
Now that you've gathered some outdoor Halloween decor ideas, shop our full Halloween Decoration Headquarters to find even more inspiration! Find Halloween creature decor, scary themes, indoor Halloween decor, and even more outdoor Halloween decor ideas for your space.