How To Make Your Living Room Cozy For Fall
If you're looking to transform your living room for the fall season, set up a comfortable theme to make your space warmer during the chilly weather. You're probably going to spend a lot of time relaxing in your home this fall, so you're going to want to make your space as comfortable as possible. You can easily set up a comfy and cozy living room with the help of soft fabrics, warm lighting, careful color schemes, and much more. Keep reading to learn some simple ways to make your living room cozy for fall.
---
Add Candles To Your Living Room For A Cozy Fall Feeling
---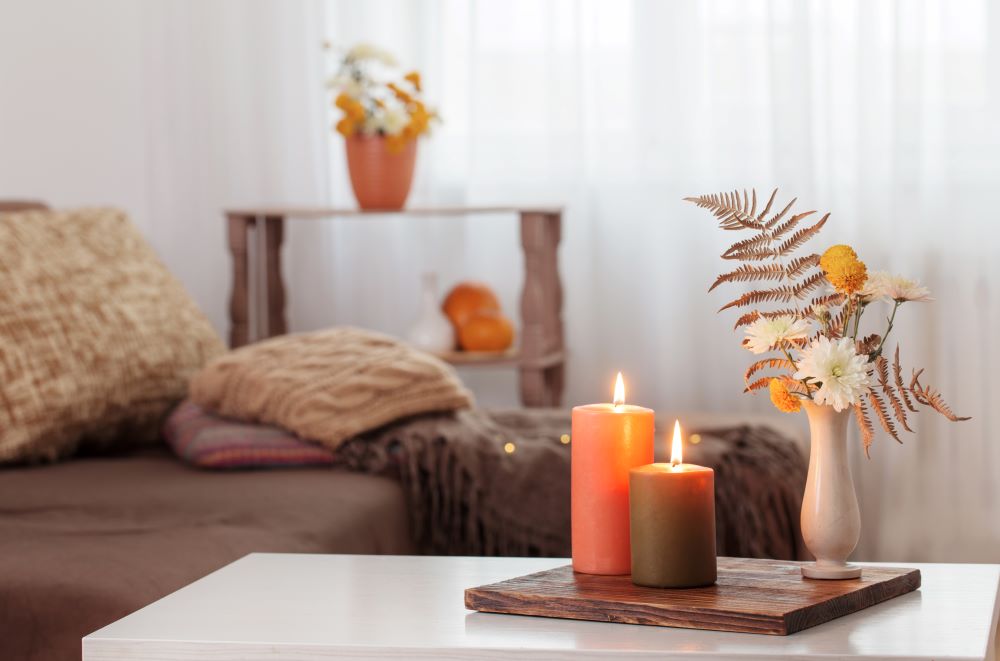 Candles are a staple of the fall season because of the comforting scents they bring in and the warmth they give off. It's only fitting to fill your living room with candles this fall to create the ultimate cozy space. Whether you use real candles or LED candles, you can easily set up a warm and homey living room area for the entire autumn season.
When choosing candles for your fall living room, there are multiple things to consider. First, you'll need to decide on which scents to incorporate into the room. Typical fall scents include cinnamon, pumpkin spice, apple, and bonfire, but you can also choose any warm and cozy scent. You'll also want to consider the color of the candles. Choose candles in fall colors or ones that match you current color scheme; you can also use candle holders to elevate your color scheme. Finally, you'll need to decide on the amount of candles you want to use in your living room. You can use them as simple accents or you can fill the entire room with them. Check out some ideas below for how to decorate with candles in the living room.
How To Decorate With Candles In The Living Room
Place some candles on a tray on the coffee table.
Fill the inside of your fireplace with a large group of candles (if you don't use your fireplace).
Line your mantel with candles.
Add some candles to a bookshelf mixed with fall accents.
Place candles on a tall candle holder on each side of your television.
Use candles in your living room windowsills.
---
Use Soft Fabrics Throughout Your Fall Living Room
---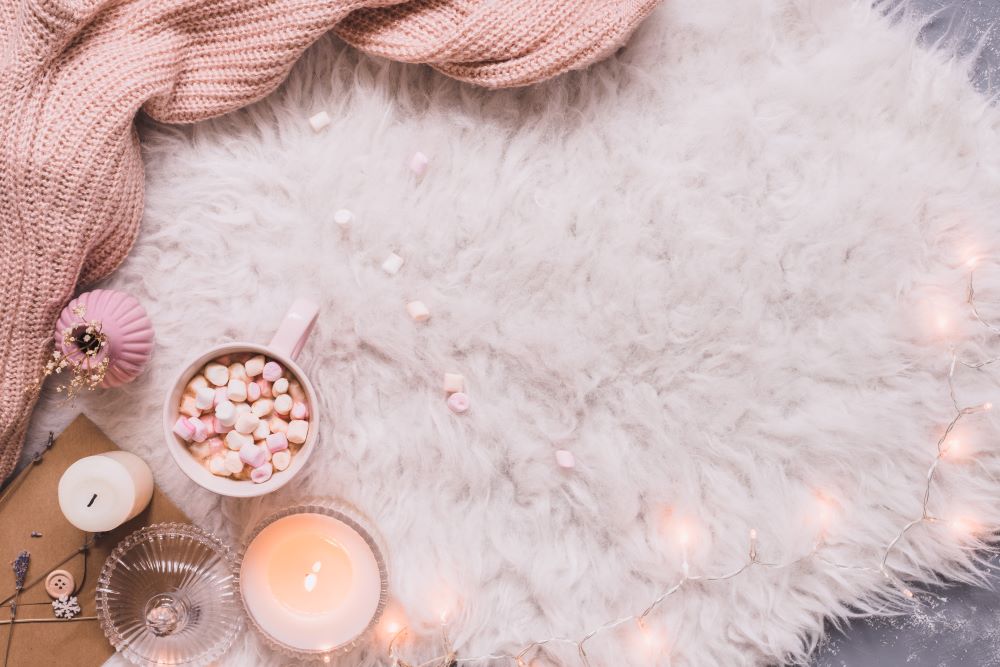 Another easy way to make your living room cozy for fall is to bring in soft fabrics throughout the room. Fabrics can instantly make any space feel extra warm and comfortable, so using them wisely in this space is a great way to transform the area for fall. There are many different ways to bring in new fabrics or swap out old ones for a seasonal change.
How To Use Fabrics For A Cozy Fall Living Room
Whether you want to swap out all your current fabrics in the room, or just add some extra ones, you can easily create a soft and cozy appearance. Here are some simple ways to use fabrics for your cozy fall living room:
Swap out your accent pillows or add extra accent pillows. Using a larger amount of accent pillows on your couch can instantly elevate your space and make it look more inviting. Consider using more pillows than you normally would.
Add some cozy throw blankets to your couch. Use throw blankets in thick and warm fabrics like faux fur, wool, and knitted cotton.
Bring in a comfy rug or swap out your current rug for a warmer one. If you don't have a rug in your space, consider adding one. If you already have one, exchange it for a more cozy one for the cold weather. Use rugs that are thick and lush for the ultimate comfort.
Use window curtains that are thicker. Swap your current curtains for ones that are susceptible to blocking out the cold weather. Darker colored curtains also work well for creating a calm and cozy atmosphere.
Decorate with fabrics in other areas of your living room when possible. Find other ways to add cozy fabrics to your space – this can include a mantel scarf, a fabric basket to hold extra blankets, or even fabric wall hangings.
---
Decorate With A White & Gold Theme For An Elegant Cozy Fall Living Room
---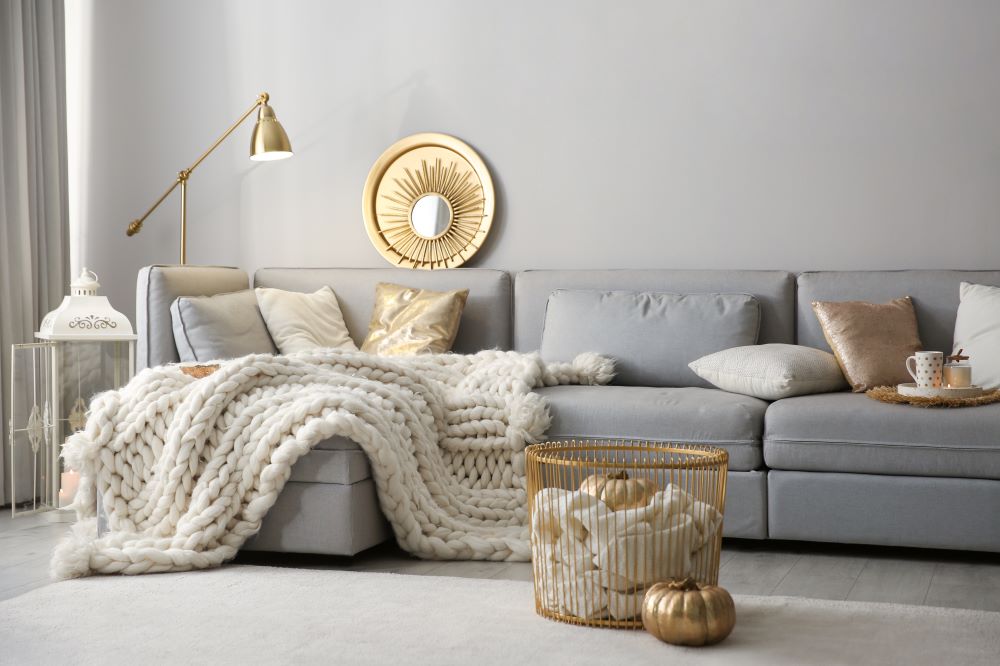 Color is another important element of setting up a cozy fall living room. If you want a traditional fall look, bring in warm toned colors like red and orange, mixed with neutrals like brown and beige. However, if you're looking for a more unique fall color scheme, consider decorating with gold and white instead. This will give you a more elegant and upscale appearance while still looking cozy and festive.
Start by using white as your base color for the larger elements in the room. This can include things such as throw pillows and blankets, large vases, a rug, window curtains, and other large decorations. Using white as your base color of the room will help you set up a serene and relaxing environment. It also allows you to add your fall decorations in a more natural and subtle way to keep the room flowing nicely.
Bring some gold into the room with smaller sized accents throughout the space. These gold elements can also include fall themed items. Consider gold decorations like gold pumpkins, candles, branches, smaller accent pillows, fall sentiment signs, and even gold toned string lights. Make sure to also balance out your gold and white color scheme with another soft neutral, like gray or beige. This addition neutral should be added in small amounts to achieve the perfect balance.
---
Set Up Fall Themed Trays Throughout Your Living Room
---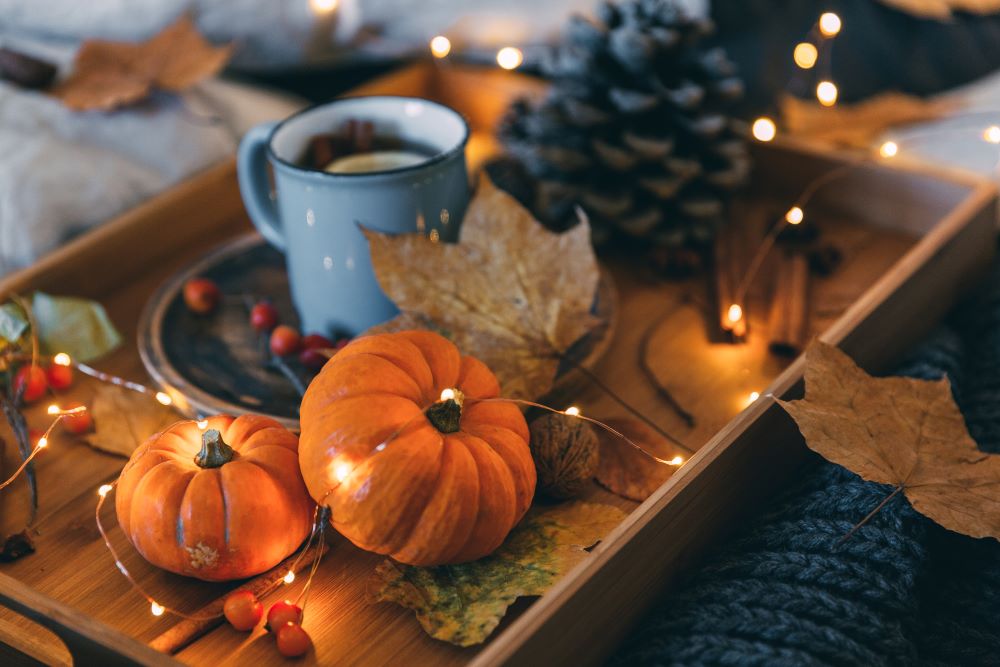 Fall themed trays are another simple way to elevate your living room space and make it look cozier for the fall season. Adding multiple trays throughout your living room can make the room look more stylish, festive, and comfortable. There are so many different ways to add small and large tray displays throughout your living room to match both your style and the harvest season.
You can place these decorative trays almost anywhere in your living room, including the coffee table, mantel, side table, bookshelf, and more. No matter how many trays you create or how large of a display you set up, you can easily set the stage for a warm and cozy living room. Check out some living room fall tray ideas below to get some inspiration.
What To Place On A Decorative Fall Tray
Mini pumpkins
Candles
Fall themed figurines
Cinnamon sticks
Leaves
Autumn themed coffee mug
Books
Pinecones
Fall sentiment signs
---
Create A Magical & Comfy Fall Living Room With Lighted Decorations
---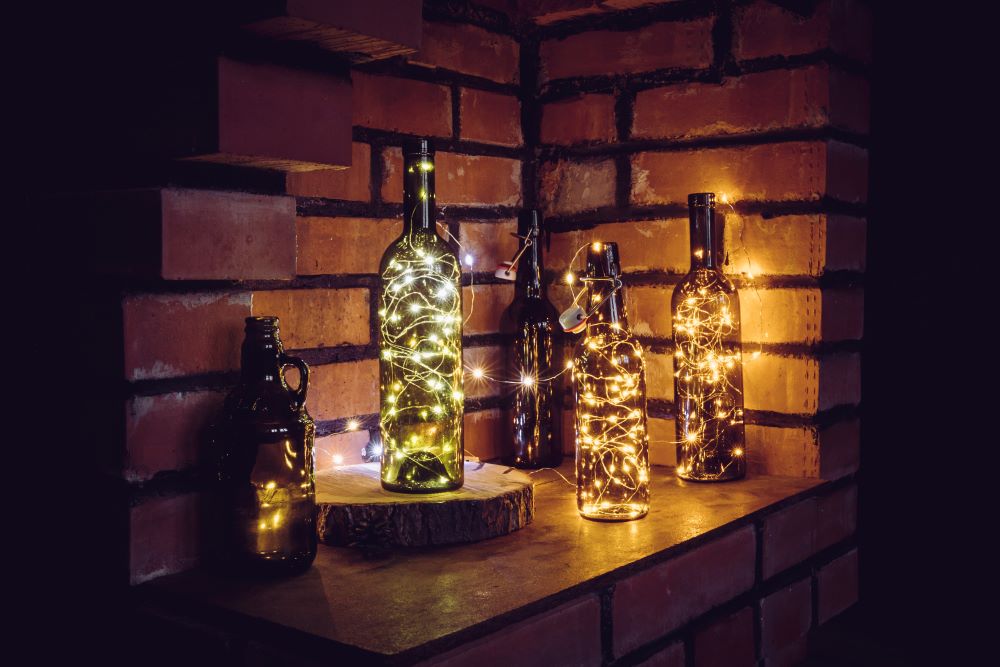 The last way to make your living room cozy for fall is to bring in lighted decor. Warm lighting can instantly transform any room into a comfortable and calm space. Add some string lights and other LED items throughout the room to create the ultimate cozy fall environment. Use lights in subtle ways throughout the room for a more simple look or bring in a variety of lighted decorations for a more magical and festive appearance.
Lighted Decor Ideas For Your Fall Living Room
Place string lights across the mantel.
Display LED candles throughout the room.
Use lighted pumpkins on your coffee table.
Fill wine bottles with fairy lights to display.
Hang up a lighted fall scene canvas on the wall.
Display LED fall themed throw pillows.
Set up a fall themed Christmas tree in the corner wrapped with string lights.
---
Now that you've checked out these simple tips on how to make your living room cozy for fall, visit our Fall Harvest Decor section to get started on decorating! Find everything you need to set up your fall living room, including lighted decor, pumpkin accents, cozy throws, themed window curtains, and much more.