7 Easy Fall Kitchen Decorating Ideas
Decorating a fall kitchen is a great way to make your space feel extra festive and charming. You can easily bring the harvest feeling to your kitchen through traditional fall symbols, plaid patterns, and seasonal color schemes. Setting up a fall themed kitchen can help you complement the rest of the autumn decor around your house. Whether you want to create a kitchen filled with fall style, or if you simply want to add a few themed accents into your space, you can easily get the look you want with some simple tips and tricks. Here are 7 easy fall kitchen decorating ideas to transform your space.
---
1. Decorate Your Kitchen Cabinets In Fall Style
---
Your kitchen cabinets often get overlooked; however, this is a unique area to decorate for any season. Creating a fall theme by decorating your kitchen cabinets is a great way to amplify the festive feeling in your space.
There are many different ways to decorate your kitchen cabinets with fall style. One of the easiest ways is to hang up fall themed cabinet wreaths. These types of wreaths are specifically made for your cabinets and can give you an instant transformation.
After hanging up cabinet wreaths, you can then decorate the rest of your kitchen with a matching color scheme. For instance, if your cabinet wreaths have orange and white plaid ribbon, you can complement them with other orange and white decor throughout the room.
In addition to cabinet wreaths, you can also add other fall decor to your cabinets. If you have clear glass cabinets, display fall themed dishware on your shelves alongside colorful fall accents. Adding these pops of colors behind your cabinets will make the entire kitchen come together beautifully.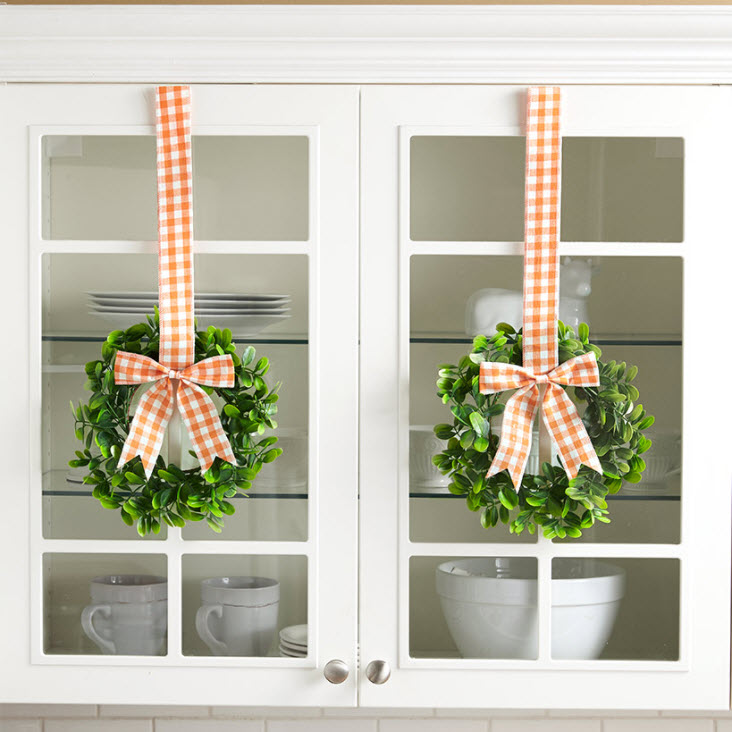 ---
2. Set Up Your Kitchen Table With A Fall Theme
---
A fall kitchen isn't complete without a festive themed kitchen table. A fall themed kitchen table is not only great for special meals, but it's also nice to to set up for the entire harvest season to complement other home decor.
The first place to start when decorating a fall kitchen table is the linens. Display a fall themed table runner or tablecloth to set the stage. This can include a pumpkin design or plaid patterns. Then, add matching placemats or use placemats that complement the colors in the table runner.
After adding table linens, it's time to add some decorations. You can set up a nice fall themed centerpiece with a simple vase of fall flowers, or add some LED candles on harvest theme candle holders. You can even set up a fall themed tray in the center of the table with a variety of fall accents on top.
Finally, you can add your set of fall dishware. Set up fall themed plates at each place setting with a colorful cloth napkin and an elegant drinking glass. You can even place a mini pumpkin on top of each plate for an extra festive appearance. Consider matching your kitchen table to your fall dining table decor for a complementary look.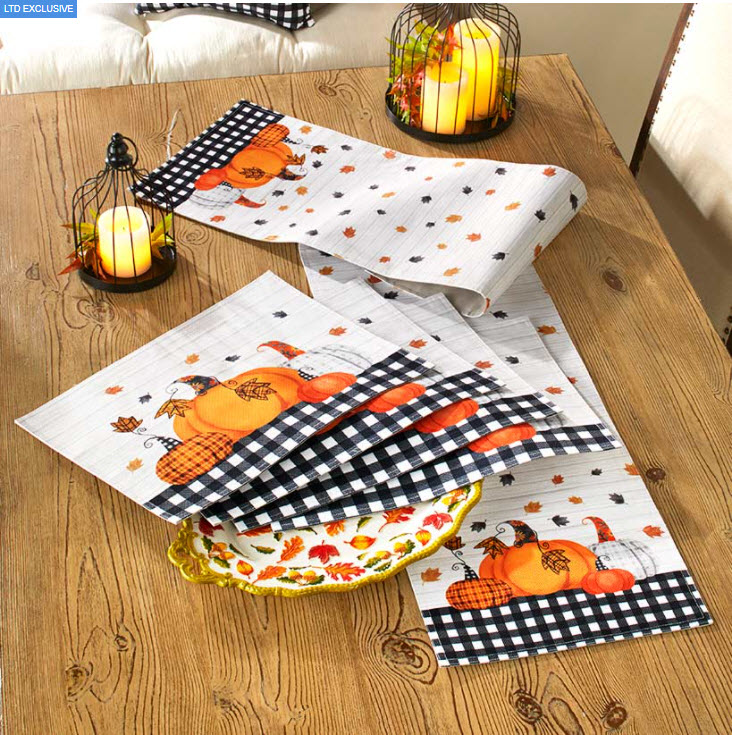 ---
3. Display Harvest Themed Cookware As Kitchen Decor
---
If you're looking to fill your kitchen counters with a fall theme, consider displaying harvest cookware and dishware as decorations. No only will this add a spectacular spread of colors to your kitchen, but it also gives you easy access to items when cooking and baking.
There are so many different ways you can display cookware and dishware in your fall kitchen. Whether you specifically buy dishware to display, or if you are planning on using these items throughout the season, find creative ways to display them.
For instance, you can display a fall themed serving platter upright on a plate stand, or you can place cooking utensils inside of a fall themed baking dish. If you have limited space to work with, you'll probably want to display dishware and cookware in a more functional way.
You can also use fall dishes to set up a unique centerpiece on the kitchen island. For example, use a large fall serving platter in the center of the island and place a vase of fall flowers on top. You can even use a fall themed canister as a unique flower holder. The more creative you get, the more unique your fall kitchen will look.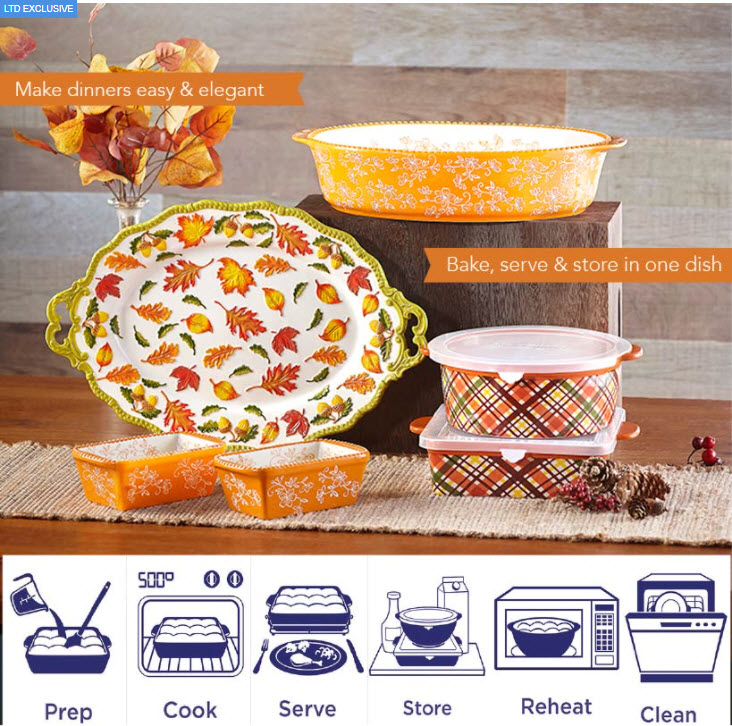 ---
4. Fill Your Kitchen Wall Space With Small Fall Sentiment Signs
---
When decorating your kitchen for fall, you don't want to forget the wall decor, especially the small wall space between your counters and cabinets. Decorating this space can amplify your fall theme even more and can bring the entire harvest look together.
Decorate that small wall space with fall sentiment signs to create a charming and welcoming theme. You can also keep it more simple by hanging up pumpkin signs or elevate it by using beautiful fall scene artwork. Match these wall hangings to the rest of your kitchen decor.
If you have other open wall space in your kitchen, take advantage by hanging up even more fall themed wall art. You can even create a gallery wall with a variety of framed fall photos and artwork. Setting up this gallery wall will establish a strong harvest theme.
In addition to artwork and wall signs, you can also hang up other types of wall hangings for your fall decor spread. Burlap and other fabric wall hangings work especially nice for the fall season because they give off a natural and warm appearance. Mix and match different types of wall decor for the ultimate fall kitchen.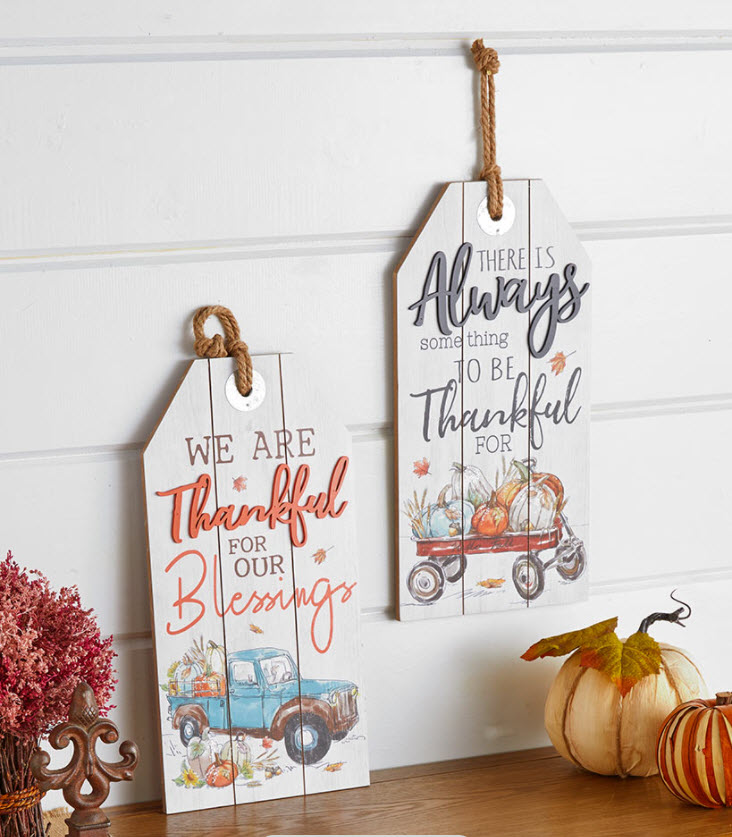 ---
5. Decorate Your Kitchen With A Unique Fall Color Scheme
---
A typical fall color scheme is filled with warm colors like red, orange, and gold. While this is the traditional fall style to decorate with, you don't necessarily have to limit your fall kitchen to this color scheme.
Decorate with a unique fall color scheme to get a fresh look in your kitchen. You can choose a brand new color scheme to bring into your space or you can use the color scheme you already have to make it even easier to decorate.
You can truly use almost any color scheme for your fall kitchen based on your own style; however, here are some popular color ideas that are seen in fall decor:
Black and white
Teal and pink
Purple and beige
Peach and gray
Pink and white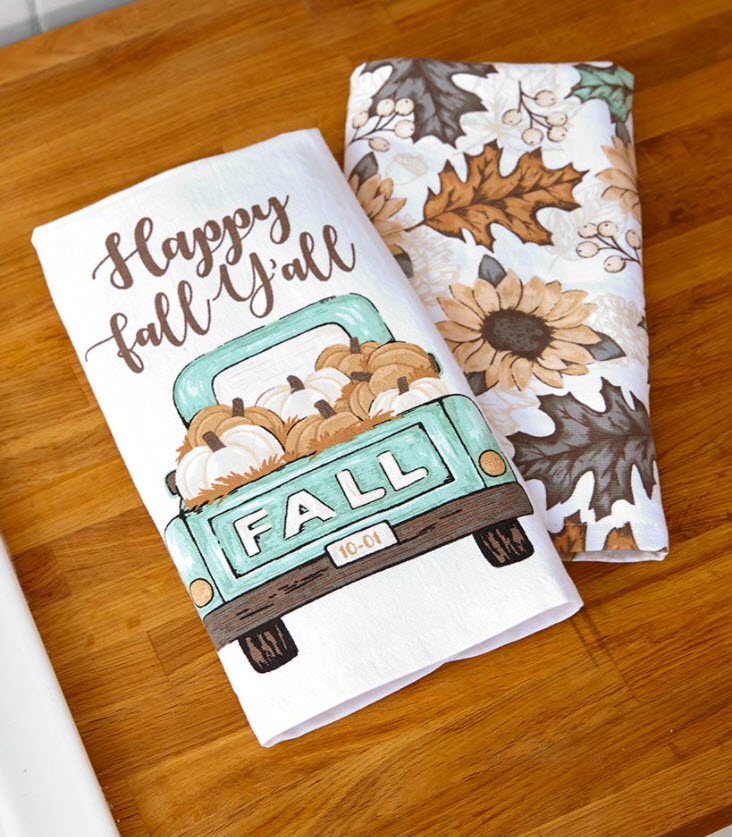 ---
6. Set Up A Harvest Tree In Your Kitchen
---
If you're looking for a more unique and outside of the box fall kitchen idea, set up a harvest tree. A fall themed Christmas tree can add a lot of extra charm and festive energy into your space; set one up in the corner of your kitchen to make the area look brighter.
Another great part of a harvest tree is that you can keep it up all season long and then transform it for the Christmas season. You can even keep it up all year round and swap your tree decorations to match each season or holiday.
You can easily fill your harvest tree with fall themed decorations galore. If you're not sure where to begin check out some ideas below:
Hang ornaments or small accents in fall shapes like pumpkins, leaves, and acorns.
Display fall characters like scarecrows, gnomes, and owls.
Use orange colored string lights to brighten up the tree.
Wrap fall sentiment ribbon around the tree to add some charm.
Add a fall themed tree topper like a scarecrow hat or pumpkin.
Display your tree with a plaid tree skirt to complete the look.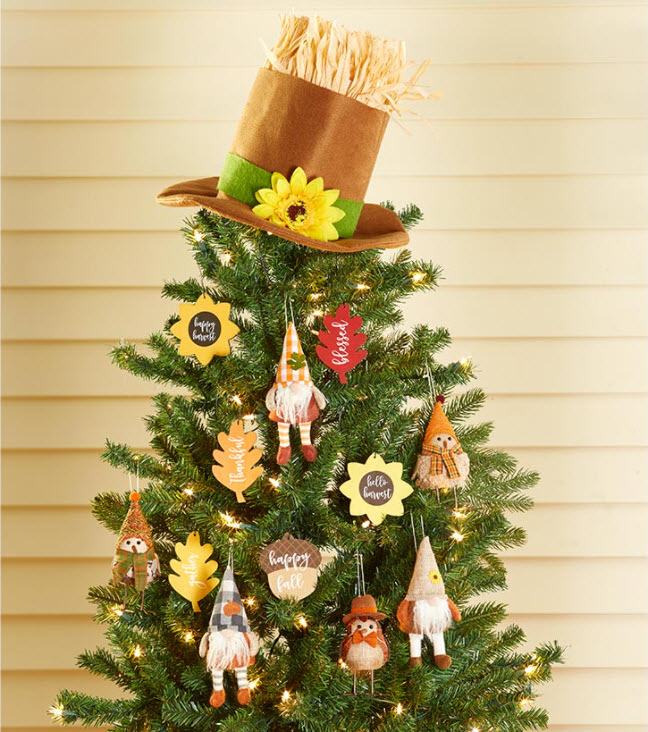 ---
7. Add Plaid To Your Fall Kitchen
---
Plaid is such a defining pattern of the fall season, so it only makes sense to include it in your fall kitchen. Bringing in more plaid patterns will amplify your harvest theme even more and it will add some extra charm and comfort into your space.
Your color scheme for your plaid decor can be almost any selection of colors, depending on the rest of your kitchen. Black and white plaid works well for a farmhouse fall theme while red plaid is great for any classic fall theme.
There are many ways to bring the plaid pattern into your kitchen. Whether you want to add some simple plaid accents or create a full plaid appearance, here are some ideas to get you started:
Plaid seat cushions & accent pillows
Kitchen towels with plaid patterns
Plaid patterned kitchen rug
Kitchen placemats in plaid
Plaid patterned serveware & dishware
---
After checking out these 7 fall kitchen decorating ideas, visit our Fall Harvest Decor section to get started on decorating! Find festive harvest themed table linens, decorative accents, wall hangings, serveware, and much more to transform your space for the season.