5 Ways To Decorate With Leaves This Fall
Fall decor is filled with vibrant colors, pumpkins, cozy aesthetics, and of course, leaves. Decorating with leaves is a great way to bring out the natural and crisp feeling of the harvest season. Including leaves in your fall decor spread can make your home feel more full and fresh, and it can also help you add more colors to your space. Leaf decorations can be used in multiple ways throughout your home when combined with string lights, pumpkins, and other fall themed accents. Here are 5 ways to decorate with leaves this fall.
---
1. Display Leaves In A Vase For A Unique Fall Kitchen Centerpiece
---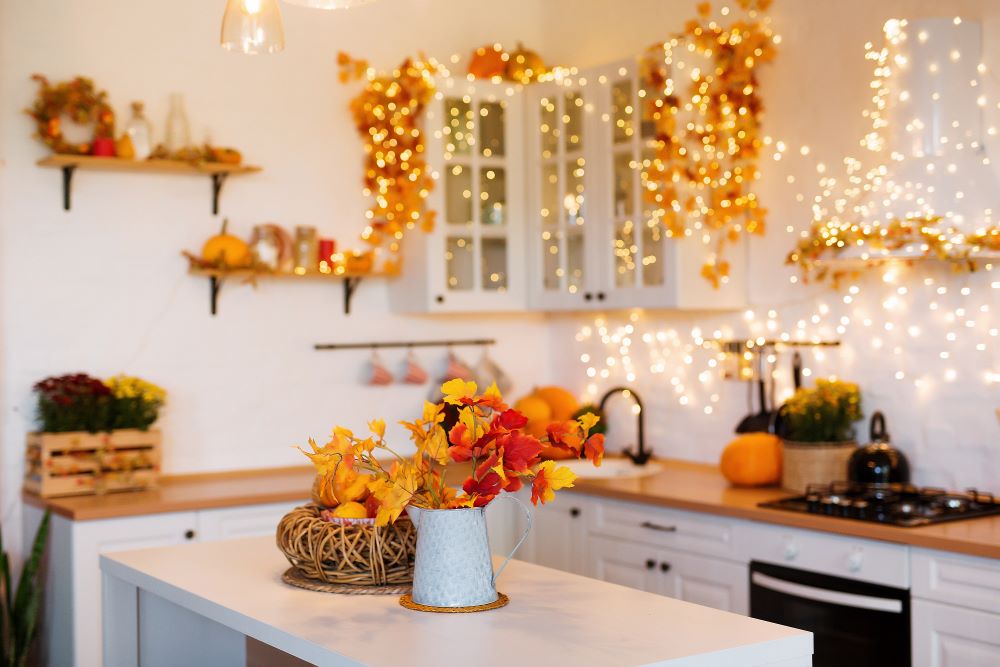 One of the easiest ways to decorate with leaves this fall is to display leaf stems inside of a vase like a flower bouquet. You can typically find leaf stems at most crafting stores or home decor stores. A leaf bouquet looks especially nice displayed on the kitchen island because it adds a pop of vibrant color in the center of your kitchen.
Put together a bouquet of leaf stems in vibrant shades of red, orange, and gold for the ultimate fall look. Make sure to choose a vase that either matches your current decor style or one that is fall themed. Keep in mind that you don't want to use a vase that is too bold because you don't want to distract from the beautiful colors of the leaves. Alternatively, if you don't want to use leaf stems, you can also display a pile of faux leaves inside of a basket or inside of a clear vase for a unique look.
In addition to a vase of leaves in your kitchen, you can also bring in other leaf decor elements to match your fall theme. For instance, you can bring in some leaf patterned kitchen towels, hang leaf garlands over your cabinets, display leaf patterned coffee mugs on the counter, or add a leaf patterned rug to your space. Make sure to throw in some other fall theme decor, such as pumpkins and harvest sentiment signs, for a more complete look.
---
2. Create A Gold Leaf Display For An Elegant Harvest Decor Style
---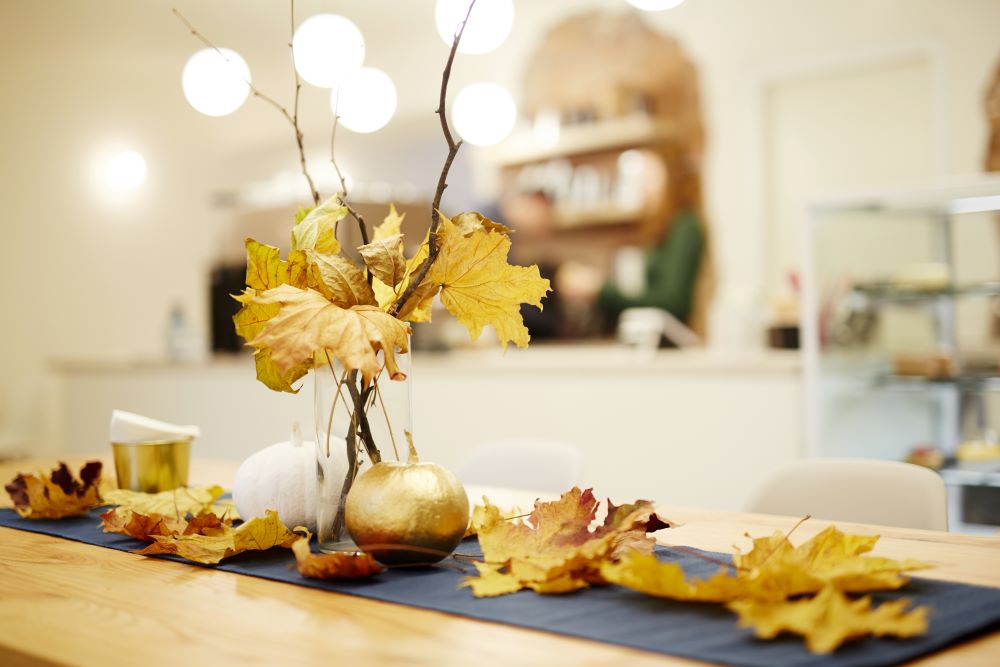 If you want to bring the fall spirit into your home but you want to keep an elegant and chic decor style, consider decorating with a gold leaf display. Gold is not only a chic and upscale decorating color, but it's also a great color to represent the fall time. Whether you use leaves that are already gold, or if you spray paint some to match, you can easily create a beautiful display.
How To Set Up A Gold Leaf Display For Fall
There are a lot of different accents and decorations you can include within your gold leaf display, depending on your personal style and amount of space you have to work with. However, if you're looking for a good starting point, check out some steps below for how to set up a gold leaf display for your fall time decor spread.
Start with the main attraction: the gold leaves. You can either find gold leaf stems to display in a vase, or scatter gold leaves in a tray or on a table runner. If you can't find faux gold leaves, feel free to spray paint some to use for your decor.
Next, add some small pumpkins to your decor spread. Use gold and white spray painted pumpkins (or ceramic pumpkins) to keep the chic appearance.
Add some gold candles or candle holders to your display. It's an added bonus if your candles are fall scented.
Depending on where your display is set up, you can add extra decorations or matching elements. For instance, if you create your gold leaf display on your dining table, you can coordinate with gold serveware and chic placemats. If your display is on the coffee table, use gold throw pillows on your couch to complement the decor. Make the gold leaf display as big or small as you desire.
---
3. Use Fall Leaf Decor On Your Porch For A Festive Scene
---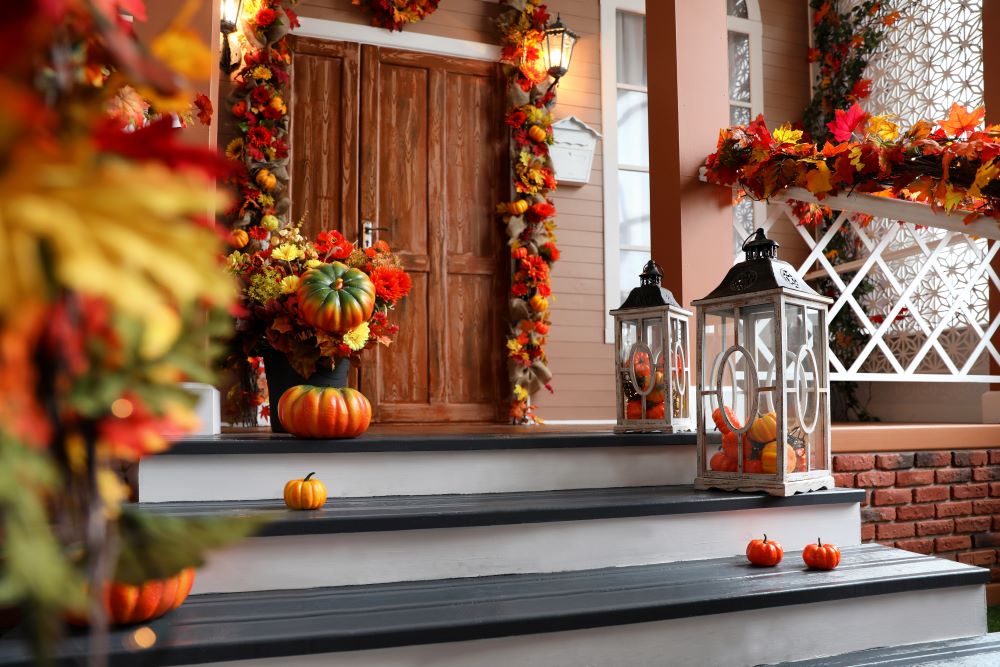 Your fall decor spread wouldn't feel completely festive without decorating your front porch for the season. The porch is a perfect place to decorate with leaves because it's surrounded by actual falling leaves and other elements of nature. Bringing fall leaf decor to your porch is a great way to transform your outdoor space in a vibrant and welcoming area.
Ways To Decorate Your Fall Porch With Leaves
Wrap leaf garlands around your porch railings.
Display a leaf wreath on the front door.
Use a leaf archway to frame your doorway.
Show off a large vase of leaves on the porch.
Fill clear glass lanterns with leaves to display on the porch steps.
Decorate with leaf patterned throw pillows on the porch bench.
Display a leaf patterned doormat on the porch.
---
4. Decorate Your Fall Mantel With Leaf Garlands & Wreaths
---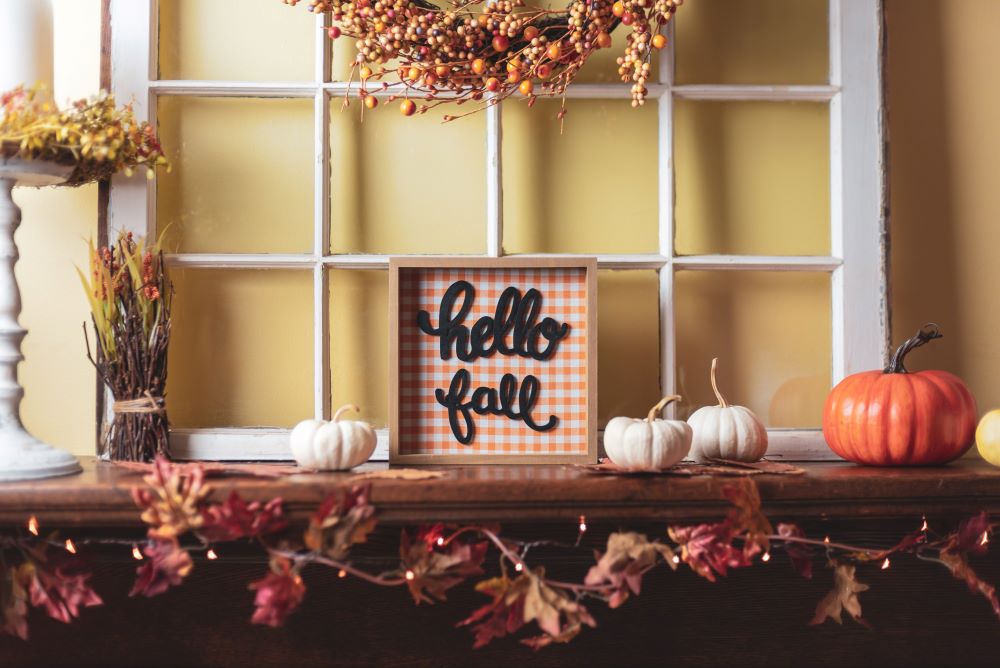 The mantel is another great place to create a beautiful fall decor spread. It's also another ideal area to decorate with leaves, pumpkins, and other festive fall accents and colors. Leaf garlands and wreaths fit in especially well on the mantel, especially when combined with string lights and accents in similar colors.
Display a leaf garland across your mantel and wrap fairy lights around it for a truly magical look. You can also use leaf shaped string lights for an extra festive touch. For a classic fall look, you can also hang a leaf wreath on the wall above your mantel or even just lean it against the wall for an easier display.
Other Ways To Display Leave Decor On The Mantel
Display leaf stems in a decorative vase.
Spread faux leaves across the mantel with pumpkins on top.
Use a small leaf wreath as a candle holder.
Wrap a leaf garland around a decorative window frame and lean it against the wall on top of the mantel.
Display a leaf patterned table runner across the mantel.
Frame real leaves and hang them on the wall above the mantel.
---
5. Use Leaves As Filler For Fall Decor Displays
---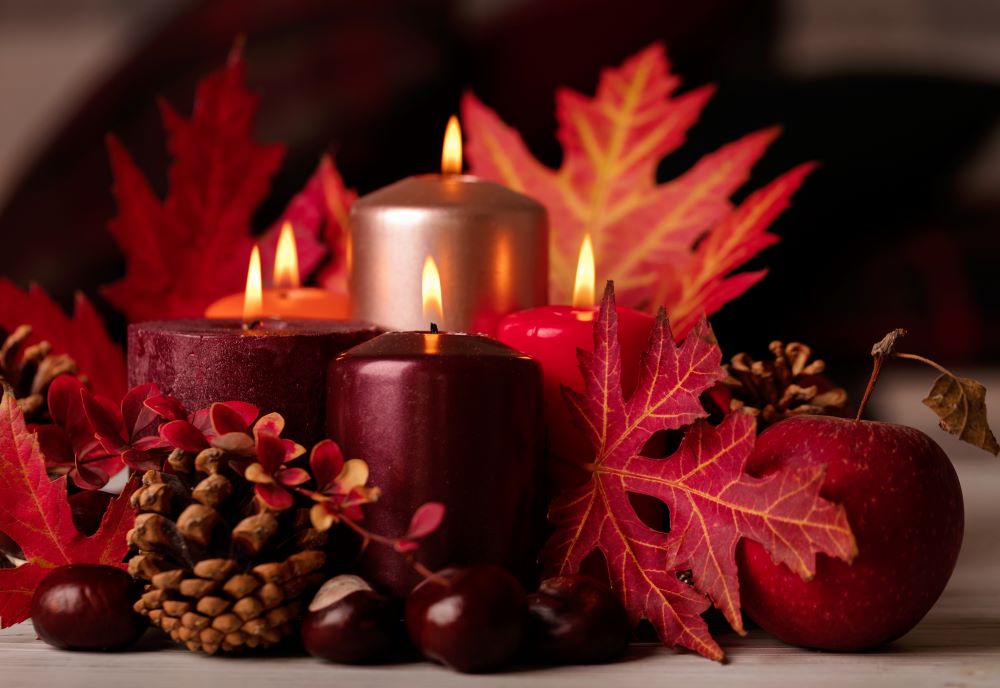 In addition to garlands, wreaths, and bouquets, another way to decorate with leaves for fall is to use them as a filler in other decor displays. Faux leaves make great filler because they can add that extra festive touch and extra color to any fall display. Whether you add them to a display you already created or if you set up a new display starting with the leaves, you can easily get a festive fall appearance in any area of your home. Check out some ideas below for how to use leaves in fall displays.
Ways To Use Leaves In Fall Displays
Fill a tray with faux leaves and display candles, pumpkins, and a fall sentiment sign.
Set up a arrangement of fall candles on an entryway table and stick faux leaves within the display. You can also add pinecones for an elevated look.
Spread faux leaves across a table runner on the dining table and then place decorative pumpkins on top.
Fill a vase with faux leaves and stick some faux fall flowers inside.
Set up a fall style tree (think a Christmas tree but harvest themed) and spread faux leaves on the floor surrounding it.
---
Now that you've checked out these 5 ways to decorate with leaves this fall, be sure to visit our Fall Harvest Decor section for even more inspiration! Find leaf garlands, pumpkin decor, string lights, and other harvest themed accents to fill your home with style this fall season.