5 Fall Soup Recipes To Keep You Warm This Season
The chilly weather of the fall season brings out cozy sweaters, blankets, hot drinks, and warm foods, all of which keep you comfortable and happy as the temperature drops.
Soup is one of the warmest foods and a common, traditional fall favorite. With so many varieties and combinations, there are endless soup recipes that can keep you feeling warm and cozy during the colder months.
Here are 5 fall soup recipes to help you stay warm and full this season.
---
Creamy Sweet Potato Soup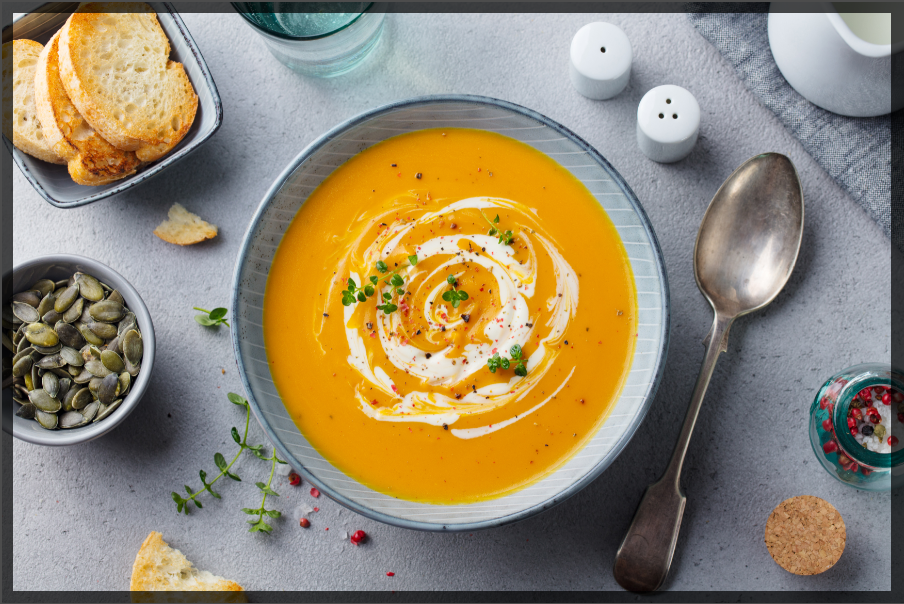 Sweet potatoes, yams, and squash are some of the staple fall vegetables that are included in many seasonal dishes. While squash soup has a very similar concept to this recipe, this soup is a little sweeter and has more unique flavorings.
This soup recipe requires a little extra prep time, but once everything is ready to go, the cooking process is fairly smooth and simple.
Ingredients
4 Large Sweet Potatoes
2 Tablespoons Butter
1 Medium Yellow Onion
2 Stalks of Celery
3 Garlic Cloves
1 Teaspoon Died Oregano
3/4 Teaspoon Ground Ginger
1/2 Teaspoon Ground Cumin
1/2 Teaspoon Salt
1/2 Teaspoon Ground Black Pepper
3 Cups Chicken or Vegetable Stock
14 Ounces Canned Coconut Milk
Additional Salt and Pepper
Directions
Step 1: Preheat the oven to 400 degrees. Prep your ingredients by finely chopping your onion and celery and cutting the sweet potatoes in half.
Step 2: Take your halved sweet potatoes and place them on a baking sheet on top of parchment paper. Brush the potatoes with cooking oil until they are fully coated.
Step 3: Bake the sweet potatoes for about 30 minutes. When they are done cooking, remove the skin from each of them. Then, mash them together in a bowl until smooth.
Step 4: Melt butter in a saucepan over medium heat. Once melted, toss in 1 cup of your chopped onions and 1/2 cup of your chopped celery. Let this combination cook for 5 minutes while occasionally stirring throughout.
Step 5: After 5 minutes, grate up your garlic cloves into your saucepan. Then add in your oregano, ginger, cumin, salt, and pepper. Stir and cook these ingredients for 1 minute.
Step 6: Turn the heat to low as you pour in the chicken or vegetable stock and coconut milk. Continue stirring.
Step 7: Finally, add in your mashed sweet potatoes. Carefully mixed them in until they are thoroughly combined. Season with salt and pepper.
Step 8: Serve and enjoy.
---
Loaded Baked Potato Soup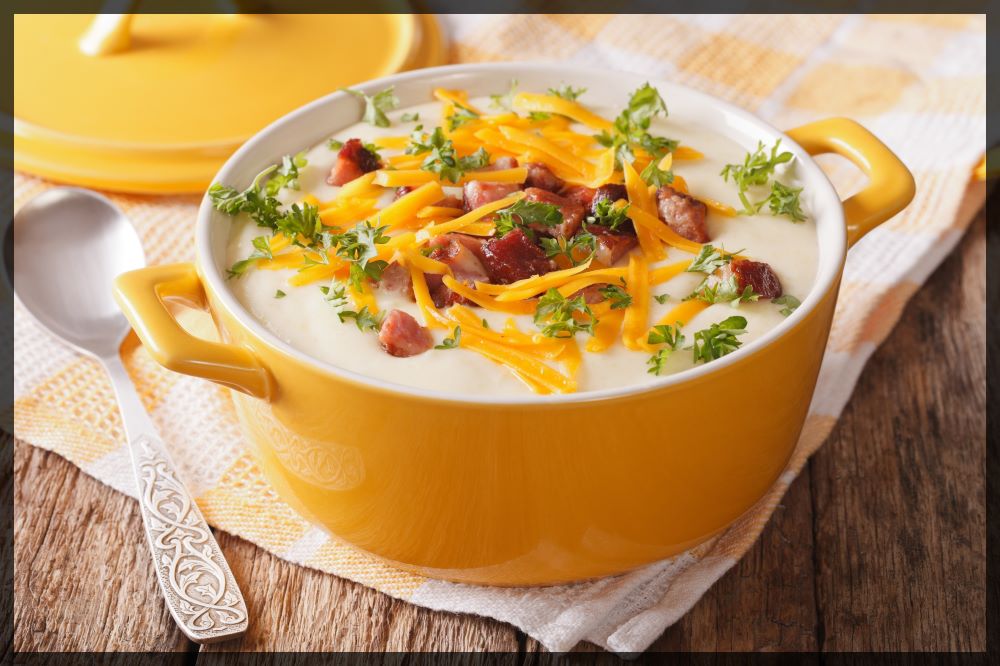 Creamy and hearty soups are enjoyed most in the cold months because of how filling and satiating they are. This loaded baked potato soup is packed with flavor and can be eaten as a full meal.
This fall soup recipe contains a mix of familiar ingredients that your family will love to eat at dinnertime.
Ingredients
4 Slices of Bacon
1 Cup Diced Yellow Onions
2 Teaspoons Minced Garlic
1 1/2 Pounds Russet Potatoes (peeled and diced into 1/2-inch cubes)
2 Sprigs Rosemary
3 Sprigs Thyme
3 Cups Unsalted Chicken Broth
1 Cup Milk
1 Teaspoon Kosher Salt
1 Tablespoon Chopped Chives
1 Package of Butter-Flavored Mashed Potato Mix
1/4 Cup Plain Greek Yogurt or Sour Cream
1 Bag Shredded Cheddar Cheese
Black Pepper
Directions
Step 1: Dice the bacon into small pieces and then cook in a large pot over medium to high heat. Cook and stir for about 6 minutes until crispy. Set the bacon aside for later.
Step 2: In the same pot over medium heat, pour in your diced onions and minced garlic. Cook for about 6 minutes while occasionally stirring. The onions should be tender.
Step 3: Turn the heat to high and stir in the potatoes, rosemary, thyme, chicken broth, milk, and salt.
Step 4: When the soup starts to boil up, place a boil-over lid on your pot and turn the heat down to medium-low. Let this sit and cook for about 10 minutes, then carefully remove the rosemary and thyme.
Step 5: Next, pour in the package of butter-flavored mashed potato mix and stir in thoroughly.
Step 6: Turn off the heat. Mix in the yogurt or sour cream, chives, and 1/4 cup of cheese. Add in salt and pepper if desired.
Step 7: Distribute the soup into individual bowls and top with yogurt or sour cream, bacon, chives, and cheese. Enjoy!
---
Creamy Roasted Mushroom Soup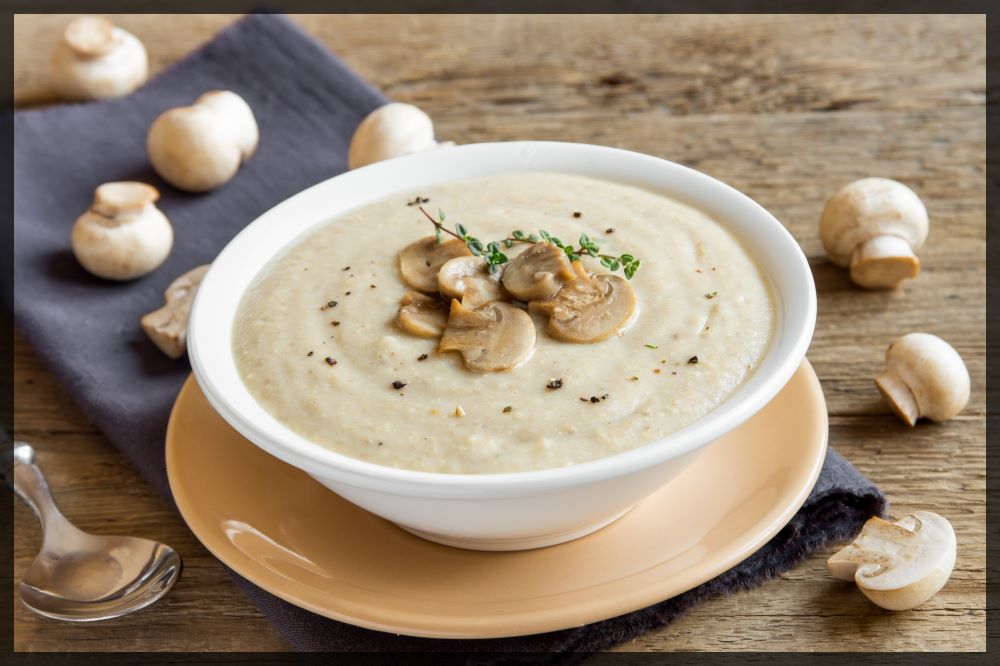 Another hearty dish, this creamy mushroom soup is perfect for a meal on its own, or it can be eaten in smaller bowls as an appetizer.
This soup will keep you warm and cozy as you watch the fall leaves blow in the breeze outside your window.
Ingredients
2 Pounds Cremini Mushrooms
4 Cloves Garlic (minced)
8 Thyme Sprigs
3 Tablespoons Unsalted Butter
1 Large Sweet Onion (diced)
1/4 Cup Flour
1/3 Cup Dry White Wine
5 Cups Chicken Stock
2 Bay Leaves
1/3 Cup Heavy Cream
Salt and Pepper
Directions
Step 1: Start by preheating the oven to 400 degrees.
Step 2: Line up the mushrooms on top of a baking sheet with parchment paper. Drizzle olive oil on top, along with half of the minced garlic, 4 sprigs of thyme, and salt and pepper. Mix them until evenly coated.
Step 3: Bake the mushrooms in the oven for about 20-30 minutes. Make sure you stir them halfway thorough the time. Then, chop them into small pieces and set aside for now.
Step 4: In large pot on medium heat, melt the butter. Stir in the diced onion and cook for about 10-15 minutes. Then, stir in the rest of the garlic for 1 additional minute.
Step 5: Mix in the flour for 1 minute. It should be lightly browned. Then, stir in the wine.
Step 6: Bring the soup to a boil after adding in chicken stock, bay leaves, and the rest of the thyme.
Step 7: Once the soup is boiling, turn the heat down and let it simmer for about 15 minutes.
Step 8: Pour in mushrooms and cook for 10-15 minutes, stirring occasionally. Then, turn off the heat and stir in the heavy cream.
Step 9: Serve and enjoy!
---
Slow Cooker Lemon Chicken And Rice Soup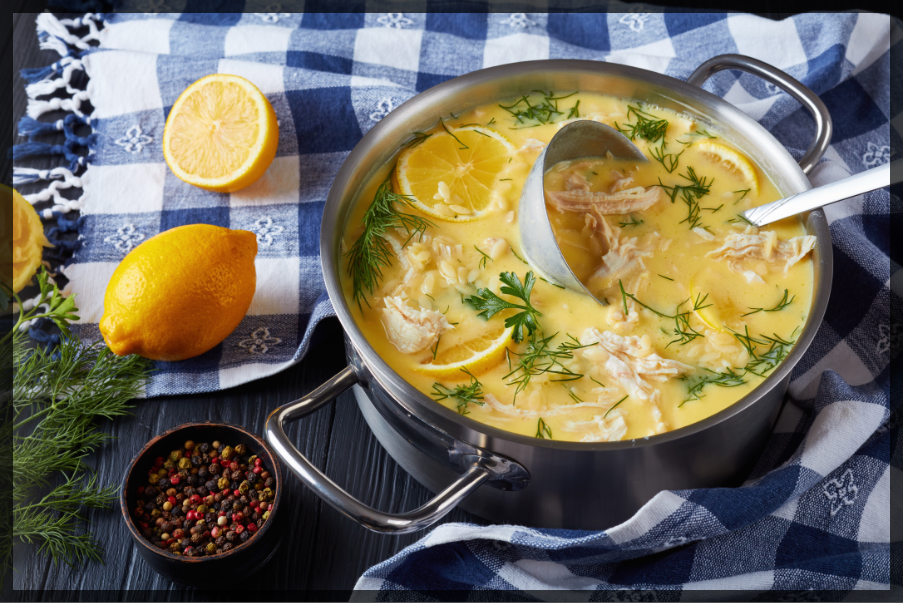 This soup is packed with protein to keep you full and is bursting with salty and tangy flavors to keep your taste buds happy. If you are a fan of a lighter tasting broth as opposed to a creamy one, this fall soup recipe is the one for you.
This slow cooker recipe is great if you are short on time because you can simply let it sit and cook while you go about your day. The cooker will make the chicken very tender and juicy as it soaks in the flavors of the broth.
Ingredients
2 Pounds Boneless Skinless Chicken Breasts (sliced into 1/2-inch pieces)
5 Cans Reduced-Sodium Chicken Broth
2 Large Carrots (finely chopped)
1 Small Onion (diced)
1 Medium Lemon (thinly sliced)
1/4 Cup Lemon Juice
1/2 Teaspoon Pepper
4 Cups Brown Rice (Cooked)
Directions
Step 1: Heat up 1 tablespoon of olive oil in a large skillet over medium-high heat.
Step 2: Add half of the sliced chicken to the skillet and cook until slightly browned. Pour the cooked chicken into the slow cooker. Pour more olive oil into the skillet and then repeat the same step with the rest of the chicken.
Step 3: Pour the chicken broth, lemon juice, carrots, and onions into the slow cooker and stir with the chicken. Then stir in the lemon slices and pepper.
Step 4: Cook in the slow cooker on low for about 4-5 hours.
Step 5: After the cooking time is up, add the rice and stir. Serve once the rice is heated throughout.
---
Creamy Tomato Soup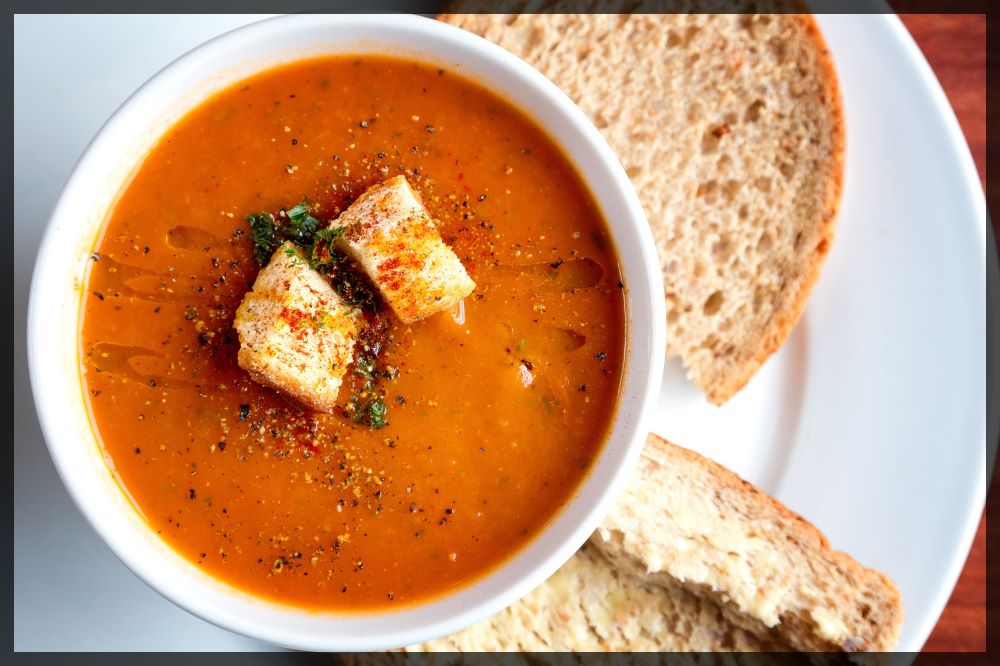 Traditional tomato soup is transformed for fall with this creamier version that still pairs well with a grilled cheese sandwich.
Simple seasonings give this soup just the right amount of rich flavors that make this an exciting side dish or appetizer for fall dinner parties, family lunches, or a warm snack any time of the day.
Ingredients
2 28-Ounce Cans Whole Peeled Tomatoes
1 Quart Chicken Broth
2 Tablespoons Minced Garlic
1 Cup Heavy Cream
1 Cup Grated Parmesan Cheese
Salt and Pepper
Croutons (Optional)
Directions
Step 1: Using either a blender or food processor, puree the tomatoes.
Step 2: In a large pot over medium heat, cook the tomatoes, chicken broth, and garlic until it comes to a boil. Then, reduce the heat and let it simmer for an additional 2-3 minutes.
Step 3: Bring it back up to a small boil after stirring in the heavy cream and Parmesan. Then, turn down the heat and let it cook for 15 more minutes.
Step 4: Carefully blend the soup in an immersion blender to get a smoother texture.
Step 5: Pour into individual bowls and top with cheese and croutons (if desired). Enjoy!
---
LTD Featured Product: Stoneware Soup & Side Bowls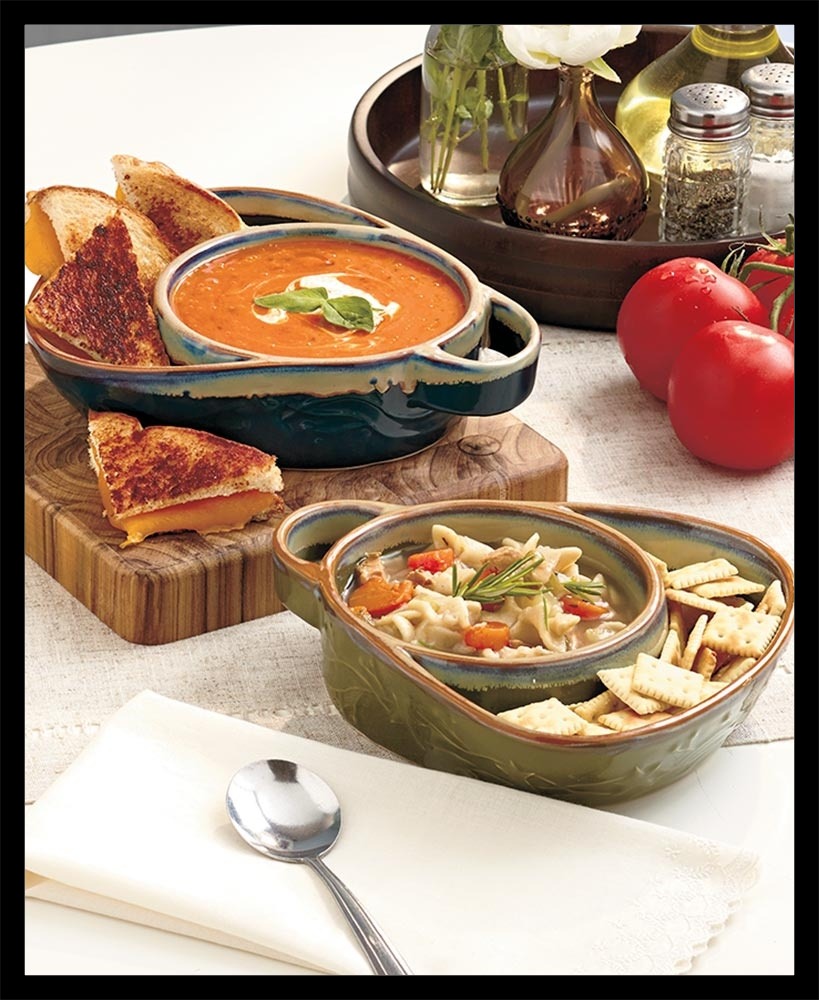 Now that you have a selection of fall soup recipes to make this season, it's time to get the ultimate fall aesthetic with these Stoneware Soup & Side Bowls. With dark fall colors and a rustic stone appearance, these bowls will fit in perfectly with your other fall decor.
These bowls are a clever and convenient way to serve soup and sandwiches, or soup and crackers. Its heavy-duty material and side handle makes it easy to carry over to your couch to eat while watching TV or a movie.
These are also microwave safe, which gives you a quick way to heat up your leftover soup. They are also dishwasher safe, providing you a fast and easy cleanup without the hassle of scrubbing.
---
These soups are enjoyable in the fall time but they can keep you warm all throughout the winter too! Looking for even more ways to keep warm during these upcoming months? Check out our Christmas 2019 catalog for inspiration.