How To Decorate Your Home With Country Cottage Style
The country cottage design style is a category of decorating that can easily be confused with other styles. This is due to the fact that it contains similar elements to other types of decor. However, country cottage style is a very unique way of decorating that can brighten up your home. Whether you're new to country cottage decorating and want to learn to design in this style, or you're already a country cottage decor expert and want to learn more from LTD about decorating your home, this guide will provide you with all the information that you need to get started!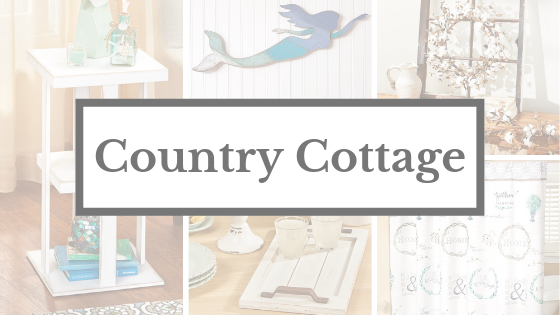 ---
What is Country Cottage Decor?
Country cottage decor is a design style that reflects relaxation and calmness. Through coastal themes and soft rustic elements, this style transforms a home into a gentle seaside oasis. The blue coastal color scheme and comforting materials give this design style a breezy and mellow aesthetic. Its touches of rustic provide an antique and vintage vibe.
The country cottage decor style can be achieved by filling a house with coastal accent pieces, soft rustic furniture, breezy curtains, teal porch decorations, and more. The characteristics and variations of country cottage decor allow for some flexibility in regards to personal preference and individual style.
---
Country Cottage Decor Characteristics
While country cottage decor as a whole has a soft and calming aesthetic, there are several characteristics that make this decorating style stand out from others.
Country cottage decor is defined by its colors, fabrics and materials, and more to masterfully turn your home into an authentic seaside cottage, no matter where you live.
Coastal Color Scheme
Coastal colors give country cottage decor that soft and calming appeal that makes a home feel relaxing and fresh.
With a blue and teal color scheme, country cottage decor get its color inspiration from the sea. It also tends to incorporate beige, brown, and other natural colors that are inspired by a sandy coast.
These coastal decor colors can be seen in country cottage wall art, window draping, and tabletop accent pieces.
Softly Faded and Rustic Materials
To maintain a charming and vintage element, a lot of country cottage decor show off a subtly faded and rustic appearance.
Unlike traditional rustic decor, country cottage decor has a rustic look that isn't as rough or intense. It uses smoother wood materials with a slightly faded or weathered effect. It also uses fabrics such as burlap to give an even softer and homey feel.
These textures and fabrics are best represented through pillows, blankets, wall hangings, decorative storage bins, and more.
Cleverly Crafted Storage-Based Decorations
Since country cottages are traditionally small and lack storage space, country cottage decor authentically includes clever storage pieces and shelving units that mix in with the rest of the decorations.
Country cottage decor features sleek storage decorations that match the rustic look with faded wood. These storage pieces hold various necessities but hide them enough to blend in and not appear unsightly.
As a bonus, you can even use the country cottage storage elements in a more decorative way, filling hanging shelves with various accent pieces that fit into the theme.
---
Variations on Country Cottage Decor Style
All country cottage decor contain touches of the same characteristics; however, there are multiple variations of this decor style that can fit into different themes.
These variations allow you to personalize the country cottage decor style based on your own vision and your own preferences.
Farmhouse Country Cottage Decor
Farmhouse country cottage decor mixes the cottage theme with farm-like symbols, patterns, and elements.
A unique spin on barn style decorating, this type of country cottage decor uses the coastal blue color scheme and rustic wood in combination with farm animal patterns and farm sentiments. While traditional farmhouse decor gives off a warm and welcoming feeling, this country cottage spin gives a cooler, more mellow vibe.
You can get the farmhouse country cottage decor style through farmhouse dishware, wall art, bathroom accessories, bedding, and more.
Vintage Country Cottage Decor
Country cottage decor as a whole has a fairly antique aesthetic; however, the vintage variation of this style takes it up a notch.
Vintage country cottage decor features many of the same coastal colors previously mentioned, but typically has a stronger rustic appearance to emphasize the old-fashioned vibes. It also has more elegant patterns and designs to give a small amount of that vintage decor charm.
Textured wooden plank walls can help to set the vintage country cottage scene. Tie in some classic and elegantly designed wall hangings and tabletop decor to make the look feel more complete.
Beach Country Cottage Decor
Since coastal colors and themes are an established part of country cottage decor, a beach theme flows in seamlessly with this style.
Beach country cottage decor contains the blue and teal coastal colors, along with whites and nudes. It features stand out symbols such as seahorses, seashells, mermaid accents, and more to maintain the beach aesthetic. It also continues the rustic theme through lightly distressed woods and metals.
White wooden plank or shiplap walls create the ultimate beach oasis among your other country cottage decor. Add in some tabletop and wall accents that feature coastal symbols to tie together the look. As a bonus, you can continue the theme on your front porch; beach country cottage pieces flow seamlessly as outdoor decorations.
---
Country Cottage Decorating Ideas From LTD
Now that all the elements, characteristics, and types are laid out, it's time to seek out your own, personalized country cottage decor ideas for your home!
Here is a selection of country cottage decor that may spark some inspiration for your living room, front yard, dining room, and more.
---
Looking for even more inspiration? Check out our full selection of Country Cottage decor to find unique accents, furniture, wall art, and more.