How To Decorate Your Home With Primitive Country Style
Primitive country decor is a term that doesn't always have a clear visual definition. The word "primitive" itself relates to something that is both historical and simple; this design style isn't too far off from that meaning. But there are many combinations of characteristics and design types that give primitive country decor this meaning. Whether you're new to primitive country decorating and want to embellish your home in this style, or you're already an expert in primitive country decor and want to learn more from LTD about decorating your home, this guide has all the information you will need!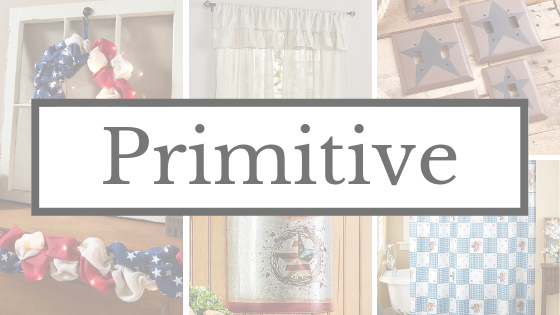 ---
What is Primitive Country Decor?
Primitive country decor is a simple design style that relies on rustic and vintage features to achieve an old-fashioned, historical, and colonial aesthetic. It emphasizes on Americana themes and country-inspired decor to provide a warm and comforting atmosphere in any room of a house.
The primitive country decor style can be seen in accent pieces, wall hangings, bedding, yard decor, and even certain types of furniture. There are many variations of this style that play around with visuals; however, the core values and original concepts remain the same throughout.
---
Primitive Country Decor Characteristics
Primitive country decor as a whole is an old-fashioned and historical design style; however, there are many characteristics that supplement this type of look.
Through themes, symbols, patterns, and colors, primitive country decor contains a variety of simple components that result in a unique and established appearance.
Americana Themed Accent Pieces
Since primitive country decor is a strong reflection of history and beginnings, it takes on an element of American pride as part of its historical charm.
The Americana decor theme includes symbols such as the American flag, stars, and stripes, along with the patriotic colors of red, white, and blue. These symbols and colors are tastefully tied into decorations in both obvious and subtle ways.
If you're looking for primitive country decor with an Americana theme and want to be overtly patriotic, seek out wall art that incorporates the American flag. If you are looking to have a simple Americana theme, choose decor that has small elements of the colors and stars, along with short Americana sentiments.
Warm-toned and Earthy Color Schemes
To maintain its natural and antique look, primitive country decor typically has Earthy color schemes with a selection of red, beige, brown, and other warm colors.
The combination of red and beige really amplifies the warm and comforting feeling of primitive country decor. This design style usually has such simple colors because it's meant to flow in naturally with the surrounding environment.
While you can use red and beige as the main colors of your primitive country decor, spice it up by adding in brown, along with wood-like textures and fabrics that coordinate well with your scheme.
Hearts, Stars, and Checkered Patterns
Much like traditional country decor, primitive country decor follows a theme with patterns, symbols, and designs. This brings out its charming appeal throughout different types of decorations.
The primitive country style mostly contains hearts and stars decorations, along with checkered and plaid patterns. These are often combined together on decorations, but they are also seen as standalone designs.
There are so many ways to include these symbols and patterns in your primitive country decor selection. From subtle tabletop accents to noteworthy curtains to unique bedspreads, you can easily set out these designs into every room of your house.
---
Variations On Primitive Country Style
Primitive country decor comes in many different forms and styles that contain similar features, yet stand out in defining ways through unique details and assets.
While you can add a primitive country element to a design style of your choosing, there are set combinations that work well together and blend together seamlessly.
Traditional Primitive Country Decor
Traditional primitive country decor combines the old-fashioned style with a homey and welcoming vibe.
Similar to traditional country decor, the primitive country decor includes common symbols, such as stars, to represent a western feel. It also contains a lot of brown colors, wood materials, and decorative patchwork fabrics.
To achieve the traditional primitive country style, start out with defining furniture pieces, such as wooden tables, rocking chairs, and benches. Add on accents such as metal and wooden lamps, country-themed wall art, and decorative tabletop pieces to complete the look.
Rustic Primitive Country Decor
Rustic primitive country decor is the most antique and historical type of primitive country decor due to its older appearance.
This style makes use of galvanized metal to get that rustic, distressed theme that brings a unique, old-fashioned charm to any room. The rustic primitive country style also contains decorations with tattered wood and unfinished stoneware to achieve a steady balance of a handmade and natural appearance.
The rustic primitive country style is best executed through smaller accent pieces such as lamps and tabletop decor. It's also best to take advantage of its usefulness through galvanized metal shelves, jars, and buckets to naturally incorporate the look into your home.
Modern Primitive Country Decor
Modern primitive country decor sounds like an oxymoron, yet the two contrasting elements pair well together. The primitive side provides a charming and familiar feeling, while the modern side gives off fresh and new feelings.
The modern primitive country style typically includes elegant symbols as opposed to stars and hearts, natural colors, simple sentiments and quotes, and chic design layouts. This style sticks with traditional primitive decor materials and fabrics such as burlap and galvanized metal.
To get the modern primitive country look, focus more on simplicity and less on charm. Small pieces such as tabletop decor and curtain tie-backs will provide the simple style in a classy way. Also tie in useful decorations like shelving units and decorative storage bins to subtly incorporate the primitive decor style into your modern home.
---
Primitive Country Decorating Ideas From LTD
Now that you have a strong idea of the styles and characteristics of primitive country decor, you can further clarify your personal primitive country decor style for your home!
Here is a selection of primitive country decor that can inspire you to develop a full primitive country theme in your kitchen, bathroom, living room, bedroom, and yard.
---
Seeking out even more decorating ideas? View our full assortment of Primitive Country Decor to gain inspiration for your entire house!