5 Spooky Food Ideas For Your Halloween Party
Halloween parties are typically filled with traditional party food such as frozen appetizers, chips and dip, pizza, candy, and desserts. But if you really want to impress your party guests and get them into the Halloween mood, putting in a little more effort and time can be well worth it.
There are many spooky and scary themed foods and treats that simply require some creativity to make the magic happen. These are especially fun to make if you are hosting a kids party; however, adults will appreciate and enjoy the themed food just as much.
Not sure where to begin? Here are 5 spooky food ideas you can make for your Halloween party.
Witch Finger Cookies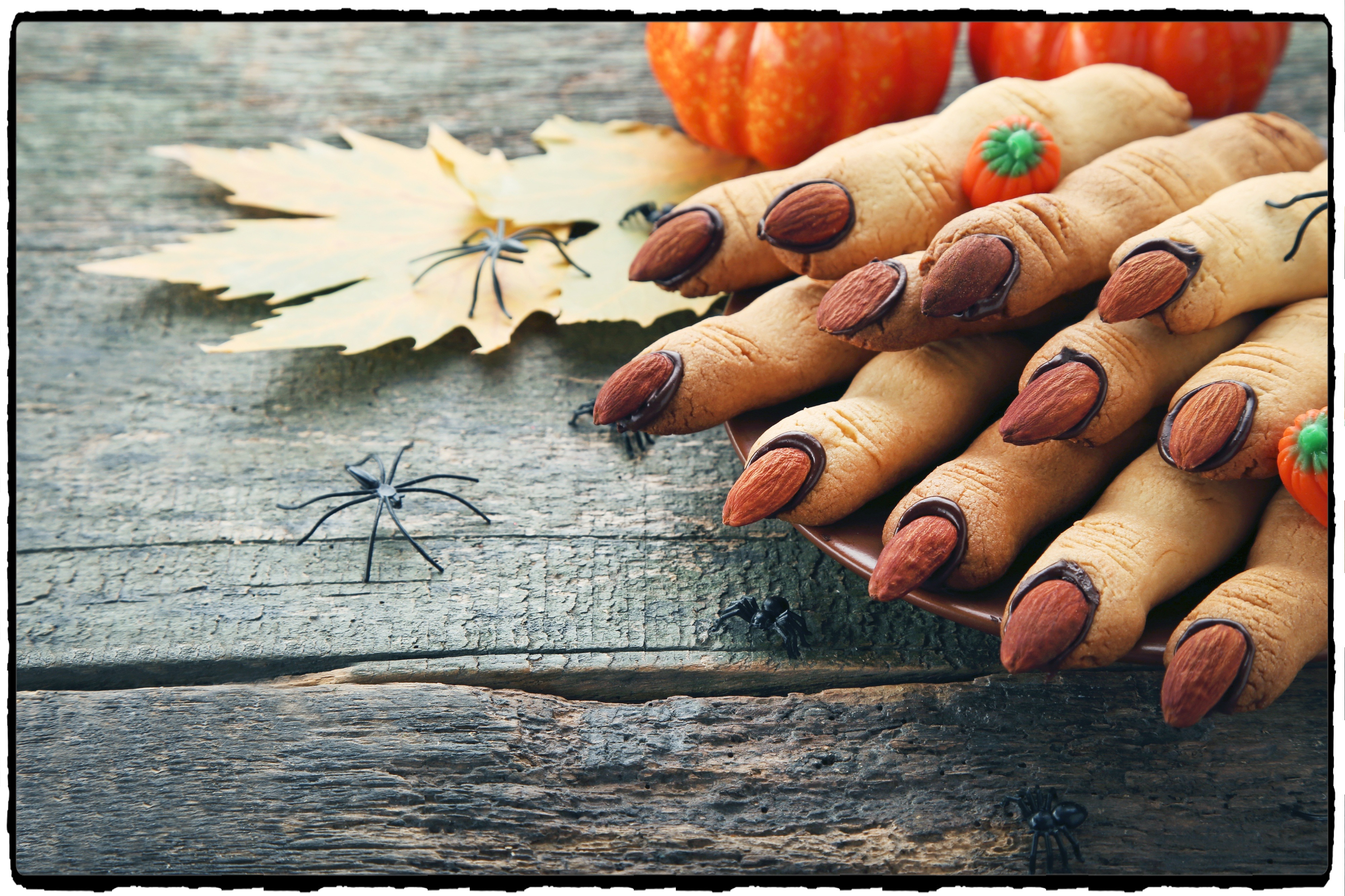 Witches are an important and traditional part of Halloween, so you don't want to leave them out of your party plans.
These witch finger cookies are equal parts creepy and delicious. They aren't scary enough to frighten the kids, but they are spooky enough to get everyone in the Halloween spirit.
---
Ingredients
2 Sticks Unsalted Butter
1 Cup Icing Sugar
1 Large Egg
1 Teaspoon Vanilla Extract
1/2 Teaspoon Almond Extract
3 Cups Flour
1 Teaspoon Salt
1/4 Teaspoon Baking Powder
3/4 Cup Almonds
Ground Cinnamon
Chocolate Icing
Directions
Step 1: Using an electric mixer, whisk together the butter and icing sugar in a large mixing bowl.
Step 2: Once the butter and icing sugar is mixed, add in the egg, vanilla extract, and almond extract. Whisk together until thoroughly mixed.
Step 3: In the same bowl, sift in flour, salt, and baking powder. Continuously fold the ingredients in until you reach a dough-like consistency. Place the dough in the fridge for about 30 minutes. Note: make sure you cover the dough before putting it in the fridge.
Step 4: Once 30 minutes has passed, it is time to lay your dough out on baking sheets on top of parchment paper.
Step 5: Roll up log shapes using 1/2 tablespoon of dough for each cookie. Lay these out, evenly spaced, on your baking sheets.
Step 6: Press and mold the logs until you get crooked, creepy finger shapes. Place an almond into each cookie to represent the fingernails and then create lines to represent knuckle indentations (you can use a knife to do this).
Step 7: Place the baking sheets into the freezer for about 20 minutes before moving on to the next step.
Step 8: After preheating the oven to 375 degrees, bake the cookies for 10 minutes. Note: you will know they are done when the turn a golden color.
Step 9: Once the cookies have cooled off, it's time to decorate. Rub a little cinnamon onto the cookies to represent dirt. Then, carefully spread chocolate icing around the almond fingernails. Note: you can also use red colored icing to represent blood.
Step 10: Enjoy your creepy cookies!
---
Ghoul Punch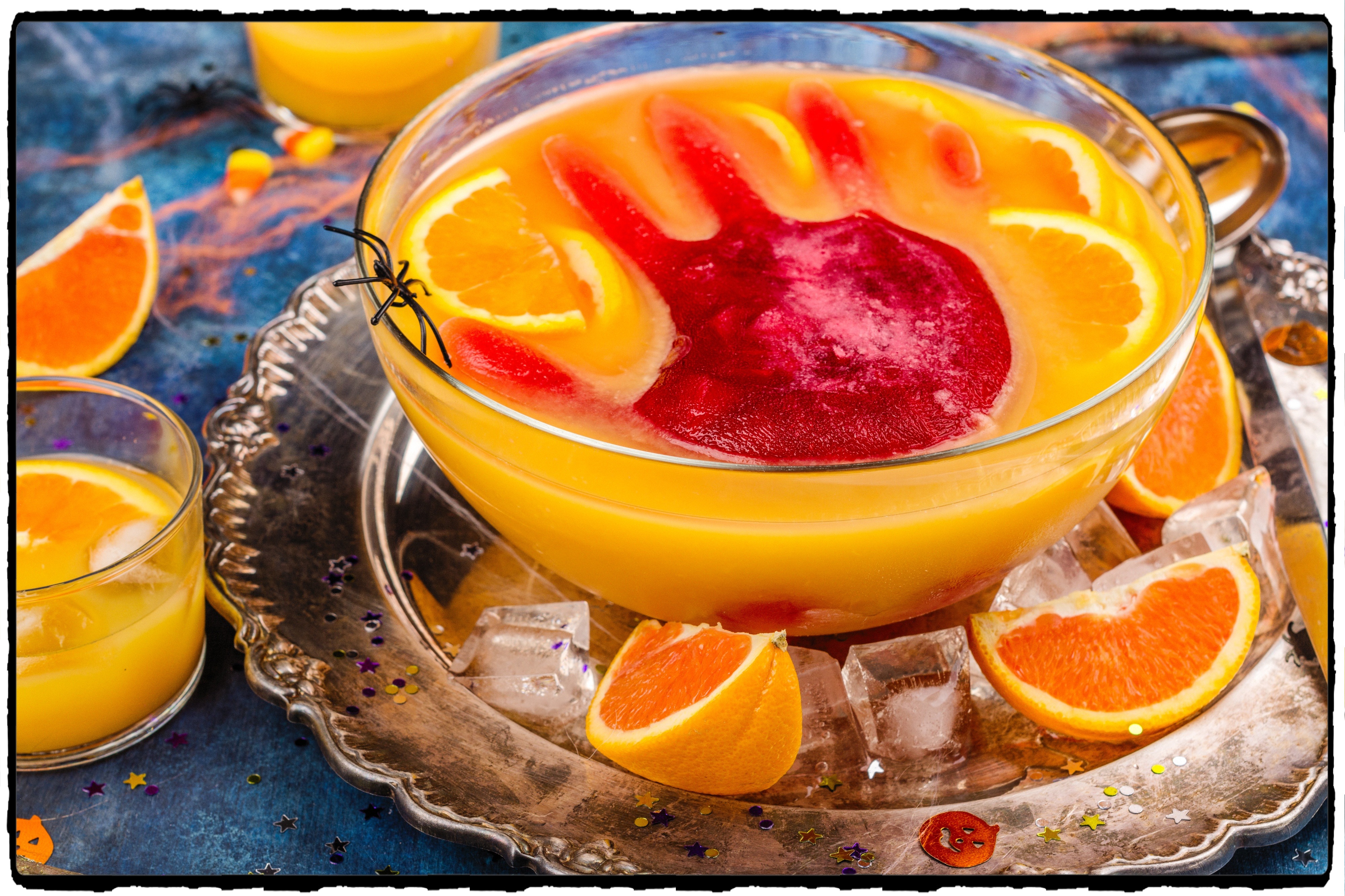 No Halloween party would be complete without a tasty, fruity, and refreshing punch that everyone can enjoy, even the kids!
This drink is both festive and fun, with some elements of spookiness that add to the vibe of your party. The best part is that this punch is very simple to make but the result looks like you put a lot of time and effort in.
---
Ingredients
12 Gummy Spiders
1 Vinyl Glove
Red Food Coloring
1 Gallon Sunny D or Orange Juice
2 Liters Sprite or Sierra Mist
1 Quart Raspberry Sherbet
Directions
Step 1: Take an ice cube tray and place a gummy spider in each section. Fill each section with water and place in the freezer.
Step 2: Fill your vinyl glove with water and red food coloring, tie the end, and place in the freezer.
Step 3: In a large bowl, mix together the Sunny D (or orange juice) and Sprite (or Sierra Mist).
Step 4: Place the sherbet and spider ice cubes into the punch bowl.
Step 5: Carefully rip the glove away from the ice and place your ice shaped hand into the punch.
Step 6: Serve right away!
---
Mummy Hot Dogs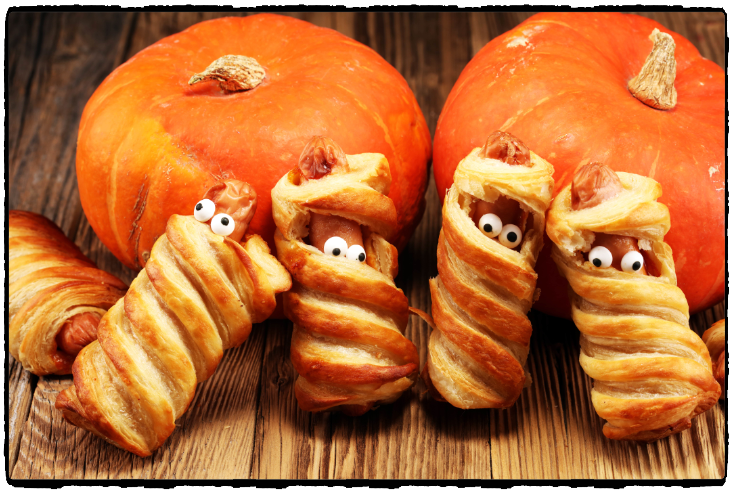 If you're looking for a more savory food for your Halloween party, this recipe is filling and fits the theme very well.
The mummy hot dogs are a Halloween spin on the traditional pigs in a blanket. These cute and tasty mummies are perfect to serve as an appetizer at your party for all to enjoy.
---
Ingredients
1 Package Crescent Rolls
8 Hot Dogs
Mustard
Edible Googly Eyes (optional)
Directions
Step 1: Preheat the oven to 350 degrees.
Step 2: Make 4 rectangle shapes out of the crescent roll dough. Make sure the dough is pressed together to hold the shape.
Step 3: Cut the up the rectangles into 1/8-inch strips. Note: no need to measure the strips; use your best visual judgement.
Step 4: Wrap each strip around a hot dog to represent the wrapping on a mummy. Make sure you leave a little room on the top for the mummy eyes (which you'll place on later).
Step 5: Place on a pan and bake for 14 to 16 minutes. Note: you'll know when they're done when the outside is golden in color.
Step 6: If you have edible googly eyes, you can place them on the hot dogs. If you don't have them, dip a toothpick in mustard and make two dots on each hot dog to represent eyes.
Step 7: Time to eat!
---
Raspberry Jam "Bloody" White Cake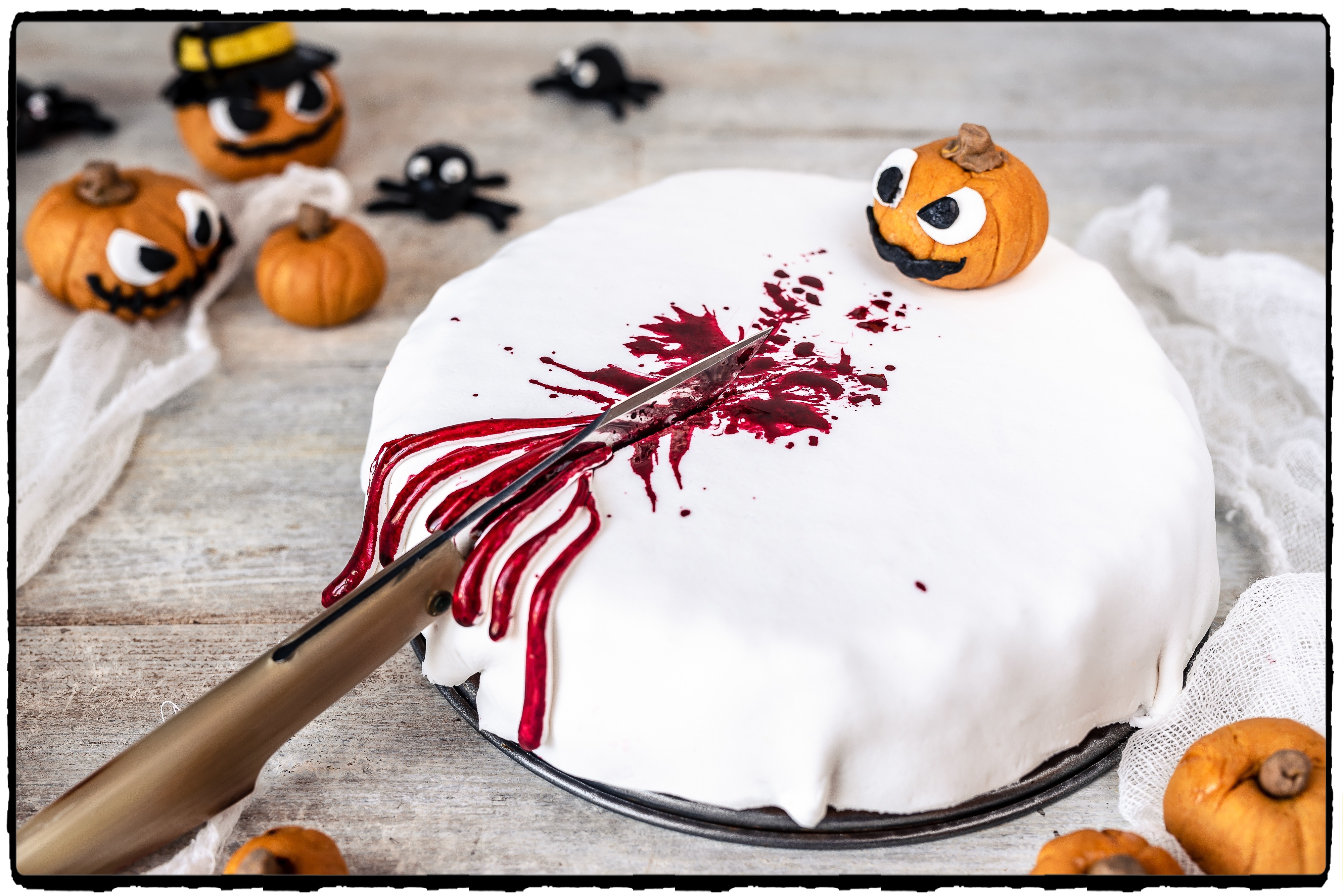 If you are looking for a more advanced recipe to try, this cake just requires time, patience, and measuring skills.
This "bloody" cake is a great dessert for a large Halloween party that both adults and kids will enjoy. While this recipe takes some time to make, it will result in a delectable and sugary cake that looks freakishly cool and tastes great.
---
Ingredients
White Cake:
1 Cup Unsalted Butter
2 Cups Sugar
3 1/2 Cups Cake Flour
2 Teaspoons Baking Powder
1 Teaspoon Baking Soda
1 Teaspoon Salt
6 Large Egg Whites
2 Teaspoons Vanilla Extract
1 1/4 Cups Whole Milk
1 1/4 Cups Raspberry Jam
Red Velvet Ganache:
3/4 Cups Heavy Cream
1/2 lb White Chocolate
1 Tablespoon Red Food Coloring
Vanilla Bean Buttercream:
1 Cup Unsalted Butter
3 1/2 – 4 Cups Powdered Sugar
1 Teaspoon Vanilla Extract
3 Tablespoons Heavy Cream
Directions
Step 1: Preheat the oven to 350 degrees. While it's preheating, prepare three 9-inch baking pans with cooking spray and flour.
Step 2: Using an electric mixer, blend 1 cup of butter and 2 cups of sugar until thoroughly mixed.
Step 3: Place the butter and sugar mixture aside. In another bowl, pour in the 3 1/2 cups cake flour, 2 teaspoons baking powder, 1 teaspoon baking soda, and 1 teaspoon salt. Whisk together until blended.
Step 4: Take your butter and sugar mixture and beat the 6 large egg whites into the bowl. Make sure you add in the egg whites one at a time.
Step 5: Add 2 teaspoons vanilla extract to the mixture. Gradually dump the flour mixture in, along with 1 1/4 cups whole milk. Mix until it's a smooth texture.
Step 6: Pour the cake batter into each of the cake pans and bake in the oven for 20-25 minutes. When they are done baking and have cooled off, wrap them in plastic wrap and leave them in the freezer for about 2 hours.
Step 7: While your cakes are still in the freezer, make your red velvet ganache. Steam up 3/4 cups heavy cream on a saucepan. Then, stir and melt 1/2 lb white chocolate into the pan. Once melted, mix in 1 tablespoon of red food coloring. Set aside this mixture.
Step 8: Now it's time to make the frosting. Using your mixer, blend 1 cup unsalted butter. Once the butter is a smooth consistency, gradually add 3 1/2 – 4 cups powdered sugar. Once mixed, add in 1 teaspoon vanilla extract and 3 tablespoons heavy cream. Beat together until smooth.
Step 9: Using a piping bag, pipe the frosting onto the outer edge of two of the cake layers, and spread the raspberry jam into the center of each. Carefully place these two cakes on top of each other.
Step 10: Place your third cake layer on top and cover the whole outside with the rest of the frosting.
Step 11: Distribute the red velvet ganache on top of your cake in a splattered pattern to represent blood.
---
Spooky Spider Deviled Eggs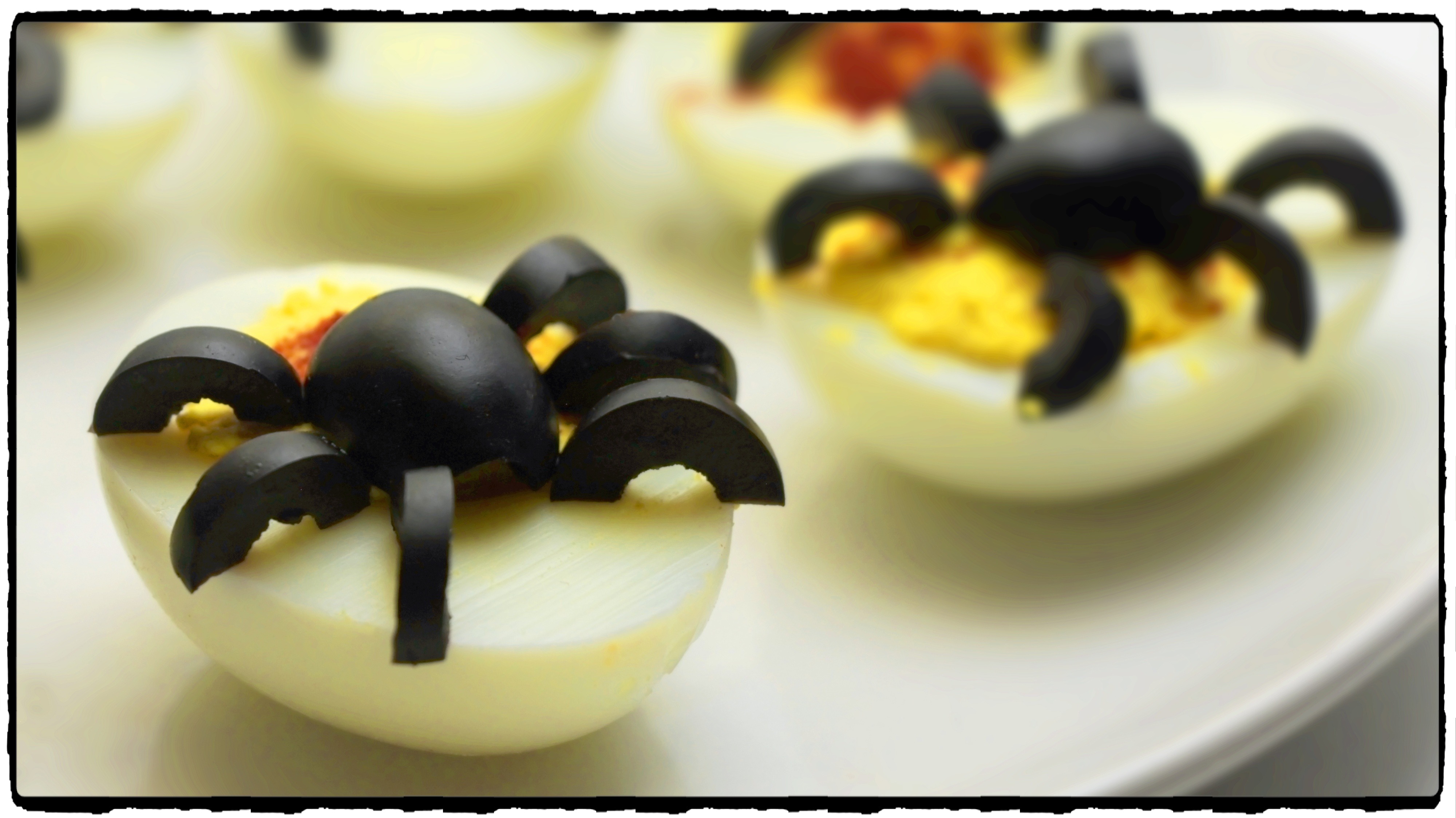 These spider deviled eggs are sure to be a delicious hit at your Halloween party and are an easy appetizer to grab and eat.
While spiders are typically creepy, these eggs make them look cute and delightful. These are very easy to make and will look very festive displayed on a large platter at your Halloween party buffet.
---
Ingredients
12 Black Olives
6 Hard-Boiled Eggs
3 Tablespoons Mayonnaise
1/2 Teaspoon Ground Mustard
1/8 Teaspoon Salt
1/8 Teaspoon Pepper
Directions
Step 1: Crack the shells off all of the hard-boiled eggs and cut them in half, lengthwise.
Step 2: Remove each of the yolks with a spoon and mash them together in a bowl.
Step 3: In the same bowl, mix in the mayonnaise, mustard, salt, and pepper. Once thoroughly mixed, spoon even portions back into the eggs.
Step 4: Cut each olive in half. Place one olive half in the center of each of your eggs.
Step 5: Cut your remaining olive halves into thin slices to represent the legs of the spiders. Place the slices evenly onto the eggs.
Step 6: Serve and enjoy!
---
Now that you have recipes to make, it's time to decorate accordingly for your Halloween party! Check out our selection of Halloween decor and more in our August Catalog.