7 Unexpected Ways To Decorate Your Home With Pumpkins
When it comes to decorating your home for fall, pumpkins are the one type of item that is usually included in your harvest vision. However, it can sometimes be a challenge to find creative ways to decorate with pumpkins.
Aside from placing your carved pumpkins outside on your porch, you may be wondering how to incorporate this autumn squash inside your home.
There are many unique ways to decorate your home with pumpkins; you just have to think outside the box and use a combination of other fall decorations.
Here are 7 unexpected ways to decorate your home with pumpkins this autumn.
---
1. Place Pumpkins On Top Of Candlesticks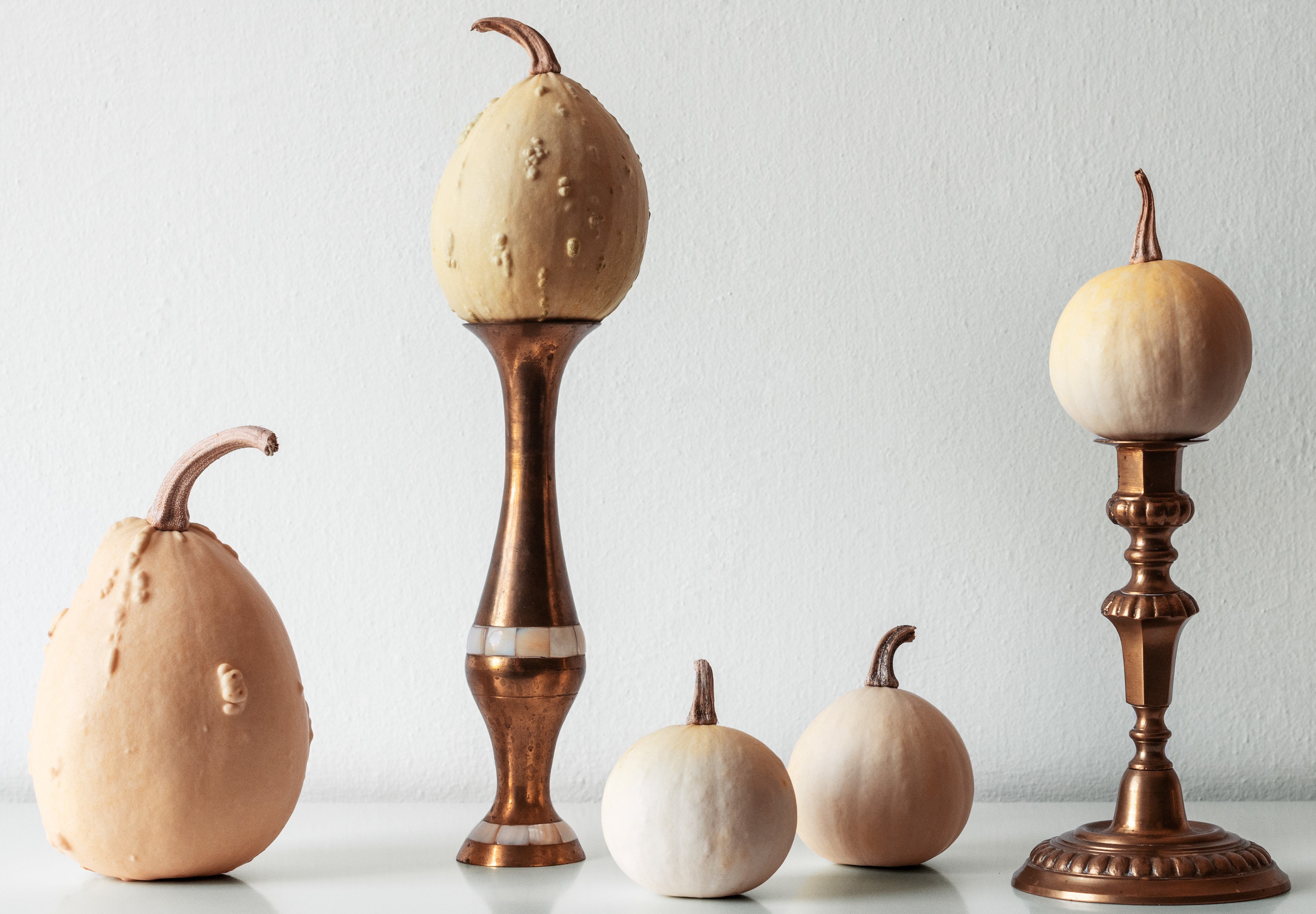 While you can light pumpkin spice candles to set the fall mood, or light up your room in the nighttime with warm comforting flames, this unexpected pumpkin decoration puts a whole new spin on candles.
Place pumpkins on top of candlesticks to get a unique and sophisticated setting. These candlestick decorations can sit on a table in your foyer, on top of your mantel, or in the middle of your dining table.
You have the option of using real or fake pumpkins, depending on your personal preference. You can also play around with white and colored pumpkins, painted and patterned pumpkins, and various types of squash.
This is a unique way to display pumpkins in your home while keeping a classy and elegant atmosphere that you desire.
---
Check Out Our Selection of Candles & Candle Holders!
---
2. Use Pumpkins As Place Settings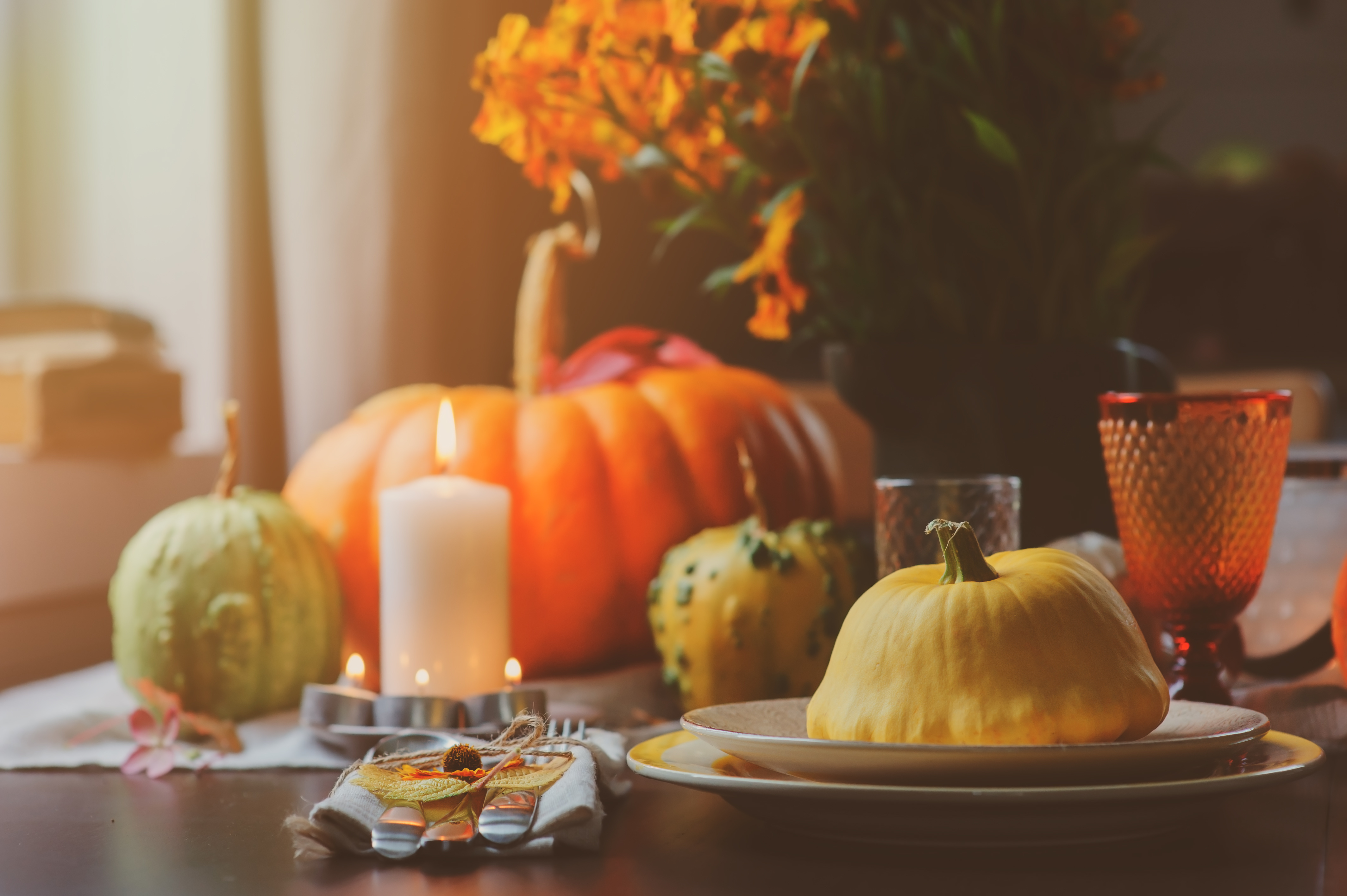 When you think of pumpkins on a plate or in a bowl, you typically think of pumpkin pie or soup. But this unexpected pumpkin decoration idea will brighten up your home and welcome you to the table for mealtime.
Include real or fake pumpkins on your table setting by putting them on plates or napkins. Coordinate these pumpkins with other decorations that you put on your table, such as centerpieces.
Optionally, you can also use pumpkins as name place tags during big holiday dinners. Simply tie a string to the stem and attach a paper name tag to the end of the string.
You can leave your dining table set up this way throughout the season, even when you don't have dinner parties. It will give your house some festive cheer.
---
Check Out Our Selection of Dinnerware & Serveware!
---
3. Line Pumpkins Up Your Staircase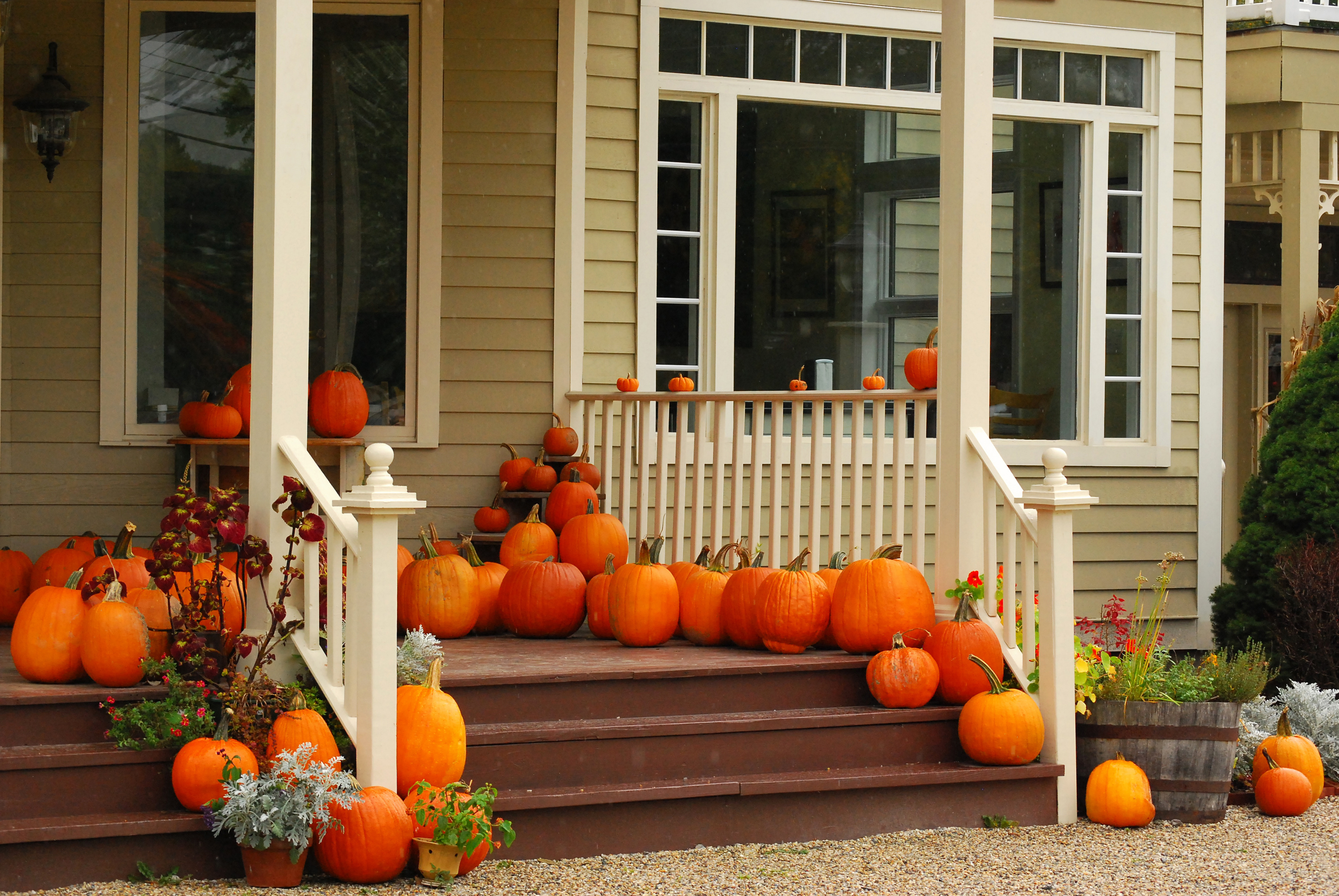 If you want an easy way to decorate your front porch in the fall time, this pumpkin loaded idea will fill your porch with autumnal bliss.
Line your front steps with real or fake pumpkins to provide a harvest welcome to your guests as they walk to your door. If you want to mix it up, use various patterned pumpkins, different textured pumpkins, and colored pumpkins.
If you don't have steps outside, take this idea indoors by placing pumpkins on the steps leading upstairs.
Staggering the pumpkins on your steps will create a different way to decorate your house. This will provide a visually pleasing aesthetic and give you the perfect fall look.
---
Check Out Our Selection of Outdoor Decor!
---
4. Stack Up Pumpkins Inside Your Fireplace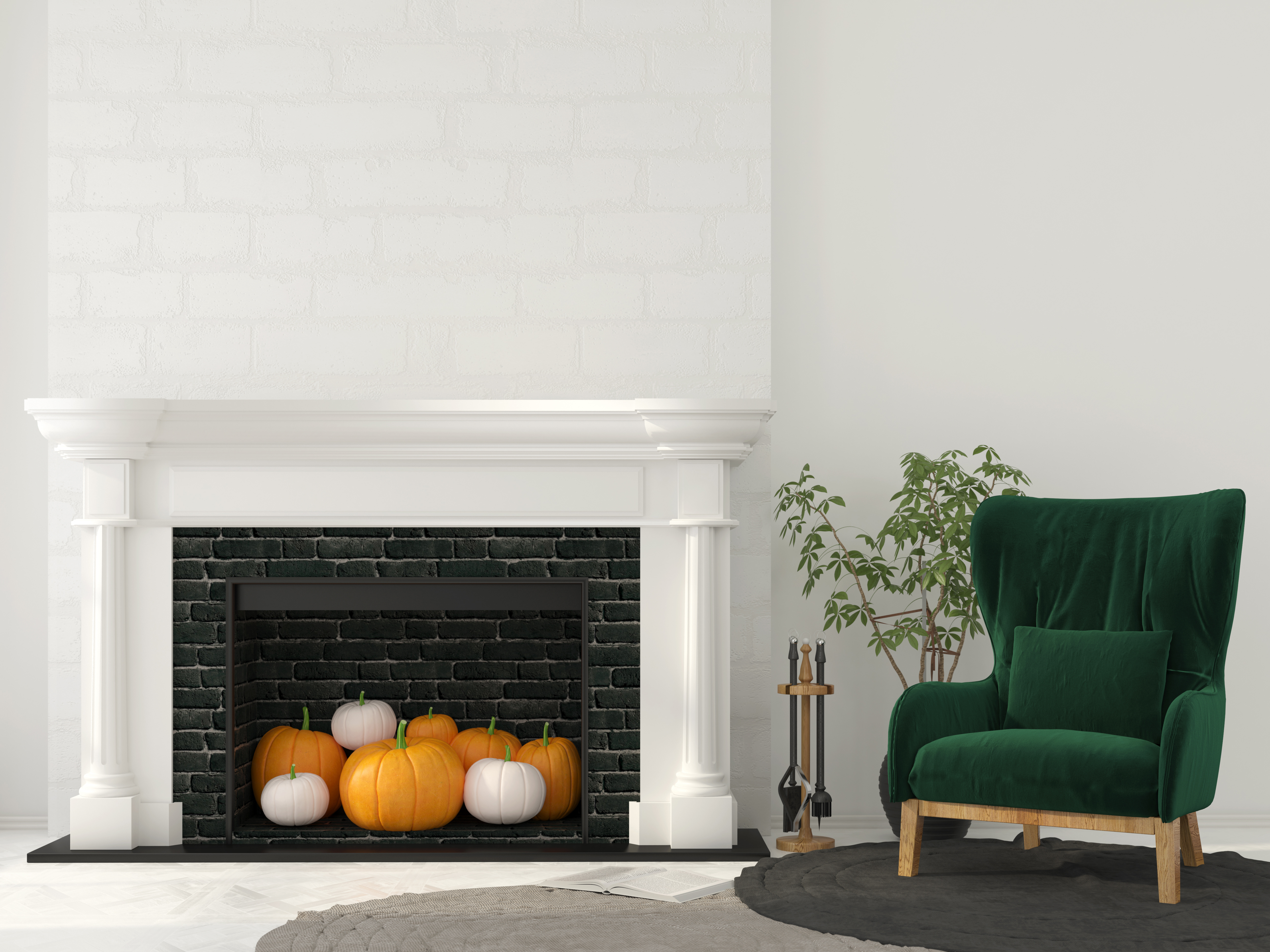 If you're looking for new ways to decorate with pumpkins but you are unsure of how to style your home with this fall squash, this idea is a great place to start.
If you have a fireplace that you rarely use, set it up as a display area for all your pumpkins.
You can place one single pumpkin in your fireplace, or you can pile and stack up a collection of them. The fire place creates a unique outline that frames the pumpkins like a picture.
For extra flair, put even more pumpkins on the mantel above the fireplace. This will transform your space into a magical pumpkin wonderland.
---
Check Out Our Selection of Decorative Accents!
---
5. Use Pumpkins As A Centerpiece On Your Dining Table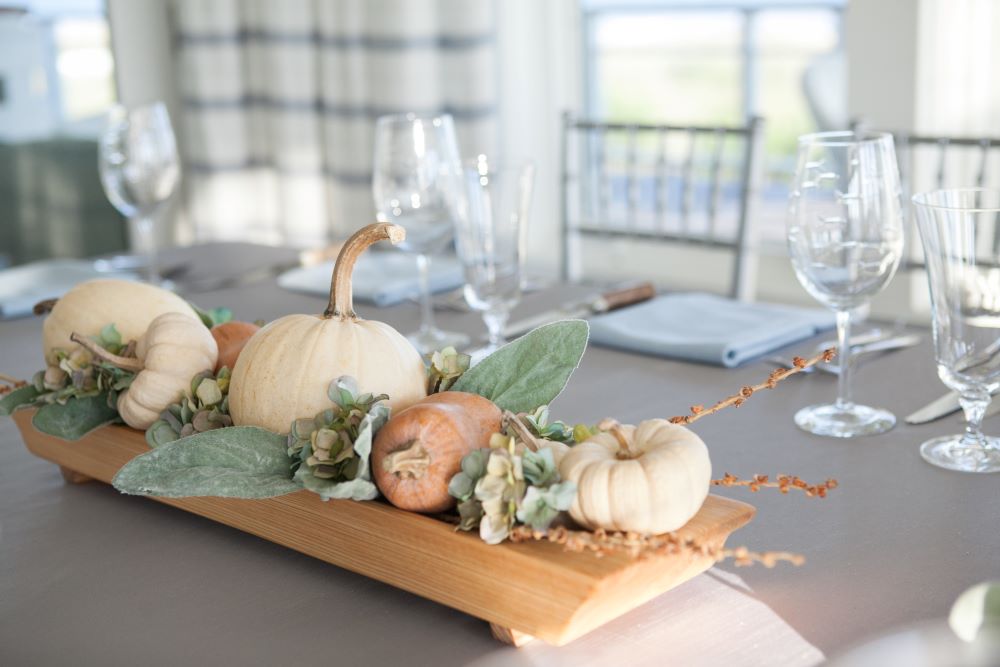 Holiday and fall family dinners are some of the most memorable and festive, so it only makes sense to decorate your table with pumpkins galore.
Start by establishing a centerpiece for your table based on your dining room's color scheme and aesthetic. If your theme is mostly farmhouse country decor, you will want to go with a rustic wooden look.
An easy way to approach a pumpkin centerpiece is to set up a tray and build up from there. Place decorative pumpkins, flowers, and other greenery on top of the tray. For a large and long table, you may want to have more than one centerpiece. You can even mix fall foliage into your pumpkin display; there are many ways to decorate with leaves this fall as well.
Play around with different types of trays, crates, plates, and other types of display pieces that you can put pumpkins on. Find a style that works best for you.
---
Check Out Our Selection of Kitchen & Table Linens!
---
6. Place Pumpkins In Random Containers Around Your Home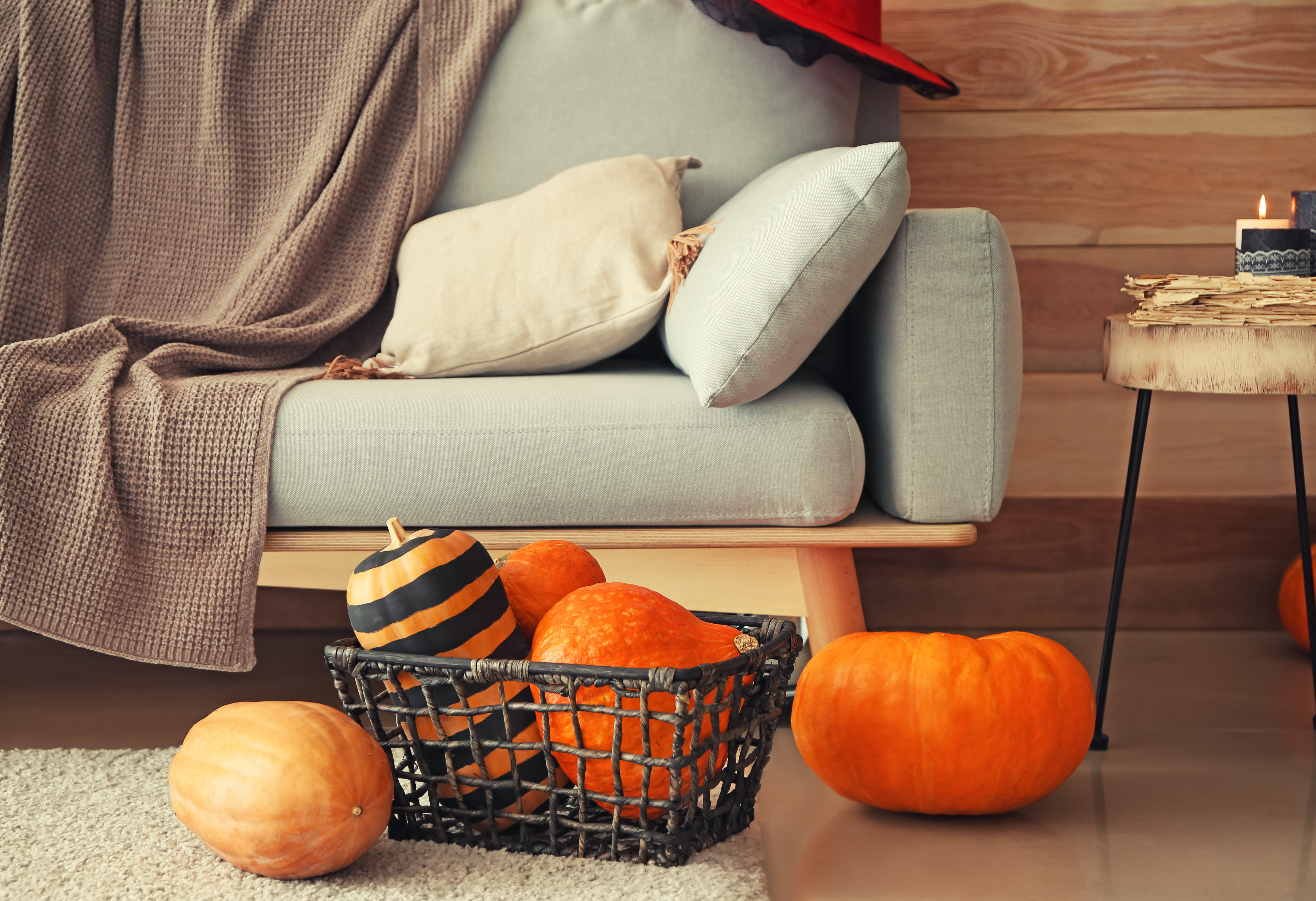 This unexpected way to decorate with pumpkins gives you a more casual way to showcase your love of fall.
If you want to incorporate pumpkins in specific rooms of your house but you have limited counter space, you can display them on the ground in a strategic fashion.
Load up random containers, baskets, or buckets with pumpkins and place them in random areas of your home. This will provide an organized, yet interesting addition to any room.
To make it even more festive, throw in some fall foliage in between the pumpkins for a woodsy, nature effect.
---
Check Out Our Selection of Storage Solutions!
---
7. Arrange Pumpkins On A Decorative Ladder Or Shelf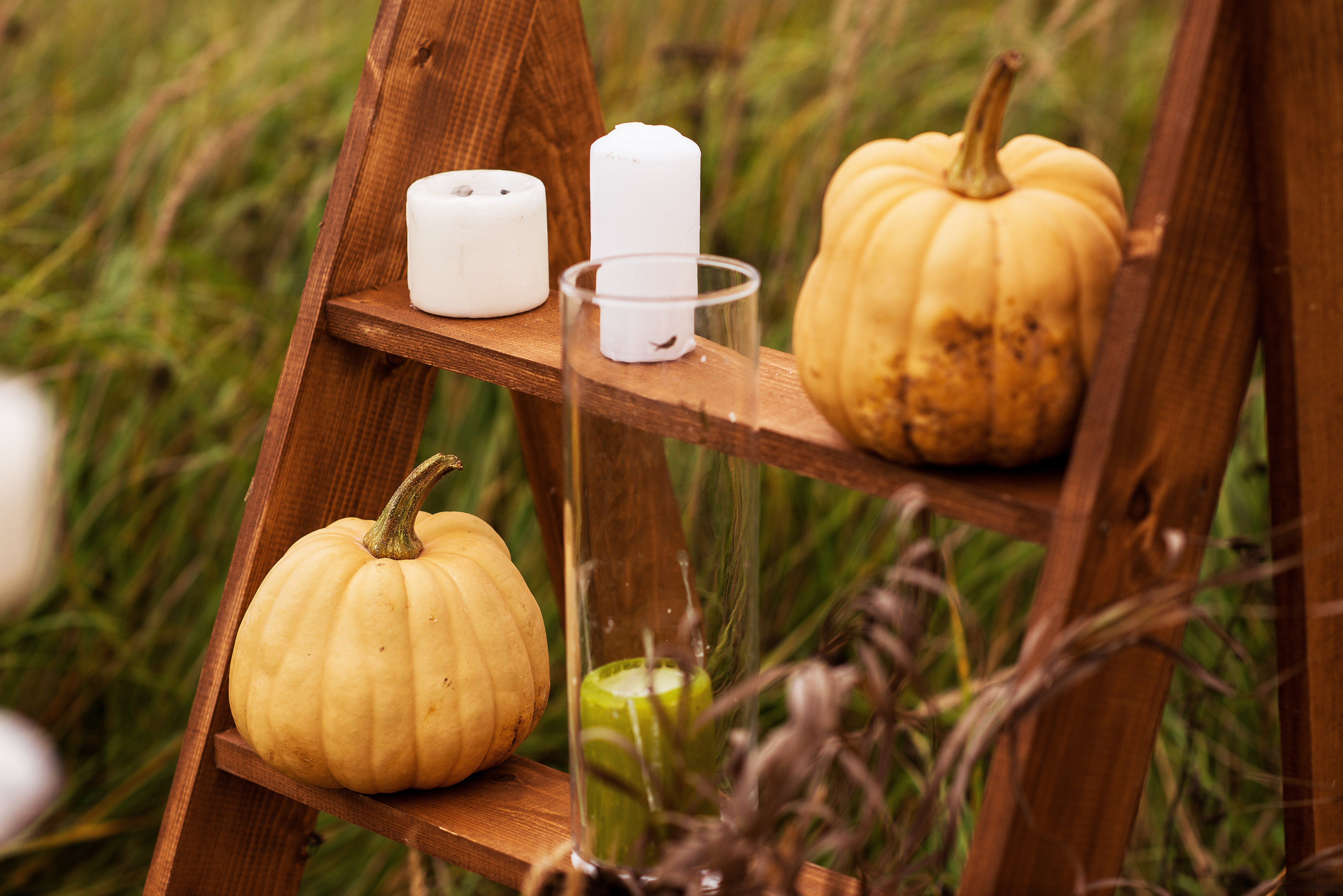 Take your pumpkin decorating skills to multiple levels with this outside of the box idea.
Arrange and stagger pumpkins on a decorative ladder or unique shelf for an unexpected and eye-catching way to show off all your bright pumpkins.
Place candles on the steps or shelves next to the pumpkins, along with any other small fall decorations you desire. This will make it appear more full and complete.
If you are using a ladder, it can be placed indoors or it can go outside next to your other outdoor fall decorations.
---
Check Out Our Selection of Shelves & Cabinets!
---