7 Apple-Infused Cocktails To Make This Fall
Fall is filled with so many loud flavors including pumpkin, cinnamon, nutmeg, and ginger, but the true standout of the season is apple.
Due to their tart, sweet taste, along with their juicy texture, apples make the perfect base for such a large variety of cocktails. They also happen to combine wonderfully with the aforementioned flavors. These combinations will truly transport you into a crisp fall wonderland.
Whether you're having a dinner party, a casual gathering with friends, or a relaxing evening alone, here are 7 apple-infused cocktails for you to try this fall.
---
Green Apple Ginger Martini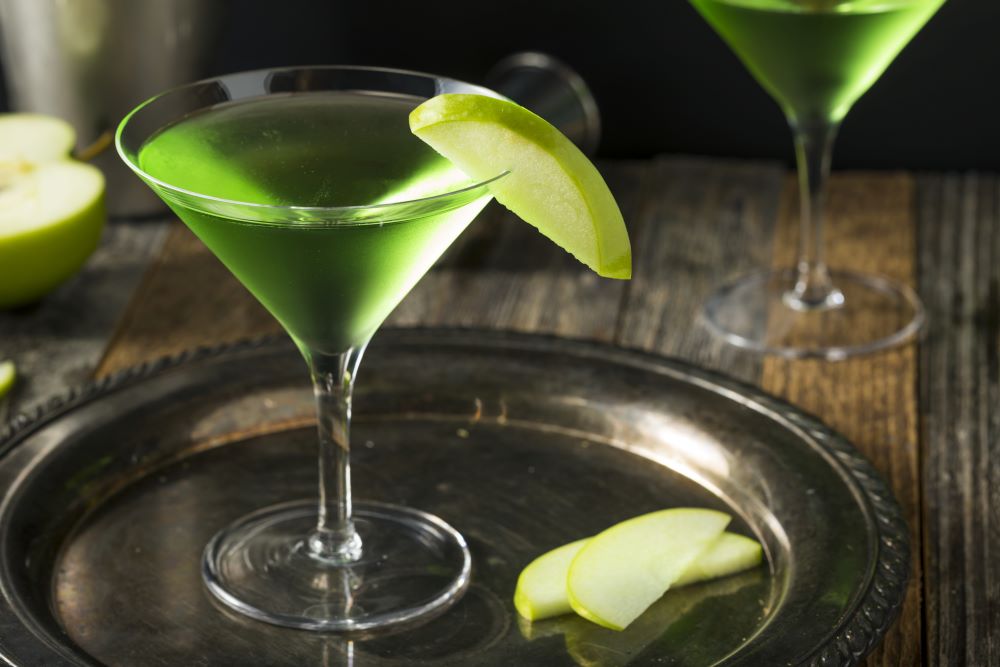 An interesting spin on the classic apple martini, this green concoction will be a cocktail hour hit at your dinner parties this season.
With the spicy essence of ginger and the sweet tang of green apples, this martini is sure to put you in a warm and fresh fall mood.
This is an easy cocktail to make, even for the novice bartender. If you're making this for a group, just be sure to give yourself a sufficient amount of prep time before your guests arrive.
Ingredients
1/2 Cup Vodka
1-Inch Piece of Fresh Ginger (peeled and grated)
1 Large Green Apple (cored and sliced)
1/4 Cup Filtered Water
1 Large Lime (juiced)
1 Tablespoon Maple Syrup
Extra Apple Slices for Garnish
Directions
Step 1: Pour the vodka over the grated ginger into a mason jar. Lightly shake to mix together. Leave this mixture to infuse for about 2 hours. Note: the longer you let it infuse, the stronger the ginger flavor will be.
Step 2: After waiting the allotted time, strain the vodka and set it to the side for later.
Step 3: Combine your apple slices, filtered water, and lime juice in a blender on high until you reach a smooth texture.
Step 4: Strain your apple mixture through a fine mesh strainer to separate the juice from the pulp.
Step 5: Using a cocktail shaker, shake up the apple mixture, the vodka, maple syrup, and ice. Note: you will know when it's done when the shaker turns frosty on the outside.
Step 6: Strain the drink into martini glasses with apple slices to serve.
---
Apple Cider Sangria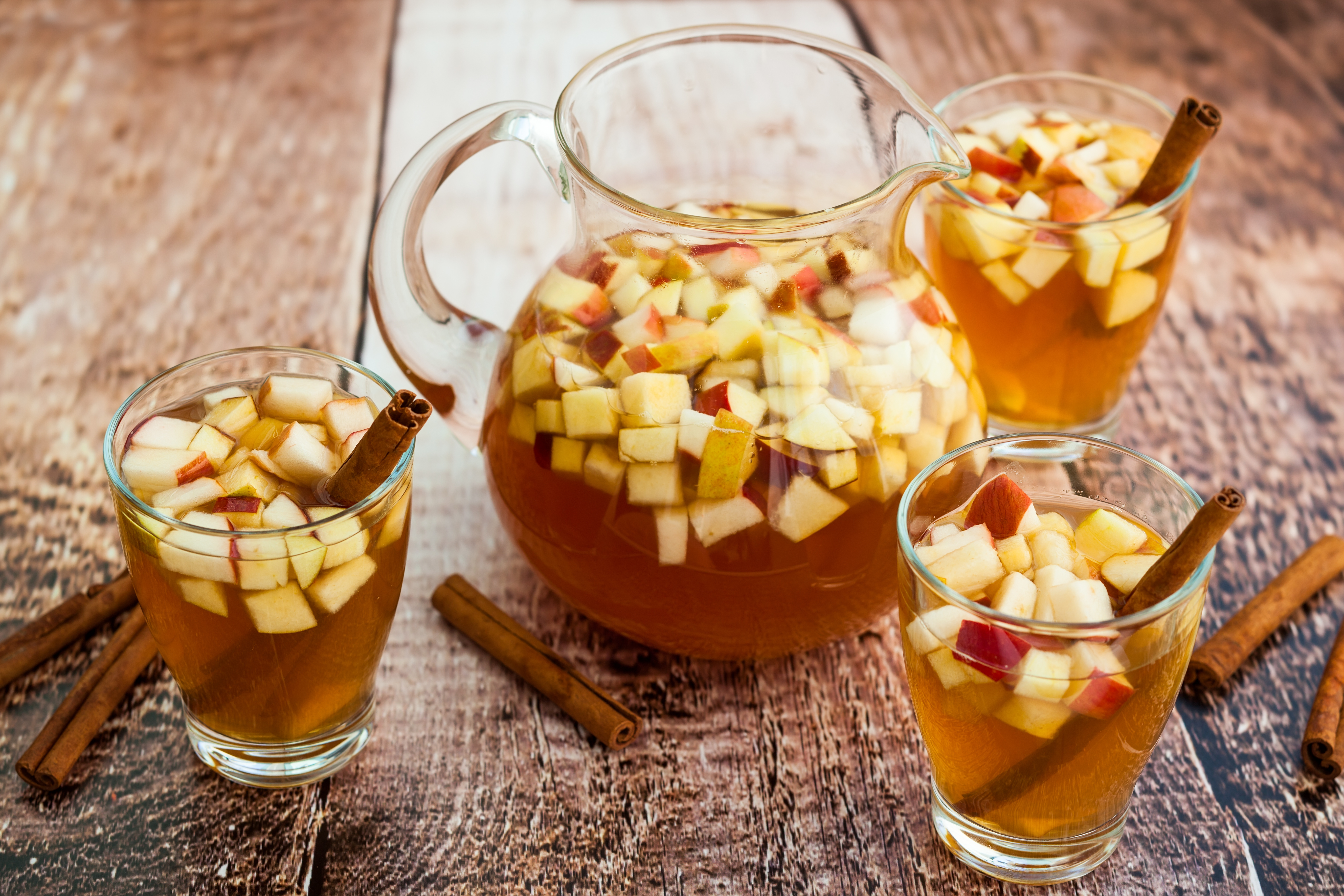 If you enjoy the taste of fall but you're having a hard time letting go of summer, this sangria is for you.
This fruity and delightful cocktail is perfect to drink outside in your backyard on one of those warm and sunny fall days. You will feel like you're in a personal paradise as the red and golden leaves fall to your feet.
The recipe requires multiple ingredients but a simple combination process that will be ready to drink before you know it.
Ingredients
1 Bottle of Pinot Grigio
2 1/2 Cups Apple Cider
1 Cup Club Soda
1/2 Cup Ginger Brandy
3 Honey Crisp Apples
3 Pears
Directions
Step 1: Chop up the apples and pears into small square pieces.
Step 2: Fill a pitcher with the pinot grigio, apple cider, and club soda.
Step 3: Throw your chopped apples and pears into the pitcher. Thoroughly stir everything together.
Step 4: Place the pitcher into the refrigerator for about an hour before serving.
---
Pumpkin and Apple Cider Cocktail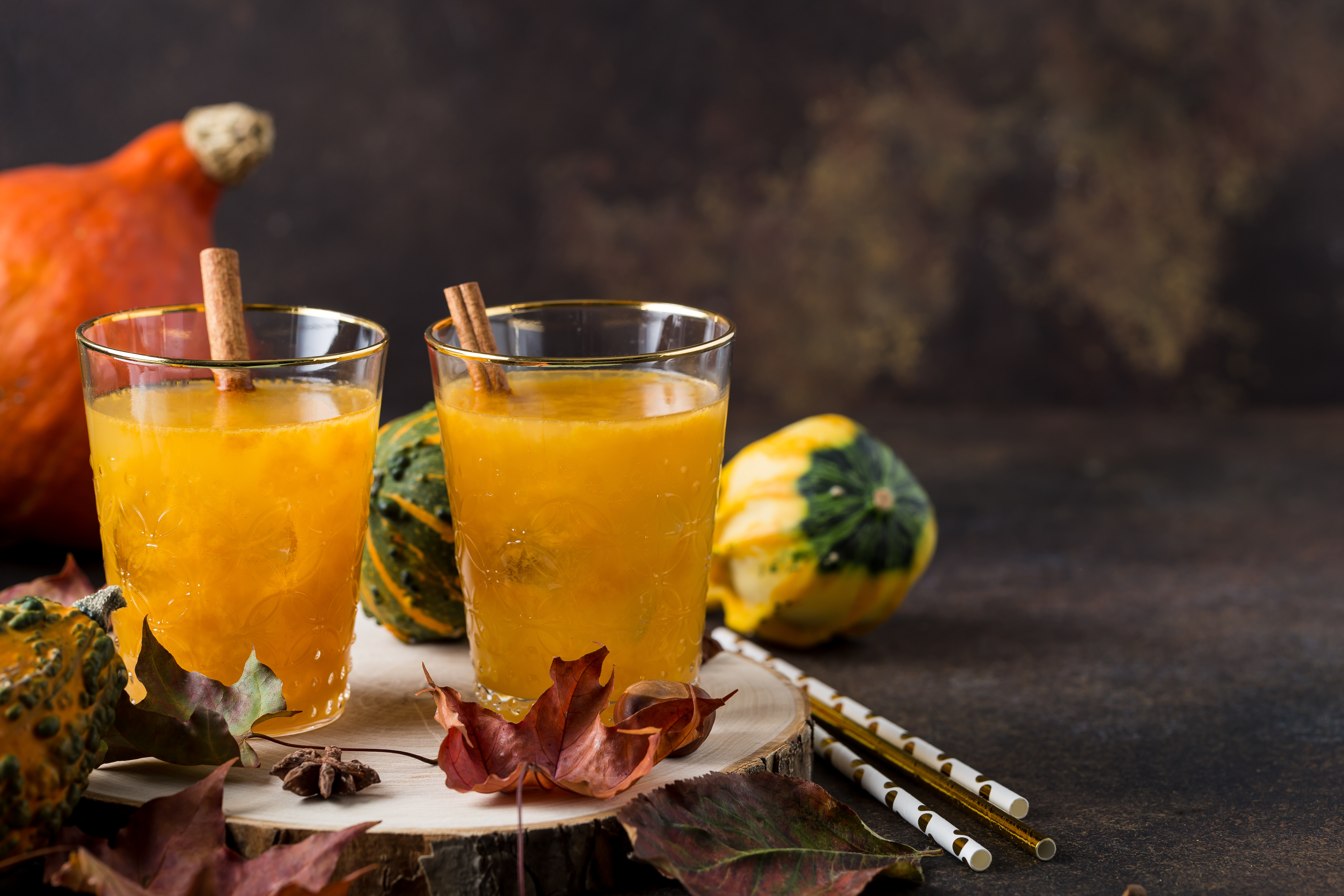 Apples and pumpkins come together in this refreshing cocktail that screams fall.
The mix of ingredients in this drink results in a sweet, slightly spiced cocktail. Sip on this drink while carving pumpkins or while staring out the window as the leaves fall outside. The autumn flavors will get you in a festive mood.
With such a simple process, you will get an amplified version of a classic apple cider in just under a minute.
Ingredients
1 1/2 Ounces Pumpkin Puree
1 1/2 Ounces Vanilla Vodka
2 Ounces Apple Cider
1 1/2 Ounces Spicy Ginger Ale
Directions
Step 1: Fill a cocktail shaker with ice.
Step 2: Mix in the pumpkin puree, vodka, and apple cider.
Step 3: Strain the cocktail into a glass, then pour the ginger ale on top to serve.
---
Apple Jolly Rancher Cocktail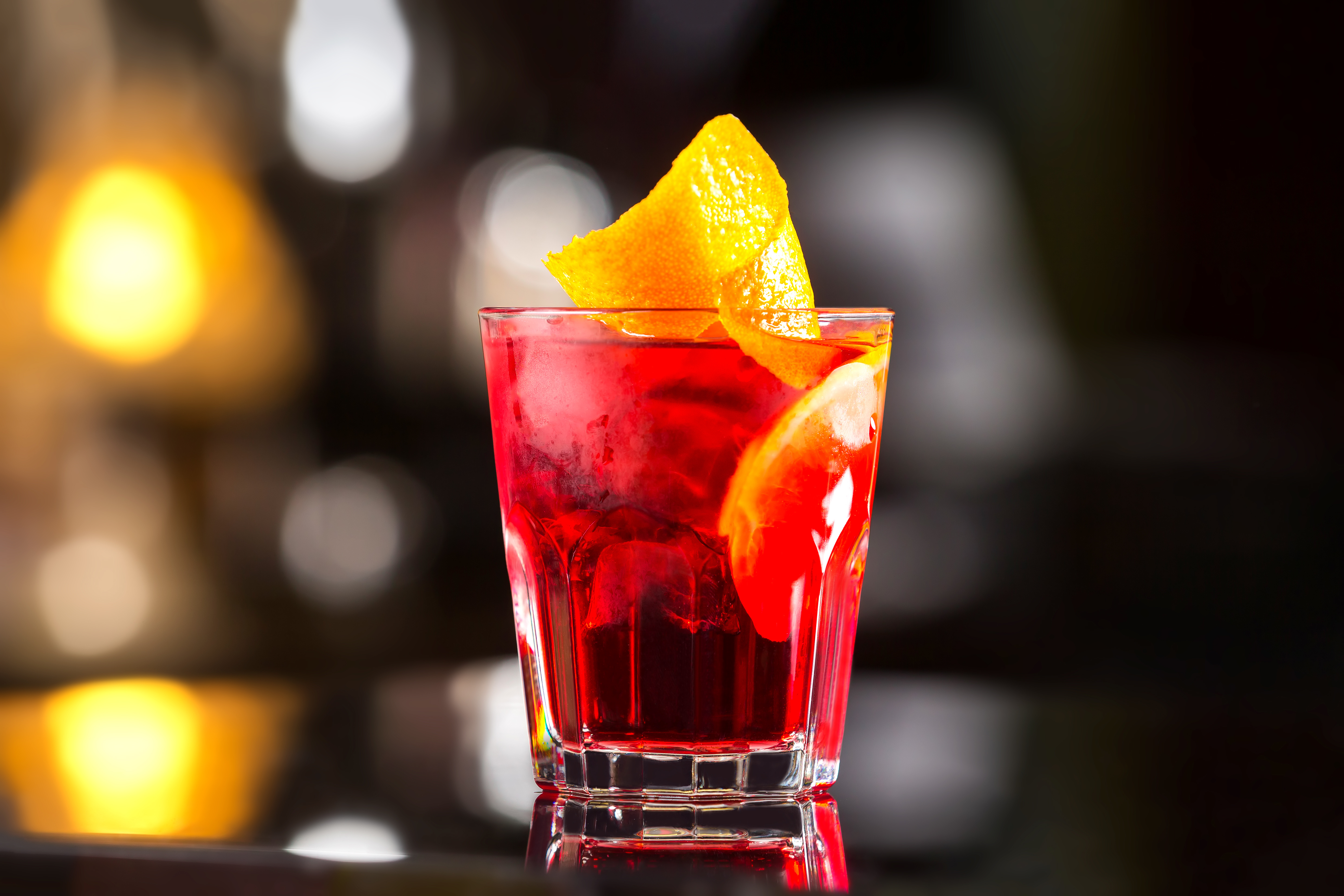 This sweet and tart cocktail is an adult take on your favorite childhood candy: Jolly Ranchers.
It's a simple mixture with powerful fruity flavors that are sure to satisfy your taste buds. If you want to get into the seasonal spirit with apple flavors but aren't into fall spices, this drink is up your alley.
An incredible easy and quick drink to make, you'll impress your friends with this one at any gathering.
Ingredients
1 Ounce Green Apple Vodka
1 Ounce Peach Schnapps
4 Ounces Cranberry Juice
Orange Wedge for Garnish
Directions
Step 1: Fill a festive glass with ice.
Step 2: Pour in the vodka and schnapps.
Step 3: Pour in the cranberry juice and stir with a straw.
Step 4: Garnish the glass with an orange wedge and serve.
---
Caramel Apple Martini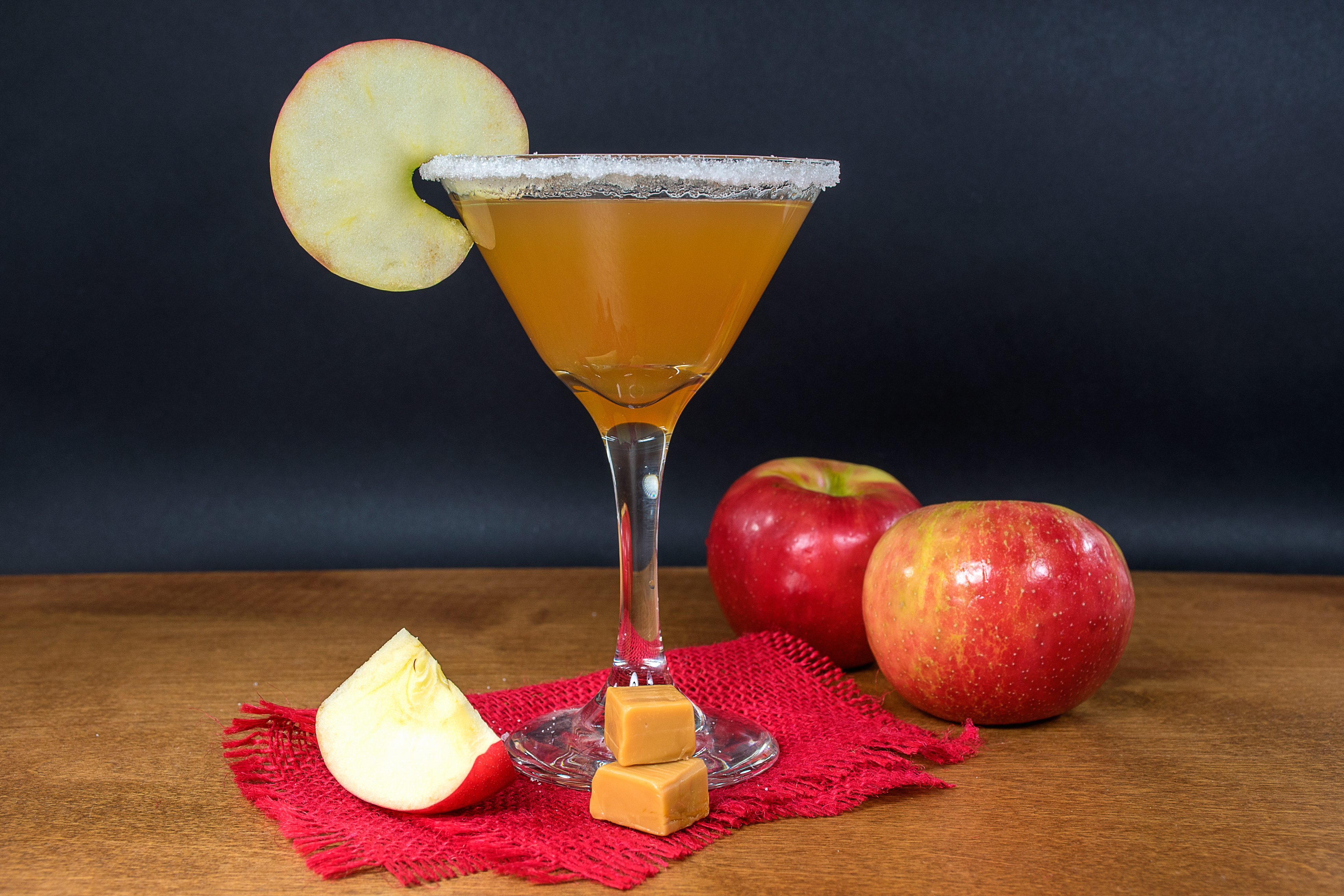 If you have a sweet tooth, this martini is fitting for an after dinner treat.
Caramel apples are a huge staple of fall, but they can be messy and sticky to eat. This easy to drink cocktail satisfies you with delicious, sugary flavors without the risk of getting caramel stuck in your teeth.
You can drink this while you sit on the couch and watch Halloween movies to get in the ultimate fall mood.
Ingredients
1 Ounce Baileys Irish Cream
1/2 Ounce Apple Schnapps
1/2 Ounce Butterscotch Schnapps
2 Ounces Half-And-Half or Whole Milk
Coarse Sugar
Ground Cinnamon
Directions
Step 1: Take your martini glass and rim with sugar and cinnamon.
Step 2: In a cocktail shaker, mix up the Baileys, apple schnapps, butterscotch schnapps, half-and-half (or whole milk), and ice.
Step 3: Strain the drink into the martini glass and serve.
---
Hot Cinnamon Apple Brandy Cider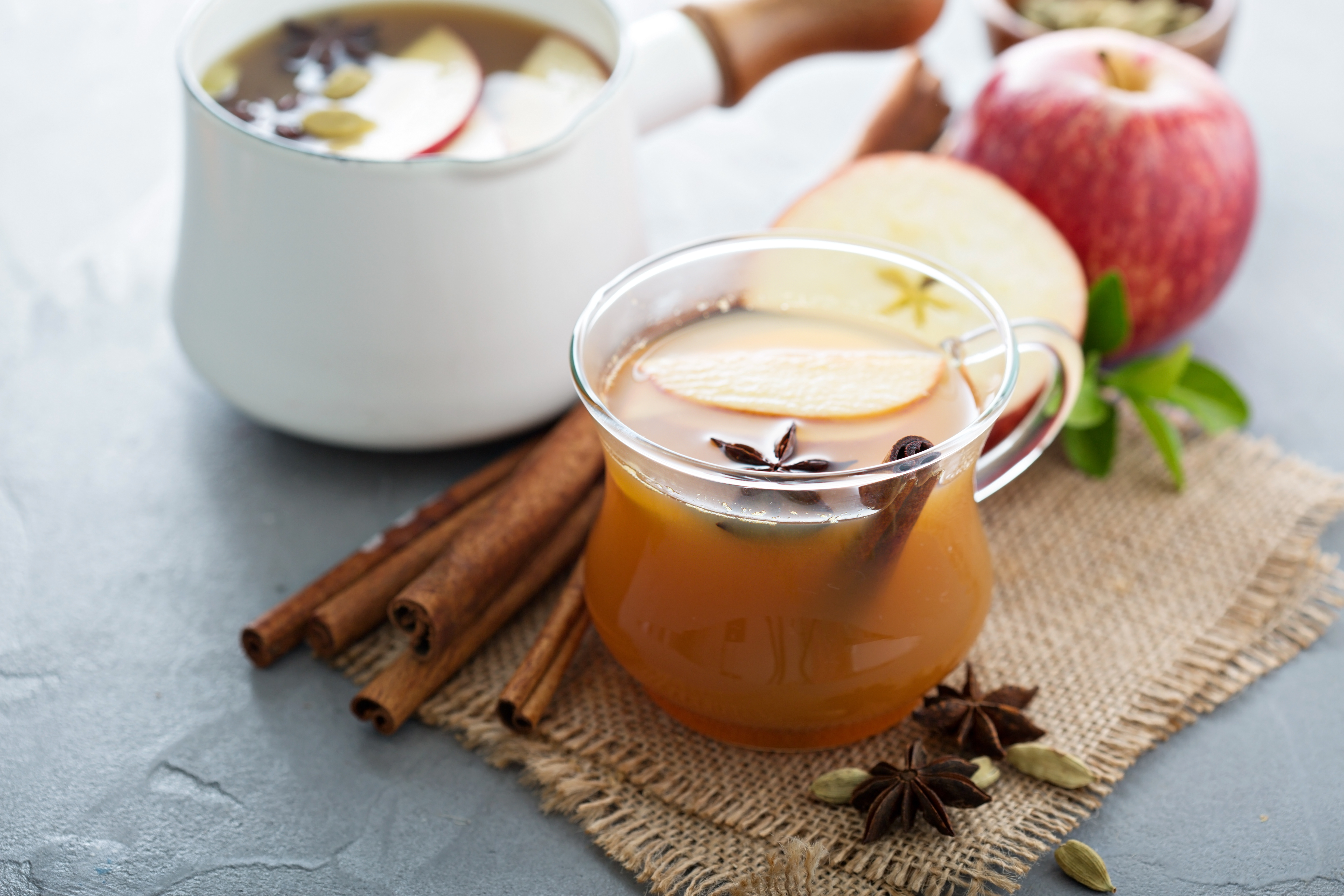 The only hot cocktail on this list, this drink will warm you up with both its temperature and spicy flavors.
This cider has a playful combination of fall spices, apple, and a hint of sweetness. It is a wonderfully comforting beverage to drink on a chilly fall evening while snuggling up in a soft blanket.
Although this drink takes slightly more time to create than a classic cocktail, the wait is worth your while.
Ingredients
1/2 Gallon Apple Cider
1 Cup Apple Brandy
5 Tablespoons Brown Sugar
1/4 Cup Honey
1 Teaspoon Ground Cinnamon
3/4 Teaspoon Ground Ginger
1/2 Teaspoon Ground Nutmeg
1/2 Teaspoon Ground Cloves
1/2 Teaspoon Ground Black Pepper
1 Pinch Salt
Orange Zest and Cinnamon Stick to Garnish
Directions
Step 1: In a pot over medium heat, stir in apple cider, brandy, brown sugar, honey, cinnamon, ginger, nutmeg, cloves, salt, and pepper.
Step 2: Let these flavors combine and simmer for about 10 minutes.
Step 3: Pour the mixture into individual mugs and top with orange zest and cinnamon sticks to serve.
---
Apple Cider Moscow Mule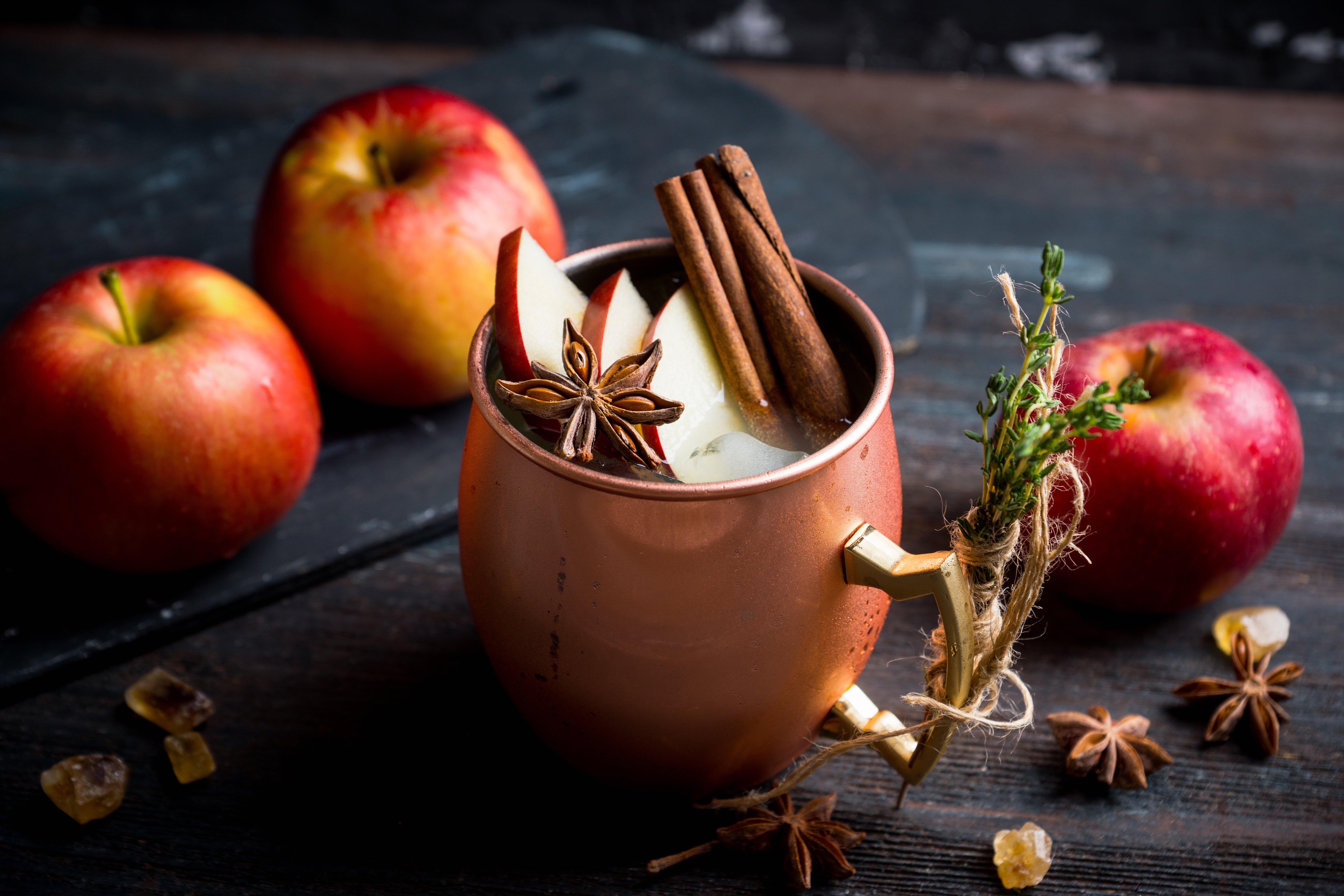 If you are already a fan of the classic moscow mule, you'll enjoy this fall twist.
Ginger beer and apple cider are a tasteful and delicious combination that mix together seamlessly. The touch of caramel flavor in this drink adds just the right amount of sweetness.
This is a quick and simple drink that only requires a combination of a few ingredients.
Ingredients
1 1/2 Ounces Caramel Vodka
3 Ounces Apple Cider
Ginger Beer
Apples Slices and Cinnamon Sticks for Garnish
Directions
Step 1: Fill up a copper mug with ice. If you don't have these mugs on hand, you can also use a regular glass.
Step 2: Pour in the vodka, apple cider, and ginger beer.
Step 3: Stir the drink with a cinnamon stick, garnish with apple slices, and serve.
---
From dinner parties to quiet nights, you'll want to drink these apple cocktails in a fall-themed home to get the full autumnal experience. We've got you covered with decorations in our August Catalog.