7 Small Bathroom Decorating Ideas To Save Space
It can be a challenge to keep all your items in your small bathroom while maintaining a nice, decorative space. But with smart storage solutions, useful decorations, and color and theme choices, saving space in a small bathroom doesn't have to be difficult.
Whether you want your small bathroom to be simple but organized, or if you want to add some personality and uniqueness to your bathroom, you can achieve either one with a combination of decorative and storage pieces.
Here are 7 small bathroom decorating and storage ideas that will make your space look larger than it is.
---
1. Use Slim Storage Shelves To Conserve Room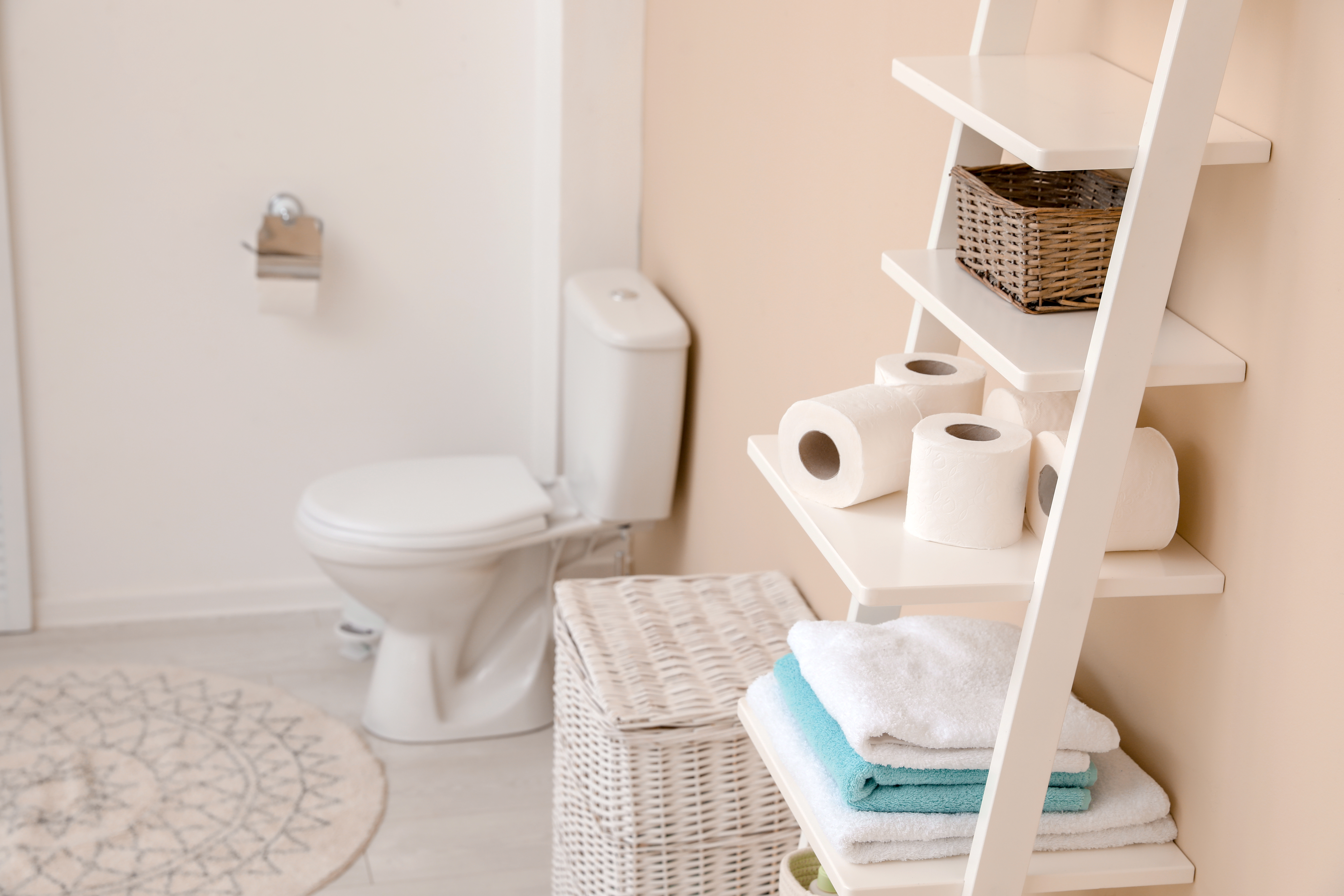 Having limited room for storage can be one of the first challenges of having a small bathroom. However, there are many options to store your items without compromising the little space you have.
There are so many different varieties of bathroom storage including slim shelves and organizers, over-the-toilet spacesavers, and wall mounted shelves. These storage elements help to keep all your bathroom essentials organized in a simple way.
If you mount shelves onto the walls, you can save even more space. If you're worried about not having enough shelf room for your items, opt for wall shelves that have baskets or containers built into them.
Tips:
If you use bathroom shelves, consider interspersing small decorations in between your essential items. This will make the room a bit more personalized.
Wall mounted shelves with baskets can be great for storing hair dryers, makeup, and other beauty items.
Use bathroom organizers with closed drawers if you want more of a practical unit rather than a decorative one.
---
Looking for more small bathroom storage ideas? Check out these Small Bathroom Storage Hacks for under the sink!
---
2. Add Some Character With Patterned Wallpaper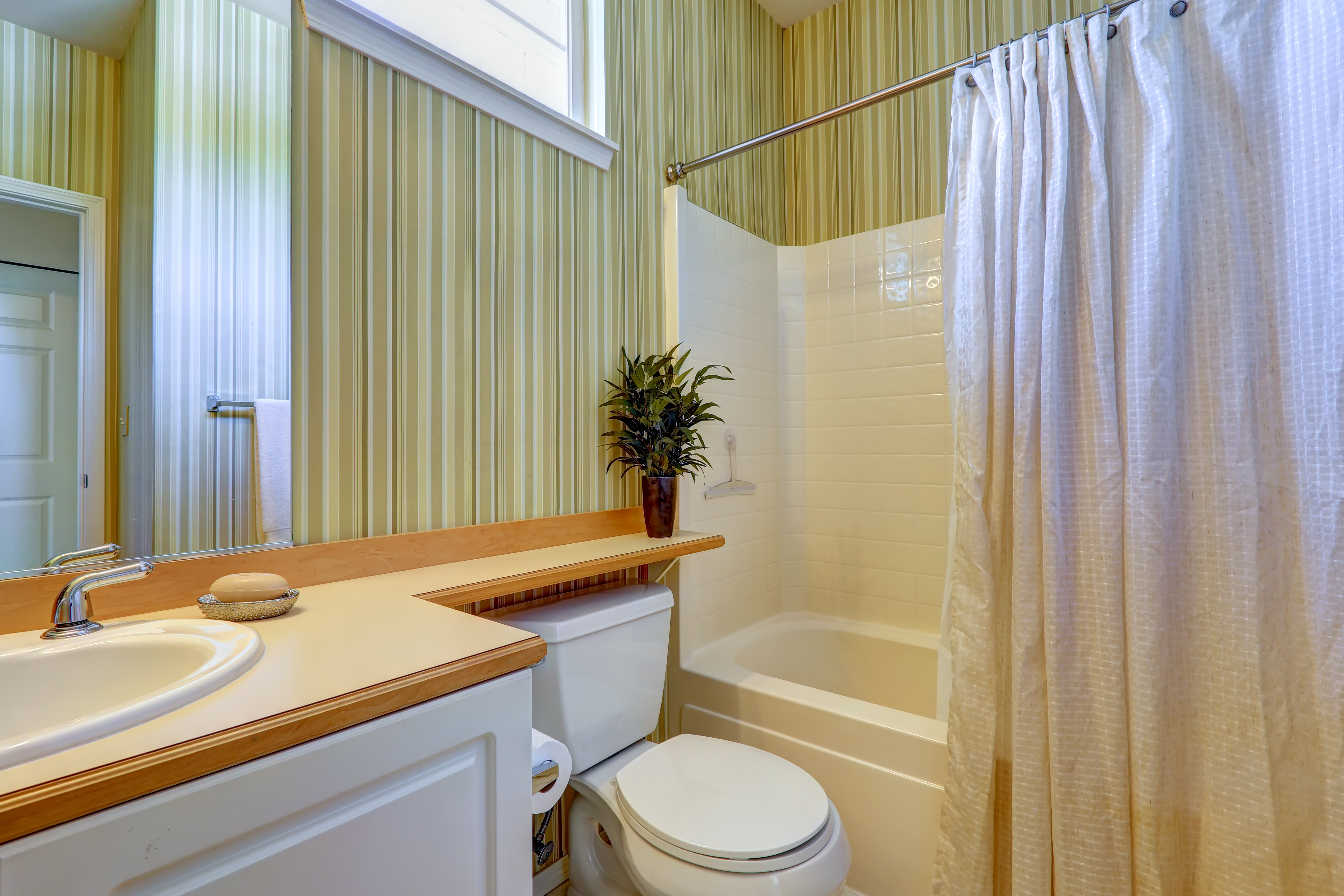 If you have limited wall space in your small bathroom but want to add more uniqueness, then wallpaper is a great option. With different color schemes and endless patterns, wallpaper can be a defining element that sets up the rest of your bathroom decorations.
Using peel and stick wallpaper is the best way to achieve a new bathroom look without the permanence. This works especially well if you plan on updating your bathroom theme on a regular basis to keep it looking fresh and interesting.
Your wallpaper can either be the standout element of your small bathroom or it can be something more subtle to blend in with your other decorations. Matching accents with the colors of your wallpaper can make your bathroom look complete and unique.
Tips:
Try to stay away from dark colored wallpaper. Darker colors will make the room look even smaller.
Play around with patterns but don't go overboard. Stripes are a great way to make the bathroom look taller or wider.
If you truly don't have a lot of wall space, simple wall stickers may be a better option for you.
---
3. Install Door Hooks To Save Wall Space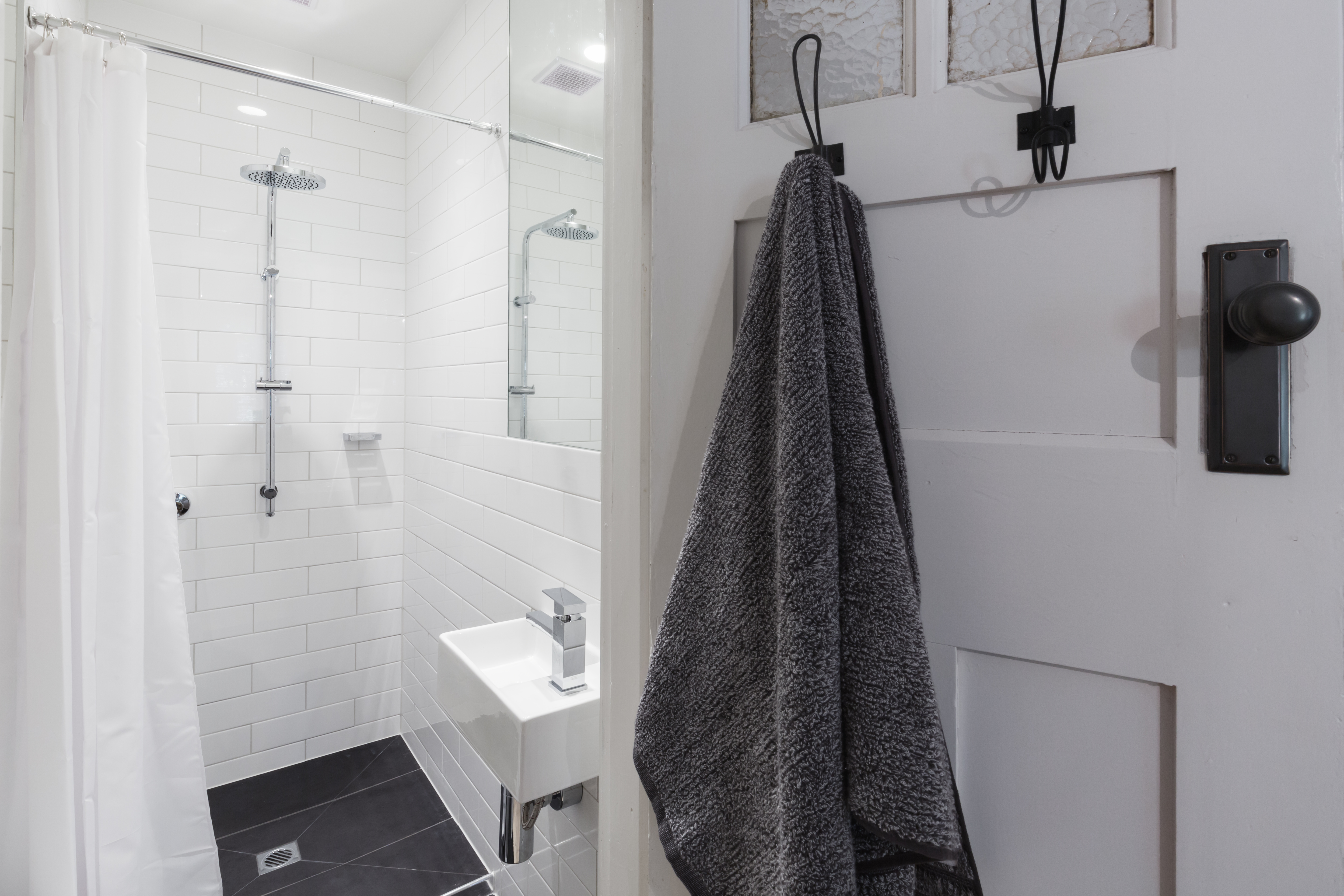 Many times with small bathrooms, the lack of space makes it hard to find room for your everyday items, such as towels. You may find yourself hanging your towel over your shower door or curtain rod.
To better organize your towels, screw hooks into your door for your towels to hang out. You can also opt for a set of over-the-door hooks for a less permanent and easier way of placing hooks.
If you don't have anywhere to hang hand towels, neatly fold them and place them on your counter tops. Pick hand towels that are decorative and that go along with your theme so they will tie in well with the rest of your bathroom.
Tips:
If you have extra wall space, you can also screw the hooks to the wall instead of your door.
You can opt to buy a wall shelf that comes with hooks on it for an all-in-one storage unit.
You can also screw a towel rod into the wall if you prefer that look and style.
---
3. Decorate Counter Tops With Unique Soap Dispensers And Small Decorations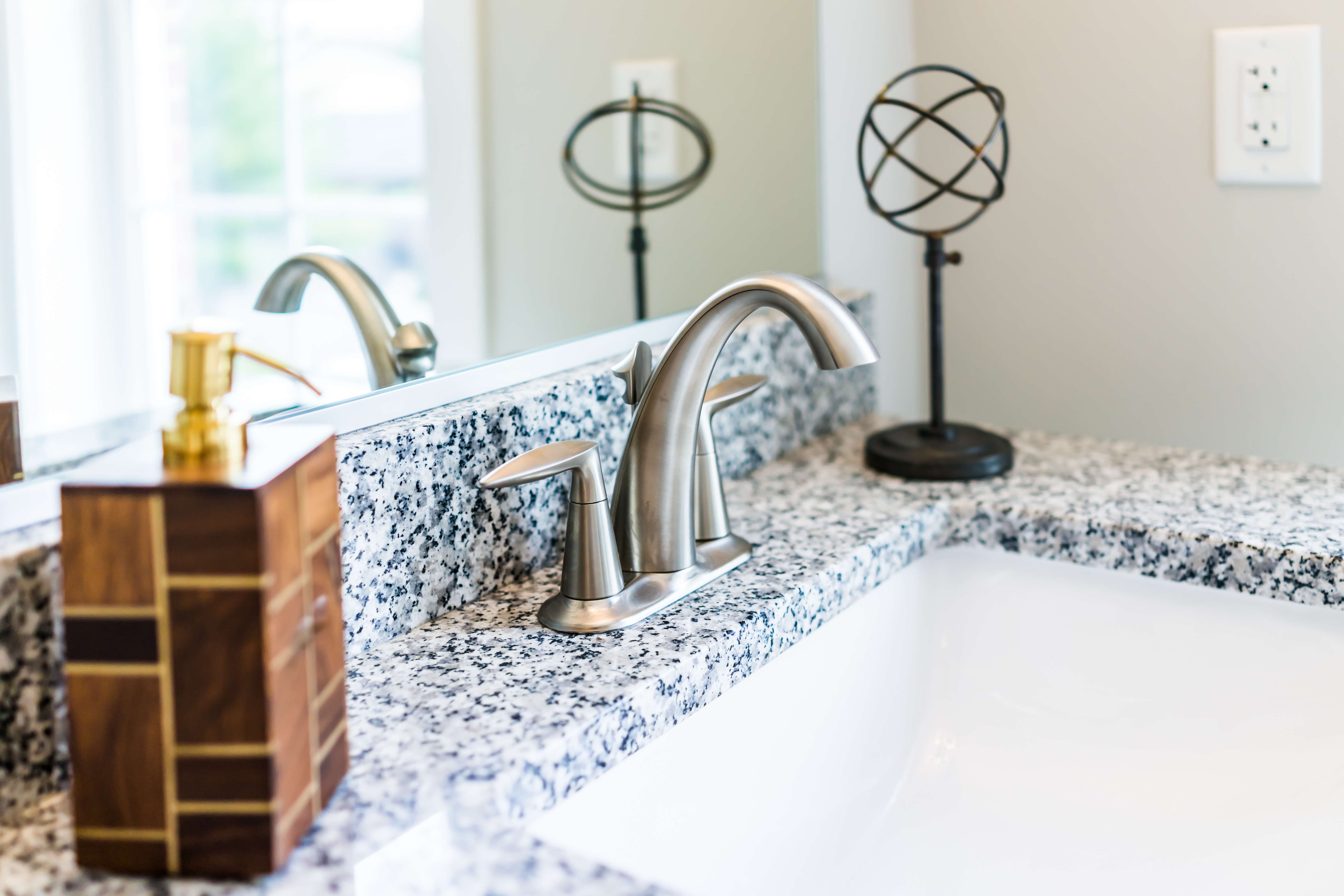 Include some of your personal style in your small bathroom with delicate counter top decorations. Just because you have limited counter space, doesn't mean you can't decorate it.
Decorative soap dispensers are a useful way to add flair to your bathroom without taking up extra space. You can also include other small accent pieces, candles, or narrow containers filled with potpourri.
There are also ways to use decorations as storage, as 2-in-1 counter top piece for your small bathroom. Place cotton balls in a glass container, put a bar of soap on a themed plate, or keep your hand towels in a open box. Be as creative as you want with your decorative storage combinations.
Tips:
Try to choose decorations that are tall and skinny, as they will take up less room on your counter.
Decorative cups can work as toothbrush holders and will look nice displayed on the bathroom counter.
A small vase of flowers can brighten up the counter and make the room smell fresh.
---
4. Use Baskets To Store Towels Or Toilet Paper In The Corner Of The Bathroom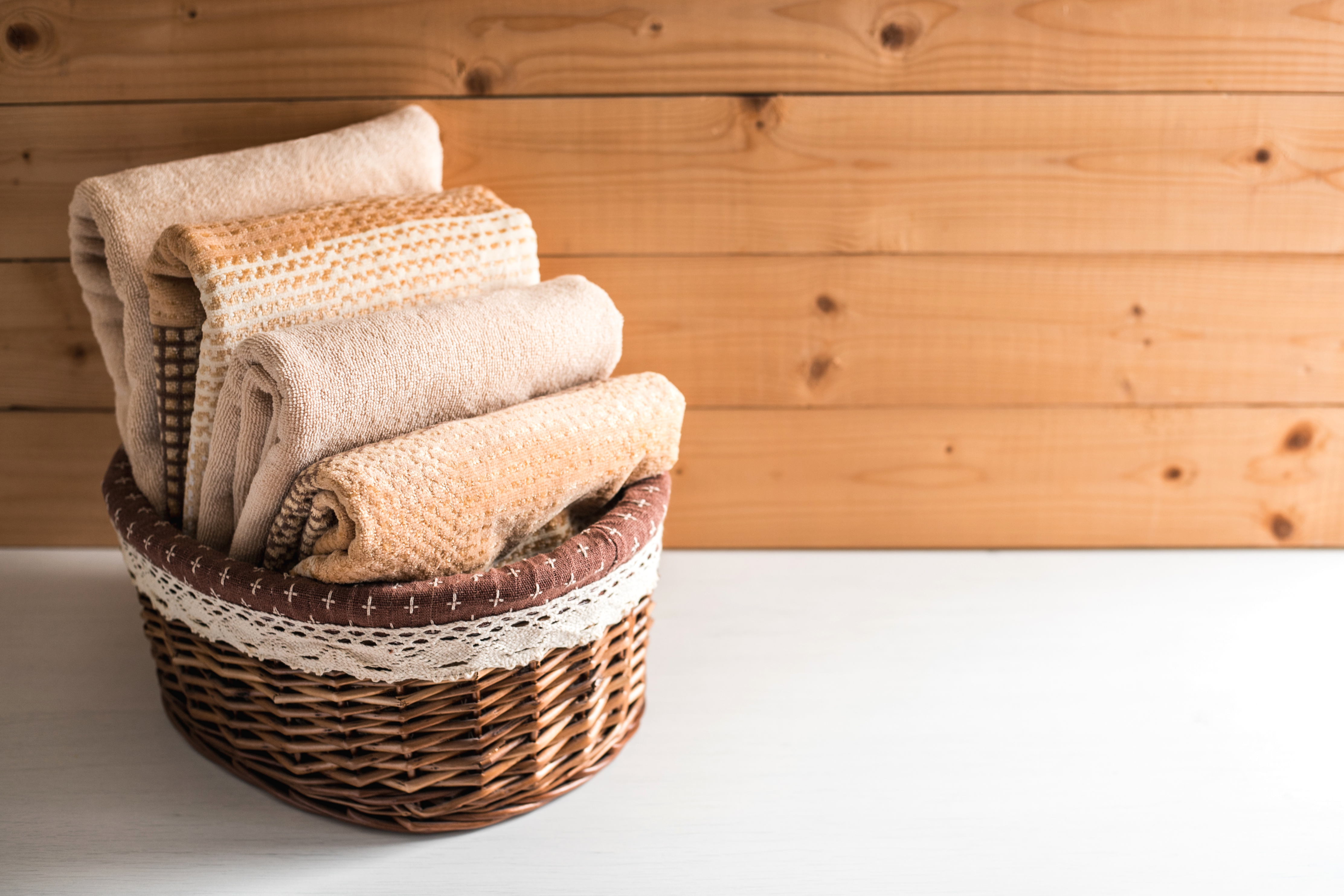 Extra towels and toilet paper can take up a lot of room in closets and cabinets. Plus, if your small bathroom doesn't even have a cabinet, finding a place for these extra items can be a challenge.
Place towels and/or toilet paper rolls in a dainty basket and position it in the corner on your bathroom floor. This doubles as both a storage piece and a decorative item. You can also use baskets for other bath and spa items such as lotions, soaps, and shaving supplies.
Whether it's a white wicker basket, a wooden box, or a galvanized metal bucket, choose something that will blend in well with your bathroom theme.
Tips:
Roll your towels up before placing them in the basket for a more organized and sleek appearance.
You can also place baskets on top of shelves instead of putting them on the floor.
If you have a counter space in your shower, you can place a matching basket there to hold all of your shower products.
---
5. Add Real or Fake Plants to Brighten Up The Bathroom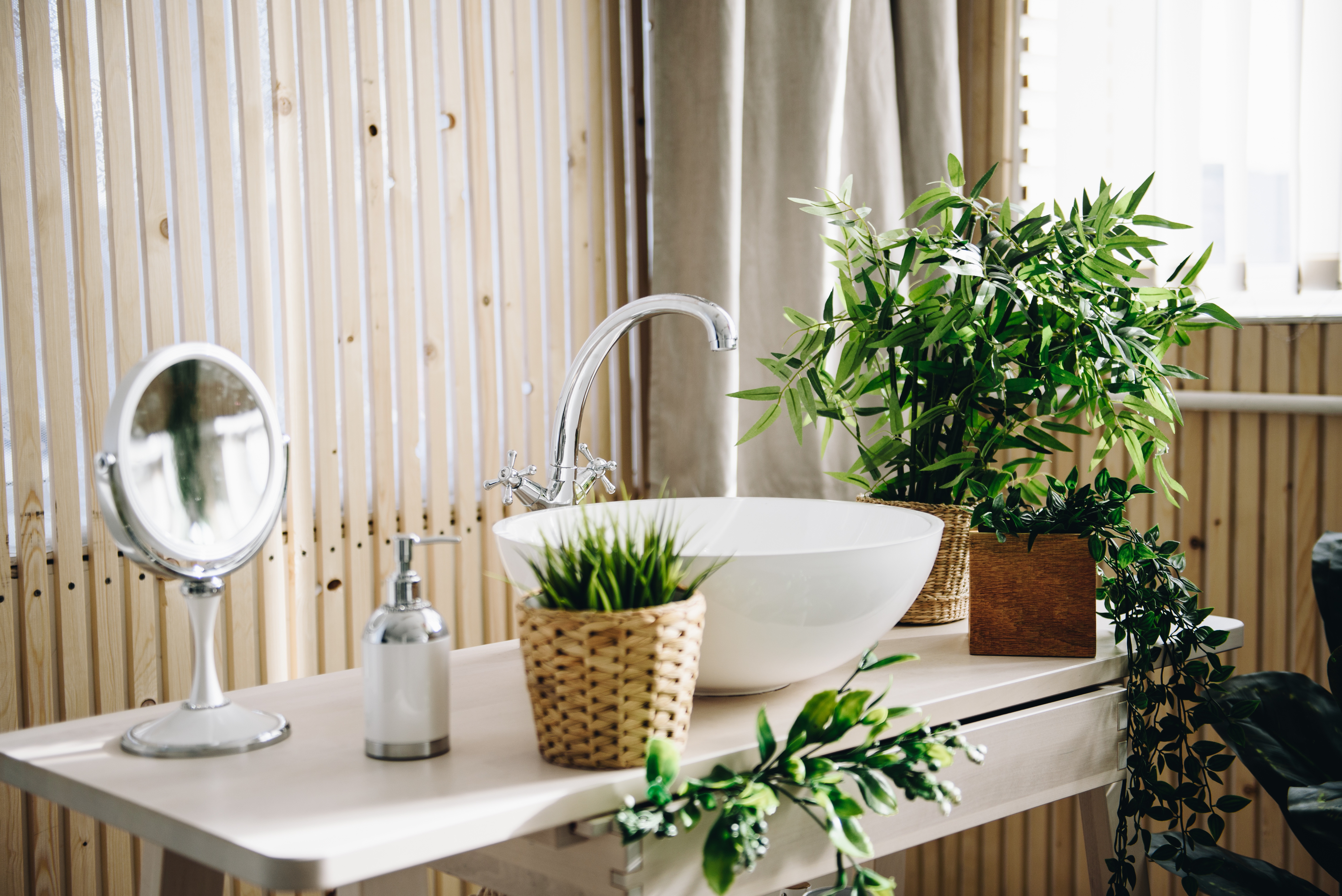 Small bathrooms don't have to feel dull and dark. When turned into a brighter space, they can appear more welcoming.
Incorporate plants of all shapes and sizes throughout your bathroom. The greenery will liven up the room and make it feel like a more open environment. It will also create a nature-like theme that will bring a calming effect to the space.
You can use a selection of all the same type of plants if you want a more concise look, or you can use a variety of plants to get a more unique and different look for your bathroom.
Tips:
Use different baskets, pots, and containers to give your bathroom some variety.
Hanging plants can help you conserve counter and floor space and create a unique setting.
You can use either real or fake plants, and you can also incorporate flowers into the mix for a colorful addition.
---
6. Use Trays And Clear Jars To Display Decorations And Soaps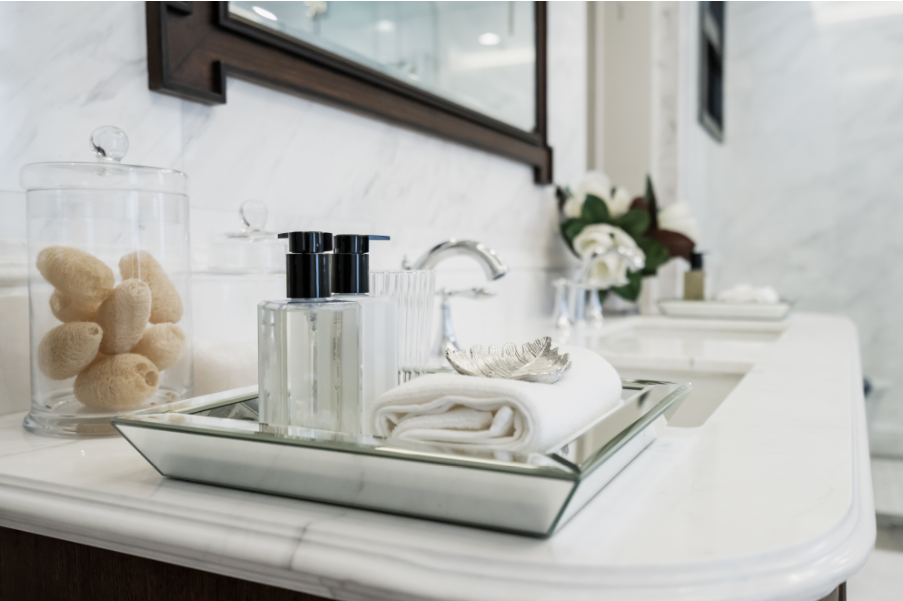 Displaying your decorations in a creative way can help improve the overall aesthetic of your small bathroom.
Place soap dispensers, fancy hand towels, and other small accents on top of a decorative tray on your bathroom counter. Fill clear jars and containers with potpourri, shells, and other decorative fillers that match the theme and colors of your bathroom.
You can be even more creative with the way you display your decorations by using a nontraditional shaped jar or container to contrast against simpler items.
Tips:
If you have limited counter space, consider placing trays and jars on top of shelves.
Trays and jars can also be used for storage of your everyday items such as makeup.
The style of the trays and jars will vary based on the theme of your bathroom. For a more modern and elegant look, opt for a mirrored tray. For a rustic look, choose a wooden or metal tray.
---
7. Use A White Theme To Give The Illusion Of Extra Room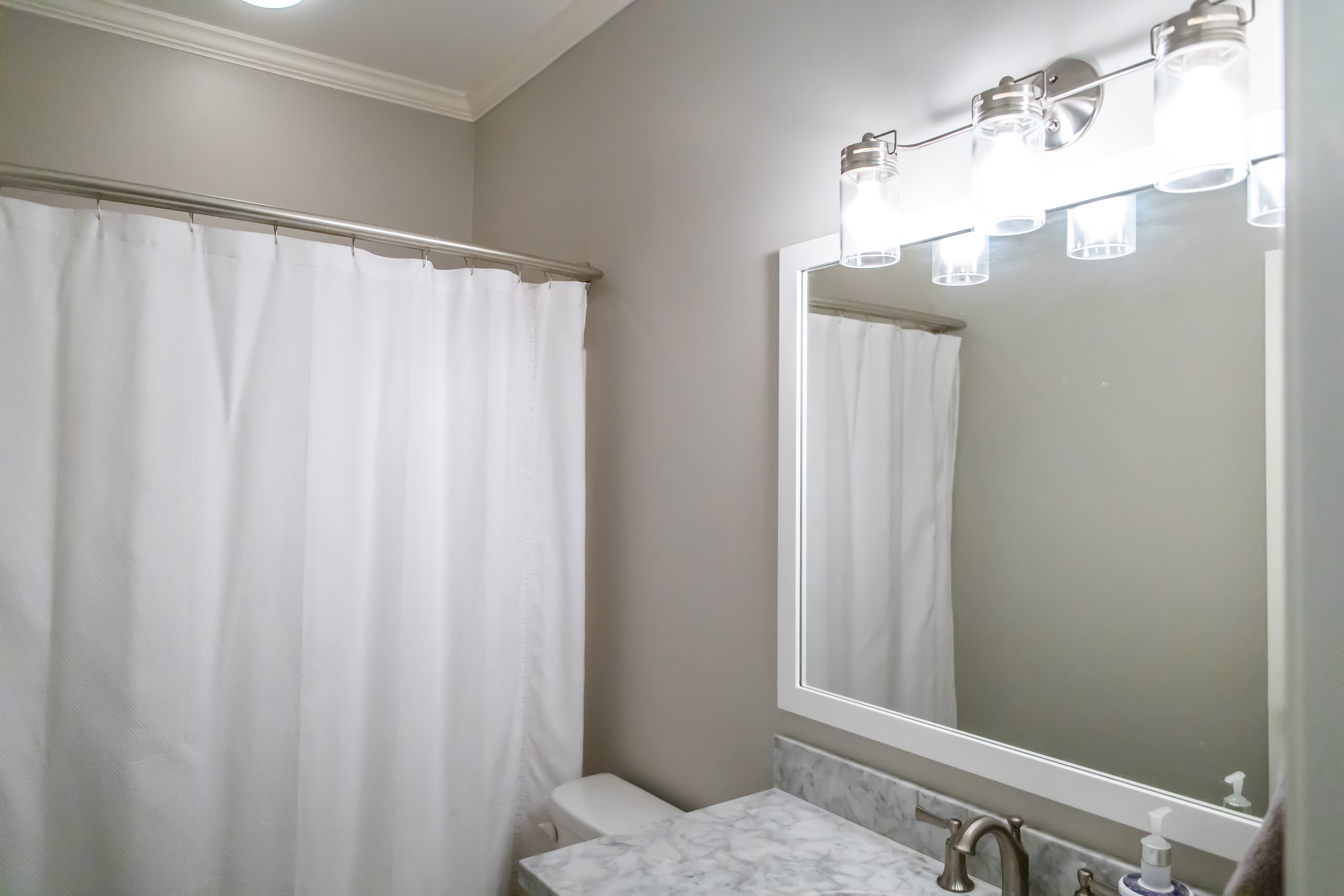 The color white can make a room look fresh, clean, simple, and modern. It can also make a space look bigger due to its minimal and bright appearance.
Start with a white shower curtain and add in some white counter top decorations, white shelving, and any other additions you may have. You can even have various shades of white, such as cream or ivory if you don't want pure white, and you will get a similar effect.
If you want to have a little bit of contrast, consider choosing a few black or gray accents that will stand out from the rest of your decor. This will still create a sleek and modern look in your small bathroom.
Tips:
Marble accents or counter tops also look great with this clean theme.
Another option is to hang up a white shower curtain but choose a different solid color for your accent pieces.
Having a white theme will also allow you to use patterned wallpaper in a more elegant way.
---
Looking for even more storage ideas for your small bathroom or other rooms in your house? Get organized with our wide selection of Storage Solutions!