5 Farmhouse Decorating Tips For Small Spaces
The farmhouse decor style gives off a warm and welcoming charm through country themed elements, symbols, patterns, and materials. You can achieve this look no matter what type of living space you have, even if you're limited in square feet. Here are 5 farmhouse decorating tips for small spaces.
---
1. Keep Your Farmhouse Theme Simple With One Defining Element In Each Room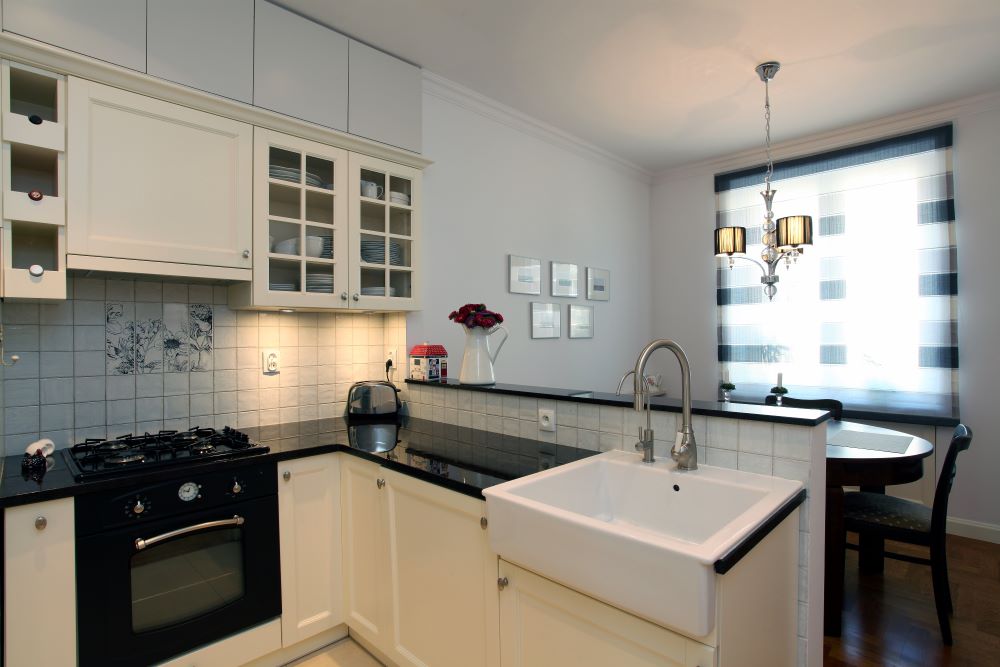 If you have a small space, you don't want to overcrowd it with farmhouse furniture and decorations. Doing so will make your living area feel cramped and won't convey the welcoming farmhouse theme that you want to achieve.
Keep your farmhouse theme more simple by having one defining farmhouse element in each room. Install a farmhouse or apron front sink in your kitchen, place a distressed wood coffee table in your living room, and hang up a large farmhouse painting in your bedroom. These eye-catching pieces in each room will give you a charming farmhouse theme while keeping the space open and bright.
Combine these defining elements with small and subtle decorative accents throughout your house to complement the theme. This will make your decor style feel more complete while still maintaining a minimal appearance.
---
---
2. Use Neutral Colors & Minimal Patterns In Your Small Farmhouse Space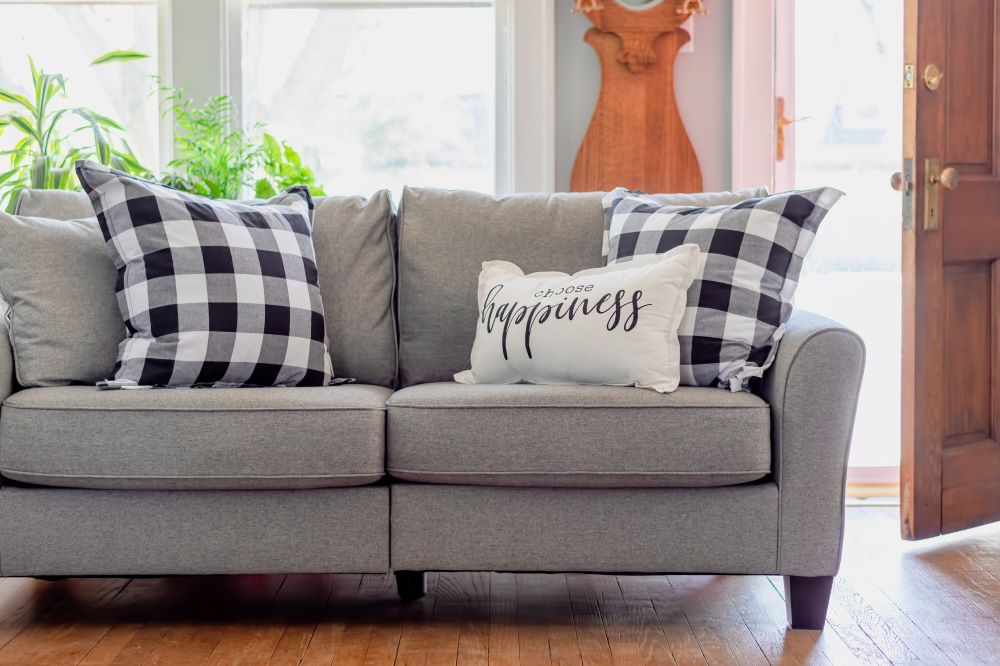 Too many colors and patterns can make a small space feel more cramped and confusing. While you can incorporate farmhouse color schemes and patterns into your small space, be careful not to overdo it.
Start with neutral colored walls. For a farmhouse style, opt for a cool gray, beige, or even a white wood plank wallpaper. Keep your furniture neutral as well; choose a neutral colored fabric couch, distressed wood tables, and white or wood shelves. These main neutral colors will set the stage for a more open and welcoming space.
Finish off the look by adding in touches of patterns and colors through your decorative accents. Use gingham throw pillows, themed bedding, colorful farmhouse wall art, and other small pieces throughout your house.
---
---
3. Use Wall Shelves To Display Your Farmhouse Decorations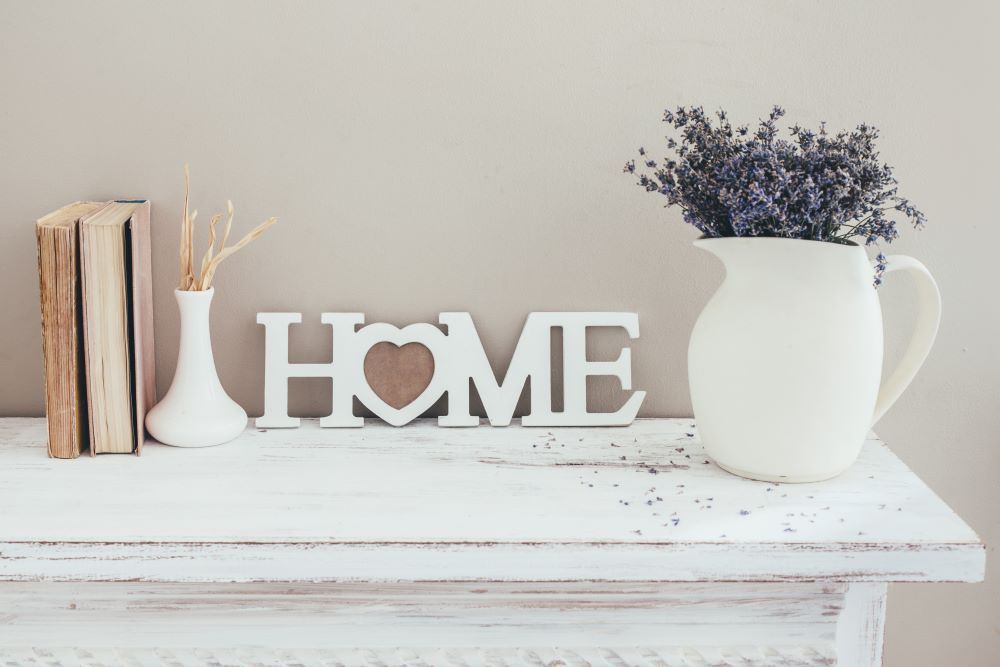 Small homes and rooms have limited space to decorate but that doesn't mean you can't decorate at all. There are many ways to include your favorite farmhouse decorations without taking up too much room; you just have to get creative.
Floating wall shelves are one of the best options for displaying farmhouse decor because they don't take up any extra space. Wall shelves are a great alternative to bookshelves and cabinets because they take up vertical room rather than horizontal. Using vertical space can also give the illusion that your room is taller and bigger.
Install wooden or white wall shelves and decorate them with fresh flowers in a farmhouse pitcher, wooden blocks with farmhouse sentiments, and small farmhouse animal statues. Make sure to style your shelves strategically because a cluttered shelf will defeat the purpose of a simple look.
---
---
4. Install Farmhouse Hanging Lights To Open Up Any Small Room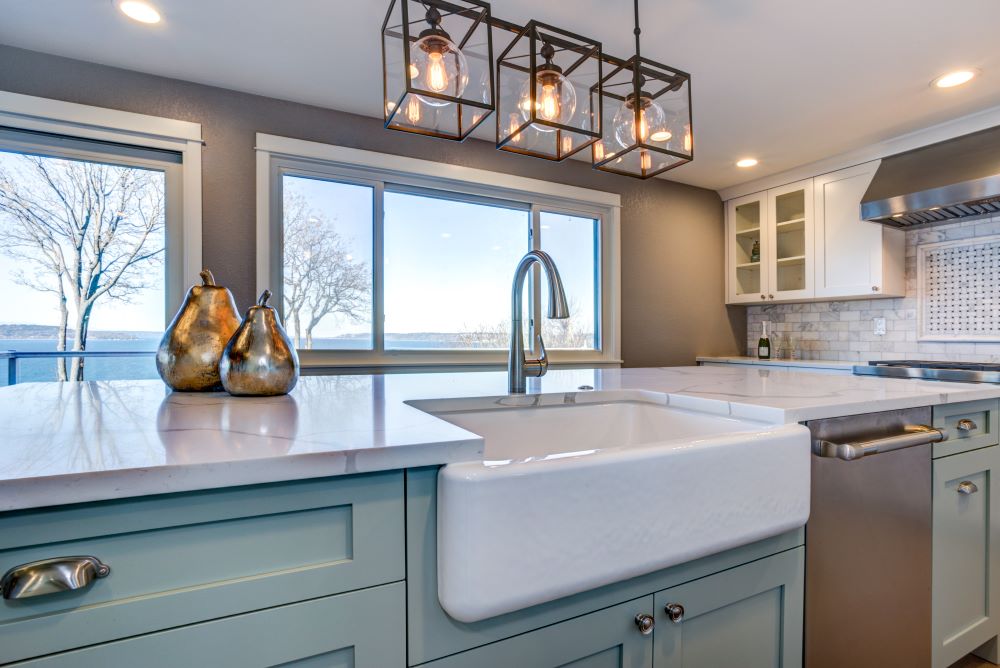 Lighting is crucial in any home, but it's especially useful in making a small space look bigger and more open. Your farmhouse lighting choices can make or break the look of any room.
Hanging lights are a great choice for small spaces because they can spread light around the whole room. To stick with the farmhouse theme, hang up unique rustic pendant lights. These can include square shaped wood pendants, round galvanized metal pendants, or even lantern style pendants.
Pendant lights look nice hanging over your kitchen counter or kitchen table, but they can also be used in other areas of your home. Hang a single chandelier style farmhouse light in your bedroom, or use multiple pendant lights in your entryway for a bright and open appearance.
---
---
5. Combine Storage And Style With Wooden & Galvanized Metal Bins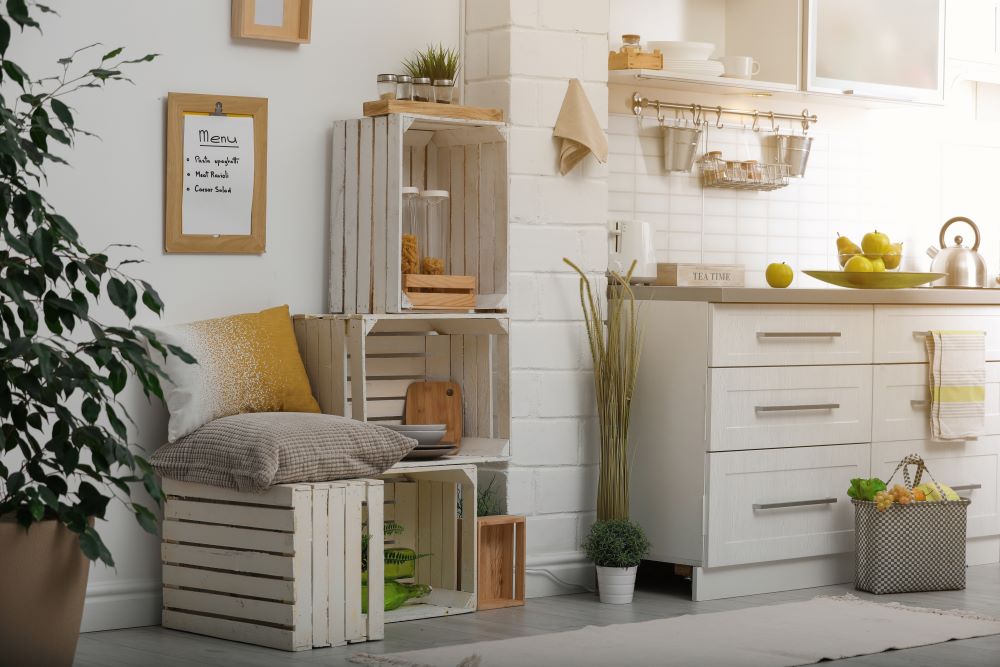 Combining storage and style is a great way to conserve space without sacrificing the farmhouse decor style that you're looking for. Functionality and style can be achieved with some simple planning and organization.
Use wood or galvanized metal storage bins and boxes to stick with the farmhouse theme. Using boxes with lids is even better because it can discretely hide items to blend in with the rest of your decorations.
You can even paint and stack wooden crates to create unique shelving as a clever way to store essential items that you use daily. You can get as creative as you want with your storage but make sure to blend it in with your decor as much as possible to save space.
---
---
Looking for even more farmhouse inspiration? Shop our selection of Farmhouse Country Decor to find affordable home accents, farmhouse bathroom collections, farmhouse style furniture, and much more!
---
Read Next: Modern Farmhouse Living Room Ideas To Transform Your Space