5 Farmhouse Living Room Ideas For Summer
The farmhouse design style gives any room a warm, welcoming, and charming touch. With the help of rustic materials, country themes, and muted colors, this style is a great choice if you want a relaxing space. The farmhouse style is incredibly versatile when it comes to making adjustments for new seasons. If you're looking brighten up your farmhouse living room for the summer, you can easily do so with the addition of bright colors, fresh greenery, and summer themes. Here are 5 farmhouse living room ideas for summer.
---
1. Decorate Your Summer Farmhouse Living Room With A Bold Accent Chair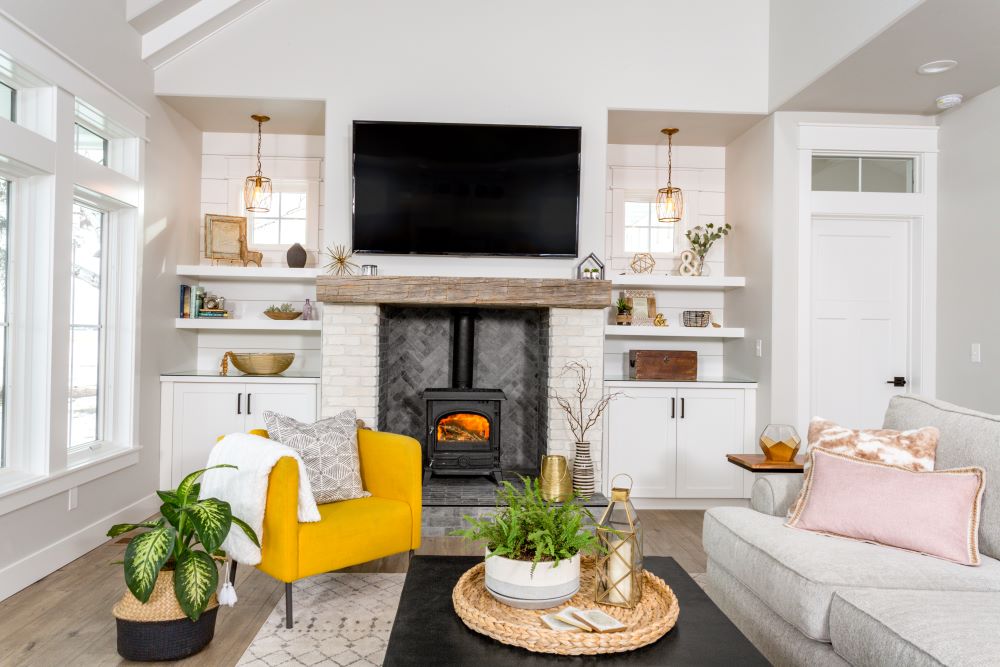 Typically, the farmhouse decor style features subtle colors and muted tones to give off a soft and cozy feeling. On the other hand, summertime is all about bright and bright colors that freshen up a space. While these may seem like two completely opposite styles, you can easily combine these color ideas to transform your living room.
One of the easiest ways to add a bright summer touch to your farmhouse living room is to add a colored accent chair into the space. This can give your living room an instant refresh on a smaller level. Consider a chair in an unexpected color like yellow, but make sure it still complements your overall color scheme. Tie the chair's color into the room with the help of small accents throughout the room. You want the chair to stand out but you don't want it to look out of place.
You can also apply the same concept with a different piece of colored accent furniture, such as a new side table or even a floor lamp. If you don't want to change up your furniture, you can instead incorporate a bright color with the help of a large planter or a large centerpiece for your coffee table. The main idea is to add a large bold pop of color in the room to give it a fresh summer touch.
---
---
2. Bring In Greenery To Give Your Farmhouse Living Room A Summer Touch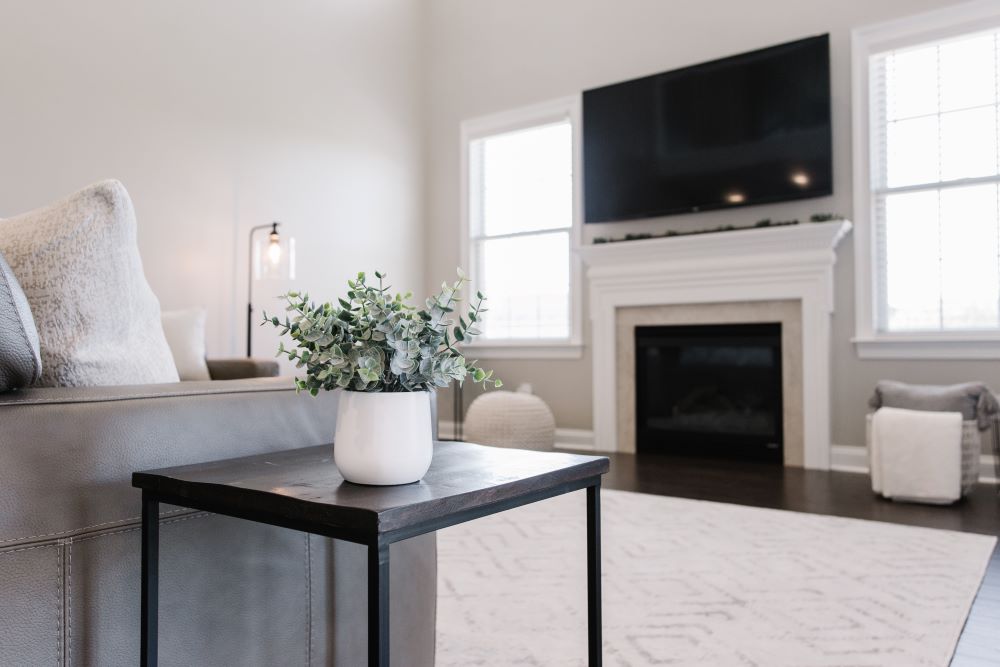 A very defining aspect of summer is the fresh blooming plants and flowers. Plants give off the ultimate warm weather vibes, so incorporating them into your home is a must! Adding them to your farmhouse living room can give your space a fresh look for summer without interrupting the existing decor style. Plants not only add a touch of new color into the room, but they also add a unique decorative element that gives off the feeling of a new season.
When it comes to decorating with plants, there are many options and styles. Whether you use a real plant or a faux plant, you can easily brighten up your living room with a fresh summer style. While it ultimately comes down to personal preference, here are some general pros and cons of decorating with real plants vs. faux plants.
Pros & Cons Of Real Plants vs. Faux Plants
Real Plants
Pros

Beautiful and authentic appearance
They increase the oxygen level in the room
Some provide health benefits

Cons

Some are difficult to maintain
Some require more sunlight than the room allows
It takes time to grow
Faux Plants
Pros

Endless selection to choose from
Zero maintenance required
Can be placed anywhere in the room

Cons

Might look too "tacky" if not styled correctly
They can become dusty if not regularly cleaned
They don't provide the health benefits that real plants do
---
---
3. Set Up A Colorful Summer Mantel In Your Farmhouse Living Room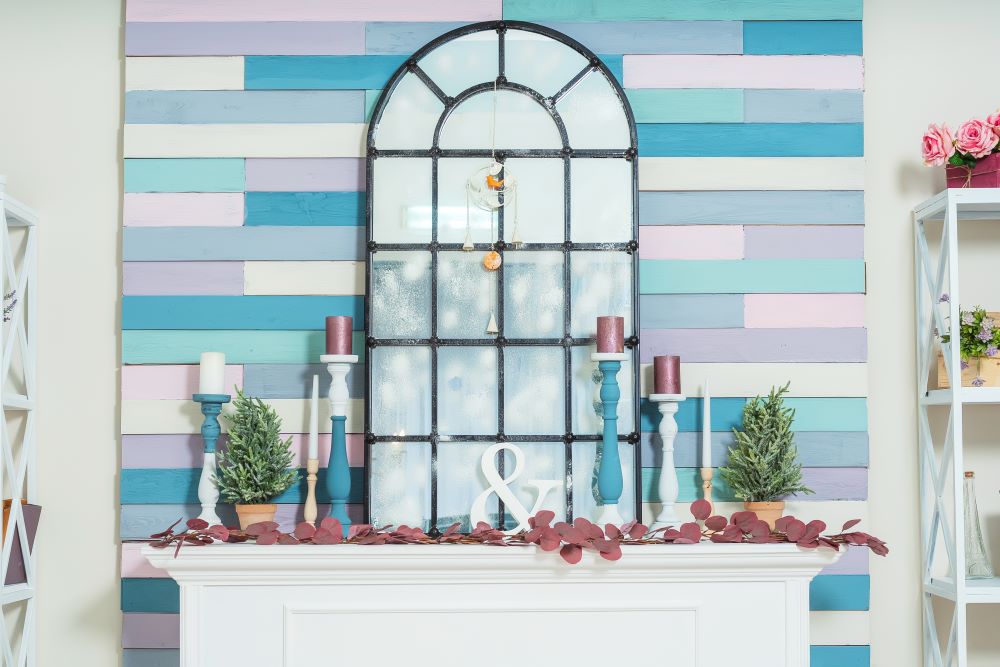 Your mantel is the perfect place to set up a themed display in your living room. Creating a bright and cheerful mantel area can help you bring the feeling of summer into your farmhouse style living room. Decorating your mantel can help you set the tone of the entire living room and make it even easier to decorate the rest of the space.
There are many different ways you can set up a summer farmhouse mantel; however, some of the main things to include are rustic materials, bright summer colors, and country patterns. If you aren't sure where to begin, check out some simple steps for decorating a summer farmhouse mantel below.
How To Decorate A Summer Farmhouse Mantel
Start by setting up a summer background for your mantel. You can easily do this with peel and stick wallpaper – find a wood plank pattern to match your farmhouse style and choose a pattern with bright summer colors.
Line a garland across your mantel. This can be simple greenery, or a colorful flower garland.
Use tall rustic wooden candleholders in various colors to display summer scented candles.
Add some themed accents that tie together the farmhouse and summer style. This can be anything from summer flowers in a rustic mason jar to a galvanized metal sign with a summer sentiment.
Bonus: if you're truly committed to changing up the look of your mantel, you can even paint your entire fireplace with a fresh color.
---
---
4. Create A Coastal Farmhouse Theme For Your Summer Living Room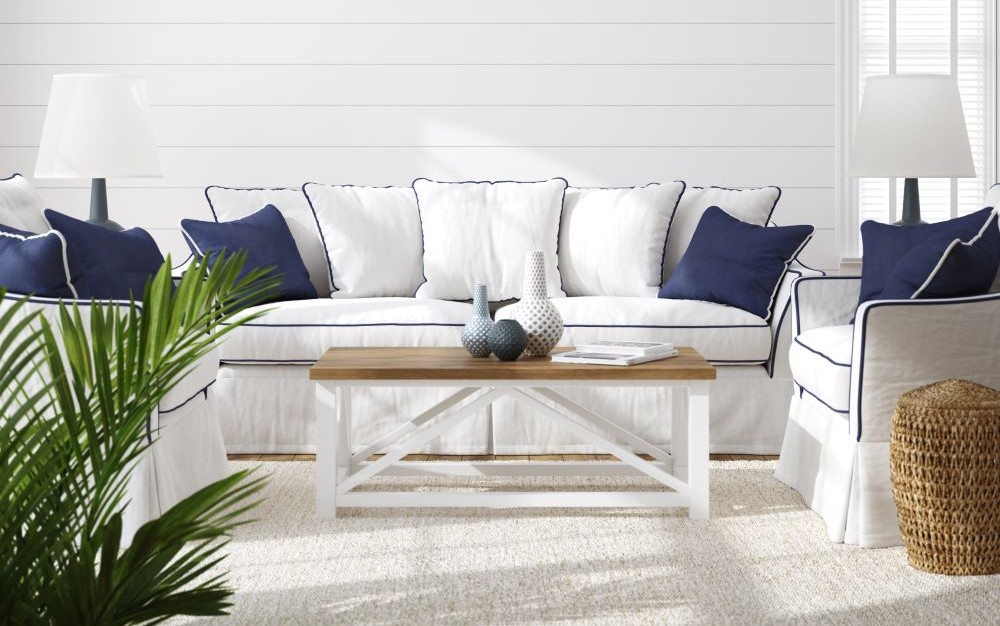 If there's any decor style that naturally gives off a fresh summer feeling, it's the coastal style! The coastal decor style can make any home feel like a beach house and brings a warm weather aesthetic to any space. Combining the coastal style with the farmhouse style can give you the ultimate summer living room.
Sometimes combining decor styles can seem intimidating because there are so many different factors to consider. Luckily, these decor styles can flow together pretty easily, especially in a living room setting. Giving your farmhouse living room a coastal twist for the summer season can make it feel brand new and fresh.
Coastal Farmhouse Living Room Decorating Ideas
Include accents in coastal colors such as navy blue and green
Decorate with wicker baskets and wicker wall hangings
Use beach themed throw pillows in rustic farmhouse colors
Display coastal symbols (anchors, seashells, fish, etc) through distressed wood decorations
Combine farmhouse materials like galvanized metal or rustic wood with coastal materials like rattan
Interested in learning more about the coastal decor style? Check out these 10 Coastal Decorating Ideas For Your Home!
---
---
5. Freshen Up Your Farmhouse Living Room For Summer With New Pillows & Linens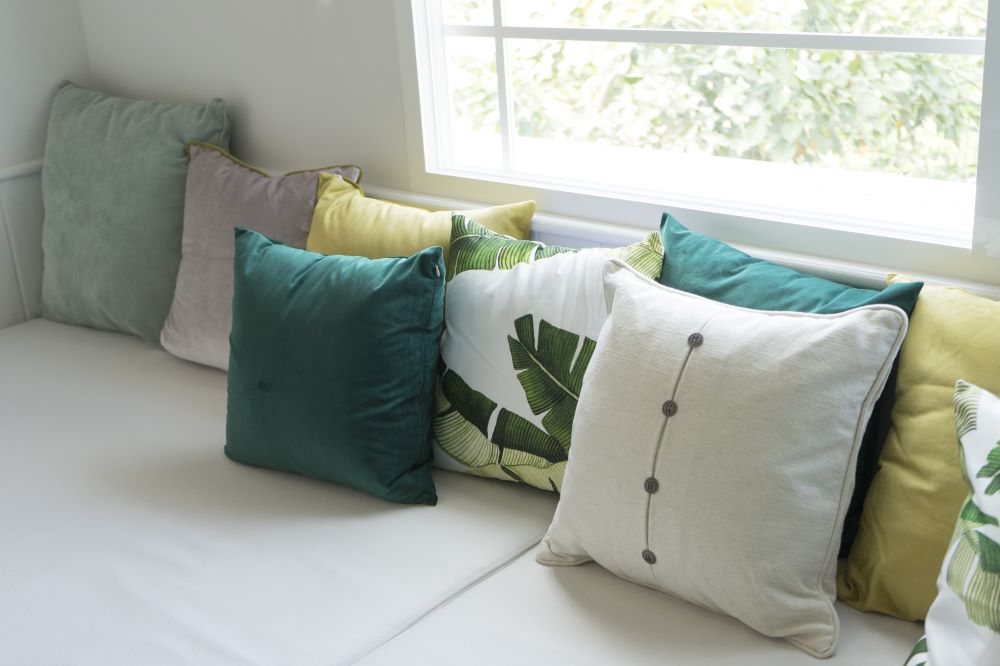 Changing up your pillows and linens for the summertime is a great way to lighten up and freshen up your space. If you want to get the summer farmhouse living room look in an easy way, you can do some simple swaps of fabrics in the room. The idea is to make the room more comfortable for the hot summer weather while maintaining the farmhouse style. By using thinner fabrics and summer colors, you can instantly transform your space.
Summer Farmhouse Living Room Linen Ideas
Throw pillows in a variety of bright summer color
Sheer white window curtains
A bold colored area rug
New furniture covers in bright colors
Use new throw pillow covers in floral patterns
---
---
Now that you've learned some farmhouse living room ideas for summer, check out our selection of Home Decor to get started on decorating! Find themed wall art, decorative accents, home collections, curtains, rugs, and much more to make your living room look stylish and unique.