How To Make Your Bedroom Look Luxurious For Less
Decorating in a luxurious style can make you feel like your home is elegant and classy. It's a great mix of comfort and style. But you don't always need to spend a lot of money to get the fancy bedroom of your dreams. Luckily, there are some easy and simple hacks you can do to transform your room on a budget. If you want to upgrade the style of your bedroom without breaking the bank, this quick guide will give you some easy ideas that anyone can do. Here is how to make your bedroom look luxurious for less.
---
Layer Your Pillows To Make Your Bed Look More Elegant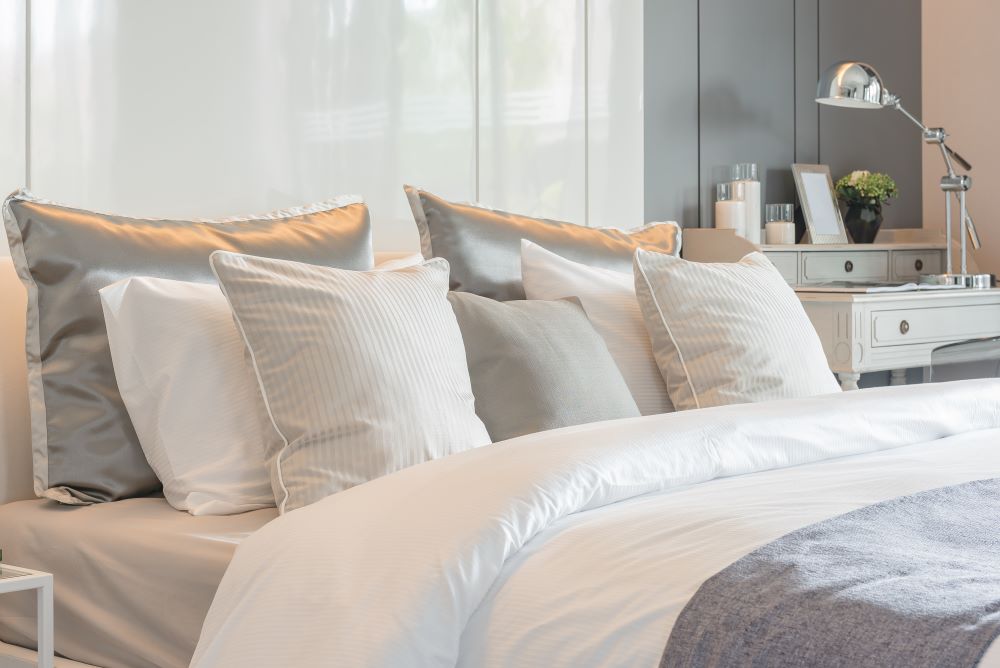 When you think of an elegant and luxurious bedroom, you probably picture comfortable fabrics and materials. Elegance is all about taking something simple and amplifying it to make it even better. An easy and affordable way you can do this in your own bedroom is to update your bedding and pillows to have that luxurious level of comfort.
An easy place to start is with throw pillows. Adding multiple throw pillows to your bed can instantly make your space look more stylish and put together. For a classy look, add throw pillows in odd numbers. For instance, add five pillows for the perfect mix of comfort and organized style. Layer your pillow setup with a decorative pillow sham in the back, followed by your main sleeping pillow, and the throw pillows staggered in the very front. This layered look will give your bed the appearance of a luxurious hotel bed.
Use throw pillows with different colors and patterns to make the bed look more decorative and unique. Match your room's accent colors or coordinate with the colors in your comforter. For the ultimate classy look, choose simple patterns such as stripes or geometric patterns. If you're using five throw pillows, opt for three solid colored ones and two patterned ones for a balanced mix.
---
---
Decorate Your Bedside Table To Get A Luxurious Look For Less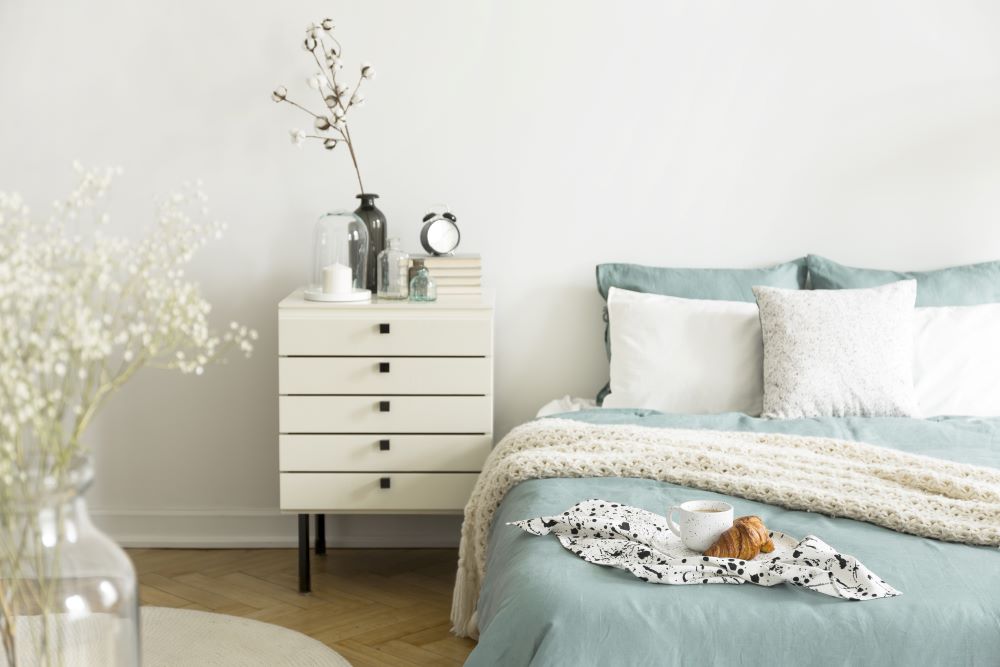 Another thing that can elevate a bedroom to the level of luxury is the creative use of decorative accents. Decorating your bedroom with accents can give it some extra personality and make it look even more put together. You can easily create any elegant look that you want with simple details that will instantly transform your bedroom into a new space.
Decorating your bedside table is a great place to start with decorative accents. Depending on the size of your table, you don't necessarily need to add a lot of decorations to get a stylish look. Keeping it simple is actually a great way to make your space feel luxurious and elegant. There are so many different ways you can decorate a bedside table, but listed below are some easy guidelines to follow.
How To Decorate Your Bedside Table
Start with your tallest decoration. This can either be a lamp, if you need excess lighting, or a tall vase of faux flowers.
Next, add a medium height item. This can include a decorative statue or a few candles on candleholders. You can also create height for a small decoration by stacking some books and placing the accent on top.
Finally, add your smallest height decoration. The easiest choice is some small jar candles, but you can also add a picture frame or small block sign.
Note: for a small table or for a more simple look, just add one tall item such as a lamp in the center or a vase of flowers.
---
---
Update Your Bedroom Lighting Fixtures For A Fancier Look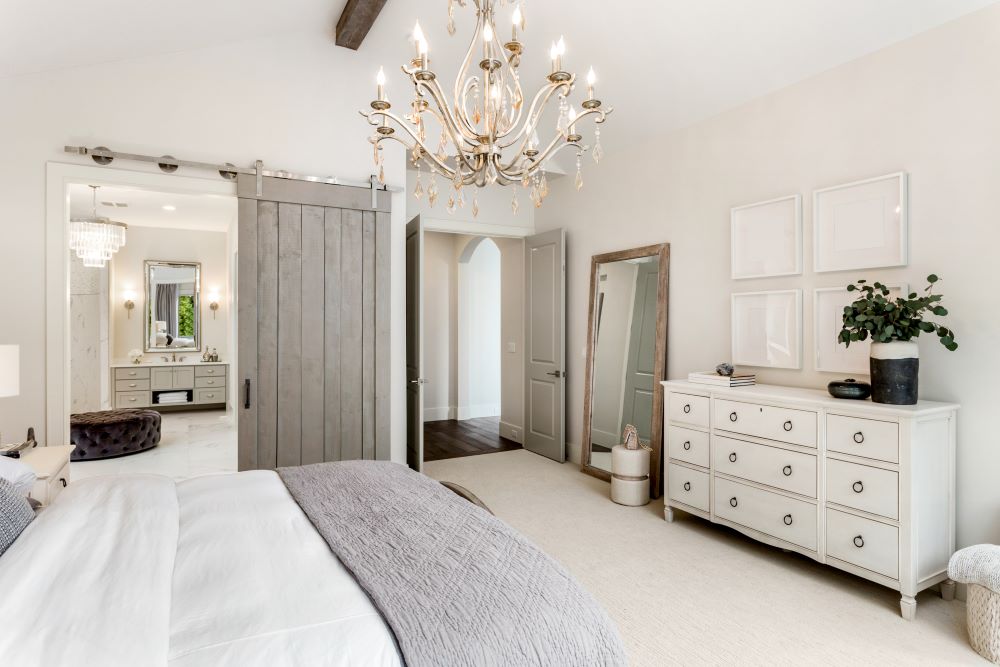 Sometimes a simple swap can do as much for a room as an entire makeover. If you want a more elegant and classy look, change out your lighting fixtures for an instant transformation. This is an especially great idea if you have fairly old lighting fixtures that haven't been updated in awhile; it gives you the perfect opportunity to add an easy elegant touch.
Almost any modern lighting fixtures can give your room a luxurious look; however, if you really want to amplify that classy feeling, opt for a chandelier light fixture. A chandelier hanging from the ceiling in the middle of your bedroom can instantly amp up the luxurious style and give your space a unique eye-catching element. If you have an attached bathroom, you can also consider adding a chandelier light fixture to that room as well.
In addition to swapping out your ceiling lighting fixture, you can also add other luxurious style lighting throughout the room. You can easily find lamps that look fancy without a big price tag. Whether it's a faux crystal lamp shade, a lamp with a mirrored base, or another elegant style lamp, you can quickly get the look you want for less. Add these lamps to your dresser and side tables for an instant transformation.
---
---
Display A Decorative Tray On Your Dresser For A Luxurious Bedroom Style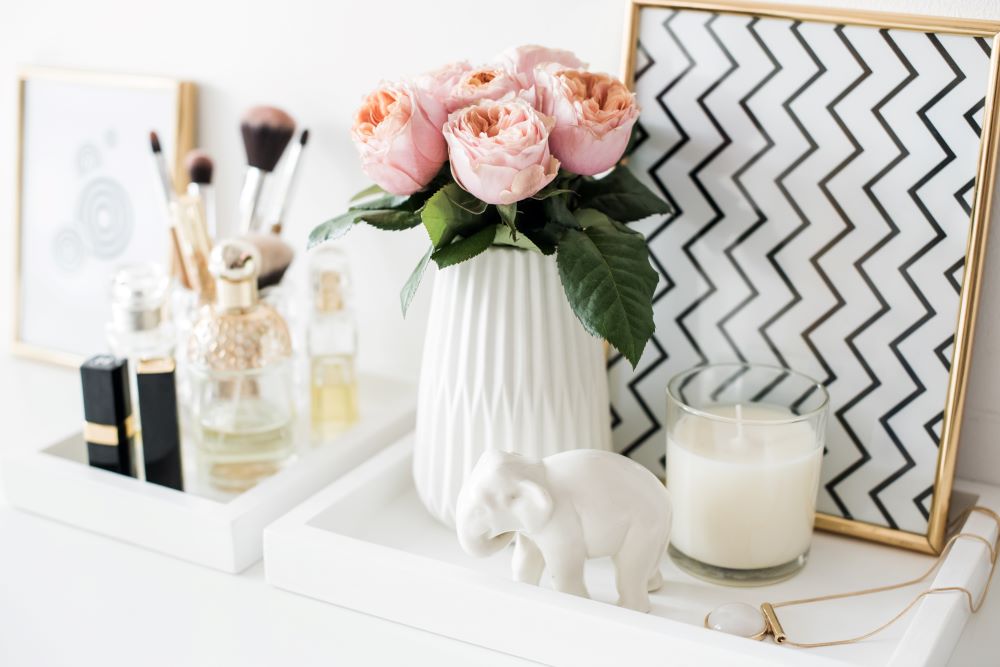 Another easy way to add luxury to your bedroom is to style a decorative tray on your dresser. Trays are a great way to stay organized while giving your space a stylish touch at the same time. There are so many ways to elevate a decorative tray and give it the luxurious look of your dreams.
Combining decorative accents with your everyday necessities can help you get the most use out of your tray while maintaining a stylish appearance. While you can choose almost any type of tray you want to match your current bedroom's decorations, for the most luxurious look you should choose a mirrored tray, a marble tray, or a wood tray.
How To Decorate A Tray On Your Dresser
Depending on the size of your tray and the amount of necessities you need to keep out on your dresser, there are a variety of ways to style a tray based on your needs. Keep in mind that you can style the tray in almost any way you want and still achieve a luxurious look. Here are some ideas to get you started.
Set up a tray with a picture frame, vase of faux or real flowers, a jar candle, and a small decorative statue.
Display a set of three candles in small, medium, and large. Then, add a decorative plant and a statue.
Create a tray with your beauty essentials. Use a clear jar to hold makeup brushes, display your fanciest bottles of perfume, and add a couple of your favorite lipsticks. If you have room, you can also add a jar candle.
Use your tray to organize your favorite jewelry and add a tall vase of flowers alongside the jewelry.
---
---
Bring In Some Greenery To Upgrade Your Bedroom Style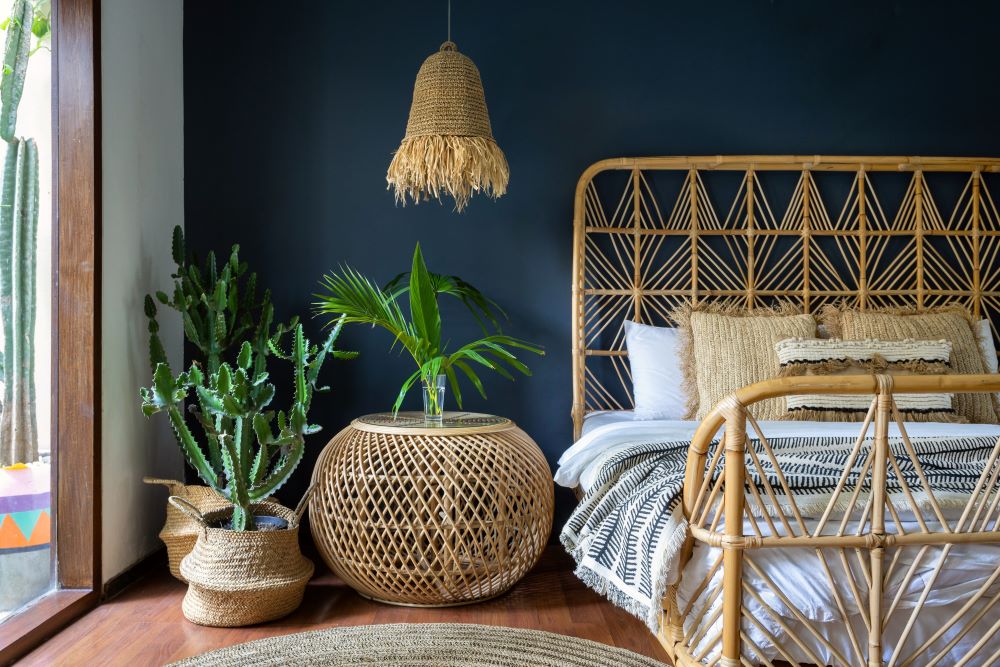 Sometimes the best way to elevate your bedroom's style is to use natural elements. Houseplants and flowers are a solid choice for giving your bedroom a luxurious and fresh look. There are so many ways to incorporate greenery into the room, whether it's faux or real. Whether you want a full spread of greenery or just some simple pops of freshness throughout the room, this idea will elevate your room.
Start by adding some small plants around the room, such as on your bedside tables and on your dresser. Use decorative planters and baskets to show off these plant in style. If you want to really commit to the fresh look, consider using real plants around your room. Real houseplants require a little bit of maintenance but can come with great benefits such as stress relief and increased oxygen in the room.
For a bolder look, go for larger and taller plants, especially in the corner of your room. Place a tall floor plant in the corner inside of a large decorative basket for a stylish look. You can also add a faux tree in the corner for an even bolder look. Always coordinate the plants with elegant planters to keep the element of luxury flowing throughout the bedroom.
---
---
Invest In A Nice Headboard To Amplify The Look Of Your Bedroom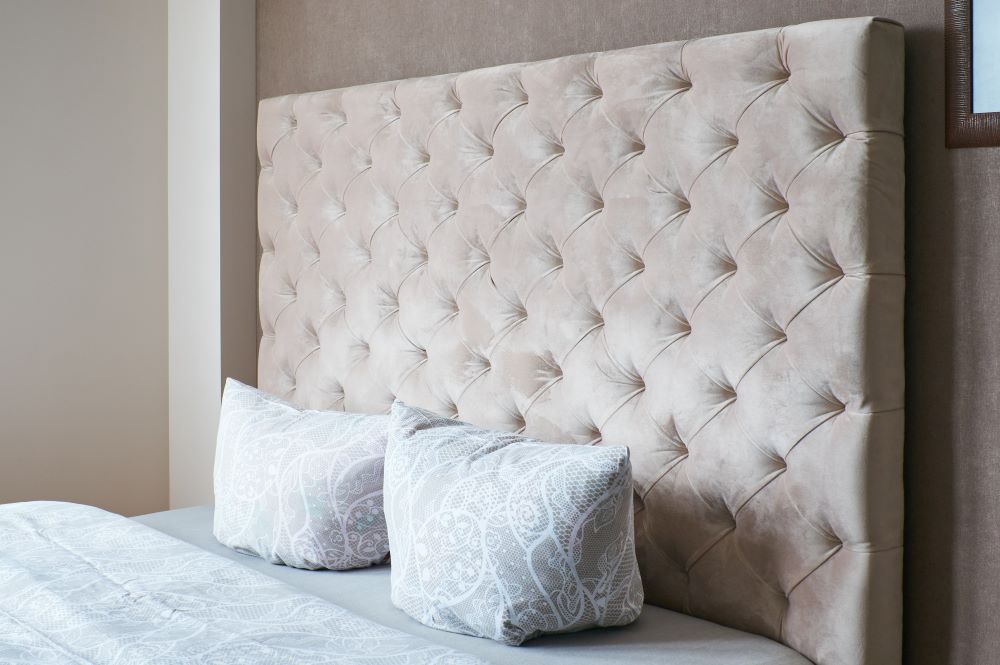 As mentioned earlier, comfort is a huge part of having a luxurious style bedroom. Investing in a headboard can be well worth it to amplify the look of your room. When combined with your layered pillows and an elegant bedspread, the headboard can tie the entire look of your bed together.
You can either add a headboard to your current bed, or find a bedframe with a headboard built in. There are so many different styles and colors of headboards that can work for a luxurious look. Find a headboard that fits in with your other decorations and your overall color scheme of the room. Most importantly, find a headboard that fits your ultimate comfort needs!
Types Of Headboards For A Luxurious Style
Cushioned Headboard: These not only provide a great amount of comfort, but they also give the appearance of a fancy hotel room
Panel Headboard: Wood panel headboards are perfect for a luxurious look mixed with farmhouse style.
Solid Wood Headboard: Solid wood headboards look sleek and chic, making them a nice choice for a modern luxurious room.
Bookcase Headboard: A bookcase headboard or storage headboard is a great mix of stylish and functional and can easily fit into a luxurious bedroom with the help of decorative accents.
---
---
Decorate An Accent Wall For A Simple Bedroom Transformation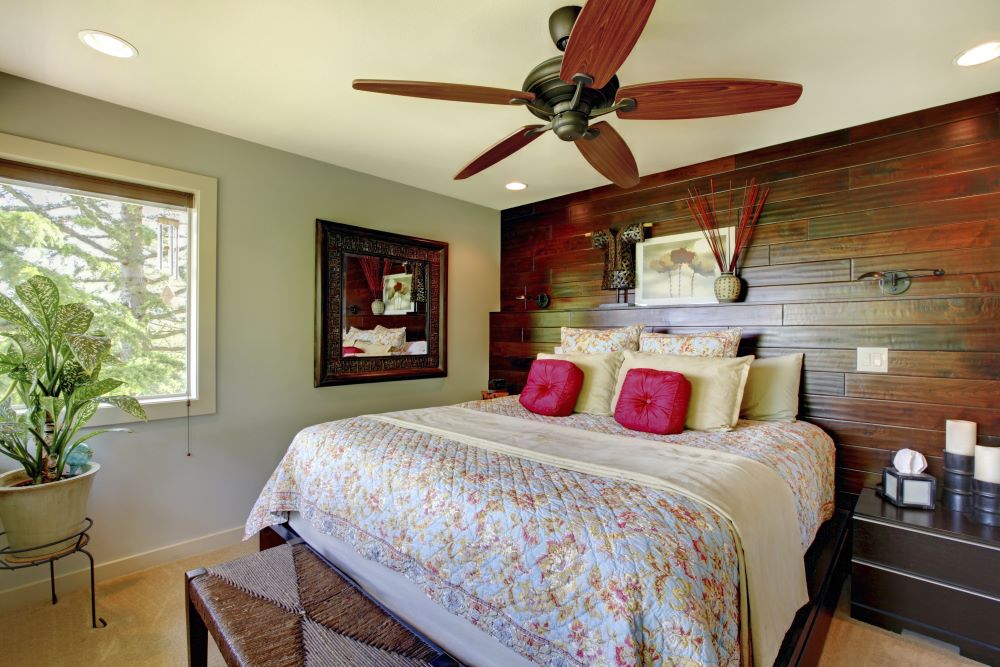 Another simple yet effective way to make your bedroom look luxurious and transform your space is to set up an accent wall in the room. An accent wall can add a unique touch that stands out in the room while maintaining a simple and stylish appearance. Decorating an accent wall is a great choice if you want a bold bedroom transformation.
You can choose almost any wall in your room to be your accent wall; however, the wall behind your bed is usually the best choice. This is because your bed is the main element of the room, so you can highlight it even more with an accent wall. Your accent wall should stand out from the rest of your decorations but still complement your color scheme accordingly.
Decorate a wood panel accent wall for, paint an accent wall a darker shade of your main color, or use peel and stick wall paper for a patterned accent wall. You can also create an accent wall through the use of wall art or picture frames by setting up a collage layout. Get creative with your accent wall and keep the style of luxury and classiness in mind when decorating.
---
---
Now that you've learned how to make your bedroom look luxurious for less, shop our selection of Home Decor to get started! Find wall art, decorative accents, home collections, curtains, furniture, and much more to transform your space.