7 Summer Kitchen Theme Ideas For A Brand New Look
Creating a kitchen theme is a fun way to brighten up your space and make your home feel personalized to you. A fresh season calls for a brand new theme. Summertime is all about bright and cheerful themes that reflect the warm weather. Transforming your kitchen for the summer can help make your home feel extra festive for this warm weather season. Whether you want a simple summer theme or if you want a more vibrant and unique appearance, you can easily achieve your ideal look with the help of decorative accents. Here are 7 summer kitchen theme ideas for a brand new look.
---
1. Make Your Kitchen Feel Tropical With A Beach Theme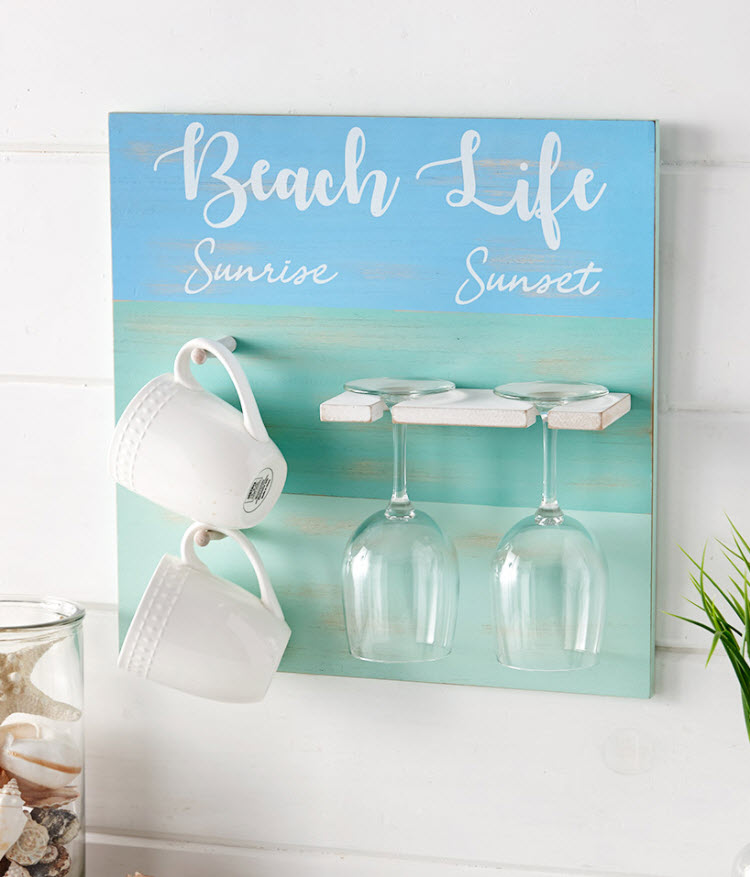 There's nothing more fitting for the summertime than a tropical beach! Make your kitchen feel vibrant and tropical with the help of coastal style decorations.
The coastal/beach style typically includes symbols such as seashells, sea creatures, anchors, flip-flops, and oceanfront scenes. It also includes colors like tan, blue, and teal.
Amplify this theme in your kitchen by adding a vase of seashells to the center of your kitchen island, hang up some beach scene wall art, and decorate with hand towels in tropical colors.
This beach life coffee and wine wall hanging is the perfect addition to your coastal kitchen! Featuring vibrant blue colors, you can display your favorite coffee mugs and wine glasses in style.
From Sunrise to Sunset Coffee and Wine Decor
---
2. Add Some Fresh Summer Cheer With A Lemon Themed Kitchen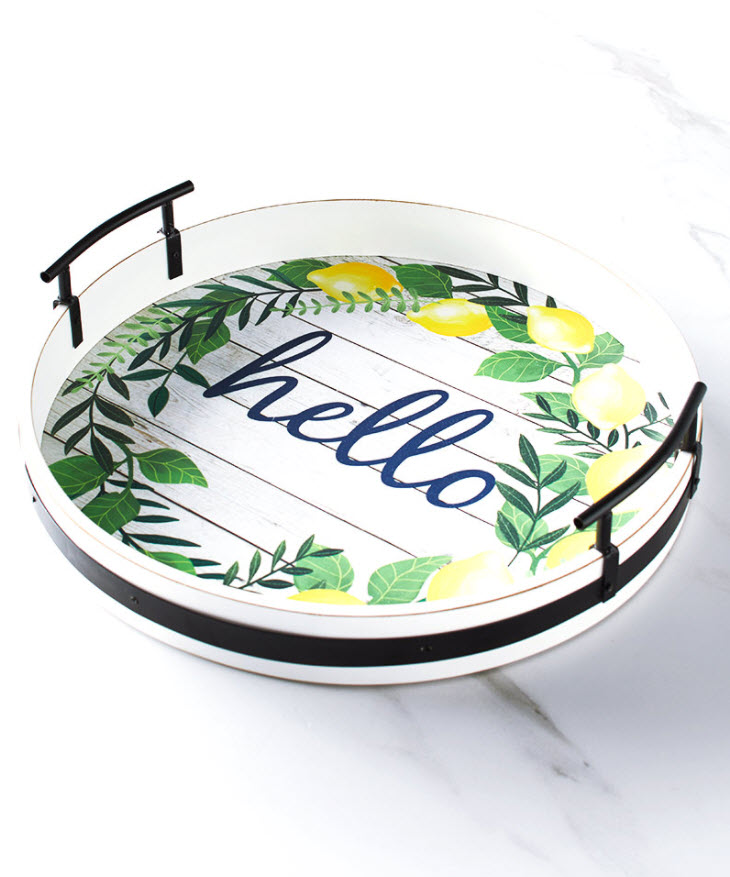 Fresh fruits reflect the vibrancy and cheerful nature of the summer season. Decorate with a lemon theme for the ultimate fresh summer feeling in your kitchen.
Lemons are not only a bright and cheerful yellow, but they are also delightfully refreshing. Decorating with lemon patterns can help you instantly transform your kitchen for the brand new season.
Add lemon patterned accents to your kitchen such as new hand towels, a kitchen mat, and a set of patterned canisters. You can even use real lemons as part of your decor spread by displaying them in a glass bowl in the middle of your kitchen island.
The lemon grove wooden tray featured is a great way to get your lemon theme started! Use this tray to carry snacks and foods, and display it on your kitchen counter when not in use.
Lemon Grove Kitchen Collection
---
3. Bring Some Outdoor Charm Into Your Kitchen With A Bee Theme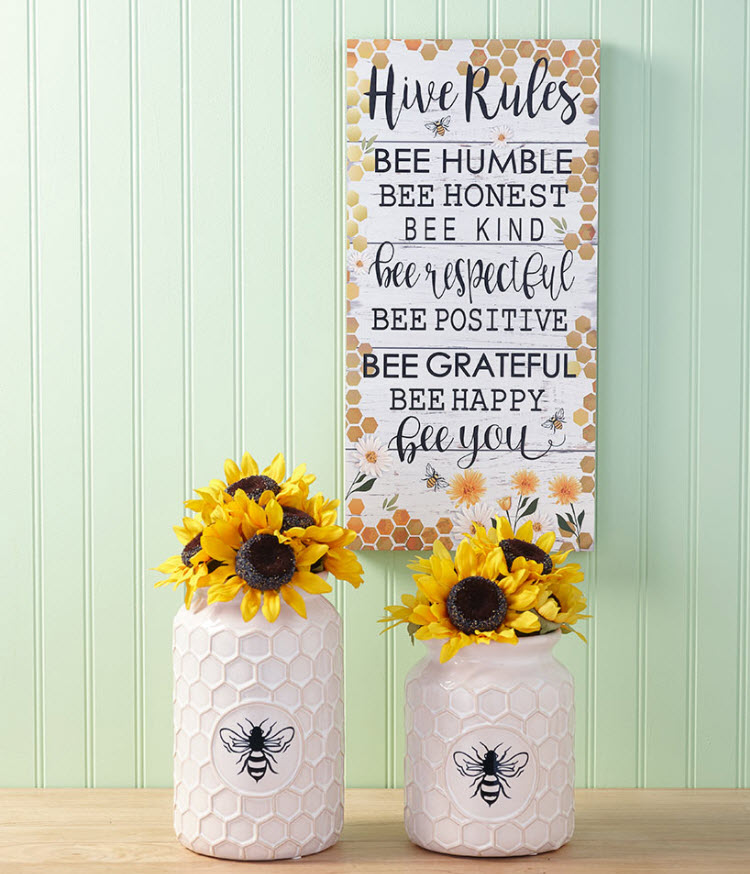 Another iconic summertime symbol is the friendly bumblebee! Bees are one of the first creatures that everyone thinks of during summer, so a bee theme for your kitchen only seems fitting.
When decorating with a bee theme, you want to make sure that you don't overdo the bee symbol. You can easily coordinate the bee theme with floral patterns and a yellow color scheme. Check out the floral home decor ideas for inspiration!
The bee theme can be incorporated through various decorative accents such as kitchen towels, a rug, wall hangings, placemats, and much more. Find creative ways to make your theme feel complete.
Our farmhouse bee home decor collection can give you a stylish start to your bee themed kitchen. Place some lovely fresh flowers in the honeycomb vases and display the hive rules sign on your kitchen wall.
Farmhouse Bee Home Decor Collection
---
4. Make Your Kitchen Unique & Whimsical With A Vintage Bicycle Theme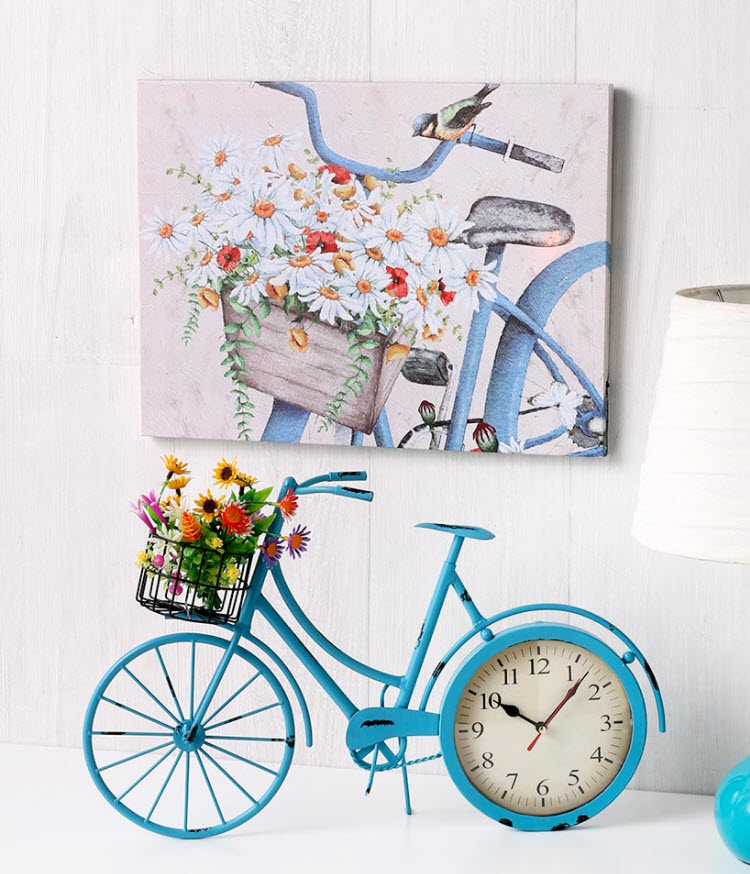 If you want a more whimsical and fun look for your summer kitchen, consider decorating with a vintage bicycle theme! This theme is a mix of charm and comfort and it works well with summer colors.
The symbol of a blue vintage bike is not only a classic nostalgic symbol, but it's also a great representation of a lovely summer day. Include this look in your kitchen for some comforting summer cheer.
Include the bicycle within kitchen decor such as wall art, flower vases, and countertop accents. You can even include some authentic vintage decorations within your kitchen to make your space feel more complete.
This floral bike home decor collection will set you up for the perfect charming summer kitchen. Featuring a floral bike wall hanging and a metal bike clock, these pieces will fit nicely into your summer kitchen.
Floral Bike Home Decor Collection
---
5. Brighten Up Your Kitchen With A Beautiful Butterfly Theme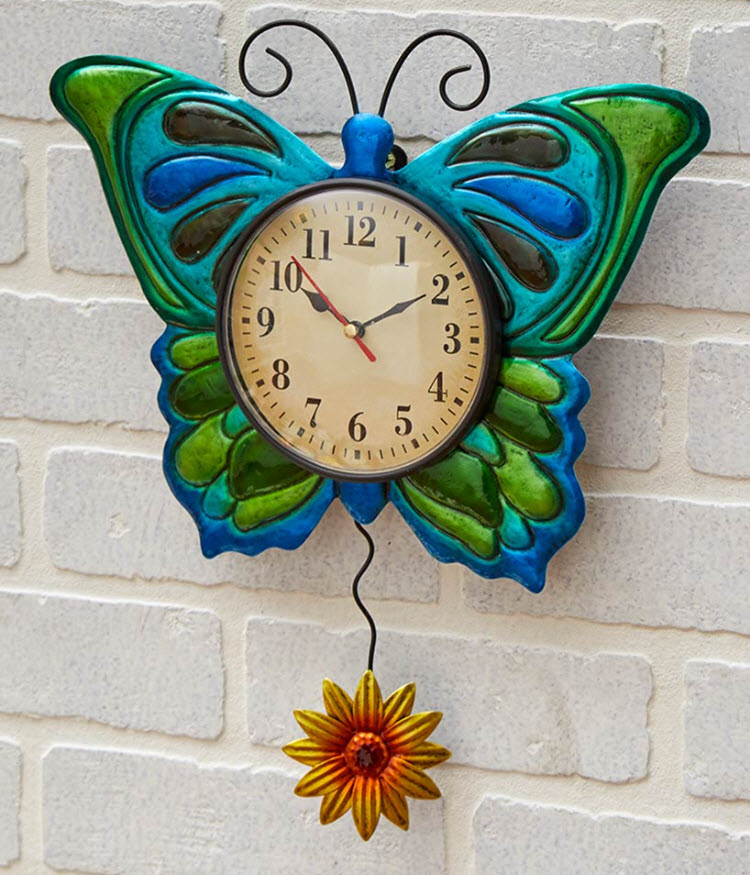 With the combination of bright colors and whimsy charm, a butterfly theme is another great choice for your summer kitchen!
Go for a butterfly theme if you want a nature style mixed with a vibrant appearance. Butterflies are naturally beautiful, and you can easily find butterfly decor in a variety of bright and bold colors.
Accent your kitchen in the butterfly theme with wall art, hand towels, a kitchen runner, and a stylish kitchen centerpiece. Combine the butterfly theme with a floral theme for the ultimate summer look.
Add a stunning element to your kitchen with this beautiful butterfly pendulum wall clock. Featuring bright blue and green colors and a flower pendulum, this clock will bring some vibrancy to your kitchen.
Metal Insect Pendulum Wall Clocks
---
6. Accentuate Your Adventurous Side With A Camping Themed Kitchen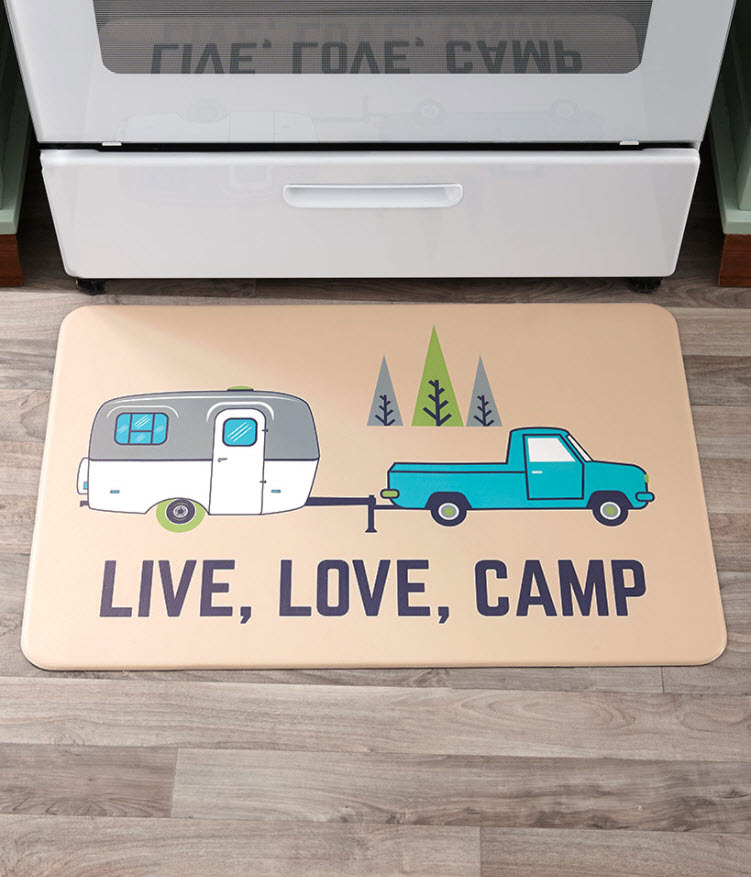 Whether you're a true camper or you just enjoy the great outdoors, a camping themed kitchen can help you create an adventurous summer space!
A camping decor theme typically features the classic camper, relevant sentiments, and campfires, along with the mountains, trees, and any other classic nature scenes. Find accents that incorporate these elements to amplify the theme.
In addition to the theme's symbols, you can also decorate your summer kitchen with rustic wood accents to bring out the natural outdoorsy feeling even more. This will tie your theme together perfectly.
This live love camp kitchen rug is the perfect charming accent to add to your camping themed summer kitchen! Complement it with other camping themed accents in a similar beautiful teal color.
Live Love Camp Kitchen Mat
---
7. Add Some Outdoor Cheer To Your Kitchen With A Bird Theme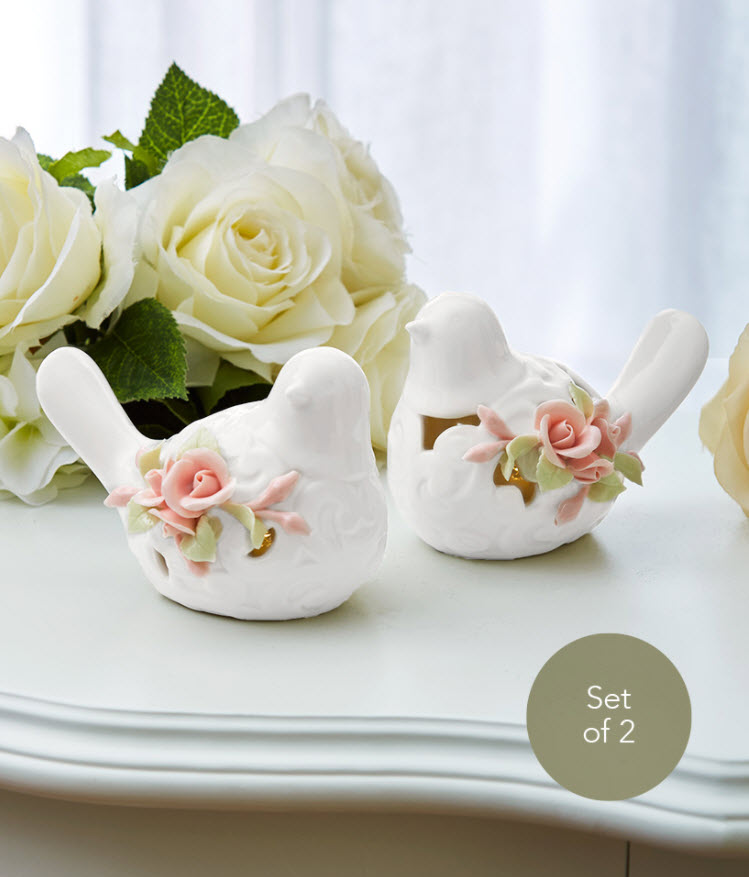 Much like some of the other summer kitchen theme ideas on this list, this last idea incorporates nature. Decorate with a bird theme if you want a classic cheerful summer kitchen look.
The great thing about bird decorations is that they come in so many different styles and colors. Bird accents can easily fit into your kitchen no matter what style you already have – whether it's country style, retro, modern, and more!
Bring in the bird symbol with a patterned rug, towels, and dish drying mat. You can also include decorative bird countertop accents throughout your kitchen or create a bird themed centerpiece for your kitchen island.
This lovely set of 2 lighted ceramic birds feature delicate pink flowers that will match beautifully with your summer kitchen. Place them on a tray with other matching decor for a table centerpiece.
Set of 2 Lighted Ceramic Birds
---
Inspired by these summer kitchen theme ideas? Shop our Kitchen & Dining section to get started on your theme! Find decorative kitchen and table linens, stylish dinnerware and serveware, storage essentials, and much more.