7 Ways To Get Your Home Ready For Summer
As summer approaches, the warm weather calls for a house refresh! It's important to prepare for the hot and humid weather with cleaning, maintenance, and more throughout your home. Whether you want to keep your home in great condition all summer long or transform your home to look bright and cheerful for summer, these simple home improvement tasks can help you. From outdoor tasks to indoor tips, here are 7 ways to get your home ready for summer.
---
1. Clean Your Outdoor Grill To Prep For Summer Barbecues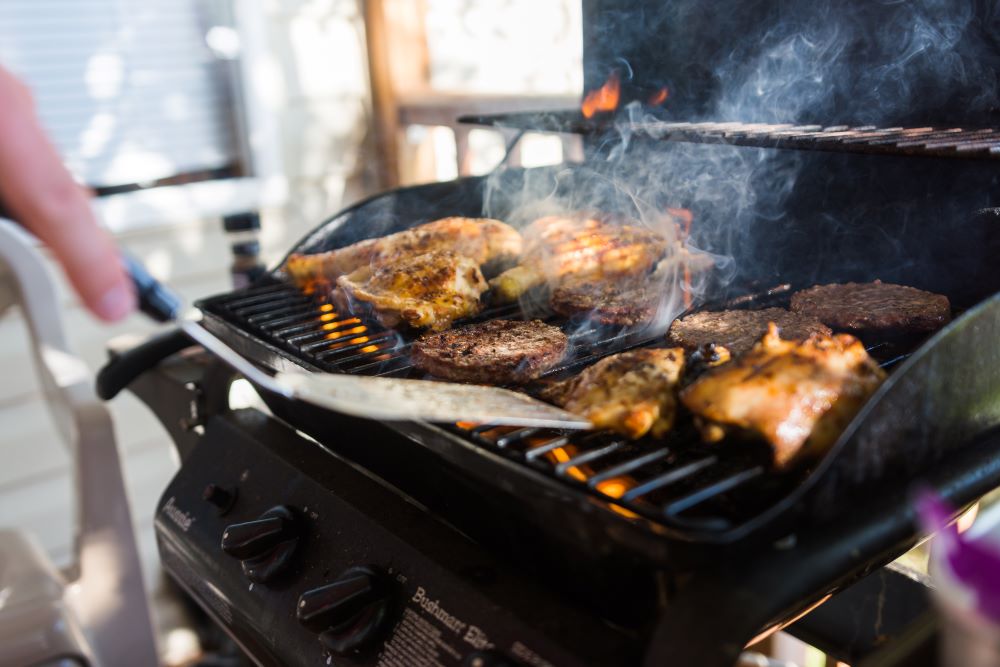 You probably haven't used your grill in awhile, but that doesn't mean debris and dirt hasn't piled up since your last use. It's crucial to give your grill a proper cleaning before you start using it for the summer season. This will help keep your food fresh and it'll increase the longevity of your grill. Check out these easy steps for cleaning the grill.
How To Clean The Grill Interior
Start by wrapping tinfoil around the burners. This will prevent them from getting in the path of debris and extra cleaning spray.
Next, loosen up any debris with a grill brush.
Then remove the grates and grease pan, and spray them with a grill cleaner and degreaser spray.
Spray the interior of the grill as well, and let it sit for a couple of minutes.
After waiting a couple minutes, use your grill brush to scrub off all the debris.
Once all debris is scrubbed off, remove the tinfoil.
Finally, use a damp cloth to wipe down the grates and grease pan.
Once you've cleaned the interior of the grill, you can also use the degreaser spray to clean the exterior of the grill. This is already a great time to get new grilling tools and accessories if yours are worn down. Preparing your entire grill set up at the start of summer will help you have a wonderful grilling season for the best backyard barbecues!
---
---
2. Take Some Steps To Reduce Your Air Conditioner Use This Summer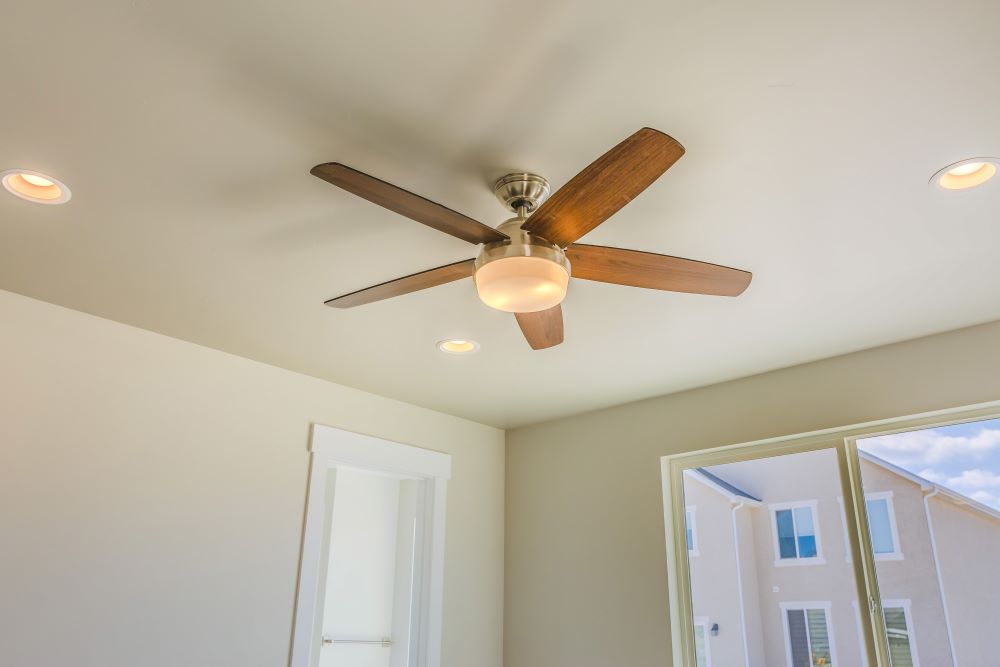 When summer hits, your electric bill tends to go up because you're constantly trying to cool down your house. But luckily, there are ways to save money in the summertime while still being comfortable in your home. With some simple hacks and tricks, you can reduce your air conditioning use over the summertime while remaining cool and cozy in your house. Below, check out some tips on how to reduce your electric bill this summer.
How To Reduce Your Electric Bill This Summer
Set your ceiling fans to rotate counterclockwise. This will push the cool air down, making you feel comfortable enough to reduce your air conditioning usage.
Use blackout curtains to block out the harsh sunlight during the day. This works especially well on windows that receive the most sunlight; it'll help to keep your house cooled down.
Reduce stove use by cooking outside as much as possible. Your stove brings a lot of heat into your home, so if you do a lot of cooking, opt for the outdoor grill to keep your house cool.
Open your windows during chilly nights for some fresh air.
Swap your heavy bedding for lighter materials. Sleeping with just a light comforter during the summer will help you reduce your air conditioner use.
---
3. Organize Your Shed & Garage For Summertime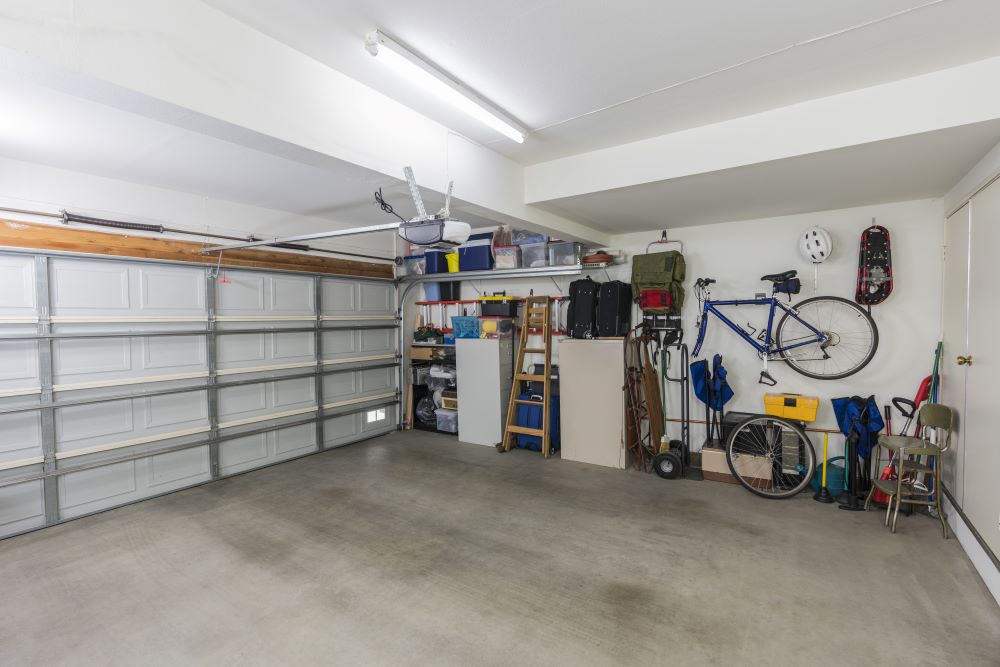 Your garage and shed tend to get cluttered with extra items and tools that you can't seem to find a place for. Whether you've been putting off organizing or if you've just recently noticed the build up of items, it's a good idea to get started on cleaning. Summer is a great time to get these areas organized for multiple reasons:
You might need to find certain garden and yard tools to use this summer that are hidden in the mess of your garage or shed.
There are certain things that shouldn't be stored in the garage during the hot summer months – this is your chance to move them somewhere else.
If you're hoping to get your outdoor tools organized, start by collecting them all to get a good idea of what you currently own. Decide on tools that can be cleaned and kept, and throw away ones that are too rusted and old. This will help you figure out any new tools you need to buy. Organize your tools in plastic bins so they're easy to find. Then, you can sort through your other garage and shed items to decide on things you need to throw away or things you want to organize into other bins. Additionally, it's important to move items that shouldn't be stored in the garage. Check out the list below to decide on what items to move.
Things You Shouldn't Store In Your Garage
Cardboard boxes. These can deteriorate from the humidify and they can become a breeding ground for pests and insects.
Books & photographs. Any treasured books and photos should be kept indoors to prevent damage from humidity.
Clothing & bedding. Humidity can cause mold to form on clothing and bedding, creating a breeding ground for insects.
Canned food. Cans of food need to be stored in a dry place because humidity can rust the cans and hot temperatures can spoil the food.
---
---
4. Give Your Deck Some Cleaning & Maintenance Before Summer Arrives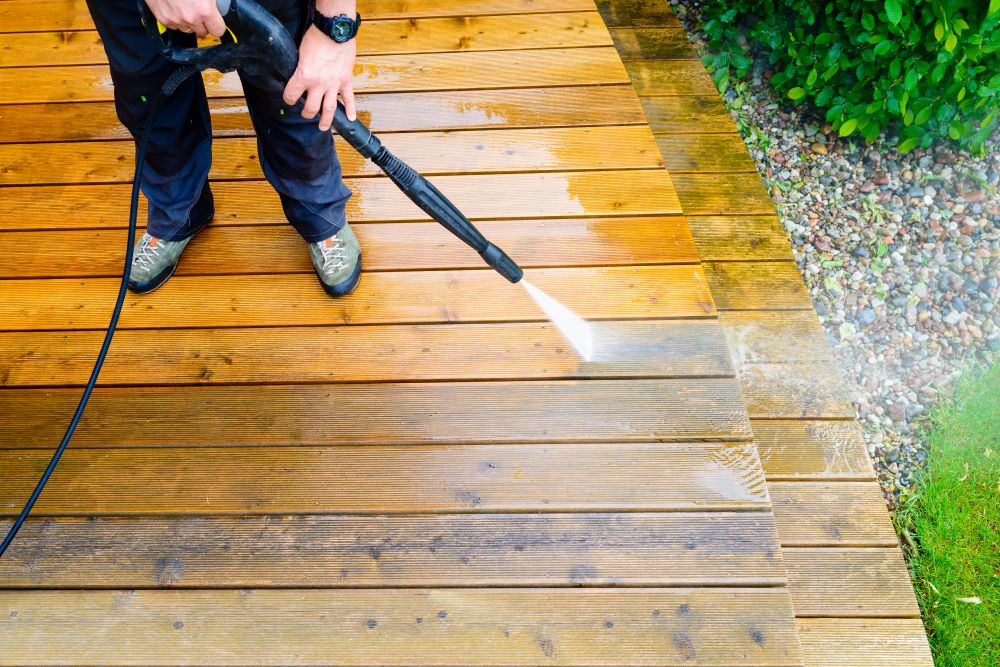 Your deck has gone through a lot during the harsh weather of the fall and winter months, so it's important that you take the time to get it ready for your summertime enjoyment. Getting a head start on your deck maintenance will allow you to keep it in the best condition possible throughout the summer season. Make sure to take all the necessary steps in order to have a healthy and thriving backyard space!
How To Prepare Your Deck For Summer
Wash your deck. This can be done with a scrub brush, but you can also use a power washer.
Hammer any nails that are sticking up. Take a look around your deck for areas that can use improvement.
Sand down any rough areas of your deck and inspect the wood to make sure it looks sturdy and healthy.
Give your deck a fresh coat of paint. If your deck looks faded or if you just want a new look, consider repainting it.
Add outdoor furniture. Bring out your pieces of furniture and add some color with the help of throw pillows and outdoor cushions.
---
5. Get Your Windows Washed For A Clean Summer Look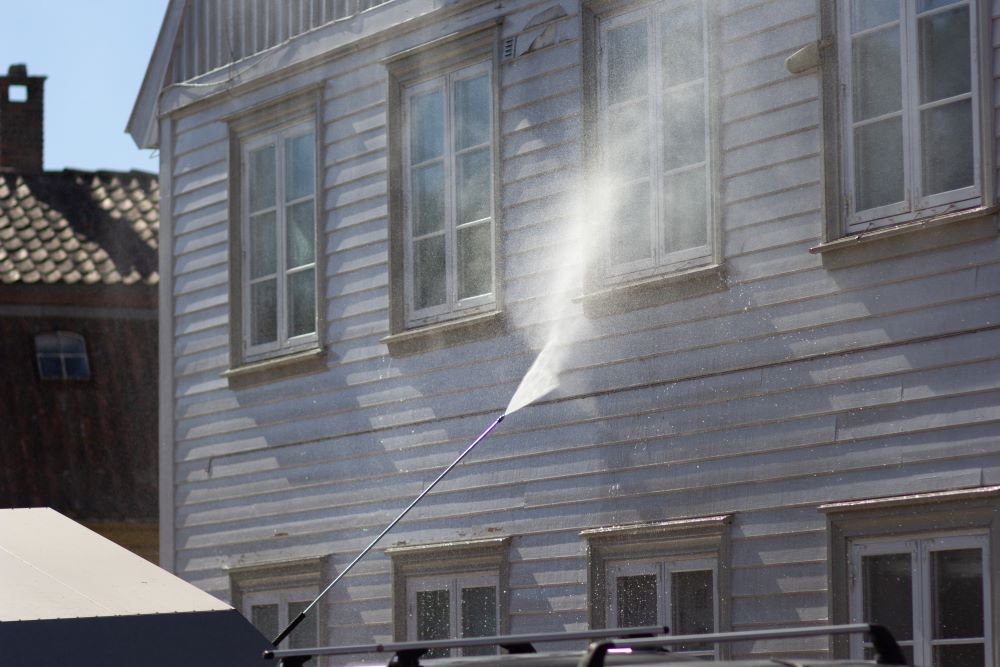 If you haven't cleaned your windows in awhile, now is the time to do so! With the bright summer sun shining through almost every day, stains and smudges will be even more noticeable on your windows. Take the time to clean the outside and inside of your all your windows to make them look fresh and clear.
Many professional services will offer to power wash your windows for you, making it even easier to get the job done. Power washing is a great way to get rid of all the dirt and buildup that has formed on your windows throughout the whole winter season. You'll also want to clean your windows from inside as well to get them looking as clean as possible. You can even consider some new window coverings and curtains for a fresh summer look.
In addition to cleaning your windows, you should also consider getting your entire home's exterior power washed. This can instantly brighten up your home and make it look fresh and clean for the summer. It'll even save you money in the long run because staying on top of it will require you to clean it less often.
---
6. Give The Exterior Of Your Home A Fresh Coat Of Paint For Summer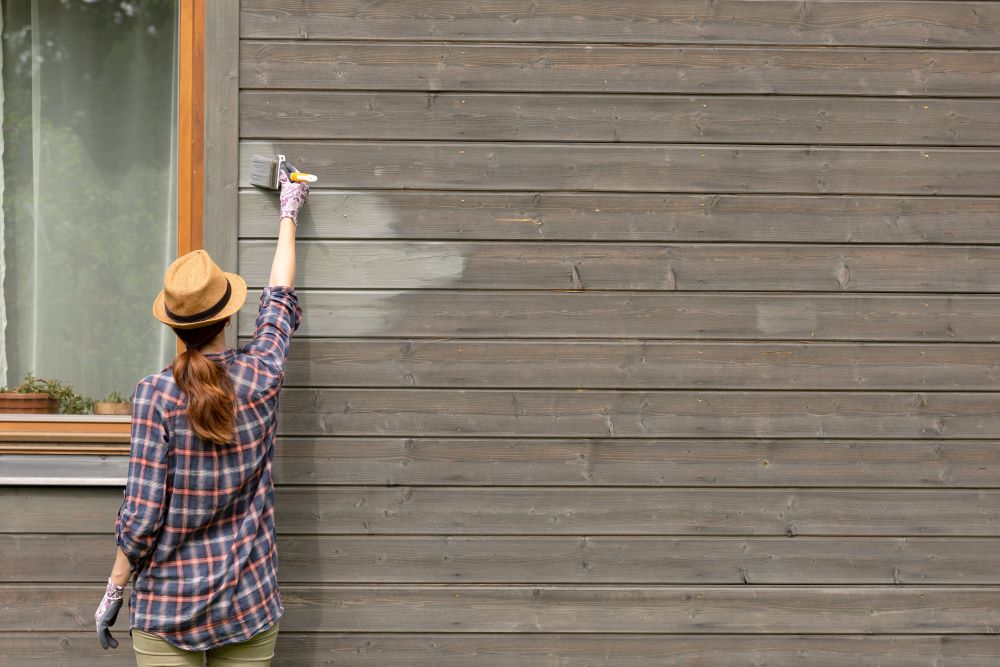 After you've power washed your windows and exterior of your home, you can also consider freshening it up with paint. Whether the siding of your home is fading in color, or if it's just been awhile since you've had it touched up, some new paint can work wonders for the entire appearance of your home for the summer.
Hire a professional service to paint the exterior of your home to make this task even easier for you. Give it a fresh coat of paint in the same color, or use a bold color for a brand new look. Either way, you can create a fresh look right before the summer season starts. This will amplify your outdoor relaxation even more, and it'll make your house stand out on the block.
If you don't want to commit to repainting your entire house, you can even just paint your front door for a simple yet effective refresh. Go for a bold look by painting it a bright color like red or blue, or go with a simple look by painting it white, beige, black, or brown. You can even just simply freshen it up with a new coat of paint in the same color that the door already is.
---
7. Update Your Wall Art & Home Decor For A Fresh Summer Look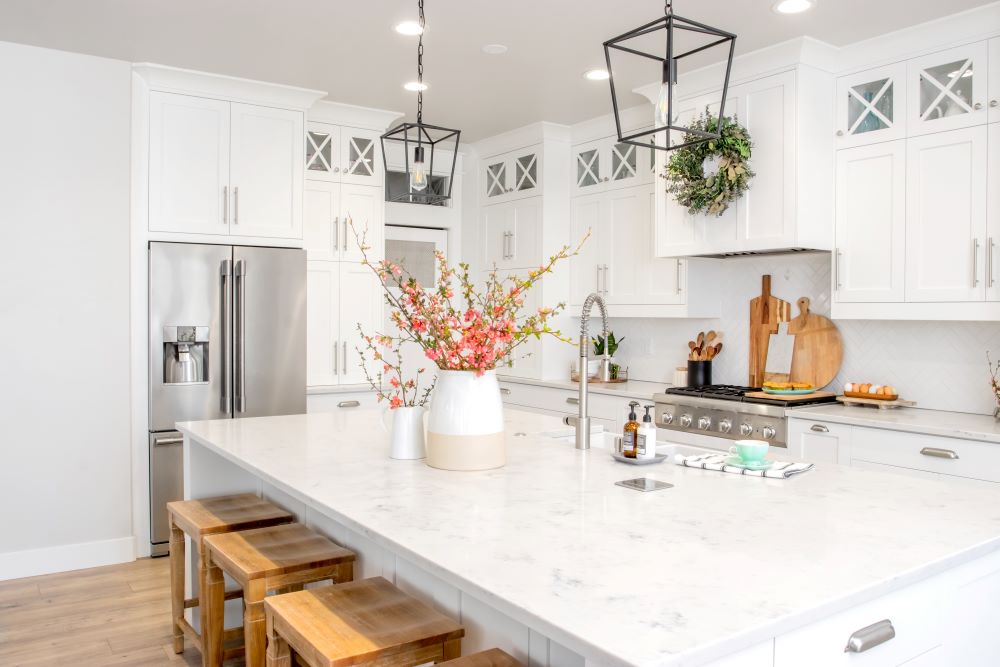 One of the easiest ways to get your home ready for summer is to transform your home decor to fit the freshness of summer. You can swap out decorations that you currently have and add some new items to display. Taking a little bit of time to redecorate your space for the summer season will help you instantly brighten up your space and make any room feel fresh and unique.
There are so many ways you can decorate your home for summer. Whether you want to go with specific themes and symbols, certain color schemes, or a more general summer appearance, you can get the type of look that you desire. With a little bit of planning, you can figure out how you want each room to be styled.
Summer Home Decor Ideas
White combined with bright colors such as teal, coral, or red.
Fresh greenery and vibrant flowers in decorative vases.
Symbols such as lemons, bicycles, butterflies, watermelons, and more.
Themes like coastal style, beach home, or lake house.
Fresh decorations that reflect the summer feeling – do this through wall art, decorative accents, and new linens
---
Now that you've gathered a list of ways to get your home ready for summer, check out our Home Improvement section to get started! Find cleaning solutions, DIY accents, household helpers, and much more.
---
Looking for even more summer ideas? Check out Redfin's guide on How To Prep Your Home For Summer Entertainment!