9 Floral Home Decor Ideas For A Warm Weather Update
Your home should feel bright and lively during the spring and summer seasons. Bringing that feeling into your home can be made easy with the help of floral patterns and flower themed decorations. There are so many different ways to decoration with floral accents and you can easily incorporate them into almost any room of your house. LTD has you covered with a wide selection of floral themed bedding, accents, curtains, rugs, kitchen accessories, and much more. If you want to bring that fresh and happy feeling into your home, check out these 9 floral home decor ideas for a warm weather update.
---
Floral Bedding & Curtains For An Easy Bedroom Refresh
Bring that fresh spring and summer vibe to your bedroom by swapping out your bedding and curtains for floral patterned fabrics! For an easy swap, simply change out your comforter for a light floral quilt and replace heavier curtains with sheer floral ones. You can also opt for a full fledged bedroom makeover by getting a full floral bedding set with fresh sheets and pillow shams. Floral bedding and curtains can range in color schemes; however, for a bright spring and summer look, go for colors like yellow, blue, green, and purple. If you don't want a bright color palette, you can also use neutral floral bedding to better match your surrounding decorations. Either way, bringing floral home decor into your bedroom will freshen it up for the warm weather.
1. Floral Vine Bedroom Ensemble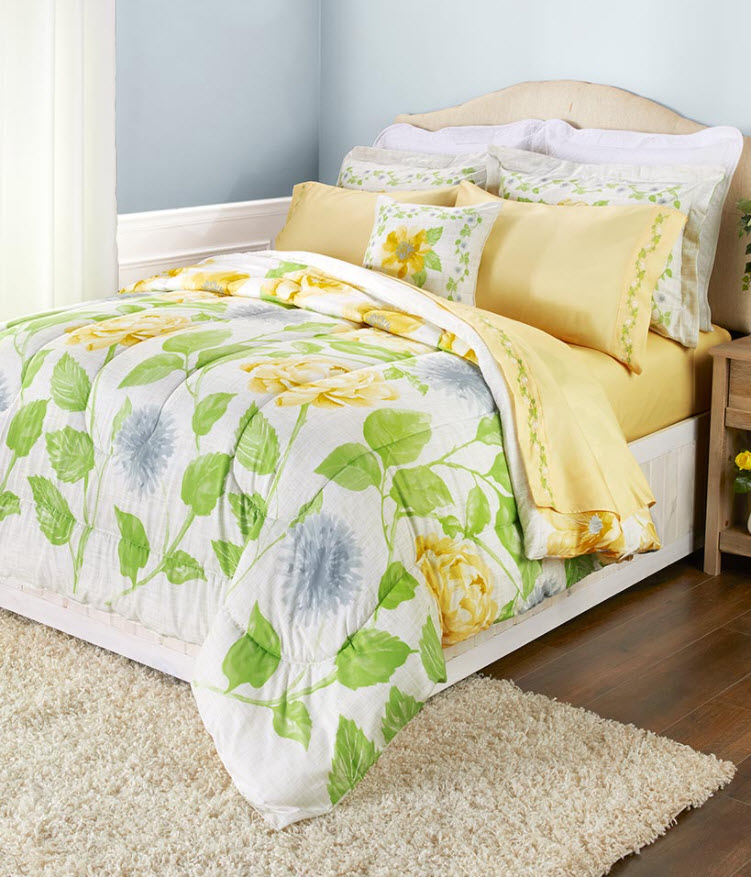 Bring some bright florals into your bedroom with the help of this Floral Vine Bedroom Ensemble!
Featuring a yellow and green color scheme, this comforter showcases a vibrant spread of flowers. The sheets have an embroidered floral border that complement the comforter nicely.
Pair this bedding with some other brightly colored accents such as new lamps, an area rug, and a vase of fresh flowers on the dresser.
2. Floral Sheer Watercolor Panel or Valance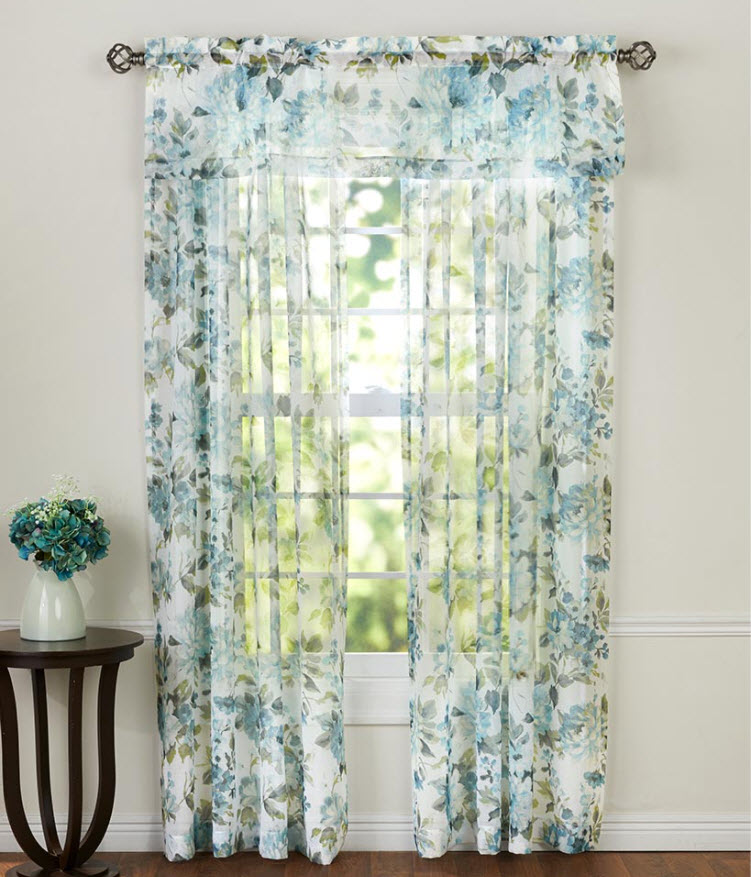 Make your bedroom feel more breezy and light with a Floral Sheer Watercolor Panel or Valance!
These decorative curtains have a repeating floral pattern that will look nice with any decor. Choose from the blue, cocoa, or grape floral curtains to match your color scheme.
Hang these curtains and then decorate the rest of the room with real or faux flowers in a matching color, along with solid bedding in the same color.
3. Reversible Floral Quilts or Pillow Shams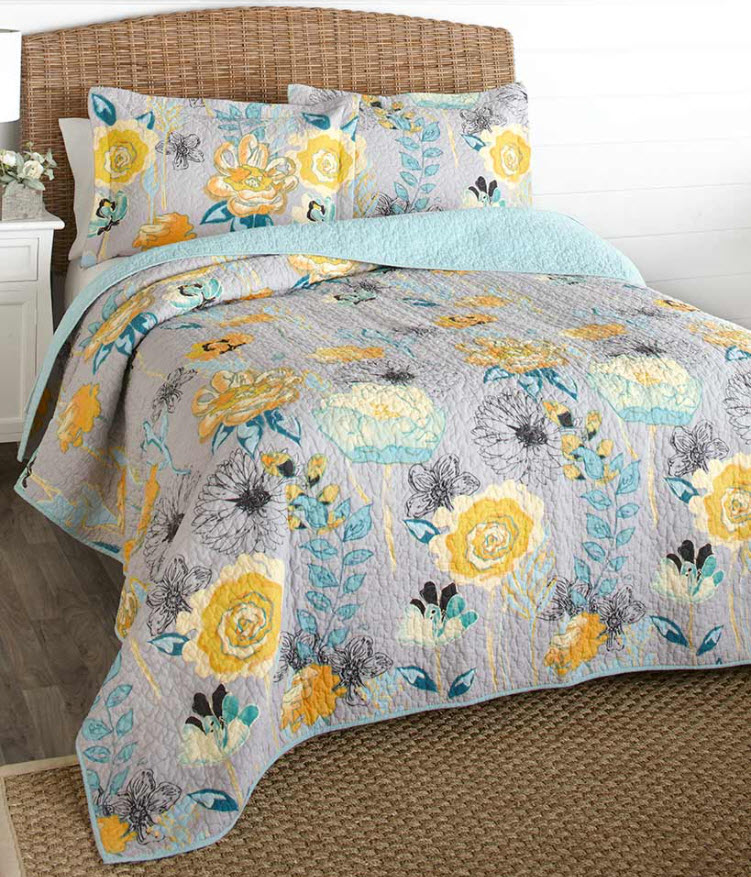 Add a unique artsy element to your bedroom with these Floral Quilts or Pillow Shams!
This quilt features a colorful floral pattern and reverses to a solid color on the other side. Choose from Watercolor Gray with blue or Watercolor with coral.
Complement this bedding with other watercolor patterned items in the room such as wall art and curtains, and match the colors with fresh flowers in the room.
---
Floral Wall Hangings To Bring Life Into Any Room
Wall art is incredibly versatile and can always add an interesting touch to any room. Bringing the floral theme to your walls can instantly brighten up your space and make it match the warm weather aesthetic. There are so many different types of floral wall hangings that you can add to your home. Whether it's a metal or wooden flower hanging, a floral artwork canvas, or other wall decor with floral patterns, you can easily find wall art that complements the rest of your decorations. Add a pop of color to your walls or create a beautiful neutral layout with the help of these floral wall hangings from LTD!
4. Wooden Wall Flowers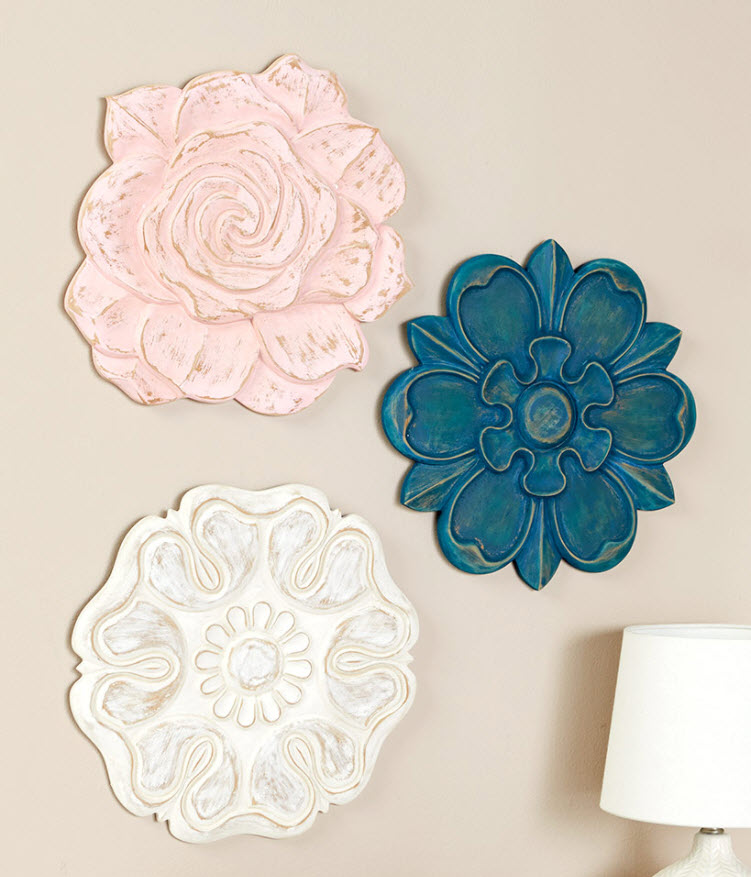 Add a bit of charming rustic style to your home with these unique Wooden Wall Flowers!
Choose from the pink rose, blue daisy, or white gardenia, or hang up all three for a beautiful display! Each flower is 16 inches in size and ready to hang on any wall in your home.
These flowers can look nice displayed in your living room with other rustic decorations and furniture such as as wooden coffee table, country sentiment throw pillows, and mason jars with fresh flowers.
5. Flower Wall Clocks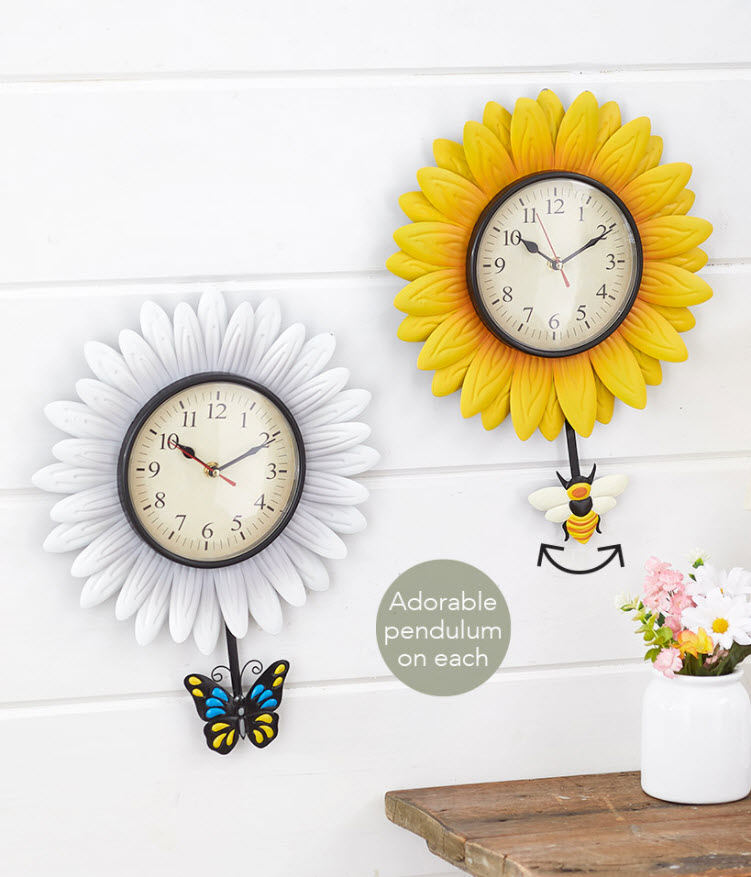 Bring something stylish and functional into your home with the help of these Flower Wall Clocks!
Pick the beautiful sunflower clock that has an adorable bee pendulum, or the white daisy clock with a charming butterfly pendulum. These are sure to brighten up your home.
One of these clocks will look wonderful hanging up in your kitchen. Complement them by matching your other decorations to the pendulum icon with decorative hand towels, a kitchen rug, and themed canisters.
6. Spring Dahlia Wall Flowers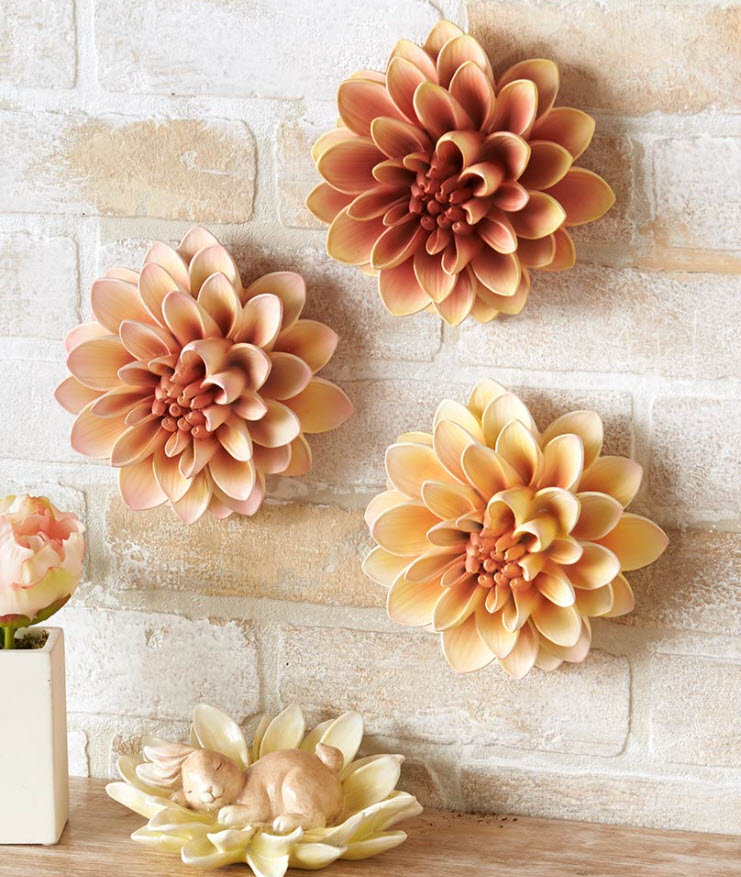 Decorate with some dimension by hanging up these 3-D Spring Dahlia Wall Flowers!
The ceramic flowers come in pink, yellow, or orange and are ready to hang on any wall. Hang up all three together for a complete look or use one to combine with other types of decor.
Hang up these eye-catching flowers in your living room or bedroom. Pair them with other soft colored decorations and floral patterned accents.
---
Decorative Floral Accents To Add Around Your Home
In addition to bedding, curtains, and wall hangings, the floral home decor theme can also be establish with other types of decorative accents throughout your home. Whether you want to create a full floral theme in your bathroom, or add some small pops of colorful florals in your kitchen, you can easily create the look you want with accents. You can get as creative as you want when it comes to adding florals into various rooms; it's fun to play around with decorations and combine them with other themes that you've already established with your decorations. These decorative floral accents from LTD are sure to fit into your home nicely!
7. Floral Kitchen Essentials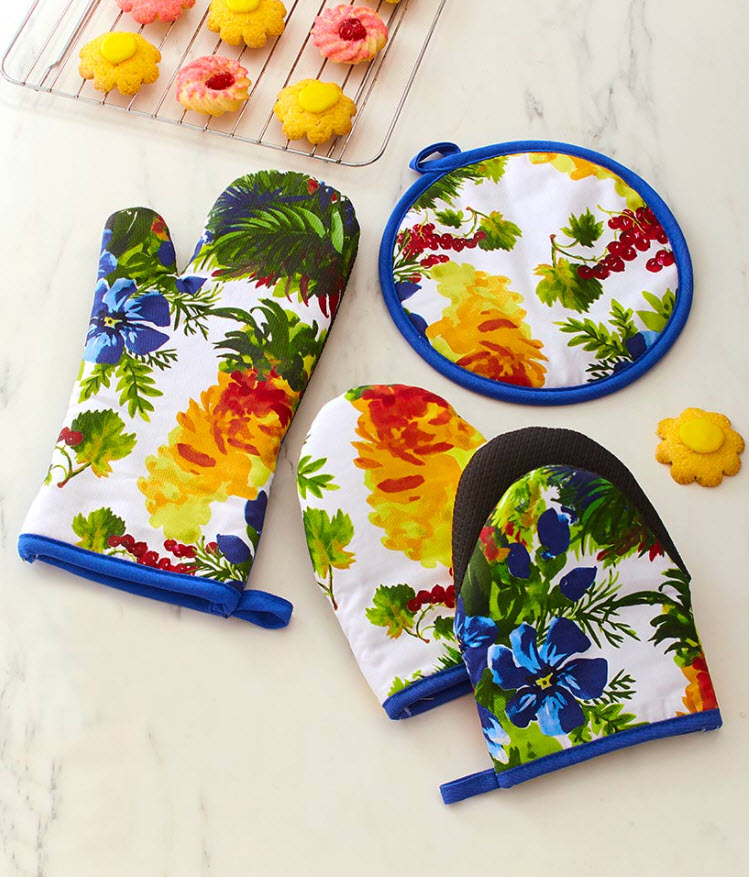 Bring some fun liveliness and color to your kitchen with this collection of Floral Kitchen Essentials!
The collection showcases a vivid watercolor floral print perfect for the spring and summer. You can choose from the set of two mini mitts or the oven mitt and potholder combination.
Display these useful kitchen accessories by hanging them on the wall above your oven and complement them with other bright floral accents throughout the room.
8. Artificial Tulip Arrangements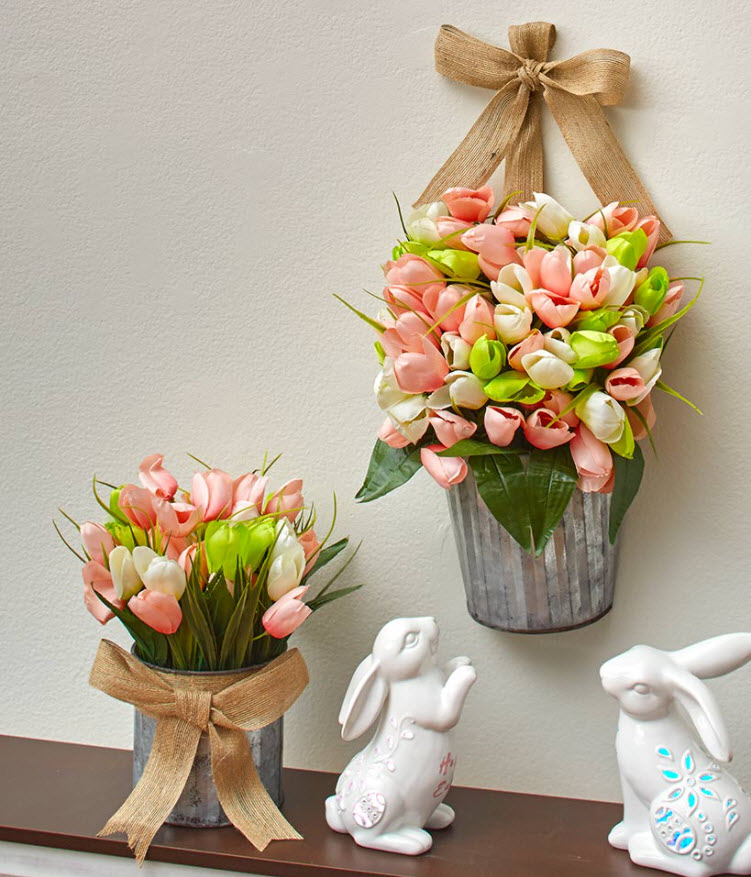 Add flowers to your home in a carefree way with these lovely Artificial Tulip Arrangements!
The faux flowers are a colorful arrangement of yellow, pink, and ivory and come in a galvanized metal vase. Choose from the hanging vase or potted arrangement to display on a tabletop.
Show off this arrangement on an entryway table with other spring and summer accents such as floral scented candles and patterned photo frames.
9. Floral Bathroom Collection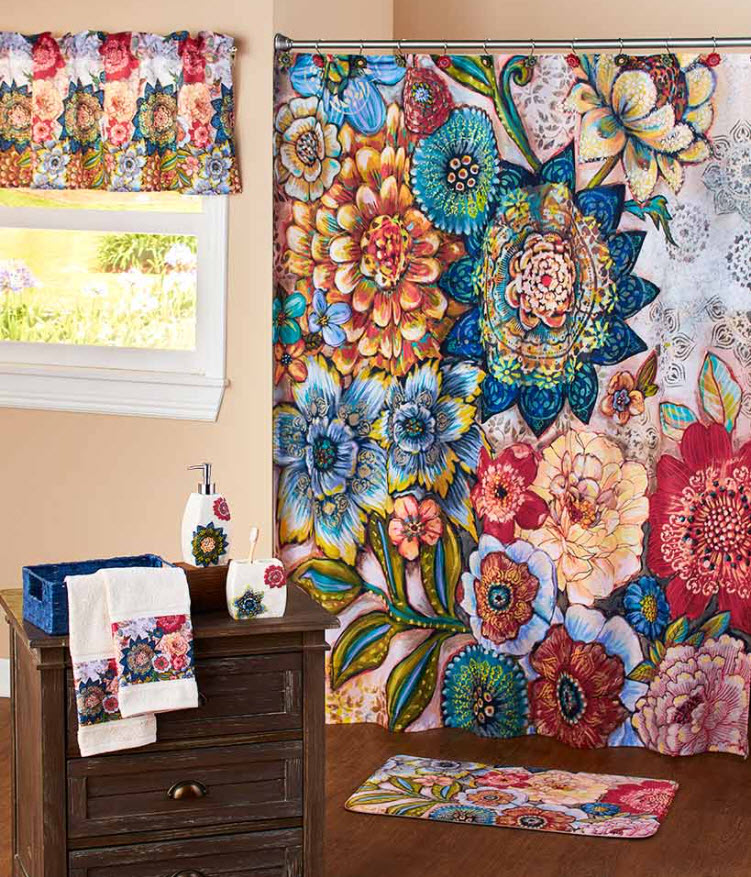 Transform your bathroom in a fresh style by decorating with this Floral Bathroom Collection!
This multi-colored collection features a shower curtain, shower hooks, bath rug, hand towels, soap/lotion dispenser, toothbrush holder, and window valance. Buy the whole set for a complete makeover.
Display this entire set in your bathroom and hang up coordinating wall art to match the colors and floral patterns for a complete look.
---
Now that you've gained some warm weather inspiration with these floral home decor ideas, check out our full selection of Home Decor to make your theme come to life! Find wall art, decorative accents, home collections, curtains, rugs, and much more to transform any room in your house.