7 Patio Furniture Ideas To Transform Your Space
Outdoor furniture can make your space feel more stylish and comfortable. Whether you're relaxing outside on a sunny day or entertaining with a backyard barbecue, tables and seating can amplify any outdoor experience. You can easily add a furniture set or individual pieces to your patio, no matter how big or small your space is. From decorative tables to comfortable seating to foldable furniture and more, here are 7 patio furniture ideas to transform your space for the spring and summer seasons.
---
1. Display Mosaic Furniture To Add A Decorative Touch To Your Patio
Decorative furniture can make your patio look homey, welcoming, and fresh for the spring and summer. Put a little bit of style into your patio space with beautiful furniture.
A great way to add style to your patio is through mosaic furniture. The mosaic style gives off a colorful, charming, and artsy aesthetic. Adding this type of furniture to your patio will make the area look bright and interesting.
Mosaic furniture can come in a variety of styles and designs. Add a stunning mosaic side table with some simple chairs, bring in a small mosaic stool, or use a mosaic outdoor dining table to really add the "wow" factor to your patio.
You can decorate with almost any color when it comes to mosaic furniture depending on the look you want. Use blue mosaic for a fresh space, bright yellow for a vibrant look, pink for a feminine touch, or a neutral color that blends into your patio decor.
Metal Mosaic Outdoor Furniture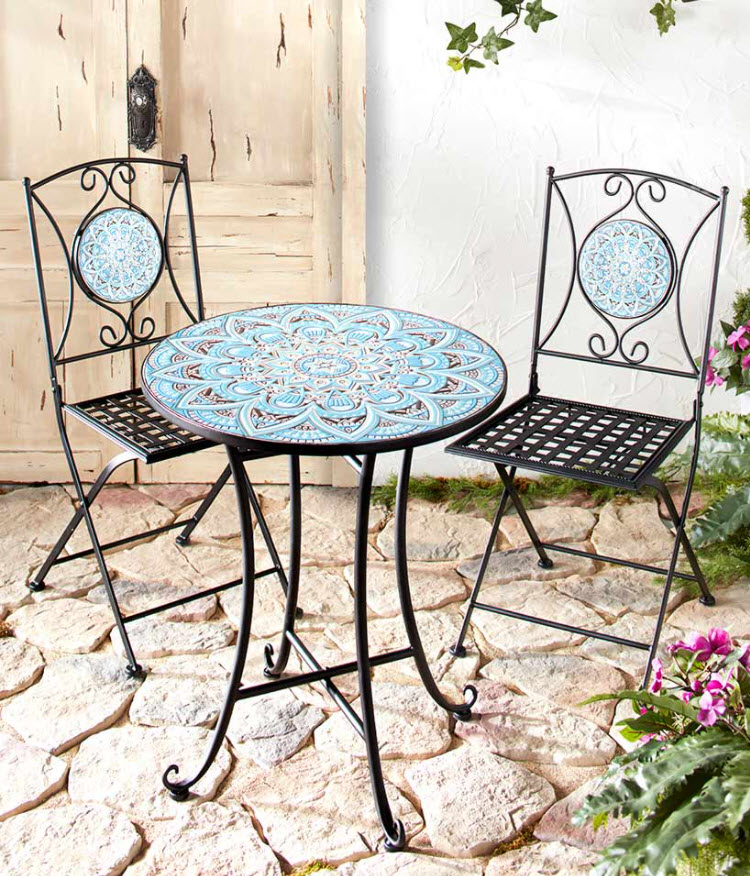 ---
2. Use A Sun Awning For A Shaded Patio Seating Area
Another way to amplify your patio relaxation and entertainment is to add a sun awning to make your seating area more comfortable. Giving your patio some shade can make for a better outdoor eating and relaxing experience.
There are many different types of awnings and other outdoor sun shades that you can use on your patio space. This includes things such as:
Awning gazebo
Outdoor curtains
Table umbrella
Pop-up canopy
Pergola
Find the seating area of your patio that receives the most harsh sunlight and use outdoor shading in those areas. You can even use temporary shading structures that you can take down whenever you want some extra sunlight.
Sunshade Awning Gazebo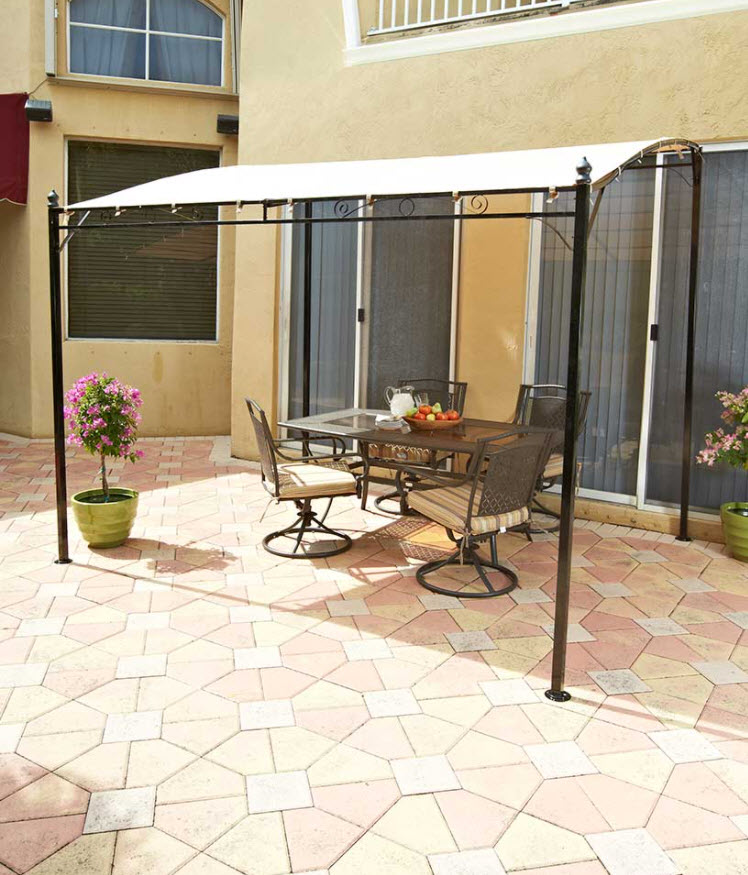 ---
3. Create A Patio Theme With Unique Outdoor Furniture
Combining style and comfort is a wonderful way to make your patio feel more enjoyable and special. Whether you already have a patio decor theme or if you want to create one, you can easily add unique furniture to match the style you want.
There are so many types of design styles that can work for an outdoor space. Here are some ideas on how to add furniture to your patio based on your decor style:
Farmhouse Style: Add a tractor shaped bench or any rustic metal furniture.
Coastal Style: Use white wicker furniture or colorful metal furniture.
Vintage Style: Display a furniture set with a scroll pattern or some funky retro chairs.
Modern Style: Bring out some mosaic furniture or a large glass dining table.
No matter what type of look you want on your patio space, choosing furniture that matches your theme will make your outdoor area feel more complete and put together.
Metal Farmhouse Bench or Chair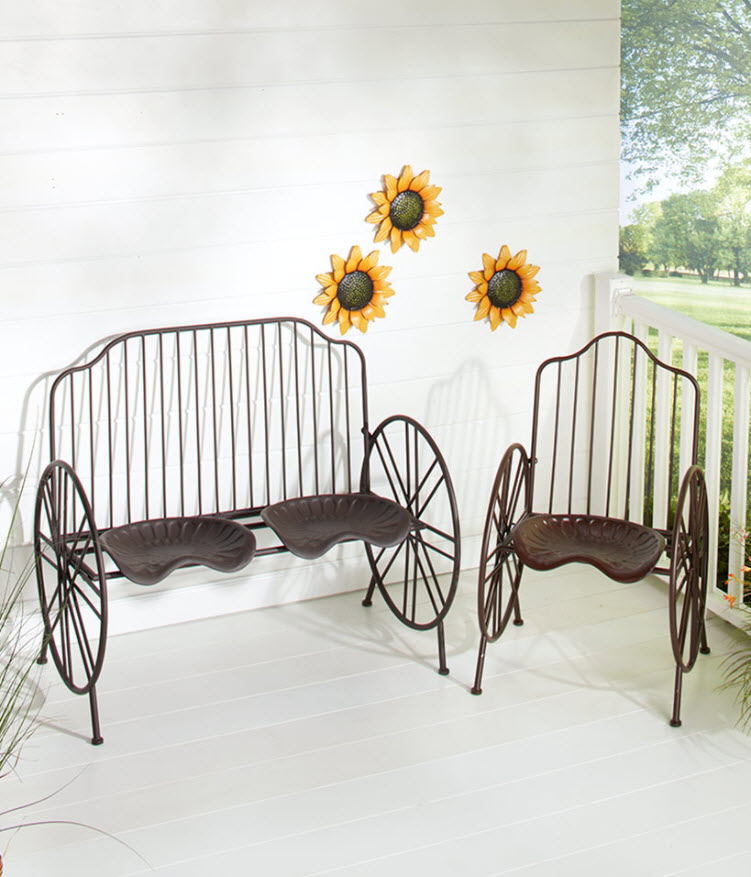 ---
4. Add A Hammock To Your Patio For A Relaxing Space
When you think of relaxing on a warm summer day, you probably picture yourself lying in a comfortable hammock. Hammocks are a nice way to add some extra comfort to your outdoor area.
You can easily add a hammock to your patio or backyard. Add a hammock chair displayed on a stand, hang a hammock from trees in your yard, or even use a hanging chair for a unique hammock look.
Hammocks can also add more color and style to your patio space. Use patterned hammock chairs with colorful throw pillows to complement your other outdoor decorations.
No matter what styles and colors you use, a hammock can instantly transform your patio area into a welcoming, relaxing, and fresh space that you'll enjoy on a daily basis.
Hammock Chair Stand or Striped Hanging Chairs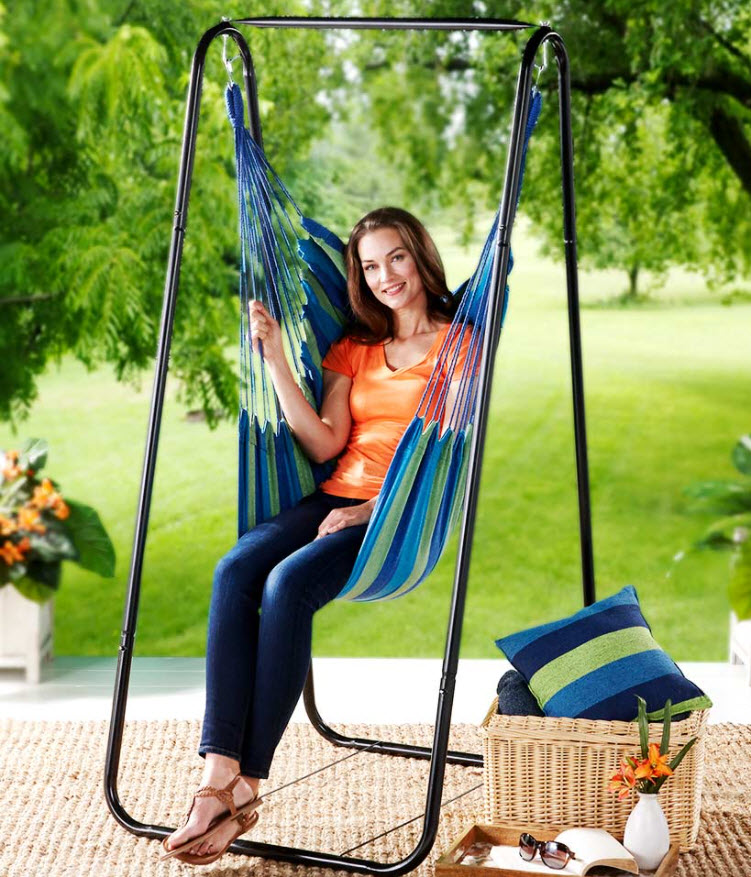 ---
5. Set Up Slim Stools For Space-Saving Patio Tables
Having a small patio can sometimes be a challenge if you want to enjoy your time outdoors. However, with some simple furniture hacks, you can easily create a seating and dining area in your small patio.
To save space on your patio, you can use tall stools as makeshift tables. The stools can even double as seating, making it even more convenient to enjoy your small patio space.
Use colorful stools to instantly brighten up your space, or neutral ones for a calm and simple look. No matter what type of environment you want to create, these pieces of furniture will help you transform your space.
Accent your patio stools with other decor such as a beautiful area rug, some fresh plants, and a few decorative statues. With these extra touches, your patio will feel complete and look stylish.
Metal Lattice Barrel Stools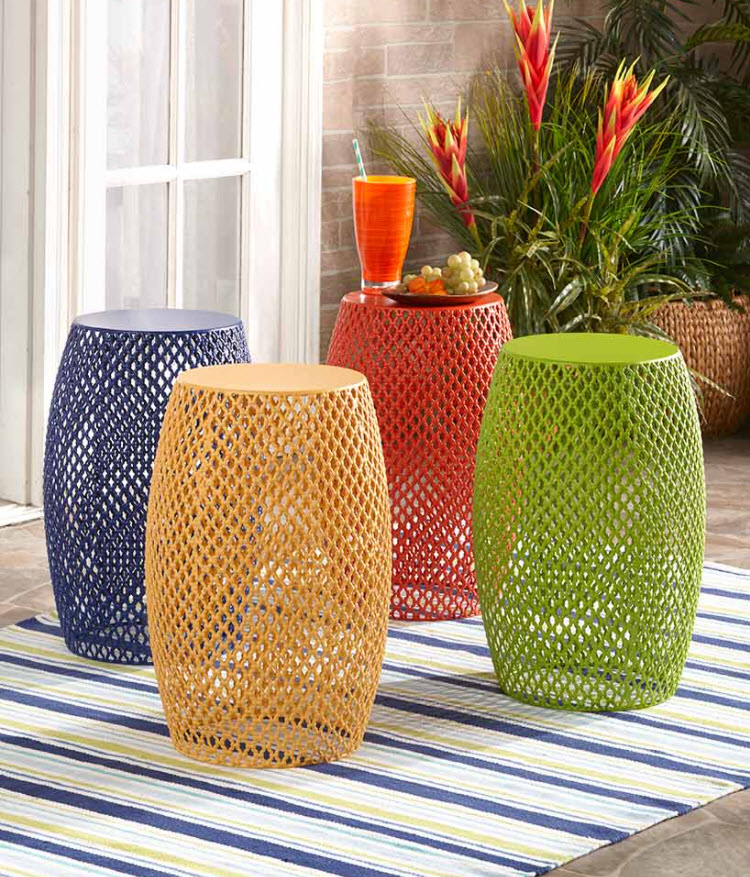 ---
6. Use Foldable Furniture To Save Space On A Small Patio
Another clever way to save space on your small patio is to use foldable furniture that you can take in and out of storage when needed. That way, your patio won't feel unnecessarily overcrowded.
You can find a variety of foldable furniture such as benches, chairs, and tables. Add some throw pillows and other outdoor linens to these pieces of furniture to make them more comfortable and stylish.
The great thing about this type of furniture is that you can just use it as you need it. Simply take it out when you want to relax outside, and fold it up to store in your garage or shed when not in use.
Foldable furniture is also great for multi-use reasons because you can take it with you almost anywhere you go. You can easily use it for picnics, sports events, and for camping adventures.
Double Size Outdoor Foldable Chair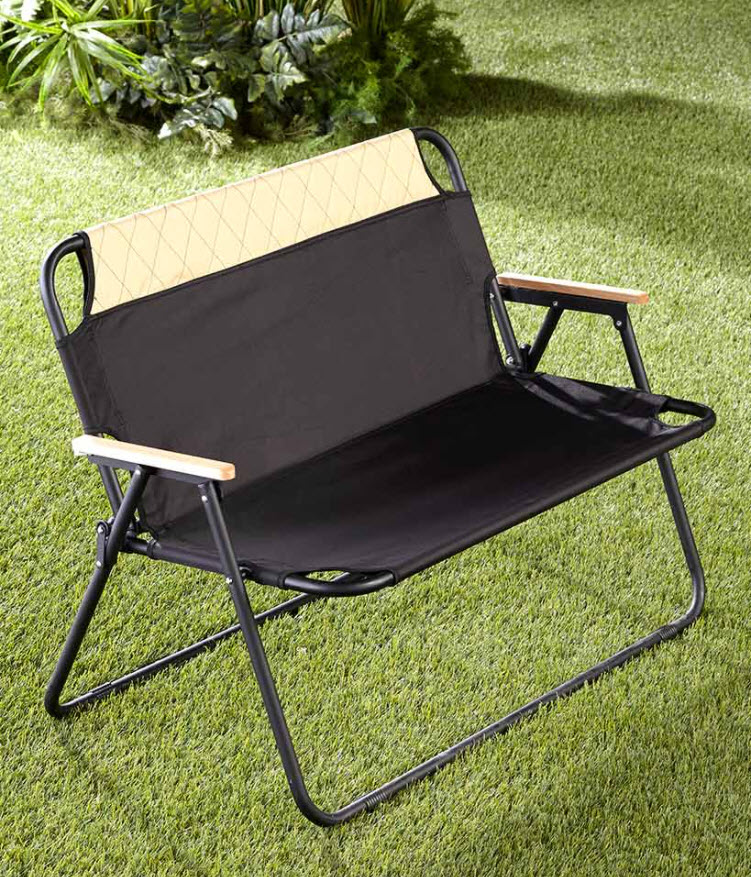 ---
7. Include A Rocking Chair Or Bench For A Charming Patio Space
Last but not least, another way to transform your patio space through the help of furniture is to add a rocking chair or bench. This type of furniture can bring in a sense of charm and sometimes even a unique vintage touch.
Rocking chairs and benches are not only appealing because of their charming style, but they can also amplify your comfort and relaxation. These pieces of furniture can be a great addition to any size patio.
Depending on the decor style of your patio and the type of space that you have, you can use different styles of rocking chairs and benches to fit into your space nicely. Here are some ideas based on decor styles:
Vintage Style: metal scroll rocking bench
Farmhouse Style: wooden rocking chair
Modern Style: metal rocking bench or chair with stylish cushions
Outdoor Metal Furniture Collection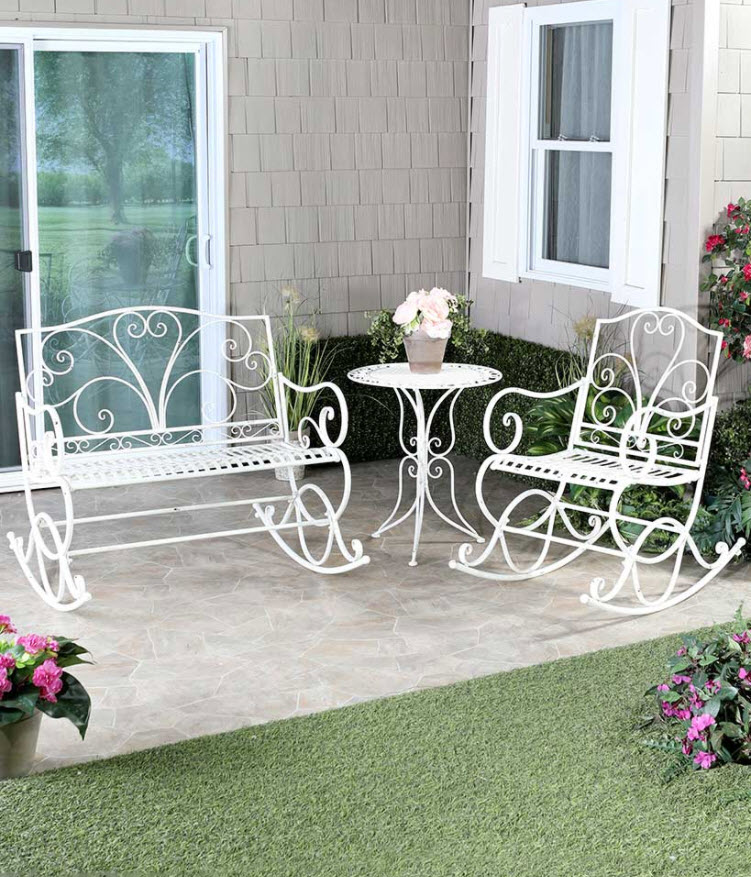 ---
Now that you've been inspired by some patio furniture ideas, check out our Garden & Outdoors section to transform your space! Find stylish outdoor furniture, unique patio accents, solar lighting, planters, and much more to decorate your entire patio and yard.