7 Coastal Porch Decorating Ideas For A Tropical Space
The coastal decor style can make any space feel like a relaxing beachside oasis! This style typically involves ocean symbols and themes, along with beach color schemes and natural materials. Whether you want a bright tropical look or a calming spa aesthetic, you can easily bring the coastal decor style to your front porch. Transforming your porch for the spring and summer will not only give you a wonderful space to sit and relax in, but it'll also give the outside of your house a bright and beautiful appearance. From cozy accents to fresh furniture and more, here are 7 coastal porch decorating ideas for a tropical space.
---
1. Create A Welcoming Porch With A Coastal Doormat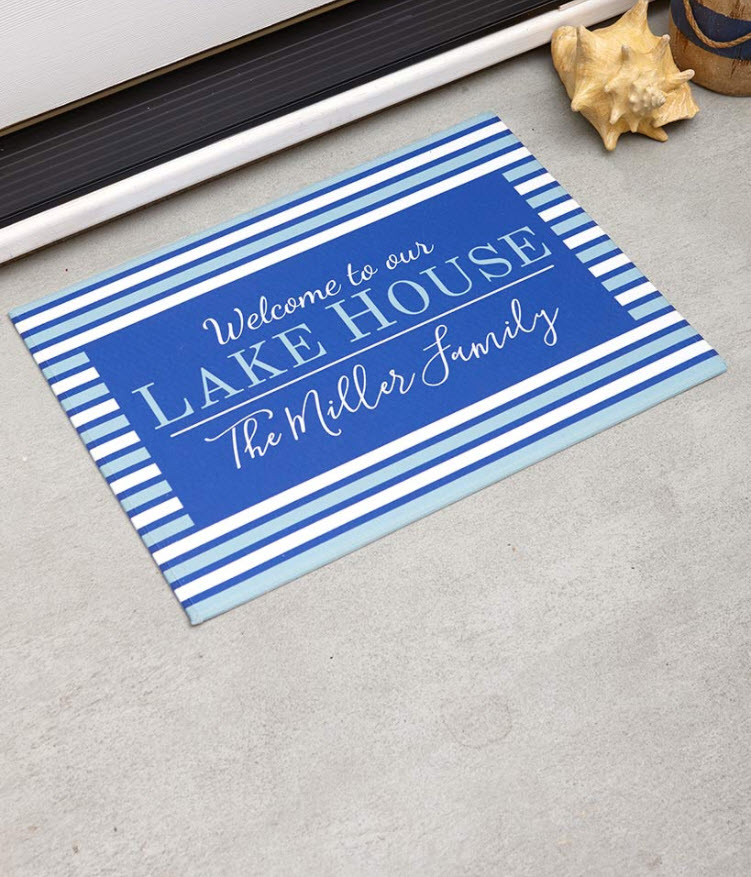 When it comes to front porch decorations, one of the most common elements is the doormat. Not only does it welcome guests to your door, but it also adds a bright stylish piece to your porch that can set the stage for the rest of your decor.
Add a coastal style doormat to your porch to start the theme that you are going for. There are a wide variety of specific styles within the coastal theme to choose from, depending on the look you want. Here are some examples:
Beach House
Lake House
Tropical Island
Coastal Cottage
Your welcome mat can be the first decoration on your porch to help you set the theme. Choose a mat with colors that you want to incorporate around the rest of your porch. Additionally, using a doormat with a coastal sentiment will amplify the charm even more.

Personalized Themed Welcome Mats
---
2. Set Up A Coastal Porch With Brightly Colored Accents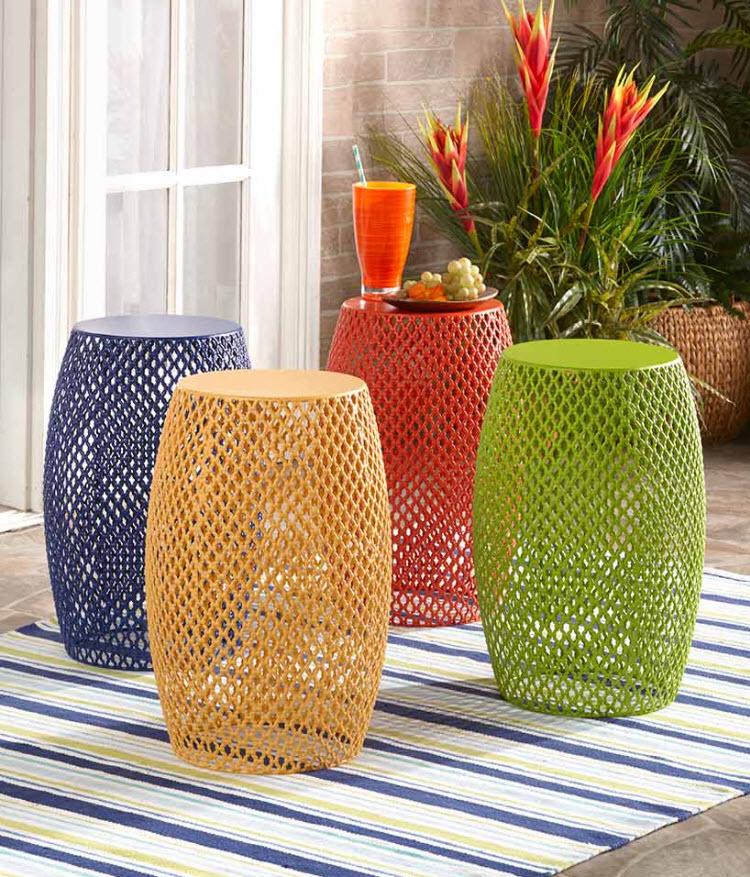 A fresh coastal look usually involves bright colors to give off a tropical summer feeling. No matter what type of coastal theme you're going for, you can create a bright porch with the help of decorative accents.
An easy way to bring bright colors to your porch is through small pieces of furniture. This can include simple side tables, a bench, or a hanging chair. These pieces of outdoor furniture can instantly bring the coastal style to your porch when combined with other themed accents.
You can also add other coastal colored decorations to your porch to make your space feel fresh and new. Here are some ideas to incorporate:
Bright colored planters with flowers
Colorful windchimes
Various colored statues
Throw pillows and cushions
Metal Lattice Barrel Stools
---
3. Bring In Coastal Throw Pillows For A Comfy Porch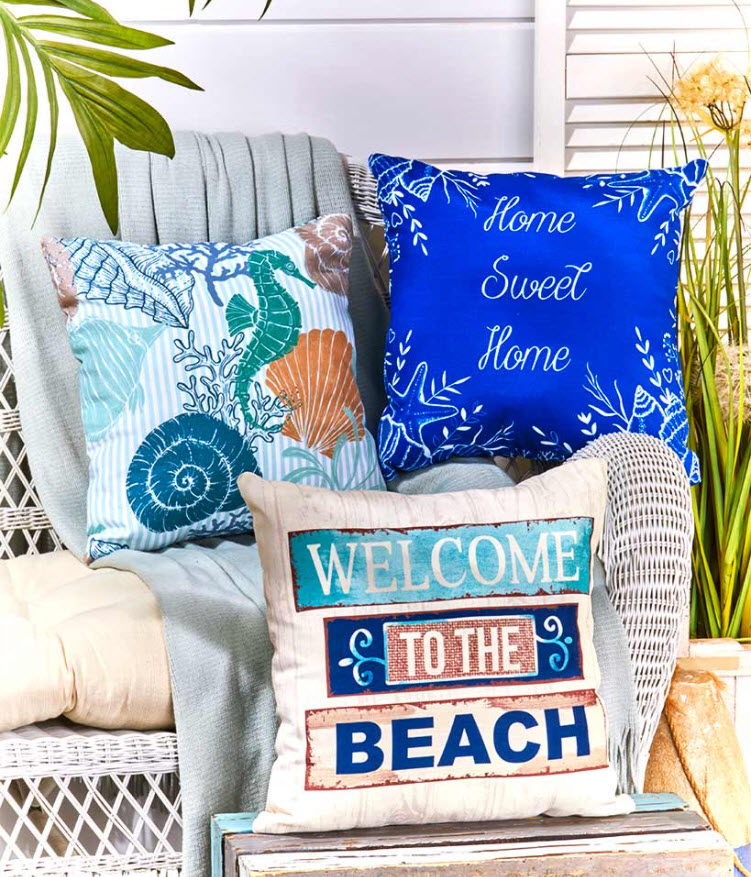 It's important for any porch to feel comfortable and homey. You want to create a space where you can relax on a beautiful sunny day. Combining comforting elements with the coastal style can give you the ultimate space!
One of the easiest ways to bring comfort to your coastal porch is to add a variety of throw pillows to your porch seating. Outdoor pillows can add a mix of coziness and style to your front porch with minimal effort.
Use throw pillows with beach sentiments, seaside patterns, and coastal color schemes to instantly transform the look of your seating area. You can add a mix of pillows to a porch chair or bench for simple outdoor relaxation.
You can even display throw pillows in more unique ways such as setting them up on a side table. This will give your porch a more interesting appearance while still maintaining the cozy coastal vibe.
Indoor/Outdoor Coastal Pillows
---
4. Display A Coastal Flag In Front Of Your Porch For A Festive Yard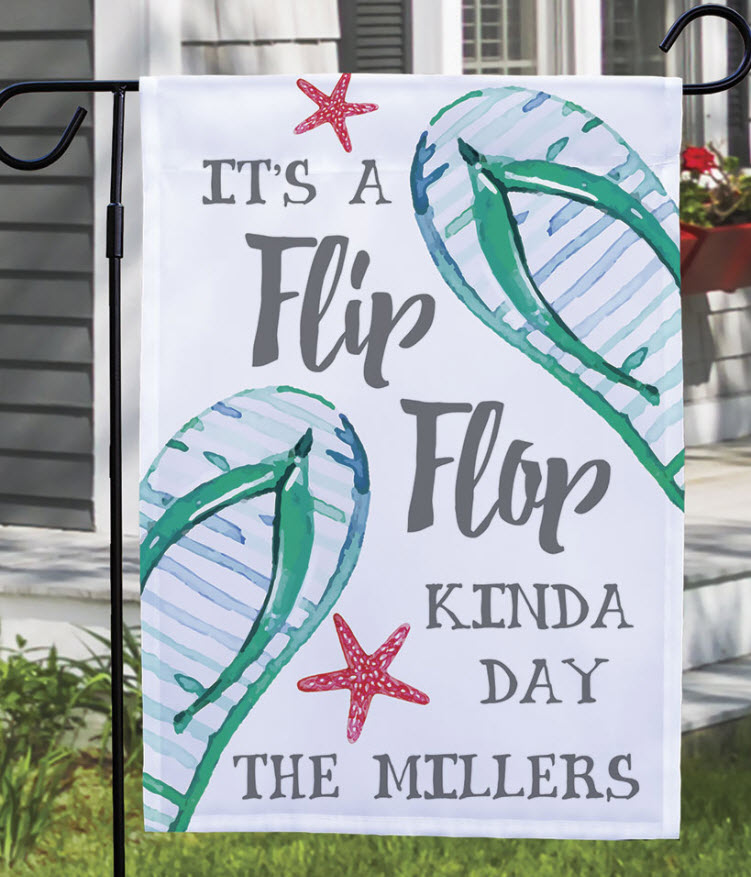 Garden flags and yard flags can add a fun personal touch to the front of your home. A flag is a great way to decorate the area in front of your porch to set the stage for your coastal theme.
You can set up a garden flag on a yard stake stand in front of your porch, or you can hang it from a flagpole on your porch column or railing. However you display it, it'll be a bright eye-catching piece.
Personalized coastal themed flags can make your outdoor area feel even more stylish and homey. You can easily personalize a flag with your family's name or with a fun message that fits your interpretation of the coastal style. The personalization will make your porch stand out nicely.
Use a decorative flag that incorporates lake or beach symbols, tropical colors, and a catchy sentiment. If you want your porch to have a more subtle look, opt for a neutral colored flag with a more simple coastal pattern. This will still add a lot to your space without making it feel too "loud".
Personalized Summer Fun Garden Flags
---
5. Add Themed Cushions To A Porch Bench For A Cozy Coastal Space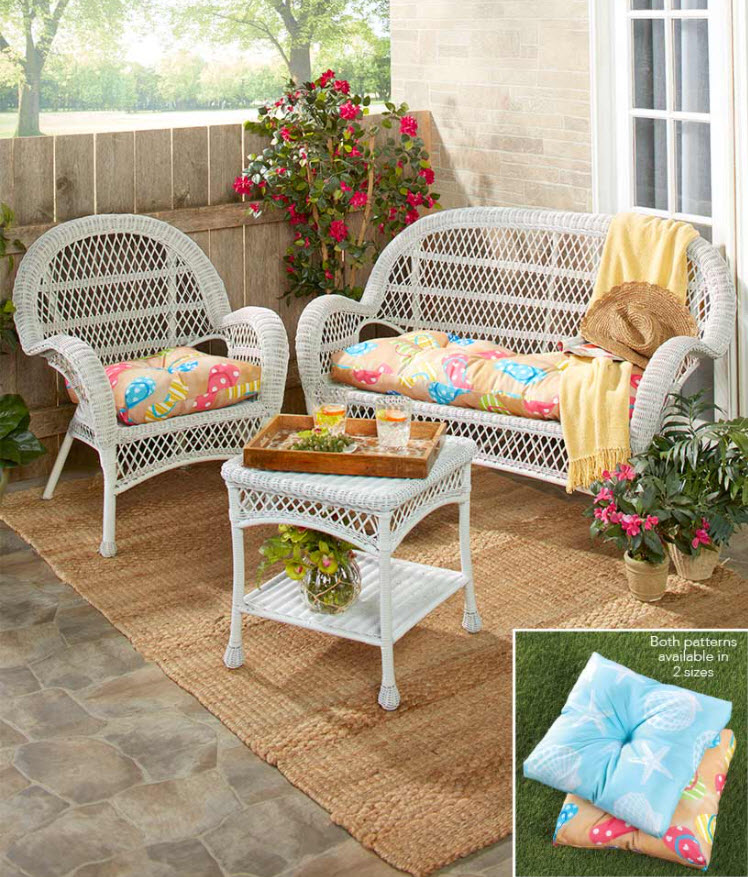 As previously mentioned, combining comfort with style is a big part of developing a relaxing coastal porch space. Adding decorative cushions to your porch seating can turn your space into a comfy and fresh environment.
Any chair or bench could use some seat and back cushions to make your outdoor relaxation more enjoyable. When combined with throw pillows and even a light blanket for a chilly evening, you'll have a porch that feels complete.
Use cushions that complement both your furniture style and your other porch accents. For instance, white wicker furniture can benefit from bright coastal colors, while darker colored furniture tends to looks nice with muted coastal colors.
Patterned cushions can also add to the coastal theme. For a fun and cheerful look, opt for patterns like flip-flops or sea creatures. For a more toned down look, go for seashell patterns. Bring similar patterns onto the porch with nearby accents.
Outdoor Cushion Collection
---
6. Use Wicker Accents For An Authentic Coastal Porch Look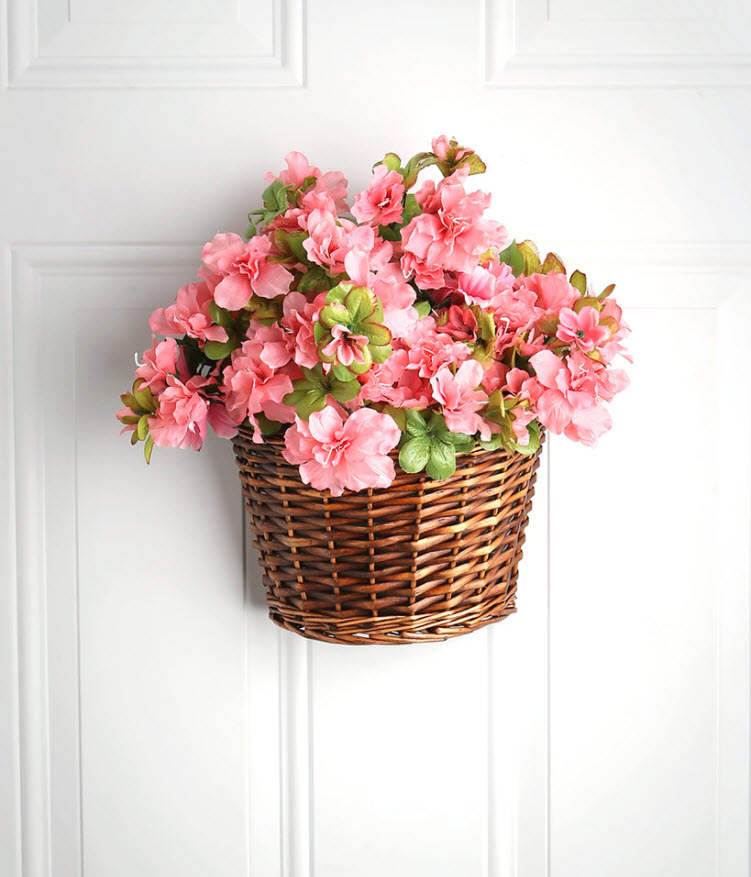 The coastal decor style feature many different components that give it that beachside aesthetic. One of those components is the use of natural and rustic materials to give any space an authentic outdoor feeling.
Wicker is a very common material seen in the coastal decor style, and it's incredibly easy to include it within your porch decorations. Here are some ideas on how to decorate with wicker:
Chairs and benches
Door wreath
Wall hangings
In addition to wicker, you can also decorate with rattan, distressed wood, seagrass, jute, and other rustic materials to get the perfect beachside oasis.
Hanging Wicker Wall Basket
---
7. Set Up A Full Beach Theme For A Fun & Bright Porch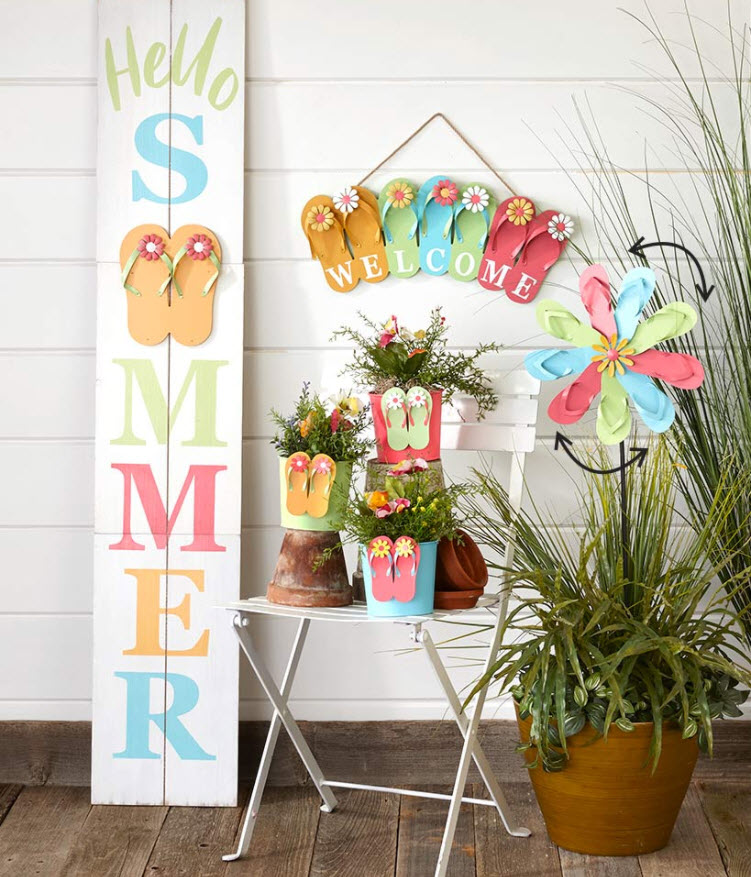 While one area of the coastal decor style gives off a beachside, spa-like appearance, the other side of the style can be a more fun beachy look. If you want your porch to be a place of bright summer cheer, a fun beach theme is for you!
A fun beachy porch simply include the following elements:
Pastel colors
Patterns such as flip-flops, ocean creatures, and seashells
Quirky sentiments
You can add these elements to your porch through leaning signs or wall signs, planters, solar statues, wind spinners, and much more. Brightly colored flowers can also add to your fun beach themed. Include flowers such as daisies, tulips, and sunflowers to add to your color scheme.
Flip-Flop Garden Decor Collection
---
Now that you've been inspired by these coastal porch decorating ideas, check out our Garden & Outdoors section to get started on decorating! Find outdoor decor, solar lighting, planters, live plants and flowers, outdoor furniture, and much more to make your porch feel beautiful and relaxing.
---
Read Next: How To Create A Cozy Outdoor Living Space