7 Cozy Ways To Decorate A Small Balcony For Spring
When the sun comes out and the warm weather arrives, all you want to do is sit outside and relax in your space. If you have a small balcony, it can be challenging to decorate the limited space that you have. However, with some planning and creativity, you can create a beautifully decorated balcony that you'll enjoy all spring long. No matter the size of your outdoor space, you can always find a way to transform it into a magnificent and magical seating area. From furniture ideas to greenery to storage and more, here are 7 cozy ways to decorate a small balcony for spring.
---
1. Use Railing Planters To Add Greenery To Your Balcony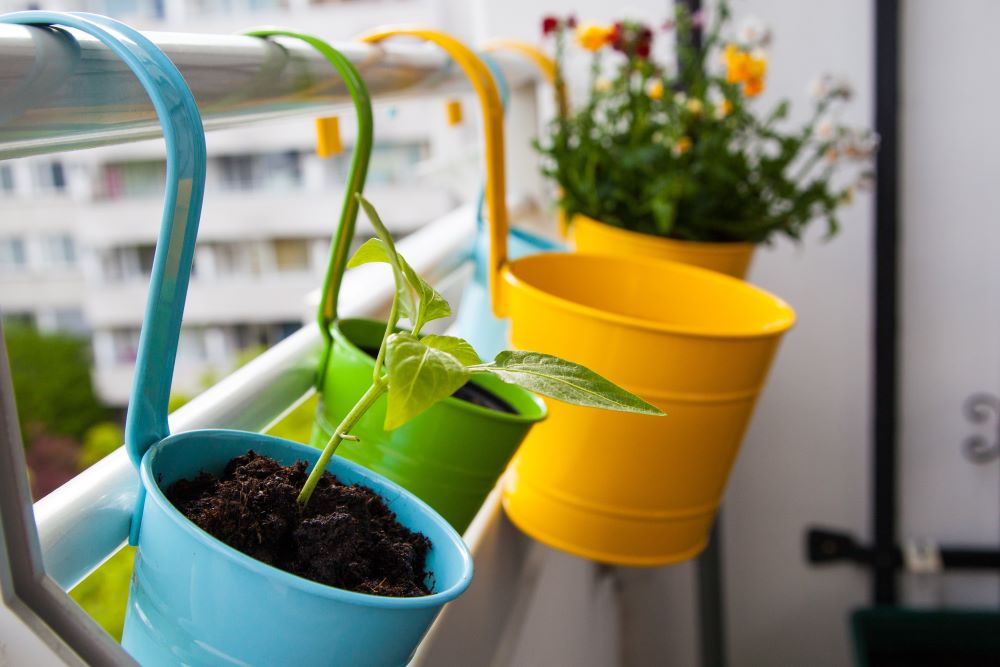 Springtime is all about blooming flowers and plants because of the fresh and bright feeling they give off. Adding live plants and flowers to your small balcony can open it up and make it feel a little bigger than it is. But if you want to save space, you need to be a little bit clever and creative with displaying your live plants. Luckily, there's an easy solution!
Since you have limited space on your balcony, you don't want to take up all your space with pots and planters on the floor. Instead, use railing planters to display your fresh greenery without taking up any crucial space on your balcony. Your railing can be used to showcase a variety of decorations and plants with the help of some simple tools and hooks. Take advantage of this area to save room for other essentials on the rest of your balcony.
There is so much variety when it comes to railing planters. You can display simple pail planters on small hooks, you can hang a long box planter, or you can even display a hanging basket planter from a tall hook. The more plants and flowers you add to your balcony, the more vibrant and fresh it will feel. Try to incorporate a variety of colors and sizes of planters to make your space look unique and bright.
---
---
2. Make Your Small Balcony Cozy With Outdoor Pillows & Cushions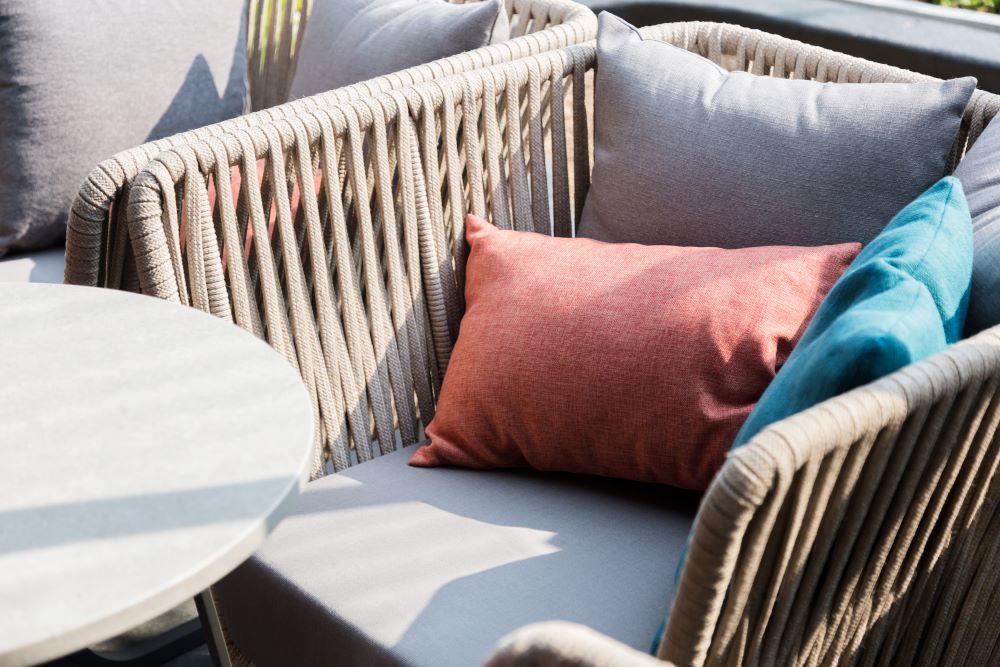 Transforming your balcony to feel cozy is an important part of making the most of your space. The idea is to create a homey and relaxing area while maximizing the limited space you have to work with. You can easily create a simple yet peaceful area that you'll enjoy sitting in to enjoy the warm and sunny weather.
Throw pillows and cushions are a huge part of setting the stage for your relaxing balcony oasis. Not only will they make your furniture more comfortable, but they'll also add some extra style to your space to make it feel nicely decorated. Make sure to choose cushions and pillows that are suitable for outdoor conditions. You don't want to ruin any nice fabrics by leaving them in the rain. Specifically select outdoor pillows and cushions to assure a high quality area.
Since you're working with a small balcony space, start with some small pieces of furniture. Add couple of small wicker or metal chairs with a small round side table nearby. Then, add cushions to your chair seats and backs for the ultimate comfort. Bring in some fun throw pillows to match your decor color scheme and patterns. Not only will this feel incredibly relaxing, but it'll also give your entire balcony a more welcoming look.
---
---
3. Hang Up String Lights For A Magical Balcony Space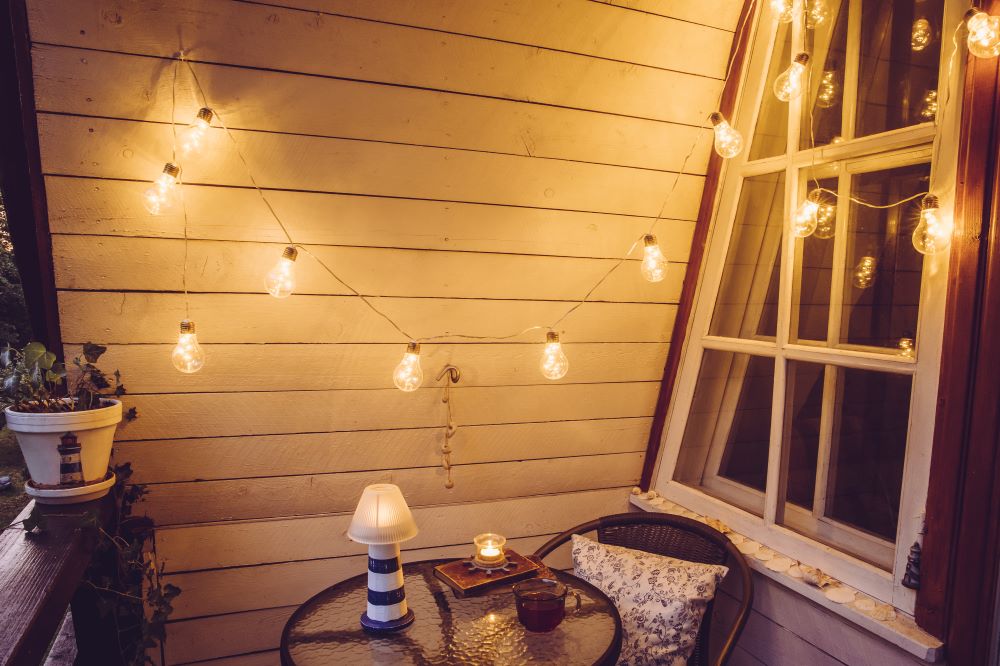 Lighting can set the overall tone and feeling of almost any space, including your balcony. Whether you're relaxing during the day or sitting outside on a chilly spring or summer evening, adding some interesting lighting to your balcony can make it feel more cozy and warming.
There are many different types of outdoor lighting you can add to your balcony, but a simple way to get that warm and cozy look is to use string lights. Wrap string lights around your balcony railing, hang them across your balcony wall, or find another creative way to display them. You can also use different types of string lights depending the exact look you're going for. Here are a few ideas for inspiration:
Bulb string lights
Fairy light string lights
Shape string lights (i.e. stars)
In addition to string lights, you can also add other types of lights to your balcony to brighten it up and turn it into a beautiful place for relaxing. Decide if you want to keep the area dimly lit or if you want it to feel bright and open with a large amount of lighting displayed. Here are some other ideas for lighted decorations as an alternative to or in addition to string lights:
Solar statues
Solar plant stakes
Lanterns
---
---
4. Use A Stool For A Table To Save Room On Your Small Balcony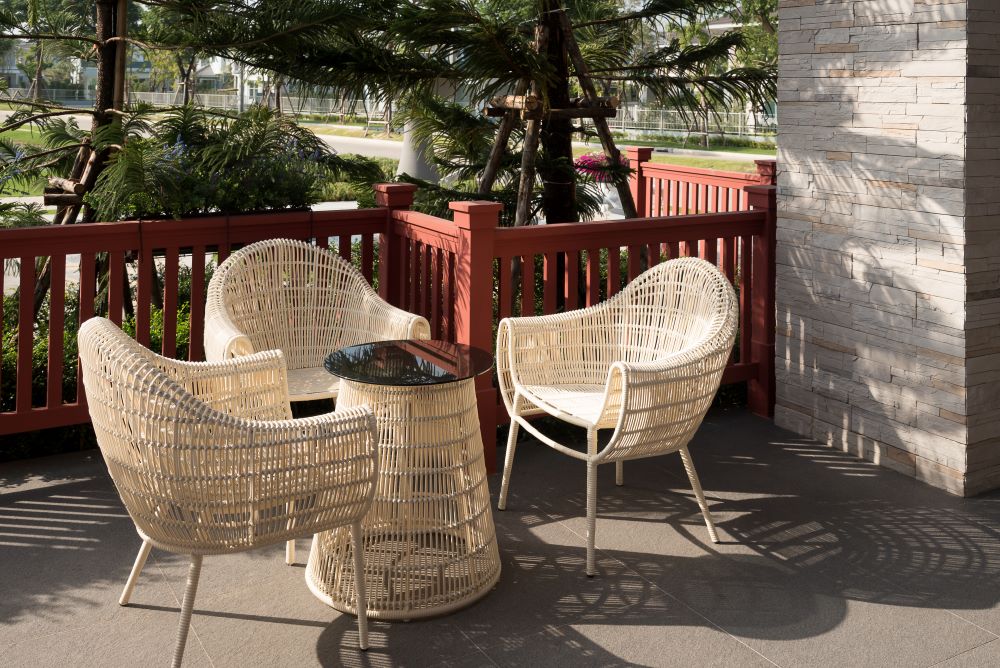 Since your balcony is small, you have to be strategic and smart when it comes to setting up furniture. If you want to create a sitting area on your small balcony, you can easily do so without overcrowding the area. Instead of using typical outdoor furniture, think outside the box and find alternative ways to sit out on your balcony while enjoying a meal or entertaining.
The best way to save space is to focus on any furniture that will take up vertical space rather than your balcony's width. For instance, you can use a round stool for a quick and easy table. You can either leave standing room around the stool or place a couple of small folding chairs on each side for a simple seating area. The stool should have a nice flat surface on top to amplify your outdoor dining experience.
Another way to create a space-saving sitting and dining area on your small balcony is to build a ledge on the inside of your balcony railing. Create a flat ledge along the entire width of your railing and place tall stools in front of the surface you added. This will give you an interesting look that mimics an outdoor bar, all while saving a large amount of space on the rest of your balcony. It also gives you a nice way to view the great outdoors over your railing!
---
---
5. Add An Outdoor Rug To Your Spring Balcony Space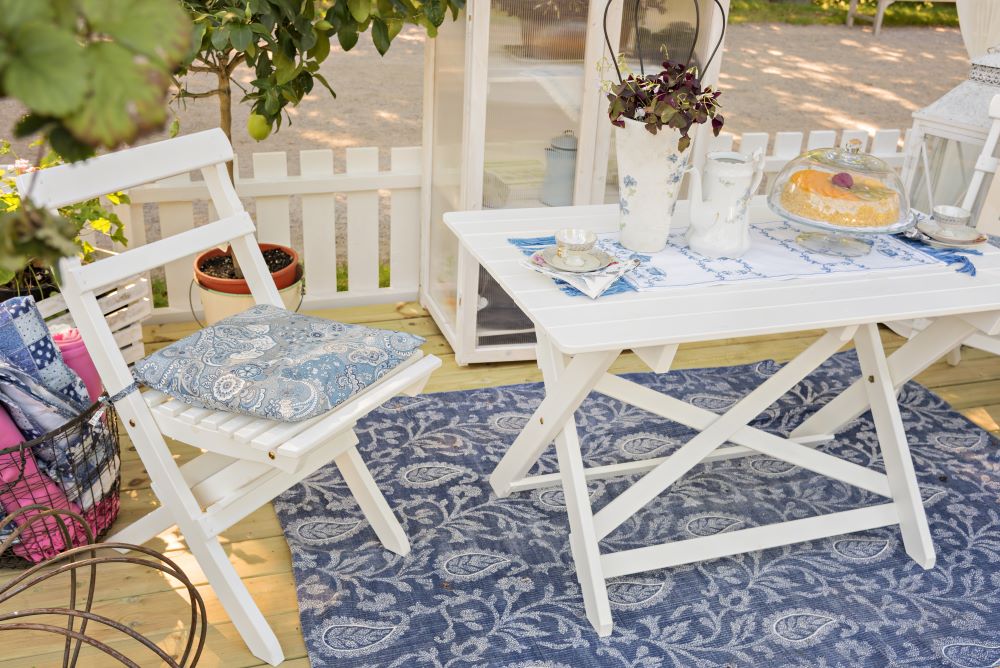 Just like cushions and pillows as mentioned earlier, other fabrics and materials can also make for a cozy balcony space. Various linens can add some unique colors and patterns to your balcony, along with an overall feeling of comfort and relaxation. This can also make your space feel more homey and help you make use of the limited space you have.
Outdoor rugs are a great way to set the stage for your balcony furniture and instantly transform your space. Choose a brightly colored rug to make your balcony feel bigger and more vibrant, or choose a neutral rug for a more subtle look. You can easily place a small round rug underneath your seating area to split up your space strategically. Otherwise, you can add a rug that covers the entire width of your balcony for a fully decorated look.
In addition to outdoor rugs, you can also add other linens and fabrics to your balcony to make it feel comfortable and cozy. Add items such as a tablecloth or placemats, along with seat cushions and throw pillows as mentioned previously. You can even create a seamless theme by matching your rug to your throw pillows and table linens. This will give you a polished look that will amplify your small balcony and make it feel stylish and complete.
---
---
6. Include A Balcony Storage Bench Or Ottoman To Save Space
When it comes to small spaces, storage is usually a concern because you have limited space to work with. You have to be creative with small space storage by using decorative pieces that double as functional storage pieces. Incorporate smart storage on your small balcony to keep your space organized and to make the best use out of the area.
One of the easiest ways to bring smart storage to your balcony is to use an outdoor storage bench or ottoman. A storage bench can easily make a comfortable seating area while simultaneously holding essential items such as gardening tools and outdoor dining utensils. The storage ottoman makes a nice side table and can also hold any items that you need to store away and protect from the rain or other weather conditions.
These storage furniture ideas for your small balcony are a great way to make your space more convenient. If you need to keep certain items on hand while enjoying your outdoor space, storing them away will help your balcony feel less cluttered and will open up the area to make it feel bigger.
---
---
7. Brighten Up Your Spring Balcony With A Bold Color Scheme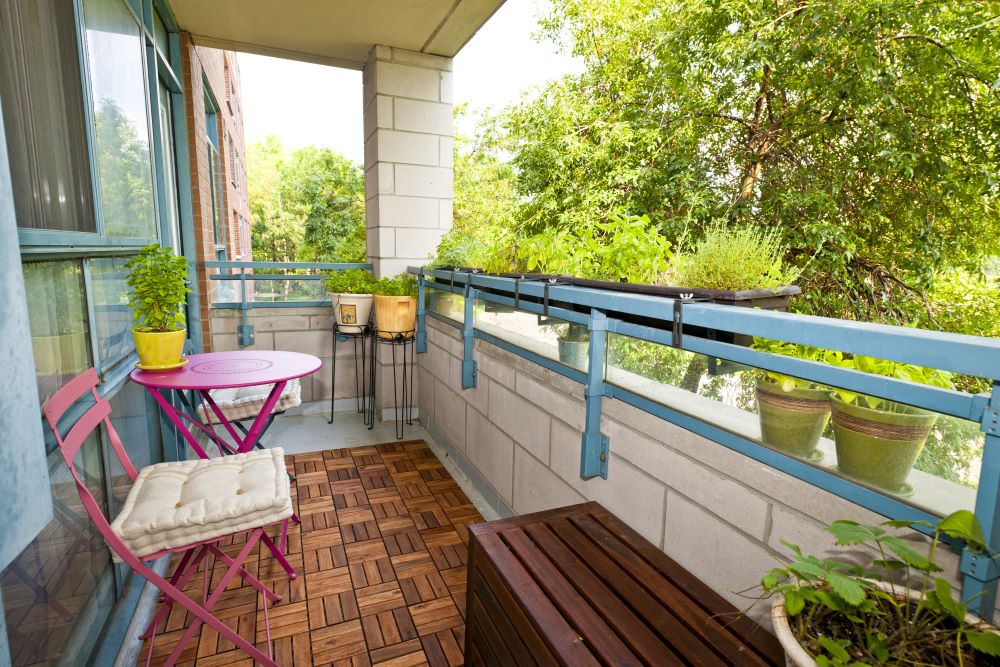 Colors and patterns can make a huge difference to any space. Picking the right colors can transform an area to make it feel brighter, bolder, and even bigger. Your small balcony can easily be opened up and freshened up with the help of brightly colored decorations, paint, and much more. Don't be afraid to play around with colors to get the ultimate spring balcony space.
How To Add Colors To Your Balcony
There are so many ways to bring fresh bold colors to your balcony space. For a bright and beautiful look, you can add some spring and summer colors such as pink, teal, green, red and yellow. If you want a more neutral look, opt for muted versions of blues and greens. No matter what types of colors you want in your space, here are simple ways ways to add colors to your balcony:
Add a couple different colored chairs to your balcony for a unique look
Place a bold colored side table to add an eye-catching element
Paint your balcony railing a new color to make it stand out
Add colors with rugs, pillows, and table linens
Use a variety of colors for your planters
Decorate with colorful statues and outdoor accents
---
Now that you've learned some cozy ways to decorate a small balcony, shop our selection of Outdoor Decor to get started on your space! Find a variety of outdoor decorations such as throw pillows, solar lighting, outdoor rugs, planters, and much more to make your balcony feel festive for spring.