5 Farmhouse Spring Decor Ideas For A Fresh Look
The farmhouse decor style is all about giving your home a warm, welcoming, and charming look. Through the help of farmhouse symbols such as barn animals, patterns such as gingham, and rustic materials like weathered wood, this decor style can amplify any space. Just like any other decor style, you can easily freshen up your home for each season with some simple changes. Springtime is now here, which means it's time to switch up your farmhouse decor to fit the bright new season. By combining farmhouse themes with spring colors and more, you can transform your space in style. Here are 5 farmhouse spring decor ideas for a fresh look.
---
1. Decorate With Farmhouse Patterns Mixed With Spring Colors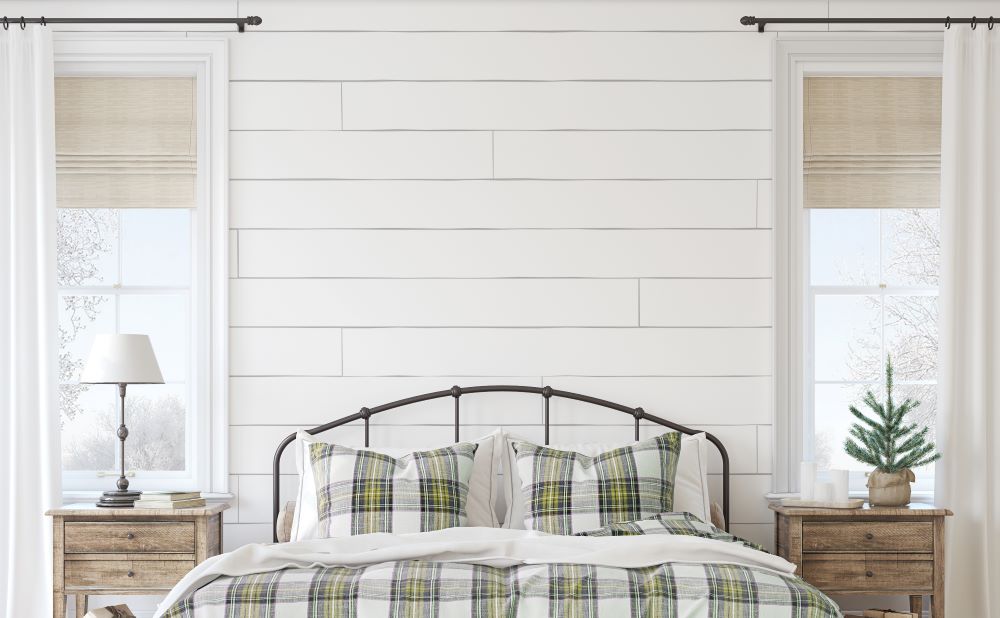 Farmhouse patterns can very easily be coordinated with spring themes, making the farmhouse spring look a seamless combination. The simplest way to combine farmhouse with spring style is to use farmhouse patterns or symbols with spring colors. This will assure that you don't stray from the decor style you want, but will still brighten up your home as the weather gets warmer.
The farmhouse decor style features a lot of different patterns and symbols that emulate a charming and rustic feeling. Whether you already have these patterns and symbols in your home, or if you're looking for new decorations to display for the spring, you can include these elements in your decor spread for a true rustic farmhouse look. Here are some common symbols and patterns that are seen within the farmhouse decor style.
Farmhouse Style Symbols & Patterns
Gingham and checkered patterns
Farm animals
Barn stars
Inspirational sentiments
Sunflowers
Pickup trucks
Corn and other farming vegetables and fruits
Once you've established the symbols and patterns you want in your home, the next step is to decorate with spring colors. You can typically find a lot of the above farmhouse decor elements in fresh spring colors, making it easy to transform your space. If you want a brighter space, opt to decorate large parts of the room in spring colors. However, if you want a more subtle look, stick with mostly a farmhouse color palette mixed with a few spring colored accents.
---
---
2. Use Rustic Planters To Showcase Your Spring Flowers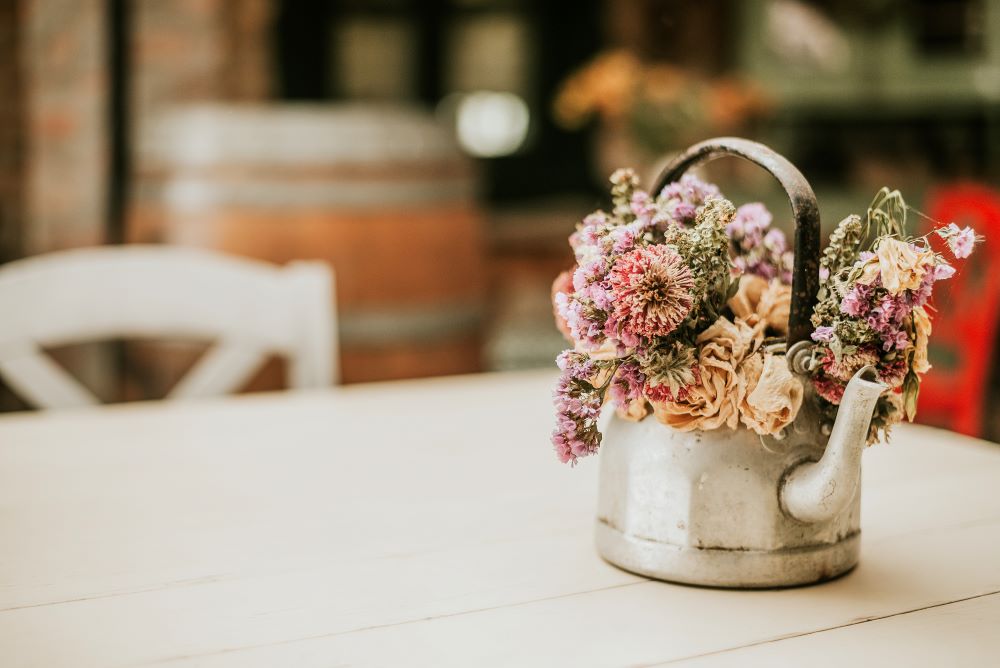 Rustic materials are another huge part of the farmhouse decor style, due to their natural and nostalgic look. On the other side, bright and fresh flowers are a huge part of the spring season. It may seem like these are too different to combine with each other; however, the contrast can make for an interesting and unique look.
Placing spring flowers and plants inside of rustic vases and planters can help you tie any room together seamlessly. These can look nice in almost any area of your home but they're especially fitting for your coffee table, dining table, kitchen island, entryway table, and bathroom counters. You can also include them on your front porch to bring the farmhouse spring theme outside.
Rustic Planter Ideas For Spring
You can get as creative as you want when it comes to rustic planters because the idea is to make it look as effortless and homey as possible. Whether you use rustic materials or turn unconventional items into vases, you can create a beautiful look for your farmhouse spring home. Check out these rustic planter ideas for some inspiration:
Antique metal teapot
Mason jars
Distressed wood box planter
Galvanized metal jug
Wine bottles with burlap accents
Rustic watering can
Farmhouse sentiment mug
Repurposed tin cans
---
---
3. Keep A Neutral Farmhouse Color Palette With A Touch Of Spring Accent Colors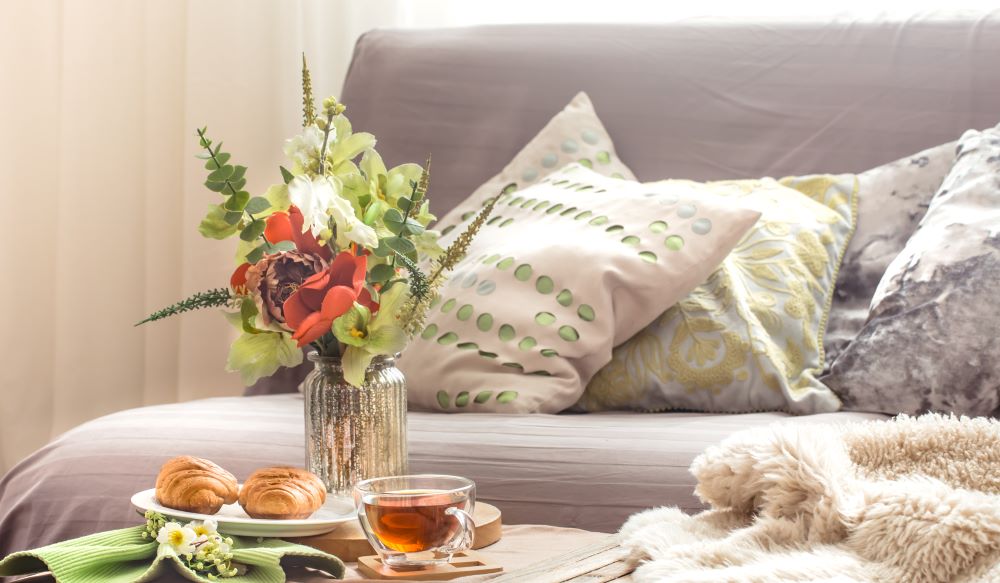 The farmhouse color palette has a wide rang depending on the look you're going for. Usually, a rustic farmhouse color palette will include strong warm colors such as red, beige, and orange. A modern farmhouse theme will typically have a color scheme that consists of softer colors such as white, light blue, and gray.
No matter which farmhouse style you want, you can easily bring in some spring colors through the help of decorative accents. The idea is to keep your space mostly neutral with your farmhouse color palette, and add the "wow" factor with splashes of spring colors throughout the room. Your accents can have any bright spring colors like yellow, green, blue, and pink. A pop of color in a neutral room can work wonders for the spring season.
While there are many different ways to bring in your pop of spring color to any room, here are some simple ideas to get you started:
A vase of brightly colored spring flowers
Throw pillows in a few different spring colors
A brightly colored fruit bowl for the kitchen island
New spring hand towels for the bathroom and kitchen
Colored picture frames on a bookshelf
Spring jar candles in vibrant colors
---
---
4. Lighten Up Your Window Curtains For A Fresh Farmhouse Spring Look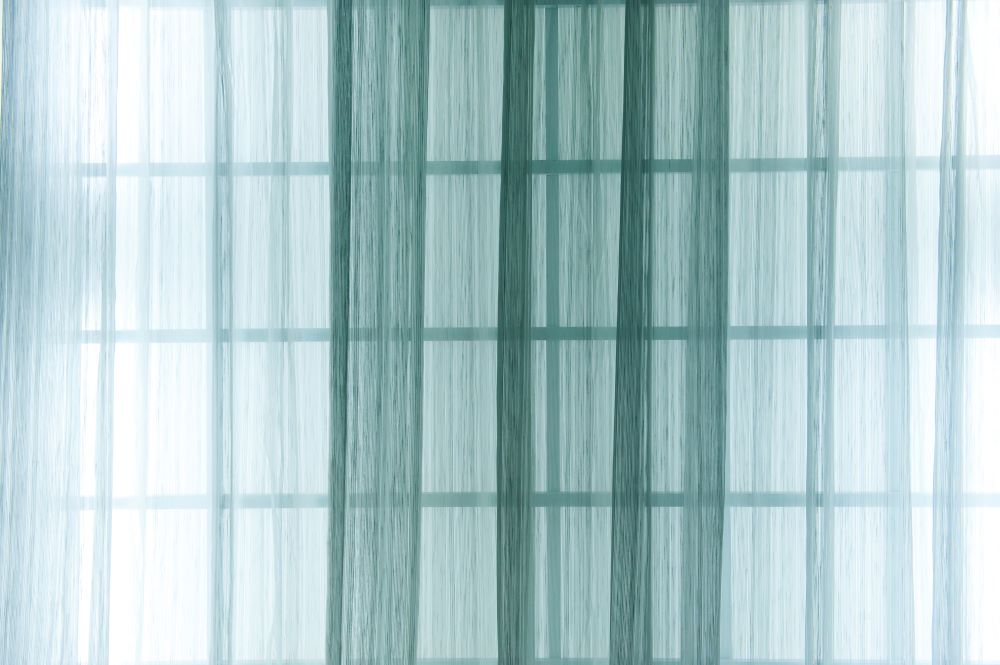 It's always a good idea to switch out window curtains and other linens when spring hits because you want to give your space a brighter and lighter look. Luckily, curtains are incredibly versatile, so it can be fairly easy to find curtains that match a farmhouse spring style. With some simple swaps, you can very quickly transform your space with minimal effort and an affordable budget.
When it comes to farmhouse spring curtains, you first have to consider a few different factors in order to find curtains that will blend into your space nicely. Here are some things to think about:
Material: Generally speaking, you'll want a lighter material for the springtime. This can be anything from sheer curtains to simple flowy ones that block harsh sunlight.
Color: Just like the other farmhouse spring decor ideas, you want to take color into consideration. You can easily find a middle ground between a spring color and farmhouse color. Usually you can take a bright spring color such as vibrant green, and opt for a softer version of it, such as muted pastel green. The softer color will mesh well with your farmhouse theme.
Pattern: Your curtains can be a solid color, but if you want a small touch of excitement in the room, you can choose curtains with a pattern. Pick something farmhouse related with spring colors, but make sure the pattern isn't too distracting.
In addition to swapping your window curtains, you can also swap other linens and fabrics in your home for lighter spring ones. This can include swapping your comforter for a lightweight quilt, using thinner throw blankets on your couch, and swapping out fur rugs. Wherever you see a winter style fabric in your home, change it up for the season to match your farmhouse spring style.
---
---
5. Add Wicker Baskets For Functional Farmhouse Spring Decor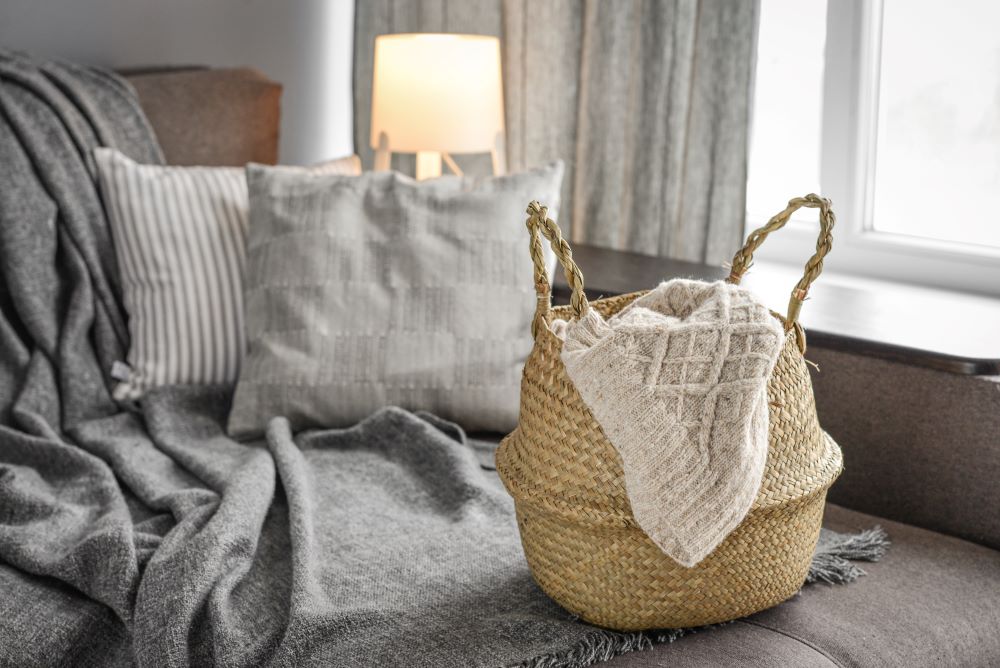 Storage and decorations can go hand in hand if you want to maintain a stylish space. You can easily incorporate some functional and stylish storage into your farmhouse spring home to make any room feel light and fresh. Whether you need some extra storage or you want to completely redo your storage, wicker baskets are a great solution.
Wicker baskets are not only visually appealing, but they are also able to hold and conceal any items you need stored away. With so many different sizes, colors, and styles, wicker baskets are always an interesting element to add into your home. Their natural material reflects that rustic and warm farmhouse feeling, while maintaining a neutral look that can fit into a spring style.
Storage & Decor Ideas For Wicker Baskets
Store extra blankets in a basket in your bedroom or living room
Fill a small basket with faux flowers for a spring look
Keep a tall basket in your laundry room for clothes
Use a small basket on your coffee table to hold potpourri
Display sturdy wicker baskets as bedside tables
---
---
Now that you've been inspired by some farmhouse spring decor ideas, shop our selection of Home Decor to get started on transforming your space! Find everything from curtains, decorative accents, wall art, storage, rugs, and much more.