6 Small Kitchen Storage Ideas
Kitchen organization is crucial if you want to have an efficient space. Your kitchen is where you spend a lot of time daily, so it only makes sense to keep it clean and tidy. If you have a small kitchen, it can be difficult to find a place for everything while maintaining a clutter-free area. Luckily, there are some simple tips and tricks you can do to keep your small kitchen organized. To help you get started, here are 6 small kitchen storage ideas for an organized and practical space.
---
1. Hang Up Floating Shelves To Store Extra Dishes In Your Small Kitchen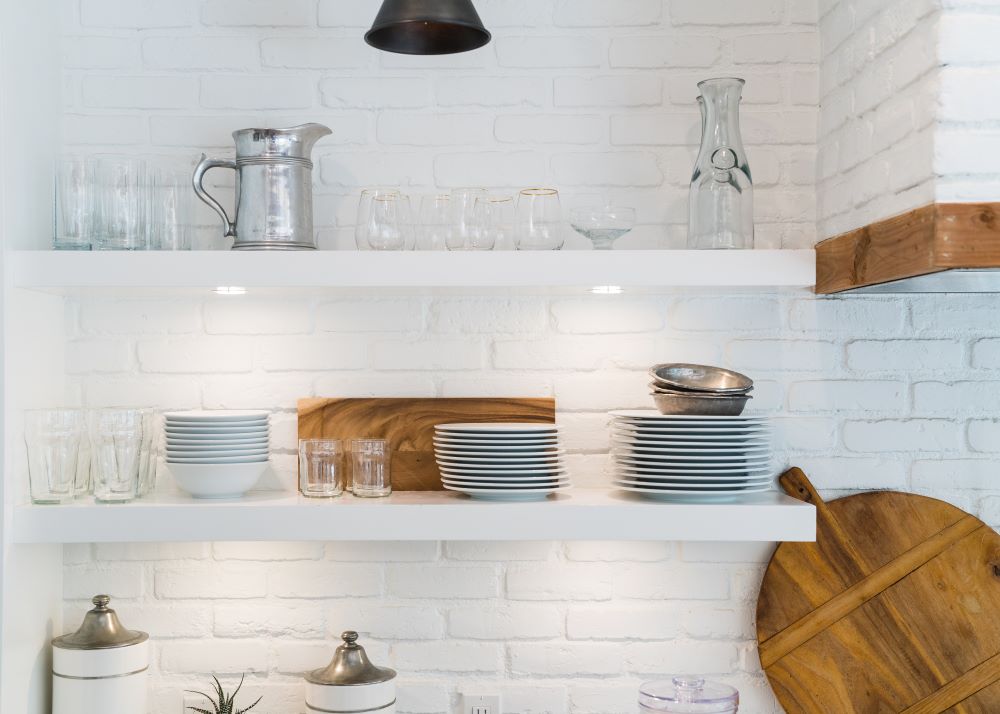 In a small kitchen, shelf and cabinet space is typically limited, so it can sometimes be a challenge to get all your dishes to fit into your space. Cabinets can easily become cluttered and overcrowded, making it difficult to find what you need. Instead of trying to keep all your dishes in your built-in cabinets, opt for some floating shelves for extra storage space.
Floating shelves are great because they're easy to install and they are slim enough to fit into any small kitchen. You just need to find a little bit of open wall space to place your shelves, and you're good to go! You can even place a floating shelf on the wall space in between your stove and cabinets. Floating shelves can easily work with almost any kitchen space; you might just have to be a little creative with the placement.
Stack your favorite plates on the floating shelves, along with other dishes like bowls and drinking glasses. Keep your most used dishes out on the floating shelves for easy access, or keep your nicest dishes out for a more decorative look. Either way, you'll free up a lot of space in your cabinets, making everything more organized and clutter free. In addition to dishes, you can also store other kitchen essentials on your floating shelves such as cooking and baking supplies, seasonings, and much more to free up countertop space.
---
2. Only Keep Your Most Used Cooking Tools Out On The Counter To Save Space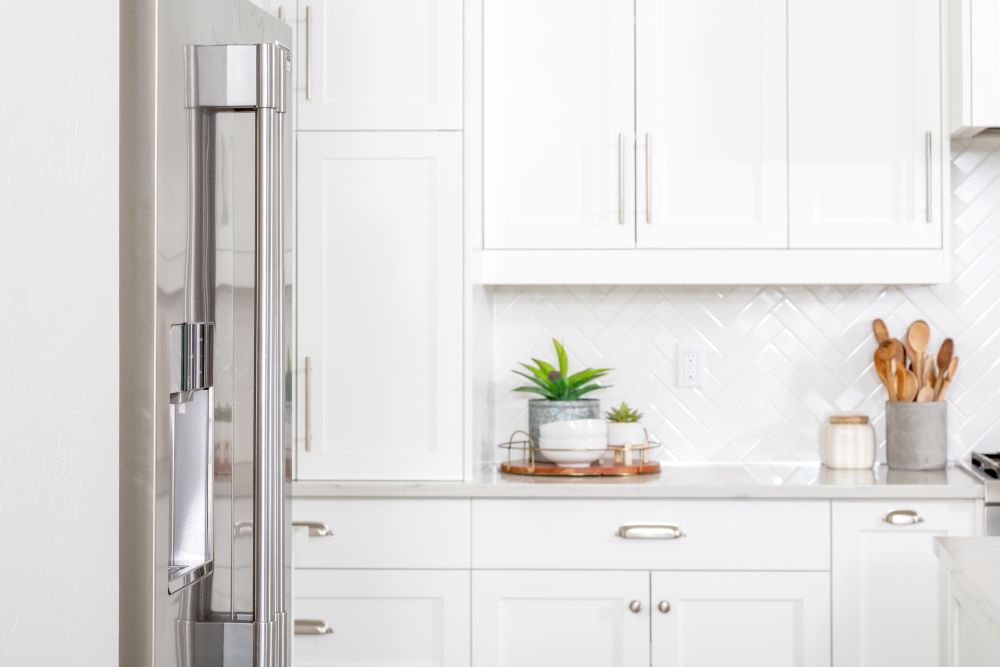 In addition to freeing up cabinet space, it's also best to free up countertop space in your small kitchen. If you have too many items out on the counters, the room can feel too crowded and it can feel even smaller. Keeping only your most essential items out on the counters will help you stay organized and have a clean space.
What To Keep On Your Kitchen Counters
It can sometimes be a challenge to decide what to keep on your counters and what to hide away. Start by thinking about what items you use on a daily basis – these items make sense to keep out. Then, take note of things that you only use occasionally. These are things you might want to store away into a cabinet or other storage area. Just make sure you have easy access to everything you need to maintain convenience. If you aren't sure what to keep out on the counters, here are some general ideas:
Your most used cooking tools – these should be organized in a decorative canister or you can even hang them on wall hooks. Make sure to keep all your other cooking tools away in drawers to free up counter space.
Seasonings or ingredients that you use on a daily basis. Make sure to keep these to a minimum and store away what you can.
Dish drying rack – this is, of course, and essential kitchen item so it can stay out on the counter. However, you can alternatively use an in-sink drying rack to free up counter space.
Your most used appliances. Appliances tend to take up the most space on your counters, so make sure to only keep out the ones that you use daily or regularly. For instance, If you don't use your toaster too often, you can easily keep it in your cabinet and take it out whenever you want to use it.
Small accents. You can still maintain a decorative look on your counters without taking up too much space. Only keep small decorative accents out on the counters to save room. Combine style with function where you can for even more efficiency – for instance, use decorative canisters to hold salt and pepper.
Want even more tips? Check out this guide on How To Declutter Your Kitchen Counters!
---
3. Incorporate Slim Storage In Your Small Kitchen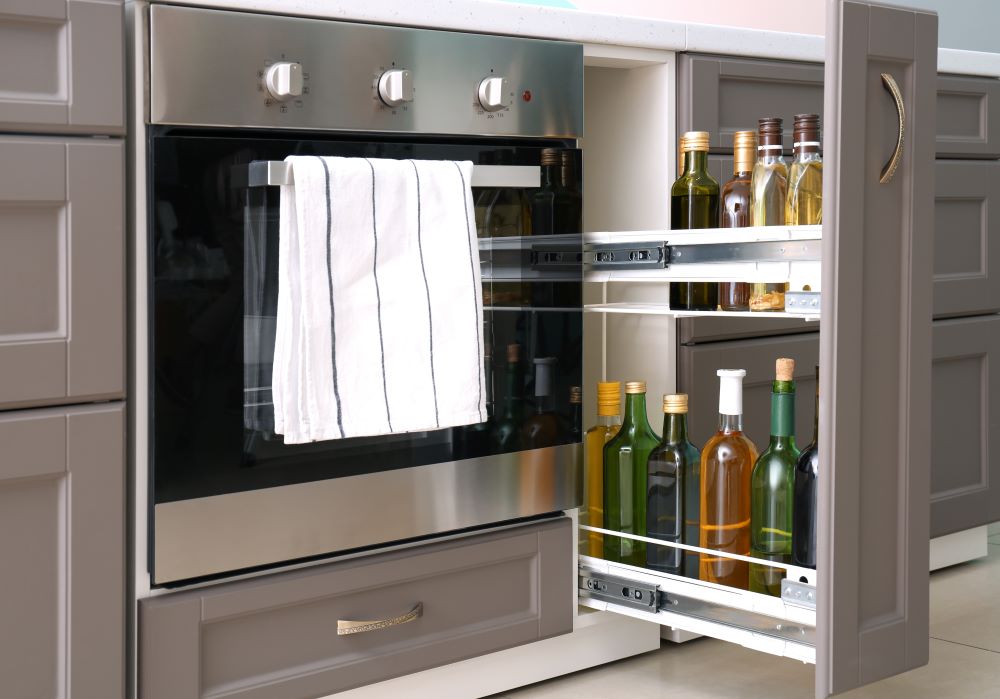 Another sensible small kitchen idea is to use slim storage whenever possible. Slim storage solutions are perfect for small kitchens because they can surprisingly hold a lot of your items while maintaining a tidy and efficient space. Taking advantage of slim storage throughout your kitchen as much as possible will help you keep the room feeling more open.
Slim storage can come in many different forms. You can use a slim rolling drawer in the corner to hold all your spices, slim containers to hold food, or you can even add on a slim cabinet to your space. Find areas around your kitchen that can use slim storage; this can include areas that have too much clutter or unexpected areas that can be used in new ways.
You have to be a little clever and creative when it comes to slim storage. Obviously not everything will fit in such a slim space, but there's a lot of ways you can make it work. For example, you can pour all your main cooking and baking ingredients into bottles and containers to keep in a slim drawer or rolling cart. You just have to take the time to make adjustments and modifications to make slim storage work in your kitchen.
---
4. Use Stackable Storage Containers To Save Room In Your Small Kitchen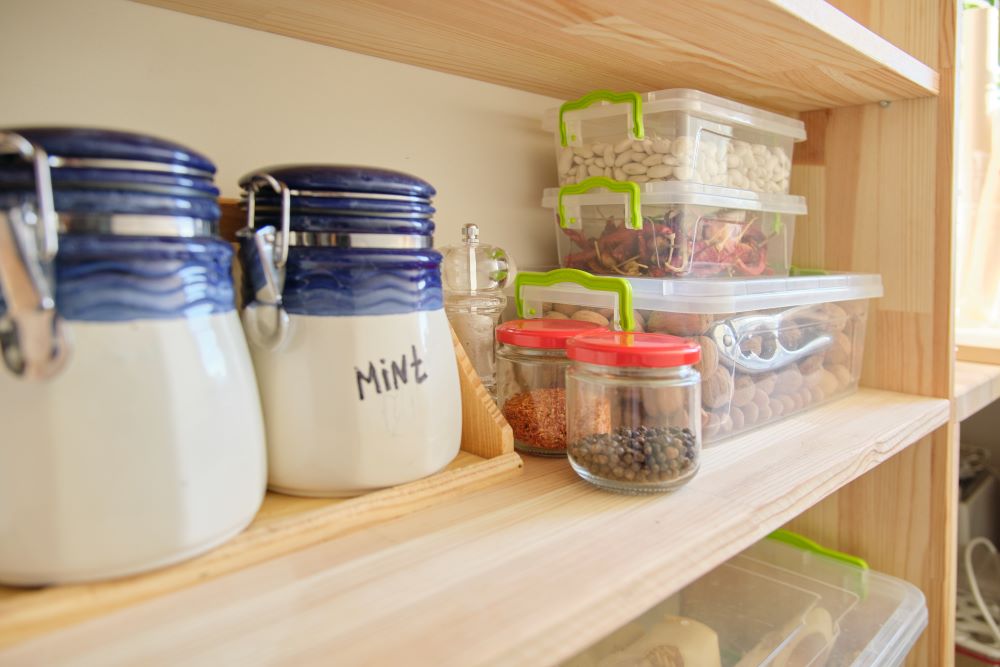 Pantry space is another challenging element of a small kitchen. With such limited shelving space in your pantry, it can be difficult to organize all your food and have enough room to store everything you need and want. But if you take the time and effort to keep up with consistent food organization, you can maintain a tidy pantry and reduce overcrowding.
Bags and boxes of food can take up a lot of space in a small pantry. While it may seem tedious to empty these food items into different containers, it can ultimately be helpful and efficient. Using stackable food containers is the best option because you'll take up less width and more height. This will open your shelves up for even more items and give everything some space to breathe. Stackable containers also just look more uniform and organized than an assortment of different food bags, so it's well worth it if you want a tidy appearance.
In addition to stacked food containers, you can also generally use any clear containers and canisters inside of your pantry. Not only will this help you see everything you have more easily, but the clear containers will also give off a more clean and simple appearance. This will make your pantry feel less cluttered and much more organized than it originally was.
---
5. Maximize Your Kitchen Drawer Space By Using Dividers & Organizers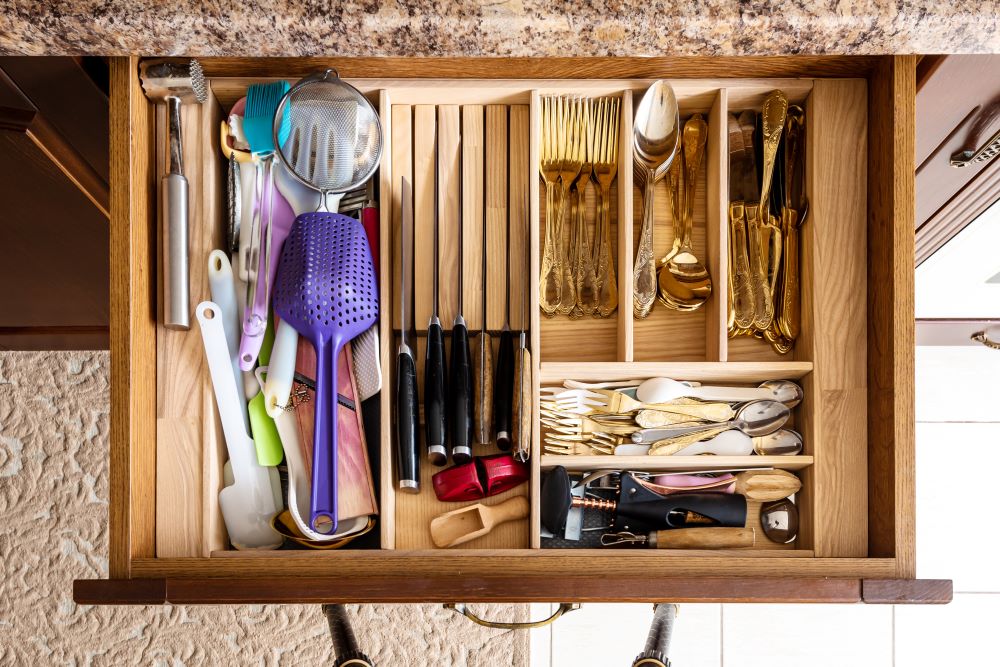 Another element to tackle in your small kitchen is all your drawers. If you don't have many drawers in your kitchen or if your drawers are just small to begin with, it can be be challenging to keep everything neatly organized. However, if you use drawer dividers and organizer tools, you can very easily transform your drawers in a clean and efficient way.
Drawer dividers are incredibly useful for mixing multiple types of items in one drawer. If you don't have a lot of drawers in your kitchen, you'll probably need to combine items, and dividers can help you do that seamlessly. The great thing about drawer dividers is that a lot of them are adjustable, making it easy to fit and arrange to meet your specific needs. So even if you need to keep your silverware and cooking utensils all in one drawer, dividers can easily help you keep everything contained and tidy.
While drawer dividers are probably the most useful for your small kitchen, you can also use other organizers in your drawers. Items such as small baskets and containers can be beneficial for your organizing needs as well. These are especially helpful if you have deeper drawers. Find what works best for the type of drawer space you have. The idea is to just find the right organizing tools to help make your life a little bit easier.
---
6. Take Advantage Of Corner Cabinets For Clever Kitchen Storage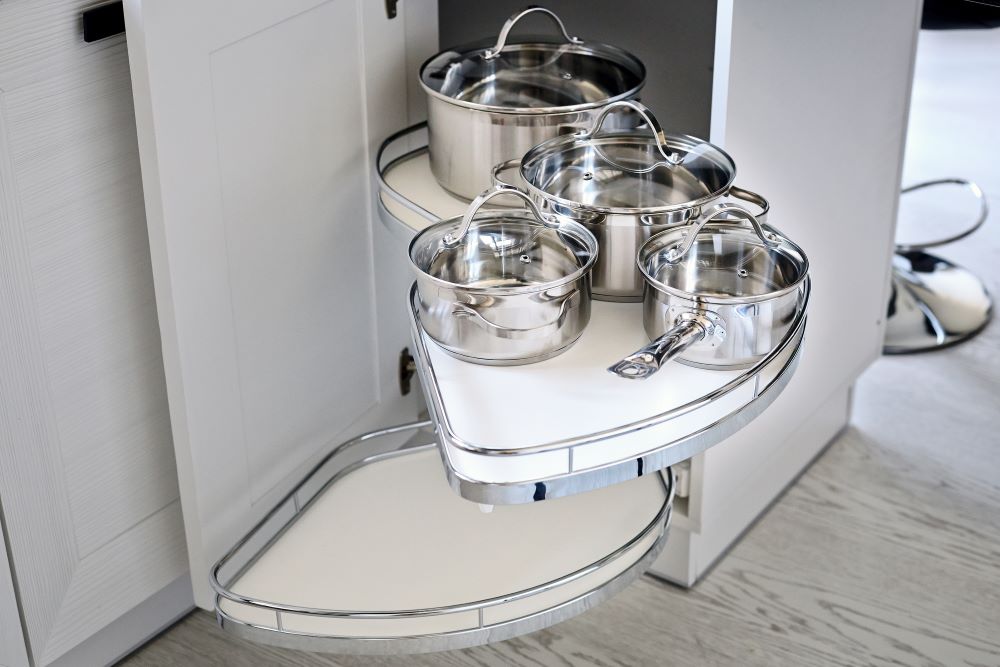 Corner cabinets in your kitchen can be tricky because they offer a lot of space; however, their depth often extends into an unreachable area. Storing items in these cabinets can make it hard to reach and see everything that you need. That's why it's a smart idea to install pull-out shelves in your corner cabinet.
Pull-out shelves can easily be collapsed into the farthest corner of the cabinet and be pulled all the way outside of the cabinet for easy access. If you aren't very handy, you can even hire a professional to install them for you. It's a very simple addition your cabinets but it can add a lot of functionality and efficiency to your space. You can store so many different things on the pull-out shelves to make your small kitchen organization even better.
What To Store On Pull-Out Shelves In Corner Cabinets
Pots and pans
Seasonings
Mixing bowls
Excess dishes
Cooking and baking supplies
Food items
---
Now that you've learned some small kitchen storage ideas, check out our selection of Kitchen & Pantry Storage! Find storage containers, drawer and cabinet organizers, canisters, rolling carts, and much more to keep your kitchen organized and tidy.