Home Decor Tips: Cozy Minimalist Style
The minimalist decor style is mostly focused on functionality and simple design. If you enjoy the minimalist look but want your space to feel more comfortable and homey, you can easily amplify it with some cozy elements. While it may seem out of place to dress up a minimalist space with cozy items, there are many subtle ways to bring comfort to any room. From textures to color schemes to accents and more, here are some home decor tips for a cozy minimalist style.
---
Keep The Functional Elements The Main Focus For Minimalist Style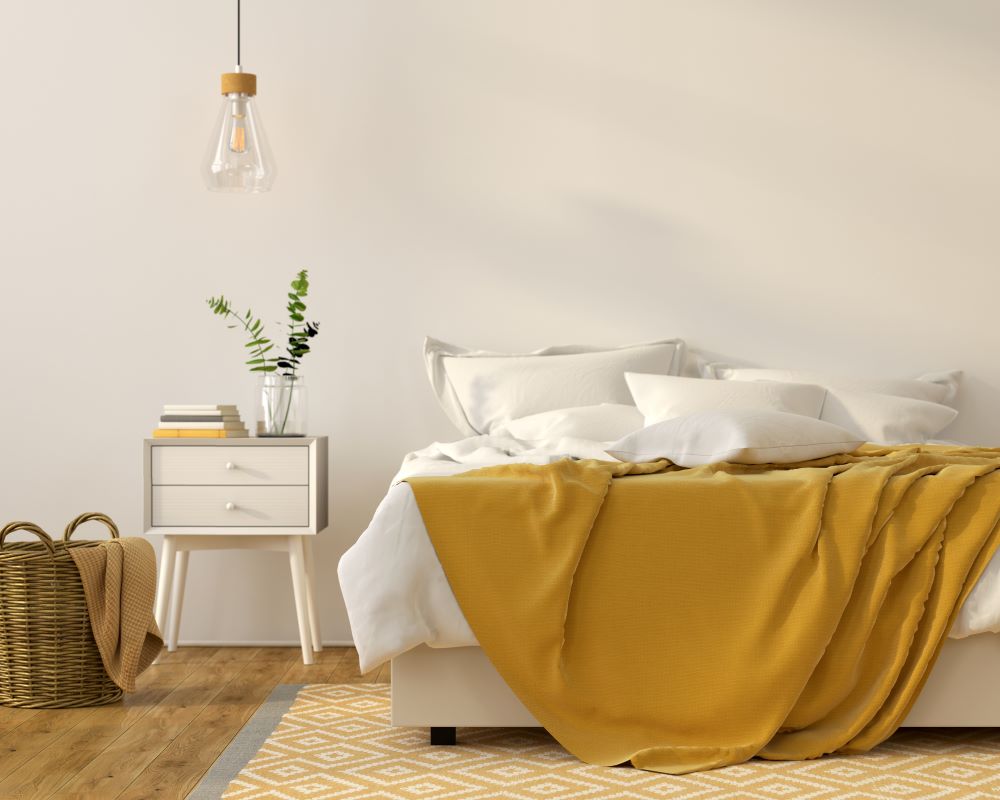 When starting off with your cozy minimalist space, you'll want to keep your core focus on the minimalist style. That mean that your key focus in any room should be a functional item. Make sure to emphasize your functional item by making it stand out as the centerpiece in the room. Don't let other items overshadow your main functional piece.
For instance, in your bedroom, your bed should be the main focus in the space. Therefore, you should bring your cozy elements into the room through the use of your bed. Think about adding some extra pillows and blankets to amplify the coziness. You can even a soft rug underneath the bed to draw the eye to that area. The rest of the room can then be more simple and only include items that are absolutely necessary.
This same concept can also work in any other areas of your home. Maintain the functionality of your space by keeping your most useful items in mind throughout your decorating process. Make sure to never overdo the cozy side of your decorating because it'll take away from the minimalist side of the style. It's all about achieving a perfect balance.
---
---
Add Some Texture To Make A Minimalist Room Feel Cozy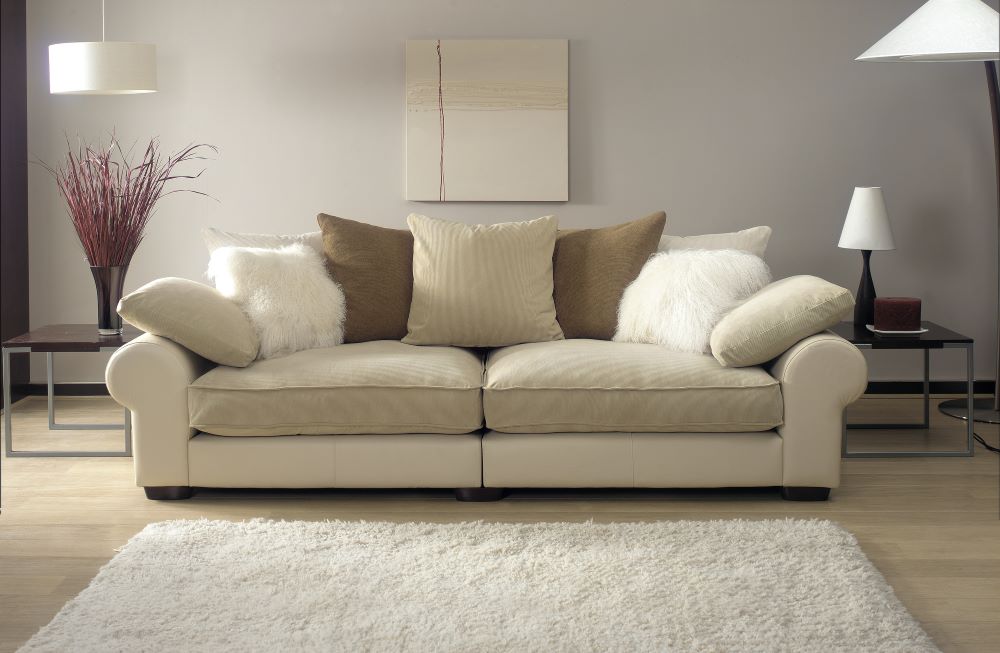 A big part of adding coziness to a room is the fabrics and textures that are displayed. The more soft and comfortable fabrics you use, the more welcoming a room will appear to be. Even though a minimalist room doesn't contain a lot of extra "fluff" or comfort, there are ways to include this without sacrificing the style. You can still maintain your minimalist look by just adding a touch of fresh fabrics in the space.
There are so many creative ways to bring more cozy fabrics into your space. Whether you're combining it with a functional element or just adding a little extra uniqueness to your space, check out some ideas below to help you get started on your cozy minimalist decorating.
How To Make A Minimalist Room Feel Cozy With Textures
Add a faux fur area rug to your living room or bedroom
Decorate your couch and bed with a mix of cozy throw pillows
Use flowy curtains made of thin fabrics for your windows
Bring fabrics in through small functional accents such as a cotton basket or large leather ottoman coffee table
---
---
Don't Be Afraid To Use Decorative Accents In Your Cozy Minimalist Space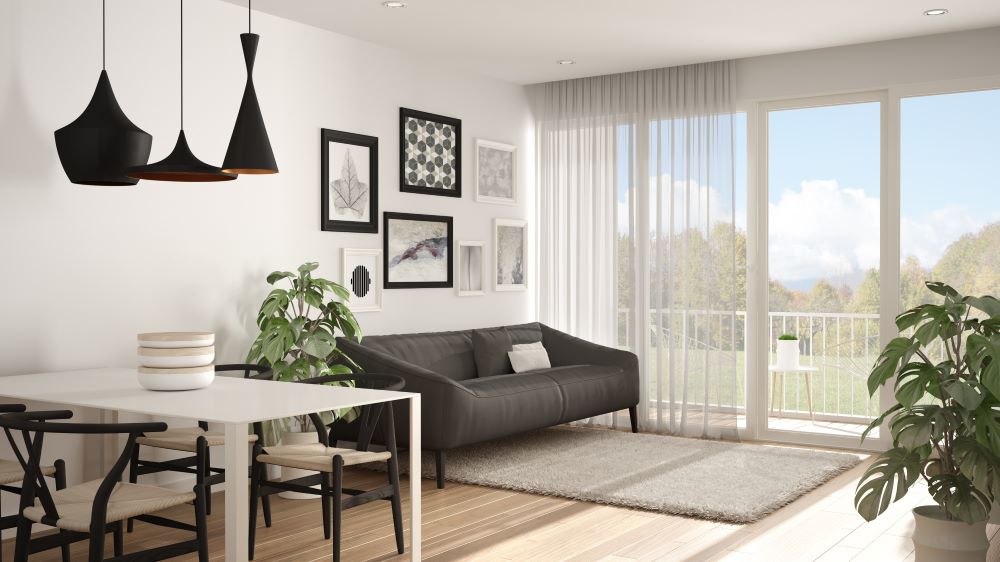 When you think about the minimalist decor style, you probably don't picture a space filled with decorations. While the minimalist style doesn't showcase a wide variety of decorative accents, adding some strategic decor can make your space feel more cozy. Decorations can instantly make a room feel more cozy because they help you personalize your space and turn it into a homey environment.
How To Use Decorative Accents For A Cozy Minimalist Style
Focus all your attention on the walls to let your accents truly shine. Hang up a gallery wall behind your couch or display small accents on floating shelves. This will help you keep the minimalist look by keeping the rest of the room neat and tidy.
Use plants for your decorative accents. Greenery can make any room feel fresh and relaxing without overloading your space.
Candles are another great choice for minimal decorative accents because they can bring style, comfort, and coziness.
Add string lights and lanterns to your home for a warm and cozy effect.
Take advantage of throw pillows and blankets on your couch and bed – these make perfect cozy accents and also double as functional elements to match the minimalist style.
---
---
Use A Warm Color Scheme To Add Coziness To The Minimalist Style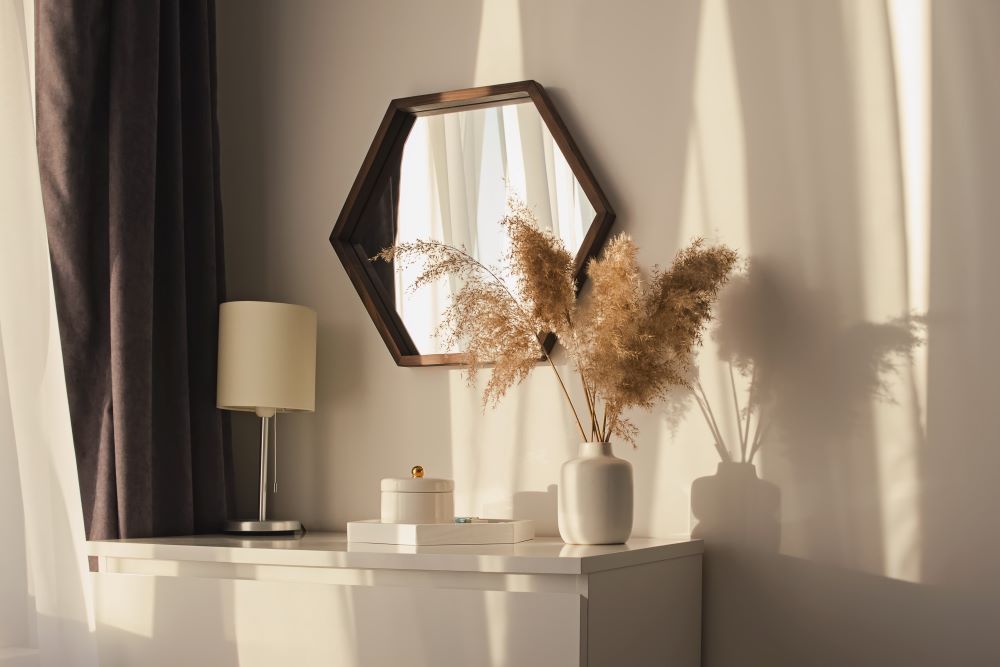 In addition to textures and decorative accents, the color scheme of your space is another important part of creating your ideal cozy minimalist decor style. The great thing about the minimalist style on its own is that you can pretty much choose any color scheme that you want.
In order to get that cozy feeling in your space, go for a warm color scheme. Warm colors emulate a welcoming, relaxing, and comfortable aesthetic. Opt for warm neutrals such as natural wood, brown, and beige to keep up with the minimalistic look. You can also throw in some other colors throughout your space such as red, orange, or yellow. Just make sure to only add these extra colors in small amounts to make sure your space flows nicely.
Set up your color scheme through minimal decorations and elements such as throw pillows, curtains, bedding, and wall hangings. You can also incorporate your colors with your main pieces of furniture to establish the warm scheme in a bigger way. Find creative ways to include warm colors while maintaining a neutral and fresh space.
---
---
Bring In Natural Wood Furniture To Warm Up Any Minimalist Room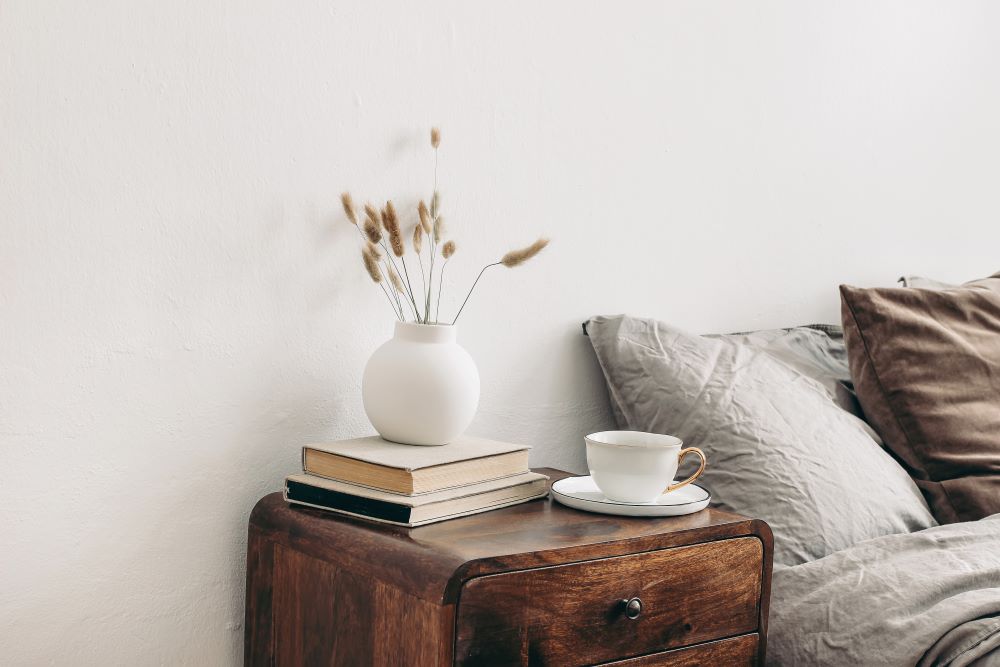 Just like adding a warm color scheme, adding natural wood furniture is another way to warm up your space. Natural wood can bring a welcoming and comfortable look to any room in your home. This idea is perfect for a cozy minimalist space because it doesn't require any extensive decorative additions. You can keep a simple look while adding a touch of cozy charm.
Wood Furniture Ideas For Your Cozy Minimalist Home
Bedside tables
Coffee table
Kitchen table and chairs
Front porch bench
Entryway table
Bedframe and headboard
Bedroom dresser
Kitchen barstools
---
---
Ready to transform your home into the cozy minimalist style? Shop our selection of Home Decor to find wall art, decorative accents, curtains, furniture, and much more to set up your space!