Home Decor Hacks: 7 Tips To Refresh Your Bathroom
It's always a great idea to do a bathroom refresh! Whether you haven't decorated your bathroom in awhile, or if it could use some fresh updates, you can easily transform your space to look brand new. Luckily, you don't have to spend a lot of money or commit a lot of time to your bathroom refresh. There are many easy tasks and cheap projects you can complete to give your bathroom a mini makeover. From simple updates to decorative additions and more, here are 7 tips to refresh your bathroom.
---
1. Transform Your Bathroom Into A Spa Setting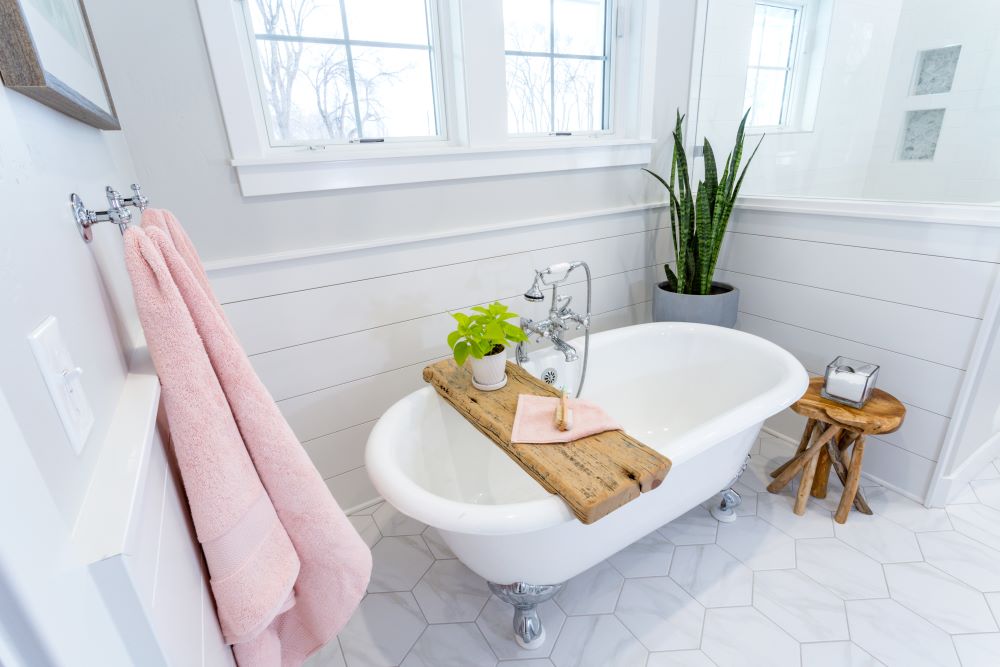 One of the first things to think about when doing a bathroom refresh is figuring out how to make your space feel comfortable and relaxing. Your bathroom is a great place to unwind and freshen up after a long day, so you ultimately want it to be an area that reflects that nicely. A good section to start is with your bathtub – turn your bathtub area into a spa-like environment to get a relaxing bathroom.
Starting with your bathtub area will then help you transform the rest of your bathroom to match the spa feeling that you want to give off. Think a lot about the color schemes, decorative accents, wall art, and other various elements in the room. If you're hoping to truly transform your entire bathroom into a spa theme, it's important to take note of every detail so everything will blend together nicely. Cohesiveness is a crucial part of having a spa-like bathroom because it adds to the calmness and serenity.
How To Make Your Bathroom Look Like A Spa
Add a tray across your bathtub. This is perfect for holding specialty soaps, a loofah, and it provides a convenient area for a book or wine glass when you're relaxing in the tub.
Display white candles around your bathtub. These give off the ultimate spa experience, especially when you light them during a bath.
Use all white towels and bath rugs. White is a serene spa color that feels calm and simple. Make sure to complement it with other relaxing accent colors like sky blue or light green.
Include calming scents in the bathroom. A great way to do this is with potpourri, incense, or scented oil sticks. While lavender is a common calming scent, you can also go for vanilla, citrus, or any other scent that brings you joy.
---
2. Upgrade Your Bathroom Storage For A More Tidy Look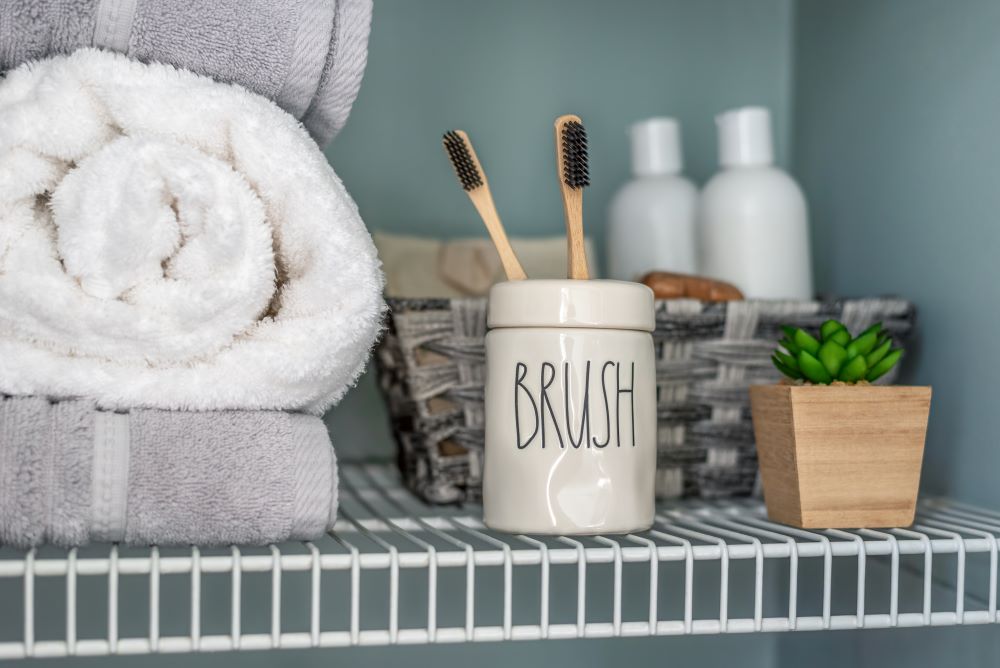 Another big part of a bathroom refresh is giving your storage an update. Sometimes bathrooms can get cluttered and out of hand, so it's important to stay on top of storage and organization. Whether you want to completely update your storage or just reorganize what you already have, taking some extra time to do this will instantly refresh your space.
Easy Bathroom Storage Tips
To save space, store extra towels by rolling them up instead of folding them.
Use a decorative ladder for unique extra shelving.
Display a basket on top of your toilet to discreetly hold extra toilet paper rolls.
Combine your everyday items with decorative accents on a tray to maintain a stylish space.
Use a lazy Susan or rotating organizer in your bathroom cabinet for easy access to all your items.
Hang up floating shelves above your toilet for extra storage space.
Display bathroom essentials (such as cotton balls or q-tips) in clear glass jars for a fresh appearance.
If you're working with a smaller space, check out these 10 Storage Ideas For A Small Bathroom.
---
---
3. Freshen Up Your Bathroom With New Countertop Accents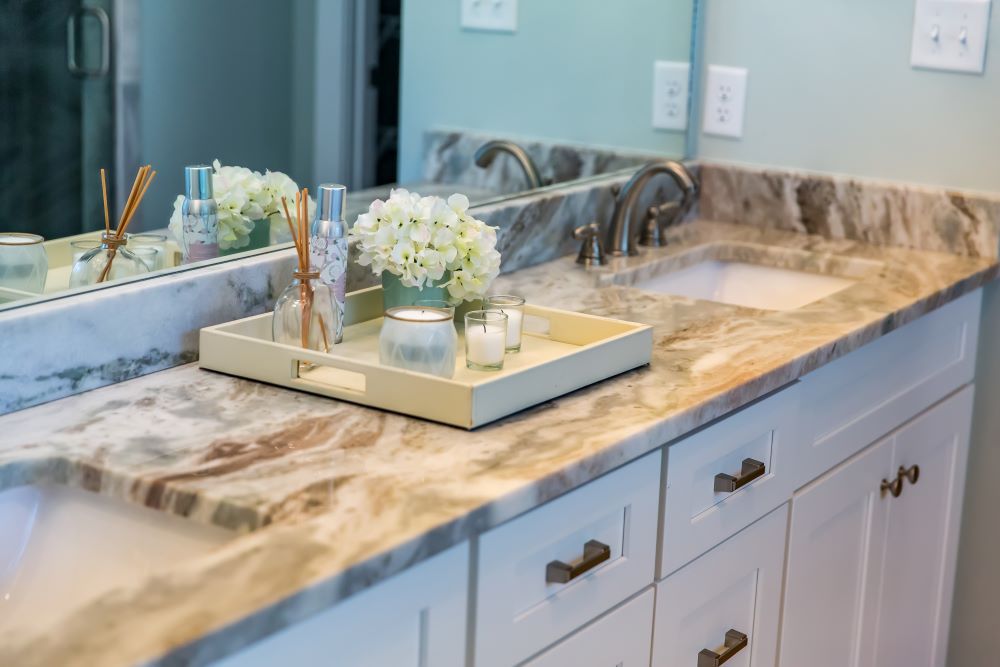 Updating your decorative accents is another easy way to refresh your bathroom. This is an especially great idea if you haven't changed up your decorations in awhile or if your bathroom feels like it need some extra style. Decorating the countertop is a good place to start because that's usually your biggest surface area in the room.
There are so many ways to style your bathroom countertops to match whichever decor style you want to achieve. Whether you want to add more colors to your space, keep it minimal and tidy, or create a chic look, countertop accents can help you get the look you want. You can creatively use decorations you already have or you can bring in new elements for a brand new appearance. Once you style your countertops, you can nicely complement them with other decor throughout the room.
How To Decorate Your Bathroom Countertops
Start with a decorative tray. This can be a mirrored tray for an elegant look or a colored tray for a pop of vibrancy.
Add a tall decoration to your tray, such as a vase of flowers or a unique statue.
Next, add a slightly shorter accent to the tray. This can usually be a jar candle or a block sign.
Then, add your shortest accent to the tray like tea candles.
If you have a lot of extra countertop space, consider adding other accents like a basket for extra towels or another vase of flowers in the corner.
---
---
4. Update Your Bathroom Hardware For A Quick Makeover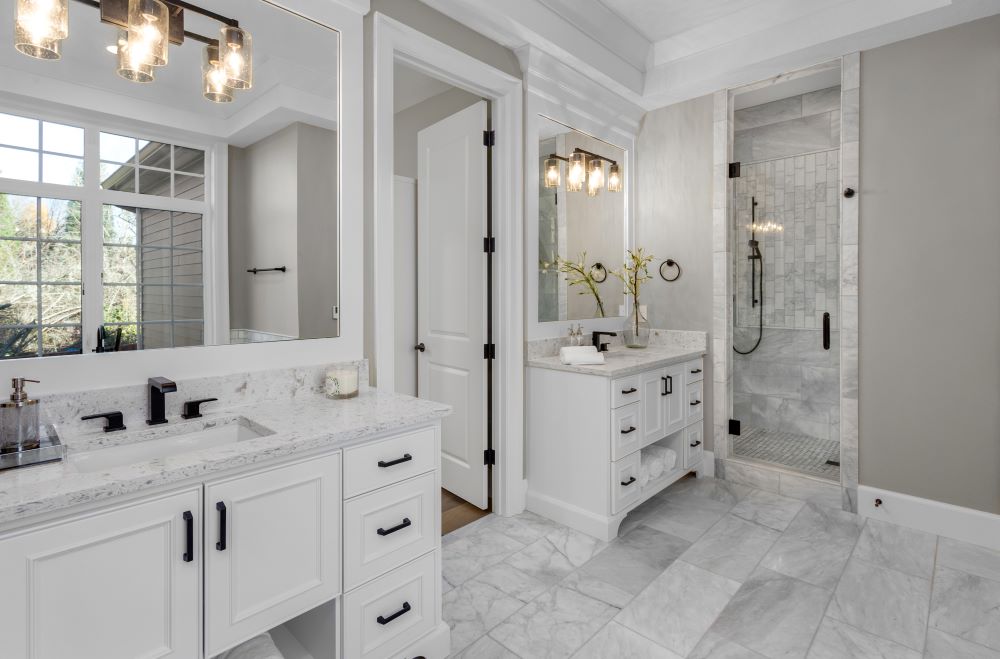 You don't need to renovate your entire bathroom to give it a new look. Do things on a smaller scale by updating your bathroom hardware instead. Switching up your bathroom hardware can surprisingly bring a noticeable new look to your space in an affordable and easy way.
The first place to start when changing up your bathroom hardware is your drawer pulls and cabinet handles. Brand new handles can instantly make your bathroom look more modern and chic or it can help you make your decor theme come alive. For instance, if you have or want a vintage style bathroom, you can install elegant gold handles on your cabinets. If you're going for a more sleek look, opt for solid black square handles. This simple update will stand out on your bathroom cabinets and give your bathroom a quick refresh.
Once you change your handles, you can then consider changing the faucet on your sink. This is a more involved process and sometimes more pricey; however, it's well worth it to get a fresh appearance. Matching your faucet to your new cabinet handles is a great way to get a cohesive look. You can also install a unique faucet for a more stylish and eye-catching appearance. Take the time to figure out what type of faucet will work in your space.
---
---
5. Give Your Bathroom Cabinets A New Look With Paint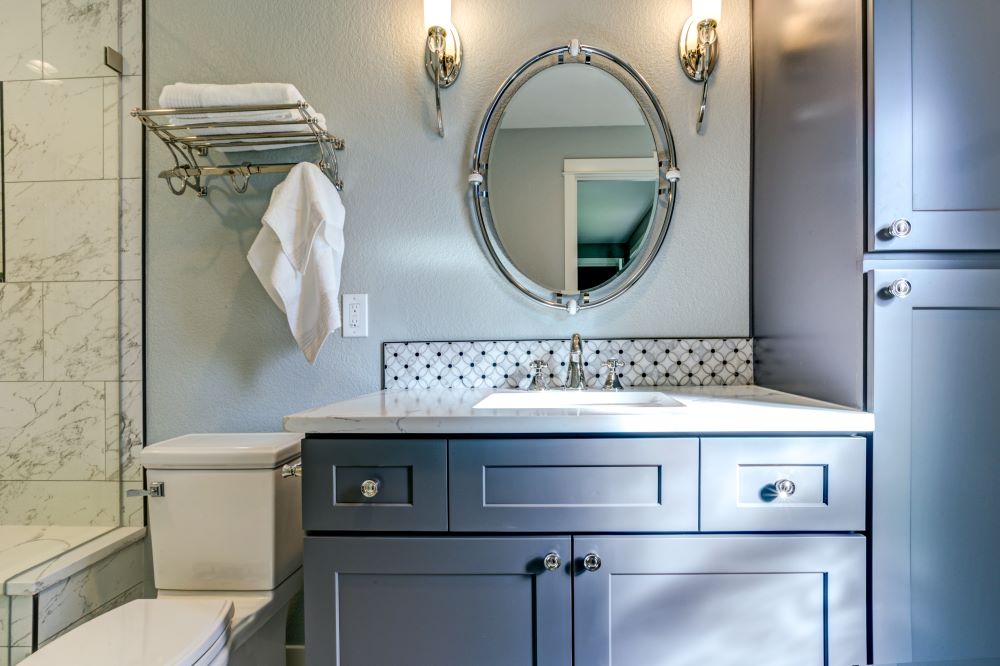 If you're looking for a more involved project to update your bathroom, consider painting your cabinets. Adding a fresh color to your bathroom will instantly brighten up the area and make it look brand new. Taking the time to paint your cabinets is a great affordable option for a simple bathroom makeover.
Make sure to take the time to understand how to paint your bathroom cabinets and do your research on all the necessary steps. This is a great project for those who are very handy and crafty. If you're not quite sure about your painting abilities, you can even hire a painter to do it for you, if you're willing to put in some extra money.
How To Choose A Color For Your Bathroom Cabinets
Contrast your bathroom wall colors by using a darker shade of the same color. For example, if you have light blue walls, you can paint your cabinets a navy blue color.
Use a neutral cabinet color to make your bathroom feel sleek. Common neutrals include white, black, or brown.
If you want a more bold look, consider painting your cabinets a bright color. This should still complement the rest of your bathroom, but don't be afraid to take a risk with a brand new color.
You can even simply freshen up your cabinets with a fresh coat of paint without changing the color.
---
6. Swap Out Your Bathroom Towels & Rug For A New Look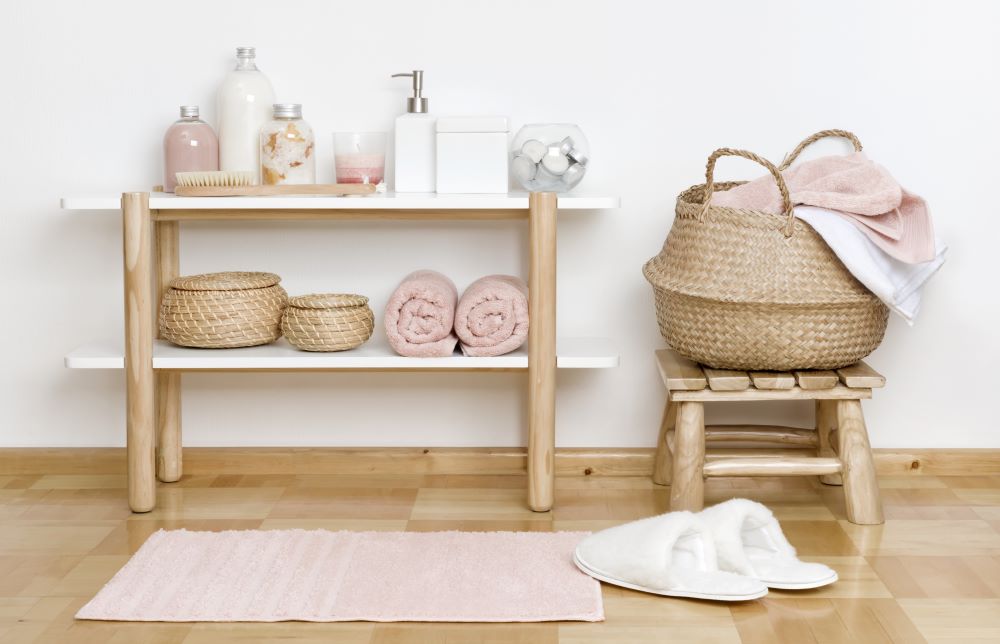 Towels and rugs are a huge part of your bathroom because they can make or break the overall appearance and aesthetic of the space. Chances are, if you have some old towels hanging in your bathroom, they are probably not too appealing. Replacing your towels and rugs in your bathroom will help freshen up your space in a low-effort and cheap way.
Start with changing up the towels in your bathroom. Typically, the main towels in your bathroom are your bath towels and hand towels. Sometimes, you might also have additional decorative towels on an extra towel rack in the room. Replace all your towels for an instantly fresh look. Consider finding towels in a brand new color or ones with decorative patterns. Ideally, you'll want to complement the colors in the rest of your bathroom, but you can also choose towels in contrasting colors for a more bold look.
After bringing in new towels, you can then change up the rugs in your bathroom. A rug can be a nice centerpiece to your bathroom; decide if you want a more bold rug or a more simple one. Using a patterned rug can add an extra "wow" factor to your bathroom and can give it more personality. A solid rug can be just as nice, and works well in a modern and chic bathroom. No matter what, this simple swap of a new rug will refresh your space in a quick and easy way.
---
---
7. Liven Up Your Bathroom With Plants & Flowers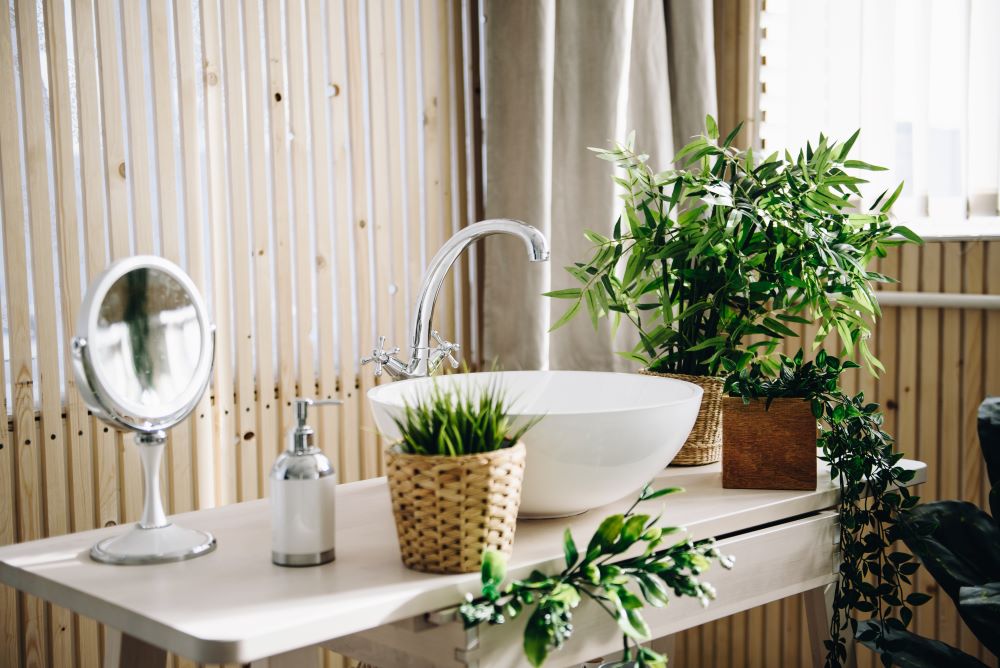 Lastly, another way to refresh your bathroom is to bring in some fresh and bright elements. Decorating with plants and flowers is a wonderful way to bring that extra touch of freshness to your bathroom. Whether you use real or faux plants, this easy addition will make a huge difference to your space.
When it comes to deciding between real and faux plants, you need to consider all the different pros and cons. Fresh plants and flowers look very inviting and bright, but they come with upkeep and maintenance. Faux plants and flowers require no upkeep but it can sometimes be a challenge to make them look real. Figure out which type works best for you and then incorporate some of the ideas below into your bathroom.
How To Add Plants & Flowers To Your Bathroom
Add multiple basket planters around your bathroom with real or faux plants.
Display a vase of flowers in the middle of a tray on your bathroom counter.
Use hanging planters on the wall or ceiling for a unique look.
Display a variety of succulents on floating shelves above the toilet.
Decorate with a tall floor plant to fill in an empty corner
---
Now that you've learned some simple tips on how to refresh your bathroom, check out our Bed & Bath section to get started on your mini makeover! Find decorative bath collections, towel sets, bathroom storage and furniture, and much more.