7 Easy Bedroom Upgrade Ideas For Summer
Summer is around the corner, which means that it's the perfect time to freshen up your home with a new and stylish look. Starting with your bedroom is a great way to make the seasonal transition even easier. Refreshing your bedroom for the summer in a quick and simple way can help you achieve a new look with minimal effort. This can also help you stick to a budget, making it more affordable to stay up to date with all seasonal changes. From new decorations to color changes to new linens and more, here are 7 easy bedroom upgrade ideas for summer.
---
1. Switch Out Bedding & Window Curtains For A Fresh Summer Bedroom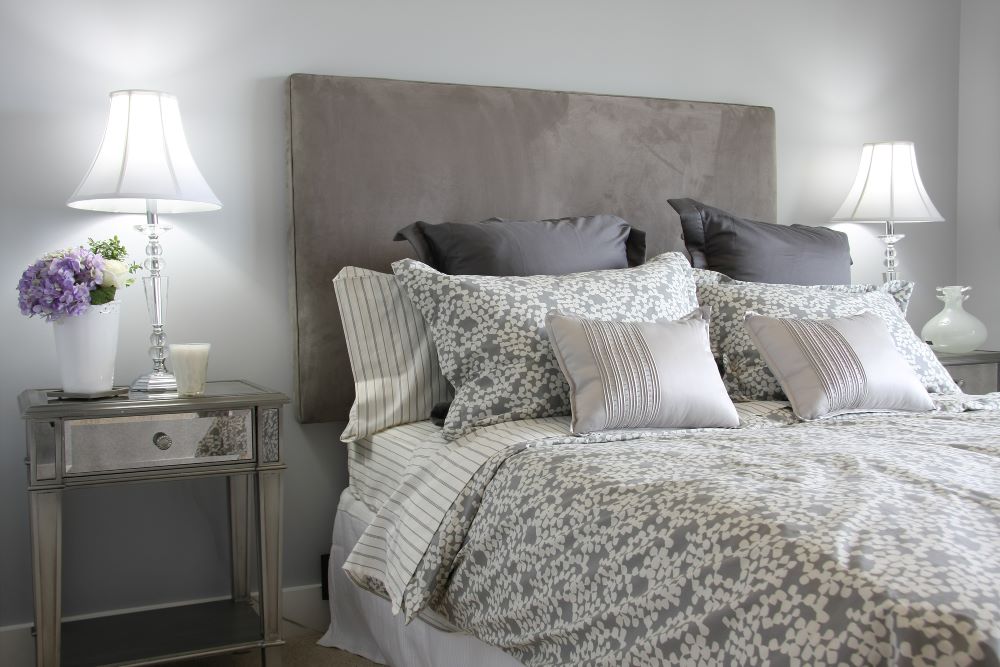 One of the first upgrades you can make when freshening up your bedroom for the summer is to switch out your bedding, throw pillows, and window curtains. While this seems like a very simple update, it can actually make a huge difference to your bedroom. This can instantly transform your space and it's a great way to give your room a makeover for cheap.
When it comes to new bedding and throw pillows, you can truly choose almost any new colors, patterns, and designs to give off a fresh summer look. Make sure to complement your current color scheme but you can also stray from it a little bit if you want a pop of unique color. For instance, you can bring in a brand new comforter that matches your overall color palette, but then add some throw pillows with unexpected colors.
As far as new curtains go, you'll typically want to choose something lighter and more flowy for the summertime. Choose curtains that block out the harsh summer heat while still maintaining a light and flow design. You can even pick curtains in a brand new color to give your room a bold look. Consider a bright summer color like teal or yellow, or go for a more neutral look to keep the room feeling calm and balanced.
Bonus: You can also swap out or add other linens and fabrics throughout the room for a summer upgrade. For example, you can reupholster a corner accent chair with a new fabric, or you can add a flowy fabric wall hanging to your wall. There are so many ways to bring in summer patterns and elements through simple decorative fabrics.
---
---
2. Hang Up New Wall Art To Create A Summer Bedroom Theme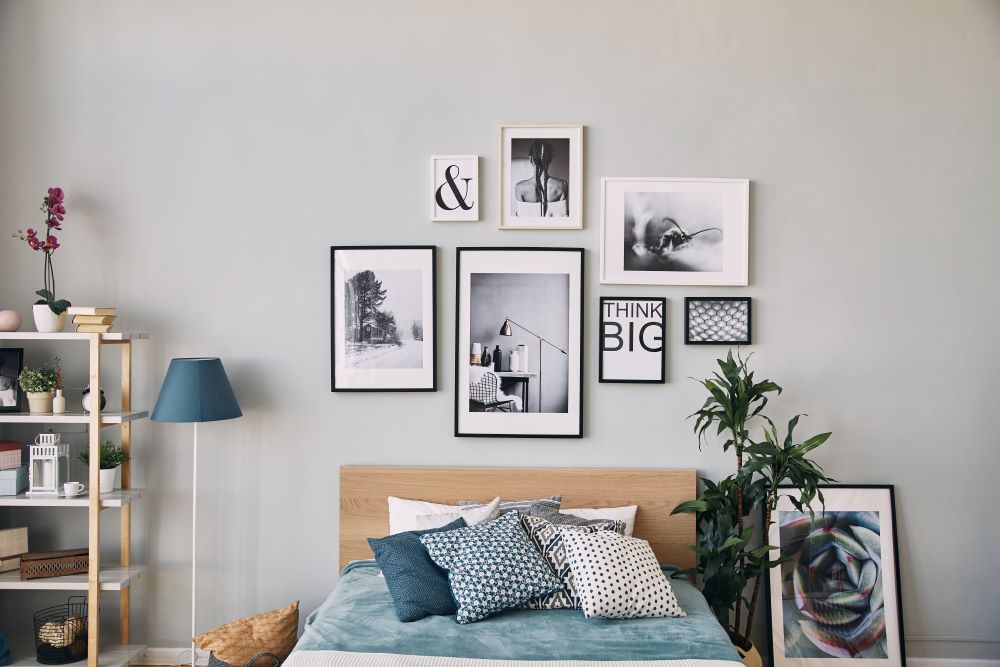 Another easy way to transform your bedroom for the summer is to do a simple upgrade of all your wall art. This will allow you to create a brand new look on your walls without having to repaint them. Whether you completely swap out your wall hangings or just change out the pictures in your current frames, you can very easily create a new summer appearance.
You can bring in some new pieces of wall art or use what you already have around your room or home. You can even consider moving pieces of wall art from another room into your bedroom to create a brand new look. No matter what size your budget is, you can easily add one of the bedroom wall art ideas below to your summer to-do list!
How To Upgrade Your Bedroom Wall Art For Summer
If you currently have framed artwork on the walls, swap out the art for a new selection of images. This can be very specific to summer, such as flowers and warm weather sentiments.
Hang up a large tapestry on the wall. This will give your wall a huge makeover with just one simple addition.
Display some of your own framed photographs to make your room feel more personal. You can even use summer family photographs specifically to create a fitting theme.
Hang up fabric wall hangings to create more flowy elements in the room. This will give your space a more breezy feeling for the summertime.
---
---
3. Set Up An Accent Wall Behind Your Bed For A Quick Summer Makeover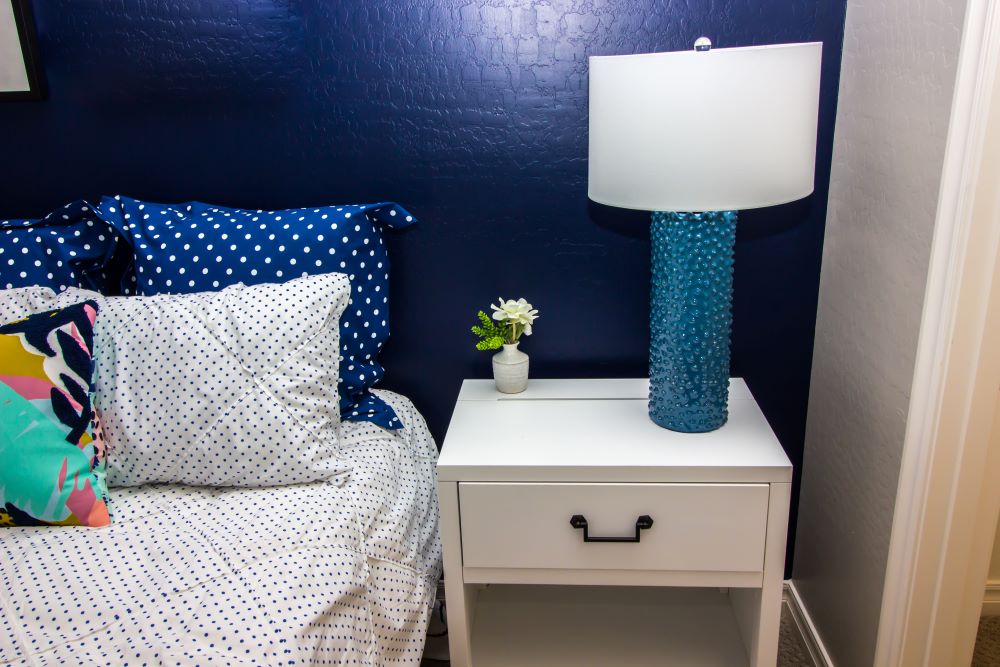 Setting up an accent wall is a great way to add some contrast and extra dimension to your room. If you don't already have an accent wall, consider creating one for your summer bedroom upgrade! While this project may take a little bit of work, it's still much easier than redoing your entire room. This is a great option if you want a bold transformation without a complete room makeover.
There are so many different ways to create an accent wall; some ideas are more time consuming than others, so decide what will work best for you. The possibilities are pretty much endless; however, listed below are some popular ideas that you can try!
Bedroom Accent Wall Ideas
Use peel and stick wallpaper for a patterned accent wall
Paint your accent wall a darker shade than the rest of your room for contrast
Display a gallery wall of photos for your accent wall
If you're artsy, paint a faux headboard behind your bed for a truly unique accent wall
Build a bookcase wall for an incredible display
---
---
4. Update Your Closet Doors For A Brand New Summer Bedroom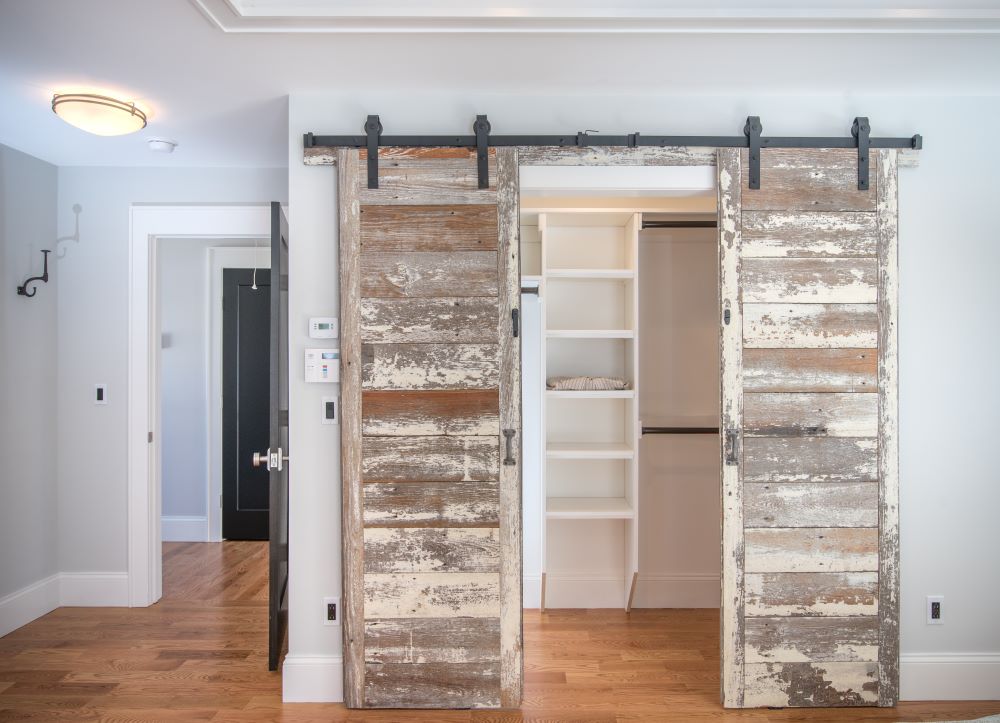 Your closet doors are probably an area of your home that you've never considered upgrading. This is just a small section of your room; however, making a change to them can give your space a noticeable difference. You can make a huge transformation by removing your current closet doors and replacing them, or you can do something more simple. Either way, you'll get a noticeably fresh look for summer.
Whether you want to match your current decor style, make your room look more chic, or simply update some old closet doors, there are so many different upgrade ideas. Check out some ideas below to transform the look of your closet doors to get a mini summer room makeover.
Closet Door Makeover Ideas
Remove your current doors and install sliding barn doors for a farmhouse look.
Use a curtain on a rod as an alternative to closet doors to get a dramatic and unique appearance.
Paint your closet doors for an easy makeover.
Replace your closet door handles or door knobs for a simple update.
---
5. Incorporate Summer Colors & Patterns For A Seasonal Bedroom Upgrade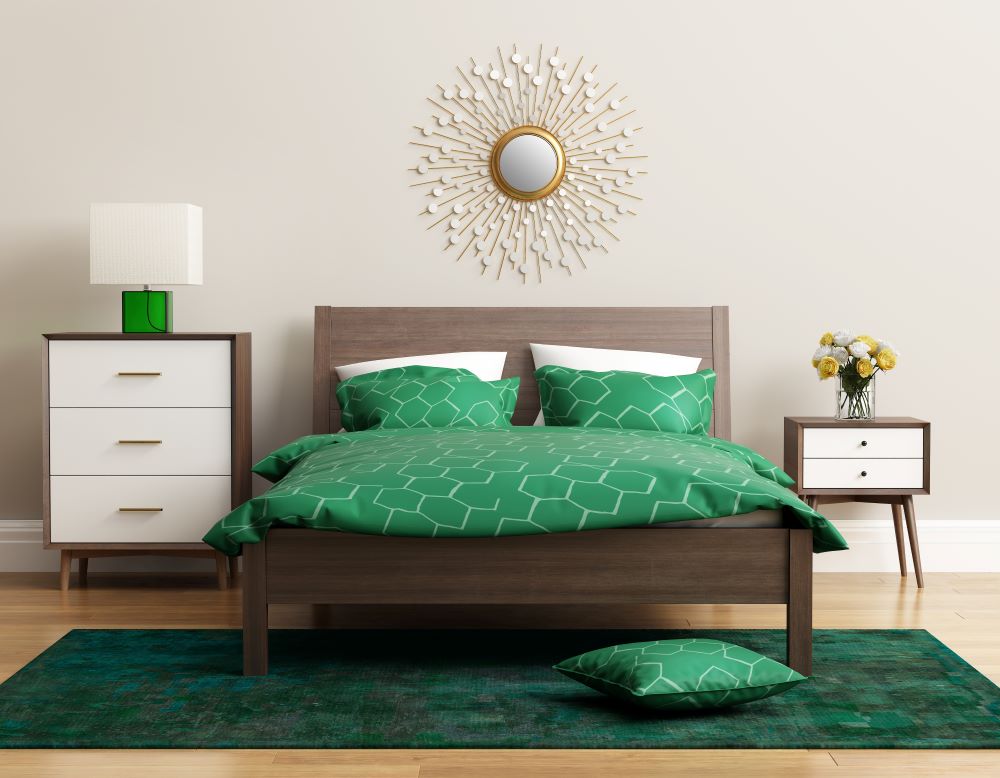 Another easy bedroom upgrade idea for summer is to simply decorate with summer colors, patterns, and themes. Changing up your accents and decorations can make your room feel more relevant for the season and it can make it feel more fresh and alive. Choosing a specific summer theme will give your space some personality and it'll make your bedroom look more cheerful.
There are many different colors, patterns, and themes that relate to summer, but here are some popular trends:
Summer Colors
Green
Yellow
Pink
Teal
White
Red
Summer Patterns & Themes
Florals
Lemons
Butterflies
Bumblebees
Watermelons
Coastal Style
You can easily incorporate these summer colors and themes into your bedroom decorations. Change up your bedding, add some summer wall art, bring in some themed accents on your side tables, swap out your area rug, and even create a temporary accent wall. Making a full summer bedroom transformation with these elements is surprisingly easy to do. Feel free to make your space look extra quirky with fun patterns, or more chic with simple color palettes and themes.
---
---
6. Hang Up Floating Shelves To Display Summer Accents In Your Bedroom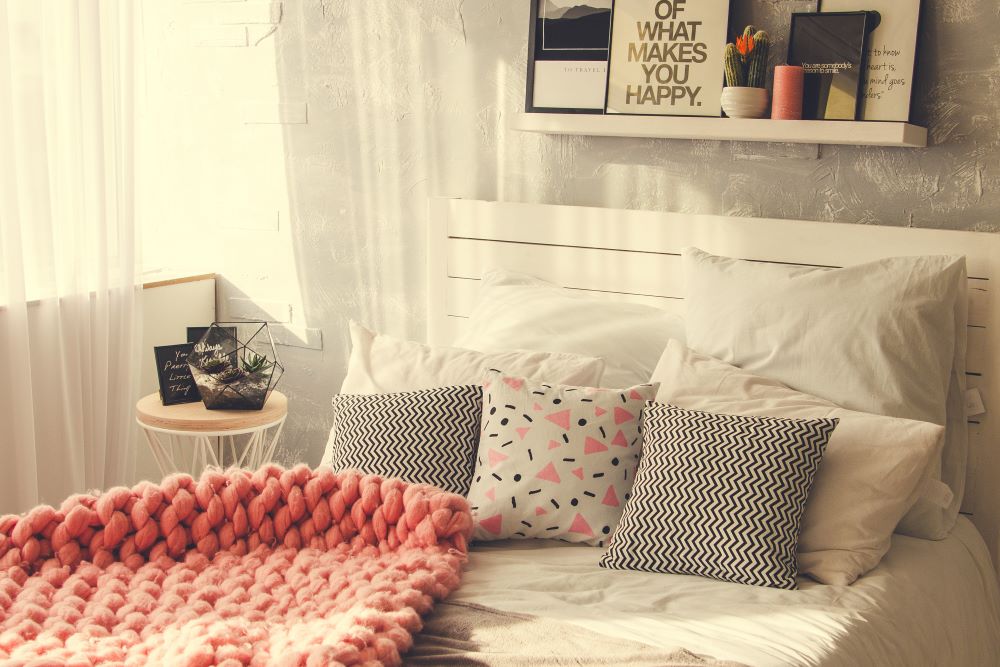 An additional way to upgrade your bedroom for the summertime is to add some extra shelving to your space. Shelves give you the perfect opportunity to display some new decorative accents and they can also provide some useful storage to organize your space. The easiest way to include more shelving in your room is to hang up floating shelves. These will take up less space and are incredibly simple to install.
Floating shelves can fit almost anywhere in your bedroom. Consider hanging some on each side of your dresser for a balanced look, place some above your bed for an alternative to a headboard, or simply put some on any open wall to fill up some space. Depending on the size of the floating shelves, you can display small trinkets or eye-catching decorative signs. There are so many different ways to style floating shelves – check out some ideas below for inspiration.
How To Style Floating Shelves
Display framed artwork on the left and right side of the shelf with a variety of different sized candles in the middle.
Show off family photos in frames alongside a vase of fresh or faux flowers.
Set up a large decorative statue on the shelf to stand out on its own.
Create a selection of color blocked shelves – hang up several floating shelves and make each one a different color theme with accents.
Display a mix of trinkets or keepsakes, or show off a collection of items on floating shelves.
---
---
7. Change Up Your Dresser Decor For An Easy Summer Bedroom Makeover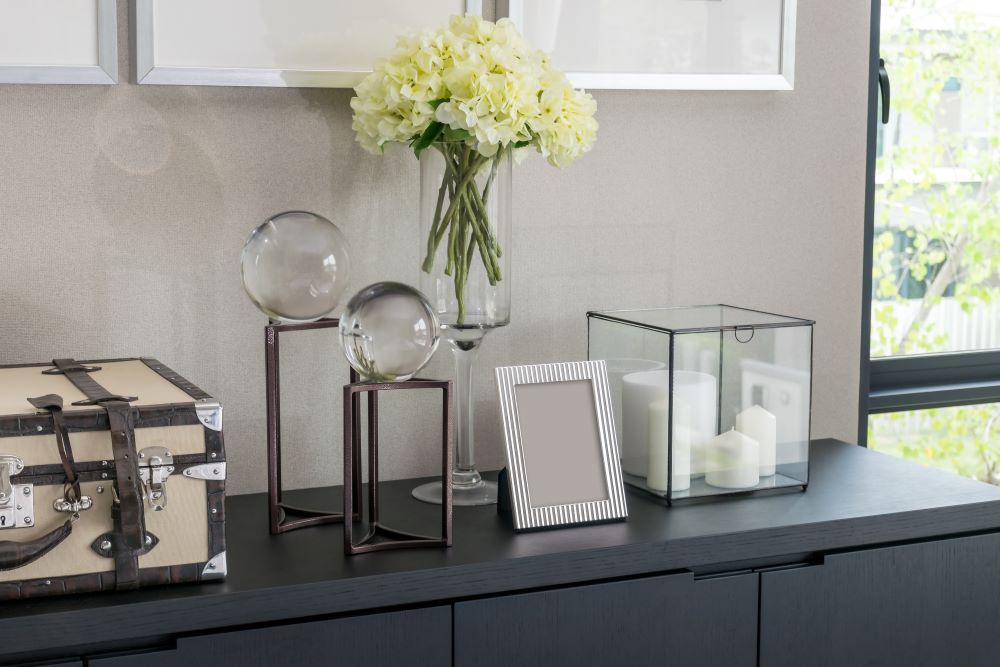 Lastly on this list of easy bedroom upgrade ideas for summer is another simple decoration update. If you haven't changed up your accents in awhile and your room can use a quick refresh, this is an easy way to make your space feel renewed for the summertime. The easiest way to do this is to to start in one area: change up your decorative accents on your dresser for a brand new look.
Start from scratch or add some new decorations to your dresser. Anything new or different can instantly freshen up your dresser; however, for a solid summer look, go for bright colors, fresh flowers, tropical themed accents, and warm weather patterns. While you want to make sure to complement the main decor style in your room, you can also bring in some accents that stand out from all the rest. Ideally, you'll want to make your dresser feel festive and bright for the summer season.
How To Decorate Your Dresser For Summer
Start with a defining piece above your dresser. This can be a large mirror or some unique summer wall art
Add a tall decoration to your dresser for your first accent. For instance, this can be a tall planter or vase with fresh summer flowers.
Next, add a low level accent to your dresser. This can either be a tray filled with summer themed accents, picture frames, or themed block signs.
Finally, add some medium height accents to balance out the dresser. Medium height decor can include summer scented candles, tabletop statues, or a stack of colorful books.
---
Now that you've read some easy bedroom upgrade ideas for summer, check out our selection of Home Decor to get started! Find wall art, decorative accents, rugs, furniture, and much more to give your bedroom the perfect summer style.
---
Want even more bedroom inspiration? Check out these 10 Simple Bedroom Makeover Ideas To Freshen Up Your Space!