9 Americana Home Decor Ideas For A Festive Look
The Fourth Of July is coming up soon, which means it's time to decorate your home with patriotic style. Adding a festive Americana look to your home can make the holiday feel extra special. The Americana decor style typically features a red, white, and blue color scheme, the American flag symbol, and patriotic sentiments. Amplify this decor style for a festive Independence Day! Whether you want to display patriotic decor for the Fourth Of July or keep it up all summer long, here are 9 Americana home decor ideas for a festive look.
---
Americana Tabletop Accents
Small accents can surprisingly bring a wonderful decorative touch to any room in your home! When you're decorating for Independence Day or incorporating an Americana theme for the summer, accents in Americana colors can truly stand out in your home. LTD's selection of Americana tabletop accents are the perfect festive additions to any area of your home. Whether you decorate with a sentiment sign or a tabletop flag, you can easily incorporate these small accents into your Fourth Of July decor spread this summer.
Interchangeable Sentiment or Icon Sets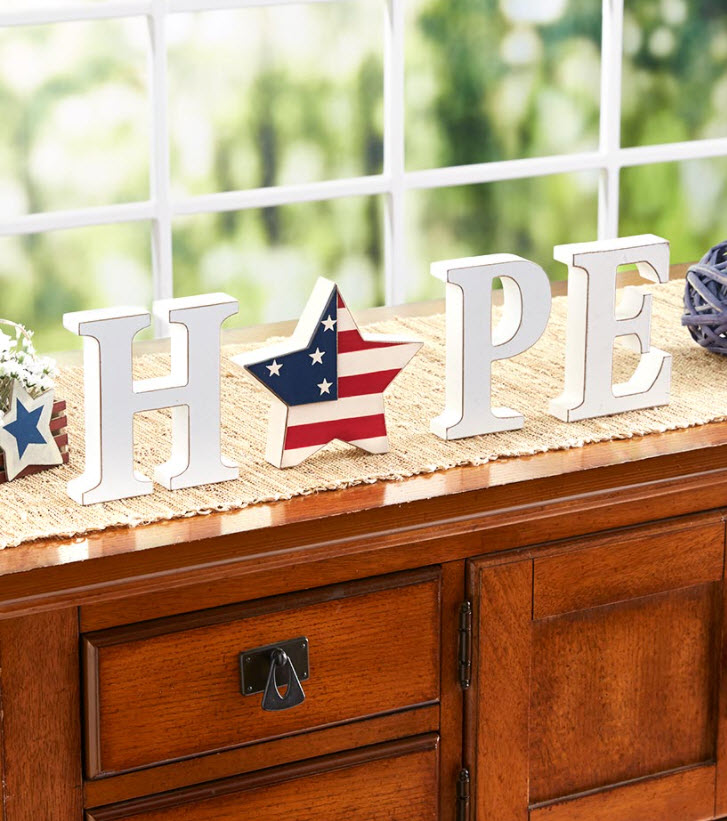 Decorate all year round by displaying this Interchangeable Sentiment sign with seasonal icons!
These signs feature many seasonal icons to swap out for any time of year or holiday. Choose from the Home, Love, or Hope sentiment to match your style.
Show off your Americana style for the Fourth Of July with the American flag star icon. Display the sign on your mantel or entryway table for a festive look.
Wooden Tabletop USA Block Letters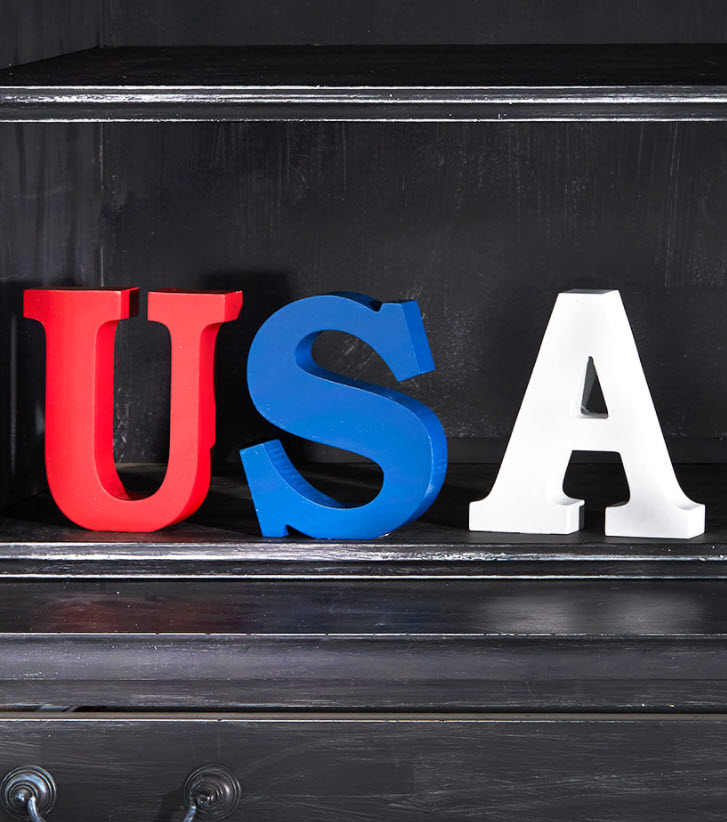 Add some patriotic flair to any shelf with these star-spangled Tabletop USA Block Letters!
These wooden red, white, and blue blocks letters stand at 6 inches tall. Freestanding, they can be displayed in almost any fashion of your choosing.
Display these block letters on a bookshelf, on the mantel, or on a coffee table for a touch of Americana pride. Combine with other red, white, and blue accents in the room.
Celebrate America Tabletop Sign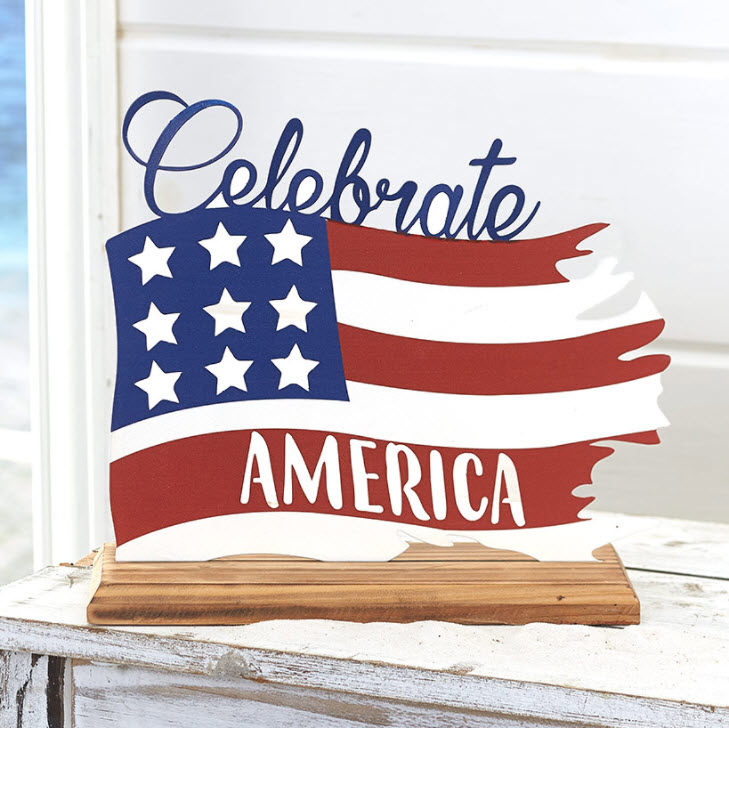 Bring some Americana charm into your home by displaying this Celebrate America Tabletop Sign!
This metal sentiment sign featured a wooden base that can sit on any flat surface. Its American flag design will look bright and festive in any area of your home.
Sit this tabletop sign on an entryway table with other American flag accents and sentiments to create a welcoming displaying in your foyer.
---
---
Americana Themed Bed & Bath Decor
Setting up a themed home can make the Fourth Of July feel extra special and inviting. Bring the Americana theme into your bedroom and bathroom for a surprising touch of patriotic cheer! Whether you go all out with a full matching Americana collection, or just add a simple themed decoration, you can easily create a beautiful space. If you're looking for inspiration, LTD has you covered. With Americana blankets, bedding, bath collections, and so much more, set up your space for Independence Day and the whole summer season.
Oversized American Flag Plush Throw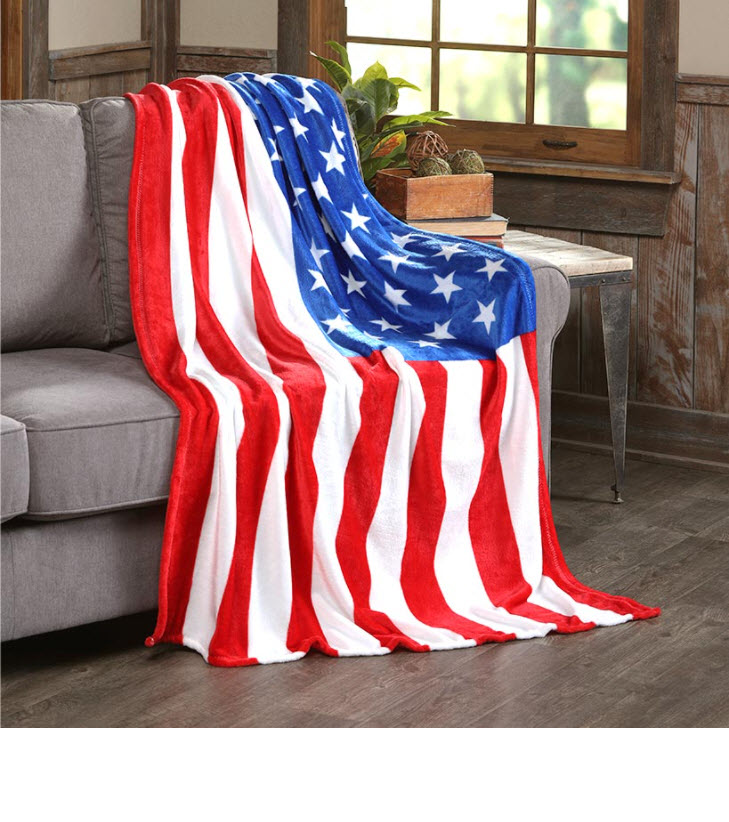 Decorate in a comfy style by showing off an Oversized American Flag Plush Throw in your home!
This 50″ x 70″ cozy throw blanket is the perfect Americana home decor accent for any room. With a patriotic flag design, it's sure to stand out loud and proud.
Drape this flag blanket over your couch for a festive living room, or lay it out on top of your comforter to bring some Americana cheer to your bedroom.
American Flag Bathroom Collection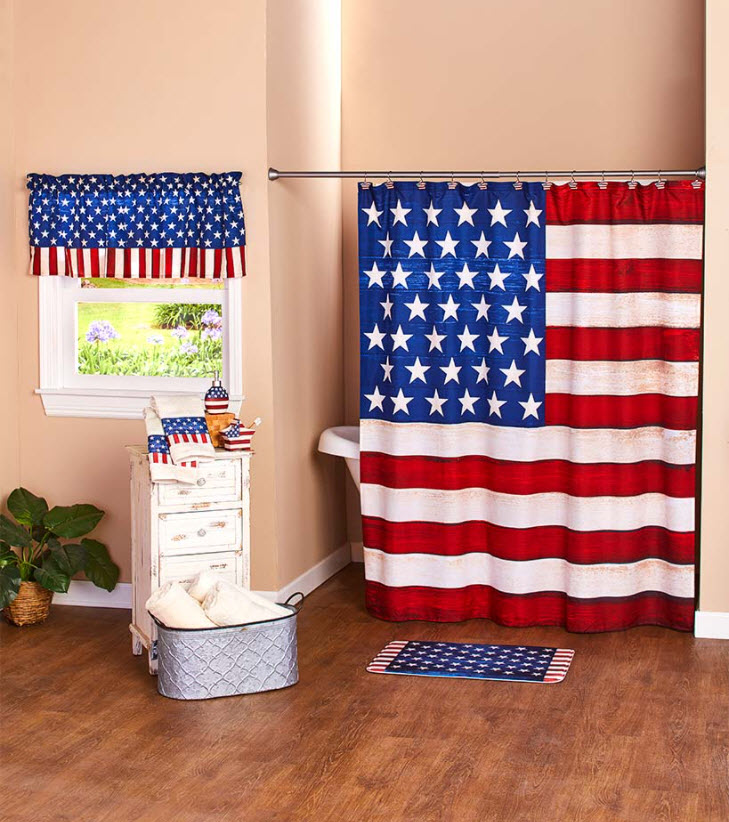 Transform your space for the summer with this American Flag Bathroom Collection!
Featuring a patriotic flag design on every piece, this collection will fill your bathroom with pride. Choose from the shower curtain, rug, hand towels, window valance, soap pump, toothbrush holder, and shower hooks.
Get the whole collection for a festive bathroom or combine items with other Americana themed decor.
Americana Quilted Bedding Collection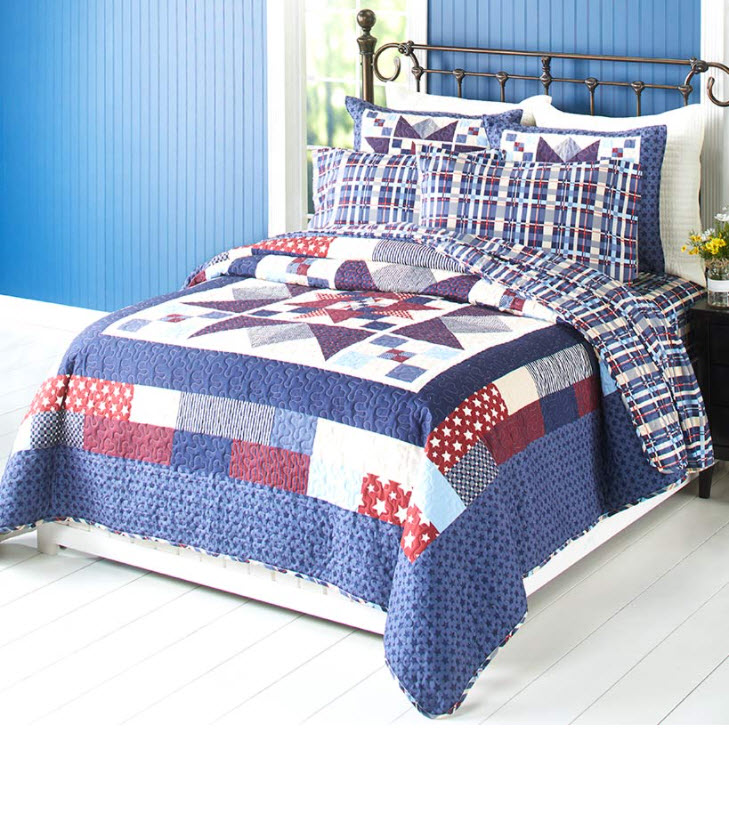 Refresh your bedroom for summer with this Americana Quilted Bedding Collection!
This collection features a quilt with a stylish patchwork design and coordinating plaid sheets. With red, white, and blue Americana colors, this will transform your bedroom for the Fourth Of July!
Display this bedding with other accents in the same color scheme, along with Americana wall sentiments for a full look.
---
---
Other Americana Home Decor
The possibilities for Americana themed decorations are truly endless. Whether you include patriotic colors, themed sentiments, or the American flag, you can add festive cheer to any room. LTD's selection of Americana home decor is a wonderful spread of items that allow you to decorate on a large or small scale. Maybe you want to add a large themed area rug to your living room, or a patriotic accent to your bookshelf, or a simple wall sign to your entryway. No matter what look you're going for, you can very simple transform your home for summer and for the Fourth Of July.
Lighted Americana Polyester Gnomes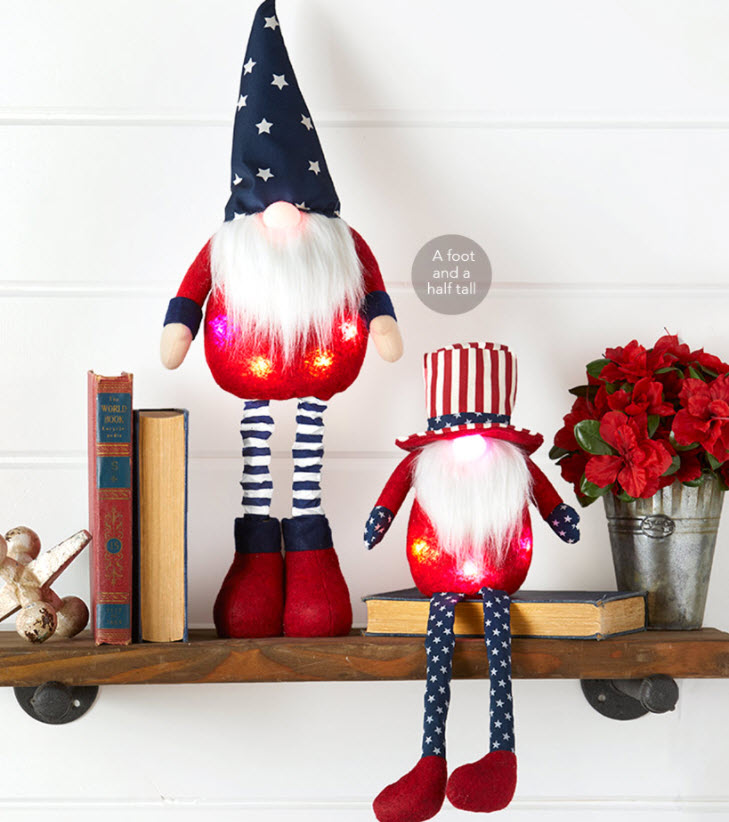 Bring some fun charm to your patriotic spread with the help of these Lighted Americana Gnomes!
These gnomes are dressed in a patriotic patterned outfit and feature color changing lights. Choose from the sitting or standing gnome to display in your home.
Place one of these gnomes on a floating shelf in your living room or create a festive coffee table centerpiece with the gnome in the middle of a tray.
Americana Braided Rug Collection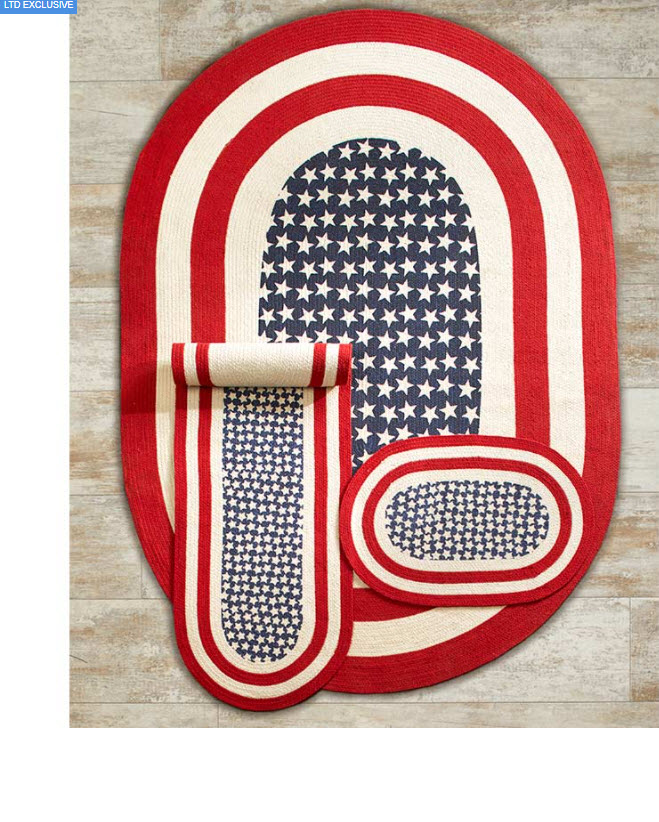 Tie your Americana theme together by decorating with this Americana Braided Rug Collection!
Each rug in this collection features an American flag design on an oval shaped rug. Choose from the accent rug, area rug, or runner.
Display one of these rugs in your living room, entryway, or kitchen and complement it nicely with other Americana accents nearby.
Interchangeable Welcome Sign or Icon Set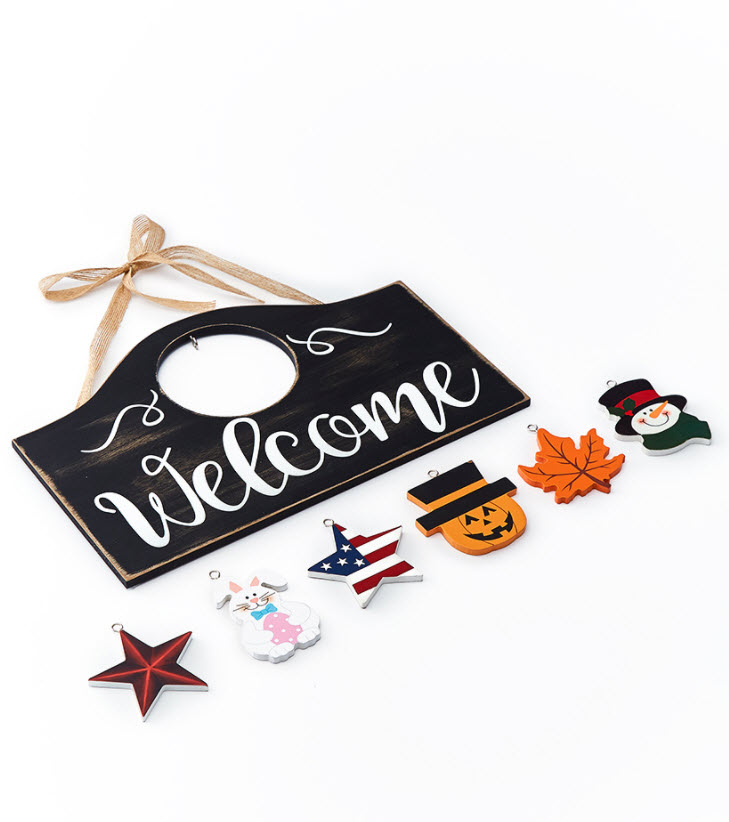 Decorate for the Fourth Of July and beyond with this Interchangeable Welcome Sign or Icon Set!
This welcome sign comes with seasonal icon that represent various holidays and themed throughout the year. Easily swap out the icons when a new season arrives.
Display the American flag star icon on this welcome sign and hang it in your entryway or on your front door. Combined with other star decor, it'll look extra patriotic.
---
---
Looking for even more Americana home decor ideas? Shop our full selection of Patriotic Decor & More to find decorative accents, wall art, yard decorations, and many more themed items!
---
Want even more summer inspiration? Check out these 7 Summer Essentials For Your Backyard!