How To Refresh Your Living Room On A Budget
You don't have to spend a fortune to refresh your living room. With simple changes and updates, you can easily give your space a quick, yet noticeable makeover. If you want to transform your space, you don't always need to implement a surprising change. Whether it's a fresh coat of paint, a simple swap of decorative accents, or a simple addition of extra lighting, a living room update is achievable for any budget. If you aren't sure where to begin, check out this guide on how to refresh your living room on a budget.
---
Update Your Mantel For A Quick Living Room Refresh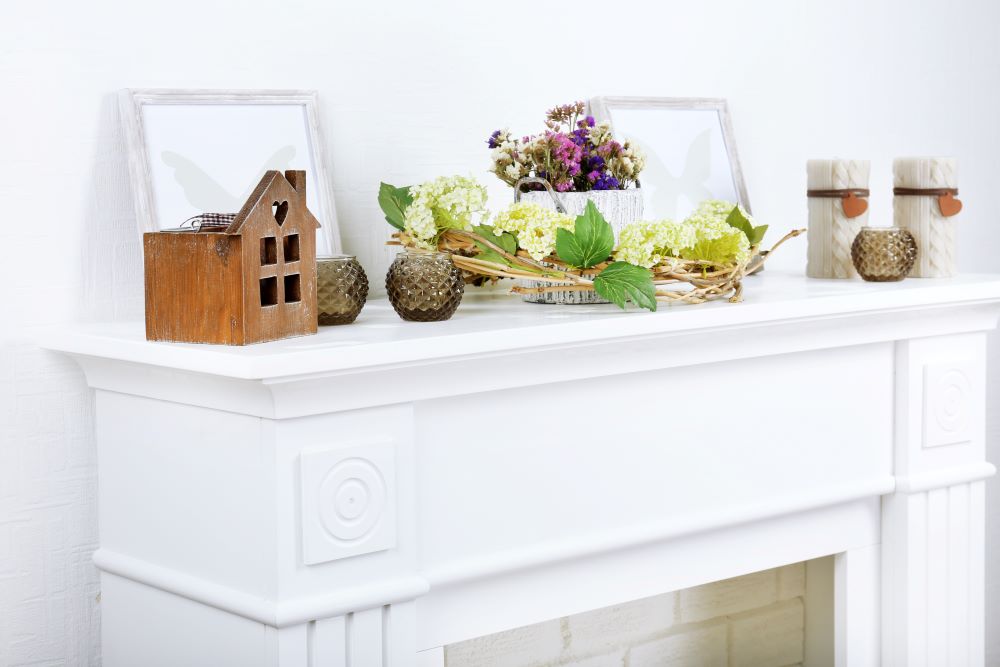 Your mantel is such a big part of your living room because it can be an eye-catching decorative display. A great way to refresh your living room on a budget is to simply change up the decorations on your mantel. Changing the look or style of your mantel can help give your living room a unique makeover that's easy and simple to manage.
How To Decorate Your Mantel
When it comes to decorating your mantel, there are many ways to arrange accents, add fresh colors, and even adjust your decorations to match the current season or holiday. Changing up your decorations and display is one of the easiest living room makeover ideas that you can do to stay within your budget. While you can truly decorate your mantel in any way you want, here are some general ideas to get you started:
Add a large mirror over the mantel to make the room look bigger.
Display a garland or some faux greenery to freshen up your space.
Set up lighted decor for a magical appearance.
Make your living room feel personal with framed family photos.
Add accents in several different heights to bring some variety to the mantel.
Bonus: Paint your mantel a fresh color for an even more unique makeover!
---
---
Paint The Interior Trim Of Your Living Room Windows To Freshen Up Your Space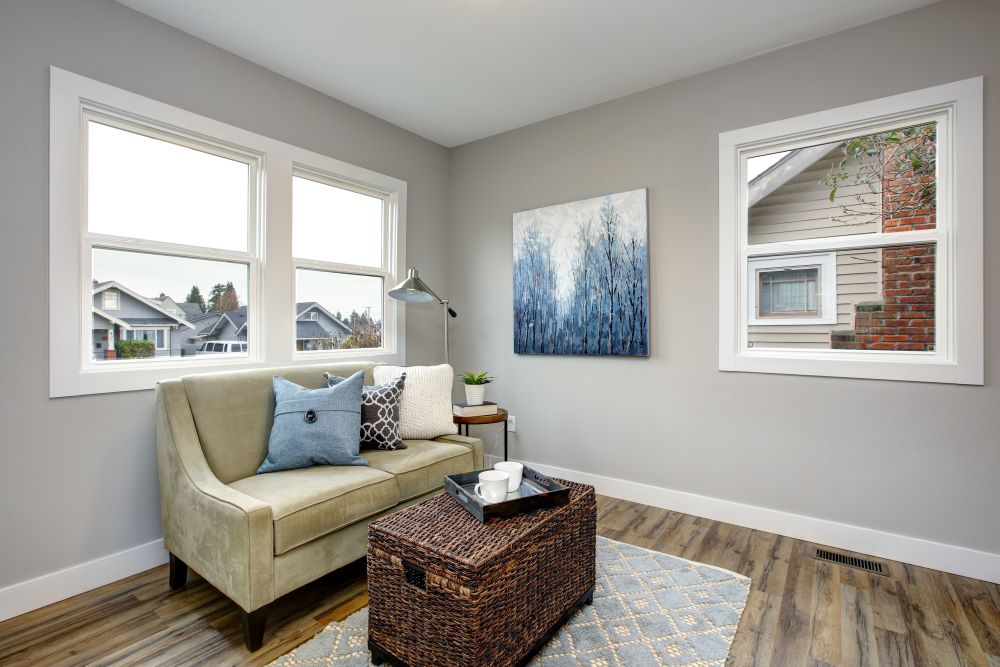 If your living room is feeling dull or old, paint is a great option for freshening up your space. However, repainting the entire room can get a bit pricey and can also be time consuming if you don't want to hire a professional. Instead of repainting the whole room, consider repainting the interior trim of your windows instead!
You probably haven't even though about the interior trim on your living room windows. Whether they have chipped or faded paint, or just could use some brightening up, a fresh coat of paint can do the job. The best part of this idea is that it's incredibly budget friendly, seeing as you don't need to buy that much paint. Add a fresh white coat on your interior trim will instantly make your living room look refreshed and new.
Optionally, you can even paint the interior trim a completely new color. This will make your space look decorative and interesting because it's an unexpected pop of color against the walls. Feel free to paint the trim a darker color to contrast against your walls, or choose a shade that matches your main accent color. Just make sure the color you choose will complement the rest of your room nicely.
---
---
Swap Out Your Throw Pillows & Accents For A Quick Living Room Makeover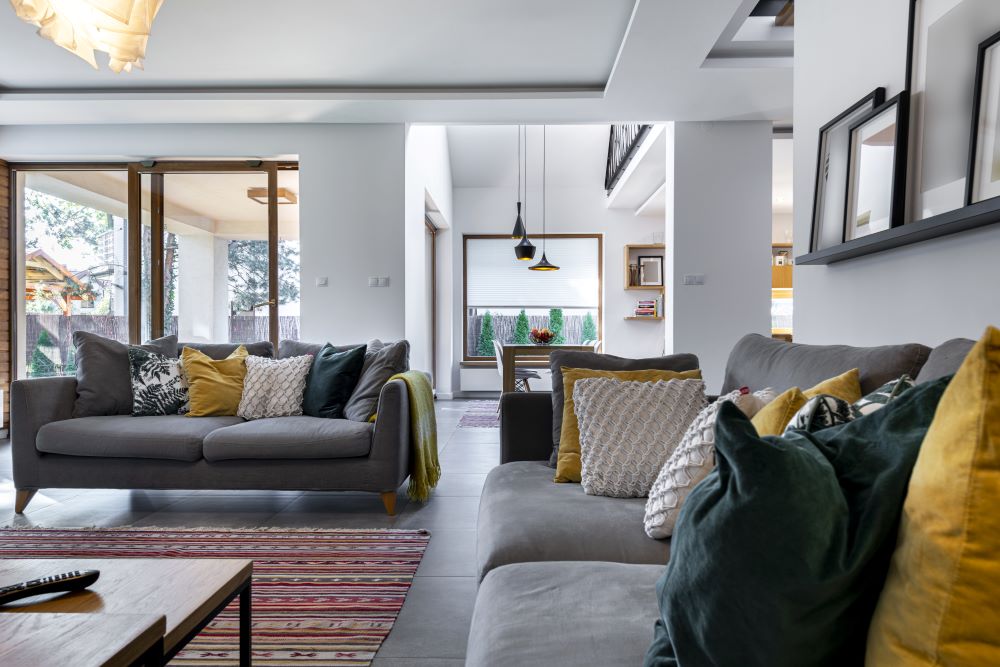 In addition to painting the window trim and rearranging your mantel, you can also swap out other decor in the room for a quick and affordable refresh. Redecorating on a smaller scale can surprisingly work wonders for your living room. This is the perfect option for a budget friendly living room makeover. Check out some ideas below for small scale refresh ideas that involve decorations.
How To Refresh Your Living Room With Small Decor
Display a brand new set of throw pillows on the couch. To stay even more budget friendly, you can even consider swapping out pillow covers instead. Invest in a quality set of pillow inserts so that way you can change out the covers every once in awhile when you want a refresh.
Swap out your rug for a new one. While rugs can sometimes be pricey, especially large area rugs, it can be worth it to bring in a brand new rug. This is a great choice if you just wanted to change one thing in the room.
Set up new accents on the coffee table. If you haven't refreshed your coffee table decor in awhile, now is a great time to do so. Simply swap out a few accents for a brand new look.
Hang up a new painting. A great way to freshen up your living room is to add just one new piece of wall art to your space. Whether you swap out a current wall hanging, or just add on to your display, you can get a new look for less.
---
---
Add Some New Lighting To Brighten Up Your Living Room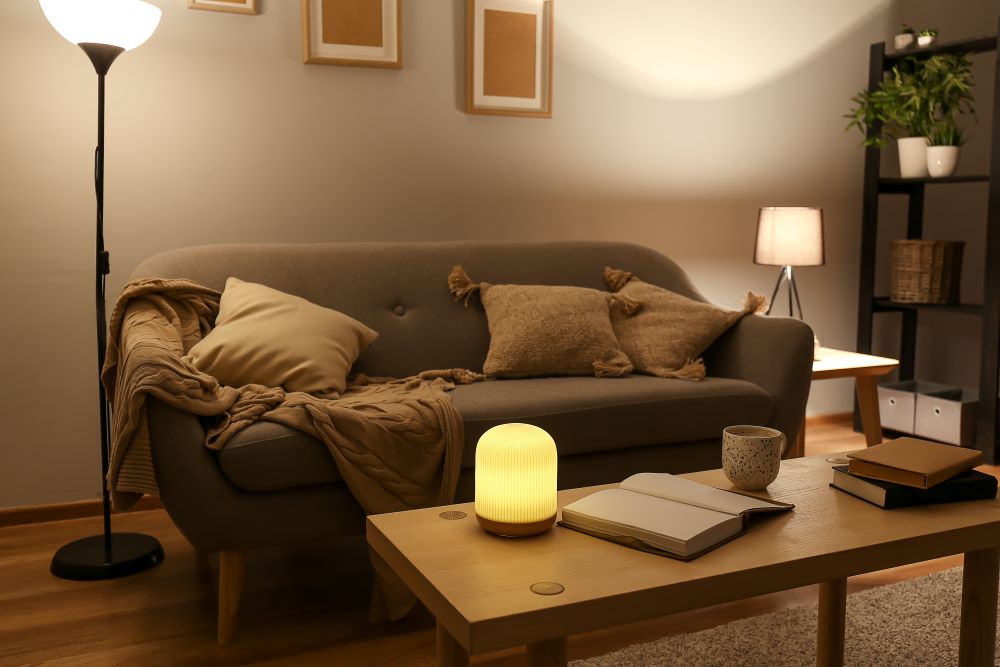 Another easy way to refresh your living room on a budget is to focus on the lighting in the area. Lighting can make or break a space because it sets the stage for mood and style. A brightly lit room can feel refreshing and cheerful, while a dimly lit room can give off a relaxing and comforting vibe. Decide on the environment you want to go for and new lighting accordingly.
For instance, you can bring in some new floor lamps if you don't have enough lighting in your space. Floor lamps will not only add some brightness to the room but they can also bring in some extra style. Consider adding a new floor lamp to a dark corner or next to your couch to use as a reading light. This simple addition can make a huge difference to your space.
Lighted decorations can also be a great addition to your living room to bring in an extra magical and refreshing touch. This is a nice way to give your living room a mini makeover, especially if you spend a lot of time in this room at night. Here are some ideas for lighted decor you can add to your living room for a fresh look:
Lighted Decor Ideas For Your Living Room
String lights
Lanterns
Lighted wall art
Faux greenery with fairy lights
Decorative wall sconces
Lighted shelves to display accents
---
---
Rearrange Your Furniture For An Affordable Living Room Transformation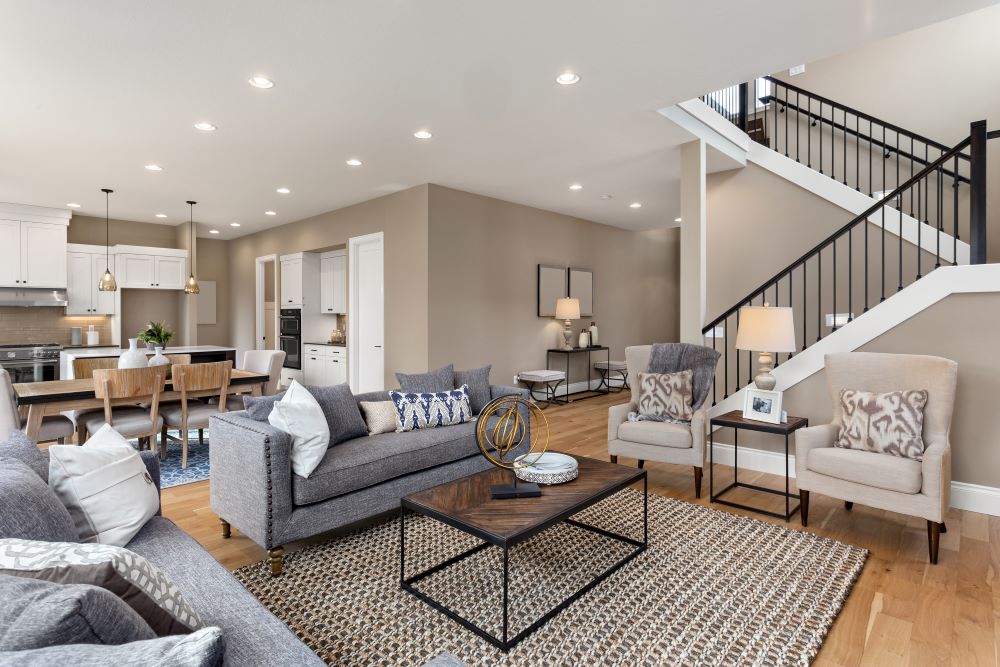 Lastly, another simple way to refresh your living room on a budget is to just rearrange your current layout and setup. Why spend money on new furniture and new items when you can simply work with what you already have? Switching things around in the room can make the area look brand new.
How To Rearrange Your Living Room For A New Look
Move your couches and seating around for a brand new look.
Rearrange your wall art – set up new wall displays by using your current artwork in new ways.
If possible, turn your whole room around by moving your television to the opposite wall and positioning your seating to face the new direction.
Swap your coffee table decor with your mantel decor for a quick update.
Rearrange your living room bookshelf decor to look slightly different.
You can even move furniture and decorations from other rooms of your house into your living room. This is an incredibly efficient way to redecorate your home without spending any money. Swapping furniture and accents from room to room will make your space feel different with minimal effort.
---
Now that you've learned how to refresh your living room on a budget, check out our Home Decor section for even more inspiration! Find affordable wall art, rugs, curtains, decorative accents, home collections, and much more to transform your space.