How To Elevate A Room With Rustic Glam Decor
Rustic glam style combines comforting charm with modern elegance. It can give any space a nice balance of old and new while still blending together seamlessly. This is a great decor style if you like the appeal of farmhouse decor but don't want to commit to a full rustic theme. It's also perfect if you want to have a touch of fanciness in your home without going over the top or spending too much money. Here are some easy ideas on how to elevate a room with rustic glam decor.
---
Mix Wood With Metallic Decor For A Rustic Glam Look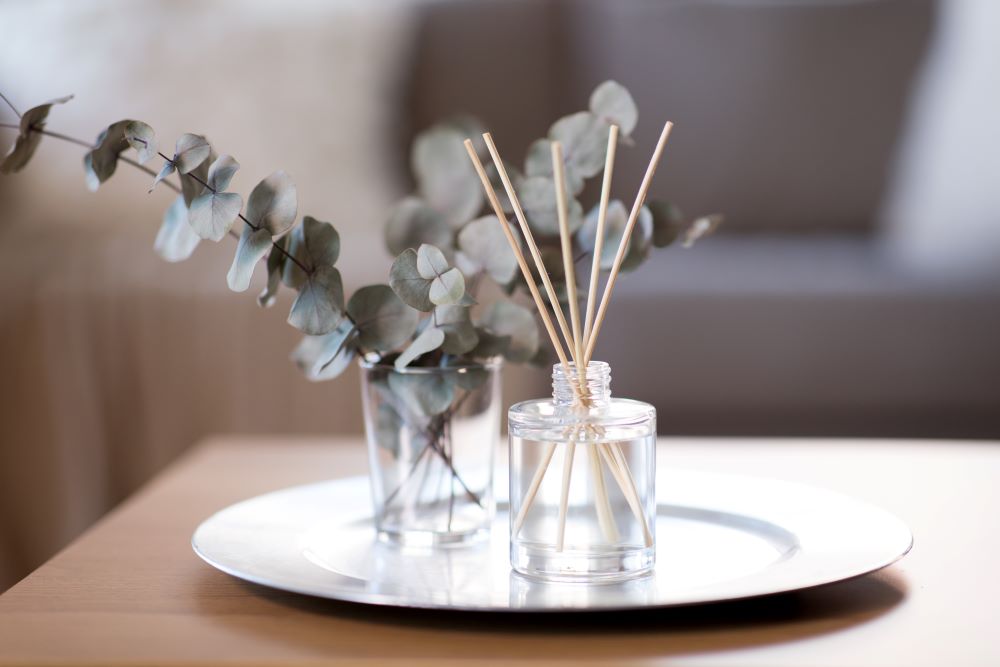 A big part of getting the rustic glam look is carefully choosing the materials that you decorate with. Having the right mix of materials will help you elevate a room and instantly transform it into the style of your dreams. Make sure to include material choices into your home decor plan if you want to get the perfect rustic glam look in your space.
The rustic decor style typically features distressed wood and galvanized metal, while the glam style showcases metallic, glitter, and other shiny elements. Combining these features will give any room a toned down fancy appearance with a touch of homey charm. You can easily bring these materials into your home with various decorative accents and small pieces of furniture. Just make sure to not overload the room with either of these materials. Even if you add these elements on a smaller scale, you will get a strong effect.
Wood And Metallic Decor Ideas For Rustic Glam Style
Weathered wood coffee table with a shiny silver tray
Large hanging mirror with a wooden frame
Wood candle holders displayed on a metallic plate
Rustic wood dining table with shiny metallic chairs
Shiny metallic lamps on top of wooden bedside tables
---
Bring In Soft Textures To Elevate The Look Of A Room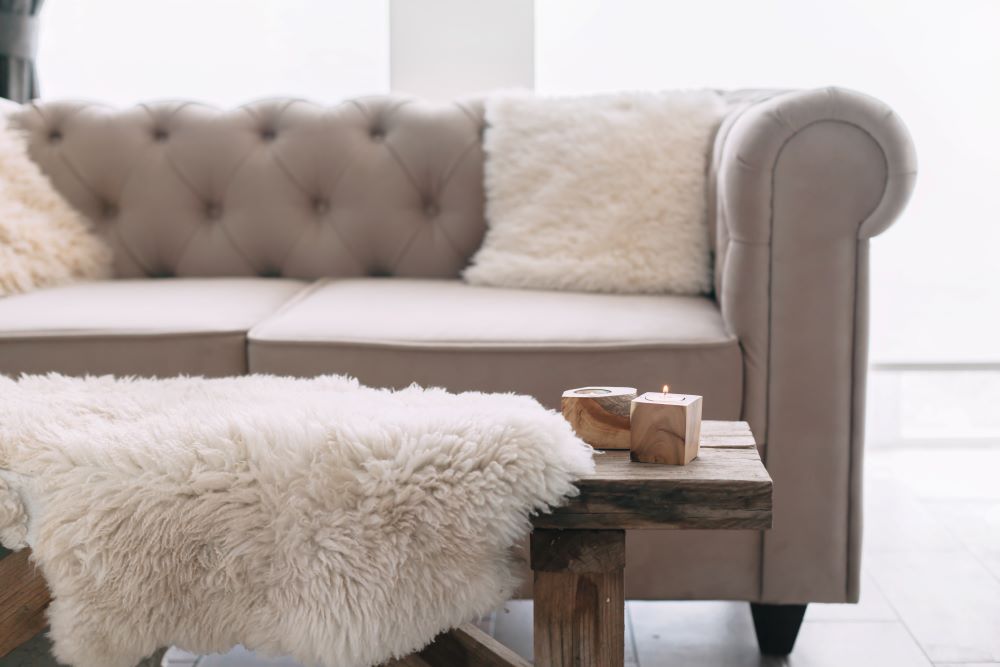 When you think of the rustic decor style, you typically see rough materials and a lot of natural elements that give off that charming appeal. On the other hand, the glam decor style gives off a smooth, crisp, and finished look for an elegant appearance. While these are vastly different from each other, there are some easy ways to seamlessly blend them together.
Combining comfy and light textures with your rustic furniture and accents is a great way to soften up the harshness of the rustic style. That softness can elevate any room and help you achieve the glam side of the style. There are so many opportunities to add soft fabrics to your home; check out some ideas below for inspiration.
How To Add Soft Textures To A Rustic Space
Add faux fur rugs to your home decor
Use sheer white window curtains
Drape a soft blanket over an accent chair
Add a large collection of throw pillows to the couch
Replace closet doors with curtains
Use a sheer table runner or tablecloth
---
Use A White Color Scheme To Glam Up A Rustic Room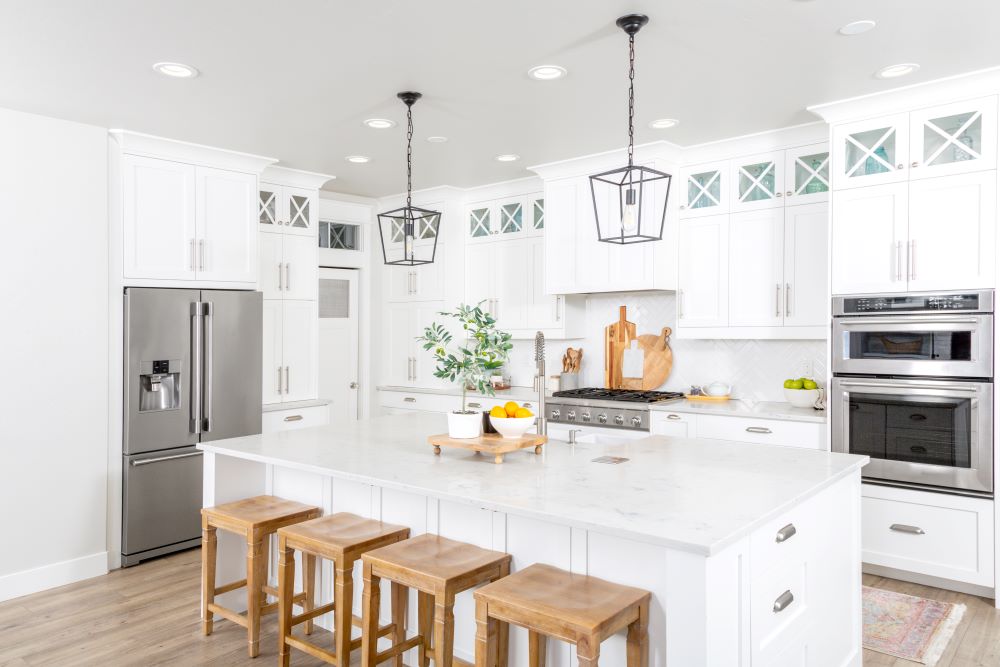 Another element to consider when setting up a home with rustic glam style is your color scheme. Rustic style typically features warm and natural colors while the glam style usually has a more sleek and cool color scheme. It's important to find a middle ground for your color scheme in order to get the look that you want.
White is a great neutral color choice for the rustic glam style because it brings the simple elegance of the glam look while nicely complementing the warm aspects of rustic accents. Set up a rustic glam space with a mostly white color scheme and only a few warm colored accents. Make sure to also include the silver/metallic look as mentioned earlier, along some black for contrast, and you'll have the perfect balance of colors.
While white is great for your main color, it doesn't have to be the main color throughout your entire home. Choose any solid or neutral color as your overall color in a room to maintain a simple base. A great rule to keep in mind is to use minimal patterns throughout your decor. Too many patterns will take away from the elegant side of the style, so stick with the solid colors instead.
---
Add Glam Accents To Rustic Furniture For A Balanced Look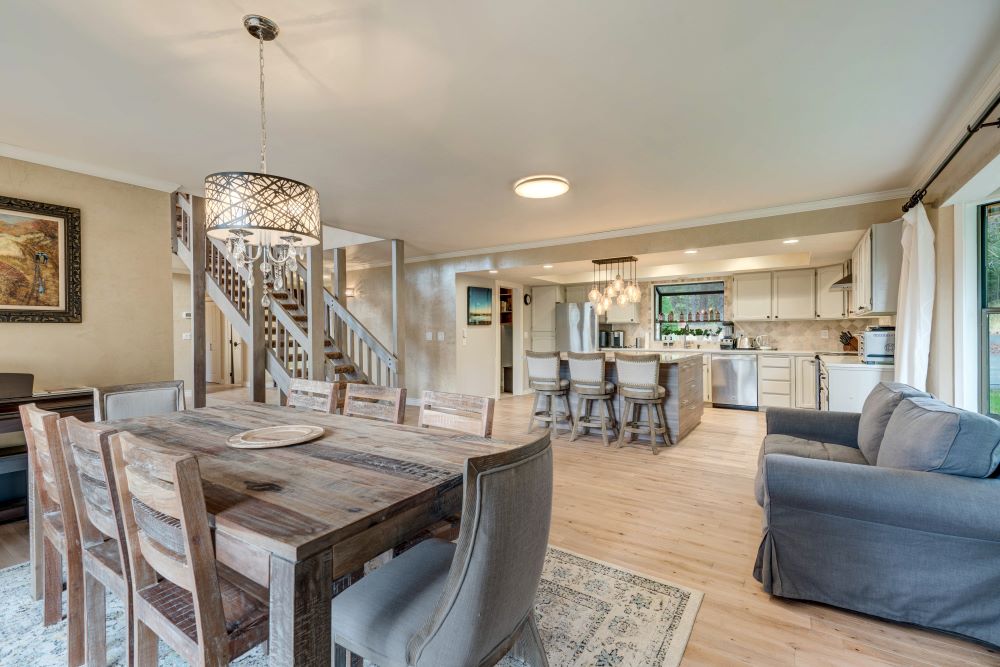 If you want the rustic glam look but only want a small touch of elegant flair, you'll want to start with a rustic base. Decorate with mostly rustic furniture such as a wood plank dining table, a galvanized metal coffee table, and a weathered wood dresser. Then, add the glam side of the style with elegant and fancy accents. This can include any decorative accents that are shiny, glittery, and flashy. Not only will this elevate the rustic style, but it'll also add a fun feminine touch to any room.
Glam Accent Ideas
Crystal chandelier
Glitter candle holders
Large wall mirror with shiny silver frame
Crystal mirrored tray
Mirrored vases
Sequined throw pillows
Silver glitter table runner
Crystal cabinet knobs
---
Combine Charming Sentiments With Modern Flair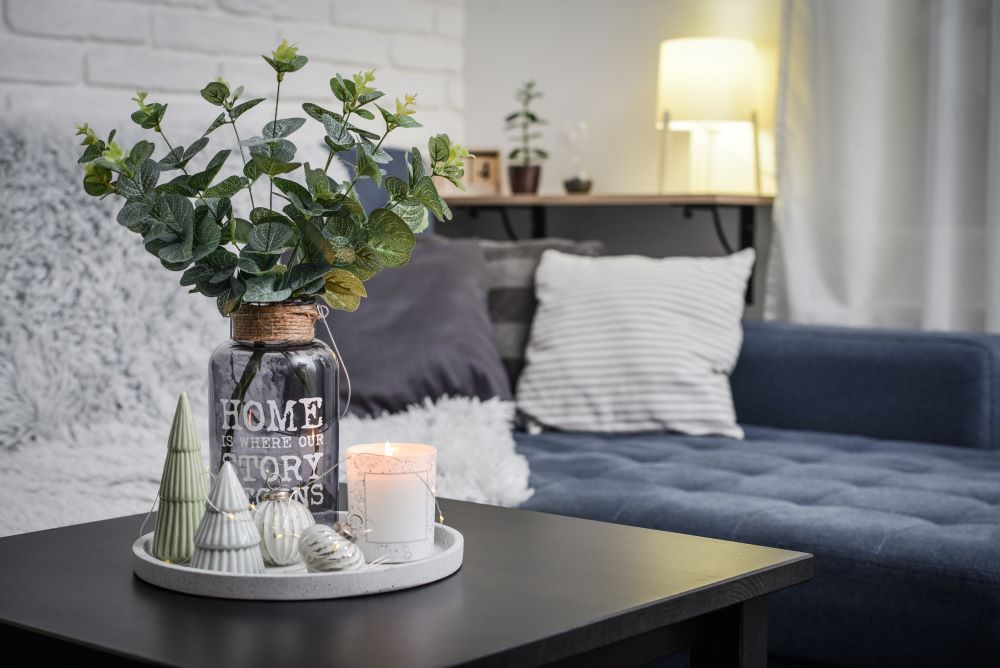 Lastly, another way to decorate with rustic glam style is to mix some charming sentiments into your decor spread. Sentiments and quotes are a huge part of the rustic charm because they tend to give off a warm and comfortable feeling. Mixing homey sentiments with a modern and elegant style will give you the perfect balance.
Consider charming sentiments that are welcoming, family oriented, and optimistic. These types of sentiments pair very well with the rustic style. Combine these sentiments with sleek elements rather than distressed materials. For instance, use a charming sentiment wall hanging with a shiny silver frame. Another exampled would be adding a small sentiment block sign to an elegant mirrored table.
Keep in mind that you don't want to overload your home with too many sentiments. That will take away from the upscale elegance side of the style. Use sentiments on a smaller scale to maintain a nice mix of charm and glam. Make sure to only include a couple sentiments into each room, and even consider leaving sentiments out of some areas for even more balance.
---
Now that you've learned some ideas on how to elevate a room with rustic glam decor, start styling your space with our selection of Home Decor! Find decorative accents, window coverings, home collections, wall art, and much more to transform your home.