7 Budget Friendly Fall Decor Ideas
You don't have to spend a fortune to get a decorative fall spread in your home. No matter how small your budget is, you can still decorate for the harvest season in an efficient and fulfilling way. Whether you make some DIY decorations for a creative look, or if you just stick to some simple vignettes of decorations, you can easily create a charming fall look without breaking the bank. Here are 7 budget friendly fall decor ideas for an affordable and festive home.
---
1. Use Leaves To Make Your Own Cheap Fall Decor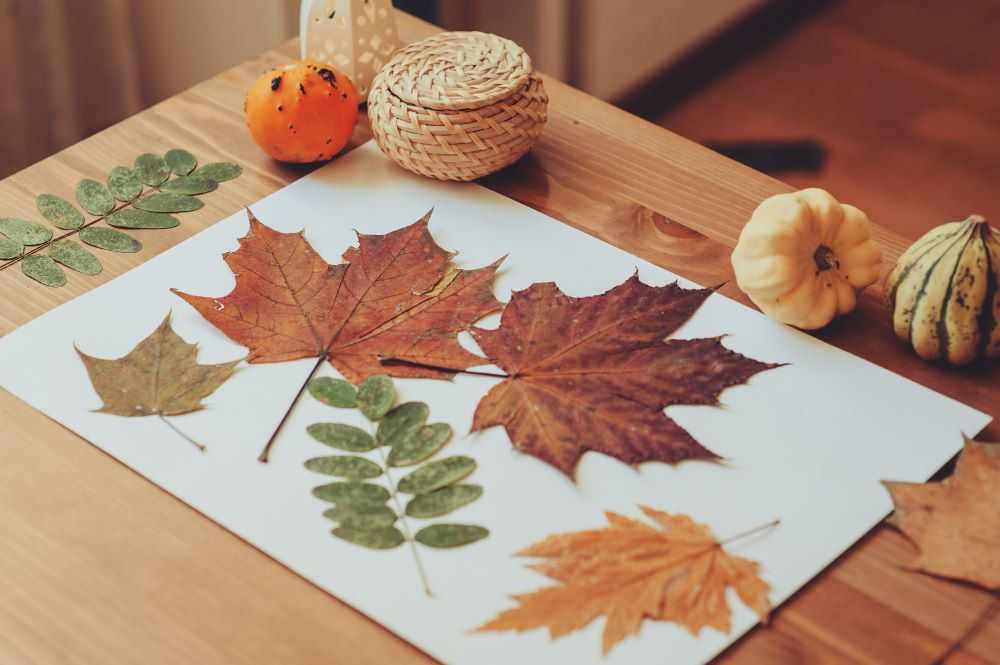 If you are good at crafts or want to save money with some DIY fall decor, this hack is an easy one that almost anyone can do. Since leaves are a huge representation of the fall season, consider using real leaves to decorate for fall on a budget. This is a great way to make your home look festive with spending little to nothing.
You can easily find piles of leaves right outside your home that can be used for your decoration spread, or you can take a walk through a forest preserve to find the most unique and colorful leaves to use. Always make sure to clean off the leaves and inspect them for bugs or dirt before bringing them into your home. You want to start with a clean slate to assure the health and quality of your home.
DIY Fall Leaf Decor Ideas
Create a leaf collage by gluing the leaves onto a small poster board. Add a frame to the poster to hang up on the wall.
Use mod podge to add leaves to a flower vase or glass platter.
Fill a clear vase with colorful leaves.
Make a DIY leaf garland by gluing the leaves across a sturdy rope or string.
Glue leaves onto pumpkins for a unique look.
Spray paint leaves with glitter paint and display them across your mantel or entryway table.
---
2. Use A Small Tray To Set Up Affordable Fall Decor In The Kitchen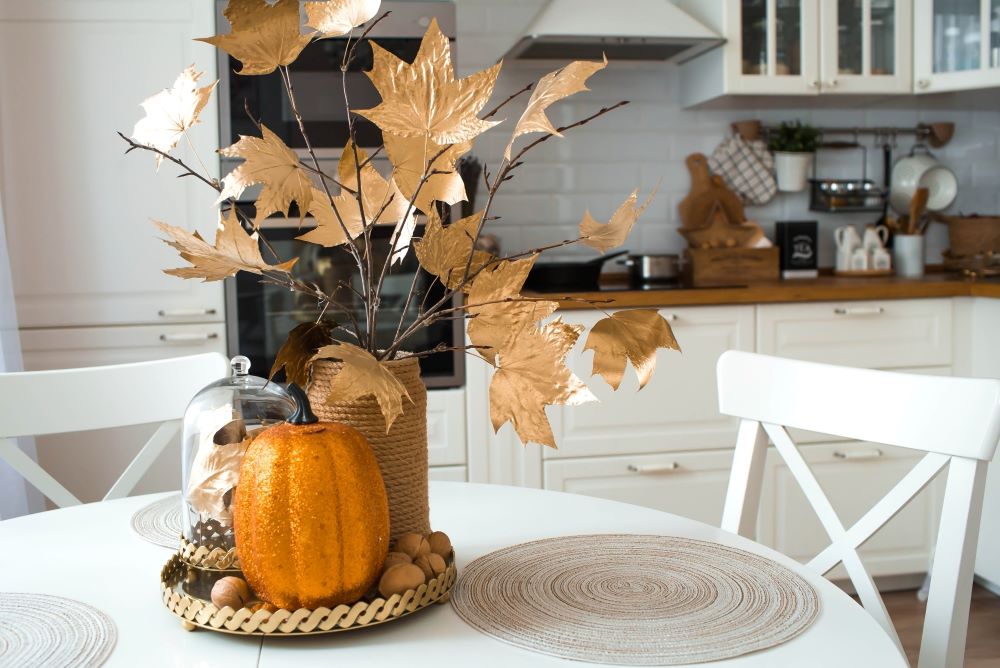 Fall decor can get pricey, especially if you want to add festive accents throughout your entire home. Decorating on a smaller scale can help you save money without sacrificing the festive look. An easy and effective way to do this is to create a fall display in any room with a small tray.
You can easily incorporate a small tray of fall decor in almost any room of your home. Follow the rule of three when decorating your small tray for fall: use only three decorations to fill your tray with festive cheer. Typically, one of these decorations should be taller than the other two for balance. This tray can make a nice centerpiece for your kitchen table, coffee table, entryway table, or can even be placed on your bathroom counter.
There are so many different ways to set up a small fall tray with the rule of three. For instance, you can set up a tall vase with fall flowers or leaves, a ceramic pumpkin, and a fall sentiment sign. Make sure to use three decorations that are filled with harvest colors so the tray will really pop in the room. You can even fill the empty space in the tray with leaves, mini pumpkins, or marbles to make the display look more complete.
---
3. Create A Fall Vignette On The Mantel For A Budget Friendly Style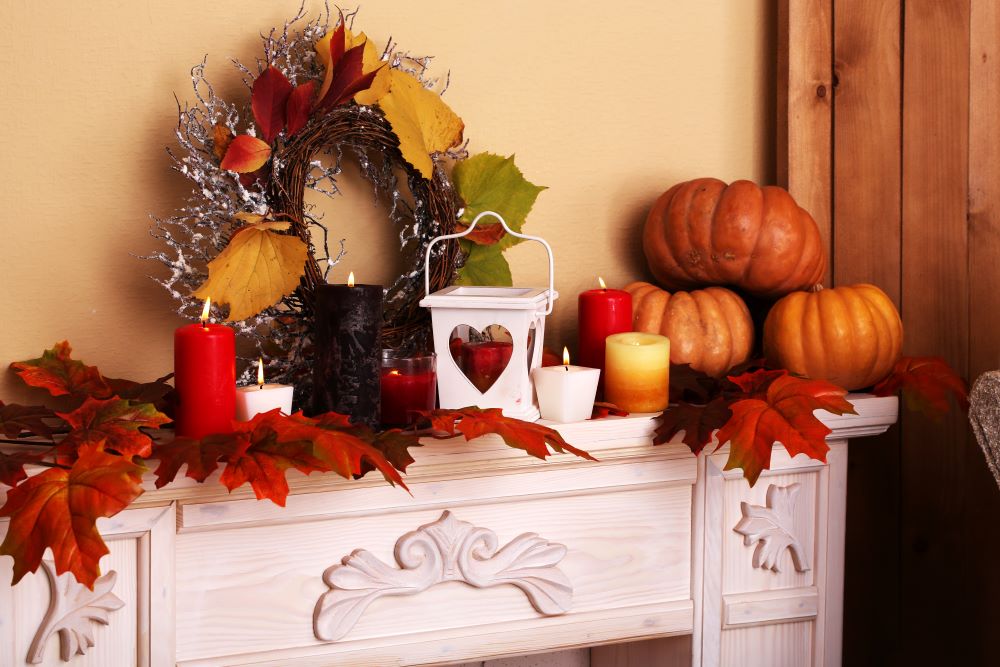 Your living room is the perfect place to create your fall decor theme. However, instead of filling the entire room with expensive decorations, consider setting up a vignette on the mantel. A mantel vignette will give off a strong focal point and will instantly make the space feel festive for fall without spending money on other parts of the room.
There are so many different ways to create a fall vignette on the mantel; the possibilities are truly endless. If you're looking for a simple vignette for your fall spread, check out some steps below on how to transform your mantel. This specific vignette process will result in a beautiful and budget friendly display.
How To Create A Fall Vignette On The Mantel
Start with a leaf garland or a leaf table runner.
Add some fall scented candles across the mantel. Make sure to use a variety of sizes.
Place a few pumpkins on one side of the mantel. You can stack these in a decorative way.
Finally, hang a fall wreath or sentiment sign above the mantel to complete the look.
Alternatively, you can create a vignette by just using pumpkins, squash, and other gourds in a scattered arrangement across the mantel.
---
4. Use Mini Pumpkins To Decorate For Fall On A Budget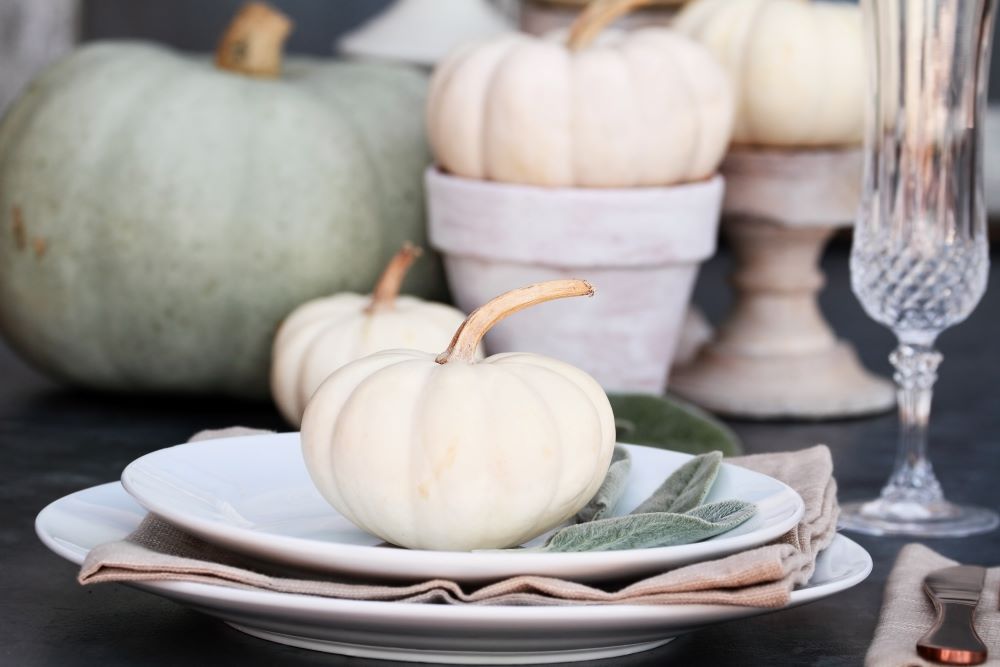 Decorating with pumpkins is the perfect way to get a festive look for the fall time; however, pumpkins can be pricey. Instead of filling your home with pumpkins, use mini pumpkins in small amounts to get an affordable look for the fall season. This will save you money while still maintaining a strong decorative look throughout any room.
You can use either real or fake mini pumpkins to decorate throughout your home. Both of these choices will look equally festive. However, if you want your decor to stay up for a longer period of time, fake pumpkins are a more efficient choice. You can even paint your mini pumpkins if you want to create a specific color scheme in your space. Check out some ideas below for how to decorate with mini pumpkins to get started on your decor spread.
How To Decorate With Mini Pumpkins
Display a mini pumpkin on each place setting at your dining table.
Fill a clear glass vase with mini pumpkins.
Place mini pumpkins on your mantel mixed with LED candles.
Display mini pumpkins inside of flower pots and planters.
Create your own garland with mini pumpkins and a strong rope.
Decorate a tiered cake tray with a variety of mini pumpkins.
---
5. Set Up Affordable Fall Decor With Mason Jars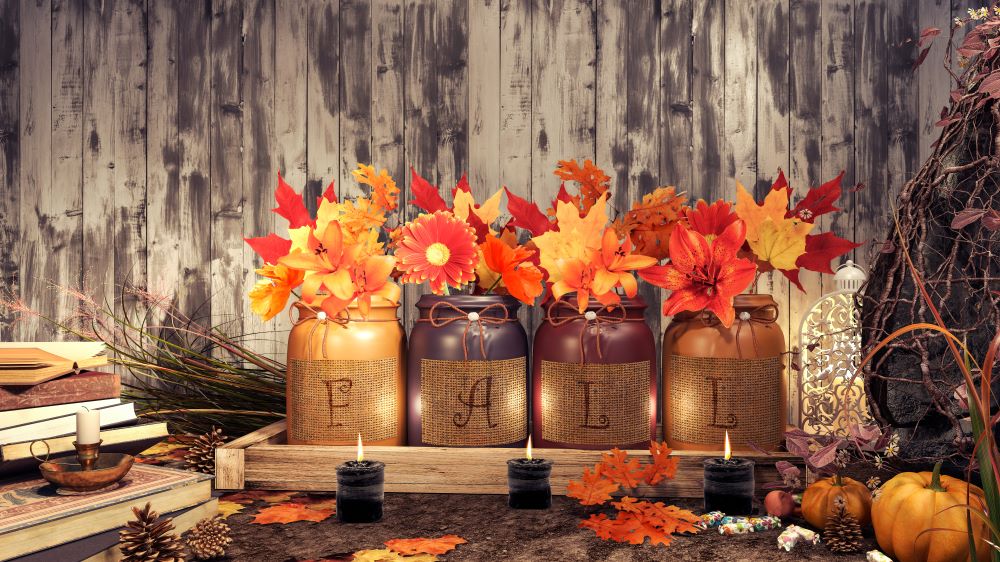 When it comes to cheap fall decorating ideas, you sometimes have to be a little creative and combine small elements together to be festive. Mason jars are a great choice for affordable fall decor because they're budget-friendly and incredibly versatile. Whether you want to display fresh flowers, show off a magical display of fairy lights, or just add more fall colors to your home, you can easily do so with the help of mason jars. Check out some cheap mason jar fall decor ideas below for inspiration.
Cheap Mason Jar Fall Decor Ideas
Add fairy lights or LED candles inside of mason jars to create mason jar lanterns.
Display fall flowers inside of mason jars.
Paint mason jars in fall colors to use as silverware holders, pencil holders, or to hold other small knickknacks.
Add fall sentiments to mason jars to put on display.
Wrap some burlap around mason jars to use as decorative drinkware on the dining table.
Place branches and leaf stems inside of mason jars.
Display painted mason jars on their own around your home.
---
6. Put Together Affordable Fall Decor With Pinecones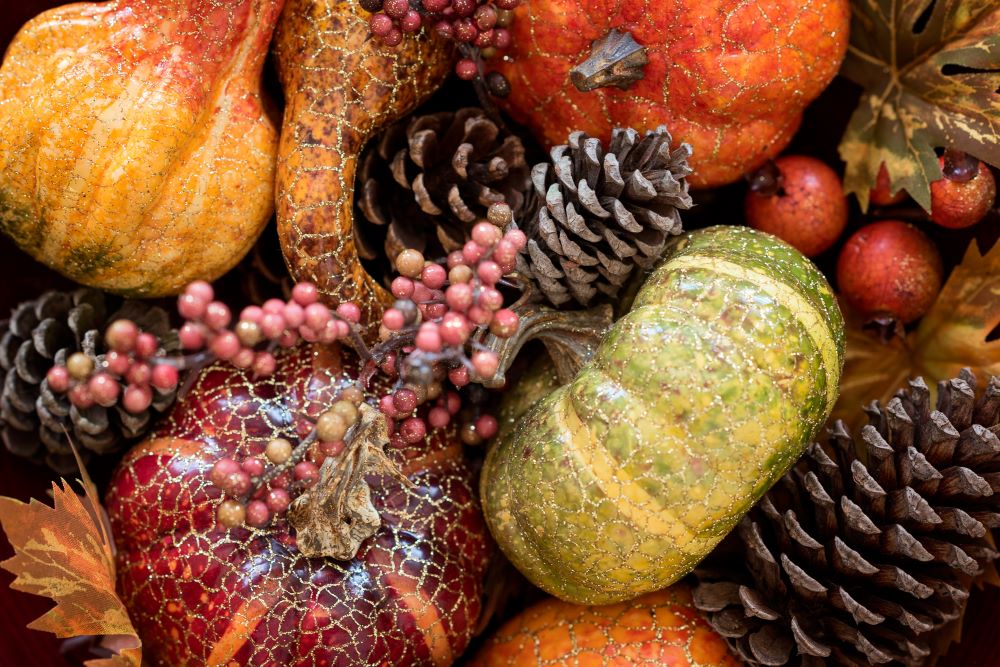 As mentioned earlier in this list of budget friendly fall decor ideas, you can easily find things in nature to add to your fall decor spread. Just like decorating with leaves, you can also decorate with pinecones for an affordable harvest look. Pinecones can add to the natural and rustic feeling of the fall time, making them blend in nicely with other decorations.
Just like the leaves, make sure to clean and inspect any pinecones before using them for decorations. Check out some easy pinecone decorating ideas below for a budget friendly fall decor spread in any room of your house.
Pinecone Decorating Ideas For Fall
Fill a decorative bowl with pinecones and cinnamon sticks.
Display pinecones inside of a clear glass vase or canister.
Spread some pinecones across the mantel mixed with mini pumpkins.
DIY a door wreath by hot gluing together pinecones.
Spray paint pinecones in fall colors to display around your home.
Fill a tray with pinecones and display candles inside the tray.
---
7. Use A Chalkboard Or Printouts For Cheap Fall Sentiment Signs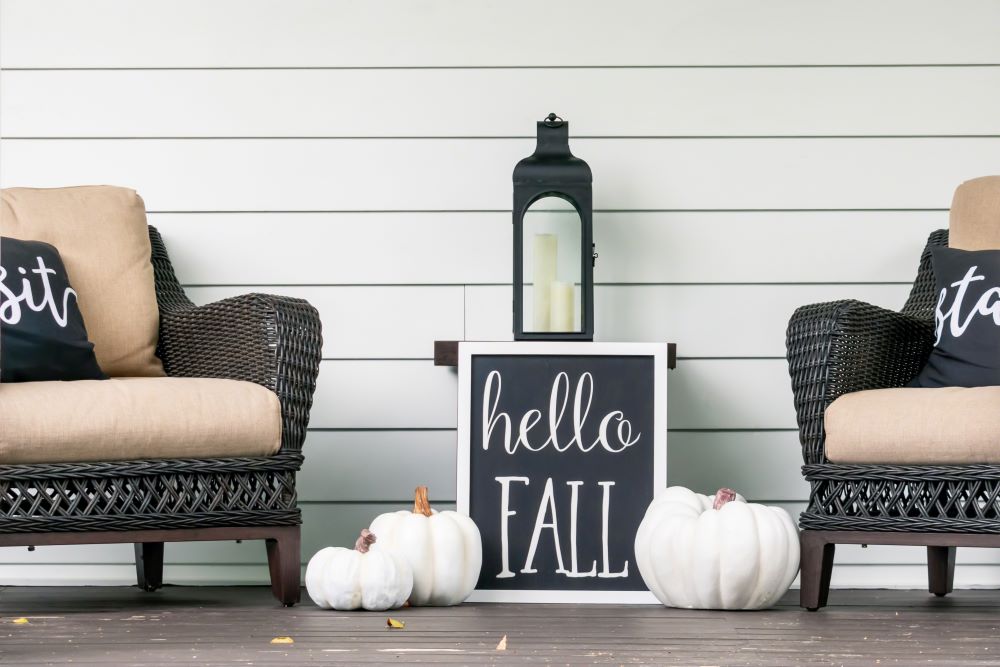 Fall sentiment signs are a great way to bring some festive cheer into your home. However, if you're looking for a more affordable way to display fall sentiments, you can lean towards the DIY route to save money. Use chalkboard signs or frame printouts of sentiments and artwork to bring a colorful and festive appearance for cheap.
Chalkboard signs are a great way to display fall sentiments throughout your home, especially if you want a more rustic and charming look. You can easily display a chalkboard sign on your front porch, entryway table, mantel, or kitchen counter. Use a template to get clean look for your lettering or freehand it if you're feeling extra artsy. You can even use chalkboard paint on your pumpkins to display sentiments in a more unique way.
In addition to chalkboard signs, another cheap way to decorate for fall is to print out artwork and sentiments and frame them. You can easily find festive and beautiful artwork all over the internet to print out and use in your home. Then, you just simply need to get some decorative frames to display the artwork or sentiment around your home with other fall decorations nearby. Additionally, you can even type up your own fall sentiments on the computer with your own selection of colors and fonts. This will help you get the exact look you want throughout your home decor for fall.
Be sure to also check out our affordable selection of fall wall art!
---
Were these budget friendly fall decor ideas useful? Find even more affordable fall inspiration by visiting our Fall Harvest Decor section! Shop a wide selection of budget friendly fall accents, wall art, pumpkin decorations, themed bedding, mantel decor, and so much more for the harvest season.