How To Style Your Dining Table For Fall
Setting up a fall dining table is a great way to make your home feel extra festive for the harvest season. Whether you are having a special dinner party or if you just want to make your table look beautiful, you can easily put together a spread of decorations to fit any decor style. You can give your table a classic fall theme, a rustic look, an elegant appearance, or any other aesthetic you want with the help of place settings, centerpieces, and other accents. Here are some festive ideas on how to style your dining table for fall.
---
Display Fall Themed Serveware On Your Dining Table All Season Long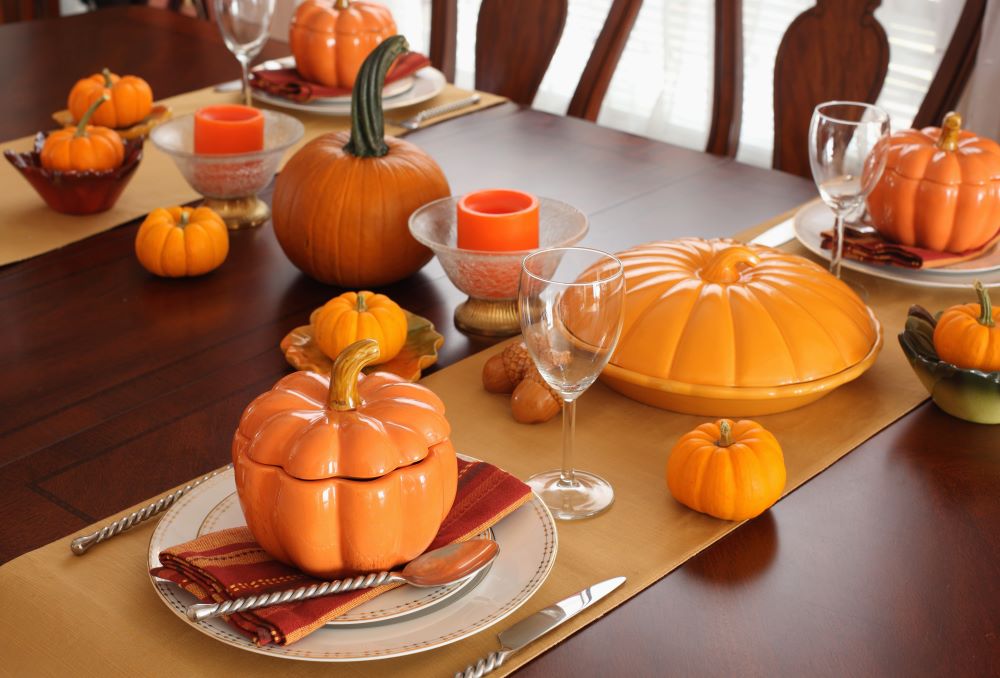 If you want a truly festive dining table for the harvest season, you can display fall themed serveware all season long. This is a great idea for an instant dining table transformation. You don't even need to actively use the serveware; you can give off the appeal of a filled table even when you're not hosting a dinner party or eating at the table.
It can be sometimes be a challenge to display serveware if you're not using it for food. However, there are many ways to make the serveware look purposeful and decorative on the dining table. You can fill serveware with festive accents or you can even leave some of them empty and display them in a creative way. Check out some unique ideas below for how to decorate with serveware on your dining table for fall.
Fall Dining Table Ideas: How To Display Serveware
Fill a fall themed serving bowl with pinecones as a unique centerpiece.
Display small pumpkin cookie jars on top of each place setting for a cheerful appearance.
Set up a fall serving tray to display a pumpkin, a vase of fall flowers, and other small accents.
Place a festive bowl at each place setting and put a mini pumpkin inside of each one.
Use a casserole dish as a makeshift centerpiece and fill it with pinecones, mini pumpkins, or leaves.
Display other themed platters throughout your table with pumpkins on top of them.
Set up a large themed serving bowl with candy corn or cookies inside.
---
---
Create Your Own Fall Leaf Placemats For A Festive Dining Table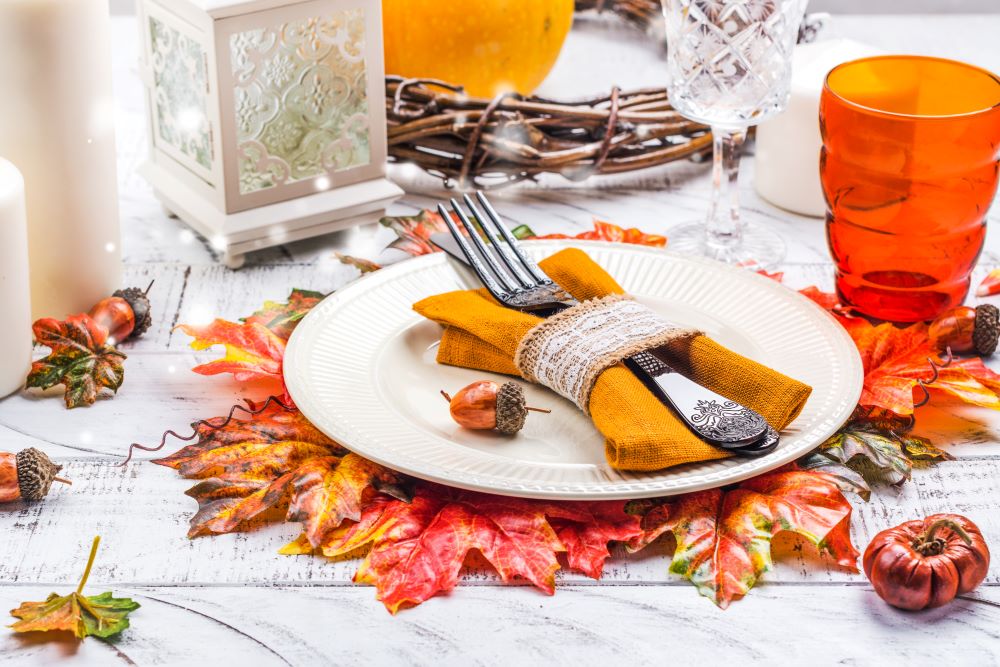 Crafting your own decorations for the fall is a great way to make your dining table look festive, fun, and fitting to your style. There are so many different DIY decorations that you can make for your table with minimal effort and stunning results. This leaf placemat craft is going to add some beautiful colors to your dining table.
How To Make A Leaf Placemat
Start by getting a variety of crafting leaves in fall colors.
Create the outer ring of your placemat by hot gluing leaves together. You can use your largest place as a reference for how big the outer circle should be. You should make it slightly larger than the plate so the leaves can be seen.
After you've glued together your outer circle, repeat the gluing process for another circle layer on the inside.
Repeat this process until you've filled in the entire circle. You'll probably reach a point where you can't make a full circle of leaves; simply fill in as much empty space as you can.
Let the glue dry before displaying on your table.
To make additional placemats, use the original one as a reference for sizing.
You can optionally use some glitter spray paint on top of the leaves for a magical and fun look.
---
---
Show Off Pumpkins In Unique Ways On Your Fall Dining Table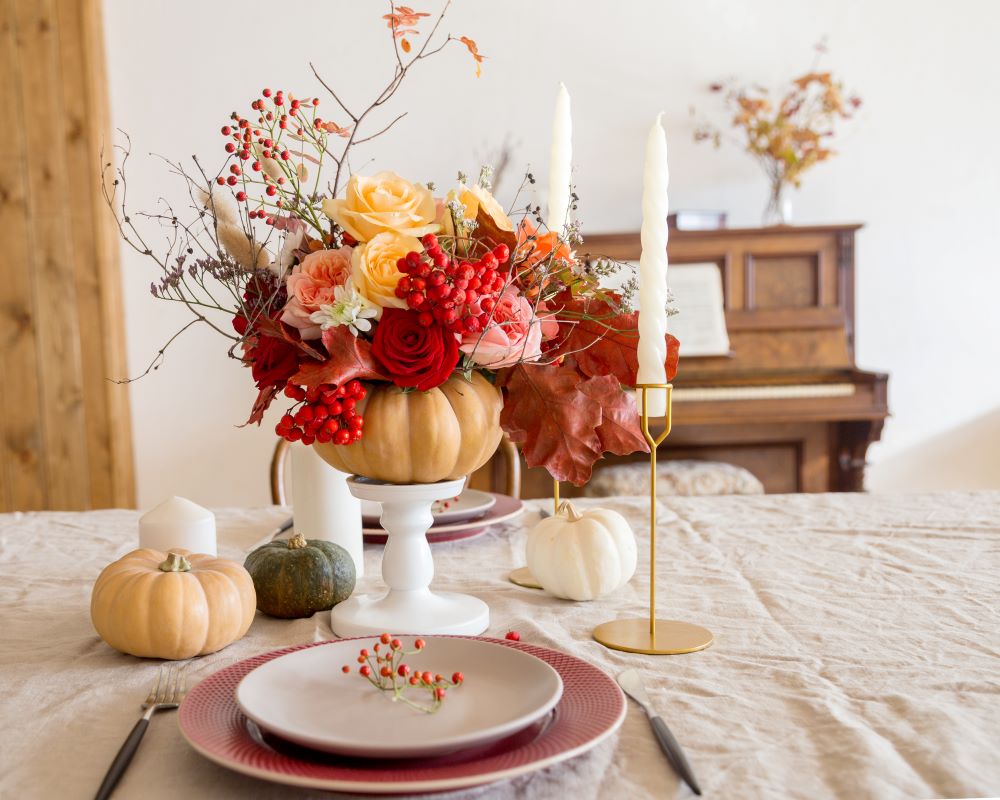 Pumpkins are an essential part of your fall decor spread; you can't bring the festive feelings of fall into your home without the help of pumpkins! It only make sense to have some type of pumpkin display on your dining table to get a beautiful harvest appearance. There are so many different ways to use pumpkins in your decorating plans; the possibilities are endless when it comes to showing off pumpkins.
Instead of just putting a pumpkin on the table, you can get more creative and festive. Displaying pumpkins in more unconventional and unexpected ways can give you a unique style on the table. Whether you're hoping to impress guests with a beautiful table or if you just want a fun and cheerful setup for the entire season, check out some unique ways to display pumpkins below.
Unique Ways To Display Pumpkins On The Dining Table
Display small pumpkins on different sized candleholders.
Use a tiered cake stand to display a variety of mini pumpkins along with LED candles and small accents.
Set up a different colored mini pumpkin on each place setting.
Alternate pumpkins and candles across the table.
Use pumpkin shaped cookie jars throughout the table with cinnamon sticks displayed inside.
Place a large basket of pumpkins in the center of the table.
Wrap fairy lights around pumpkins to display as a centerpiece.
---
---
Use A Plaid Theme For A Charming Fall Dining Table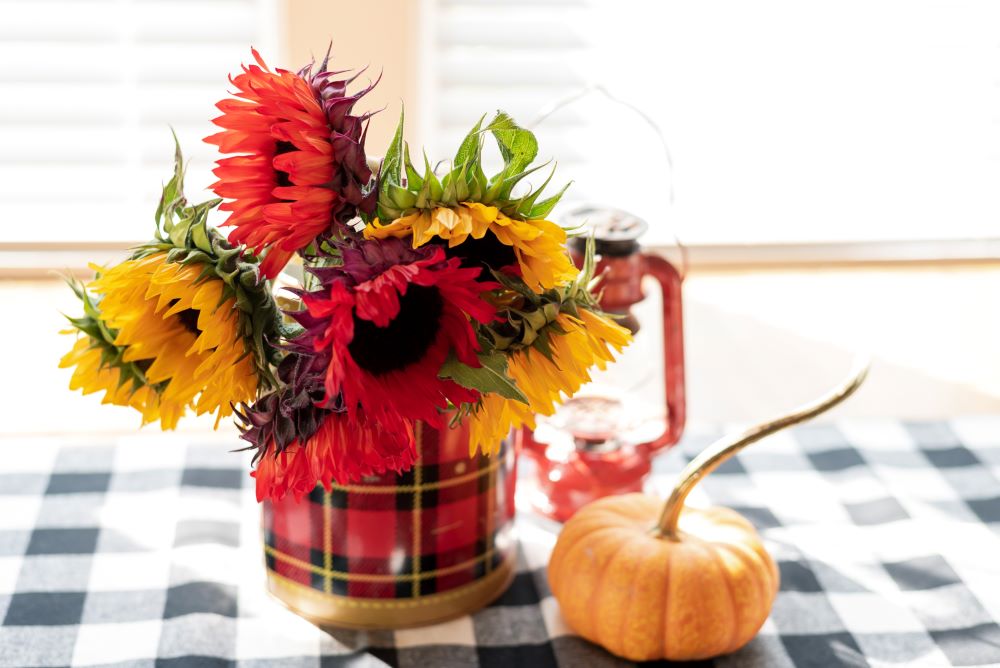 In addition to pumpkins, plaid is another strong element of any fall decor spread. Creating a plaid theme for your fall dining table is a great way to set up a farmhouse style table or a classic fall style. You can easily get the exact plaid look you want with the help of color schemes, types of accents, and the amount of plaid you want to include.
If you'd prefer a more subtle look, consider adding only one standout plaid decoration to your table. However, if you want a fully festive appearance, you can cleverly combine various plaid decorations for a stylish setting. You can find plaid in various table linens, fall theme tabletop accents, dishware and serveware, and so much more. Check out some plaid decorating ideas below for your dining table to get inspired. You can combine several of these ideas or choose one to fit your ideal fall dining table.
Plaid Decorating Ideas For Your Fall Dining Table
Use a plaid table runner or plaid placemats.
Display plaid plates and other dishware.
Show off faux fall flowers inside of a plaid canister or vase.
Use a plaid tray to display small fall themed accents.
Place plaid cushions or throw pillows on each of the dining chairs.
Put LED candles inside of plaid lanterns.
Display a plaid cloth napkin at each place setting.
Get crafty and paint some pumpkins with different colored plaid patterns.
---
---
Make DIY Pumpkin Planters To Display Fall Flowers On The Dining Table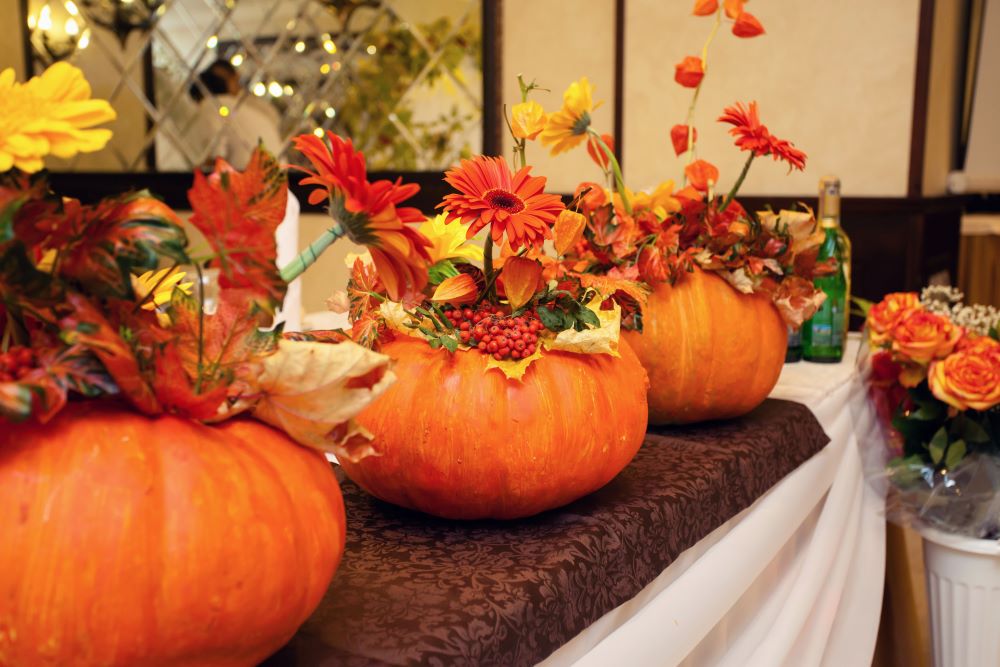 If you want to add something truly unique to your fall dining table, make a pumpkin planter to display faux flower arrangements. A pumpkin planter is a fun alternative to a regular vase, and is even more festive. You can display multiple pumpkin planters across your table for a full look. These planters are so easy to make, especially if you've had experience carving pumpkins before. Check out the simple steps below.
How To Make A DIY Pumpkin Planter
Start by cutting out the top of the pumpkin as you work if you were carving it.
Then, scoop out the pumpkin until it's completely clean.
Fill your pumpkin with a stable filler (such as marbles) that will allow faux flowers to stay in place.
You can also choose to completely fill the pumpkin with a faux flower arrangement that will hold itself in place.
Bonus: you can even create a pumpkin planter for real flowers to display outside. Simply drill holes into the bottom of your pumpkin to allow for drainage and place a plant liner inside before planting your flowers. Display the planter with other fall themed outdoor decor to complete the look.
---
Now that you've gained some inspiration on how to style your dining table for fall, check out our selection of Fall Harvest Decor! Find fall table linens and serveware, porch decor, themed accent collections, and much more to fill your home with harvest cheer.