7 Classic Christmas Decorating Ideas For Your Living Room
Classic Christmas decorations can give your home a nostalgic appeal and can amplify that universal, familiar feeling that everyone gets during the holiday season. Make your home feel warm and exciting with these 7 classic Christmas decorating ideas for your living room.
---
1. Add Some Festive Throw Pillows To Your Classic Christmas Living Room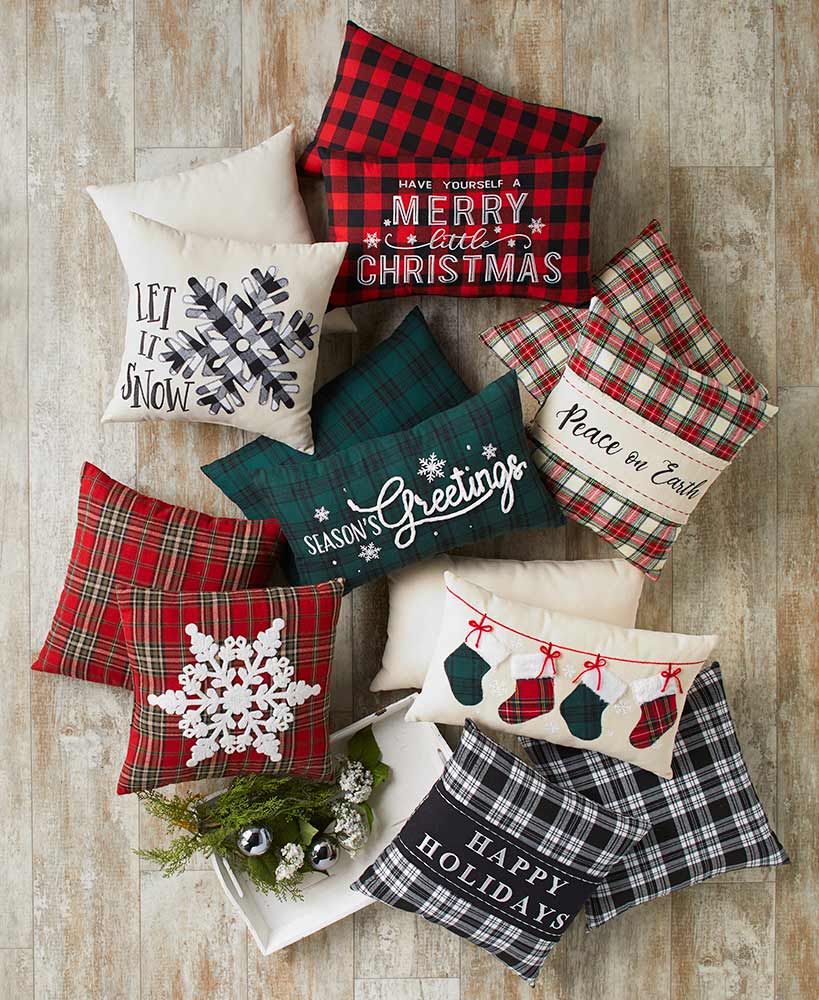 Bring some classic Christmas comfort to your living room by filling your couch with festive throw pillows!
Seek out throw pillows that have traditional sentiments such as "Merry Christmas" or "peace on Earth", and symbols such as trees, reindeer, and Santa.
You'll also want to stick to a classic Christmas color scheme by using throw pillows that contain red, green, or gold.
Throw pillows that have buffalo plaid patterns are also very fitting for the classic Christmas theme and tend to match well with other decor within the theme.
These Holiday Accent Pillows can be a great start to your classic Christmas theme! Simply display them on your couch with a matching Sherpa throw blanket.
Holiday Accent Pillows
---
2. Decorate With Christmas Greenery For A Traditional Look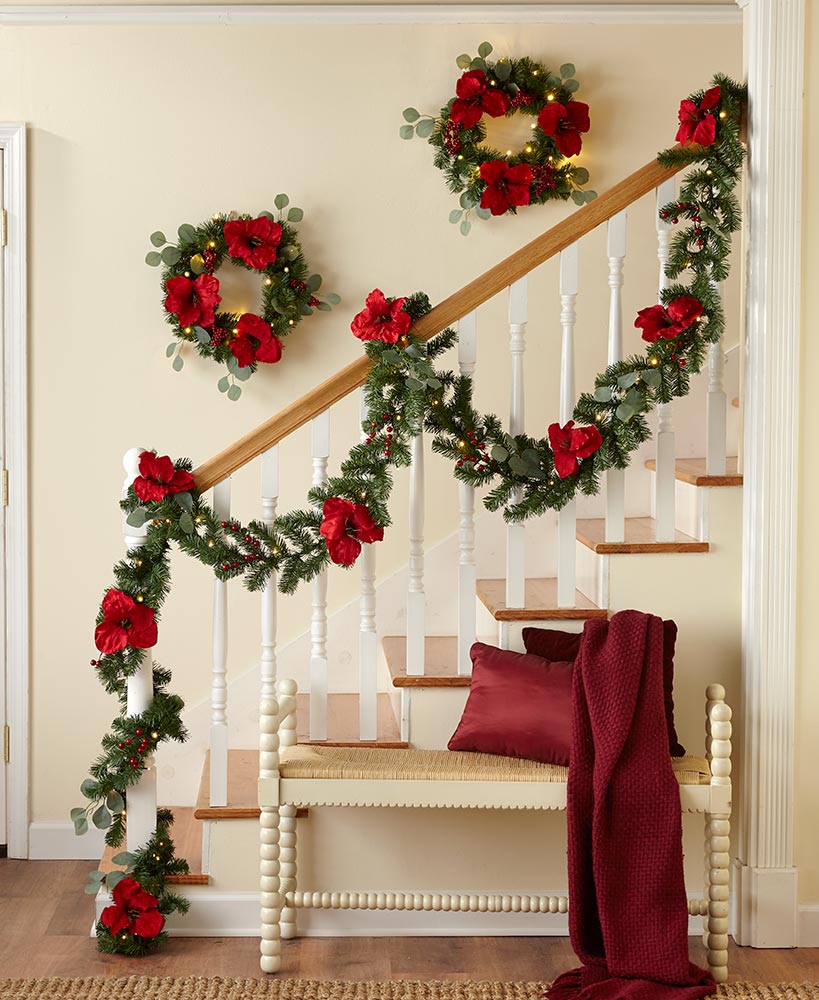 A great way to get the traditional Christmas look is to incorporate greenery into your living room. This will nicely complement your Christmas tree!
Start by decorating with a Christmas garland. You can lay this across your mantel, hang it around your door frame, display it on a cabinet, or hang it around a large mirror.
You can also include some Christmas wreaths in the room on the wall above your mantel or leaned up on a shelf.
Make sure the garlands and wreaths include classic Christmas accents such as holly berries and red amaryllis flowers for an extra festive touch.
This Lighted Wreath or Garland will give your living room the classic Christmas aesthetic and will look beautiful when lit up at night!
Lighted Wreath or Garland with Remote Control
---
3. Use A Stocking Hanger As A Fun Alternative For Your Classic Christmas Decor Theme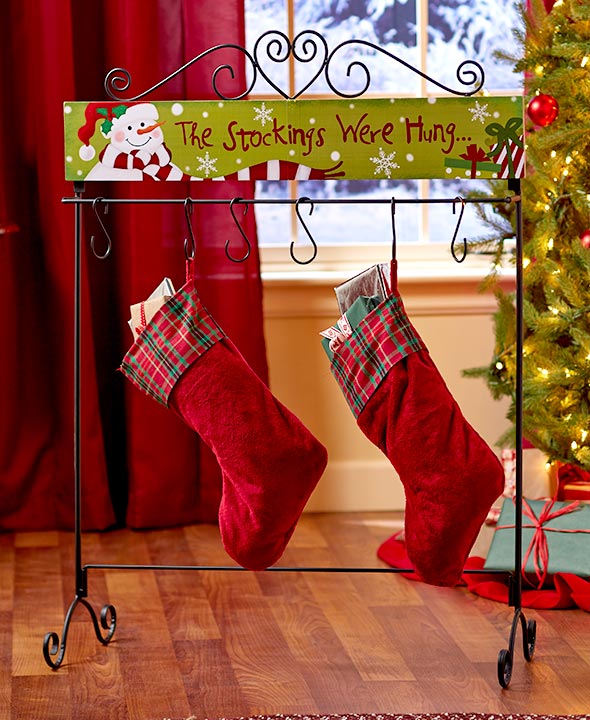 Hanging up stockings is a Christmas tradition that brings the classic theme alive in your living room.
However, if you don't have a mantel, it can sometimes be challenging to find a way to display your stockings.
While you could hang up your stockings on wall hooks, a more decorative and creative way to showcase them is to hang them on a stocking hanger stand.
Place your stocking hanger stand near your tree, against the wall, or anywhere in the room to add some classic Christmas cheer.
Use this adorable Standing Holiday Stocking Hanger in your living room to display up to 6 stockings!
Standing Holiday Stocking Hanger
---
4. Fill Your Shelves With Classic Christmas Characters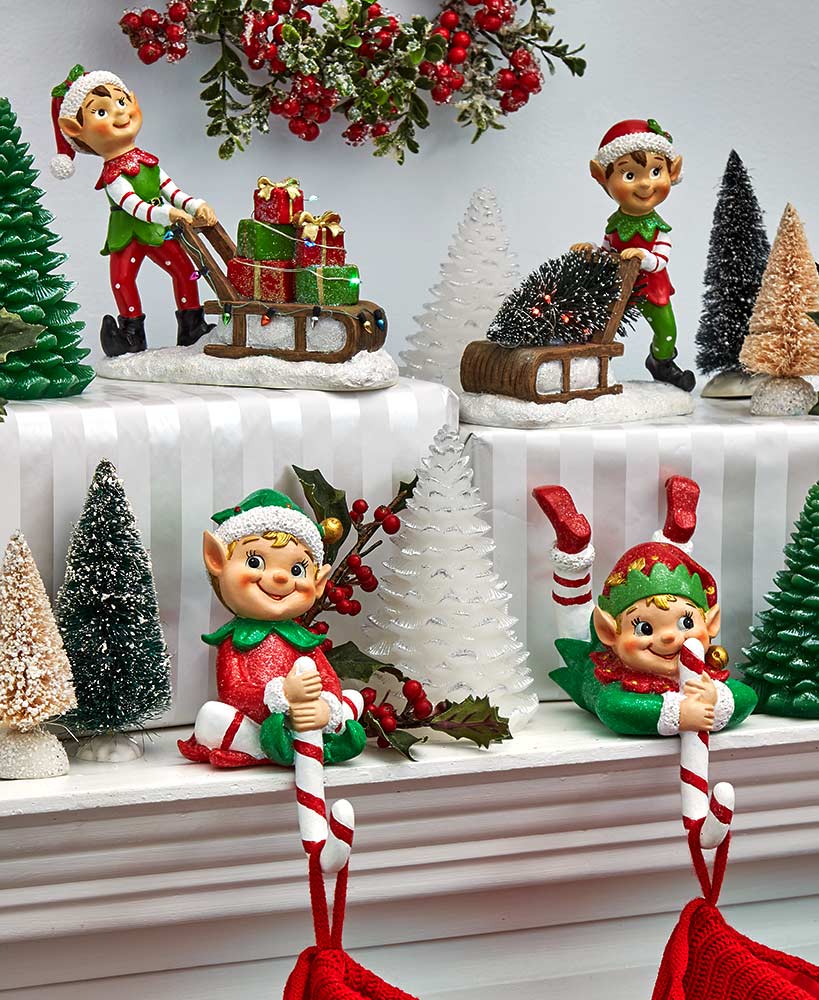 It wouldn't be a classic Christmas theme without some familiar and friendly characters!
Decorate your shelves with traditional characters such as Santa, elves, reindeer, and other winter themes.
You can bring these characters in by decorating with shelf sitters, statues, plush figurines, and small trinkets. You can also use wall hangings that display these characters.
In addition to these traditional characters, you can also put a variety of Christmas brush trees on your shelves to add some more festive cheer to your decor spread.
These Holiday Cheer Elf Figurines or Stocking Holders will look great displayed on your classic Christmas mantel or shelves!
Holiday Cheer Elf Figurines or Stocking Holders
---
5. Trim Your Tree With Traditional Christmas Sentiment Ornaments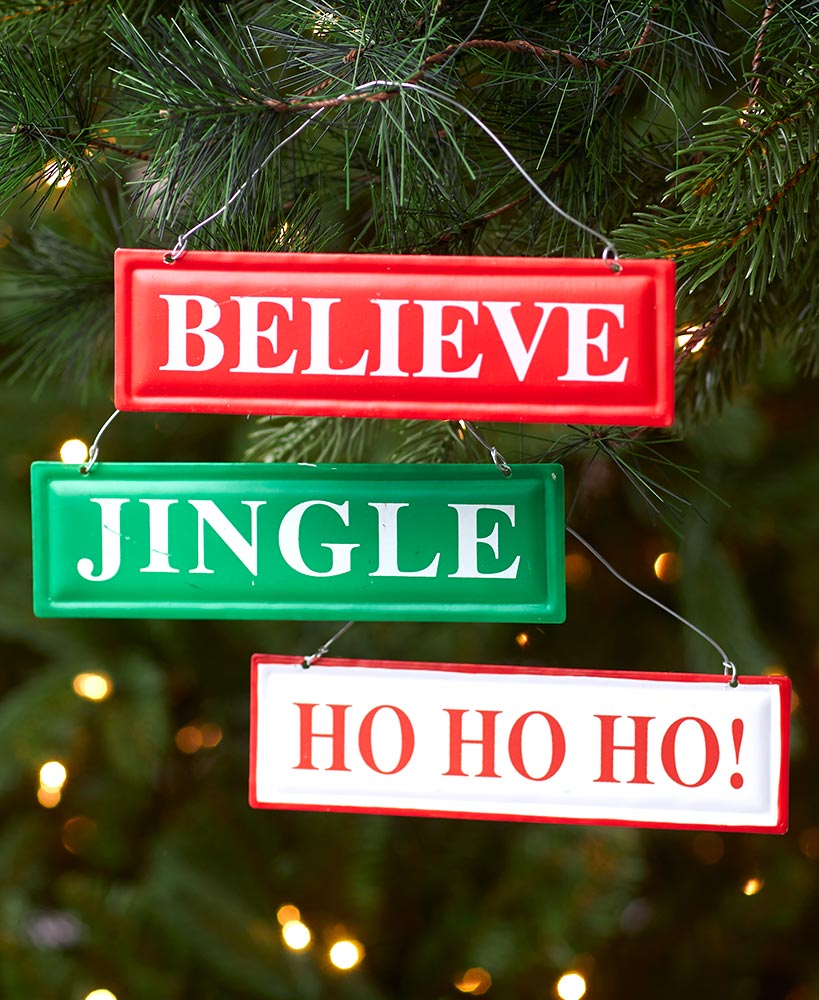 Another great way to bring the classic Christmas vibe to your living room is to fill your tree with the theme!
Start by adding some traditional Christmas sentiment ornaments to your tree. This will bring out the classic warm feelings of the holiday with familiar sayings.
Then, add other Christmas ornaments that reflect the traditional feelings of the holiday. This can include characters such as Santa, reindeer, and elves, or ball ornaments in red and green.
Finally, add red and green or simple white string lights, gold or plaid tree garland, and a traditional star at the top of the tree.
This Set of 3 Metal Sign Ornaments are the perfect addition to your classic Christmas tree! Combine with other sentiment ornaments for a cheery look.
Set of 3 Metal Sign Ornaments
---
6. Continue The Classic Christmas Decorating Theme By Hanging Up Festive Wall Signs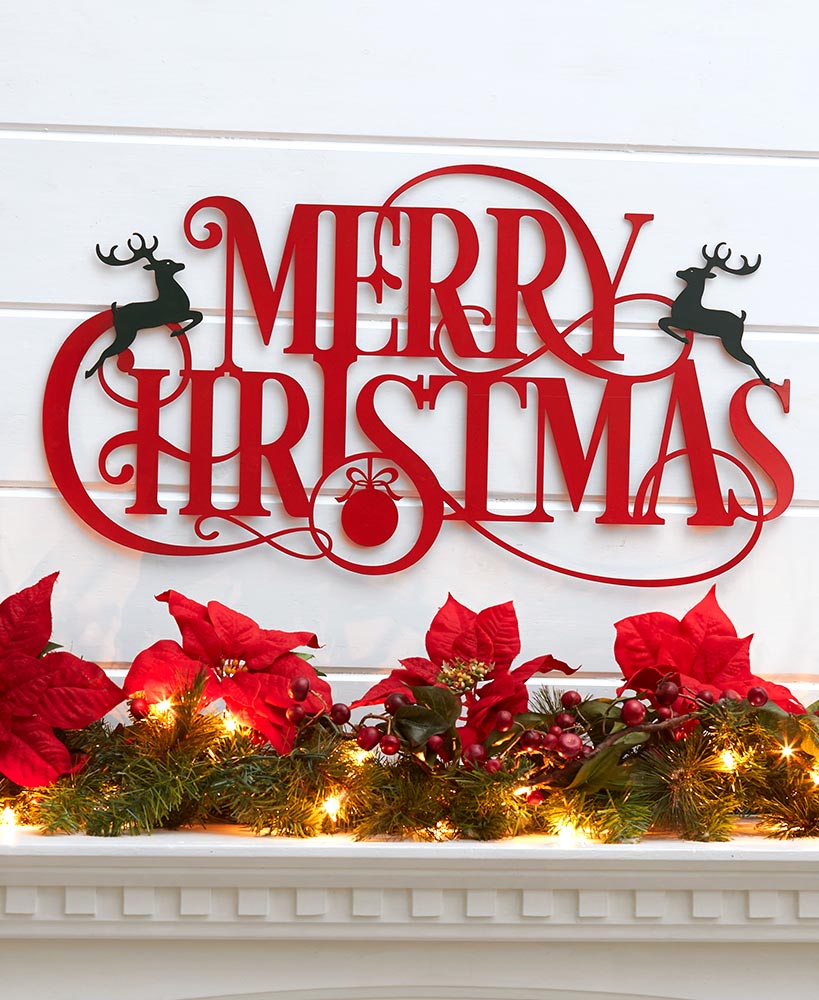 When decorating your living room in a classic Christmas theme, don't forget to fill your walls with holiday cheer!
Hang up classic Christmas sentiment wall signs to bring some comforting traditional feelings into the room. You can also hang up signs that contain Christmas characters with the classic red and green color scheme.
You can hang these signs above your mantel, lean them against shelves, or display them on any of your walls with other decorations nearby.
Alternative, you can also print out your favorite Christmas sentiments and designs, place them in picture frames, and hang them up on the wall.
This Metal Merry Christmas Wall Hanging will add some traditional cheer to your living room! Hang it up above your mantel with other reindeer decor.
Metal Merry Christmas Wall Hanging
---
7. Display Classic Christmas Gift Bags Underneath Your Tree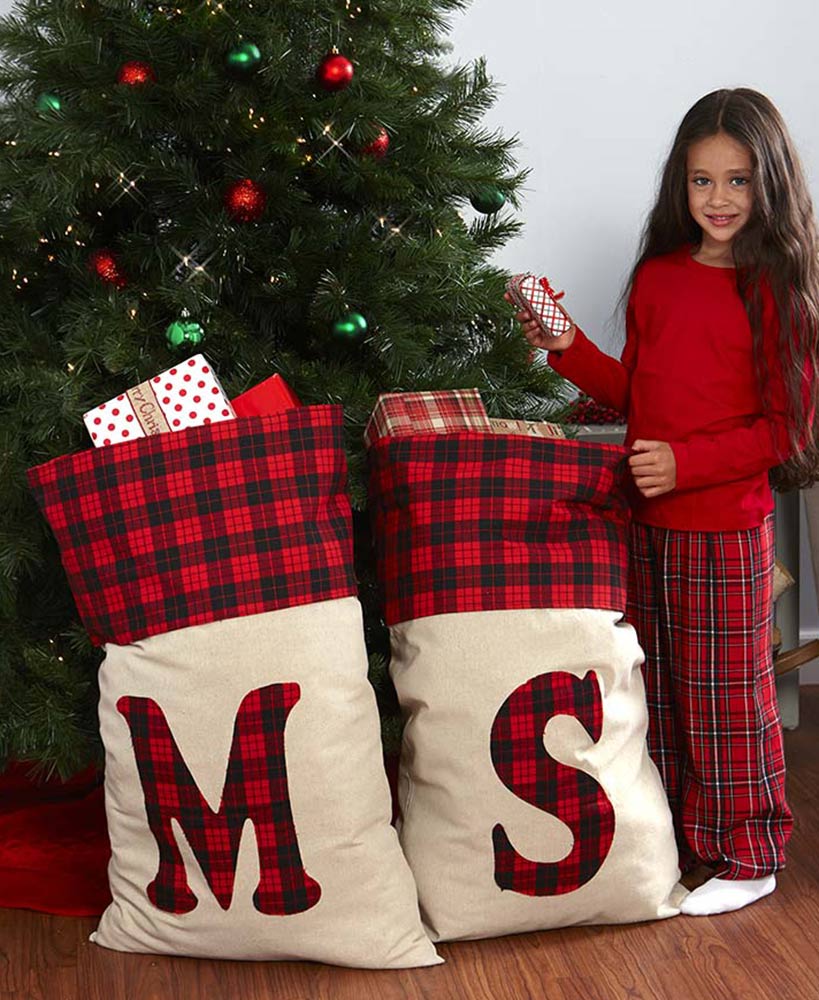 While you may have already decorated your Christmas tree in the the classic theme, you can also display your gifts with the same style!
An easy way to do this is to place large Santa gift sacks underneath your tree to hold all of your gifts. These bags can be a traditional red color or have classic patterns and designs such as plaid or reindeer.
You can also wrap your gifts in classic themed wrapping paper. This can be solid green or red, plaid, have Santa or reindeer patterns, or contain Christmas sentiments.
Your gift wrap and large gift sacks should tie in with the rest of the room's decor, such as the previous classic Christmas decorating ideas. Make sure to match the colors and patterns of your other decorations and your ornaments to bring the look together.
These Giant Plaid Monogram Gift Bags are a fun way to bring the classic Christmas theme to your living room! Fill them with holiday gifts and display them near your tree.
Giant Plaid Monogram Gift Bags
---
Want even more classic Christmas decorating ideas? Shop Christmas Decor & More to find festive ornaments, decorative accents, wall hangings, gift wrap, and much more!
---
Read Next: How To Transition Your Home Decor From Halloween To Thanksgiving